​If you're a fan of fudgy brownies, you're not going to want to miss out on these Chocolate Cherry Brownies! They're the perfect way to get that decadent chocolate cherry flavor in every single bite!
Forgetting about buying a store-brought brownie mix, and make your own decadent brownies right at home. I assure you that this chocolate cherry brownie recipe is one that you will crave and think about all the time. When you have a chocolate craving, this fudge brownies recipe is a must.
My sweet tooth was obsessed after the first bite of this easy recipe, and anyone who calls themselves brownie lovers will agree. The rich chocolate flavor and the texture of the chewy brownie paired with juicy cherries make for the perfect chocolatey brownies. With minimal bake time, you'll be chowing down on these cherry chocolate brownies in no time.
Be sure to check out my Espresso Brownies Recipe for another fun way to make homemade brownies. There are so many flavor options!
And this Mud Pie Recipe is perfect for any chocolate lover.
Ingredients
Cocoa powder – This adds dark coloring and a nice chocolate flavor.
Baking soda – Gives the brownies that texture we all love and crave.
Salted butter – I love using salted butter for my baking needs.
Hot water – To help combine and make the batter. Hot tap water works great.
Sugar – For sweetness.
Eggs – Large eggs work great to bind all the ingredients together.
Vanilla extract – This adds a hint of vanilla perfectly.
Cherry extract – This can be optional, but it is a fun flavor addition
Flour – Needed to make the brownie batter.
Salt – Just a little bit of salt is needed.
Sweet cherries – Frozen sweet cherries or fresh sweet cherries are preferred.
Semisweet chocolate chips – You can also use other flavors of chocolate chips.
Heavy cream – For texture and helps to add richness.
Maraschino cherries – To add on top of the baked brownies.
How to make Chocolate Cherry Brownies
Step One: Preheat the oven to 350 degrees Prepare a 9X13-inch baking dish.
Step Two: Mix the baking soda and cocoa powder in a bowl. Add ½ of the butter, and mix.
Step Three: Add the hot water and stir to thicken.
Step Four: Add the rest of the butter, cherry extract, eggs, and chocolate chips and mix. Add the dry ingredients.
Step Five: Mix until smooth, then fold in the cherries.
Step Six: Spread the mixture into a prepared pan and bake for 30-35 minutes until the center jiggles a bit.
Cool completely.
To make the topping
Step One: Put the chocolate chips and heavy cream into a bowl that is microwave-safe Heat on high for 60 seconds and stir until the chocolate is melted.
Step Two: Pour the melted chocolate mixture over the top of the cooled brownies and spread it to smooth.
Step Three: Top with the cherries in a 3X6 grid. Cut into 18 pieces so each piece has a cherry on top. We love to serve with vanilla ice cream.
Storage: Store any leftovers in an airtight container in the refrigerator for up to a week.
Variations
​Add more toppings – You can always add semi-sweet chocolate chips or even some extra chopped chocolate on top. Adding dark chocolate is a fun way to give this cake an even richer flavor, and you can never go wrong with extra chocolate chips.
Black forest cake – Use these brownies as the cake layers. Just cook them in two 8×8 inch round pans lined with parchment. Bake and let cool. Put cherry pie filling between the two layers and cover the whole thing with the ganache topping.
Common Questions
Should I use frozen cherries or fresh cherries for these rich chocolate brownies?
It's my personal preference to use fresh cherries because they only have a little bit of liquid with them If you buy and use frozen cherries from the grocery store, they're going to thaw and release water as they do. This will make the top of the brownies a soggy mess and run the flavors of chocolate.
Why risk that when you can just use fresh cherries from the start? Save yourself time and just use fresh sweet cherries.
What is the best way to cut and serve this fudgy chocolate brownie recipe?
No matter what, you're going to have moist crumbs, but you don't have to have a big mess. I highly recommend that you let these fudgy chocolate cherry brownies chill in the fridge for a few hours, or even overnight, before cutting into them and serving them.
This way, the heat from the baking time will be gone, and the brownies will be chilled and holding together. You can set them out at room temperature if you'd like, but they do cut best when chilled.
How do I prepare a baking pan for brownie batter?
You can spray the pan with nonstick spray, grease it will unsalted butter, or line the pan with parchment paper before you pour batter into it.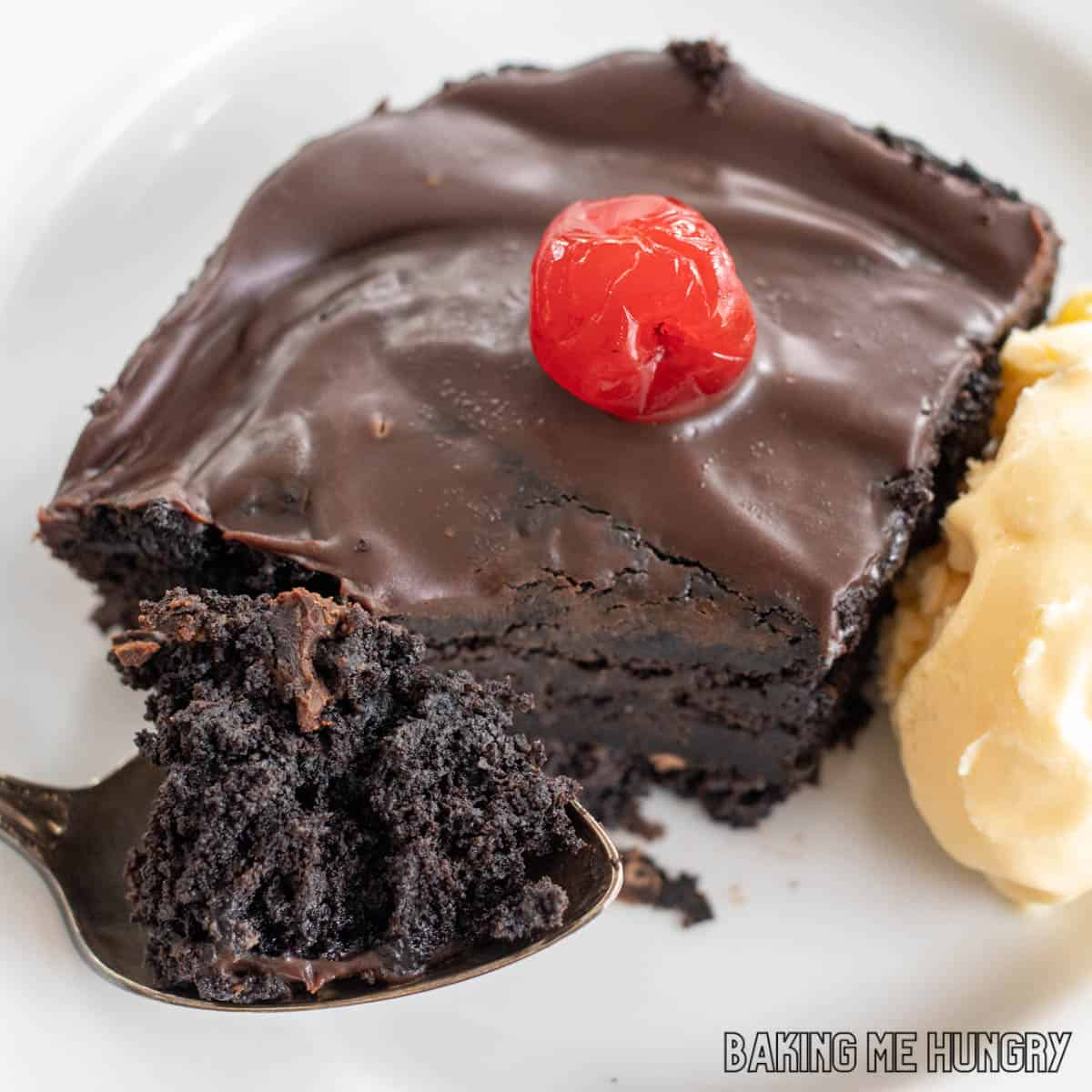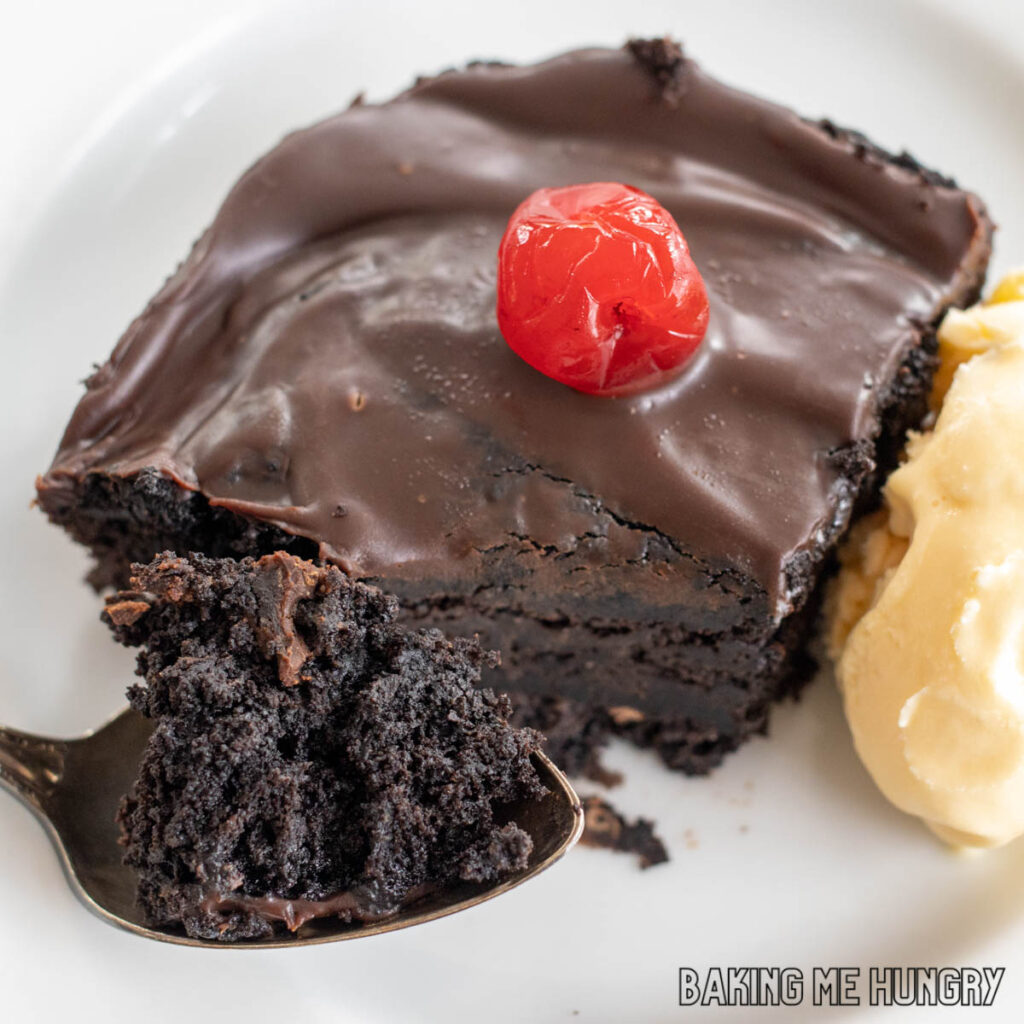 Ingredients
¾

cup

cocoa powder

***

½

teaspoon

baking soda

⅔

cup

salted butter

(melted & cooled to room temperature)

½

cup

hot water

2

cups

sugar

2

eggs

1

teaspoon

vanilla

1

teaspoon

cherry extract

optional

1 ⅓

cups

flour

¼

teaspoon

salt

1

cup

sweet cherries

halved & pitted

½

cup

semisweet chocolate chips
Topping
1

cup

semisweet chocolate chips

½

cup

heavy cream

18

maraschino cherries
Instructions
Preheat oven to 350. Grease a 9x13 baking dish.

In a medium bowl stir together the cocoa powder and baking soda. Add half the butter and mix well.

Add the hot water. Stir until the mixture thickens.

Add the remaining butter, vanilla, cherry extract (if using), eggs, and chocolate chips. Mix well. Now, add the dry ingredients.

Mix until smooth. Fold in the cherries.

Spread in the prepared pan. Bake for 30-35 minutes until the center only jiggles slightly. Cool completely.
Topping
Put the chocolate chips and heavy cream in a microwave-safe bowl. Heat on high for 1 minute. Stir until the chocolate has melted.

Pour over the cooled brownies and spread until smooth.

Top with the cherries in a 3 x 6 grid. When the brownies are cut into 18 pieces each piece has one cherry.
Notes
Note: These are a bit crumbly and messy to serve when warm. They hold together much better after being chilled.
Cocoa Powder - We used half regular cocoa powder and half black cocoa powder. You can use either.
Fudgy Brownies - For the fudgiest brownies cool completely and then refrigerate overnight. If you like your brownies warm reheat them after they have been completely cold.
Cherry Flavor - Cherry extract is optional but give the brownies more of a cherry flavor.
Nutrition
Serving:
1
brownie
|
Calories:
286.7
kcal
|
Carbohydrates:
41.5
g
|
Protein:
3.4
g
|
Fat:
13.3
g
|
Saturated Fat:
7.9
g
|
Polyunsaturated Fat:
0.6
g
|
Monounsaturated Fat:
3.7
g
|
Trans Fat:
0.3
g
|
Cholesterol:
41.5
mg
|
Sodium:
142.8
mg
|
Potassium:
166.5
mg
|
Fiber:
2.7
g
|
Sugar:
29.2
g
|
Vitamin A:
271.7
IU
|
Vitamin C:
0.01
mg
|
Calcium:
19.9
mg
|
Iron:
1.9
mg