This Espresso Brownies Recipe is the perfect way to make homemade brownies loaded with chocolate flavor. Chewy, delicious, and an excellent dessert to share with family and friends.
Homemade espresso chocolate brownies are one of those desserts that are addictive in a good way. It's like once you have your first bite, you'll find yourself eyeing the rest of the pan. The espresso flavor wins over coffee lovers but isn't too potent that they are a turn off to those who don't like coffee. I bet they'll be one of your favorite brownie recipes.
In our house, we have a long-standing debate on what piece of the brownie is the best piece. There are some that prefer the edge because it's that balance of crispiness paired with chewiness, while others tend to argue that taking the middle pieces is what dessert dreams are made of.
I'm one who thinks that this entire brownie recipe is delicious, no matter where the piece is from. Add a little bit of vanilla ice cream, and I'll be in my happy spot for about 10 minutes!
Speaking of yummy desserts, be sure to check out my Brown Butter Pecan Cookies. They're sweet, crunchy, and perfect!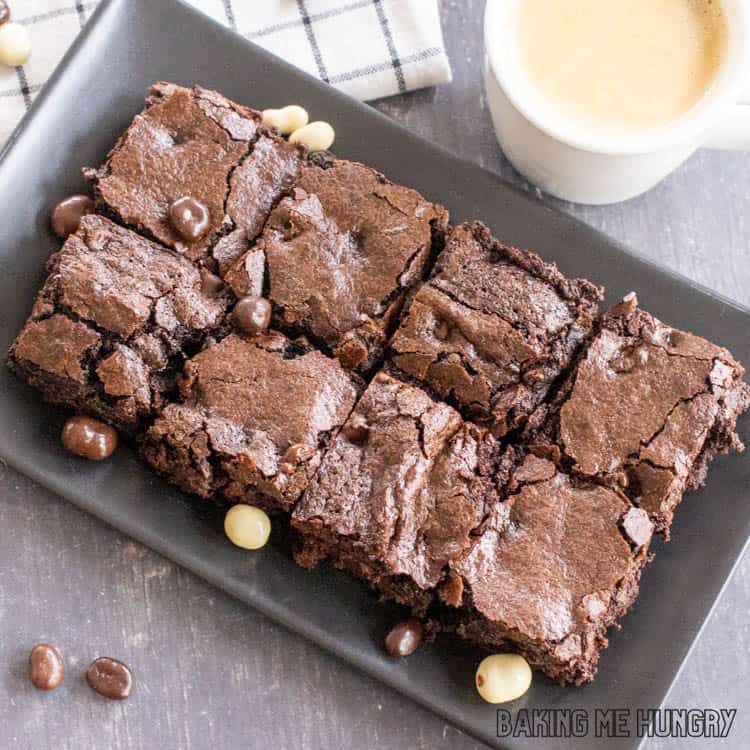 Ingredients
Cocoa powder – You can use dutch process cocoa powder to get that rich chocolate flavor.
Baking soda – Adds that fluffiness to the texture of the brownies to help give every bite that chewy texture.
Salted butter – I only buy salted butter. The salt helped enhance the other flavors when baking. If you use unsalted butter for this recipe add an extra pinch of salt.
Hot espresso – If you don't have an espresso machine you could also use instant espresso powder to make the hot espresso.
Sugar – To add sweetness. I use white sugar in this recipe but a combination of white and brown sugar would also work.
Eggs – Works to help bind all the ingredients together.
Flour – The basis for the brownie batter.
Instant espresso powder – This boosts the espresso flavor of the brownies.
Vanilla – Pure vanilla extract is what I use when baking.
Salt – Just a little bit is added to boost the flavor of the chocolate.
Semi sweet chocolate chips – We like our brownies full of semisweet chocolate chips.
How to make this Espresso Brownies Recipe
This chocolate espresso brownies recipe just needs simple ingredients for a fudgy center, crackly top, and rich coffee flavor.
Step One: Preheat the oven to 350 degrees. Grease a 9X13 baking dish with nonstick spray.
Step Two: Mix the cocoa powder and baking soda together in a large bowl. Add ½ of the melted butter and mix.
Step Three: Add in the hot coffee and stir. This will become thick.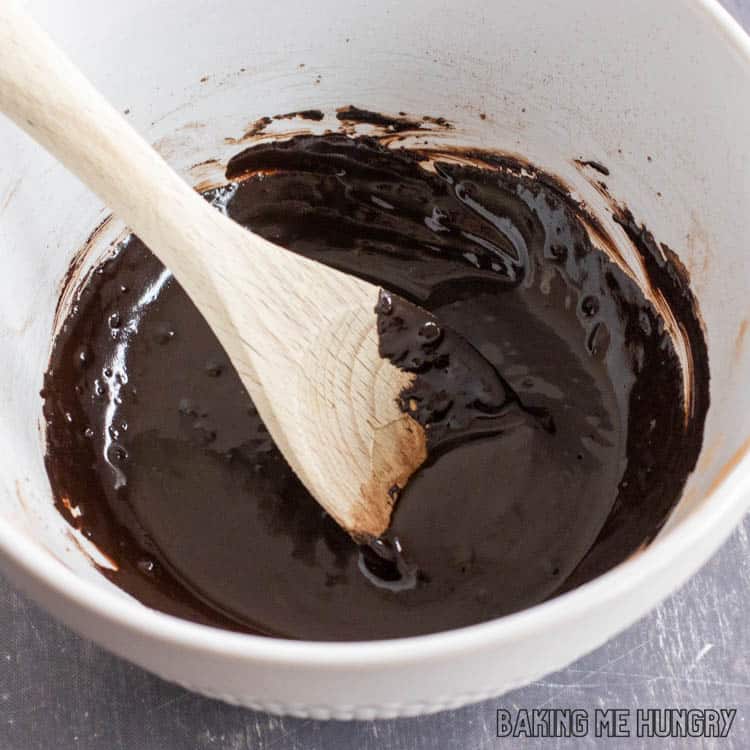 Step Four: Add the rest of the butter, vanilla, and the chocolate chips. Mix.
Mix well so that everything is smooth.
Step Five: Add the dry ingredients.
Step Six: Stir until the mixture is smooth.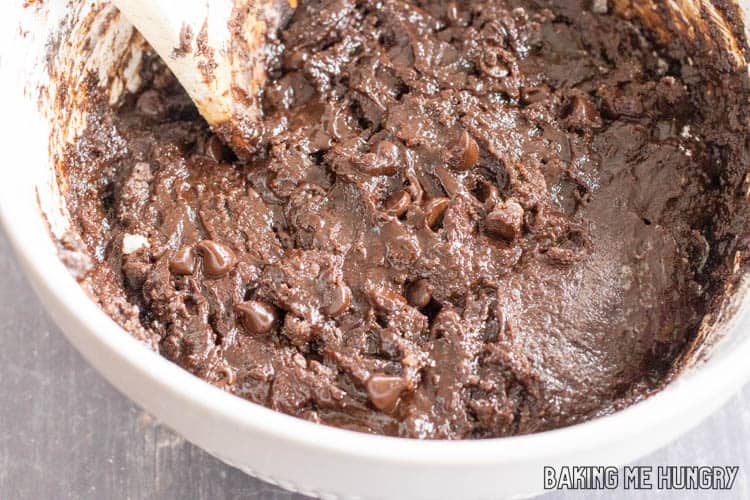 Step Seven: Spread the chocolate brownie batter into the prepared baking pan.
Step Eight: Put in the oven and bake for 30-35 minutes until only the center jiggles slightly. For fudgy brownies, you need to make sure not to overbake them.
Variations
Cocoa powder – Easily change the flavor by using dark cocoa powder or black cocoa powder. Black cocoa powder tastes like Oreo cookies.
Use chocolate chunks – You can add semi-sweet chocolate chunks to your chocolate mixture instead of chocolate chips. You can also use dark chocolate as well.
Chocolate covered espresso beans – Sub some chocolate-covered coffee beans or espresso beans for the chocolate chips. You can use them for baking. We do in our Coffee Cookies and they hold up well.
Chocolate chips – Sub in other kinds of chocolate chips such as white chocolate chips, dark chocolate chips, or milk chocolate chips in place of the semisweet chips.
Instant coffee powder – If you don't have espresso powder you can substitute instant coffee but the flavor of coffee brownies will be milder. You can also use hot coffee instead of the hot espresso in a pinch.
Cherries – If you want to try adding cherries to brownies try our Chocolate Cherry Brownies.
Common Questions
How do you store leftover brownies?
To keep them fudgy and moist, you need to be sure to store the fudgy espresso brownies in an airtight container. They can be left at room temperature, but be sure to eat them within 2-3 days for the best flavor and texture.
You can also cover them with plastic wrap to keep out the air, too.
The instructions are simple if you want to add them to the freezer. Place the leftover brownies in a sealable bag and store them until you are ready to eat.
What do I use to prevent the brownies from sticking to the baking pan?
Having a prepared pan is key for making homemade brownies. You can line the pan with parchment paper or use cooking spray as well.
How do I know the brownies are done baking?
Once the baking time per the directions below has passed, you want to be sure that the brownies are done baking all the way. Use potholders, and give the pan a little nudge. The middle of the brownies should have a slight jiggle to it but nothing more.
You can also use a toothpick to insert it into the middle of the brownies. It may have a few moist crumbs on it when you insert and remove it, but as long as it's not covered with raw batter, it should be good to remove from the oven and start cooling down.
What toppings can I add to brownies?
Brownies are so versatile in how they can be enjoyed! They're perfect when they are slightly warm. Just pour a glass of milk or coffee, and eat.
You can also add a tad bit of powdered sugar on top, drizzle with a caramel glaze, or even melt a few chocolate chips and drizzle across the top as well.
The best brownies are the ones you love. Double the coffee flavor and top with a couple scoops from this Chocolate Coffee Ice Cream Recipe.
Like what you see? Follow us on Facebook and on Instagram! Love this recipe? Leave a comment & a 5-star rating right here! Make sure you don't miss new recipes by getting email updates!
Ingredients
¾

cup

cocoa powder

½

teaspoon

baking soda

⅔

cup

salted butter

(melted & cooled to room temperature)

½

cup

hot espresso

2

cups

sugar

2

eggs

1

teaspoon

vanilla

1 ⅓

cups

flour

1

tablespoon

instant espresso powder

¼

teaspoon

salt

1

cup

semisweet chocolate chips
Instructions
Preheat oven to 350. Grease a 9x13 baking dish.

In a medium bowl stir together the cocoa powder and baking soda. Add half the butter and mix well.

Add the hot coffee. Stir until the mixture thickens.

Add the remaining butter, vanilla, eggs, and chocolate chips. Mix well. Now, add the dry ingredients.

Spread in the prepared pan. Bake for 30-35 minutes until the center only jiggles slightly.
Notes
For the fudgiest brownies cool completely and then refrigerate overnight. If you like your brownies warm reheat them after they have been completely cold.
Nutrition
Serving:
1
brownie
|
Calories:
286.7
kcal
|
Carbohydrates:
41.5
g
|
Protein:
3.4
g
|
Fat:
13.3
g
|
Saturated Fat:
7.9
g
|
Polyunsaturated Fat:
0.6
g
|
Monounsaturated Fat:
3.7
g
|
Trans Fat:
0.3
g
|
Cholesterol:
41.5
mg
|
Sodium:
142.8
mg
|
Potassium:
166.5
mg
|
Fiber:
2.7
g
|
Sugar:
29.2
g
|
Vitamin A:
271.7
IU
|
Vitamin C:
0.01
mg
|
Calcium:
19.9
mg
|
Iron:
1.9
mg
Love coffee desserts? Try our Espresso Cupcakes Recipe or Espresso Panna Cotta Recipe