Indulge in a delicious mud pie recipe with a twist – gummy worms! Get ready for a gooey and sweet dessert your taste buds won't forget. This is both an adult and kid pleaser and is the first dessert to disappear at any potluck we've brought it to. With an oreo cookie crust and creamy chocolate mousse, it is bound to be a crowd favorite.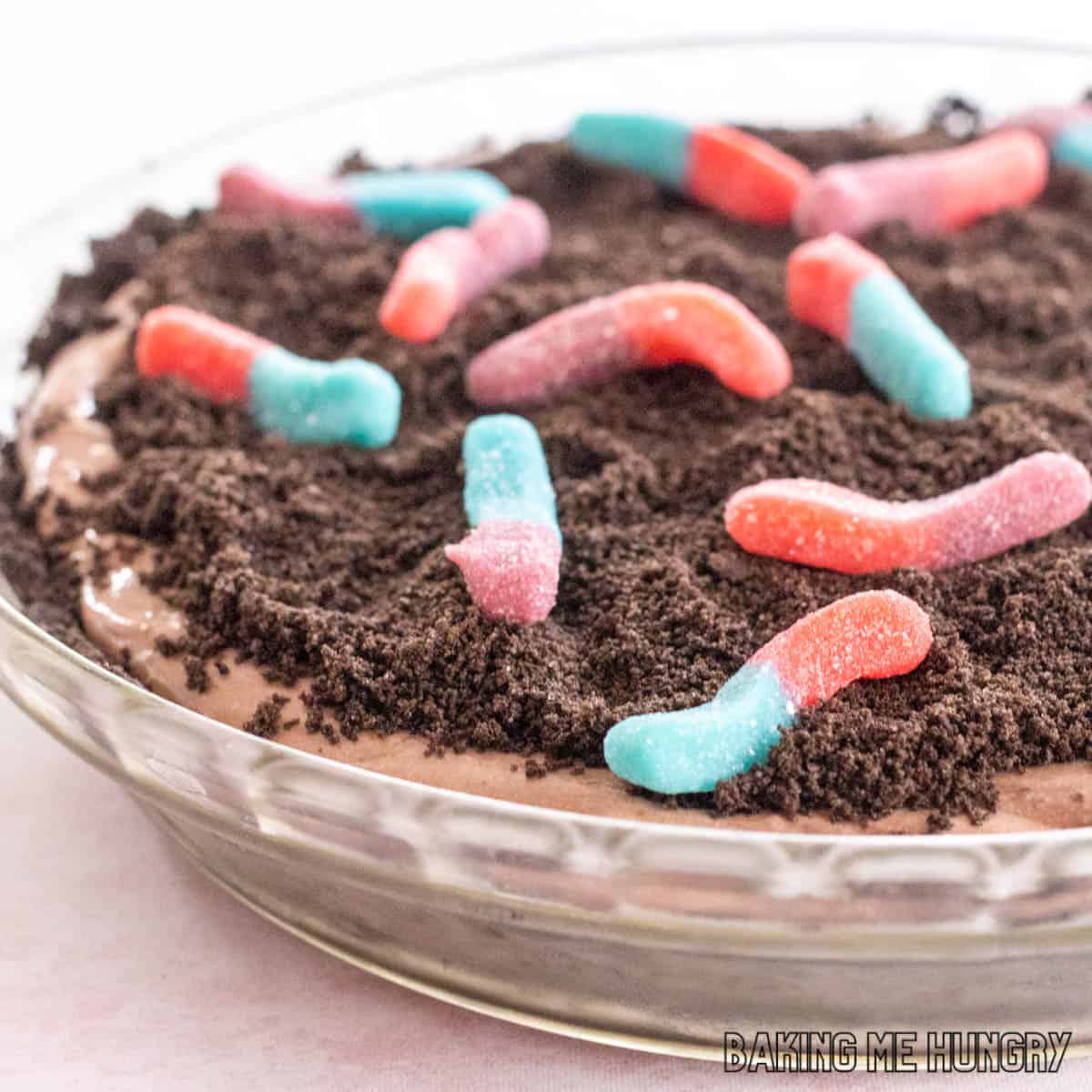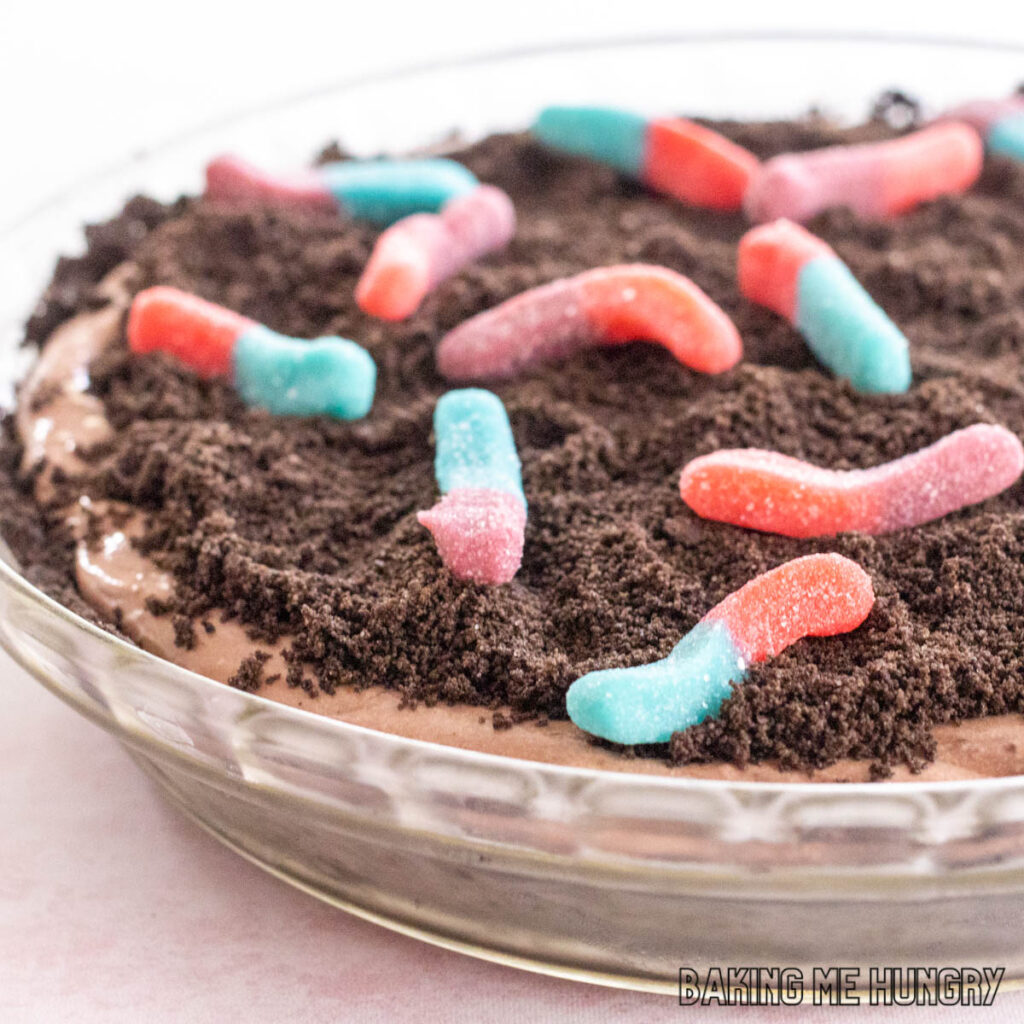 Prepare yourself for a culinary delight that combines childhood nostalgia with grown-up decadence – a mud pie recipe like no other!
Picture this: rich chocolate crust, velvety smooth filling, and plenty of gummy worms. If you're tired of ordinary desserts and crave something unconventional yet utterly tempting, then look no further than our extraordinary creation.
Whether you want to impress your friends at a dinner party or surprise your kids with an unforgettable treat, this no bake dessert is guaranteed to leave everyone begging for more. So brace yourselves as we delve into the realm of sweet chaos and discover the magic behind these enchanting pies!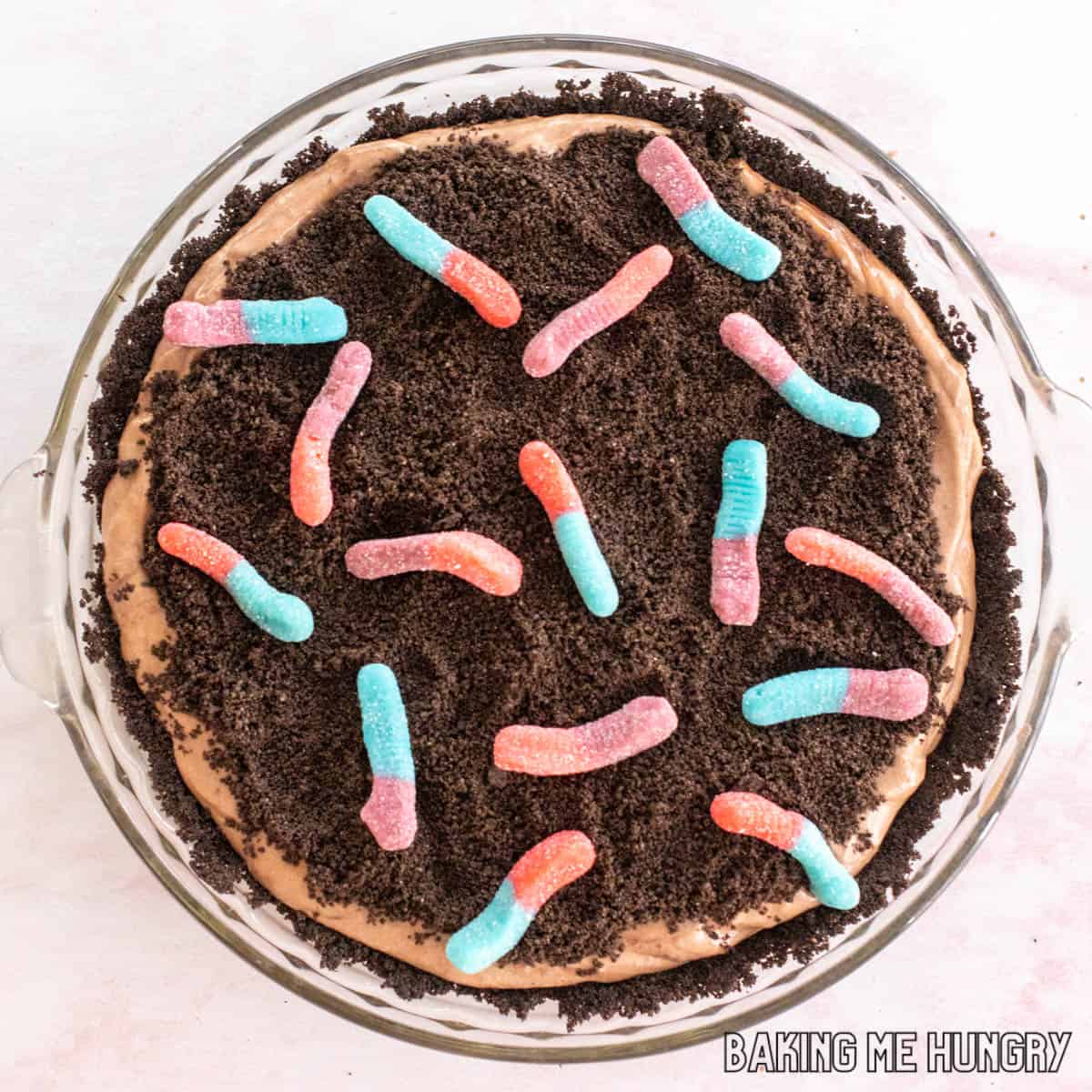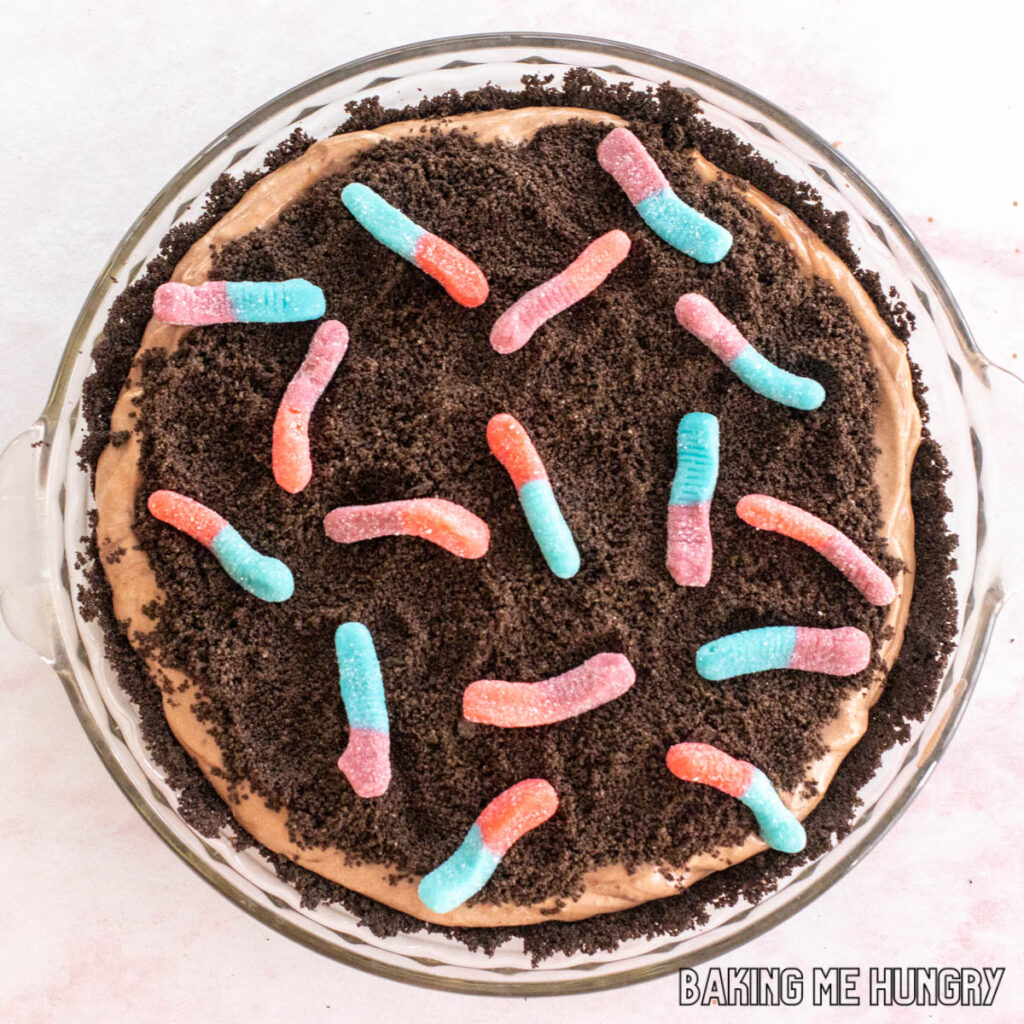 Ingredients
Gummy worms – These are the best part in the opinion of my kids. You can use sour gummy worms coated in sugar like we did or any other variety you enjoy.
Cool whip – Any variety of whipped topping will work in this. Use a chocolate whipped cream for a boost of chocolate flavor.
Oreo cookies – Oreo crumbs are the classic go-to for making a no bake chocolate pie crust but other brands of chocolate cookies will work as well.
Instant pudding mix – We use a regular chocolate pudding mix but other varieties will work.
Whole milk –
Salted butter –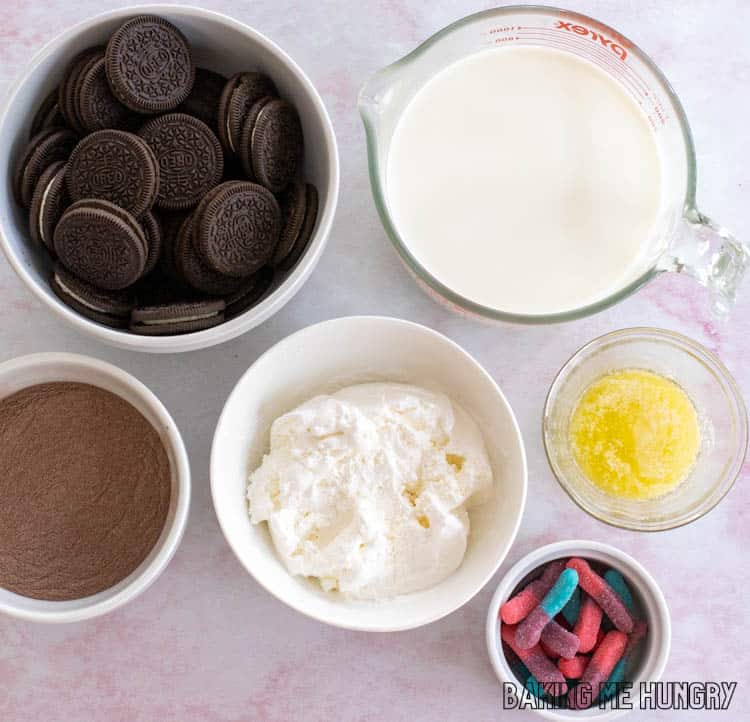 How to Make a Mud Pie with Gummy Worms
This dirt cake recipe is easy to make and perfect for kids to help with since you don't need the oven.
Step One: Make oreo cookie crumbs by putting the oreos in a food processor. Pulse until fine crumbs form.
Expert Tip: You can also place the cookies in a gallon storage bag and crush them with a rolling pin or meat mallet.
Step Two: Add the melted butter. The crushed oreos will start to clump together once the butter is added. Set some aside for the topping.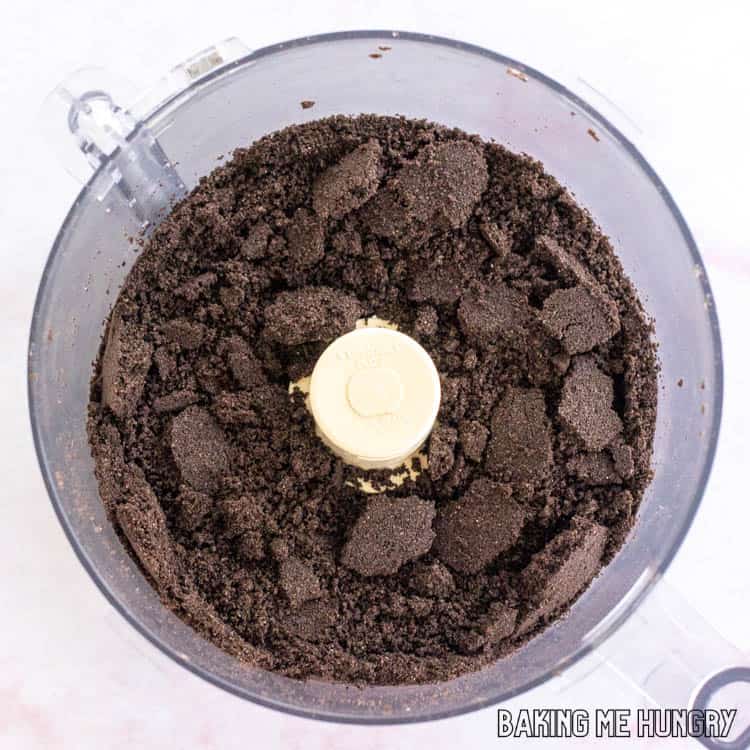 Step Three: Make the oreo crust by pressing this mixture into the bottom and up the side of a deep dish glass pie plate.
Expert Tip: If the oreo pie crust mixture seems too crumbly you can add more butter.
Step Four: Combine the cold milk and instant chocolate pudding mix in a large bowl.
Step Five: Mix until smooth and creamy with an electric mixer or hand mixer. You can mix by hand if you prefer.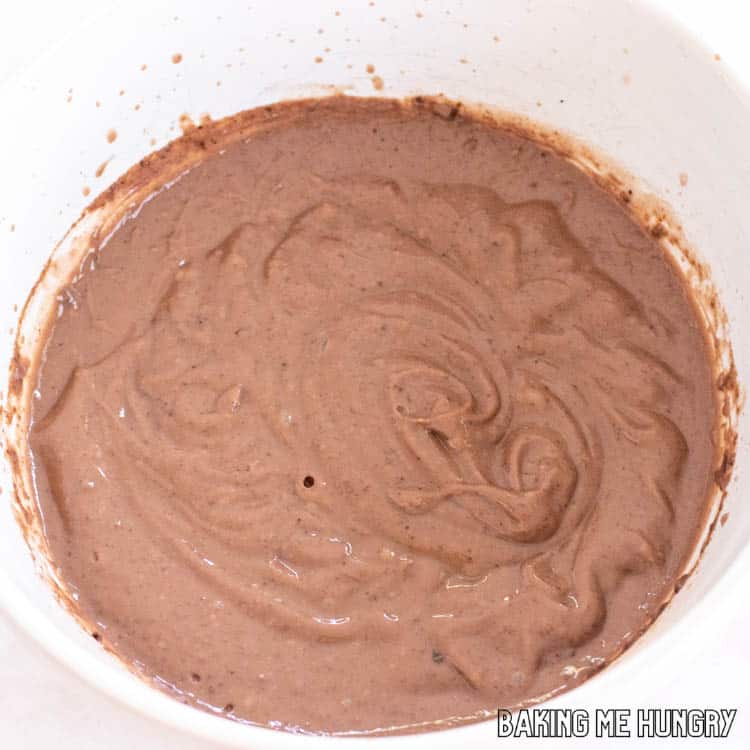 Step Six: Add the whipped topping.
Step Seven: Fold in the cool whip. Be gently when mixing so it does not deflate.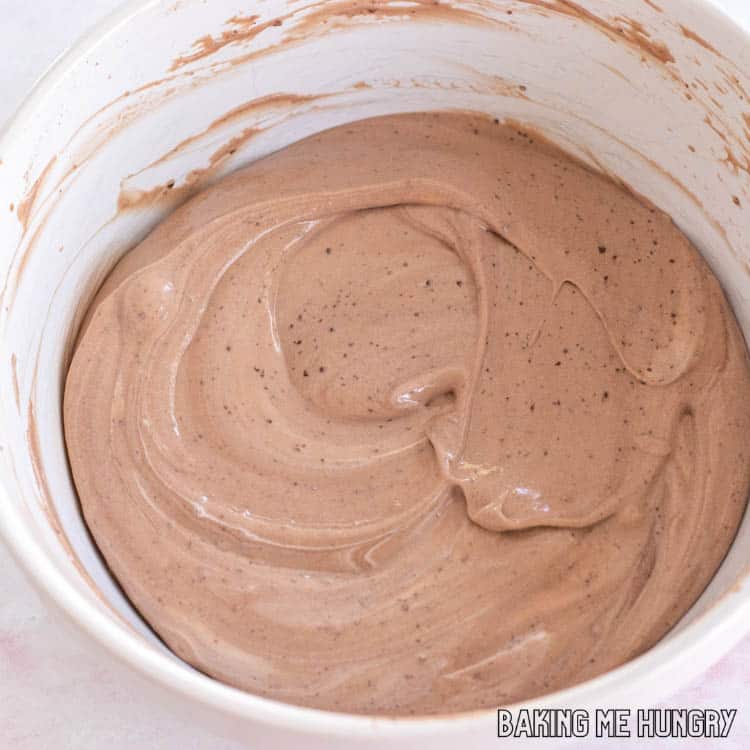 Step Eight: Spoon the pudding mixture into the prepared oreo dirt pie crust.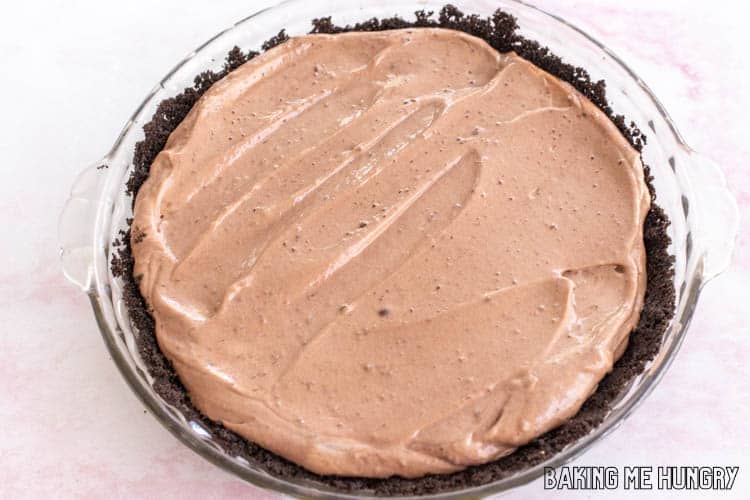 Step Nine: Put the reserved crumbs on top of the pudding layer. If you prefer crisp crumbs and are making ahead it is best to add them right before serving.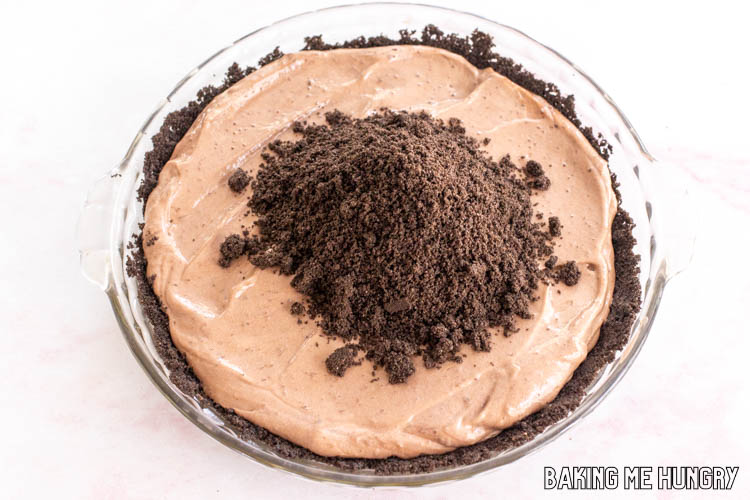 Step Ten: Spread out the cookie crumbs. Top with the gummy worms.
Variations
Mini Mud Pies – You can make individual cups of dirt pudding if you want to.
Vanilla – Want to make a vanilla version? Just swap in golden oreos and instant vanilla pudding mix.
Butterscotch – Yes, you can also make a butterscotch pudding pie. Use a butterscotch instant pudding mix and your choice of chocolate sandwich cookies or vanilla sandwich cookies.
White Chocolate – White chocolate pudding mix is another fun variation to try.
Layers – Make separate layers of the creamy chocolate pudding and whipped cream instead of folding them together. It looks nice to make this presentation in a trifle bowl.
Peppermint – Add peppermint extract to the pudding and swap out the gummy worms for crushed peppermint sticks to make a chocolate peppermint mud pie.
Gummy Candy – Swap out the worms for other candy like gummy dinosaurs or gummy eyeballs for a Halloween party.
Common Questions
Do I need to bake the pie crust before making a mud pie?
This recipe uses a no bake crust. Some other recipes do require pre-baking the crust.
How long does it take to make a mud pie with gummy worms?
Typically it takes around 15 minutes to assemble the mud pie. And then you will need to chill the mud pie in the refrigerator for at least 2 hours allowing it to set properly.
How long can I store a dirt pie with gummy worms?
You can keep a well-covered mud pie in the refrigerator for up to 3-4 days. If you want to make it ahead we recommend keeping the worms separate and adding right before serving.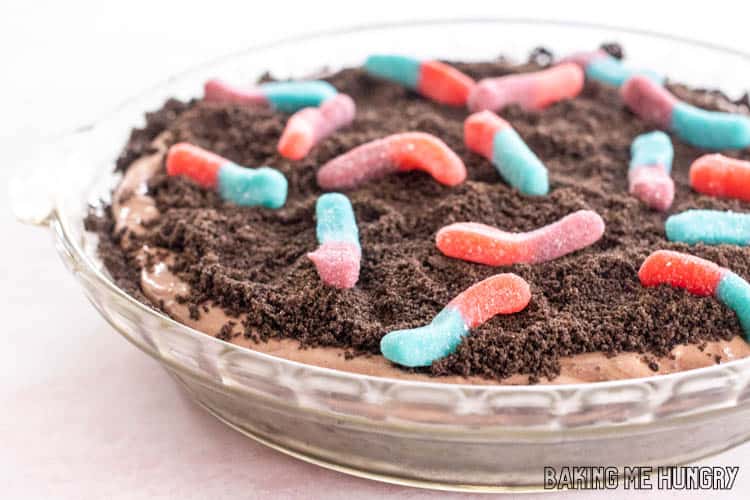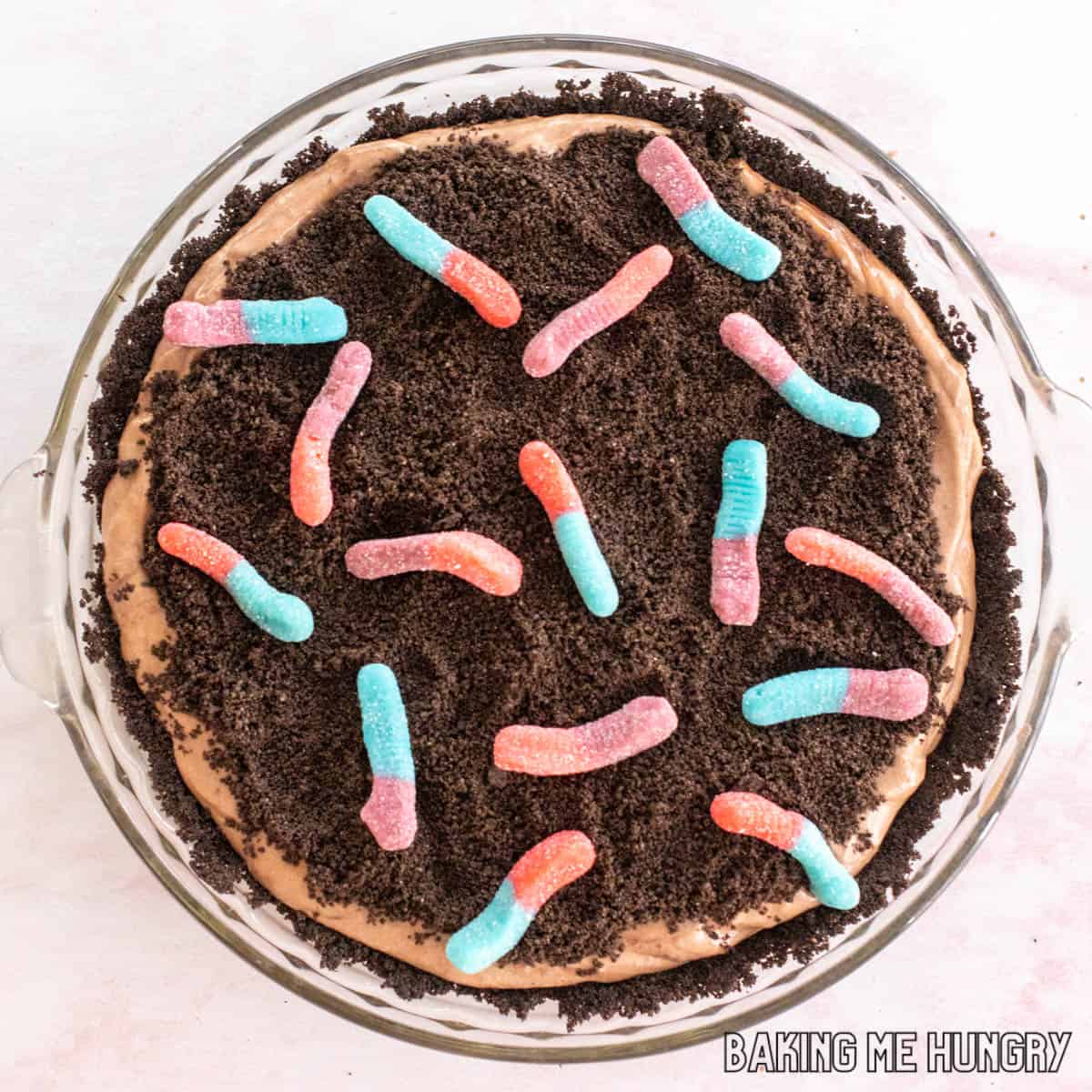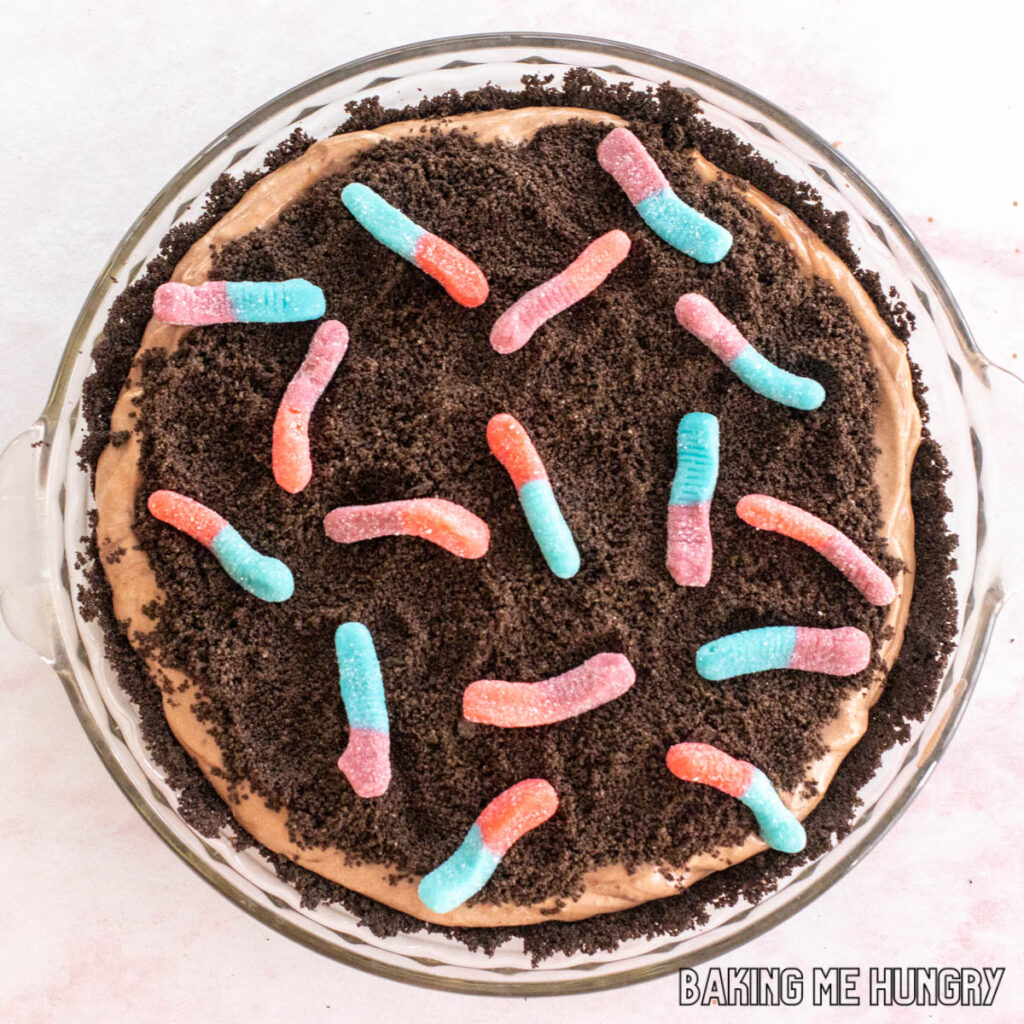 Ingredients
24

oreo cookies

3

tablespoon

salted butter

softened or melted

5.85

oz

chocolate pudding mix

family sized box

2

cups

whole milk

4

oz

whipped topping

18

gummy worms
Instructions
Crush the oreos in a food processor. Remove 1 cup to use for the topping.

Add butter to the food processor and cut into the remaining crumbs.

Press into a deep dish pie plate.

Mix the pudding mix and milk.

Fold in the whipped topping.

Spread the pudding in the pie plate.

Chill for at least 2 hours. Preferably overnight.

Right before serving top with the remaining crumbs and gummy worms.
Notes
This is a soft set pie. For a firmer pie, you can add 2 teaspoons of gelatin that has been bloomed to the pudding mixture.
Nutrition
Calories:
425.8
kcal
|
Carbohydrates:
67.4
g
|
Protein:
6.7
g
|
Fat:
15.3
g
|
Saturated Fat:
7.6
g
|
Polyunsaturated Fat:
1.6
g
|
Monounsaturated Fat:
5.1
g
|
Trans Fat:
0.2
g
|
Cholesterol:
18.9
mg
|
Sodium:
512.4
mg
|
Potassium:
240.2
mg
|
Fiber:
1.8
g
|
Sugar:
44.9
g
|
Vitamin A:
241.2
IU
|
Calcium:
96.4
mg
|
Iron:
4.6
mg