Are you looking for a delicious and easy recipe to feed your sweet tooth? Look no further than these Chocolate Peanut Butter Oatmeal Balls! Delight in the heavenly combination of chocolate, peanut butter, and oatmeal – all rolled into one bite-sized treat. With only a few steps this recipe will have you savoring these tasty morsels in no time. So why wait?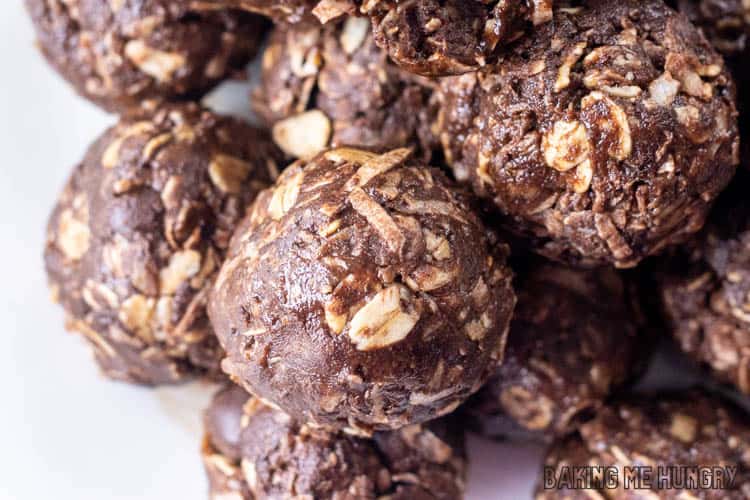 This scrumptious dish is sure to satisfy all your cravings with its delectable combination of flavors. We love them for an easy after-school snack or simple dessert that hits all the flavor notes while still having a lot of nutrients. They are even vegan if you use dairy-free chocolate chips.
For a great no bake dessert try this Mud Pie Recipe.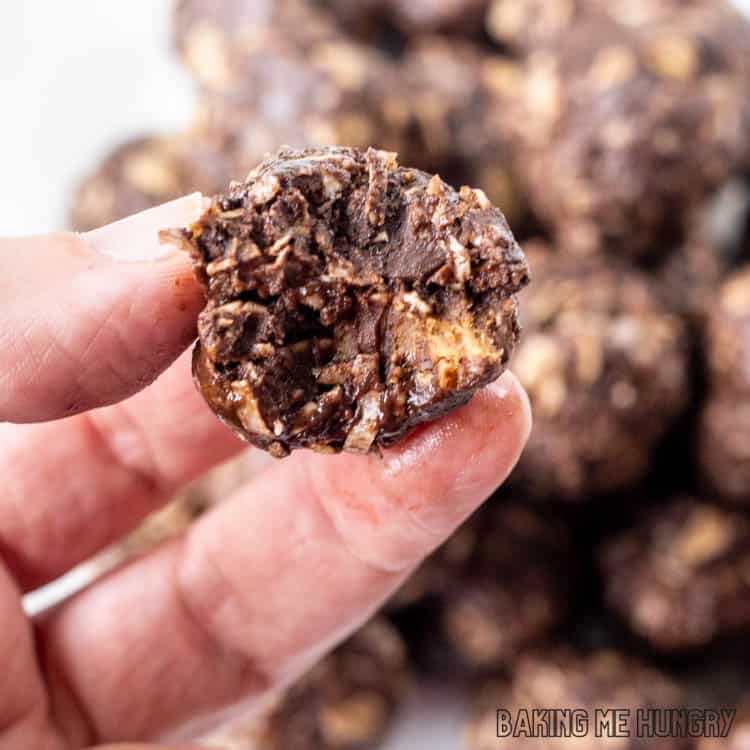 Ingredients
Rolled Oats – Old-fashioned oatmeal is an example of a whole-grain cereal prepared from groats that have been rolled and steamed. It has a nice chewy texture that works well in no-bake recipes.
Shredded Coconut – Shredded coconut is made from the flesh of mature coconuts, which have been processed into small particles or strands. I use unsweetened coconut most often because it has a nice flavor and texture without a lot of added sugar.
Powdered Sugar – Confectioner's sugar, aka powdered sugar, works well in this recipe because it is so finely ground. It won't leave a gritty feeling in your mouth.
Peanut Butter – You can use almost any type of peanut butter. Smooth peanut butter, chunky peanut butter, or natural peanut butter all work well.
Cocoa Powder – Most of the chocolate flavor comes from cocoa powder so choose one that has a nice flavor. Some can be bitter so I recommend trying different brands until you find one you enjoy.
Coconut Oil – I use refined coconut oil so the coconut flavor doesn't overpower the other flavors.
Semisweet Chocolate Chips – Regular chocolate chips or mini ones both work in this recipe.
How to Make Chocolate Peanut Butter Oatmeal Balls
These come together in minutes and are easy enough for the kids to help with! Just watch out for them grabbing bits of the chocolate goodness and licking their fingers. Since these chocolate balls are no bake children can make them from start to finish without much help.
Step One: Stir together all the ingredients in a large mixing bowl. Chill the cookie dough for at least an hour.
Step Two: Scoop the mixture into 24 small balls. Store in the refrigerator.
Expert Tip: Using a small cookie scoop makes this much easier!
Variations
Nut Butter – Swap out the peanut butter for almond butter, sunflower seed butter, or cashew butter. You can even use Nutella but you might want to reduce the sugar since that is already sweetened.
Chocolate Chips – Semisweet chocolate chips are our top choice but we also like mini chocolate chips, dark chocolate chips, and white chocolate chips in these. Or boost the peanut butter flavor and use peanut butter chips.
Sweetener – Without the powdered sugar they are mildly sweet. You could try just omitting it or swapping in a sugar-free sweetener, maple syrup, honey, or brown sugar. They can be classified as peanut butter energy balls or peanut butter energy bites with a more natural sweetener.
Gluten-free – Just use certified gluten-free oats.
Protein – Boost the protein with some protein powder, hemp hearts, chia seeds, flax seeds, or ground flaxseed to make these into peanut butter protein balls.
Dried fruit – Raisins, cranberries, or chopped dried apricots are great choices.
Without Chocolate – Try these 3 Ingredient Peanut Butter Oatmeal Balls.
Common Questions
Why are my peanut butter balls so sticky?
Your peanut butter balls are sticky because they contain peanut butter which is a naturally sticky substance. We try to balance the dry ingredients with the peanut butter that makes them stick together. If they are really too sticky to form you can add a bit more powdered sugar and cocoa powder.
Are oatmeal balls healthy for you?
These oatmeal balls are somewhere between a healthy snack and a dessert because while they provide your body with energy and important nutrients they also have sugar. If you swap out the powdered sugar for a sugar-free sweetener and use unsweetened coconut flakes they could definitely be considered healthy.
Do peanut butter oatmeal balls have to be refrigerated?
No, peanut butter oatmeal balls don't have to be refrigerated if you are going to eat them within 2-3 days. It's okay to leave them on the counter or in your cupboard in an airtight container. They will last longer if they are kept cool and out of direct sunlight though. For longer storage, keep them in the fridge for 2-3 weeks or in the freezer for 2-3 months.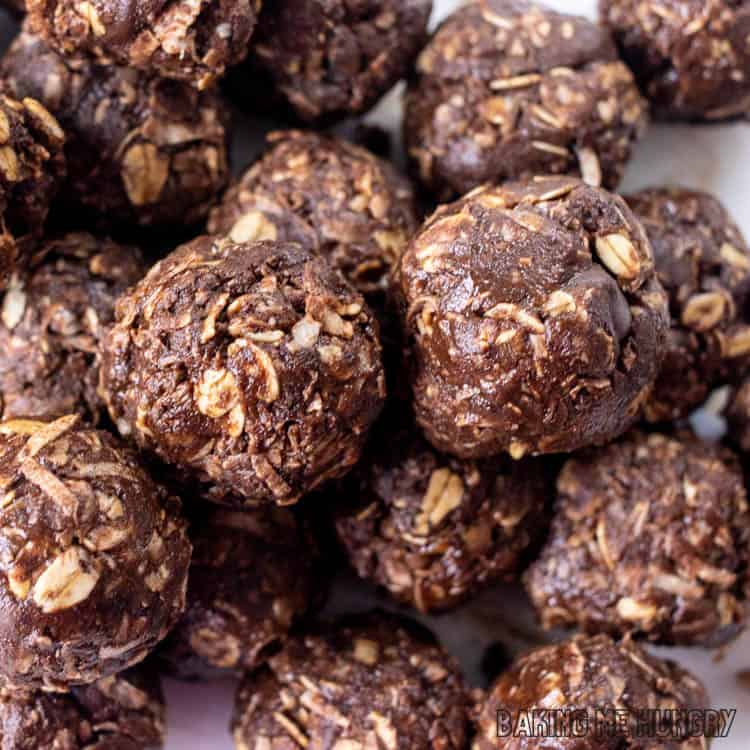 Like what you see? Follow us on Facebook and on Instagram! Love this recipe? Leave a comment & a 5-star rating right here! Make sure you don't miss new recipes by getting email updates!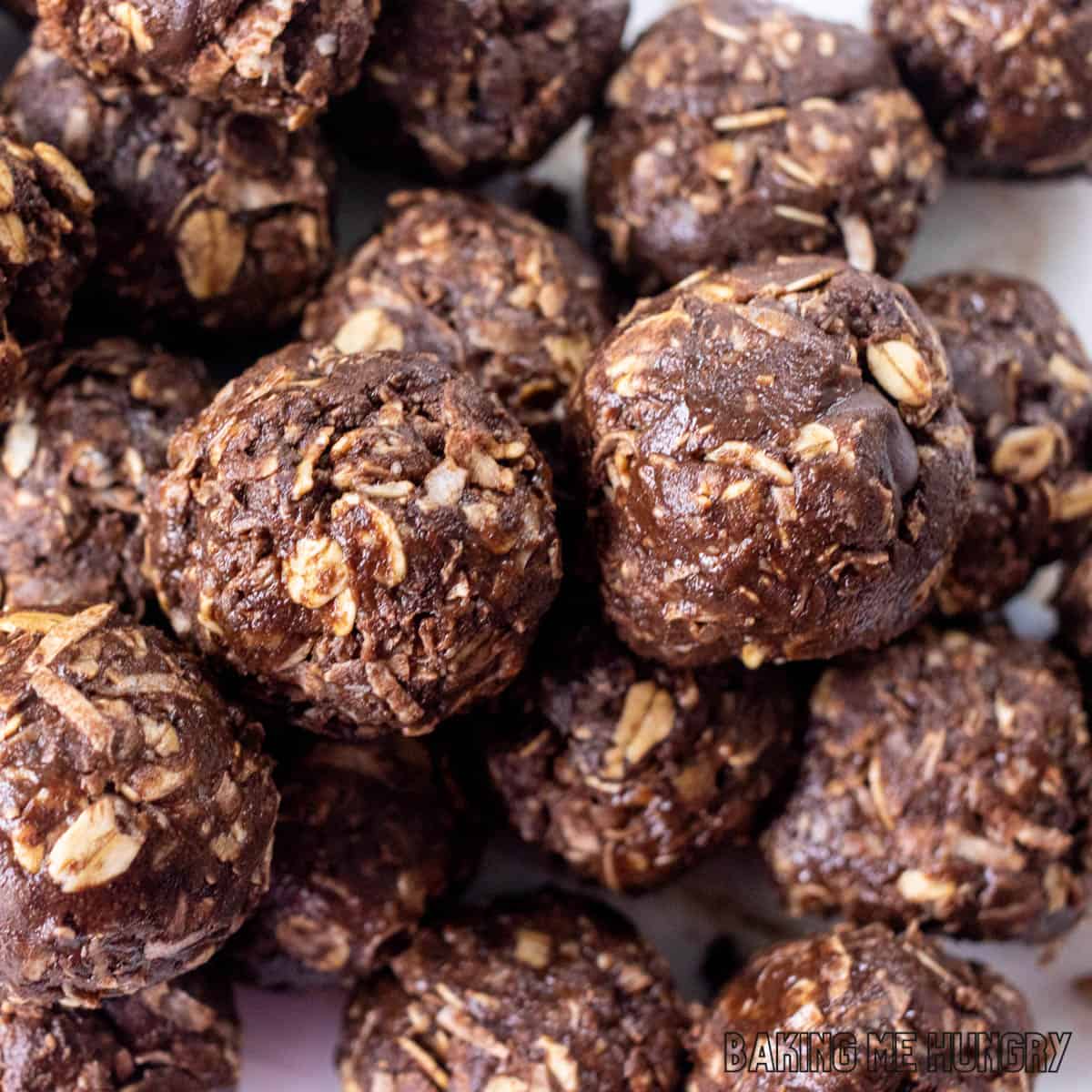 Ingredients
1

cup

rolled oats

1

cup

unsweetened shredded coconut

1

cup

peanut butter

½

cup

powdered sugar

½

cup

cocoa powder

¼

cup

coconut oil melted

⅓

cup

semisweet chocolate chips
Instructions
Stir together all the ingredients. Chill for at least an hour.

Scoop 24 small balls. Store in the refrigerator.
Nutrition
Serving:
2
balls
|
Calories:
299.5
kcal
|
Carbohydrates:
20.9
g
|
Protein:
7.3
g
|
Fat:
23.3
g
|
Saturated Fat:
11.8
g
|
Polyunsaturated Fat:
3
g
|
Monounsaturated Fat:
6.8
g
|
Trans Fat:
0.004
g
|
Cholesterol:
0.3
mg
|
Sodium:
96.9
mg
|
Potassium:
270.7
mg
|
Fiber:
4.7
g
|
Sugar:
9.7
g
|
Vitamin A:
2.5
IU
|
Vitamin C:
0.1
mg
|
Calcium:
23.8
mg
|
Iron:
1.7
mg