These 3 Ingredient Peanut Butter Oatmeal Balls are the best! Fast, simple, and the perfect size to pop in your mouth to eat! You'll love the texture and flavor of these oatmeal energy bites.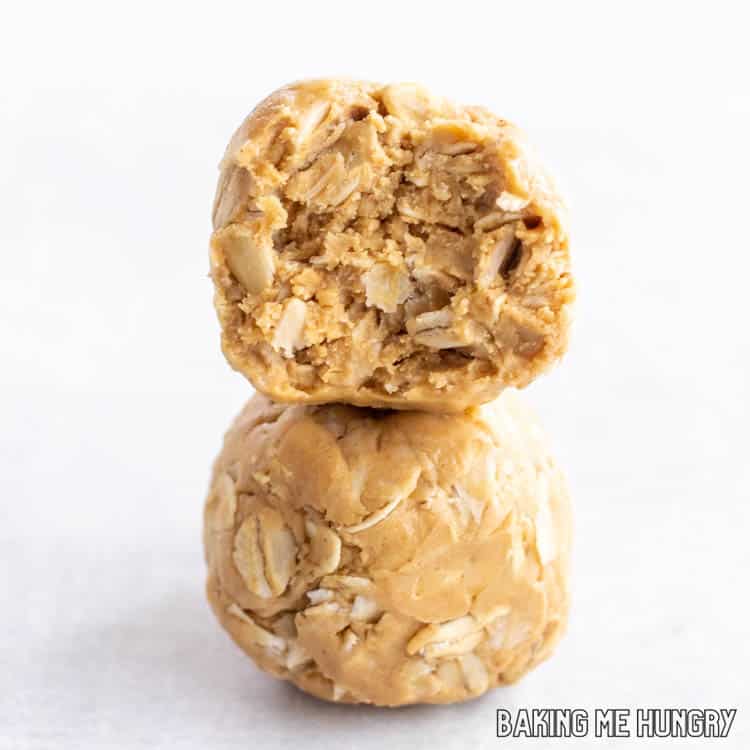 When it comes to making a simple snack or dessert, you won't believe how fast and easy this recipe is! You can literally start and be done, in less than 5 minutes of time.
We've made these for picnics, breakfast, snacks, and more. I love that they are something that we can take with us when we're heading out the door, and don't require any type of coldness or refrigeration to use.
If you have little kids who like to help in the kitchen, this is the perfect recipe to have them join in on the creative fun. They'll love being a part of making these 3-ingredient peanut butter oatmeal bars – and love telling everyone all about it.
Speaking of easy treats, be sure to check out my Chocolate Peanut Butter Oatmeal Balls as well. You can never have too many snack recipes to enjoy.
Ingredients
Peanut butter – You can use crunchy peanut butter, creamy peanut butter, or natural peanut butter for these peanut butter bites.
Oats – I find that using quick oats is the best type of oats for this recipe as they have a great texture once combined with everything else.
Powdered sugar – A little bit of sweetness is all that is needed. If there is sugar in the peanut butter that you are using, you might be able to cut down on adding as much of this.
How to make 3 Ingredient Peanut Butter Oatmeal Balls
I told you that this was an easy recipe!
Step One: Combine all the ingredients together in a bowl.
Step Two: Use a cookie scoop and scoop out 18 peanut butter balls.
Expert Tip: If the mixture seems too dry add additional peanut butter or a little coconut oil or butter. It should be moist enough to hold together.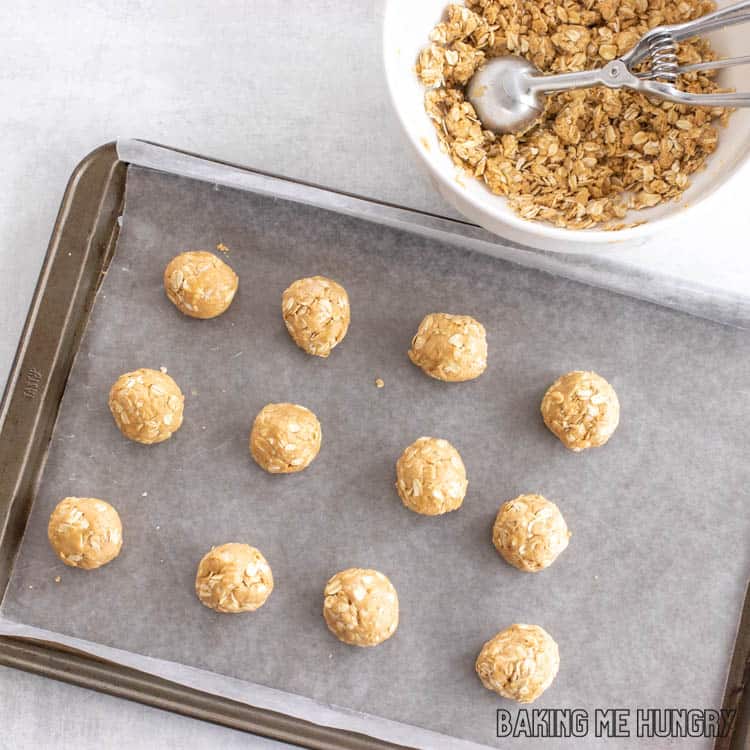 Step Three: Serve and enjoy these easy no bake peanut butter balls!
Variations
Use almond butter – Using healthy fats like different nut butters is simple and easy to do. Cashew butter is another great choice as well! As long as you're only using simple ingredients, these 3-ingredient peanut butter oatmeal balls are easy.
Sunflower seed butter is a great option to use instead of peanut butter mixture, too.
Add protein powder – If you want to add another ingredient, protein powder is a great way to take these to another healthy level. More protein added to these oatmeal energy balls makes for an easy healthy snack.
Add coconut oil – If the mixture is too thick to make small balls, a little bit of coconut oil can help. Don't add too much, but rest easy knowing that it does pair well with the peanut butter flavor.
Add chocolate – Mini chocolate chips are never a bad idea! They fit perfectly with these easy peanut butter balls and quickly turn the recipe into delicious chocolate peanut butter balls. Or you could coat the balls in melted chocolate.
Use maple syrup – If you don't want to add as much processed sugar, you can use honey or pure maple syrup in its place. If the mixture seems too wet add a little coconut flour or oat flour (just grind some oats in a food processor).
Common Questions
What does these no bake energy bites taste like?
I think that they taste like no bake cookie dough bites. This simple recipe will have you thinking that you're eating cookie dough, without the stress and worry!
How to I serve this to-go snack?
All you have to do is follow the step-by-step instructions to make these no bake oatmeal balls. Minimal meal prep is needed, and they're fun to serve! You can leave them on a baking sheet so that everyone can grab and eat as they want, or pack them into baggies for the road.
How do I store these peanut butter energy bites?
The best part about this no bake snack is that you can store it at room temperature! Just add them to an airtight container and they will stay fresh for 3-4 days this way. You can also place them in the fridge for storage where these peanut butter energy balls will stay fresh for up to 2-3 weeks!
Can I freeze peanut butter recipes like this?
You can! As long as you use a freezer safe bag, you should be able to store these bites in the freezer to save them for later. You can then move them to the fridge to thaw. I also think that eating them frozen would be a delicious option, too!
If you do decide to freeze them, freeze them in individual servings so that they are the perfect grab-and-go snack for school lunches, picnics, and more! Everyone is going to love eating this simple and delicious snack!
Like what you see? Follow us on Facebook and on Instagram! Love this recipe? Leave a comment & a 5-star rating right here! Make sure you don't miss new recipes by getting email updates!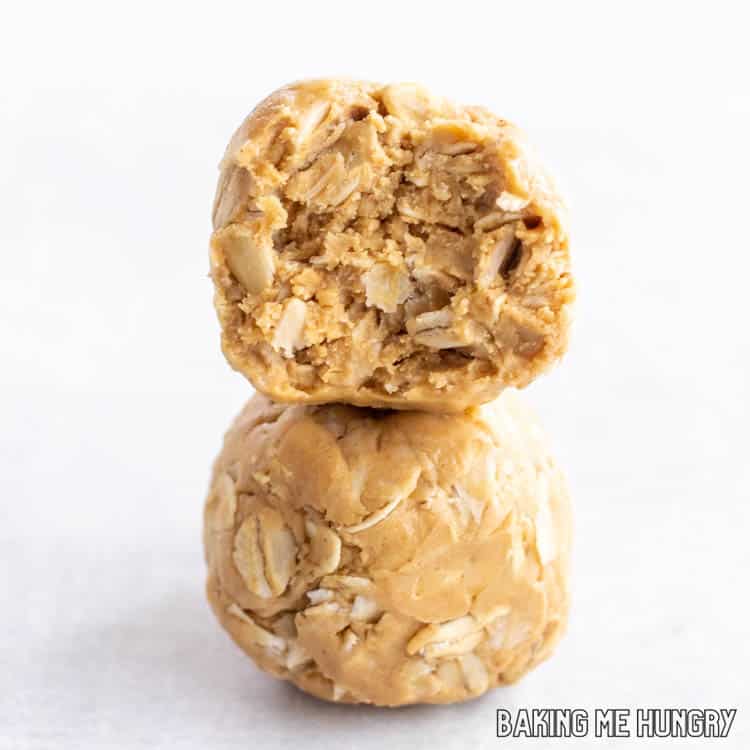 Ingredients
1 ¼

cup

peanut butter

1 ½

cup

oats

⅔

cup

powdered sugar
Instructions
Combine the ingredient in a medium bowl.

Form 18 balls with a cookie scoop. If the mixture seems too dry add additional peanut butter. It should be moist enough to hold together.

Store at room temperature for 3-4 days or refrigerate for up to 3 weeks.
Nutrition
Calories:
149.8
kcal
|
Carbohydrates:
13
g
|
Protein:
4.9
g
|
Fat:
9.6
g
|
Saturated Fat:
1.9
g
|
Polyunsaturated Fat:
2.4
g
|
Monounsaturated Fat:
4.7
g
|
Sodium:
77.4
mg
|
Potassium:
125.6
mg
|
Fiber:
1.5
g
|
Sugar:
6.3
g
|
Calcium:
12.3
mg
|
Iron:
0.6
mg