These delicious 3 Ingredient Brown Sugar Cookies are so easy to make and require no special ingredients! They're the perfect treat for any sweet tooth and are sure to be a crowd-pleaser. All it takes is a few minutes of prep time to create a batch of these brown sugar shortbread cookies.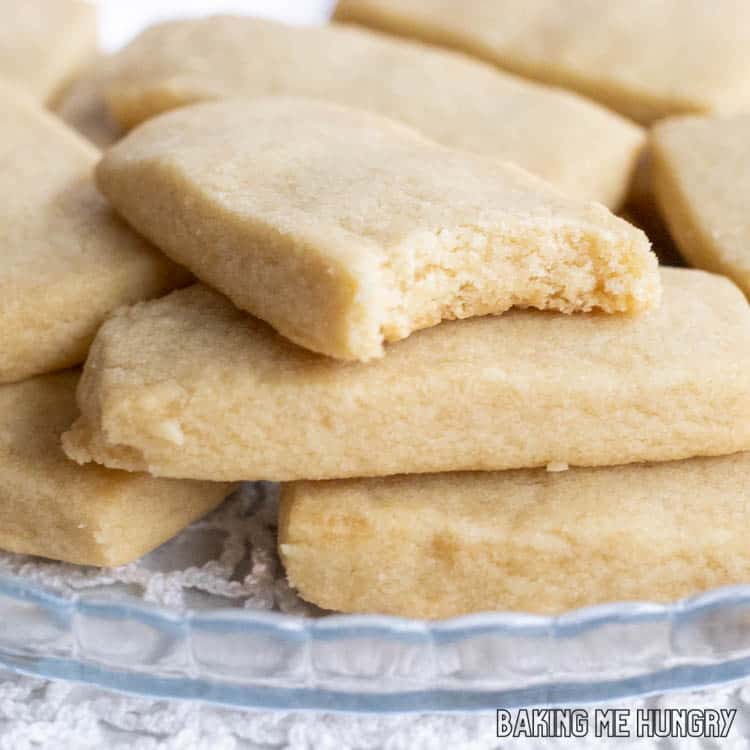 These are one of those cookies that don't really look like much but are absolutely delicious. They have a crisp texture, buttery flavor, and have warmth from the brown sugar that isn't typical of shortbread. This simple recipe only requires three ingredients: salted butter, brown sugar, and flour.
I think they are actually the best shortbread cookies I've ever made or had. Although, our Strawberry Shortbread Cookies are definitely a close second. And to really take them to the next level I turned this dough into a Coffee Cake Cookies Recipe as well.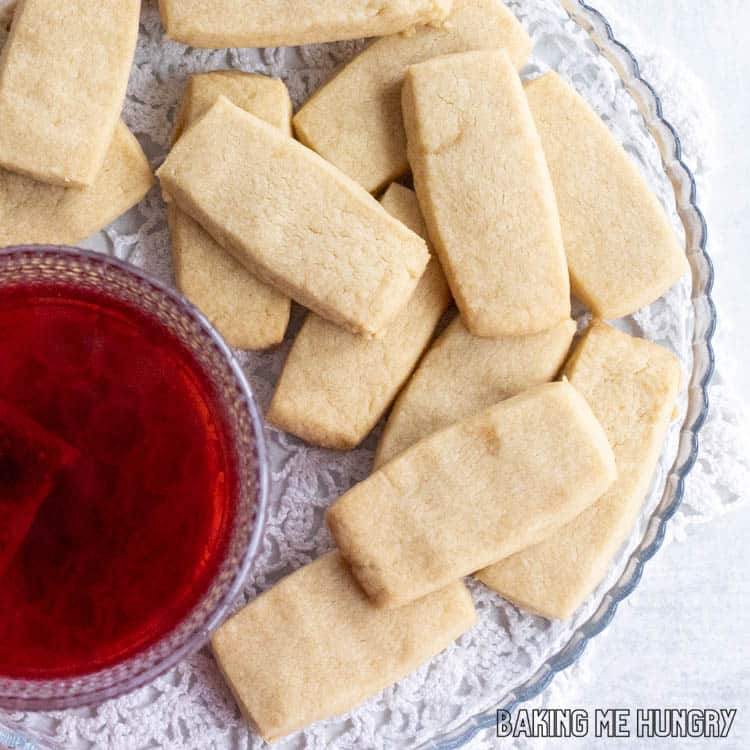 Ingredients
All-purpose flour – I use unbleached all purpose flour when baking. I'm not sure if other flours will work but if you try one, or try a gluten-free baking blend, please let me know how they turn out.
Salted butter – You must use salted butter for this recipe. Unsalted butter will make the flavor of the cookies fall short. If you don't have salted butter make sure to add a generous pinch of salt. Our butter was a bit softer than room temperature but when making dough in a food processor you can just use cold butter.
Brown sugar – This really makes the cookies. I used light brown sugar but for a deeper flavor, you can use dark brown sugar. Brown sugar has a hint of molasses flavor that white sugar doesn't have. I bet maple sugar or demerara sugar would also be delicious.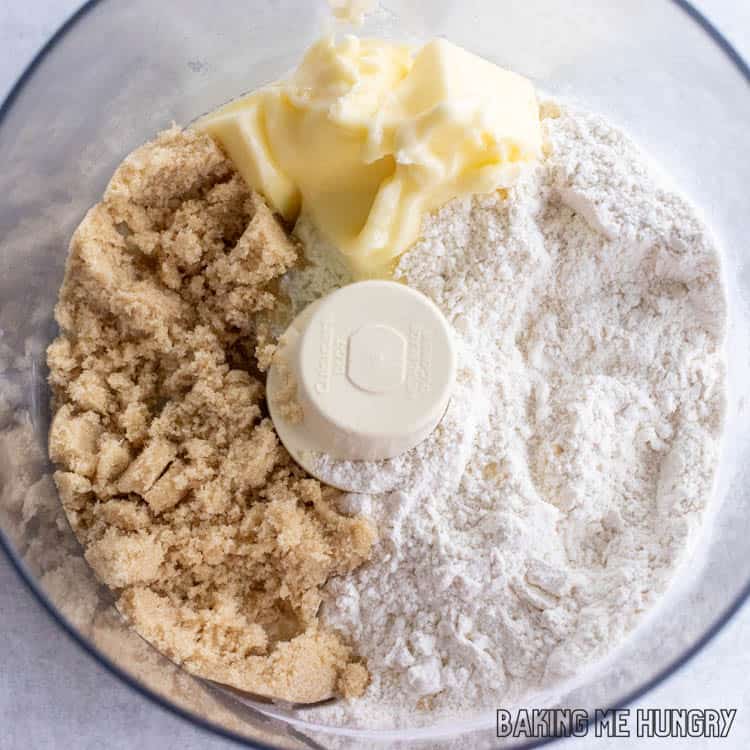 How to Make 3 Ingredient Brown Sugar Cookies
These quick and easy brown sugar shortbread cookies are the perfect way to satisfy your sweet tooth without having to spend hours in the kitchen. They really use just three ingredients and you don't even need a leavening agent like baking powder or baking soda.
Step One: Preheat the oven to 350. Line a baking sheet with parchment paper or a silicone baking mat. Process the ingredients until they look like wet sand.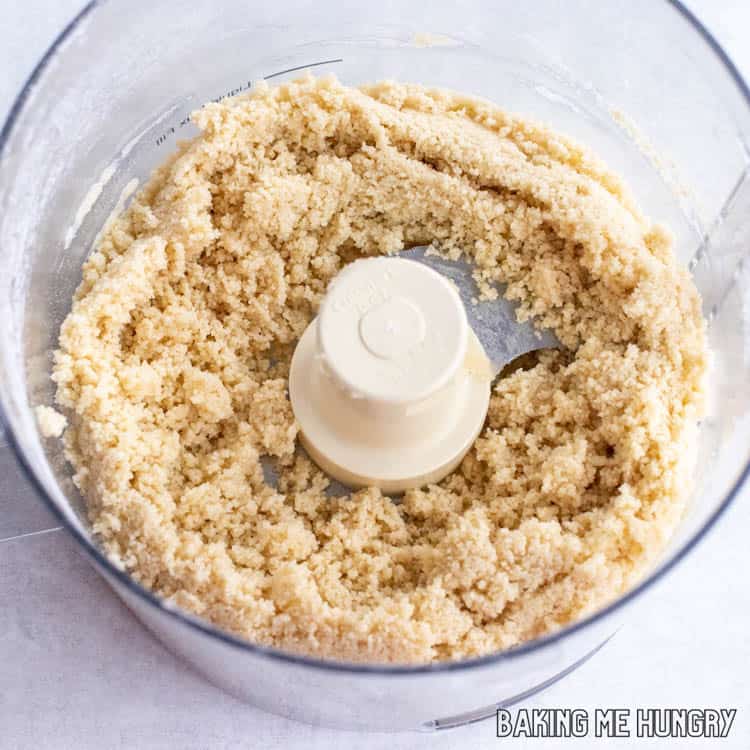 Expert Tip: This is what it is supposed to look like. Once you press it together with your fingers it will stick together and form a cohesive dough. You don't need to add any extra moisture.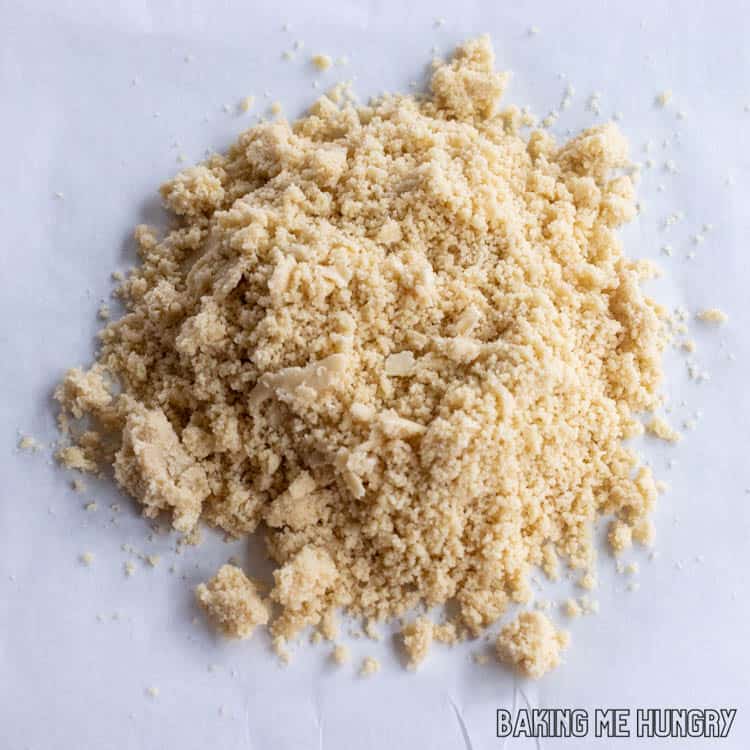 Step Two: Press the dough together and into a rectangle on top of the parchment paper. This is about 10 x 14 inches and about ½ inch thick.
Expert Tip: If you prefer round cookies you can scoop balls of dough with a cookie scoop. Press each of the cookie dough balls flat in a bowl of white granulated sugar and then set them on parchment paper. Add in a few chopped pecans and use this method and you'll get pecan sandies.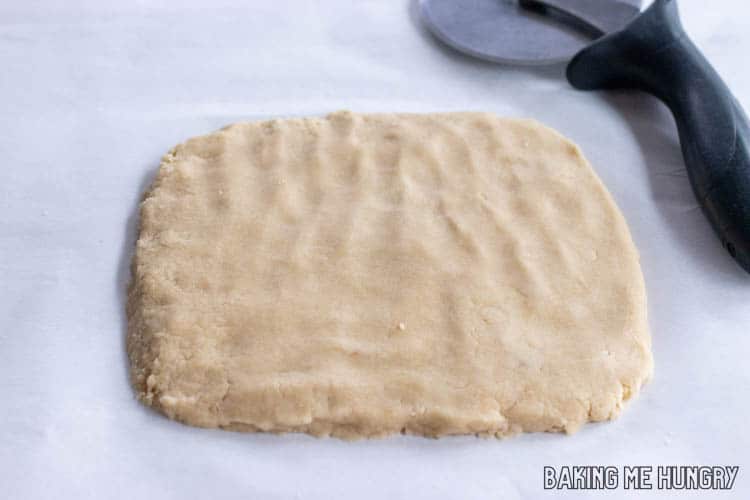 Step Three: Cut the dough into rectangles with a pizza cutter or sharp knife.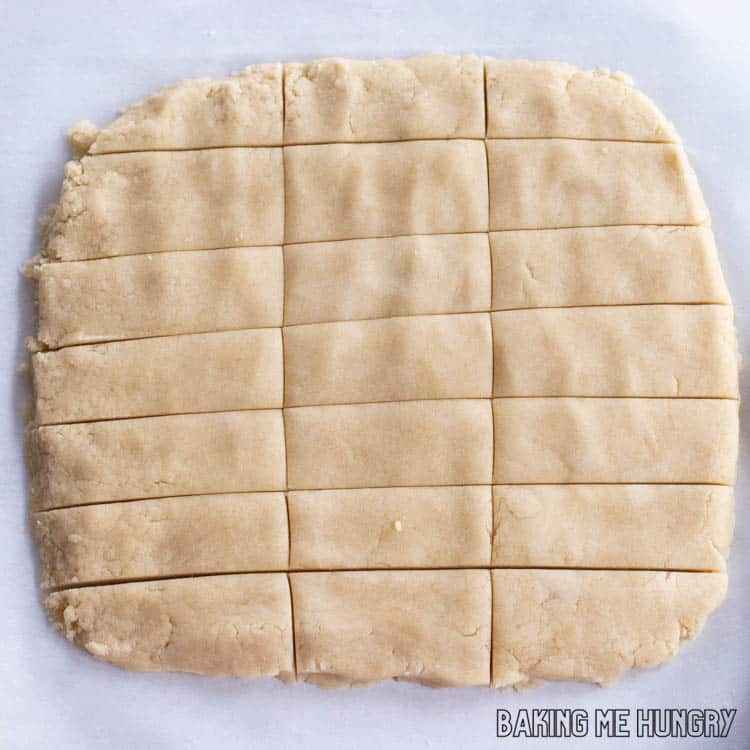 Step Four: Separate the cookies on the prepared cookie sheets so the edges crisp.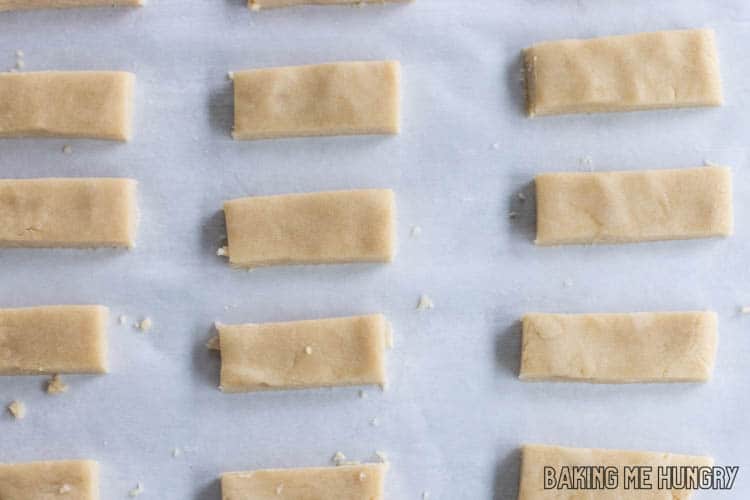 Step Five: Bake the cookies until the edges are golden brown. Cool on the pan for 5 minutes and then finish cooling on a wire rack.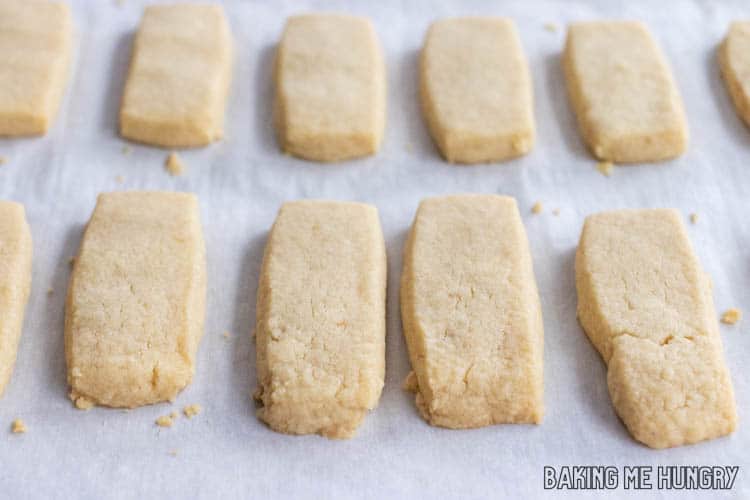 Variations
Chocolate – You can add mini chocolate chips or chocolate shavings into the batter or dip the cooled cookies into melted chocolate. Alternatively, you can drizzle them with melted chocolate. Semisweet chocolate, dark chocolate, or even white chocolate are good choices.
Spices – Adding in a bit of cinnamon, nutmeg, ginger, pumpkin pie spice, or cardamon can completely change the taste of the cookies. Start slow, since these don't have eggs you are welcome to taste the dough as you go.
Herbs – It may sound odd but a tiny bit of finely chopped lavender, rosemary, or mint is delicious in brown sugar cookies.
Extracts – Vanilla extract, maple extract, or almond extract are all great additions. Just add a teaspoon.
Nuts – You can add a few finely chopped nuts to the dough but if you add too much the dough may not come together. It might be better to sip the cookies in melted chocolate and then sprinkle toasted almonds, pecans, or walnuts on top.
Dried Fruit – Adding chopped dried cranberries or dried tart cherries are my top choices. They add a chewy texture to the crisp shortbread that is irresistible.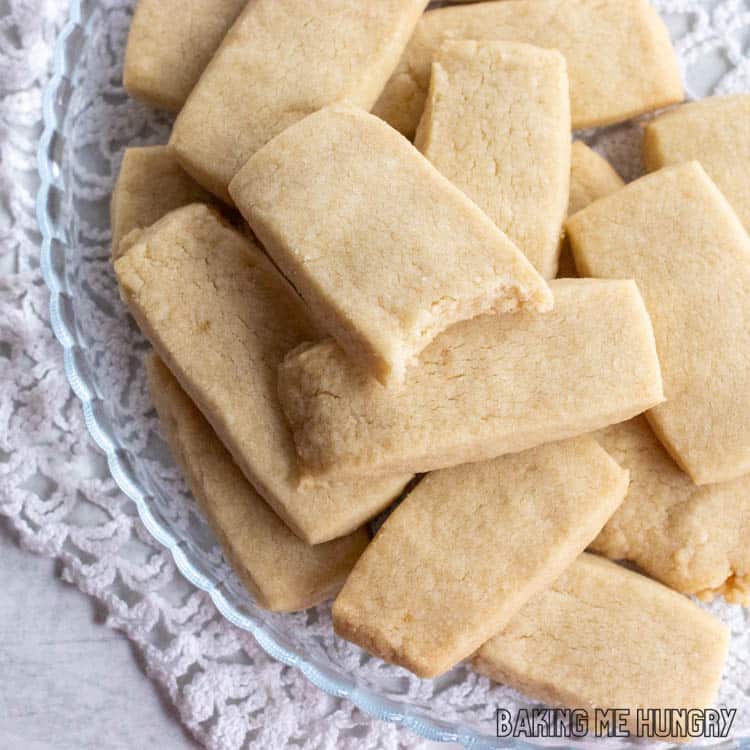 Common Questions
Can you make cookies with just brown sugar?
Yes, definitely. This recipe is a perfect example. But you can also make regular peanut butter cookie recipes and chocolate chip cookies recipe with all brown sugar.
What makes cookies chewy vs crunchy?
Chewy cookies rely on whole eggs for their soft texture, while crunchy cookies like shortbread don't use eggs at all and some other crisp cookies use only egg whites for a crispier finish. The ratio of wet to dry ingredients also plays a role– adding more butter or oil can result in chewier treats while using less fat leads to a crispier cookie. Finally, the baking time has an impact on the texture too.
How do I store brown sugar cookies?
You can store the 3 ingredient brown sugar cookies in an airtight container at room temp for 3-4 days, in the fridge for 1-2 weeks, or in the freezer for 3-4 months. I use these guidelines for almost all of my other cookie recipes as well.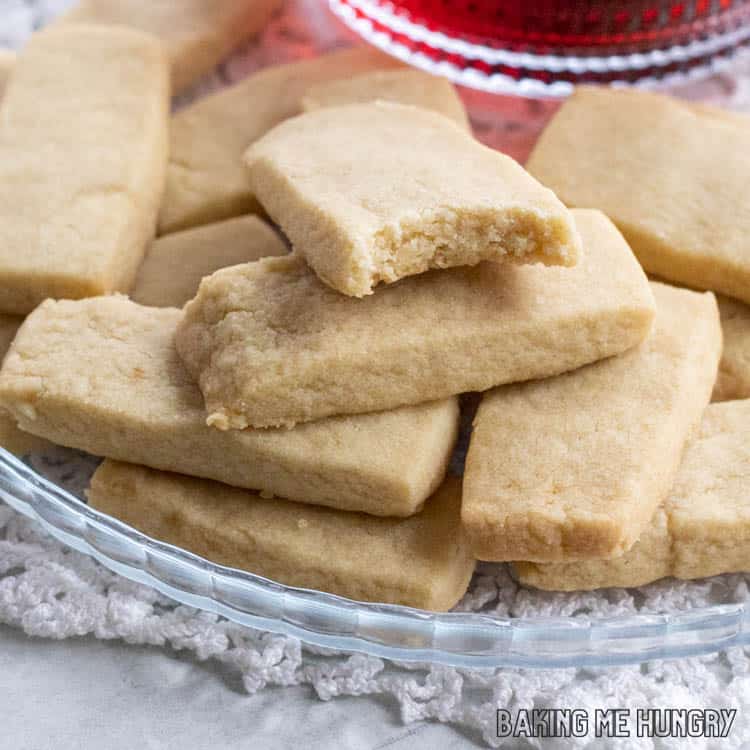 Can I make the dough in a stand mixer or with an electric mixer?
Yes, I think either method would work. Just make sure your butter is softened if you use one of those appliances to make the dough. If you use an electric hand mixer use a medium or large mixing bowl to avoid the flour making a mess.
Why didn't my shortbread cookies keep their shape?
You may not have pressed the dough together enough. When you have a wet sandy dough it's important to press it firmly together so it sticks.
If you also love oatmeal cookies and peanut butter cookies try our Chocolate Peanut Butter Oatmeal Balls next!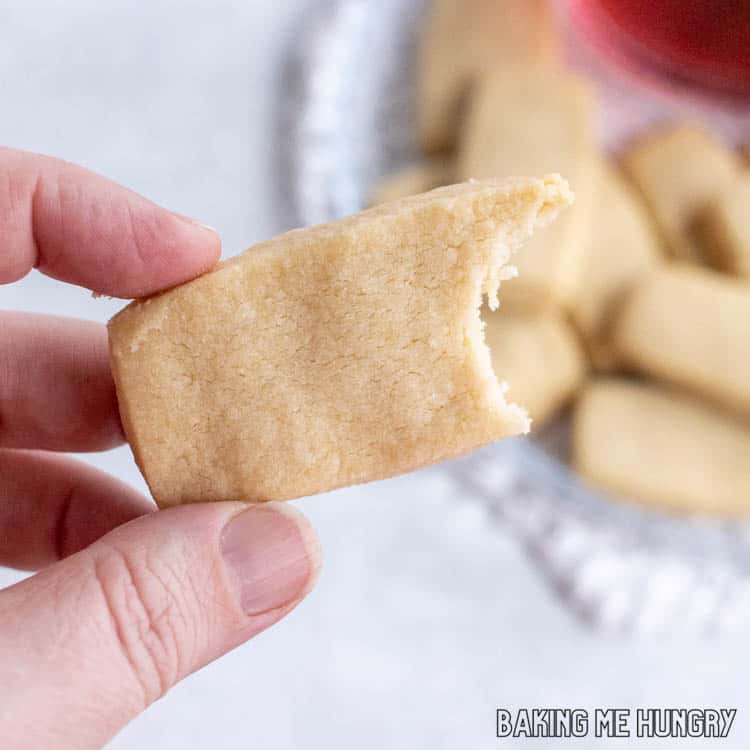 Like what you see? Follow us on Facebook and on Instagram! Love this recipe? Leave a comment & a 5-star rating right here! Make sure you don't miss new recipes by getting email updates!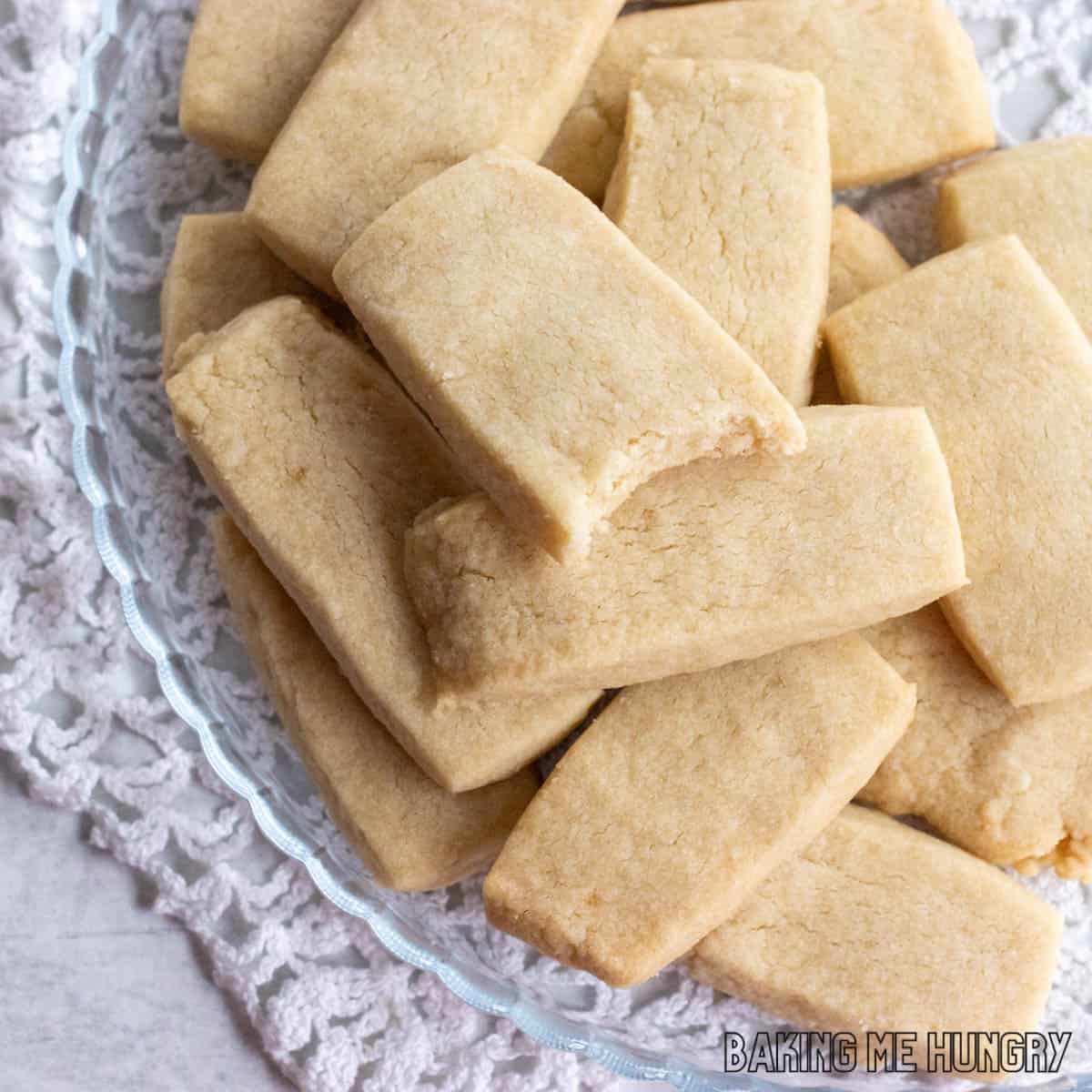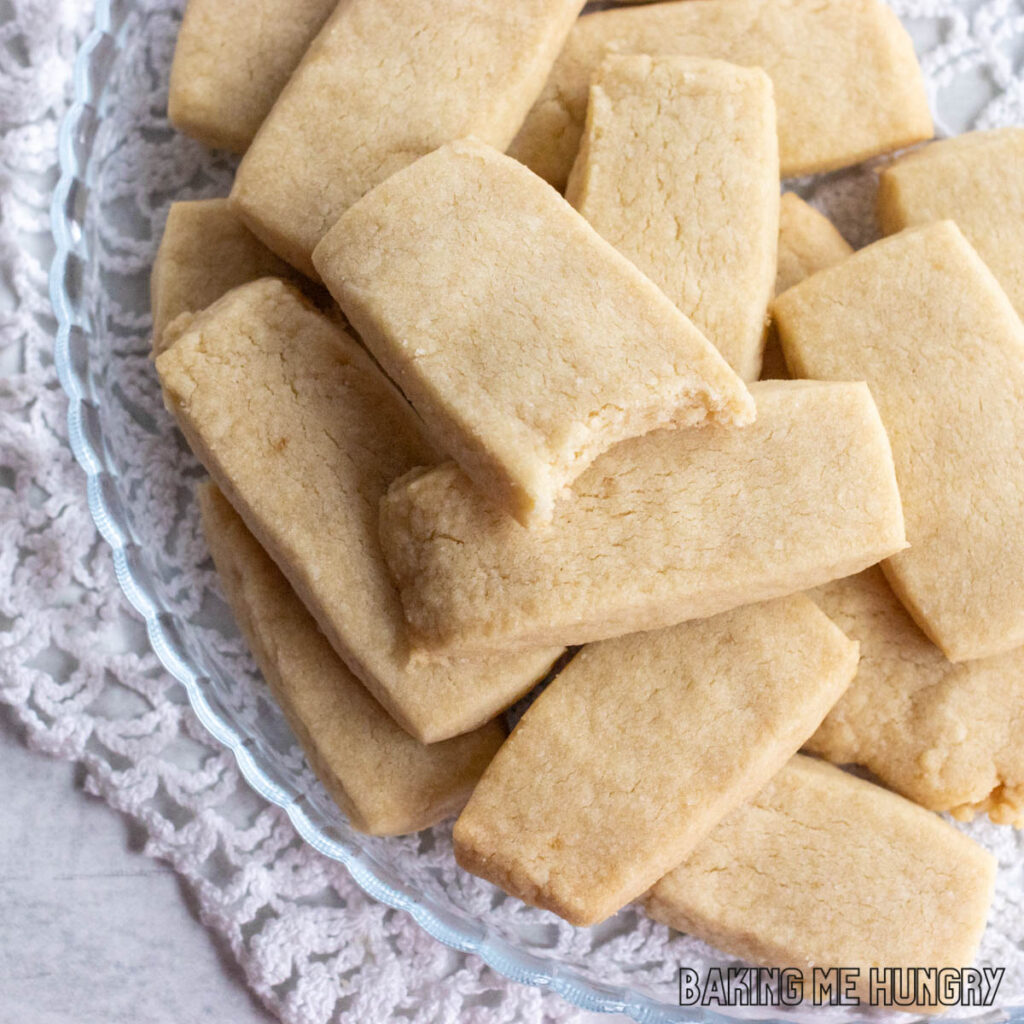 Ingredients
1

cup

all-purpose flour

½

cup

salted butter

softened (1 stick)

⅓

cup

brown sugar

packed
Instructions
Preheat oven to 350. Line a baking sheet with parchment paper.

Process the ingredients in a food processor until a dough begins to form.

Dump out onto the parchment covered pan. Press the dough together, using your fingers, into an 12" by 12" square. Cut into 4" by 2" rectangles using a pizza cutter.

Gently spread out the cookies so there is room between them.

Bake for 10-12 minutes.
Nutrition
Calories:
86
kcal
|
Carbohydrates:
9.3
g
|
Protein:
0.8
g
|
Fat:
5.2
g
|
Saturated Fat:
3.3
g
|
Polyunsaturated Fat:
0.2
g
|
Monounsaturated Fat:
1.3
g
|
Trans Fat:
0.2
g
|
Cholesterol:
13.6
mg
|
Sodium:
41.8
mg
|
Potassium:
14.4
mg
|
Fiber:
0.2
g
|
Sugar:
4
g
|
Vitamin A:
157.6
IU
|
Calcium:
5.9
mg
|
Iron:
0.4
mg
More Easy Recipes:
3 Ingredient Peanut Butter Oatmeal Balls