Forget about hot coffee and make this Frosted Coffee Recipe instead. All you need are simple ingredients to make this delicious drink, and you'll be hooked. Coffee fans will agree that this is the best! It tastes just like a homemade Chick-fil-A copycat!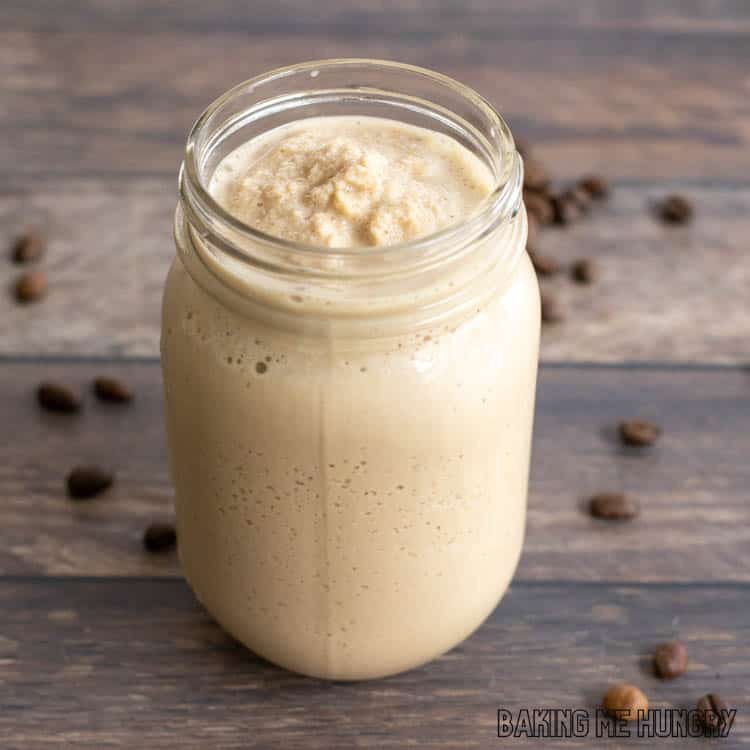 ​While this isn't technically a copycat recipe, I like to think that it tastes a lot like the iced coffee from Chick Fil A. The vanilla ice cream paired with the ice cubes makes it a sweet treat to kick off the day. Why settle for regular coffee when you can have this perfect drink?
Not only does it have great flavor, but it's a delicious treat that all coffee lovers will enjoy. In my opinion, this is the best way to enjoy a cold coffee recipe that's unlike anything you've ever had. As an avid coffee drinker, I give this one two thumbs up.
Be sure to check out my Oreo Iced Coffee Recipe for another fun flavor. Since everyone loves coffee flavors, pairing that with other delights is so much fun to do.
Ingredients
Vanilla ice cream – This is added to give sweetness and texture to this simple cold-brew recipe.
Cold brewed espresso – The added punch of caffeine and coffee flavor that you crave.
Ice cubes – Cool down the mixture and add texture.
Caramel syrup – This simple syrup is a fast and easy way to add caramel taste and coloring.
How to make this Frosted Coffee Recipe
The complete ingredient list for the copycat chick-fil a coffee is below the tutorial in the recipe card.
Step One: Mix all the ingredients together in a blender.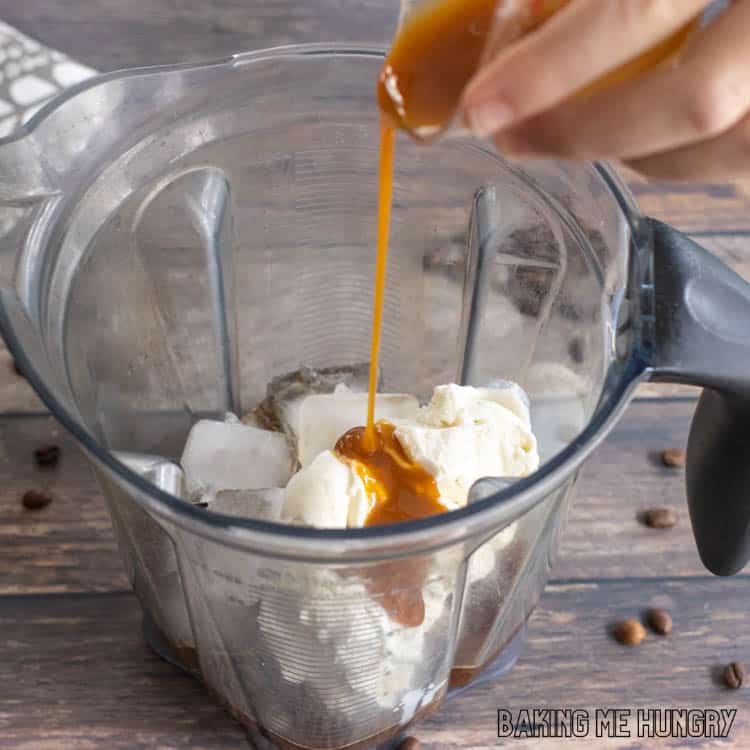 Step Two: Blend until smooth. Pour into a tall glass or mason jar.
Step Three: Add whipped cream and caramel syrup to the top and enjoy.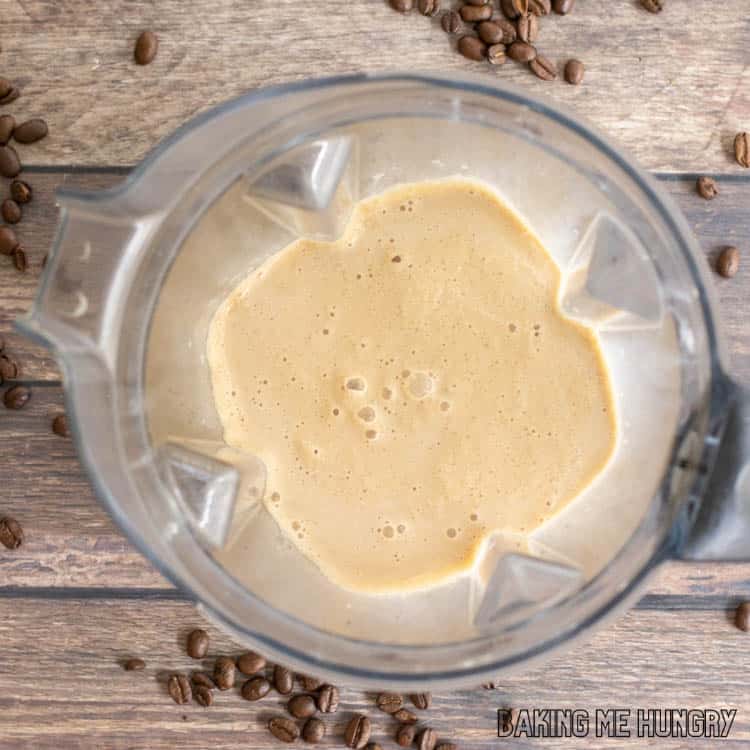 Variations
Add more toppings – While adding caramel sauce is a must, don't forget that putting some chocolate shavings on top is a great idea, too. White chocolate is yummy also!
Other flavors – You can enhance the flavor of your frosted coffee by adding ingredients like vanilla extract, almond extract, or even a sprinkle of cinnamon on top.
Use a different flavor of ice cream – vanilla ice cream is yummy, but you can easily make this delicious iced coffee using a chocolate scoop of ice cream, too. Coffee ice cream would be good as well!
Skip the ice cream – If you want you can sub in whole milk, half and half, or heavy cream for the ice cream. You will need to add more ice and sweetener. You can even try using a flavored coffee creamer.
Add different flavors of syrup – Any flavor of simple syrup would work for this drink. If you're making your own coffee, make it your own with chocolate syrup, simple syrup, or even honey lavender syrup.
Try different types of coffee – If you use a flavored coffee the flavor of the coffee will come through in the drink. Or try coffee of different origins next time.
Use strong coffee – You can use your espresso maker to make an espresso to use, or you can use instant coffee granules and make a cup of coffee to add. Cold-brewed coffee is really versatile because you can use leftover coffee or fresh coffee to make it.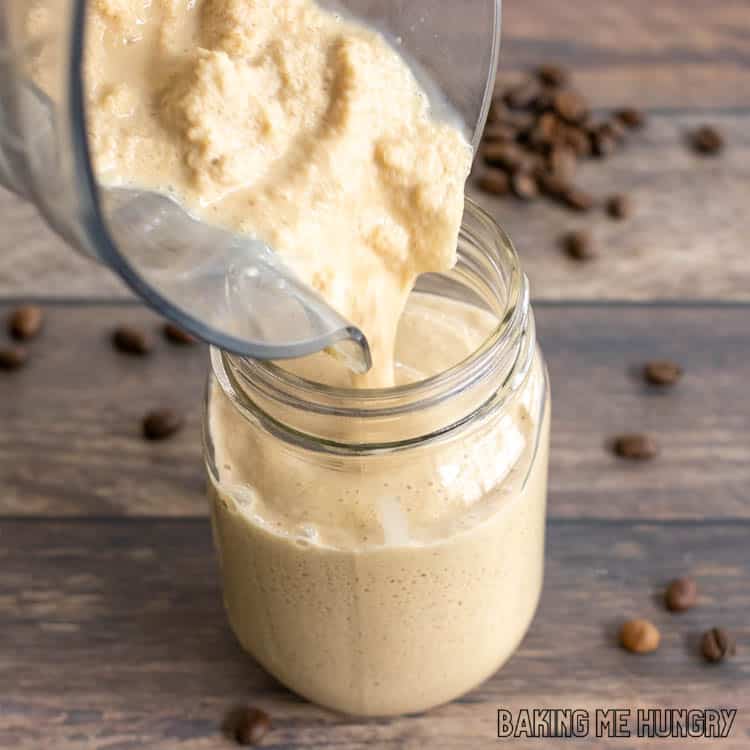 Common Questions
What is frosted coffee?
Frosted coffee is a delicious and refreshing beverage made by combining coffee, vanilla ice cream, and ice.
Can I use any type of coffee for frosted coffee?
Yes, you can use any type of coffee for frosted coffee. Choose your favorite blend or even experiment with flavored coffees to add extra taste to your drink.
Can I make frosted coffee without dairy milk?
Absolutely! You can use alternative milks like almond milk, soy milk, or oat milk to make a dairy-free version of frosted coffee. Just make sure to use a cold milk.
Can I sweeten my frosted coffee with something other than sugar?
Yes, you can use alternative sweeteners like honey, agave syrup, or stevia to sweeten your frosted coffee according to your preference. I used caramel syrup as the sweetener in my recipe.
Can I customize the consistency?
Yes! If you prefer a thicker texture for your drink, add more ice when blending. For a lighter consistency, reduce the amount of ice used in the recipe.
Is iced coffee just hot coffee poured over ice?
Not really. That method often results in a weak, watered-down, cup of iced coffee. It is better the chill the coffee concentrate first before adding it to ice.
While having a strong cup of coffee is key, there's a bit more to the process than that. The added ingredients of this recipe give extra flavors that prove you can easily be your own barista. While this coffee recipe is cold, it's not technically an iced coffee recipe. Blending together the ingredients makes a frosty texture that almost gives it milkshake vibes.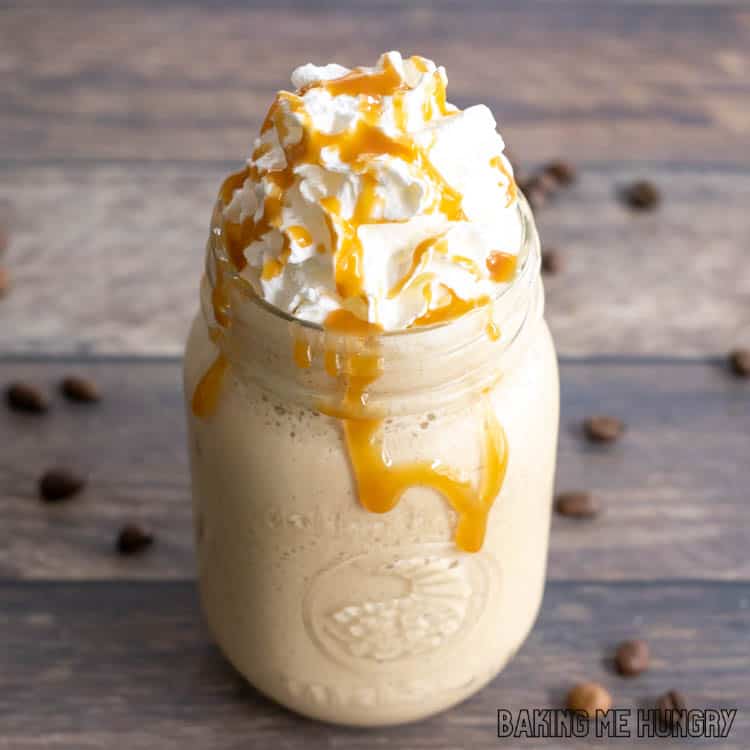 How do I make strong coffee?
You simply use twice the amount of coffee grounds that you would normally. You can do this in a french press with hot water, in a pour over, or in drip machine. It is harder to do this in coffee makers like a Keurig but you can by just adding less water instead of adding more grounds. If you have an espresso machine like Nespresso make a few espresso shots and let them cool down to room temperature and use those.
Can I make this use decaf coffee?
Absolutely. If you prefer decaffeinated beverages, simply use decaf coffee instead of regular in your recipe for a tasty caffeine-free treat. The amount of coffee or type of coffee that you use is totally up to you.
Can I use leftover coffee?
If you're like me, sometimes you brew a big pot of coffee and have some leftovers. I hate to waste good coffee, so I'm the type of person that will save it to use it for later. Just find a mason jar, pour coffee into it, add a lid, and keep it stored in the fridge. This is an excellent choice and option to do for an afternoon coffee as well.
The more leftovers that you have, the more you can whip up this delicious coffee drink.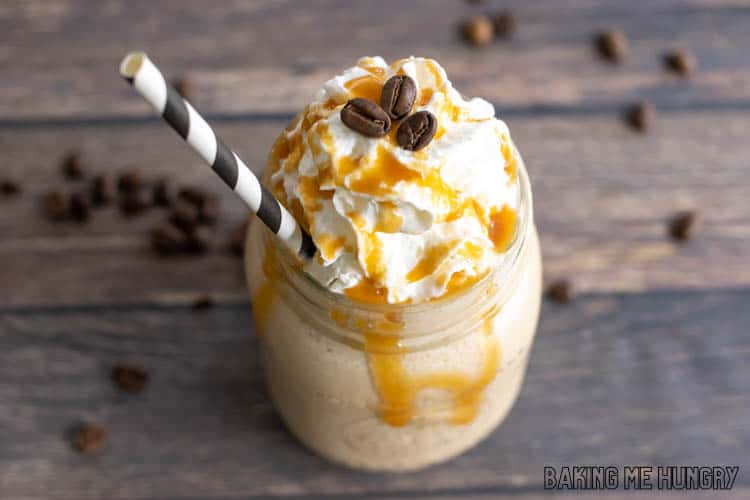 What are fun toppings to add to cold coffee drinks?
Coffee toppings are endless. There is always room for more whipped cream or even a fun flavored whipped cream to be added on top. You can add chocolate shavings, chocolate chips, sweetened coconut flakes, a dusting of cinnamon, chocolate sprinkles, or anything else that you want.
Since this drink recipe can be served individually, having each person add their own toppings is a great idea. This means that everyone who has a glass can make it 100% unique.
Just set a few toppings out on the counter, and see who chooses what. You may even surprise yourself by picking something new to try that you haven't had before.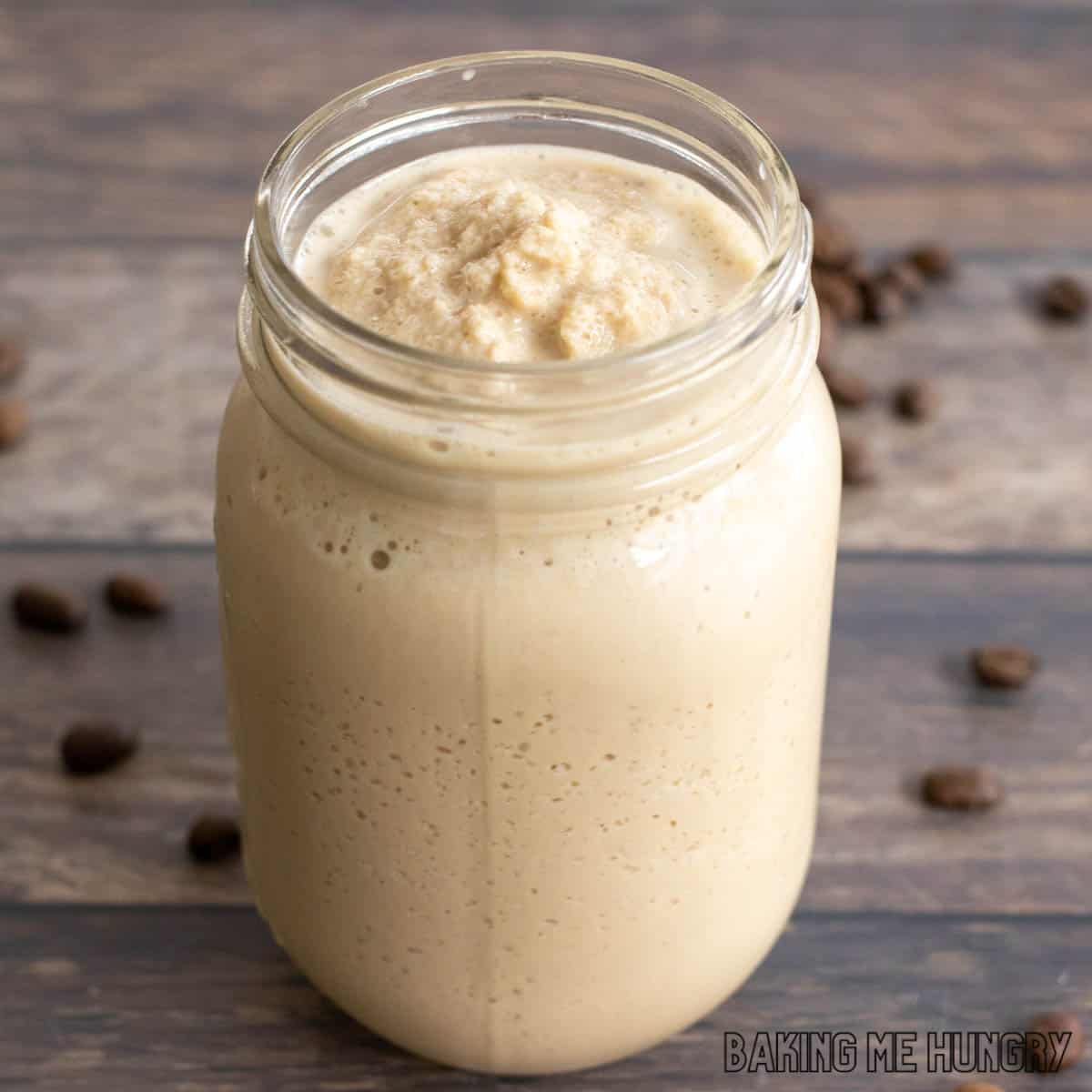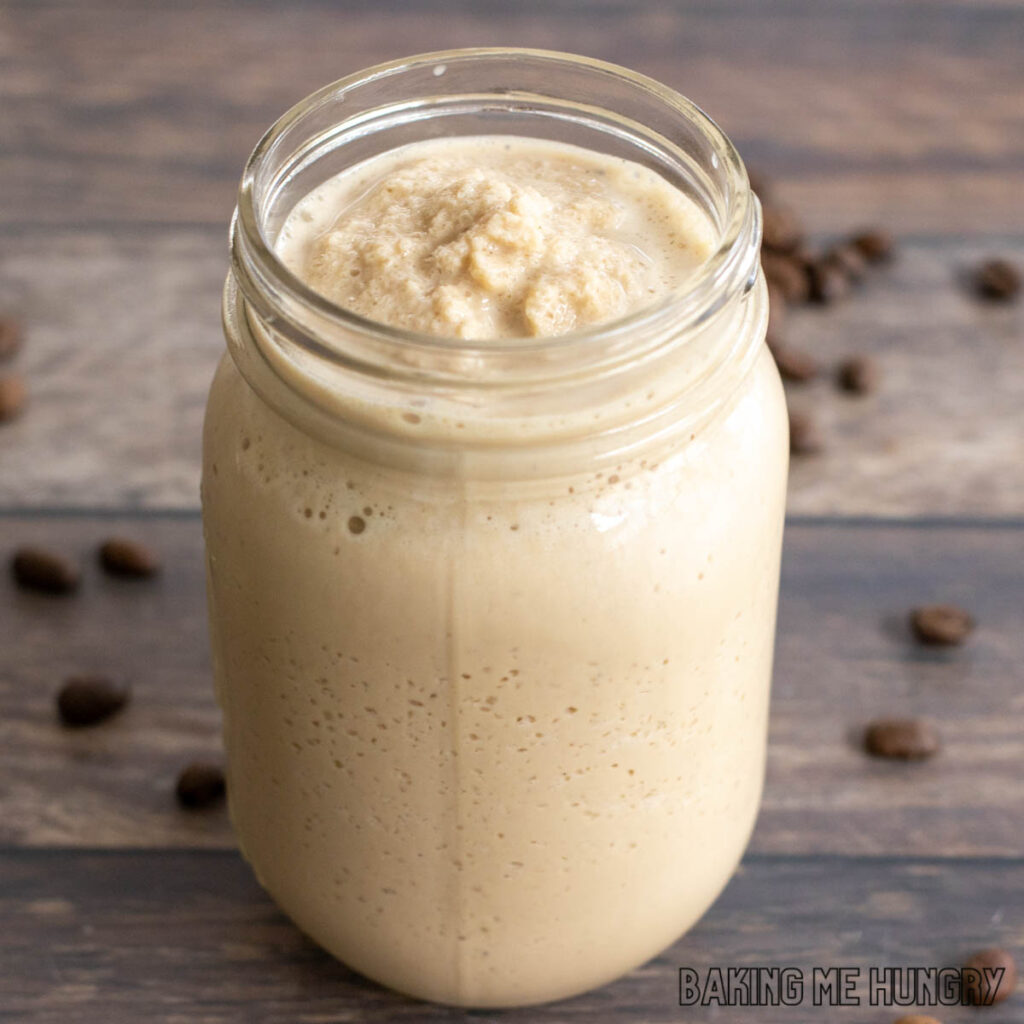 Equipment
Ingredients
1

cup

vanilla ice cream

½

cup

espresso

chilled (or double-strength coffee)

½

cup

ice cubes

¼

cup

caramel syrup
Instructions
Combine all ingredients in a blender.

Garnish with whipped cream and extra caramel syrup.
Nutrition
Calories:
405.9
kcal
|
Carbohydrates:
65.3
g
|
Protein:
5.4
g
|
Fat:
14.7
g
|
Saturated Fat:
9.1
g
|
Polyunsaturated Fat:
0.7
g
|
Monounsaturated Fat:
3.9
g
|
Cholesterol:
58.1
mg
|
Sodium:
320.7
mg
|
Potassium:
435.7
mg
|
Fiber:
0.9
g
|
Sugar:
60.2
g
|
Vitamin A:
606.6
IU
|
Vitamin C:
1.3
mg
|
Calcium:
202.6
mg
|
Iron:
0.3
mg