If you're a fan of Oreo cookies, make a mental note to make this creative coffee drink asap. This Oreo Iced Coffee Recipe is perfect for a hot summer day and a fun way to pair real Oreos with a cold brew coffee. It's great for fixing a sweet tooth and getting your caffeine fix!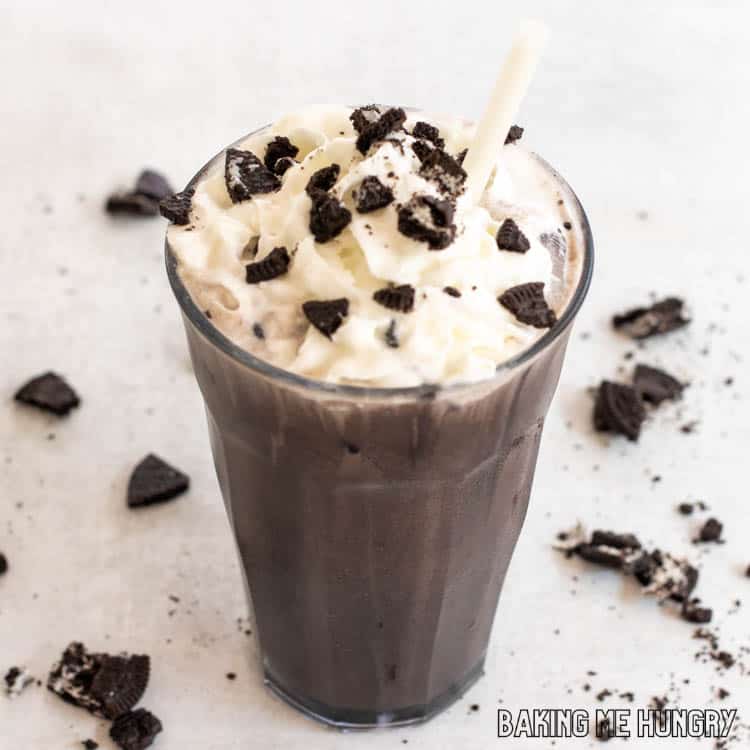 What I really love about this cold coffee recipe, besides its deliciousness, is that it has an authentic Oreo flavor. It's almost a copycat Starbucks version, but with the bonus that since you're making it, you can add as many Oreos on top as you want. (and if you love Oreos as I do, this might be more than what the recipe calls for sometimes!) Recipes like this prove that there are fun new ways to make a classic cold coffee taste new and different every time.
If you consider yourself to be a coffee lover, don't miss this sweet treat. Having a decadent breakfast treat like this one is the perk of being an adult! It's the best way to make your average morning coffee taste like the perfect chocolatey coffee treat. And the best part? You can literally make this right at home, saving you loads of money from not buying this drink at your favorite coffee shop. Cheers to savings and flavor!
Be sure to check out my Chocolate Coffee Ice Cream Recipe for a simple dessert that you'll love!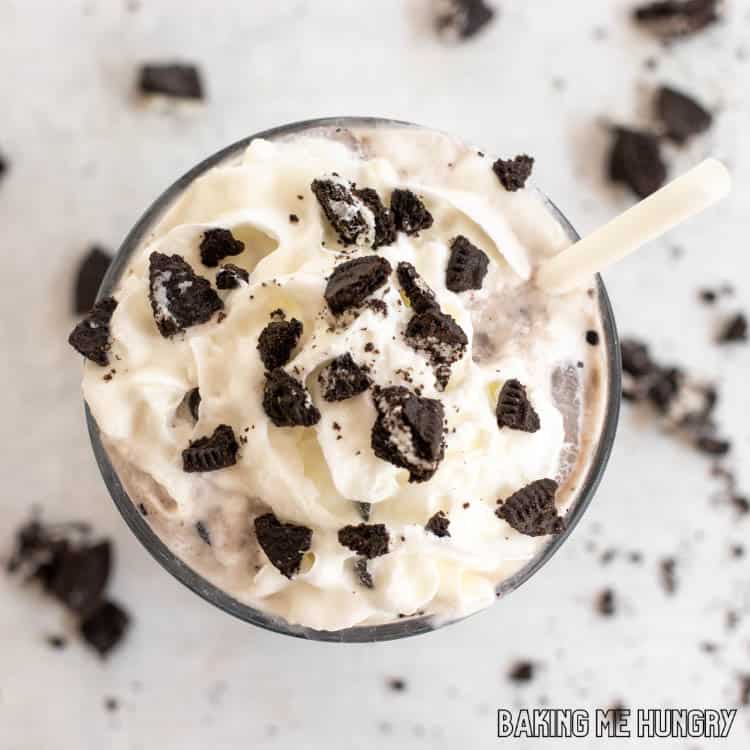 Ingredients
Strong coffee – You can use leftover coffee, instant coffee, or freshly brewed coffee.
Half and half – This adds a rich and creamy texture.
Sugar – For sweetness.
Hot water – To help mix the ingredients together while also diluting the coffee a bit.
Black cocoa powder – Adds dark coloring and gives a chocolate flavor.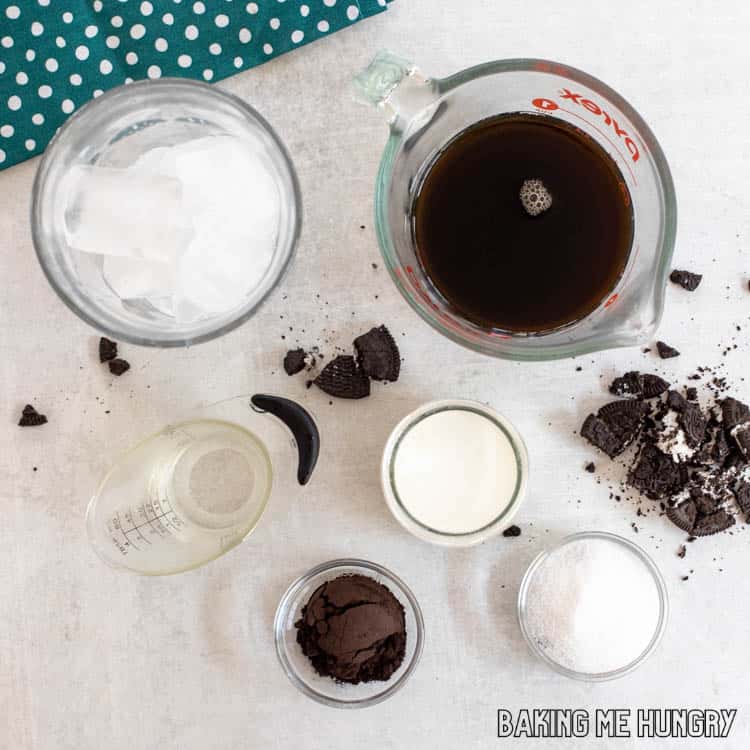 How to make Oreo Iced Coffee Recipe
Step One: In a small bowl, mix together the sugar and the hot water.
Step Two: Stir in the black cocoa powder.
Step Three: Use a measuring cup and measure the half and half and coffee into a different measuring cup.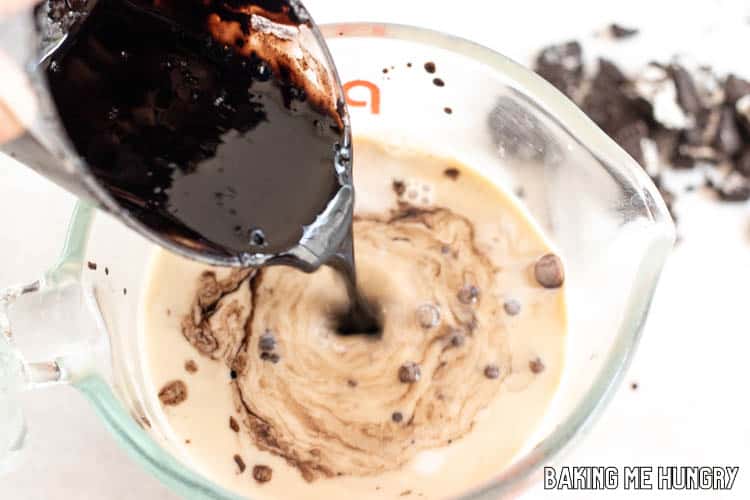 Step Four: Add the cocoa sugar mixture into that coffee and stir.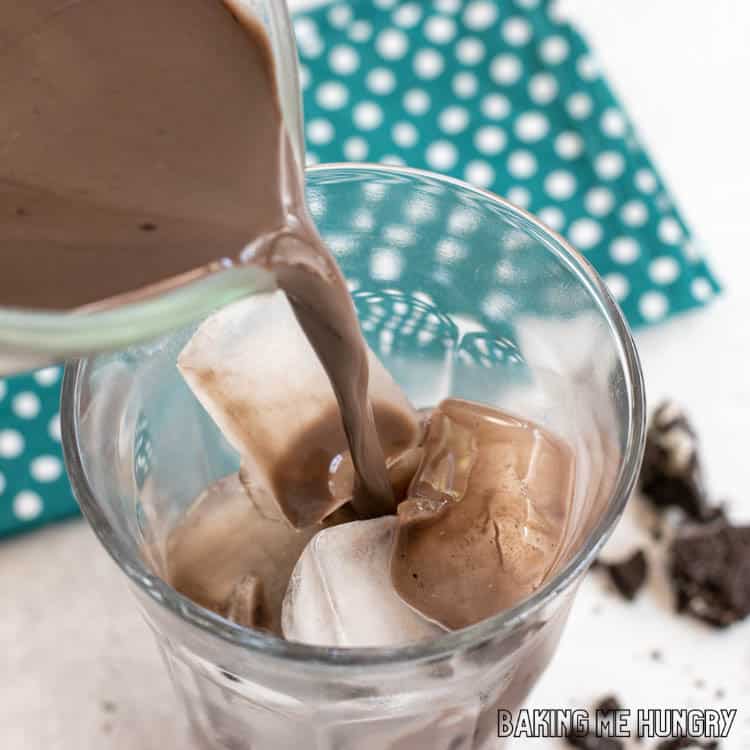 Step Five: Add ice to a glass, then pour the coffee mixture over the top.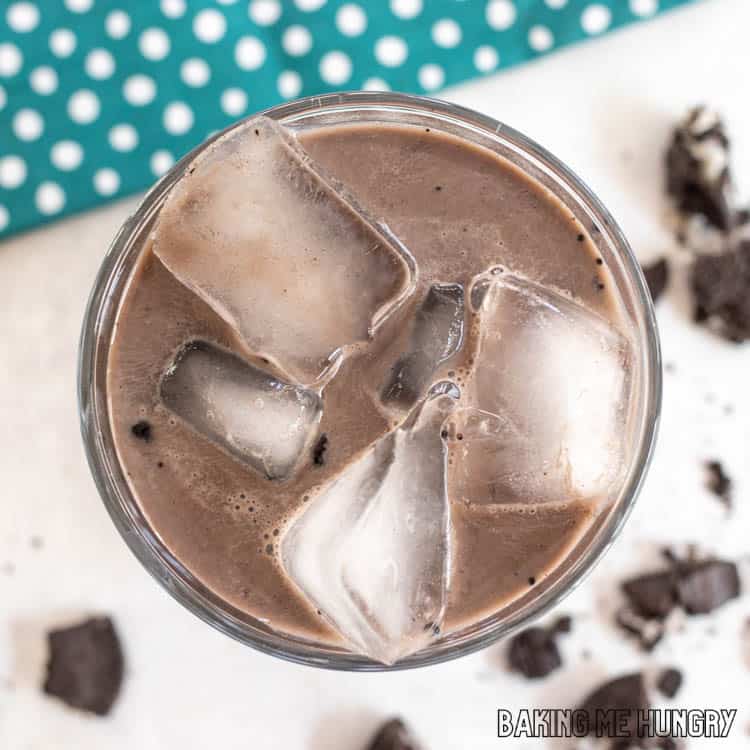 Step Six: Garnish with whipped cream and crumbled Oreos, if desired.
Variations
Try different flavors – I'm all about the simple ingredients that I'm already using in this recipe, but who says that you can't try other ones? You can make a delicious cup of coffee taste unique by adding a bit of extra sweetness using a bit of French vanilla coffee creamer – or even stirring in a little bit of vanilla ice cream! This quickly will turn into more of a coffee milkshake with a creamy texture, but it's totally worth a try.
Use different coffee – You can also make this simple coffee using decaf coffee as well. I'll do this sometimes when I'm craving a regular iced coffee, but it's too late in the day for me to have any caffeine. In a pinch, you can even use instant coffee powder mixed with real milk.
Add peanut butter powder – One other fun little trick to add a new taste is to add a scoop of peanut butter powder. This will give you protein adding to your drink and a nice peanut butter coffee flavor! This rich flavor pairs really well with the Oreo flavor, so don't forget to add that ingredient, too.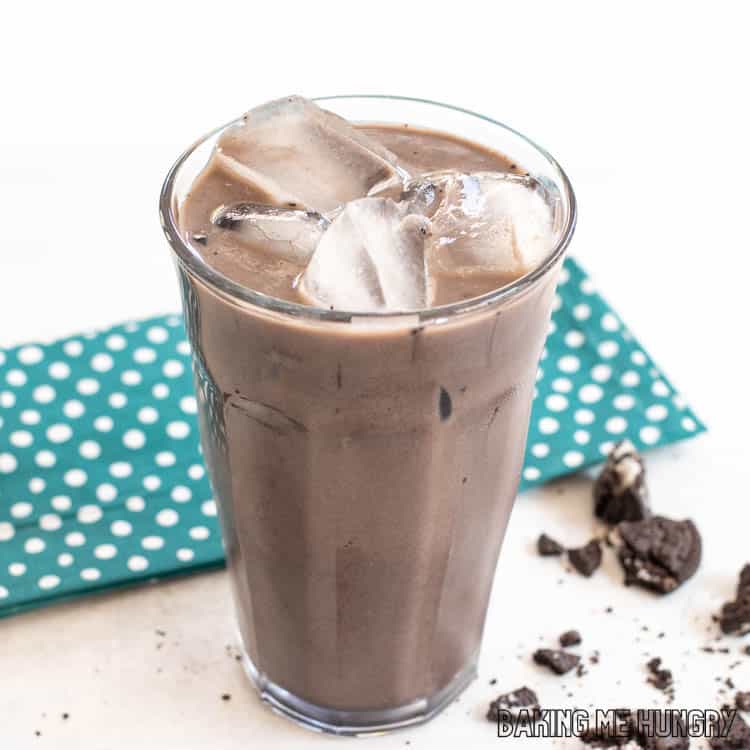 Common Questions
How do I serve this Oreo coffee?
You just need prepared glasses or your favorite coffee mug. You can also use a tall glass to make it look more like a dessert drink, or even change things up and serve it in a mason jar. Just make sure that you add the ice cubes to whatever glass you're planning on using first so that it will chill the drink, making it ready to drink.
What toppings should I add?
If you want more Oreo flavors, add more crushed Oreos on top! You can also add homemade whipped cream (just whip up some heavy cream) and then drizzle chocolate syrup or chocolate sauce, too. The best part about adding toppings is that it's a fun treat to enjoy before, during, or after you drink all the iced coffee. (and you can easily change the toppings every time!)
When should I serve iced coffee?
Since this is a cooler drink, I tend to think of this as a summer drink on a hot day. However, any time that you want to make and serve, it is going to be the perfect way for you. Just follow the simple step-by-step instructions, and you can enjoy your new favorite coffee recipe anytime that you want.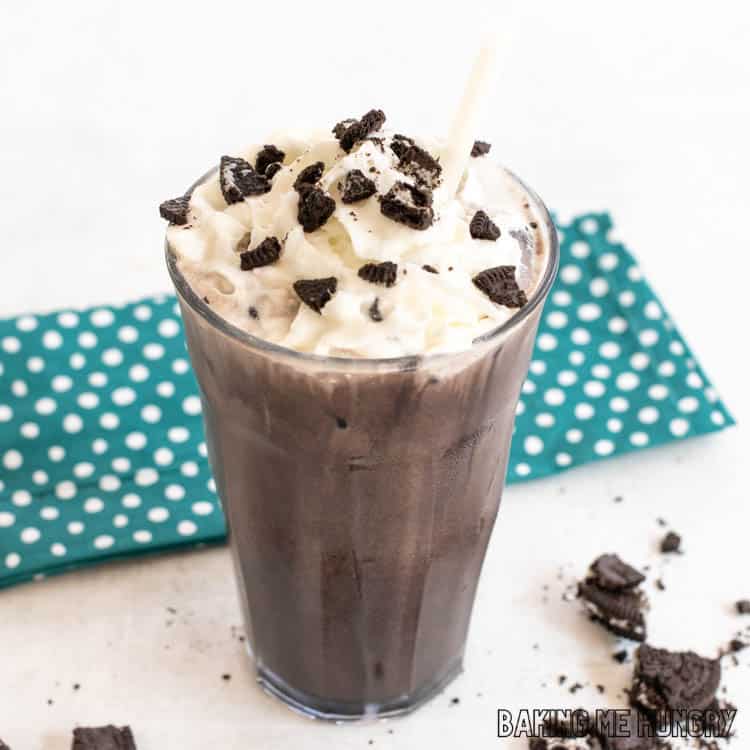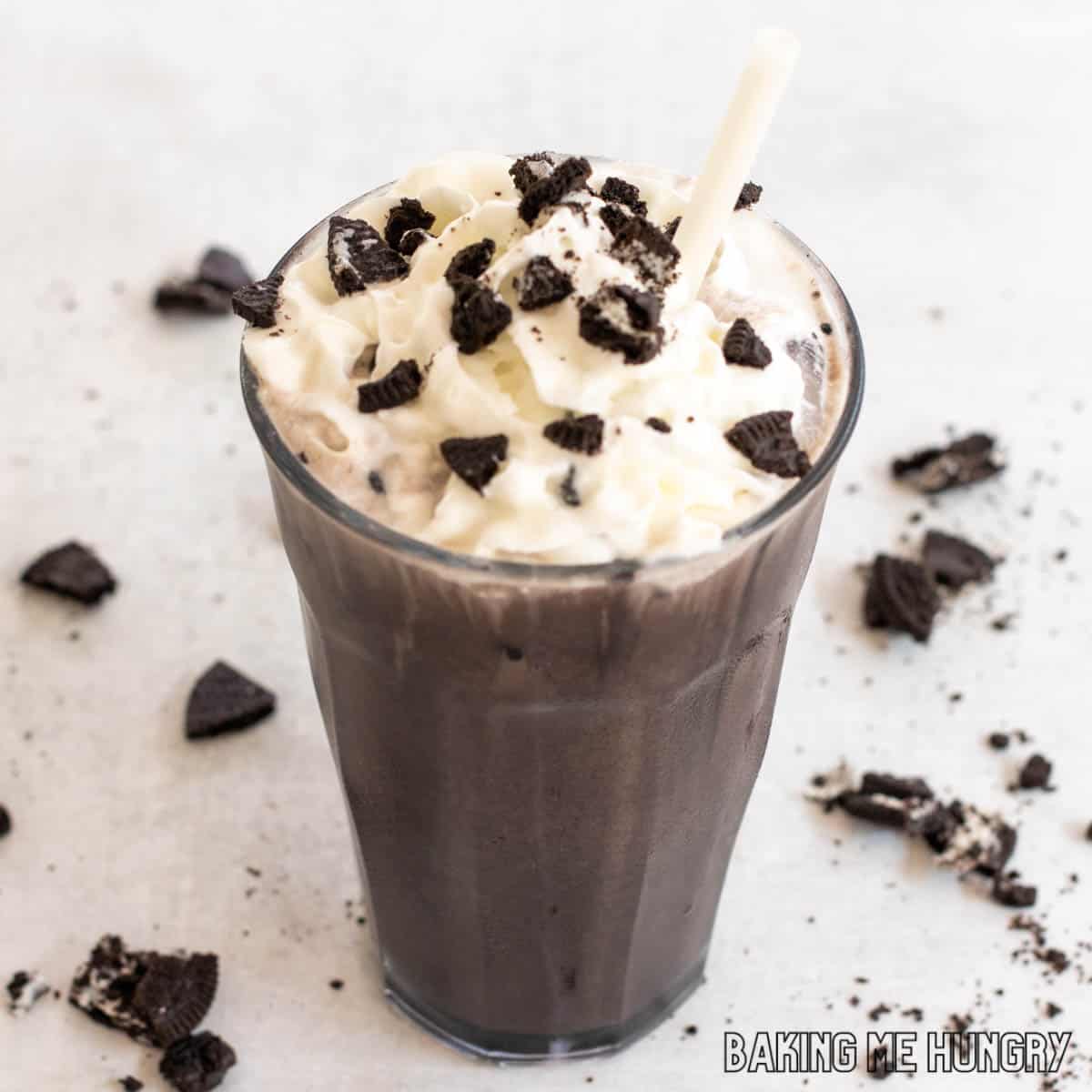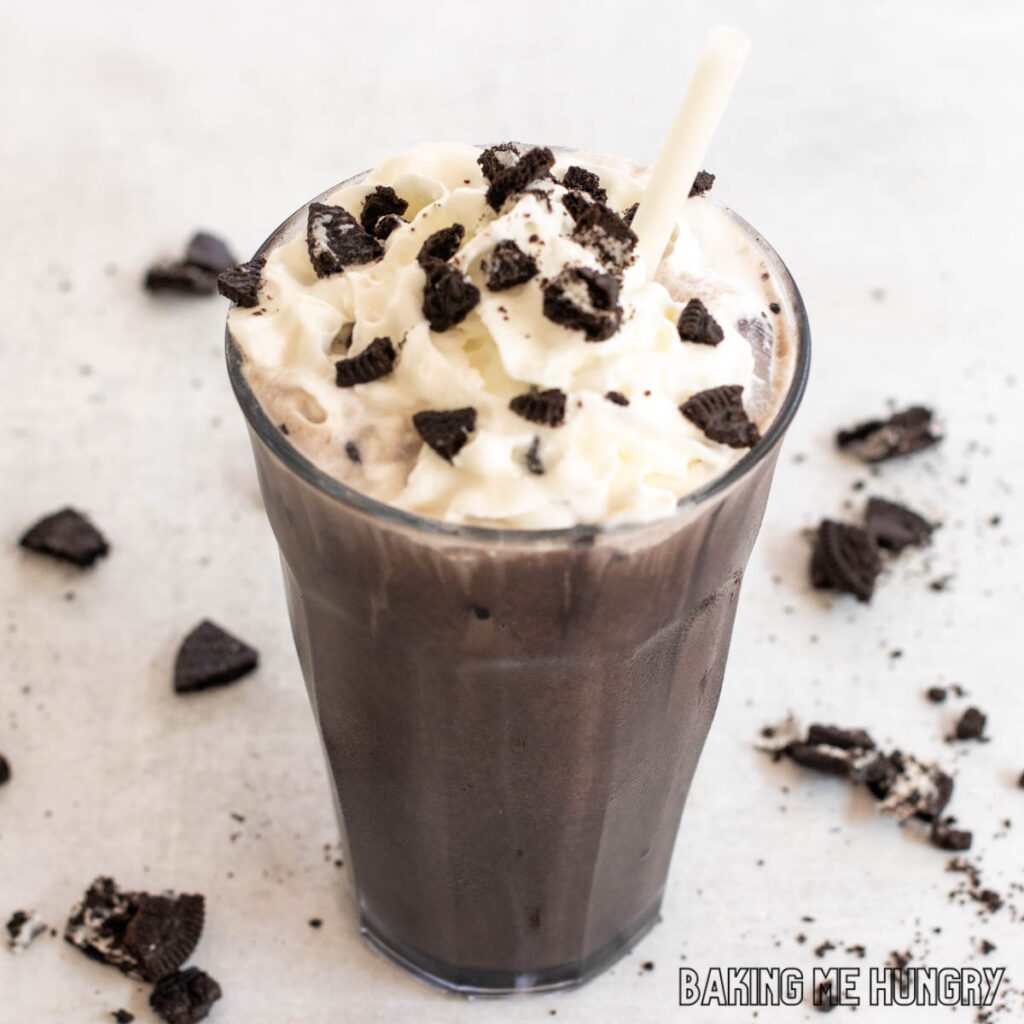 Ingredients
6

oz

cold strong coffee

2

oz

half and half

2

tbsp

sugar

1

tablespoon

hot water

1

tablespoon

black cocoa powder
Instructions
In a small bowl stir together the sugar and hot water until it dissolves.

Mix in the black cocoa powder.

Measure the coffee and half and half in a glass measuring cup.

Stir the cocoa sugar paste into the coffee.

Add ice to fill the glass. Pour the coffee mixture over the ice.

Garnish with whipped cream and a crumbled Oreo cookie.
Nutrition
Calories:
179.8
kcal
|
Carbohydrates:
29.2
g
|
Protein:
3
g
|
Fat:
7.3
g
|
Saturated Fat:
4.4
g
|
Polyunsaturated Fat:
0.3
g
|
Monounsaturated Fat:
2.1
g
|
Cholesterol:
19.8
mg
|
Sodium:
39.3
mg
|
Potassium:
234.7
mg
|
Fiber:
1.9
g
|
Sugar:
26.4
g
|
Vitamin A:
200.7
IU
|
Vitamin C:
0.5
mg
|
Calcium:
70.7
mg
|
Iron:
0.8
mg