Experience pure bliss with our decadent Hot Chocolate Coffee Recipe. A delightful twist on traditional hot cocoa that will leave you wanting more. Delicious hot chocolate perfect for a coffee lover and just as good as a mocha from any of the coffee shops out there.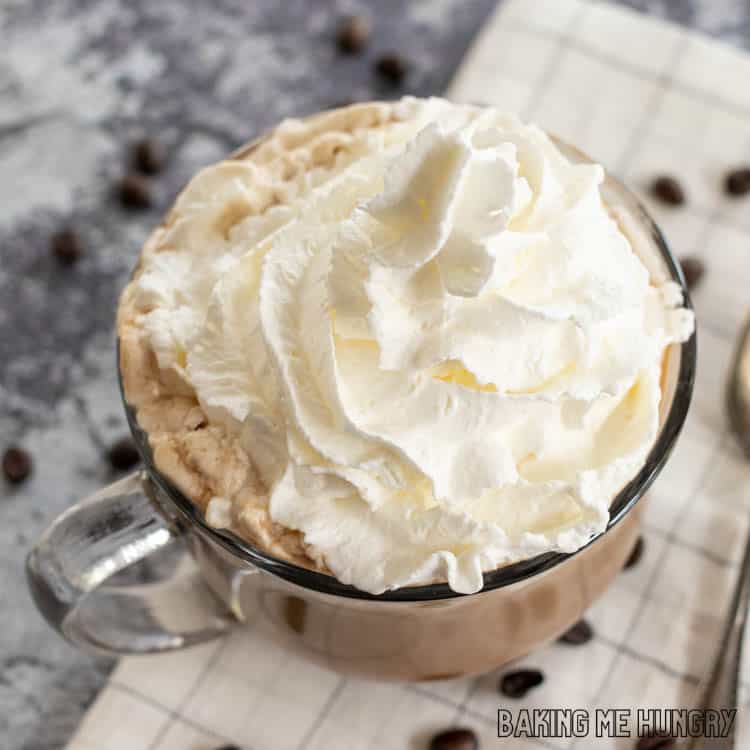 Are you a fan of both hot chocolate and coffee? If so, get ready for the ultimate indulgence. Imagine sipping on a warm mug filled with velvety smooth hot chocolate infused with the rich and robust flavor of your favorite coffee. This is an easy recipe for a delicious drink that takes just a couple of minutes.
This heavenly combination is sure to awaken your taste buds and provide the perfect pick-me-up on those chilly winter mornings or any time you crave a comforting beverage. In this article, we will unveil an easy and delectable hot chocolate coffee recipe that will satisfy all your cravings while adding a touch of luxury to your everyday routine.
One delicious beverage option is to mix hot coffee and hot chocolate together. This combination creates a rich and indulgent drink that is perfect for those who love the flavors of both coffee and chocolate. To make this delightful drink, simply brew a cup of hot coffee and add a hot chocolate mix using your favorite brand. Then add half and half to achieve the desired creaminess. The result is a satisfying blend of flavors that will warm you up on chilly days.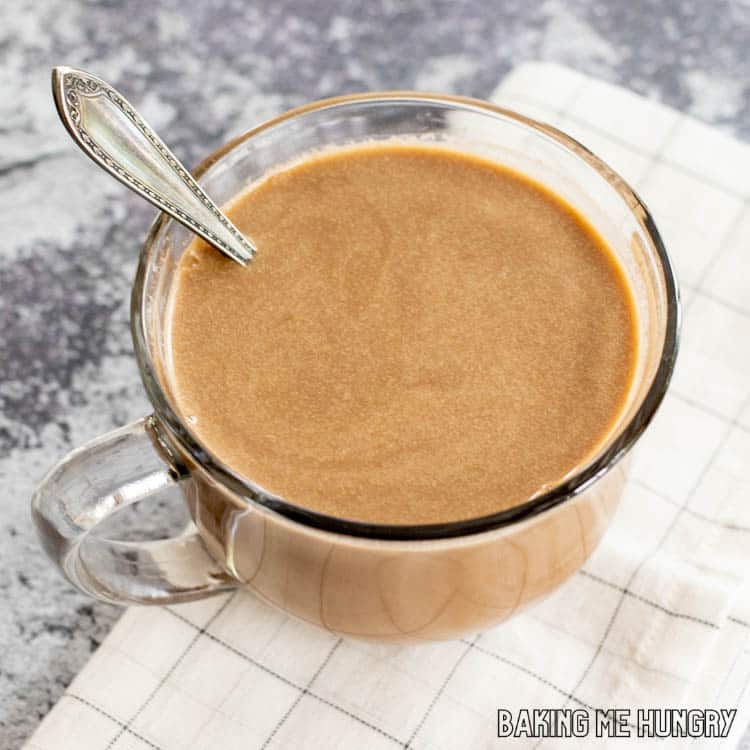 Ingredients
Hot Coffee – Hot black coffee is typically made by brewing coffee beans with hot water in a drip coffee maker, french press, or a coffee machine using coffee pods. You can make the coffee however you choose but we prefer to make strong coffee from dark roast beans for this recipe.
Hot Chocolate Mix – Made from a combination of cocoa powder, sugar, and powdered milk, hot cocoa mix it is an easy and convenient way to enjoy a warm and indulgent treat. Adding it to coffee makes an instant mocha drink.
Half and Half – Adding half and half, which has a higher fat content than whole milk and a lower fat content than heavy cream gives this warm drink a rich creamy flavor.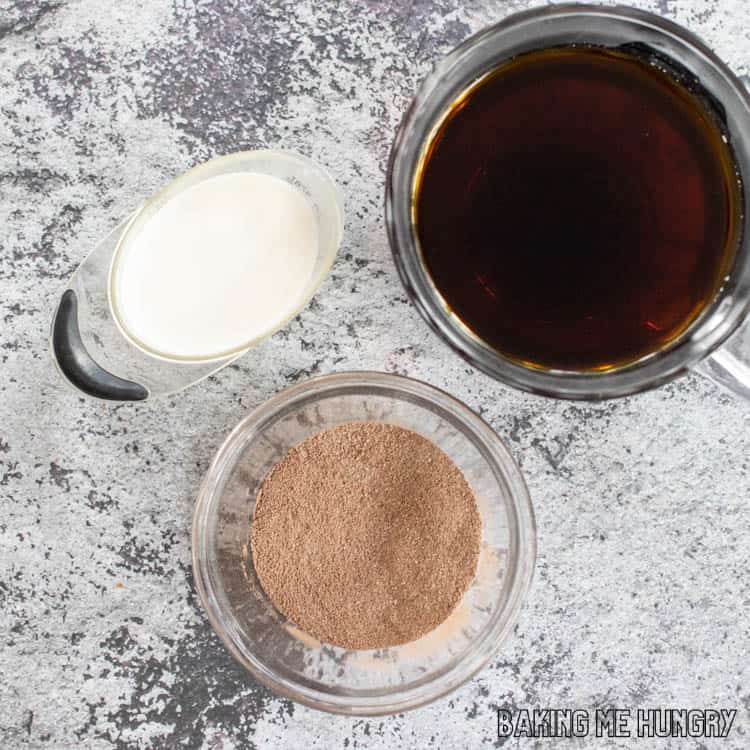 How to Make Hot Chocolate Coffee Recipe
This one takes two minutes so it is the perfect cafe mocha to make on busy mornings.
Step One: Brew a cup of coffee.
Step Two: Mix in the hot chocolate powder until dissolved. It normally dissolves pretty quickly.
Step Three: Add the half and half.
Step Four: Stir until smooth.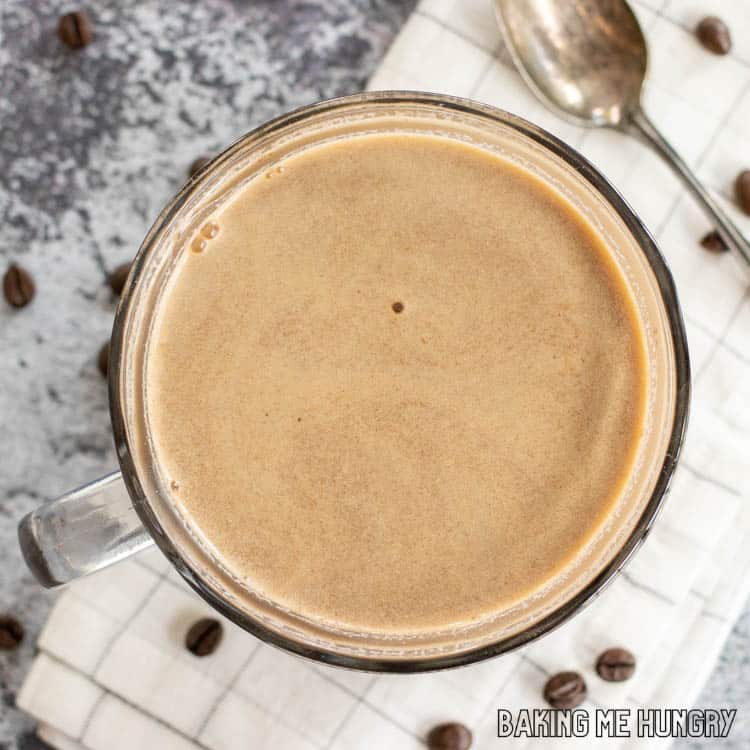 Variations
Garnish – Top the mug with a generous amount of whipped cream. You can also garnish with mini chocolate chips, mini marshmallows, sprinkles, a drizzle of chocolate syrup, or chocolate shavings.
Without Hot Cocoa Mix – To make this without hot chocolate mix use cocoa powder. You will need to add sugar (or another sweetener like maple syrup) and more half and half or milk as well. If you want to try this variation start with 1 tablespoon of unsweetened cocoa powder.
Brown Sugar – Adding brown sugar gives this a warm flavor.
Cinnamon – Add a pinch of ground cinnamon or let a whole cinnamon stick steep in the mug turns this into a unique version of a Mexican hot chocolate.
Peppermint – For a peppermint mocha you can dissolve a candy cane or peppermint stick in the hot coffee or add a tiny splash of peppermint extract. We love this variety during Christmas and the holiday season.
Common Questions
Can I use instant coffee?
Yes, you can definitely use instant coffee powder in a hot chocolate coffee recipe. Just dissolve the desired amount of instant coffee in hot water before mixing it with the hot chocolate.
Is it possible to make a vegan version of hot chocolate coffee?
Absolutely! To make a vegan version of hot chocolate coffee, use plant-based milk (such as almond milk, oat milk, coconut milk, or soy milk) and choose vegan-friendly brands of both cocoa powder and sweeteners.
Can I add additional flavors to my hot chocolate coffee?
Definitely! You can enhance your hot chocolate coffee by adding flavors like vanilla extract, peppermint syrup, caramel sauce, or even a dash of cinnamon for an extra kick.
Can I make iced hot chocolate coffee?
Yes, you can easily transform your hot chocolate coffee into an iced version by allowing it to cool down after preparing it and then pouring it over ice cubes. You can also refrigerate it beforehand for a refreshing chilled drink.
How do I store leftover hot chocolate coffee?
If you have any leftover prepared hot chocolate coffee, store it in an airtight container in the refrigerator for up to two days. Reheat it on the stovetop or in the microwave when ready to enjoy again.
Can I personalize my mocha coffee based on dietary restrictions?
Absolutely! Hot Chocolate Coffee recipes are highly customizable based on dietary needs or preferences. You can use dairy-free milk alternatives, sugar substitutes, or choose a low-fat hot chocolate mix to suit your diet.
Ingredients
12

oz

hot coffee

1

packet instant hot chocolate

2

oz

half and half

sugar

optional
Instructions
Combine the hot coffee and instant hot chocolate and mix well.

Stir in the half and half. Add sugar, if desired.

Optional: Garnish with whipped cream.
Nutrition
Calories:
189.7
kcal
|
Carbohydrates:
23.4
g
|
Protein:
3
g
|
Fat:
10.8
g
|
Saturated Fat:
6.8
g
|
Polyunsaturated Fat:
0.3
g
|
Monounsaturated Fat:
1.9
g
|
Trans Fat:
0.1
g
|
Cholesterol:
19.8
mg
|
Sodium:
279.4
mg
|
Potassium:
241.5
mg
|
Fiber:
1.1
g
|
Sugar:
19.1
g
|
Vitamin A:
203.8
IU
|
Vitamin C:
0.5
mg
|
Calcium:
95.5
mg
|
Iron:
0.6
mg