Start your mornings off with this Lavender Coffee Recipe. It's better than anything you'll find at coffee shops, and it's perfect for any lavender lover who loves to make their own coffee at home. You'll love the lavender flavor in this easy lavender latte!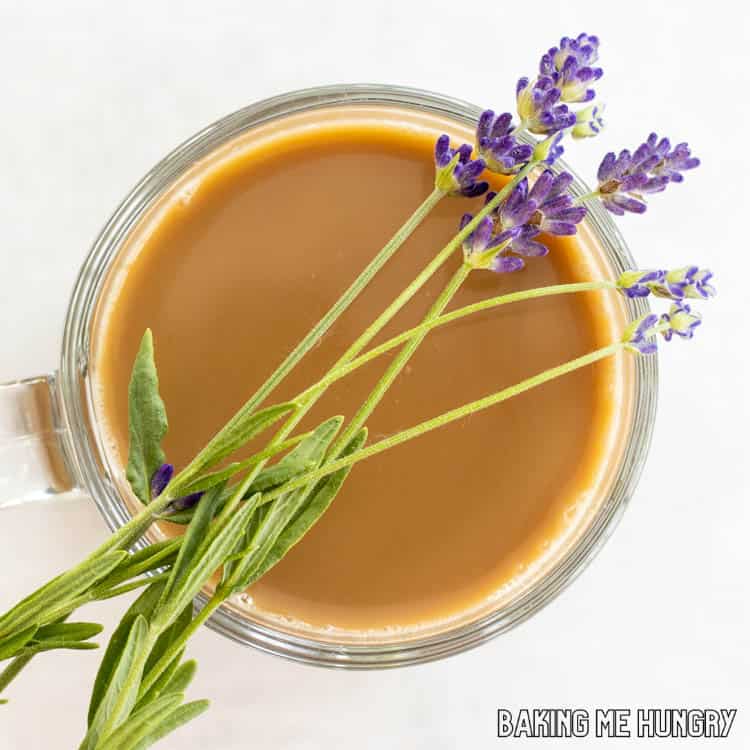 Adding fresh lavender sprigs is such a fun twist and a great way to be your own barista. If you have a busy day that you're feeling stressed about, making this delicious lavender latte recipe might be just what you need. Coffee drinks like this are meant to be enjoyed in different ways, so once you find the perfect balance to making it, it's sure to be one of your favorite recipes to whip up and enjoy anytime you want.
What I love about this homemade lavender latte is that it's made using simple ingredients that create a truly delicious drink. As you'll see from the recipe card below, adding the lavender flowers can take an extra strong cup of coffee and create a whole new flavor profile.
Be sure to check out my Oreo Iced Coffee Recipe for a fun new coffee recipe that hits that dessert craving, too. You can never have too many options for making coffee at home, which is so much cheaper than a local coffee shop.
Ingredients
Hot coffee – You can use instant coffee, hot brewed coffee, or even decaf coffee as well.
Fresh lavender – Fresh lavender is needed to get the most lavender flavor and scent. There are different varieties of lavender. The most popular culinary lavender is English lavender.
Half and half – Mixed in to create a rich flavor and lighter coloring.
Sugar – To add sweetness to the coffee drink. Or boost the herbal flavor and sweeten it with Honey Lavender Syrup.
How to Make This Lavender Coffee Recipe
You need hot coffee or espresso to start. You can make this in a drip machine, french press, espresso machine, or however you normally make coffee.
Step One: Combine the lavender and 2 ounces of hot coffee. Let them steep for 5 minutes.
Step Two: Strain the lavender and then add the rest of the coffee.
Step Three: Stir in the sugar and half and half.
Expert Tip: For a true latte swap out the coffee for a couple shots of espresso and the half and half for hot whole milk.
Variations
Add whole milk – If you're not a fan of half and half, you can use whole milk, oat milk, soy milk, coconut milk, almond milk, and any kind of milk that you want to pair with strong coffee.
Add a handful of ice – While I prefer a hot lavender latte, this doesn't mean that you can't make an iced coffee drink or iced latte drinks. Coffee recipes are easy to alter, so have fun doing so.
Add vanilla extract – A hint of vanilla would pair really well with the floral lavender notes.
Make your own homemade syrup – If you want to try a unique pairing of flavors, make your own simple syrup. To make homemade lavender syrup simply combine 1 cup of boiling water with 1 cup of sugar and ¼ cup chopped lavender. Stir until the sugar melts and then let steep for 10 minutes. Strain out the lavender and you have lavender simple syrup. So easy! Add vanilla extract for lavender vanilla syrup. This is also delicious in iced tea.
Common Questions
Why do you put lavender in coffee?
There are a few reasons why people do. Some just enjoy the floral flavor that it adds. Others add it because lavender has been known to have a calming effect on the body, so this type of drink recipe can be a great way to calm nerves and help work through anxious feelings.
How can I make this coffee recipe ahead of time?
You can. If you want to make this simple coffee recipe in advance, go for it. You can store it in a mason jar with a tight lid, and keep it fresh in the fridge. I would recommend stirring it again before drinking so that all the flavors come together.
Since you'll be storing it in the fridge, you can then make it a cold brew or reheat it to be hot. That's the beauty of a homemade latte recipe. It's versatile. Making it ahead of time is a great option to have it on hand when the craving strikes.
To warm it back up, you can reheat it on the stove in a small saucepan or use a microwave-safe coffee cup as well.
How do I make an iced lavender latte?
The biggest thing that you'll want to add to add is ice cubes. If you can coffee ice cubes, that would be a super fun way to add more coffee flavoring! You can also add milk of your choice to any iced coffee recipe and don't forget to use a milk frother to make frothy milk.
If you want sweet drinks, add a sugar mixture to the mixture so that you then have a sweet lavender flavor. If you don't want to add sugar, you can add honey to easily make a honey lavender latte.
What are good toppings to add?
You can top this with a fresh lavender sprig for looks. You can also top it with cinnamon, mini chocolate chips, or even some whipped heavy cream.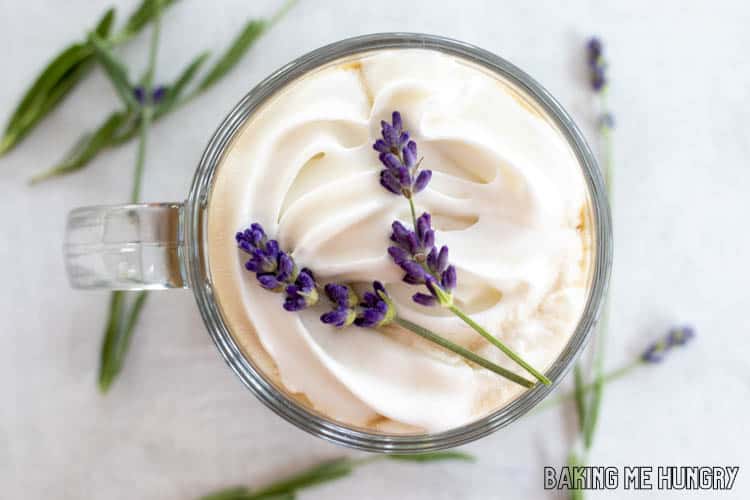 Ingredients
12

oz

hot coffee

1

tablespoon

fresh lavender

chopped

2

oz

half and half

optional

2

tablespoon

sugar

optional
Instructions
Combine 2 oz of the hot coffee and the lavender. Let steep for 5 minutes.

Strain out the lavender. Add the rest of the coffee.

Stir in the half and half and sugar, if desired.
Nutrition
Calories:
177.4
kcal
|
Carbohydrates:
28
g
|
Protein:
2.3
g
|
Fat:
6.8
g
|
Saturated Fat:
4
g
|
Polyunsaturated Fat:
0.3
g
|
Monounsaturated Fat:
1.9
g
|
Cholesterol:
19.8
mg
|
Sodium:
41.6
mg
|
Potassium:
242
mg
|
Sugar:
26.3
g
|
Vitamin A:
245.7
IU
|
Vitamin C:
2.3
mg
|
Calcium:
100.7
mg
|
Iron:
0.4
mg