Give your oven a much-deserved break and make this No Bake Passionfruit Cheesecake with a Golden Oreo crust. It's perfect for family gatherings and a simple no bake cheesecake recipe to whip up in no time at all. Cheesecake recipes like this are handy to have!
If you're a fan of classic cheesecake, you're going to love and appreciate the flavor combination of this great recipe. It has a similar texture without all the prep and baking. It's a delicious cheesecake due to the passionfruit mixture and simple cheesecake base. I'd even go out on a limb and say that this is one of the best no bake passion fruit cheesecake recipes around, but you'll have to try it and see if you agree.
The next time that you're craving that simple and creamy cheesecake filling – keep this recipe near. It's one of the easiest no bake desserts loaded with that crazy-good tropical fruit flavor. It really is the best way to give yourself a treat!
Love passion fruit? Try this Passion Fruit Ice Cream next. And be sure to check out my Mango Mousse for another fun and flavorful dish! Fruit desserts are the best.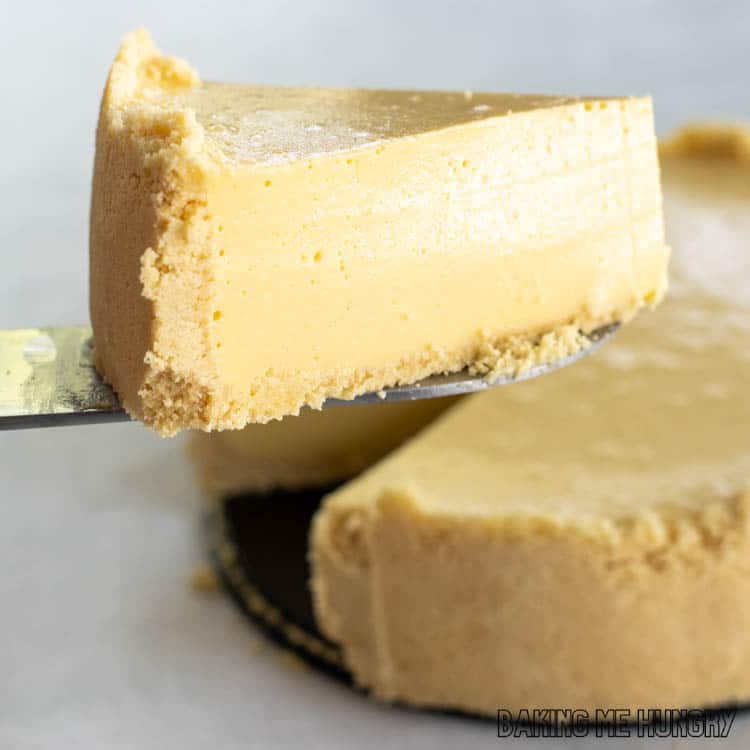 Ingredients
Golden Oreo crumbs – You can always opt for a cookie of your choice as the crumb.
Butter – Helps to bind the crushed Oreos together to make the crust. You can use room temperature or melted butter.
Sugar – Adds sweetness to the crust and filling.
Gelatin – This is what is used to thicken the cheesecake filling.
Cream cheese – I like to use Philadelphia Cream Cheese for my cheesecake.
Passion fruit chunks – Gives the dessert a fun and tropical flavor. Passion fruit pulp or puree will work as well.
Sour cream – Adds richness and texture.
Vanilla extract – Pure vanilla extract is best.
Powdered sugar – Great for mixing with passion fruit to make a simple glaze.
How to Make No Bake Passionfruit Cheesecake
Step One: To make the crust, combine all the crust ingredients in a food processor and pulse until fine crumbs are made.
Step Two: Press the crumbs into the bottom and sides of an 8-inch springform pan to make the Golden Oreo cheesecake crust.
Expert Tip: The filling may not all fit if you use a smaller pan. A 9-inch springform pan would work as well, the cake would just be a bit shorter.
Step Three: Bloom the gelatin by sprinkling it on top of ¼ cup of cold water in a small dish. Let it sit for 5 minutes, and then add 2 T of hot water. Stir until the gelatin dissolves.
Be sure to strain out any lumps that remain.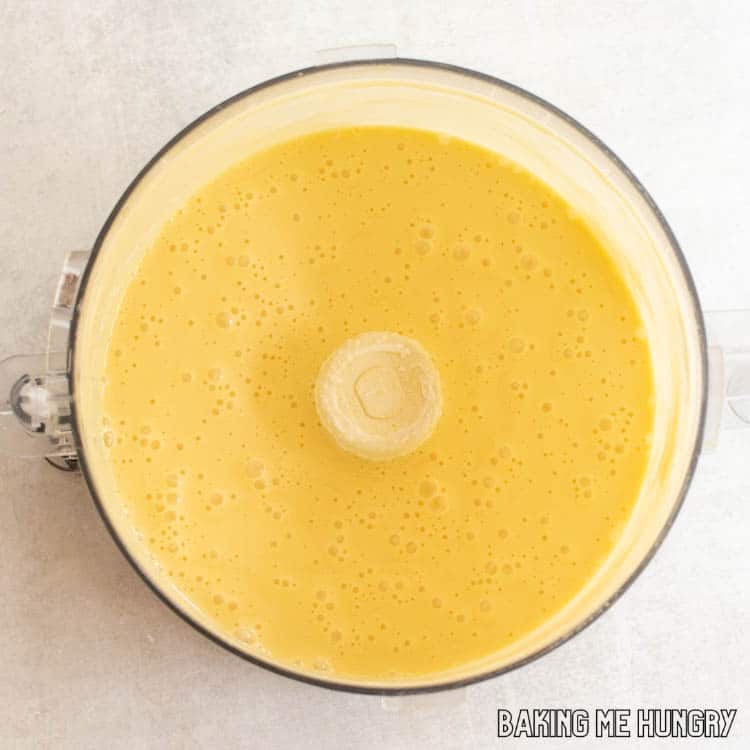 Step Four: Put the cheesecake in the fridge and chill for 3-4 hours before serving.
Remove from the pan prior to slicing and serving.
Step Five: To make the optional drizzle topping, combine the passion fruit with ½ cup of powdered sugar in a blender. Blend until smooth.
If you need to thicken the glaze, just add more sugar.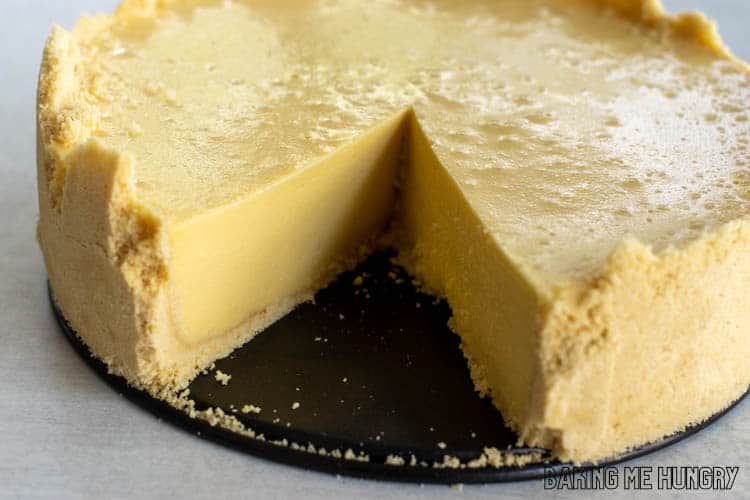 Step Six: Drizzle over the top of each slice.
Variations
Use other fresh fruit – If you don't want to use the passionfruit puree, you can easily swap it out for any other type of fruit. Any cheesecake lover will tell you that all fruits taste good on top of the cheesecake.
Use a different crust – Adding a buttery biscuit base instead of cookies as the crust is always an option. Lots of unbaked cheesecakes have different types of crusts, and some may not even have any. Using graham cracker crumbs is another popular option.
Change the topping – If you don't want to make a drizzle to go on top, you can easily just use whipped cream or even add some fresh passionfruit in chunks. Crumbling up graham crackers and having that on top is a delicious option as well.
Add lemon zest – I'm a fan of having a bit of citrus to my cheesecakes, so adding some lemon juice or zest to the cream cheese mixture when you're making it is a fun pop of flavor.
Common Questions
Why is my no-bake cheesecake not firming up?
The gelatine mixture needs at least 4-6 hours in the fridge to set up completely. Don't skimp on this part. It's important. If you try and eat it too early, the cheesecake mixture isn't going to set up, and it's going to make a mess.
How many days will a no-bake cheesecake last?
If you store the cheesecake properly in the fridge, it should last for up to 5 days. I always cover mine with plastic wrap and then store it in an airtight container. This keeps the cheesecake nice and fresh and delicious for the duration of the time.
Do you put no-bake cheesecake in the fridge or freezer?
This no bake version goes in the fridge. Due to the use of full fat cream cheese, I don't recommend storing it in the freezer. Just follow the recipe card below for the best tips to make this recipe, and you'll be fine!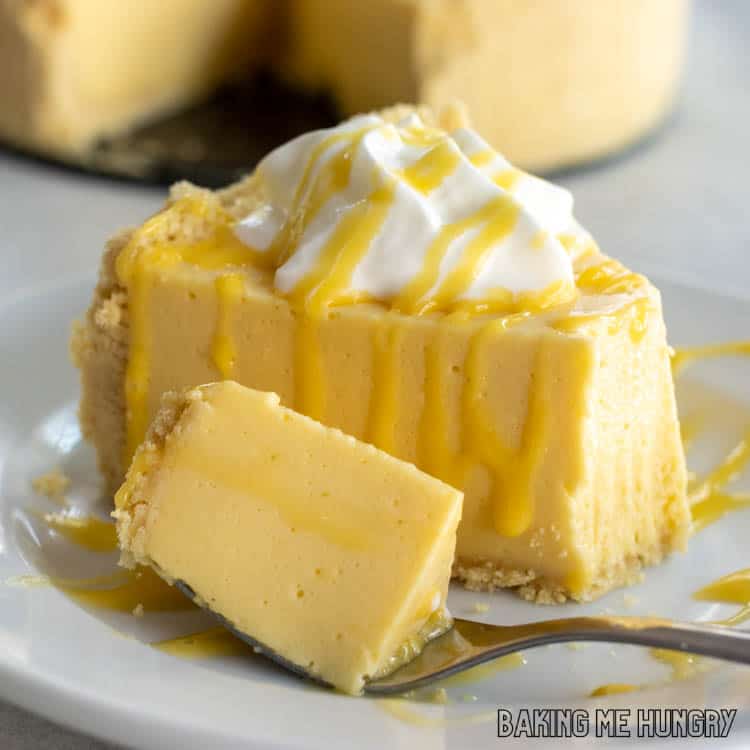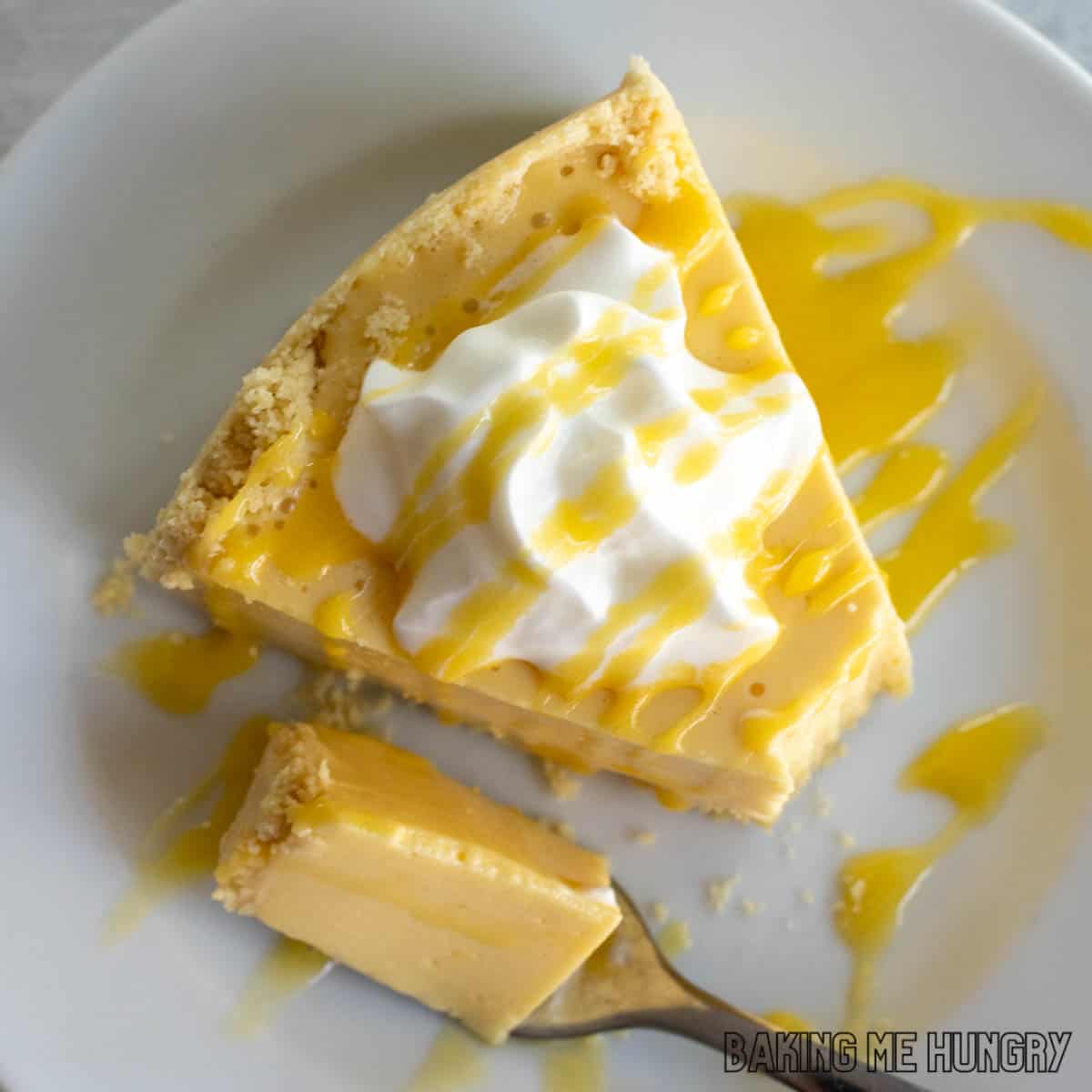 Ingredients
Crust:
1.5

cups

golden oreo crumbs

3

tablespoon

butter

2

tablespoon

sugar
Filling:
3

tablespoon

gelatin

16

oz

cream cheese

2

cups

passion fruit chunks

thawed (or unsweetened puree)

½

cup

sour cream

1 ¼

cup

sugar

1

teaspoon

vanilla extract
Optional Drizzle:
½-1

cup

powdered sugar

2

tablespoon

passion fruit chunks

thawed
Instructions
Crust:
Combine the ingredients in a food processor and process until they come together in large crumbs. Press into the bottom and up the sides of an 8-inch springform pan.
Filling:
To bloom the gelatin sprinkle it on top of ¼ cup of cold water in a small dish. Let sit for 5 minutes. Add 2 tablespoons of hot water and stir until the gelatin is dissolved. Strain out any lumps.

Combine the bloomed gelatin with the other filling ingredients in the food processor and process until smooth. Scrape down the sides as needed. Pour into the prepared crust.

Chill the cheesecake for at least 3-4 hours before serving.
Optional Drizzle:
Combine the passion fruit with ½ cup powdered sugar in a small blender. Blend until smooth. Add more sugar, if needed, to make a thickened glaze to drizzle.

Drizzle over each slice when serving.
Notes
Passion Fruit: I used unsweetened frozen passion fruit chunks that had been thawed. If your passion fruit is sweetened reduce the amount of added sugar.
Nutrition
Calories:
485.9
kcal
|
Carbohydrates:
65.6
g
|
Protein:
7.2
g
|
Fat:
23.2
g
|
Saturated Fat:
11.2
g
|
Polyunsaturated Fat:
2.8
g
|
Monounsaturated Fat:
6.7
g
|
Cholesterol:
53.1
mg
|
Sodium:
262.4
mg
|
Potassium:
278.3
mg
|
Fiber:
5.6
g
|
Sugar:
50.6
g
|
Vitamin A:
1326.2
IU
|
Vitamin C:
15.2
mg
|
Calcium:
74.8
mg
|
Iron:
1.4
mg