All you need are four simple ingredients to make this delicious Passion Fruit Ice Cream. Perfect for that creamy texture and addictive flavor. You're going to love the outcome of this easy ice cream recipe.
I'm a big fan of ice cream. This is one of those delicious recipes that make me smile and has me immediately filling a bowl or cone. That's because ice cream recipes like this are unique – which makes them stand out even more. The passion fruit juice added to the rest of this simple recipe really stands out in taste – and I love it.
One bite has me thinking and dreaming about summer with my toes in the sand and a drink in hand. Or, in this case, a cone. When it comes to making homemade ice cream, it really doesn't get much better than this. Using basic ingredients loaded with passion fruit flavor will have you loving it just as much as I do!
This No Bake Passionfruit Cheesecake is another perfect choice for a cool and creamy tropical treat!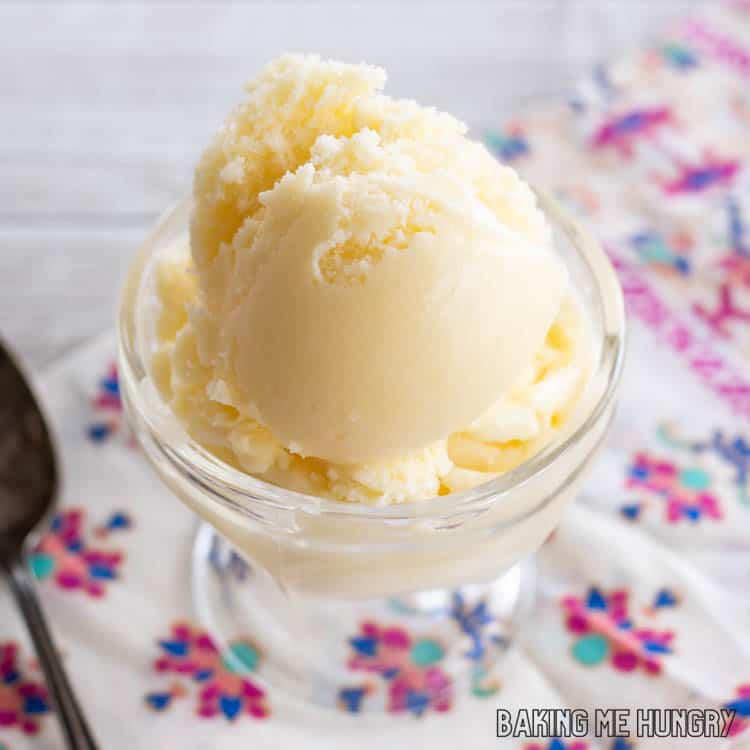 Ingredients
Coconut milk – This gives the ice cream its velvety texture. You also want to use full-fat for the fat content.
Canned passion fruit nectar – You need this to add those delicious tangy flavours.
Egg yolks – Added to the ice cream base to help with texture.
Sugar – Adds sweetness to this passionfruit ice cream.
How to make Passion Fruit Ice Cream
Step One: Combine all the ingredients in a blender.
Step Two: Blend everything until it is nice and smooth.
Step Three: Add the mixture to an ice cream maker or an ice cream machine.
Step Four: Churn the ice cream according to the directions on the machine.
Step Five: Add to a freezer-safe container and freeze for 3-4 hours.
Variations
Use fresh passion fruit – You can add all sorts of passion fruit textures and flavors. Passion fruit curd, passion fruit puree, fresh passion fruit pulp, or passion fruit concentrate are all possibilities. While any and all of these will likely change the texture of your ice cream, they still all add lots of natural flavors and are delicious. You may need to add additional sugar to compensate. The passion fruit nectar I use does have some added sugar.
Mix-ins – Add some sweetened coconut flakes, white chocolate chips, or chunks of another tropical fruit such as mango in the last minute of churning.
Other flavors – You can totally change up the flavor of this by using another juice. That is how we make our Mango Coconut Ice Cream.
Common Questions
What toppings would I add to this recipe?
You can add anything that you would like! I'm a huge fan of whipped cream and sprinkles on top, but that is because it's fun and pretty.
You can add more passion fruit on top or even add a bit of lemon curd to this creamy ice cream. If it's a special occasion, you can add different flavors to the top of different bowls and have a fun taste-testing party.
And if you don't want to add toppings, you don't have to add toppings either. This is one of my favorite flavors to make, and it's really good just like it is as well. I've been making this recipe for a long time, and I've yet to tire of the taste!
How long can I store homemade ice cream?
Homemade ice cream doesn't last forever in my house because we tend to eat it quickly. But as long as you plan on eating these within 3-5 days, you shouldn't have any issues. Keep it stored in the freezer in an airtight container so that there won't be any ice crystals forming on top.
If it's really hard after being stored in the freezer, set the container out on the counter for about 10-15 minutes to bring it closer to room temperature, and that should help with being able to serve easier.
Does this ice cream have the texture of chilled custard?
People will say different things about the texture of this ice cream recipe, but I find that it tastes and looks like typical ice cream. It's creamy, cold, and not too firm, which checks all the "must-haves" for ice cream for me.
A lot of people ask if this can be made as a no-churn ice cream recipe, and I've actually never tried it. Using the ice cream maker is just such an easy step to make it have the texture and taste that I'm looking for.
What does passion fruit taste like?
If you're a fan of lemon juice sweetened with a bit of sugar, you're going to like passion fruit. It's a combination of sweet and tart and really well-balanced. This is why adding these flavors with the rest of the ice cream ingredients creates the perfect texture and taste. Tangy and sweet – just the way I like it!
Like what you see? Follow us on Facebook and on Instagram! Love this recipe? Leave a comment & a 5-star rating right here! Make sure you don't miss new recipes by getting email updates!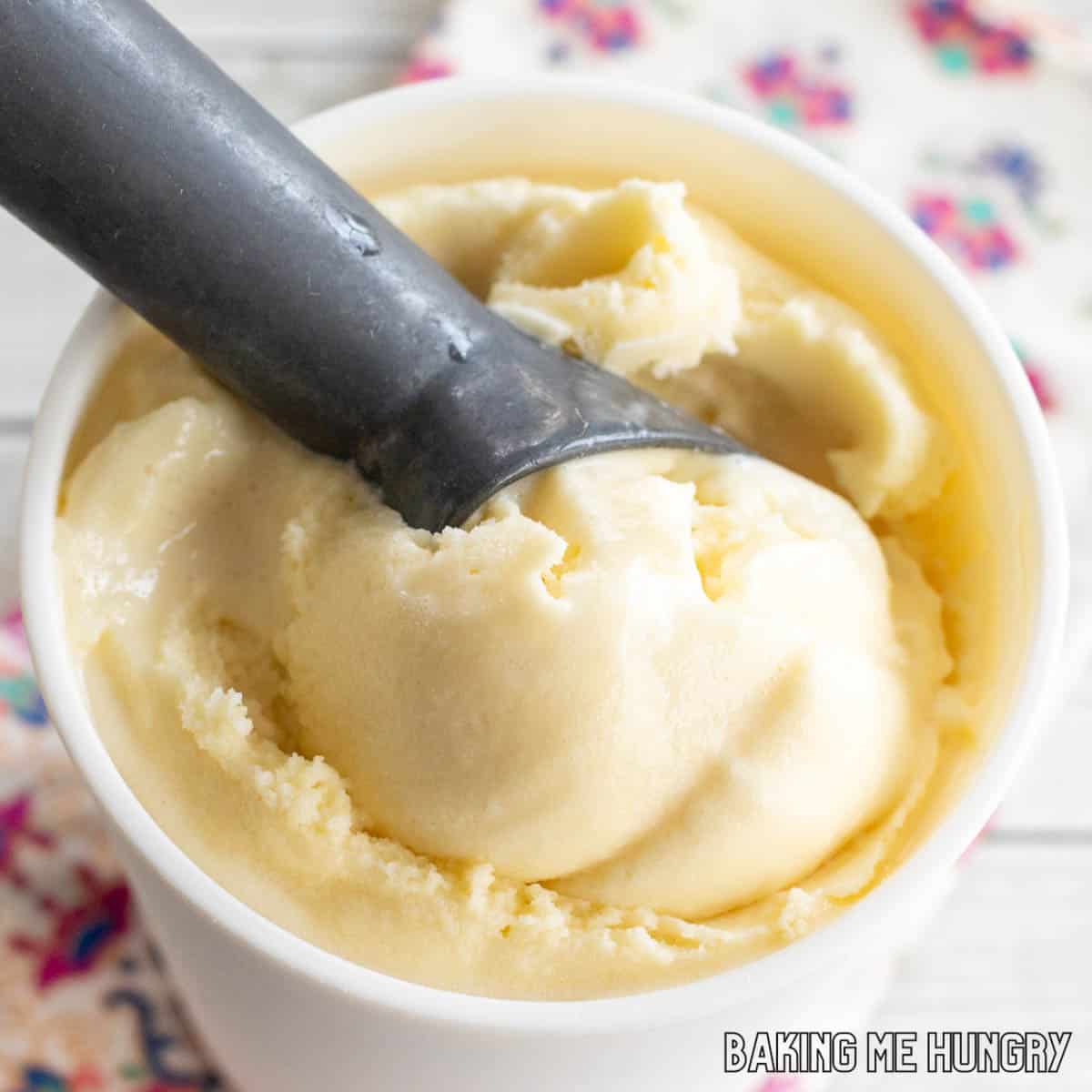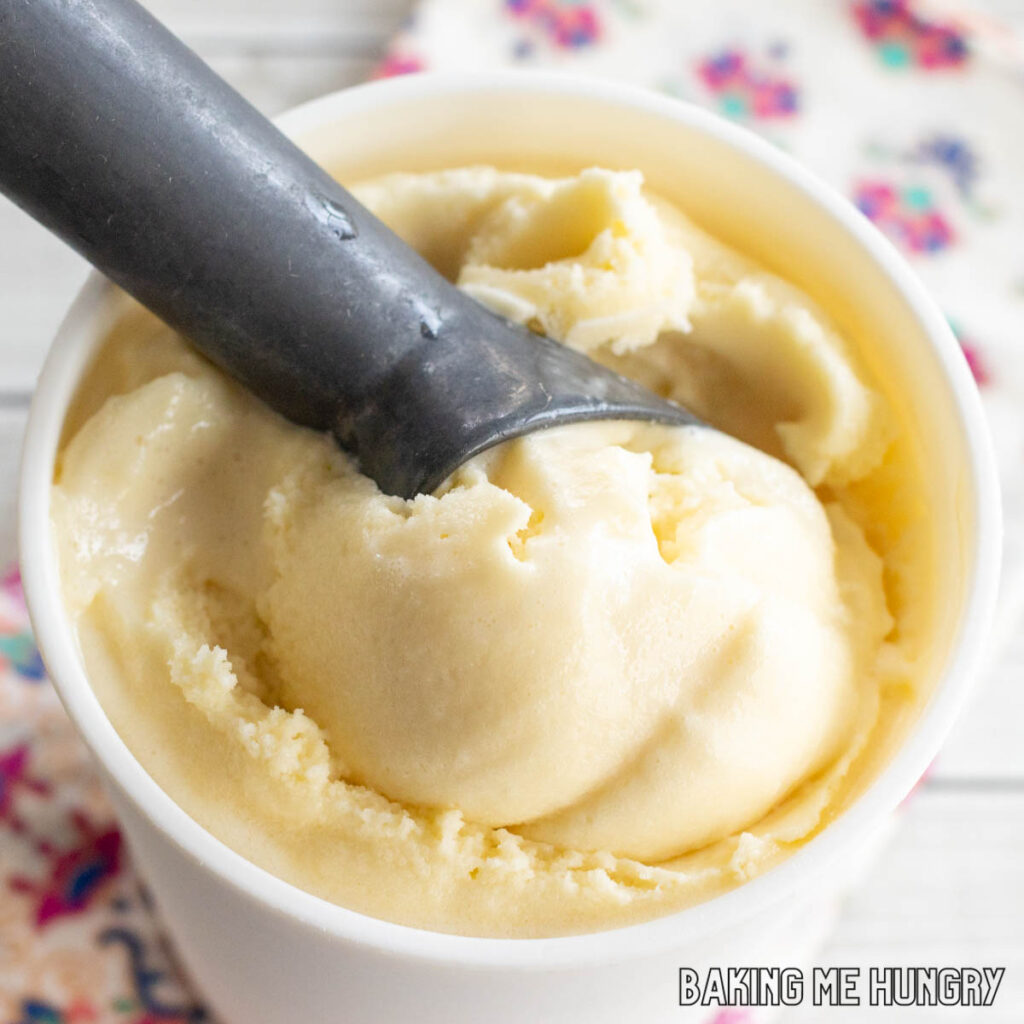 Ingredients
13.5

oz

coconut milk

canned, full-fat

2

cups

passion fruit nectar

3

egg yolks

½

cup

sugar
Instructions
Combine ingredients in a blender.

Add to an ice cream machine.

Churn according to the manufacturer's instructions.

Transfer to a freezer safe container. Freeze until firm enough to scoop, about 3-4 hours.
Nutrition
Calories:
195.6
kcal
|
Carbohydrates:
22.4
g
|
Protein:
2.3
g
|
Fat:
12.1
g
|
Saturated Fat:
9.7
g
|
Polyunsaturated Fat:
0.4
g
|
Monounsaturated Fat:
1.2
g
|
Cholesterol:
72.9
mg
|
Sodium:
13.3
mg
|
Potassium:
284.5
mg
|
Fiber:
0.1
g
|
Sugar:
20.8
g
|
Vitamin A:
540.1
IU
|
Vitamin C:
18.9
mg
|
Calcium:
19.9
mg
|
Iron:
1.9
mg
Be sure to check out my Cookie Monster Ice Cream for another super simple sweet treat!