Mango mousse is so delicious. It is light, fluffy, and packed with flavor. This three ingredient recipe is a favorite all year. You can easily dress it up with toppings and fancy piping or keep it simple and serve scoops with a spoon.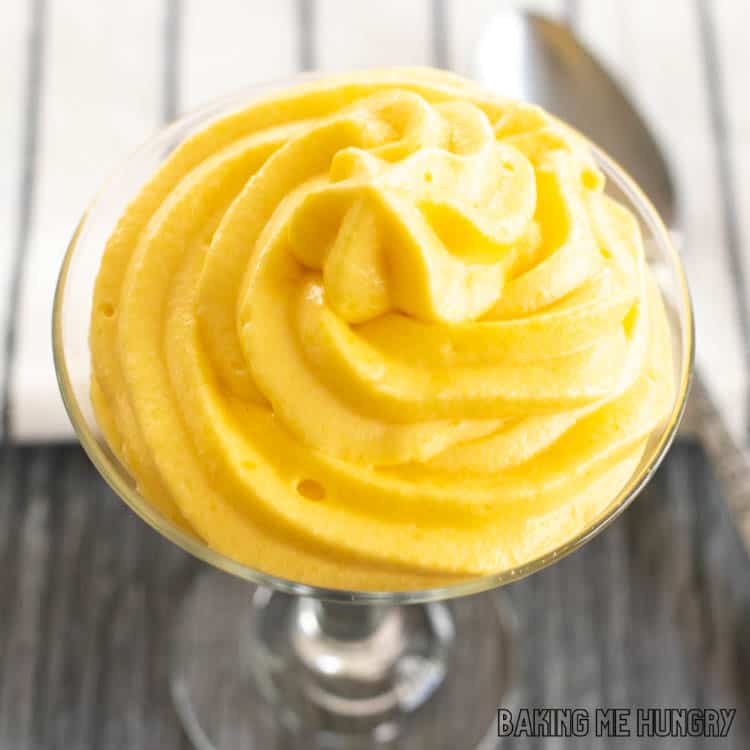 The first time I had a cool, creamy mango dessert was a combination of mango Italian ice and vanilla custard at Rita's about 20 years old. Since then I have enjoyed this combo of mango with cream as much as possible. I love everything from no bake mango cheesecake bars to mango ice cream, mango pudding, and mango popsicles.
Mango mousse is a great dessert for any day but especially on hot summer days when you want something cool and creamy without turning on the oven.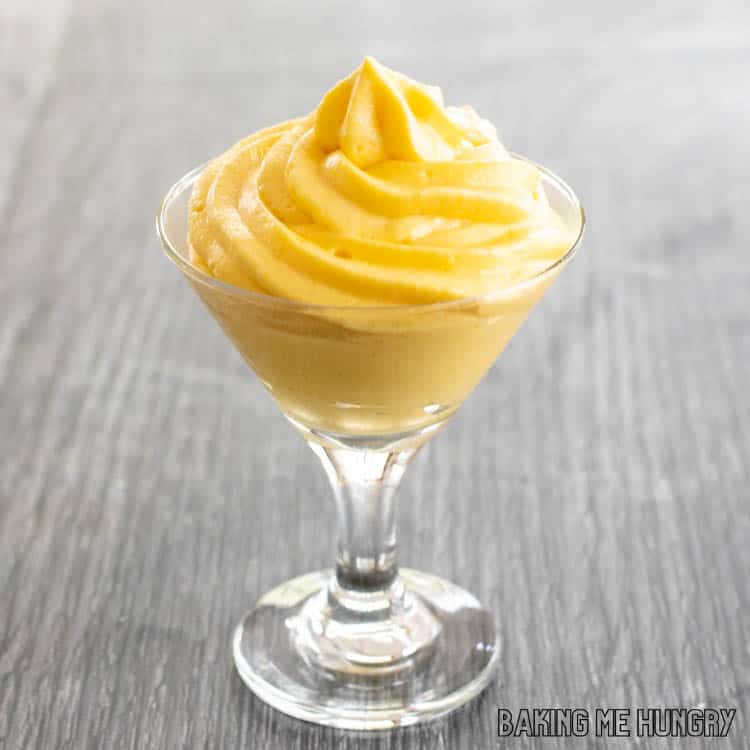 Ingredients
Only a few simple ingredients are needed here. No microwave, no cooking of eggs, no baking required!
Canned Mango Pulp – I use a canned sweetened mango puree in this recipe. If you have unsweetened mango pulp or puree (or frozen or fresh mangoes) you will want to sweeten this recipe with some powdered sugar or sweetener.
Heavy Cream – Heavy whipped cream is what makes the mousse light and fluffy. Heavy cream and heavy whipping cream are the same and can be used interchangeably.
Cream Cheese – Using cream cheese as part of the base gives this a slight cheesecake flavor without being overpowering. It helps to have the cream cheese at room temperature so it mixes easily.
How to Make Mango Mousse
This is an eggless mango mousse recipe so it is especially easy to make! Just 3 ingredients and five minutes are all you need to a luscious tropical dessert.
Step One: Whip the whipping cream until stiff peaks have formed. You can definitely whisk cream by hand to peaks but it is much easier to use a hand mixer or stand mixer. Transfer it to another bowl.
Step Two: Combine the cream cheese and mango puree. Mix well. Add ¼ of the whipped cream gently.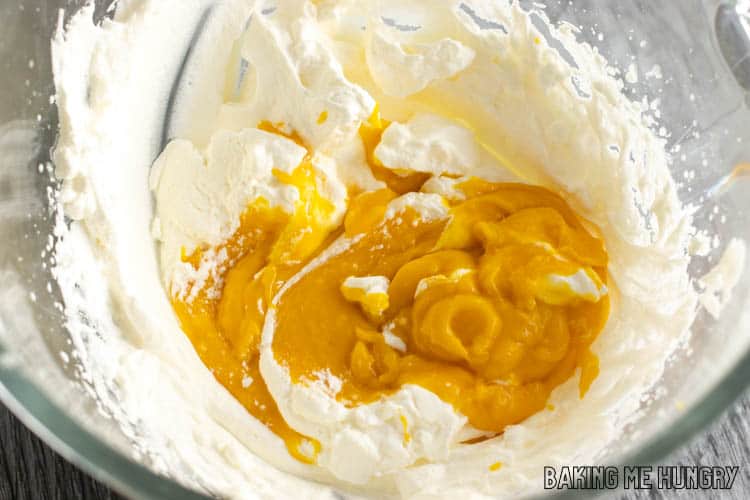 Step Three: Fold the remaining whipped cream back into the mango mixture with a rubber spatula. Make sure to scrape the sides of the bowl. Spoon or pipe into small serving bowls. Chill the mango mousse cups in the fridge until ready to serve preferably at least 1 hour for the best texture.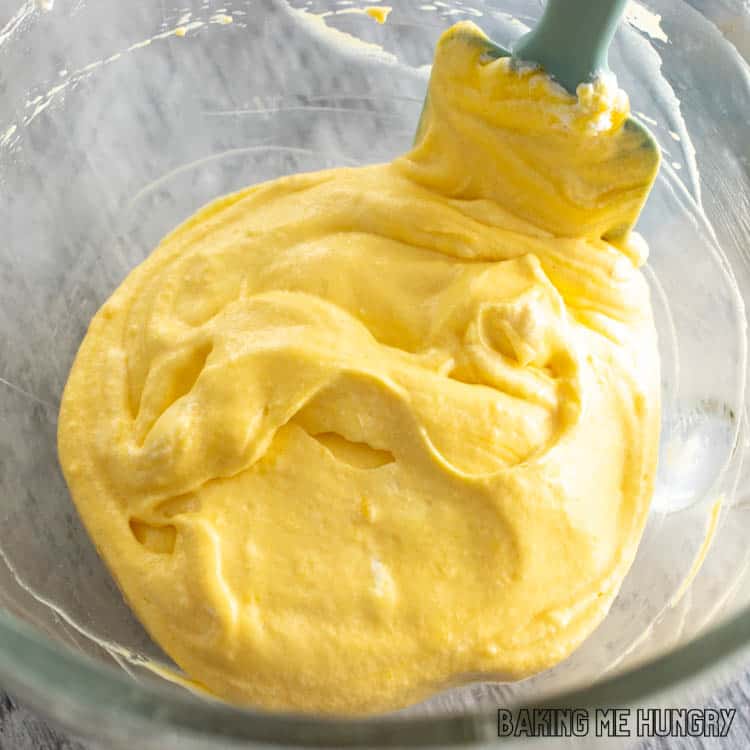 Storage: Make sure to store any leftovers in the refrigerator in an airtight container.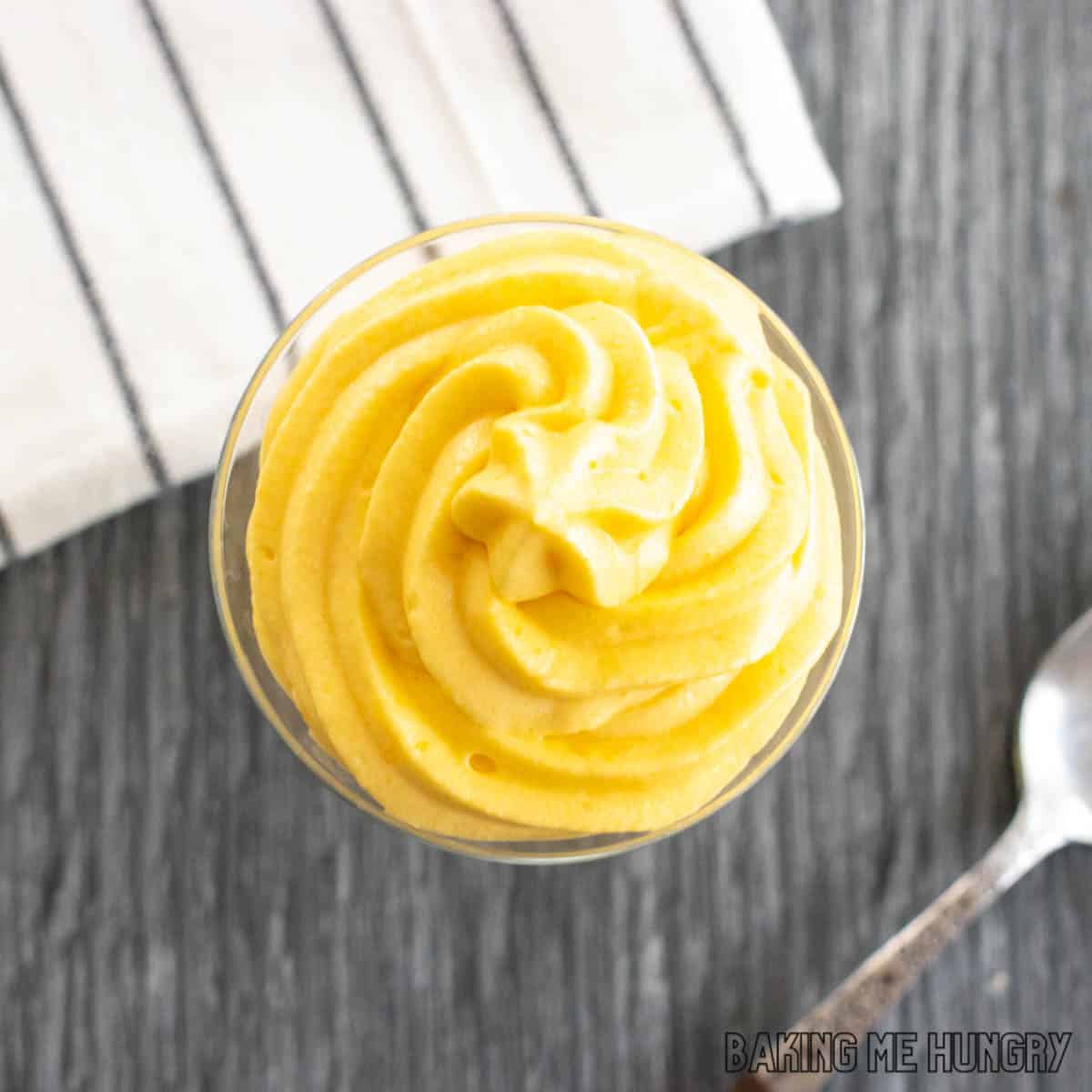 Variations
Other Fruit Flavors – You really can make this with any flavor fruit. All you need to start is a sweetened fruit puree. If you use raspberries, blackberries, strawberries, or blueberries you may want to strain out the skin and seeds. Peach is another great choice. Lemon mousse can be easily made by subbing in lemon curd for the mango pulp.
Chocolate – If you want to add chocolate flavor you can mix in some cocoa powder to the mango cream cheese mixture before you fold in the whipped cream.
Spices – Ginger, cinnamon, cardamom powder, nutmeg, or a sweet blend like a pie spice can really kick this to another flavor. Vanilla extract also will give a boost of flavor. Stir any of these into the mango cream cheese mixture in step 2.
Sweet & Salty – For a sweet, salty combination top with a little Tajin seasoning. Tajin is a blend of chili, salt, and dehydrated lime juice.
Mango Mousse Cake – Stiffen this with a little bloomed gelatin powder and then use it as a cake filling. It is amazing with layers of white cake and either a white chocolate ganache, whipped cream cheese frosting, or buttercream icing. I can't wait to try a creamy mango mousse cake recipe myself.
Tips for Whipping Cream
When whipping cream, it is important to use a bowl that is clean and dry. Whip the cream on low speed at first, gradually increasing the speed as the cream thickens. Be careful not to over-whip the cream, as this will result in butter. The cream is ready when it forms stiff peaks. It goes from soft peaks to stiff peaks pretty quickly.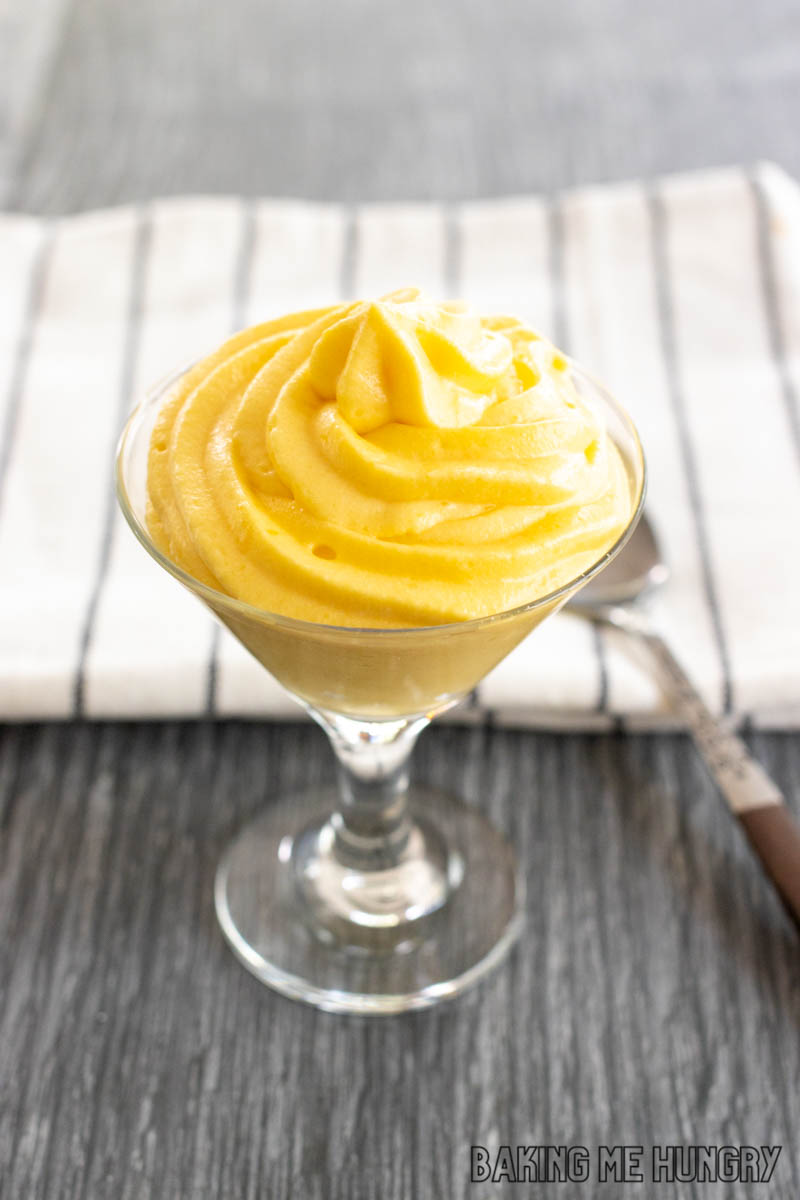 Common Questions
What is mango pulp?
Mango pulp is the edible flesh that is found inside of a mango fruit. It typically comes canned with added sugar. Frozen mango pulp may or may not have added sugar. The pulp of a mango is relatively soft and has a sweet, tangy flavor. The pulp is also a good source of vitamins A and C.
Can I use fresh mango pulp?
Sure! You will just need to puree it and sweeten it for this mango mousse recipe. Alphonso mangoes work well. Just cut the mango in half, remove the seed, cut the flesh into mango cubes and process them in a food processor until smooth.
How to make mango mousse without gelatin?
This is naturally thick enough by folding the mango puree into whipped heavy cream. You don't need gelatin at all.
How do I know a mango is ripe?
When purchasing mangoes, look for fruits that are slightly soft to the touch and have a deep, rich color. Avoid mangoes that are bruised or have soft spots.
Can mango mousse be frozen?
Yes, you can freeze this. It is actually delicious when still partially frozen. Just thaw until it is soft enough to scoop but still chilly.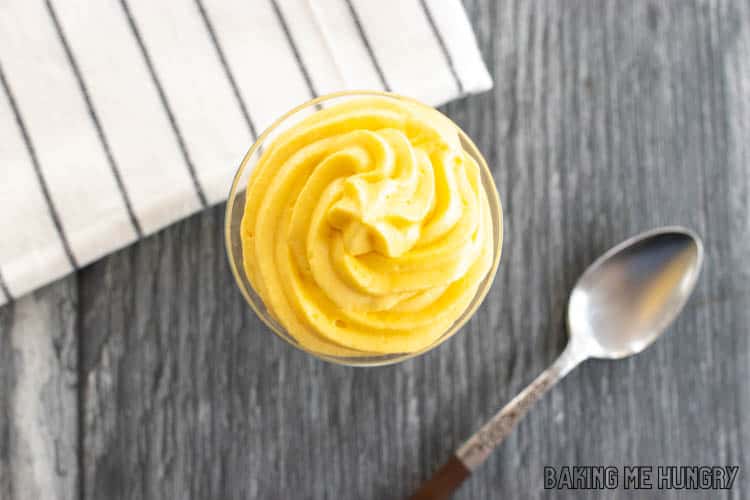 Like what you see? Follow us on Facebook and on Instagram! Love this recipe? Leave a comment & a 5-star rating right here! Make sure you don't miss new recipes by getting email updates!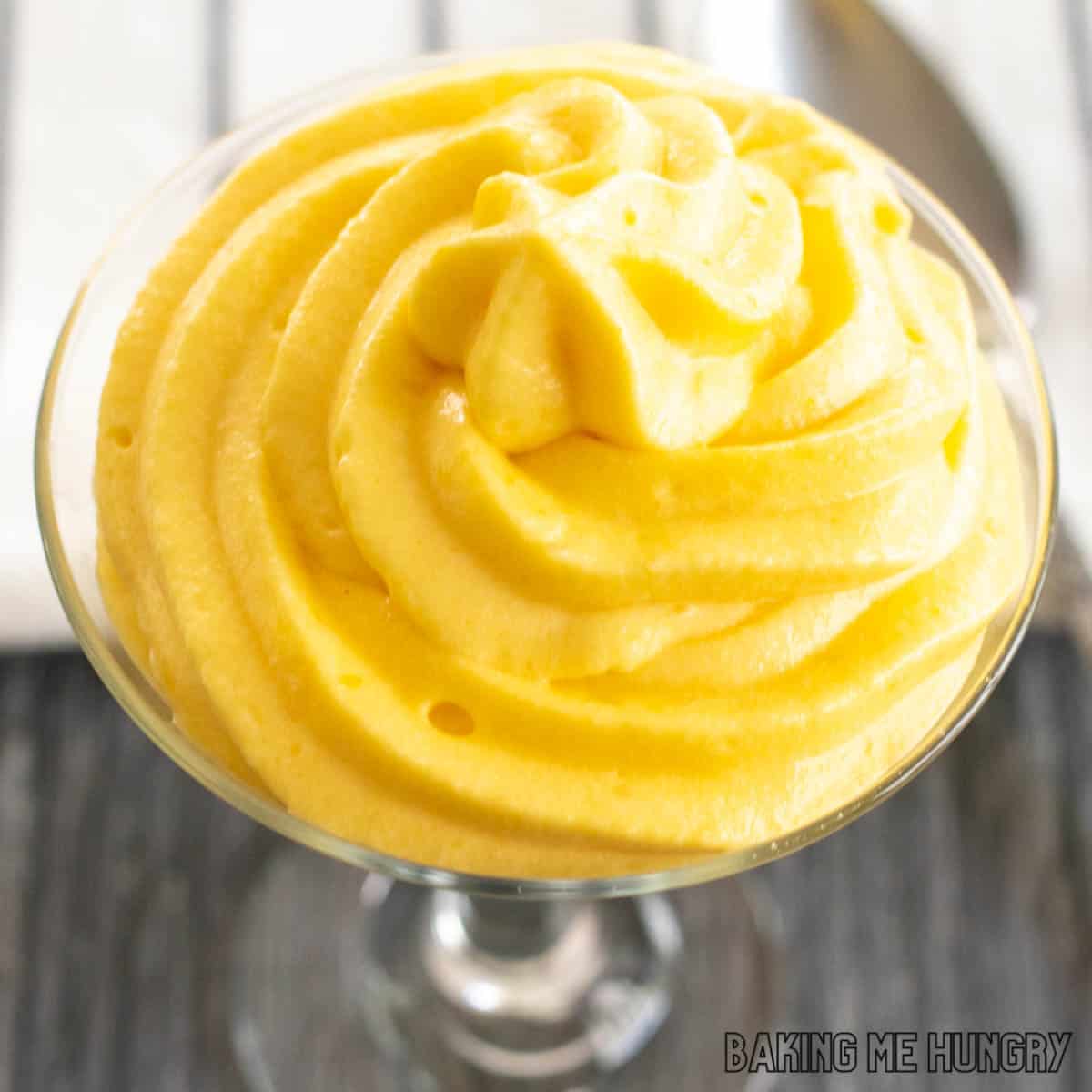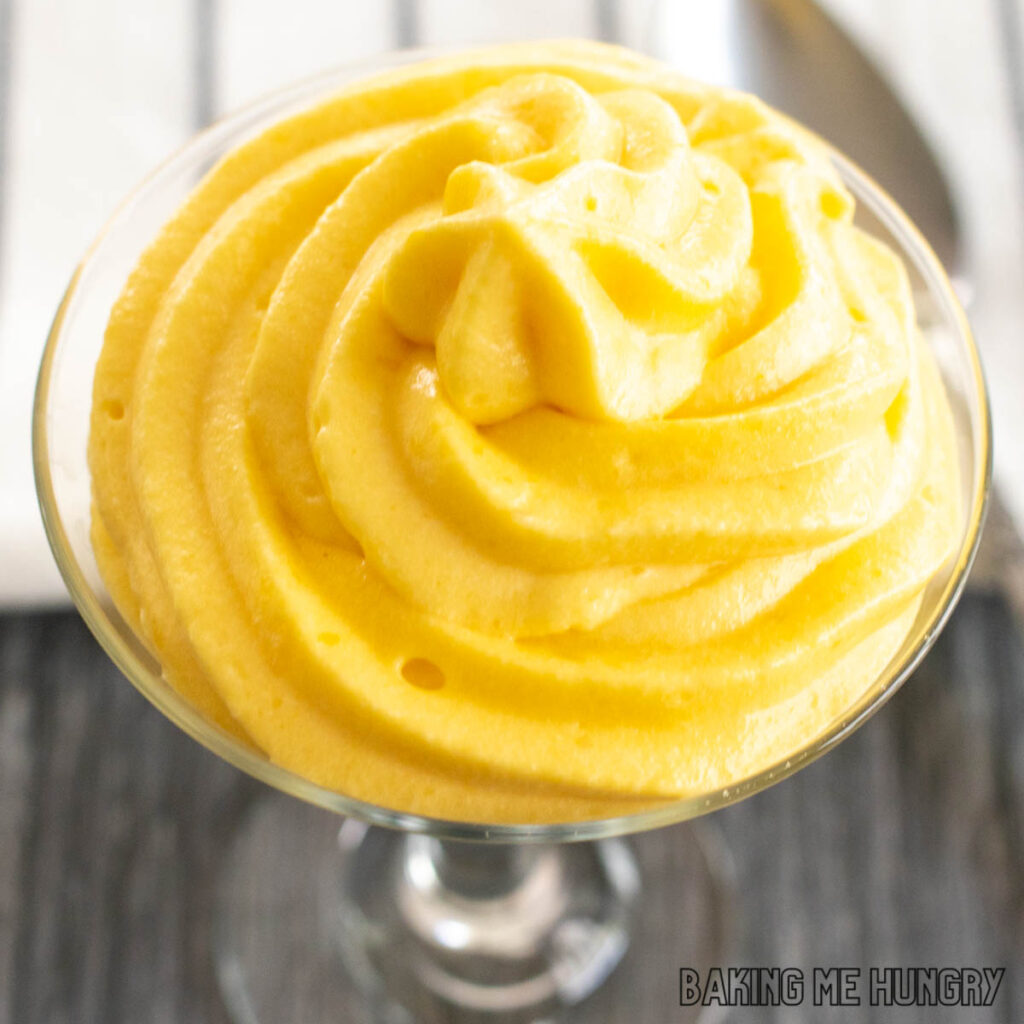 Ingredients
1

cup

heavy cream

1

cup

cream cheese

1

cup

mango pulp
Instructions
Whip the heavy cream until stiff peaks form. Transfer to a separate bowl.

Whip the cream cheese and mango pulp until light and fluffy. Add ⅓ of the whipped cream and mix well.

Slowly fold in the remaining whipped cream. Spoon or pipe into small serving bowls.
Notes
Nutrition: The nutrition facts are for ¼th of the recipe. I just pipe it into 4 glasses to divide the mousse evenly.
Mango Pulp: Mango pulp is sweetened. If you use mango puree instead you will want to add powdered sugar. I recommend starting with ½ cup and then adding more to taste.
Nutrition
Calories:
458.2
kcal
|
Carbohydrates:
18.4
g
|
Protein:
5.5
g
|
Fat:
41.2
g
|
Saturated Fat:
25.1
g
|
Polyunsaturated Fat:
1.8
g
|
Monounsaturated Fat:
10.5
g
|
Cholesterol:
124.6
mg
|
Sodium:
207.8
mg
|
Potassium:
131.4
mg
|
Fiber:
0.4
g
|
Sugar:
16.3
g
|
Vitamin A:
3052.8
IU
|
Vitamin C:
8.5
mg
|
Calcium:
100.2
mg
|
Iron:
7.6
mg