This Peanut Butter Banana Oatmeal Bars recipe is a great healthy snack! Simple ingredients make this delicious treat a breeze, and it is perfect for any peanut butter lover. Make these to have as an option for busy mornings.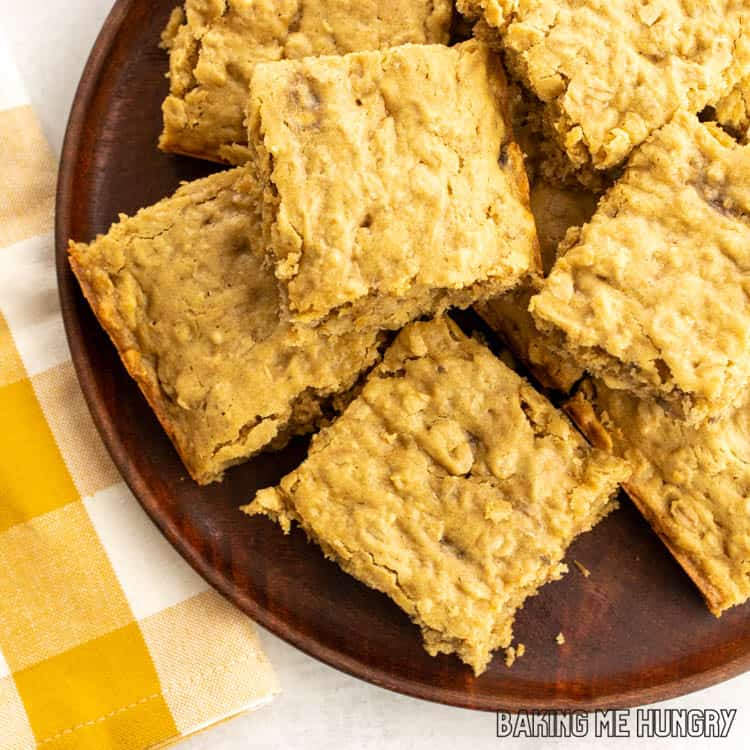 This Peanut Butter Banana Oatmeal Bars Recipe is not only easy to make, but you'll love the wholesome ingredients that are used. Why does everything have to have a ton of sugar nowadays to be considered delicious?! The next time that you are wanting something sweet, why not give this delicious baked oatmeal bars recipe a try? They're a great option for kids, adults, and anyone who loves yummy food.
I've made a ton of oatmeal bar recipes, and this original recipe stands out above the rest. The ripe bananas add an excellent natural sweetness without the need for a bunch of added sugar. I think of these as healthy breakfast bars, but you can easily make this great recipe for a healthy treat for any time of the day.
Speaking of simple treats, be sure to check out my 3 Ingredient Peanut Butter Oatmeal Balls as well.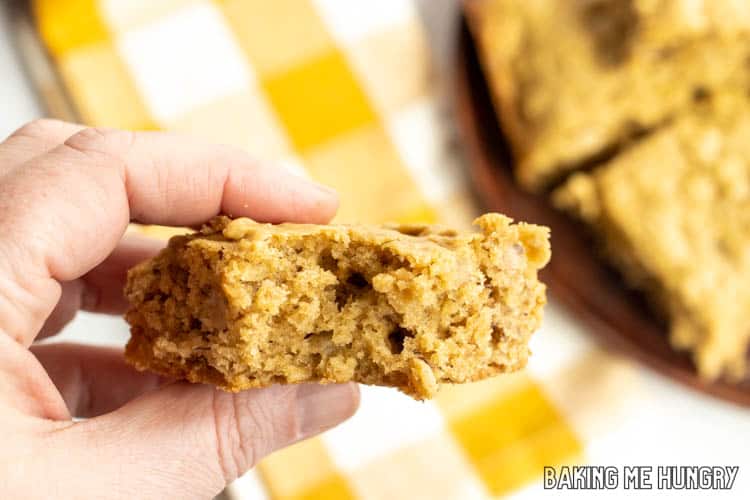 Ingredients
All purpose flour – The main ingredient to make the mixture.
Rolled oats – I like to use old fashioned oats for a more chewy texture. In a pinch, you can use quick oats or instant oats.
Light brown sugar – You can use other natural ingredients in place of this if you don't want to use sugar.
Baking soda – To add texture.
Peanut butter – You can use creamy or crunchy.
Mashed banana – Make sure that it's ripened and ready so that you get all those natural sugars.
Milk – To help thin the batter a bit.
Vegetable oil – Coconut oil can be used as well.
Large eggs – The main binding agent for the rest of the ingredients.
Vanilla extract – For flavor.
Salt – For flavor.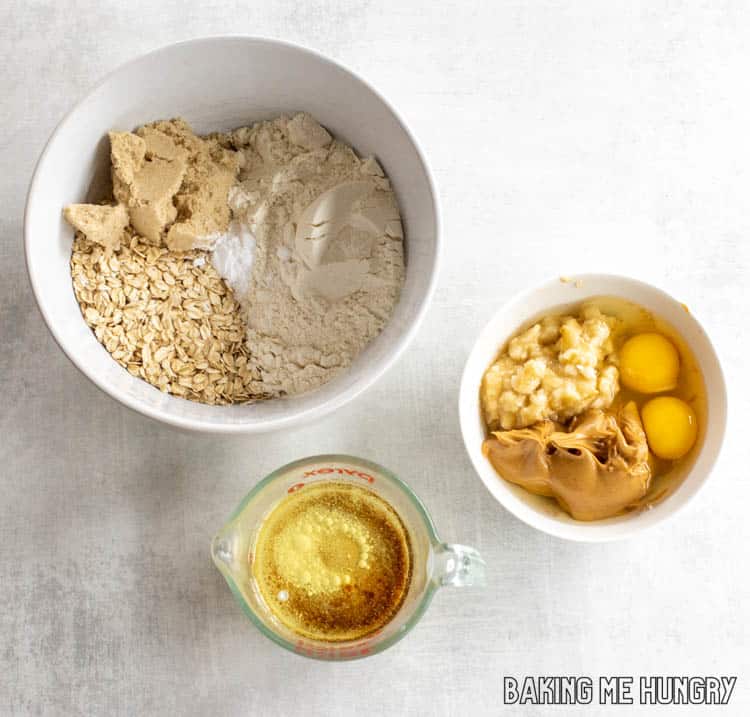 How to make Oatmeal Bars
This Peanut Butter Oatmeal Breakfast Bars comes together in minutes with just a bowl and a spoon!
Step One: Preheat the oven to 400 degrees. Spray a 9X13-inch pan with nonstick spray.
Step Two: Mix the oats, flour, sugar, and baking soda in a large mixing bowl.
Step Three: Stir the banana, peanut butter, milk, oil, eggs, vanilla, and salt into the oat mixture until the batter is blended.
It will be a thicker texture.
Step Four: Spread evenly in the pan.
Step Five: Put in the oven and bake for about 20 minutes. Cool completely. You can cover the pan with plastic wrap and store it at room temperature for 2-3 days. For longer storage transfer to an airtight container and store in the refrigerator. These also freeze well.
Variations
Add more sweetness – You can stir in some raw honey or even pure maple syrup to add more sweetness to these bars.
Add fruit – If you want to add some dried fruit (like raisins or cranberries) to this breakfast oatmeal bars recipe, those types of ingredients pair really well with the old-fashioned oats.
Add chocolate – Who says that you can't change this recipe up a bit? Adding some dark chocolate, white chocolate, or a handful of chocolate chips is a great way to add sweetness to these healthy oatmeal bars.
Common Questions
Do I have to use natural peanut butter for this recipe?
It's really up to you as to what type of peanut butter you want to use for this easy recipe. I use natural creamy peanut butter because that is what my whole family loves, but you can actually use any type of nut or seed butter that you want. Almond butter would be another great option, and even sunflower butter, too. (and don't forget about cashew butter!)
You can easily make this recipe so many different ways by changing up the type of nut butter that you use each time.
How do I store this healthy oatmeal breakfast bar recipe?
Once you make them and cut them into individual bars, keep them stored in the fridge for the best results. That way, they will stay fresher longer and make it super simple to grab and eat as an after-school snack or simple dessert.
Just be sure to store them in an airtight container with a lid so that they don't get dried out or become stale.
You can enjoy these bars, warm or chilled, straight from the fridge. To warm them, you'll just need to pop them into the microwave for a few short seconds.
Will these bars stick to the baking dish?
If you're worried about the mixture sticking to the pan, you can grease it with nonstick cooking spray or add parchment paper. If you do add parchment paper, use a longer piece so that it covers the bottom of the pan and goes all the way up the sides.
That way, once they're done baking, you can lift the entire batch of cooked bars out at once by lifting the edges of the parchment paper, making them easier to cut and serve.
Like what you see? Follow us on Facebook and on Instagram! Love this recipe? Leave a comment & a 5-star rating right here! Make sure you don't miss new recipes by getting email updates!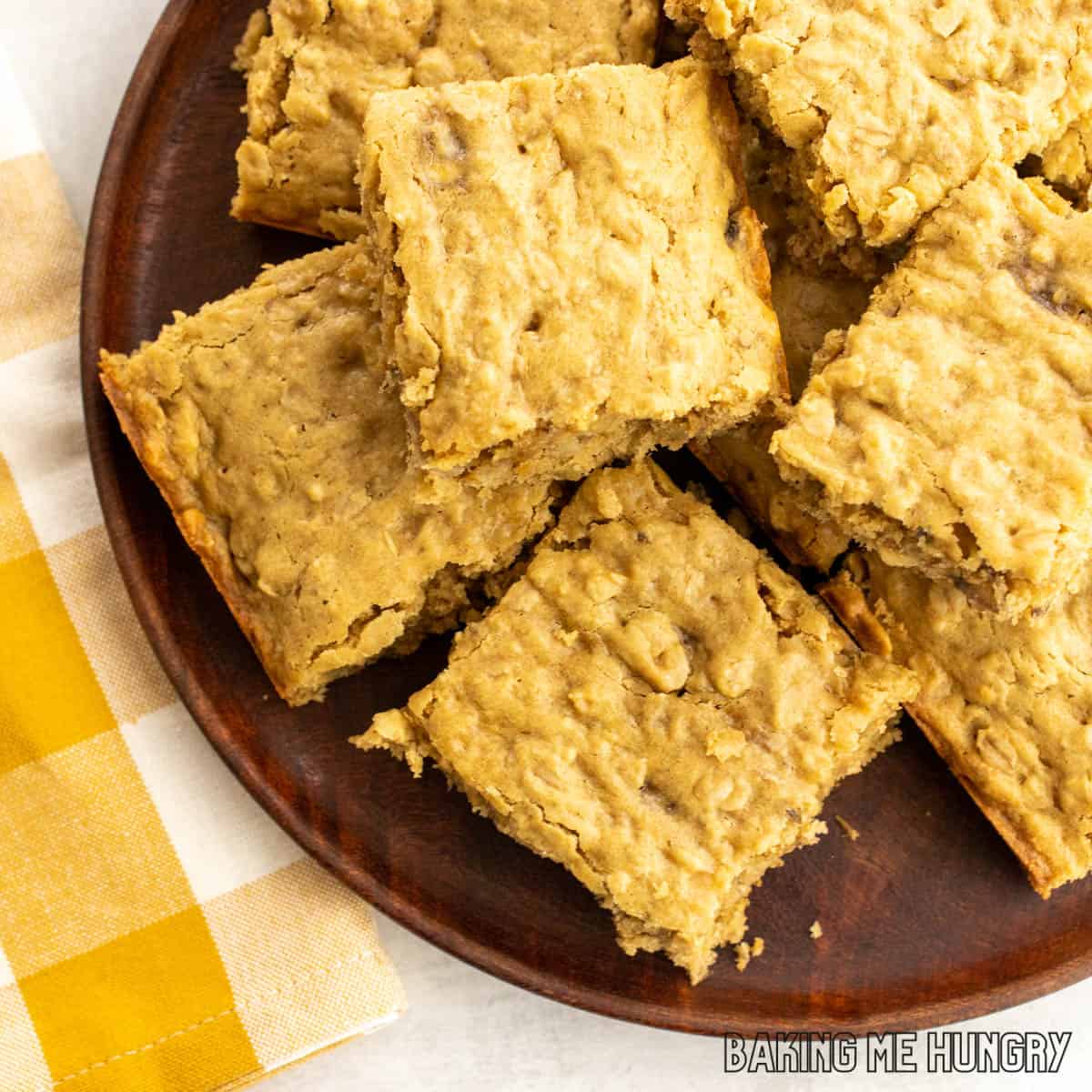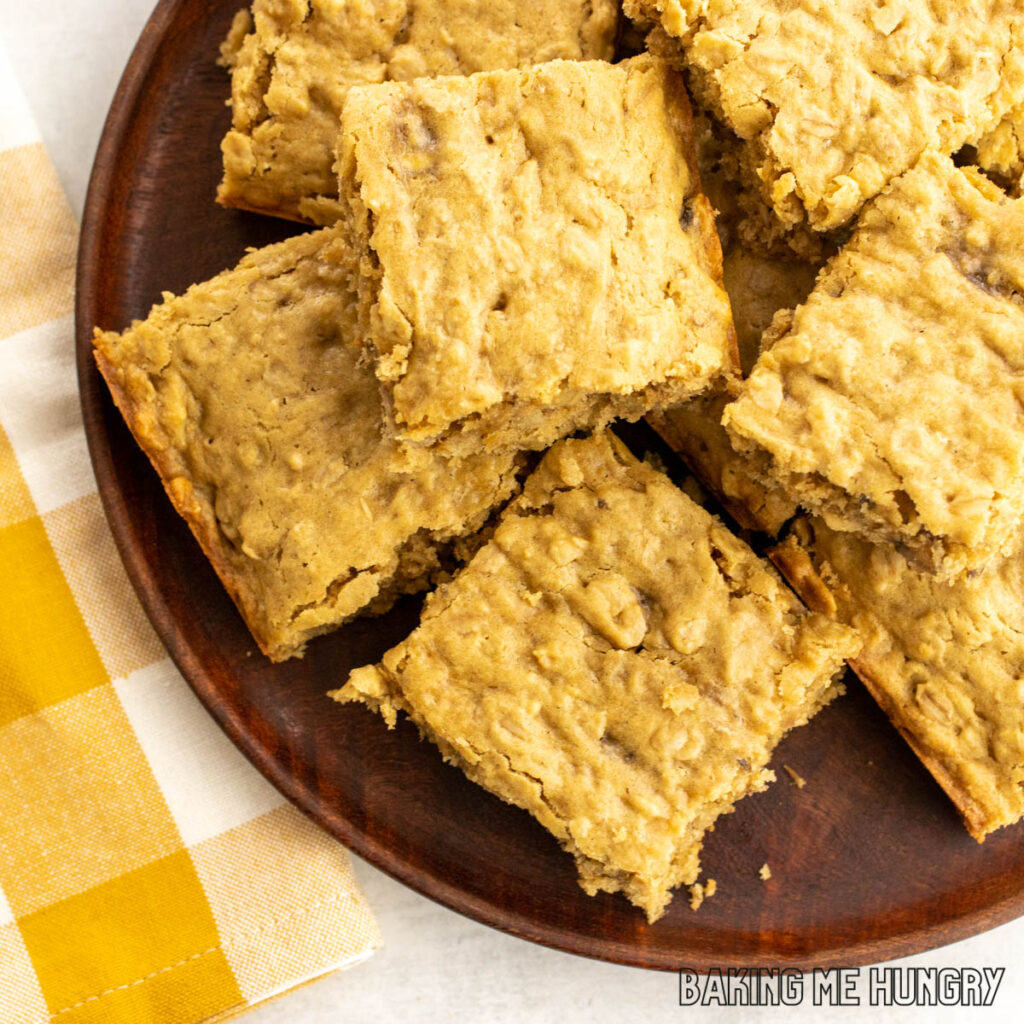 Ingredients
1 ½

cups

all-purpose flour

1 ½

cup

rolled oats

½

cup

light brown sugar

1

teaspoon

baking soda

½

cup

peanut butter

½

cup

mashed banana

½

cup

milk

½

cup

vegetable oil

2

large eggs

1

teaspoon

vanilla extract

pinch

salt
Instructions
Preheat the oven to 400 degrees. Grease a 9x13 pan with cooking spray.

Combine flour, oats, sugar, and baking soda in a large bowl.

Stir the peanut butter, banana, milk, oil, eggs, vanilla, and salt until the batter is just blended.

Spread in the prepared pan.

Bake in the preheated oven until a toothpick inserted in the center comes out clean, about 20 minutes.
Notes
Oats: Regular old-fashioned oat work best in this recipe.
Nutrition
Calories:
190.8
kcal
|
Carbohydrates:
26.3
g
|
Protein:
7.5
g
|
Fat:
6.5
g
|
Saturated Fat:
1.4
g
|
Polyunsaturated Fat:
1.7
g
|
Monounsaturated Fat:
2.9
g
|
Trans Fat:
0.002
g
|
Cholesterol:
25.2
mg
|
Sodium:
155.4
mg
|
Potassium:
174.8
mg
|
Fiber:
1.8
g
|
Sugar:
9.5
g
|
Vitamin A:
50.9
IU
|
Vitamin C:
0.7
mg
|
Calcium:
30.4
mg
|
Iron:
1.3
mg