This virgin espresso martini has the best flavor! With four simple ingredients needed, grab your martini glass and get ready to fall in love. This is a great choice for anyone who loves coffee and mocktail recipes.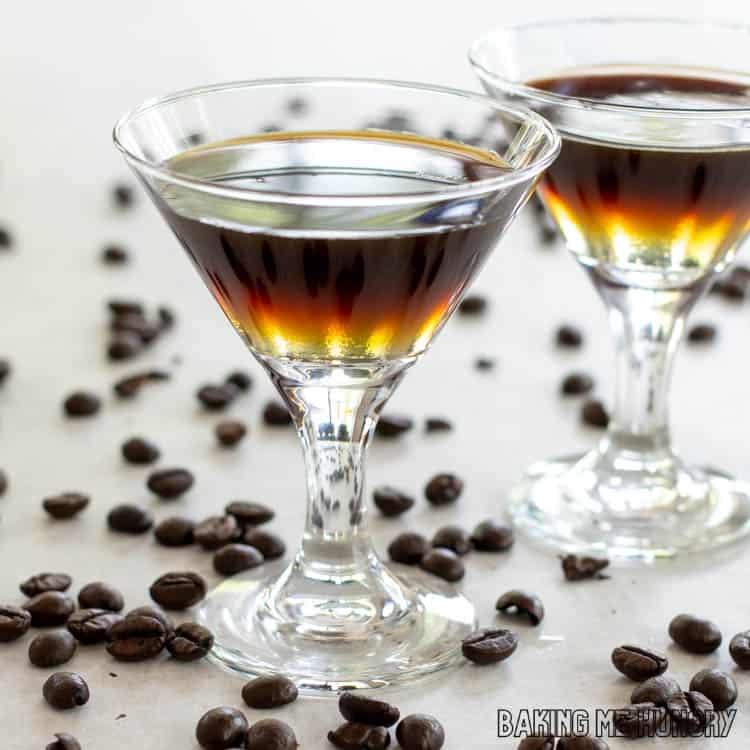 Once I made this virgin drink, I knew that I had an absolute winner. Not only is adding a shot of espresso the perfect kick of caffeine, but it creates a simple and easy drink that you can enjoy any time of year. I love having this non-alcoholic cocktail in my back pocket to make my family and friends! It's an easy virgin martini that looks like the real deal.
You can even use a cocktail shaker and pour this coffee mocktail into a cocktail glass to give it the full look and effect! There is no worry about needing to cut back on this fun drink if you're doing "dry January" or cutting back on alcoholic spirits. Since there is no alcohol added, it's great for anyone to drink! (As long as they're okay with the added caffeine boost!)
Be sure to check out my Oreo Iced Coffee Recipe for another sweet treat and flavor. Coffee fans will love this one, too!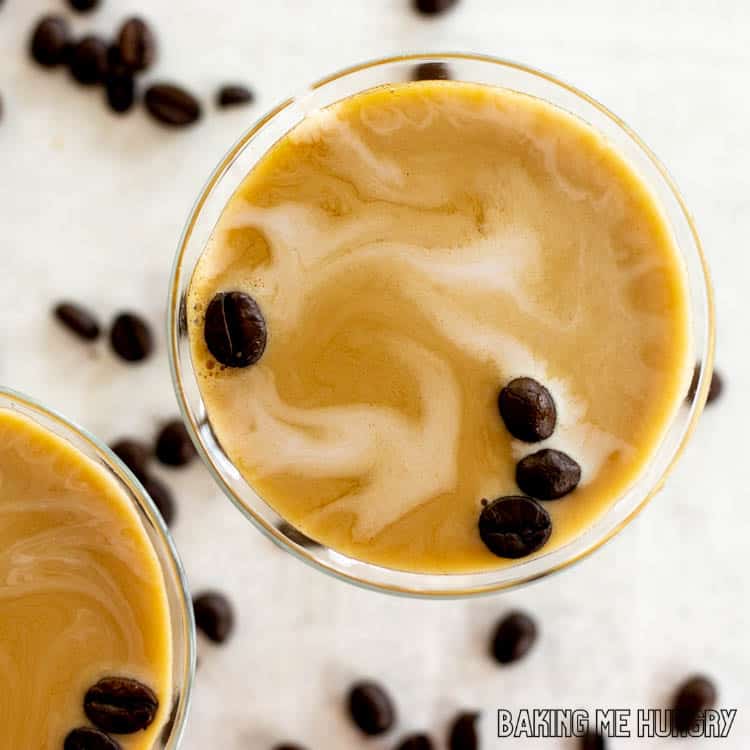 Ingredients
Espresso – You can brew this fresh or use leftover espresso. Either option work great.
Simple syrup – This adds a fun look and flavor to the mocktail.
Vanilla extract – A hint of vanilla is the perfect flavor enhancer.
Half and half – Optional. To add richness to the drink. Omit for a vegan version.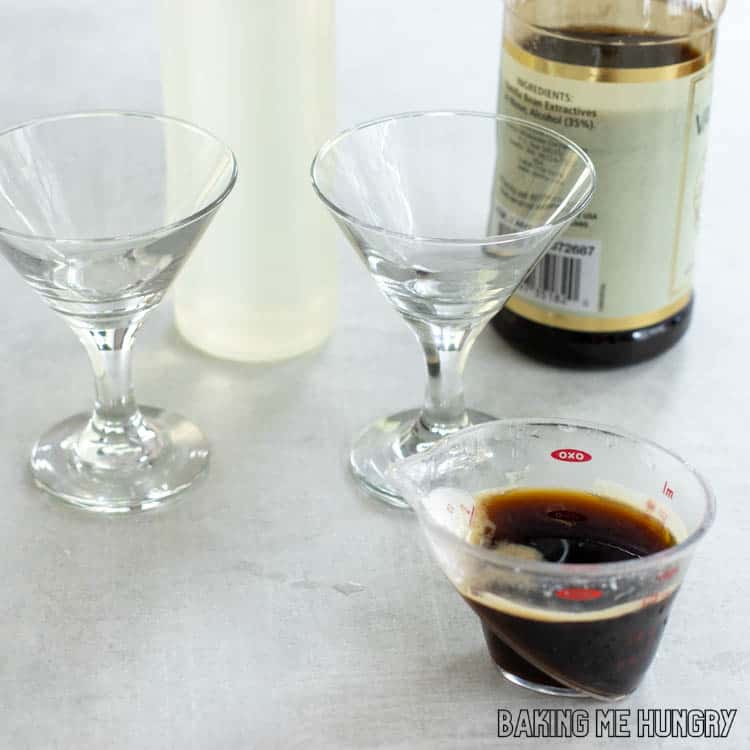 How to make a Virgin Espresso Martini
Making a non-alcoholic version of a traditional espresso martini is easier than you think!
Step One: Add all of the ingredients to a cocktail shaker. Shake.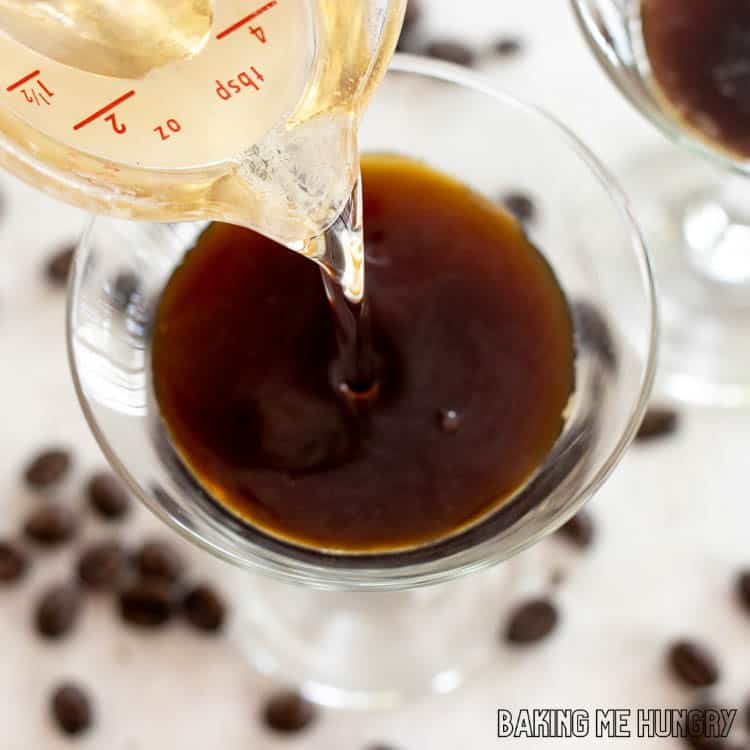 Step Two: Strain into one or two martini glasses.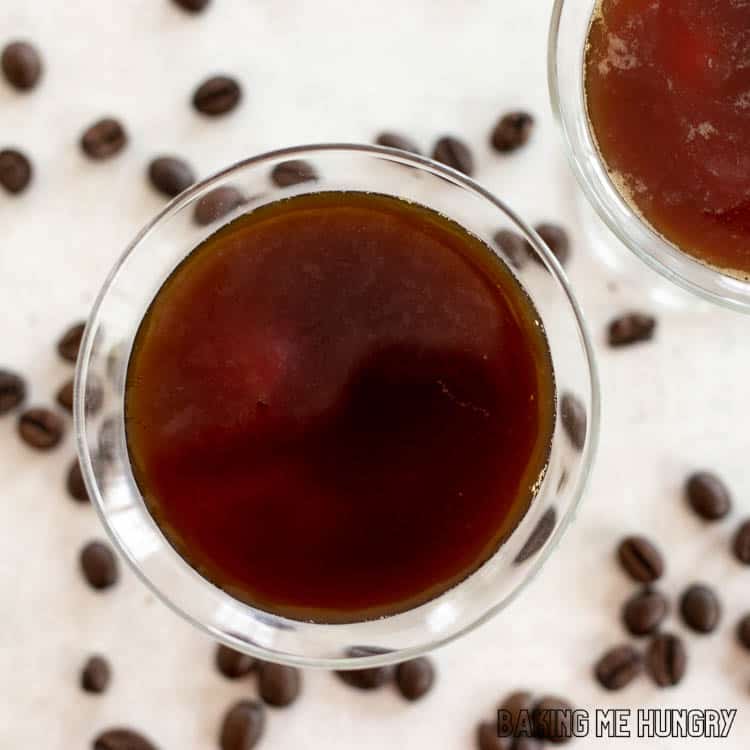 Variations
Add a little sweetness – The really fun thing about making this drink is that it's easy to change and customize. If you want to add some different sweet factors, do so. Adding a bit of brown sugar is a great way to add a pop of sweet. You can also line the rim of the glass with a little bit of sugar, too.
Change up the syrup – Any type of simple syrup will work, but using different flavors is part of the fun! I think that vanilla syrup would be delicious with this, as would a caramel syrup option, too.
Top with heavy cream – If you are making this for fun, make it fun to look at! You can top it with some heavy cream, whipped cream, and even a drizzle of chocolate or caramel.
Use instant espresso – If you don't have espresso already made and sitting around, you can easily whip up this espresso martini mocktail using instant espresso. Just add to the rest of the ingredients, along with some water, and stir.
Real espresso martini – For a regular espresso martini check out our creamy espresso martini recipe which uses Mr. Black Coffee Liqueur.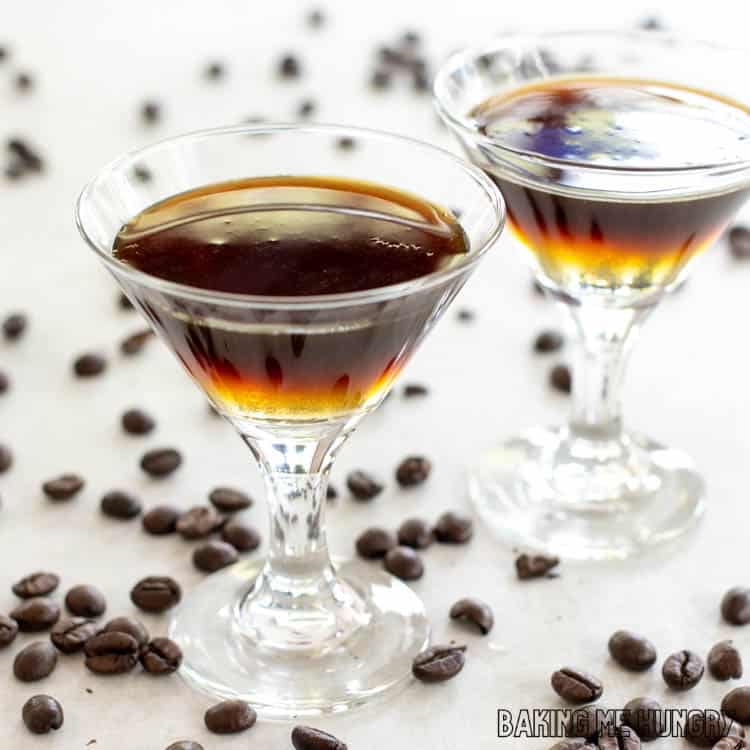 Common Questions
Do I need to double strain this drink?
You don't. This isn't like a classic martini where you'll see people straining it a couple of times. One strain to pour the drink into the glass, and that is really all you'll need to do.
​Can I use coffee beans in this drink?
You can! If you don't want to make an espresso or don't like the flavor of espresso, you can absolutely make this delicious drink with coffee as well. Grind up your favorite coffee beans, brew a pot of coffee, and use some to make this delicious non-alcoholic espresso martini. It's as easy as that.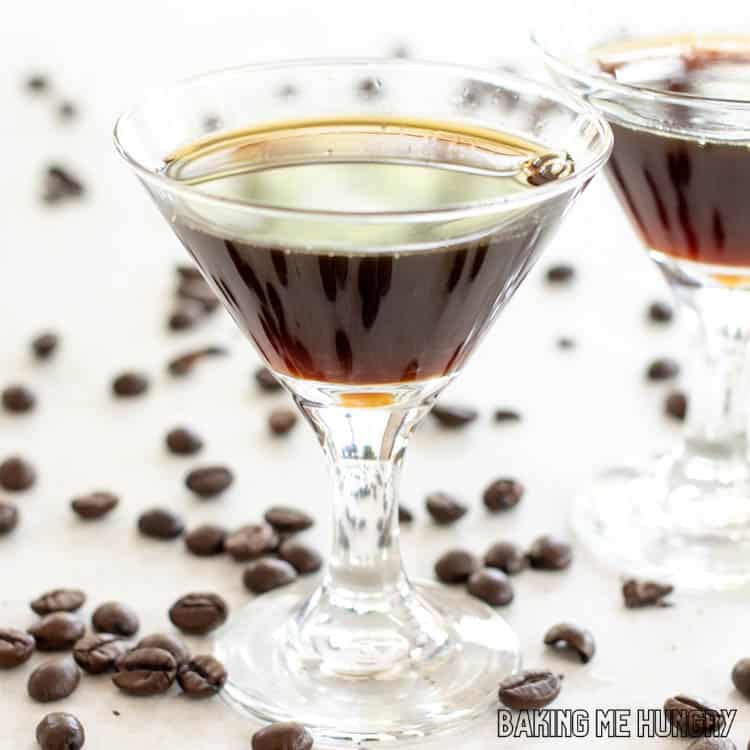 Can I drink this as a hot espresso?
Absolutely. This drink can be served hot or cold. If you want to drink it hot, then add brew the espresso and add it to the rest of the ingredients right away. This will give you a hot liquid that you will love.
If you want to drink this virgin espresso martini chilled, then just add a couple of ice cubes to the glass and pour the ingredients over the top. There is literally no wrong way to enjoy the taste and flavor of this simple drink.
What are good toppings that are often added to classic cocktails?
The biggest thing to remember about adding toppings to cocktails is that you don't have to go over the top. You can literally pour the drink and enjoy it like it is and don't even have to add toppings.
However, if you do decide that this drink needs a few things on top, embrace what your tastebuds like. Whipped cream, mini chocolate chips, a little bit of chocolate sauce, and even some cinnamon could all be great toppings for this fun drink.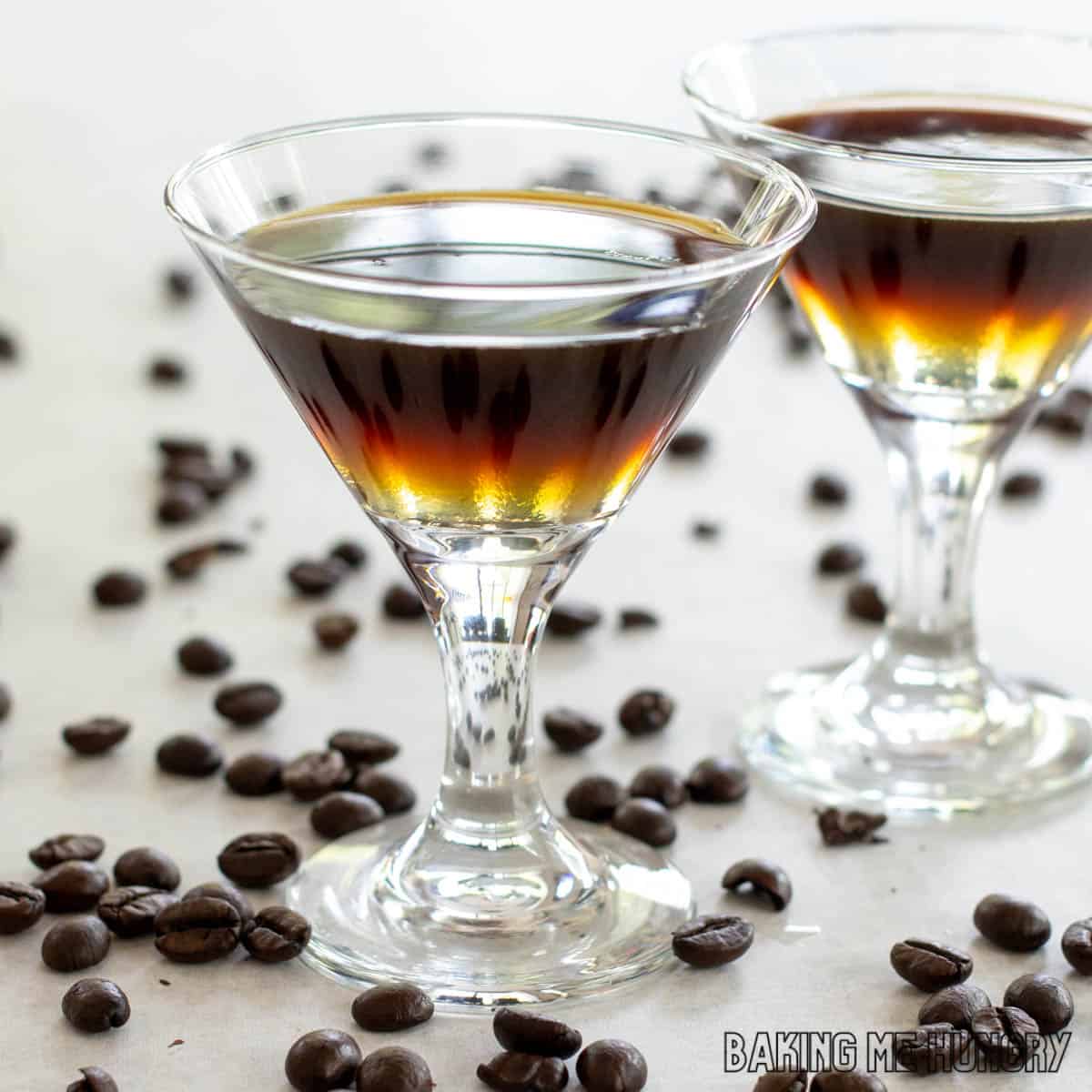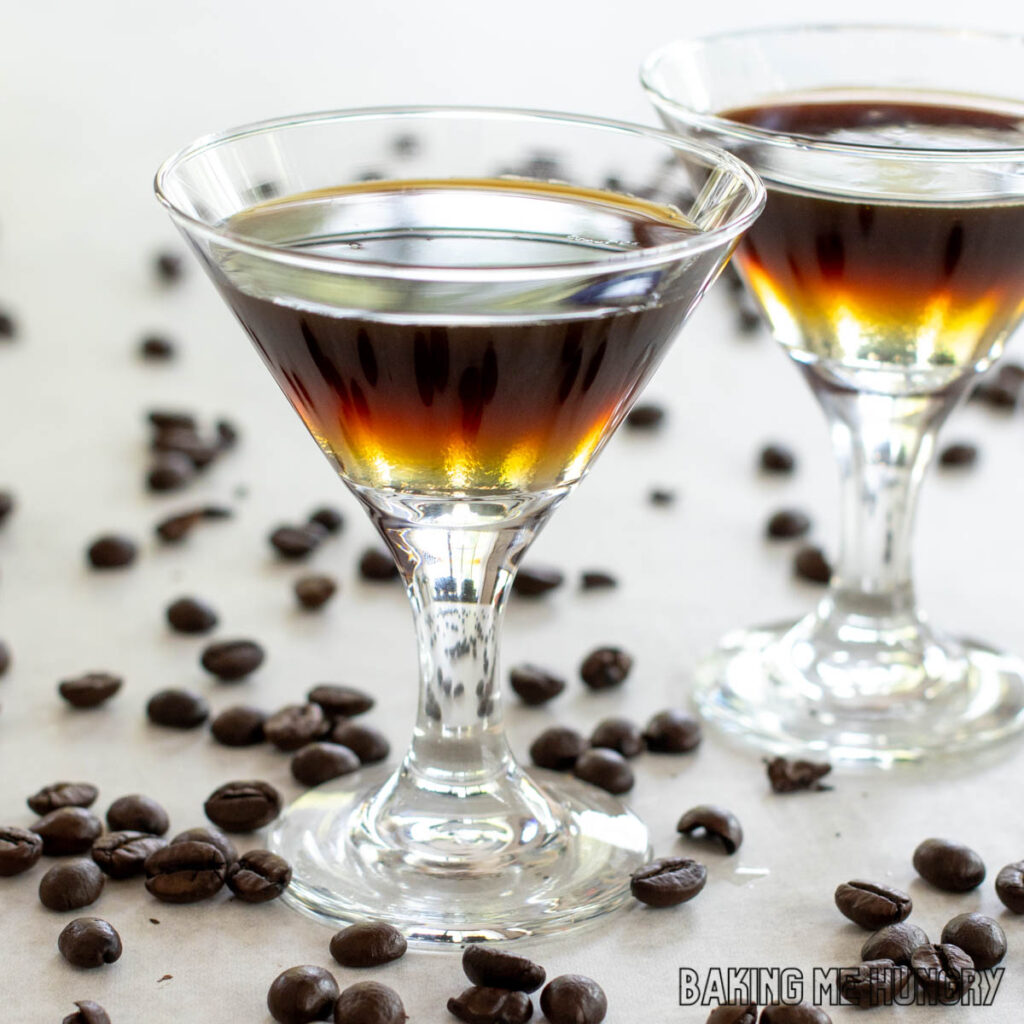 Ingredients
2

oz

espresso

cooled to room temperature

2

oz

simple syrup

¼

teaspoon

vanilla extract

2

tablespoon

half and half

optional
Instructions
Add ingredients to a cocktail shaker of ice. Shake well.

Strain into one large or two small martini glasses.

Alternatively, you can layer chilled ingredients right in the martini glass.
Nutrition
Calories:
199.8
kcal
|
Carbohydrates:
43.8
g
|
Protein:
1
g
|
Fat:
3.6
g
|
Saturated Fat:
2.2
g
|
Polyunsaturated Fat:
0.2
g
|
Monounsaturated Fat:
1
g
|
Cholesterol:
10.5
mg
|
Sodium:
59.2
mg
|
Potassium:
142
mg
|
Sugar:
42.9
g
|
Vitamin A:
106.2
IU
|
Vitamin C:
0.4
mg
|
Calcium:
40.7
mg
|
Iron:
2.1
mg