A Moscow Mule is a refreshing, slightly sweet cocktail made with vodka, ginger beer, and lime juice. It's a perfect summertime drink, and it's easy to make Virgin Moscow Mules for those who don't drink alcohol. Just substitute the vodka for juice, club soda, or lemon-lime soda. The key to a good Virgin Moscow Mule is to use high-quality ginger beer.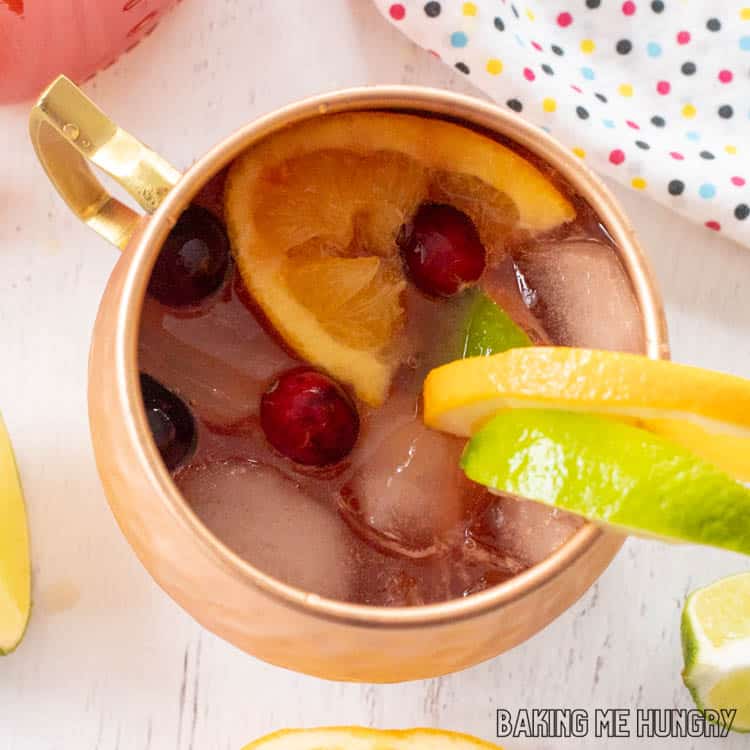 My daughter and I have decided it would be fun to have a section on mocktail recipes and other non-alcoholic drinks here at Baking Me Hungry, like this Pina Colada Mocktail. It can be fun to introduce kids to more adult flavors without the liquor. The taste of the ginger beer in a non-alcoholic Moscow mule takes it a step above kid drinks like a Shirley Temple.
A Moscow Mule is a refreshing cocktail that is perfect for any occasion. It is made with vodka, ginger beer, and lime juice. The history of the Moscow Mule is interesting and unique. The drink was created in the 1940s in New York City. It became popular in the 1950s when Hollywood celebrities began to order it at bars and nightclubs. Today, the Moscow Mule is enjoyed by people all over the world.
A Moscow mule is a vodka-based cocktail. It is traditionally made with vodka, ginger beer, and lime juice. The drink is often garnished with a lime wedge. The Moscow mule is a popular choice for many people because it is refreshing and has a strong flavor. Our Moscow mule mocktail uses a blend of fresh citrus, cranberry, and ginger beer without any added alcohol.
Ingredients
Ginger Beer – You are looking for a non-alcoholic ginger beer for this recipe. It is similar to ginger ale but with a stronger ginger flavor. It is found with sodas or cocktail mixers in your local grocery store. They have a bit of a kick just from the ginger. There are some spicy ginger beer beverages out there and some that are milder. You may need to try a few to find your favorite ginger beers. We used Gosling in this recipe. Fever Tree is another common brand.
Cranberry Juice – Try to find 100% cranberry juice. You are only using a little bit and the tartness of the real cranberry juice pairs perfectly with the ginger.
Fresh Citrus – We used a combination of freshly squeezed orange juice and freshly squeezed lime juice.
Cranberries – Optional, to garnish. But they add a lot of color. I like to keep a bag in the freezer just for this purpose.
How to Make a Virgin Moscow Mule
This virgin Moscow mule recipe is simple, has simple ingredients, and only takes about 2 minutes to make. Although I added specific measurements in the recipe card you really can just wing this virgin mule recipe. You want a little lime juice, a little more orange juice, a little more cranberry juice than those, and then just top if off with ginger beer.
Step One: Put ice cubes in a copper mug.
Step Two: Add fresh lime juice and orange juice.
Step Three: Add cranberry juice.
Step Four: Top off with ginger beer.
Step Five: Garnish and serve.
Variations
Sweetness – If you would like your ginger beer mocktail a bit sweeter you can add some simple syrup or another sweetener that dissolves easily. For a less sweet mocktail use sparkling water or seltzer instead of cranberry juice.
Vodka Substitute – Swap out the cranberry juice for apple juice, mango juice, grapefruit juice, apricot nectar, or even guava nectar. Club soda or lemon-lime soda are good choices if you don't want to add juice.
Mint – If you like a virgin mojito you can also add some mint to a mule. Muddle a few fresh mint leaves in the copper cup and then proceed with the recipe.
Garnish – Garnish with fruit slices, a twist of citrus, patterned paper straws, paper umbrellas, or even fun toys. I'll never forget the time I ordered a cocktail and it came with a 12-inch blue plastic whale across the top of it.
Alcoholic Cocktail – If you want one with alcohol you can add an ounce or two of vodka.
Common Questions
Why is a Moscow mule served in a copper mug?
A Moscow mule is traditionally served in a copper mug because the metal helps to keep the drink cold. Additionally, the copper mug gives the drink a more sophisticated appearance.
Can you have a Moscow Mule in a glass?
Yes, of course. Whereas copper mugs are traditional you can certainly make one in a regular glass. We would normally use a clear glass to show off the color of this delicious drink.
Does Ginger Beer have alcohol?
Sometimes. Ginger beer is a fermented beverage that originates from England. The traditional recipe includes ginger, sugar, water, and lemon juice. These ingredients are boiled to create a syrup, which is then mixed with yeast and left to ferment. Once fermentation is complete, the ginger beer contains alcohol. However, the alcohol content is typically low, around 0.5% ABV. There are also non-alcoholic versions of ginger beer available. Most of the ones found in the soda section of a grocery store are non-alcoholic.
Like what you see? Follow us on Facebook and on Instagram! Love this recipe? Leave a comment & a 5-star rating right here! Make sure you don't miss new recipes by getting email updates!
Ingredients
12

oz

ginger beer

2

oz

cranberry juice

½

oz

fresh orange juice

1

teaspoon

fresh lime juice
Instructions
Put ice in a copper mug.

Top off with ginger beer.

Garnish and serve.
Nutrition
Calories:
149.4
kcal
|
Carbohydrates:
38.6
g
|
Protein:
0.3
g
|
Fat:
0.1
g
|
Saturated Fat:
0.01
g
|
Polyunsaturated Fat:
0.1
g
|
Monounsaturated Fat:
0.02
g
|
Sodium:
25.2
mg
|
Potassium:
81.3
mg
|
Fiber:
0.1
g
|
Sugar:
38.4
g
|
Vitamin A:
56.4
IU
|
Vitamin C:
13.9
mg
|
Calcium:
17
mg
|
Iron:
0.8
mg