Cool off on a hot summer day with this refreshing Virgin Strawberry Mojito mocktail recipe. Enjoy the sweet and tart flavors of strawberries and mint in every sip of this refreshing drink!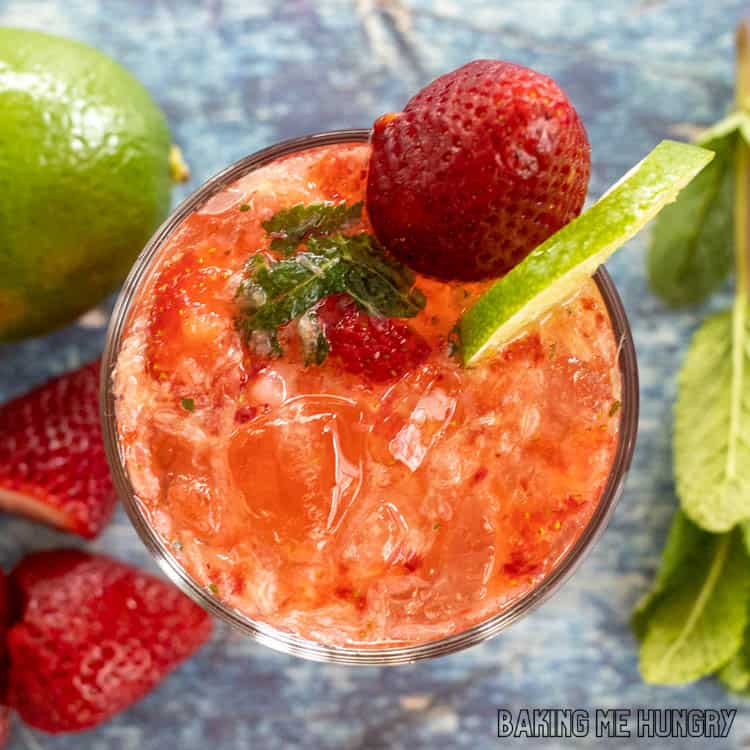 Are you looking for an easy, fast, and delicious recipe to make a refreshing Non-Alcoholic Strawberry Mojito? Look no further! This recipe is simple to follow and will leave your taste buds wanting more. With only a few ingredients and a blender, you can create this perfect drink in just minutes. Whether it's summer or winter, it's sure to be a hit with friends and family alike any time of year. Let's get started on making this tasty beverage!
Ingredients
Strawberries – Strawberries are one of the most popular fruits in the world, enjoyed for their sweet and tart flavor. Not only are fresh strawberries delicious, but they also offer numerous health benefits due to their high antioxidant content. You can use frozen strawberries in this recipe if you can't find fresh berries.
Fresh Mint – Fresh mint has a delightfully refreshing and invigorating flavor that pairs well with both sweet and savory dishes.
Lime – Lime is a popular citrus fruit that is used in many dishes to give them a tangy flavor. Fresh lime juice can be added to drinks or salads, and its zest can be used for seasoning. Lime has many health benefits too, such as providing vitamin C, potassium, and antioxidants that can help boost your immune system.
Simple Syrup – Simple syrup is an essential ingredient for making many different types of drinks, including cocktails, lemonade and iced tea. It is a combination of sugar and water that has been boiled together until the sugar dissolves completely. Simple syrup can be used in a variety of recipes to sweeten drinks, glazes and sauces as well as to add moisture to cakes or other baked goods. It's easy to make at home with just two ingredients: sugar and water. The result is a thick liquid that can be stored in the refrigerator for up to six months.
Sparkling Water – Sparkling water is becoming increasingly popular in cocktails due to its refreshing and crisp taste. By adding soda water to your favorite cocktails, you can create a lighter version with fewer calories. Not only does this make for a healthier option, but it also adds an extra layer of flavor that can't be found in any other mixers. Sparkling water is the perfect addition to your cocktail selection, offering both health benefits and deliciousness.
How to Make a Virgin Strawberry Mojito
Cool and refreshing, this Virgin Strawberry Mojito mocktail is the perfect non-alcoholic drink for any occasion. Made with simple ingredients it has a perfect strawberry flavor.
Step One: Combine the strawberries, mint leaves, and lime slices.
Step Two: You want to smash them to break up the strawberries and release the flavors of the lime and mint. It is easiest to do this in a cocktail shaker with a muddler or the end of a wooden spoon. Add the simple syrup and mix.
Expert Tip: It is easiest to mash the berries if they are at room temperature.
Step Three: Add the strawberry mixture to a glass with some ice cubes.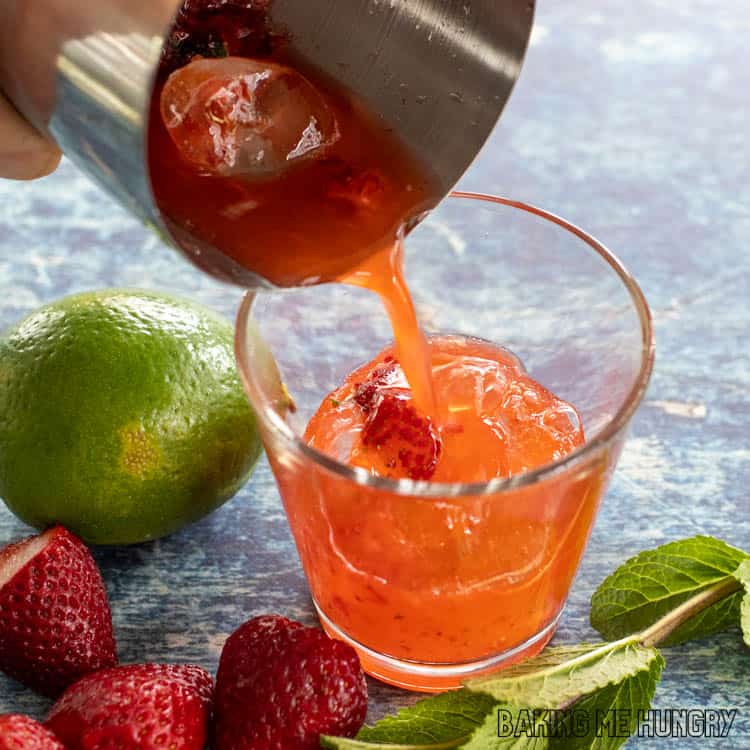 Step Four: Top off the virgin strawberry mojito recipe with the seltzer. Garnish with fresh fruit.
Variations
It is easy to tweak this virgin mojito recipe to be any flavor you desire.
Fruits – Change out the berries for peaches, watermelon, or mango for a fun twist.
Berries – Swap out the strawberries for another type of berry. Blackberry mojitos, blueberry mojitos, and raspberry mojitos are all delicious.
Soda – Skip the simple syrup and use lemon-lime soda instead.
Simple Syrup – Sub in maple syrup, honey, or agave syrup in place of the sugar syrup.
Fancy Ice – Freeze half a strawberry or a few mint leaves in each section of your ice cube trays. Store in an airtight container to use in your favorite mocktail recipes for especially beautiful drinks.
Alcoholic – If you want to make a few mocktails and a few cocktails you can replace some of the club soda with white rum for an alcoholic version.
Common Questions
Can I make a large batch of virgin strawberry mojitos?
Absolutely. To make this delightful drink for a crowd, start by washing and hulling 16 ounces of strawberries before slicing them into small pieces. Next, finely chop a handful of fresh mint leaves and combine them with the sliced strawberries in a large pitcher. Add in the juice of one lime and a cup of simple syrup to taste before stirring everything together.
Finally, top off your pitcher with sparkling water and give it one final stir before serving over ice. The result is a sweet and tangy beverage that's bursting with flavor and sure to please even the pickiest of palates.
What is a mojito?
Mojito is a classic Cuban cocktail that is now famous all around the world. It's a refreshing drink made using white rum, lime juice, sugar, sparkling water, and mint leaves. The mojito is usually served over ice in a tall glass and garnished with a sprig of fresh mint.
The origin of the mojito can be traced back to Havana, Cuba where it was first created in the early 1900s. The drink was initially intended as a medicinal beverage for sailors who were suffering from scurvy and other ailments. But over time, it became popular among locals and eventually spread to other parts of the world.
Today, mojitos are enjoyed by people of all ages and backgrounds. They're perfect for sipping on hot summer days or for adding some tropical flair to any party or gathering.
This strawberry mocktail recipe is an amazing non-alcoholic version of a classic mojito recipe.
Love this recipe? Try our Pina Colada Mocktail or Virgin Espresso Martini next!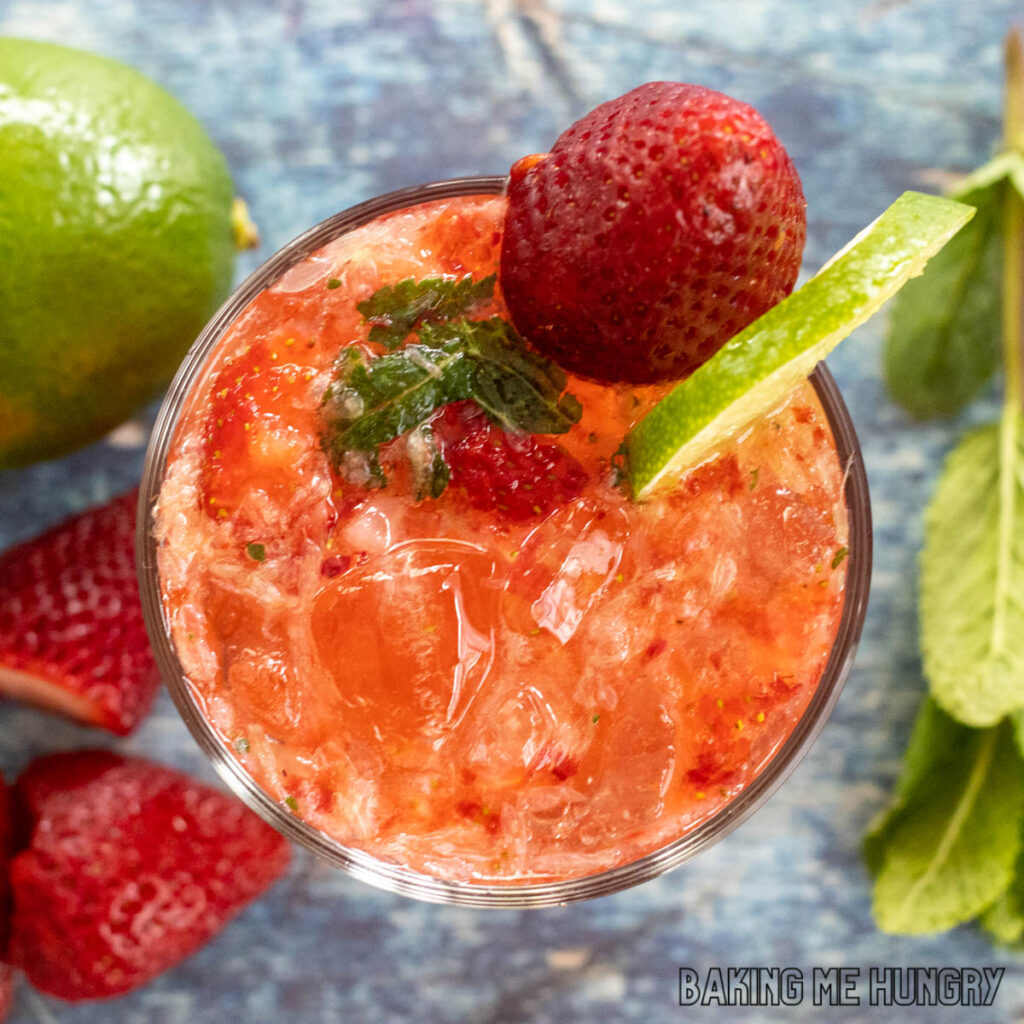 Ingredients
4

strawberries

4

leaves

fresh mint

¼

lime

sliced

4-5

tablespoon

simple syrup

4

oz

sparkling water
Instructions
Combine the strawberries, mint, and lime slices in a cocktail shaker or small bowl. Mash well with a muddler. Stir in the simple syrup.

Add to a rocks glass half full of ice.

Top with sparkling water.
Nutrition
Calories:
235.7
kcal
|
Carbohydrates:
64
g
|
Protein:
0.5
g
|
Fat:
0.2
g
|
Saturated Fat:
0.01
g
|
Polyunsaturated Fat:
0.1
g
|
Monounsaturated Fat:
0.02
g
|
Sodium:
71.1
mg
|
Potassium:
144.3
mg
|
Fiber:
1.4
g
|
Sugar:
61.2
g
|
Vitamin A:
22.6
IU
|
Vitamin C:
33.1
mg
|
Calcium:
29.8
mg
|
Iron:
3.2
mg