You're going to love the ease of these 3 ingredient pumpkin muffins! Perfect for pumpkin season – or right now! All you need is a yellow cake mix and couple of other simple ingredients to get started!
The best part of this easy pumpkin muffin recipe is that it's perfect every time. I love all things pumpkin, and these fluffy pumpkin muffins are most definitely at the top of my list. It's the perfect recipe for a fast and simple breakfast treat, but also a perfect way to enjoy satisfying those pumpkin cravings for dessert as well.
Pumpkin recipes like this are also great for school lunches and for sharing with others during the fall season because great ideas like this are too good to keep to ourselves! If you're ready to make this easy pumpkin muffins recipe, join in on the tasty fun. The recipe card below will give you all the exact measurements and details so that you can easily make these delicious pumpkin muffins over and over again.
Be sure to check out my Triple Chocolate Muffins for another simple and delicious snack.
Ingredients
Yellow cake mix – Using a box of cake mix cuts down on a ton of needed ingredients and prep time.
Pumpkin puree – You can buy canned pumpkin at the store. Make sure it is pure pumpkin and not sweetened pumpkin pie filling. Alternatively, you can make your own by roasting a sugar pumpkin and pureeing the pulp.
Eggs – Large eggs work best.
Pumpkin spice – This can be optional but does add a nice flavor.
How to make 3-Ingredient Pumpkin Muffins
Step One: Preheat the oven to 350 degrees.
Step Two: Mix together the ingredients in a large bowl until smooth.
Step Three: Add muffin liners to the muffin tin. I like to spray them with cooking spray to ensure the muffins will not stick. If you don't want to use liners grease the muffin pan very well.
Step Four: Fill the liners with the muffin batter, ¾ of the way full using an extra large cookie scoop.
Step Five: Add the muffin pan to the oven and bake for 18 minutes.
Step Six: Cool in the pan for 5 minutes. Remove and let cool on a wire rack.
Storage: You can store these in an airtight container at room temperature for 4-5 days. Alternatively, you can wrap them individually in plastic wrap and freeze for 2-3 months.
Variations
Add chocolate chips – You can turn these pumpkin cake mix muffins into chocolate pumpkin muffins easily by adding chocolate chips. Change the type of chocolate added to make these chocolate chip pumpkin muffins taste differently every time. The best thing about adding chocolate is you can change it every time.
Change the flavor of boxed cake mix – While I use yellow cake mix for this recipe, you can easily use other types. Devil's food cake mix is one type, or even a white cake mix would work. Even a box of spice cake mix would be good! For the best results, don't use a wild flavor of cake mix, or it might overpower the flavors of these pumpkin spice cake muffins.
Common Questions
Can I use a can of pumpkin puree to get the pumpkin flavor?
You can. Just be sure that anytime you are buying a canned pumpkin from the store, you read the ingredients that are on the label. This is because a lot of canned pumpkins have no real pumpkin in them at all – it's actually squash! While it can still be used in pumpkin-baking recipes, it's just something fun to pay attention to and be aware of.
If you want more of that pumpkin flavor, you can add more pumpkin spice to the mixture or even add some pumpkin pie spice as well. It's optional for this recipe but it does add a good amount of flavoring.
Can I turn these cake mix pumpkin muffins into a dessert?
You bet! All you need to do is add some cream cheese frosting on top, and you've got a sweet treat for all. Scoop a big dollop of frosting right on the top of the muffins, and they'll be like dessert muffin tops or even pumpkin cupcakes.
How do I store leftover muffins?
The best way to store muffins is to let them cool completely and then add them to an airtight container. This is a great way to keep them moist and fresh so that they can be enjoyed the next day, too. While these don't have to be stored in the fridge, that can be a great way to prolong their life for a day or two.
If you decide that you want to freeze them for later, go for it! Just be sure that they're cooled completely, and then add the muffins to a freezer-safe bag or container. To thaw the muffins, move them to the fridge for a few hours.
Can I make mini muffins with this recipe?
Yes, you can. You will need to use a muffin pan with mini muffin cups and pay attention to the cooking time. Since the muffins are smaller, they're likely going to cook faster and not need to spend as much time in the oven.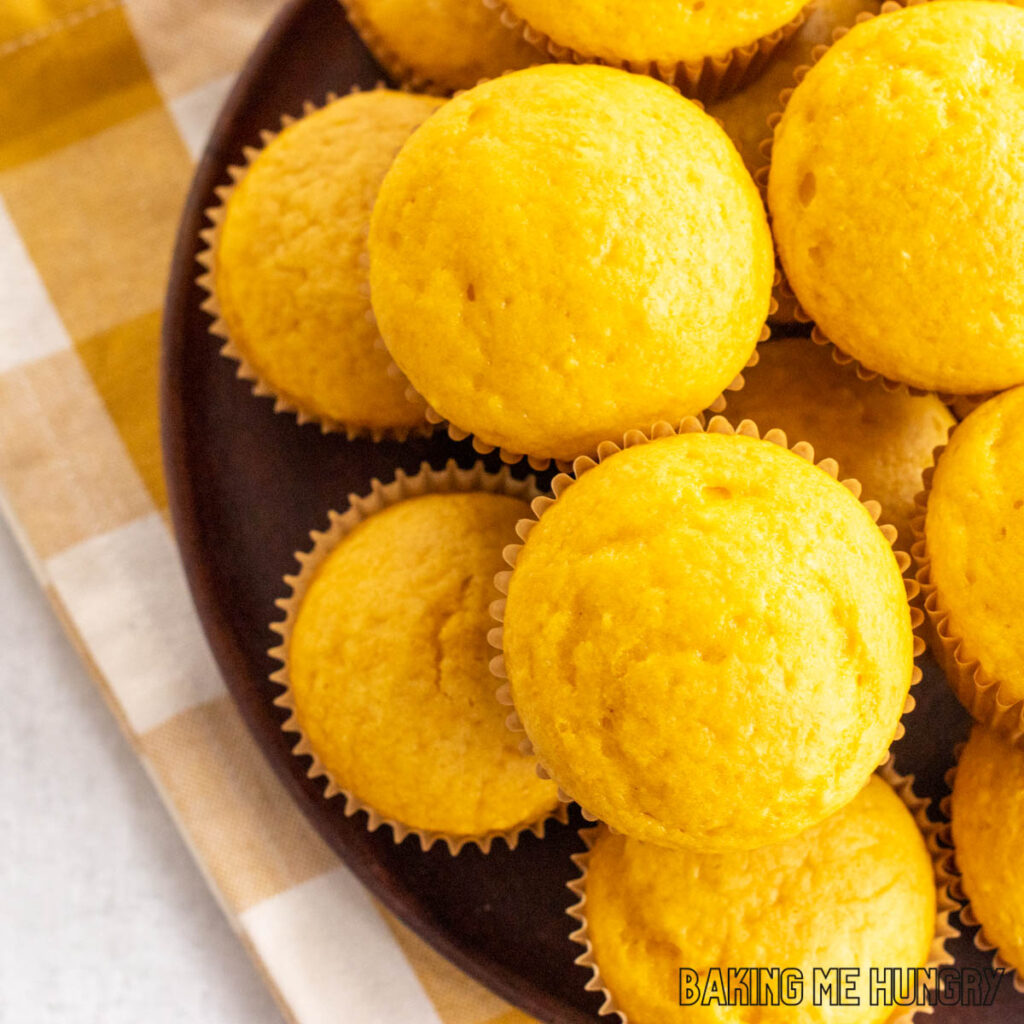 Ingredients
1

box

yellow cake mix

(15.25 oz)

15

oz

pumpkin puree

3

eggs

1

teaspoon

pumpkin spice

optional
Instructions
Preheat oven to 350. Line 18 holes of a muffin tin with paper liners and spray with cooking spray.

Combine the ingredients with an electric mixer and mix until fluffy.

Divide between the prepared muffin pans.
Nutrition
Calories:
124.6
kcal
|
Carbohydrates:
25.7
g
|
Protein:
2.3
g
|
Fat:
1.6
g
|
Saturated Fat:
0.7
g
|
Polyunsaturated Fat:
0.2
g
|
Monounsaturated Fat:
0.5
g
|
Trans Fat:
0.1
g
|
Cholesterol:
27.3
mg
|
Sodium:
220.8
mg
|
Potassium:
73
mg
|
Fiber:
1
g
|
Sugar:
13.2
g
|
Vitamin A:
3716.6
IU
|
Vitamin C:
1
mg
|
Calcium:
71.6
mg
|
Iron:
1.1
mg