This Vanilla Muffin Recipe proves that sweet muffins can easily be made at home! This easy muffin recipe is a big hit with adults and kids, and everyone will love the flavor! Top them with your favorite jam, or eat them just as they are.
Once you make this, it's going to be your flavor classic muffin recipe. The fluffy muffins and moist crumbs truly are what muffin recipes should be like! Once you combine the dry ingredients with the wet ingredients, you're so close to enjoying the flavor. Even though these are muffins, they really do resemble vanilla cupcakes in their flavoring and texture.
This recipe just might be the easiest way to get everyone out of bed and downstairs for the day. I know that when I make these muffins, I'm pumped to sit and start my day with a cup of coffee paired! Get ready – this vanilla muffins recipe is addictive!
Be sure to check out my Banana Blueberry Oatmeal Muffins for another great recipe idea! And if you love vanilla this Vanilla Chai Latte Recipe is the perfect sip.
Ingredients
Refined coconut oil – This adds a great flavoring to the muffins.
Sugar – For sweetness.
Egg whites – The binding agent helps add a fluffy texture.
Vanilla extract – I always use pure vanilla extract.
All-purpose flour – Perfect for making soft muffins.
Baking powder – Make sure it is fresh so the muffins rise properly.
Salt – Just a bit to enhance the other flavors.
Milk – I use whole milk but you can really can use any type of milk.
Powered sugar – Used to make the glaze.
Vanilla bean paste – Used to make the glaze and add more vanilla flavoring.
How to Make this Vanilla Muffin Recipe
To get the perfect base muffin recipe, follow the simple steps below.
Step One: Preheat the oven to 350 degrees. Line a muffin tin or cupcake tin with cupcake liners. Combine the flour, baking powder, and salt in a small bowl.
Step Two: Add the oil and sugar into a large bowl, and cream until fluffy. This works well at medium speed.
Expert Tip: I always spray my paper liners with nonstick cooking spray to ensure the muffins won't stick.
Add the egg whites and beat them it. This will become frothy.
Step Three: Add the vanilla and stir.
Slowly add the flour mixture, alternating it with the milk.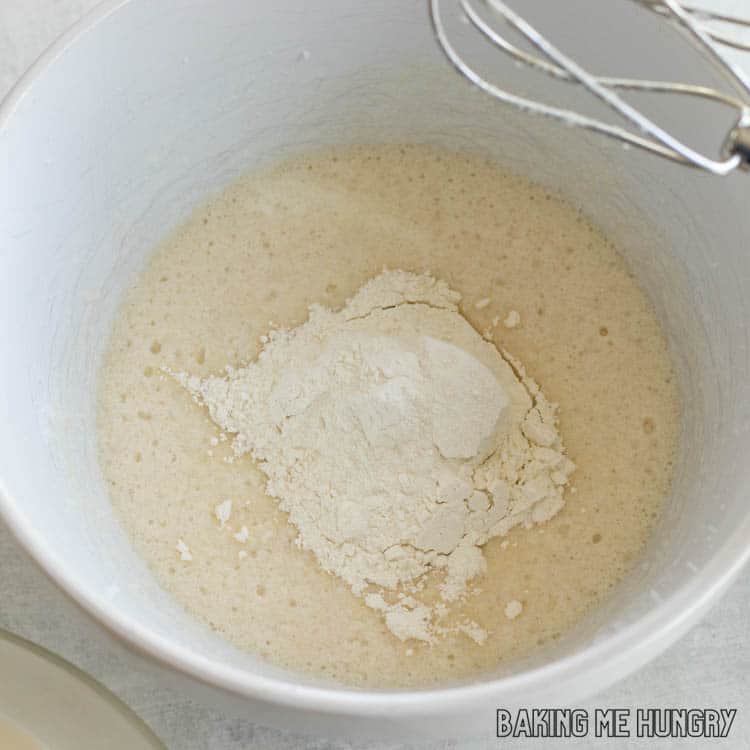 Make sure that you beat well after each addition.
Step Four: Add the muffin batter to the prepared muffin cups, ¾ the way full.
Step Five: Put the muffin pan in the oven and bake for 16-18 minutes.
Step Six: Remove and let the muffins cool in the pan for 5 minutes. Take the muffins out of the pan and move them to a wire rack.
Step Seven: Mix together the glaze ingredients, and then drizzle over the top of the muffins.
I use a fork to drizzle the glaze over the top!
Variations
Use another fat – If you don't have coconut oil, you can still make these simple vanilla muffins using vegetable oil. Or you can use melted butter.
Citrus – Adding a little bit of orange zest to the muffin batter can turn these into orange muffins easily! Lemon zest or lemon extract would make them into lemon muffins.
Chocolate chip – If you want a bit more flavor in the muffins, adding simple ingredients like chocolate chips can happen! These would make excellent chocolate chip muffins!
Add a different topping – The vanilla glaze is yummy, but you can add a simple cinnamon sugar mixture on top, or even top with a Swiss meringue buttercream to turn these into more of a vanilla cupcake. Whipped cream is also a fun topping, too.
Berries – Add the berries of your choice to the base recipe. We love making blueberry muffins with this batter.
Add Greek yogurt – One of my favorite baking secrets is to always add a tiny bit of Greek yogurt (or sour cream) to the recipes. This is the best way to keep baked items moist. If you want to do this simply replace some of the oil with yogurt.
Oreo – Add oreo cookies as a mix-in to this recipe or try our double chocolate Oreo Muffins Recipe.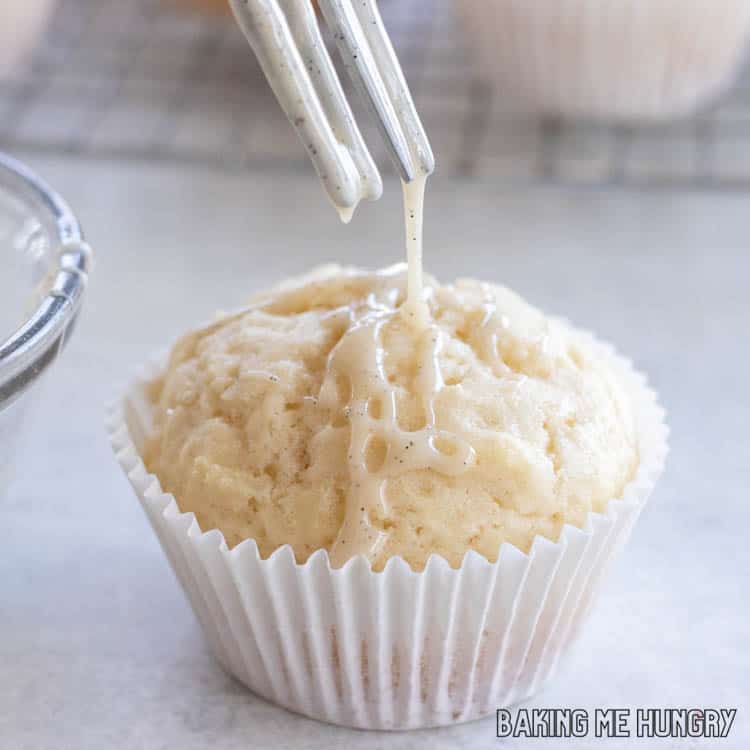 Common Questions
How do I store leftover muffins?
You need to let the muffins cool completely and then store them in an airtight container. This will lock that vanilla flavor in, and keep the air out. This delicious recipe doesn't have to be stored in the fridge, so leaving them at room temperature for a couple of days is fine. You can also wrap them individually in plastic wrap as well for an extra layer of protection before putting them in a container.
What happens if I keep opening the oven door to check on my muffins?
While I know that this is tempting, there is a problem with doing this. Every time that you open the door, you're letting all the hot air right out. This means that these easy vanilla muffins are going to take even longer to bake!
Just trust the process, and let your nose be your guide. Once you start to smell the muffins, then you know that you're getting close.
Is there a good way to check if the muffins are done baking?
You bet. Just grab a clean toothpick, and insert it into the middle of the baked muffins. If the toothpick comes out clean, this is your clue that the muffins are done baking. Remove them and let the start the cooling process.
Like what you see? Follow us on Facebook and on Instagram! Love this recipe? Leave a comment & a 5-star rating right here! Make sure you don't miss new recipes by getting email updates!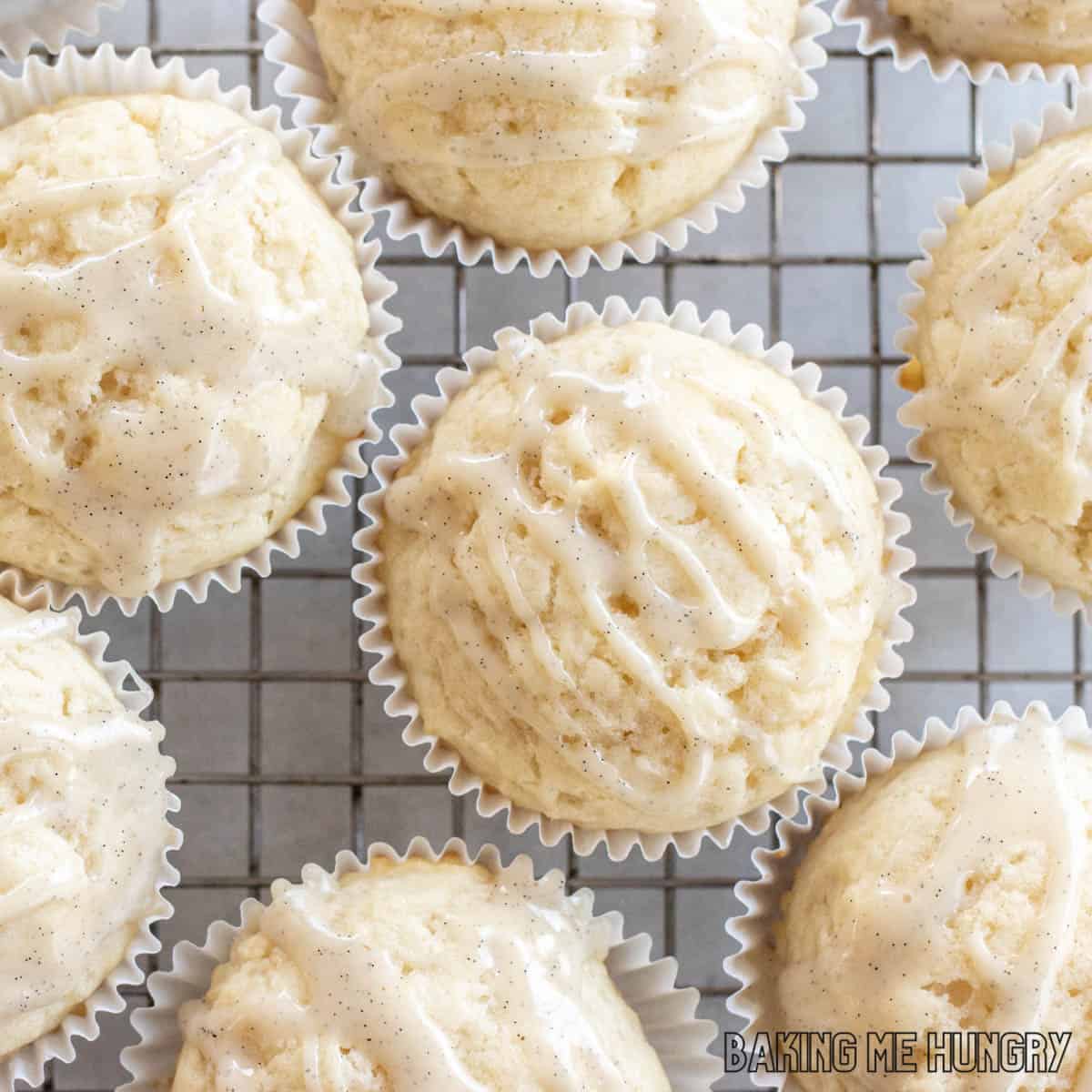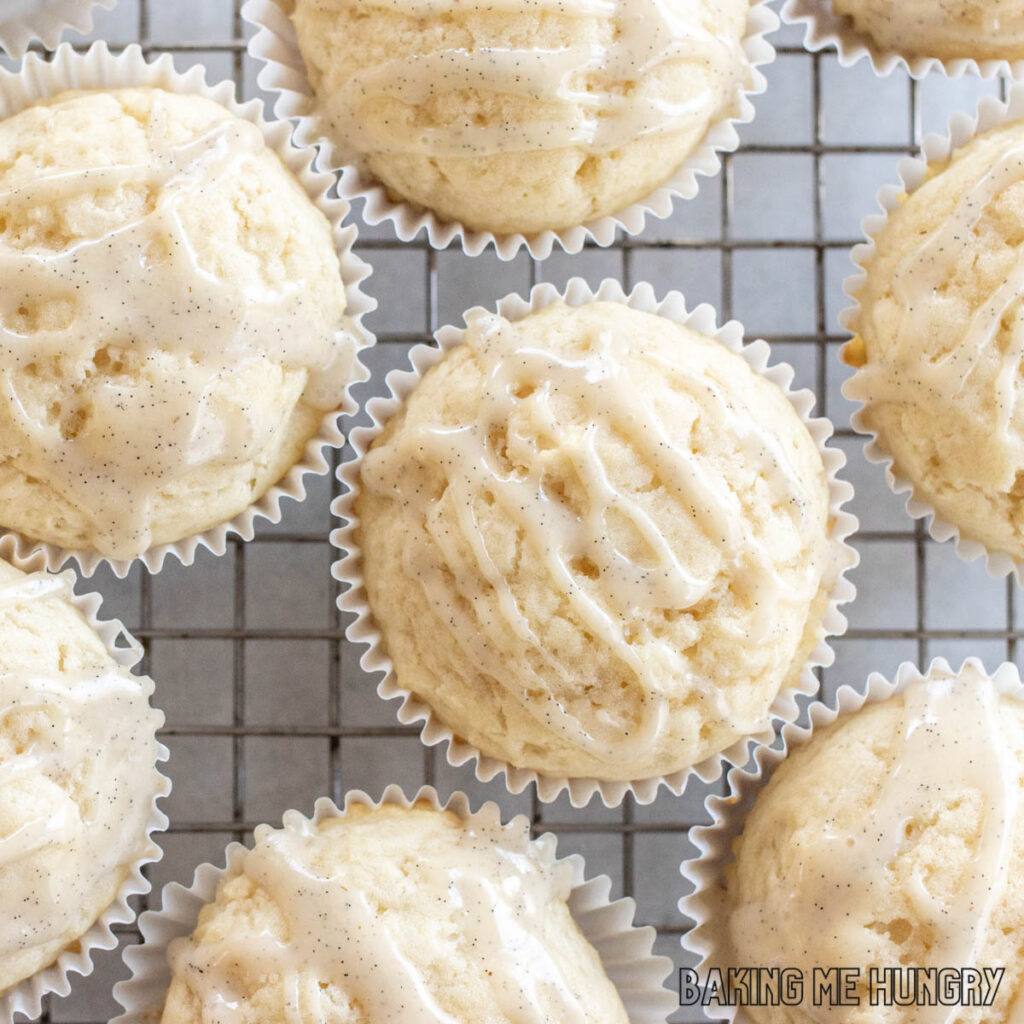 Ingredients
½

cup

refined coconut oil

softened

½

cup

sugar

3

egg whites

at room temperature

1

tablespoon

vanilla extract

1 ½

cups

flour

2

teaspoon

baking powder

¼

teaspoon

salt

½

cup

milk
Vanilla Glaze
⅓

cup

powdered sugar

1

teaspoon

milk

1

teaspoon

vanilla bean paste
Instructions
Preheat the oven to 350 degrees. Line a 12-cup muffin tin with cupcake papers and spray with nonstick cooking spray.

Mix the dry ingredients in a small bowl.

In a large bowl, cream the oil and sugar with an electric mixer at medium speed until fluffy. Add the egg whites, beating well (it will be frothy).

Add the vanilla. Gradually add the dry ingredients, alternating with the milk, beating well after each addition. Spoon the batter into muffin cups about ¾ full.

Bake for 16-18 minutes or until golden brown around the edges and the tops of the muffins spring back when lightly touched.

Cool the muffins in the pan for 5 minutes. Remove from the pans and finish cooling on a wire rack.

While the muffins are cooling stir together the ingredients for the glaze. Drizzle over the cooled muffins.
Nutrition
Calories:
192.2
kcal
|
Carbohydrates:
24
g
|
Protein:
3
g
|
Fat:
9.6
g
|
Saturated Fat:
7.7
g
|
Polyunsaturated Fat:
0.3
g
|
Monounsaturated Fat:
0.7
g
|
Cholesterol:
1.3
mg
|
Sodium:
17
mg
|
Potassium:
45.6
mg
|
Fiber:
0.4
g
|
Sugar:
12.6
g
|
Vitamin A:
17.5
IU
|
Calcium:
16.2
mg
|
Iron:
0.2
mg