These 3-Ingredient Banana Cookies are the best easy recipe. Soft in texture, and full in flavor, you'll love this easy dessert. They're the perfect treat and a great way to curb a sweet tooth craving.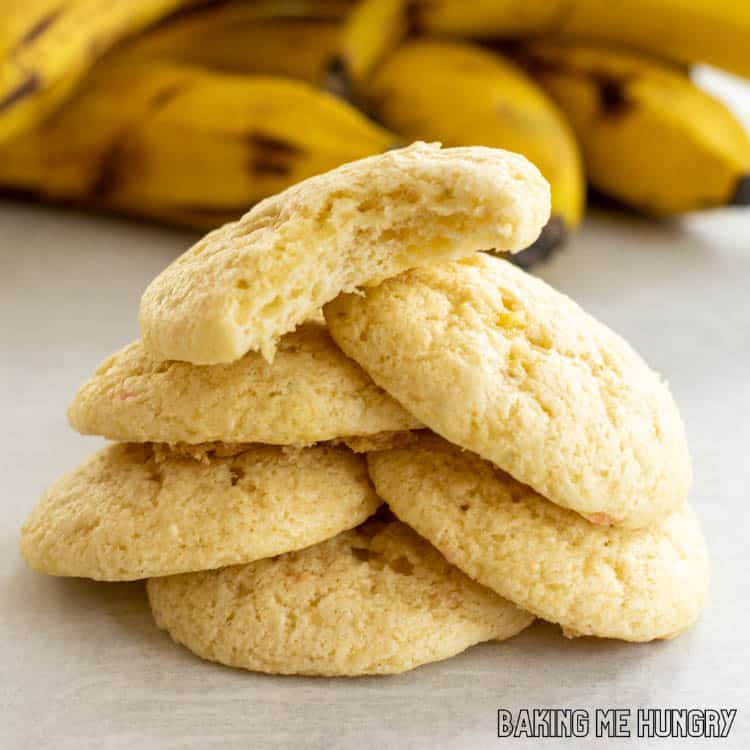 I'm all about making cookies using simple ingredients. And since these cookies have so few ingredients, they really are a great way to make a healthy snack! You can easily make these to enjoy for a quick breakfast treat or just make a plan to bake cookies with wholesome ingredients that the entire family will love. With a budget-friendly recipe like this, you really can't go wrong.
The basic ingredients used also mean that you probably already have everything that you need on hand to get started. The fewer trips to grocery stores, the better! And that also means the sooner you'll get to enjoy this banana cookie recipe, too!
Be sure to check out my Peanut Butter Banana Oatmeal Bars for another healthy dessert with a fun flavor and texture. Using oatmeal and nut butter with bananas always creates a tasty success.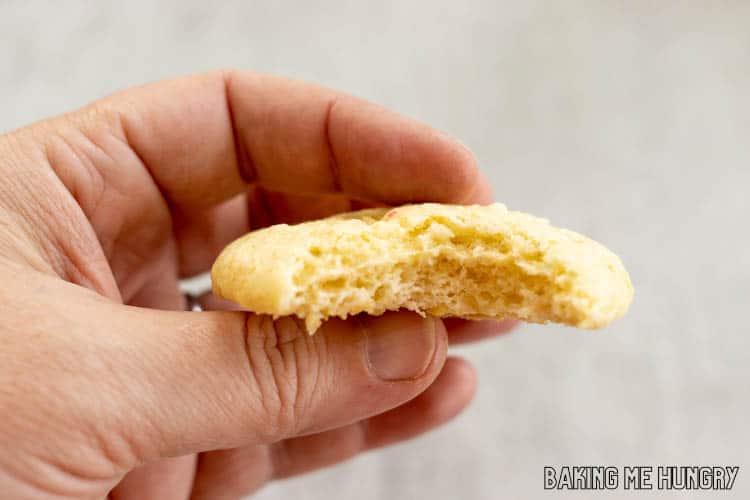 Ingredients
White cake mix – You can change this each time you make it and use a different flavor of cake mix.
Mashed banana – Use ripened bananas that are full of sweet flavor. I normally buy medium bananas but any size banana will work since you will be measuring out a specific amount.
Eggs – To help bind the ingredients. I have not tried this recipe with an egg replacement.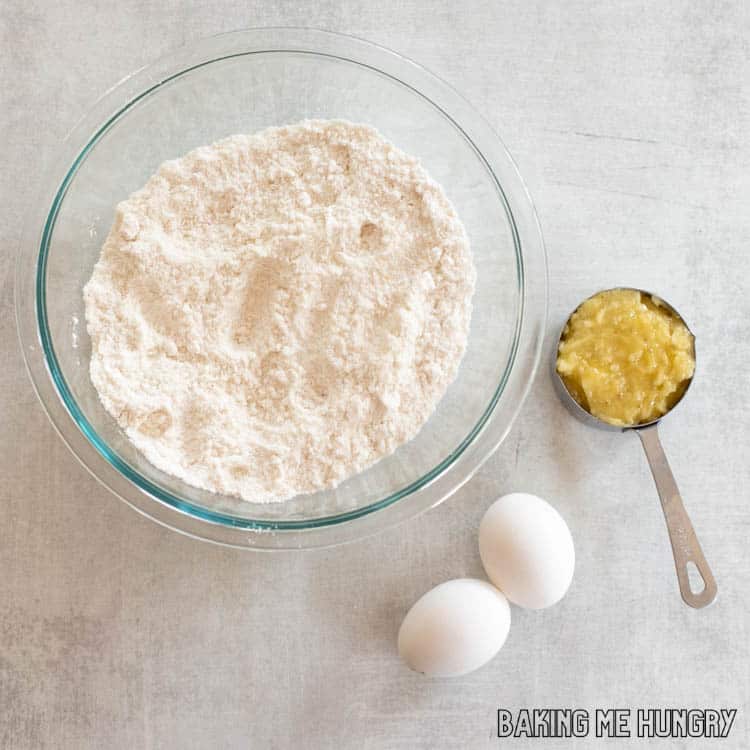 ​How to make 3-Ingredient Banana Cookies
Step One: Preheat the oven to 350 degrees. Add parchment paper to the baking sheets and spray it with cooking spray. These cookies can stick so I like to do both.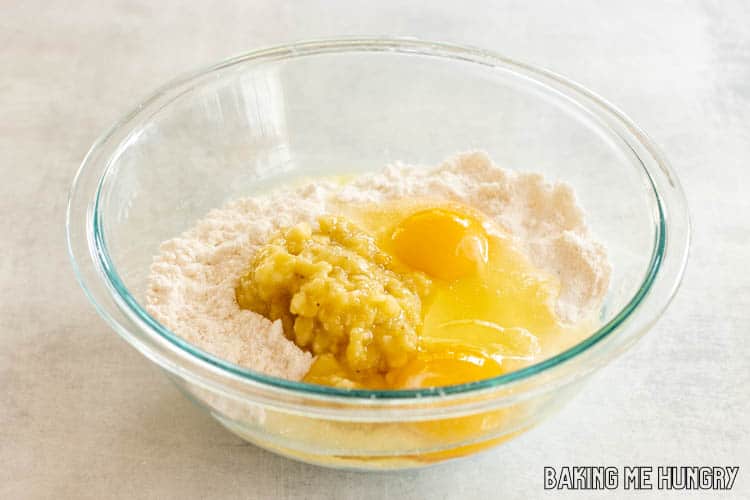 Step Two: Stir the ingredients together in a large mixing bowl. The batter will be thick.
Step Three: Scoop 24 cookies onto the prepared baking sheets.
Step Four: Pour the pan into the oven and bake until the cookies are golden around the edges.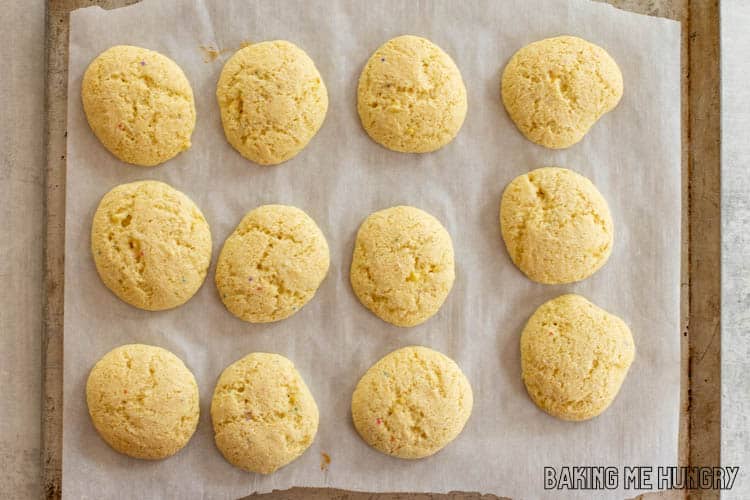 Variations
There are so many flavor variations that you can add to these cookies. Just remember that any ingredients added will change the cookie form, nutritional value, texture, and taste.
Add quick oats – Making healthy cookies means that you can also add other fun ingredients. You can add oats for a fun texture as well! I would use quick oats, not old-fashioned oats because you need them to be soft quickly to match with the texture of this great recipe.
Cake mix – Vary the flavor of the cake mix. I have to admit I only had confetti cake mix on baking day so I sifted out the sprinkles. You can still see bits of them in my photos. But you really can use funfetti cake mix. I think spice cake mix would be delicious and make these taste like banana bread!
Add peanut butter – A scoop of creamy peanut butter would be super yummy to add – and a great source of protein! You can also add any other type of nut butter, like almond butter, or sunflower seed butter that you like.
Add your favorite mix-ins – Just because this recipe only has three ingredients listed on the recipe card doesn't mean that you can't add more. Adding chia seeds, dark chocolate chips, cashew butter, flax seeds, or even some unsweetened shredded coconut would all be great flavors to add.
Filling – These are cakey and would be perfect as a base for whoopie pies. Try them with marshmallow fluff or chocolate icing between two cookies.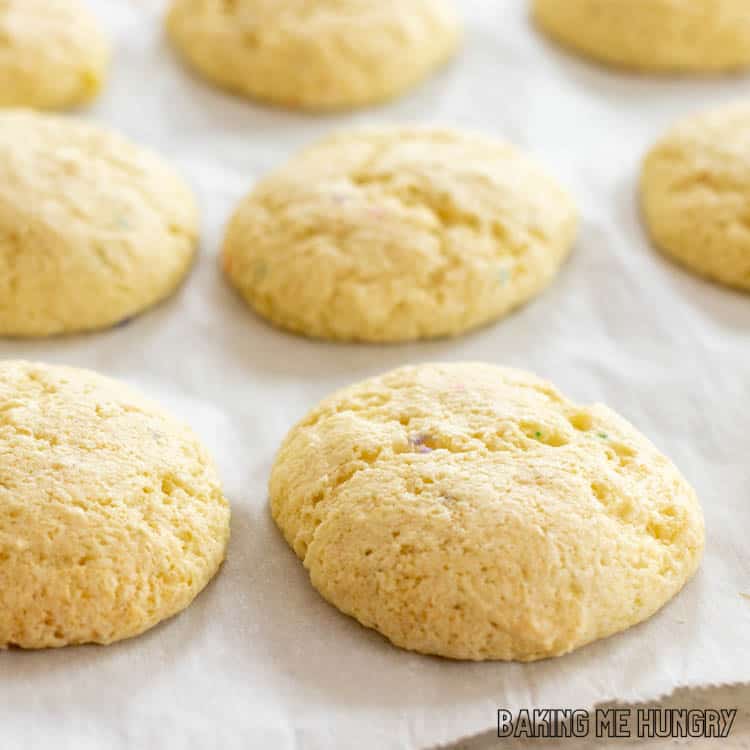 Common Questions
What is the texture of these healthy banana cookies?
These aren't chewy cookies. The texture is softer, almost like a whoopie pie. They're light and fluffy and full of banana flavor.
What is the best way to mash bananas?
First, it's important to make sure that you're using overripe bananas. Fresh bananas are going to be too hard and lumpy, and they just don't have the level of natural sweetness that overripe bananas have. I try to use the same level of ripe bananas for this recipe as I would banana bread.
The easiest way to mash ripe bananas is to use the back of a fork. Peel the banana and add it to a bowl. Then turn the fork over and press down until the entire banana is mashed. You could also use a potato masher, but it's really not necessary if the banana is ripe and ready.
Do I have to use a cookie scoop?
You don't have to use a cookie scoop, but it is good for uniformity. This will keep the cookie dough scoops all the same size and will yield the best results when baking them to golden brown perfection.
Should cookies made with bananas be refrigerated?
No, it's fine to keep these cookies in an airtight container at room temperature. They will stay fresh for up to 3 days. However, storing these cookies in the fridge will give them a longer lifespan of an extra day or two, which is important to think about if you have a lot of cookies leftover.
How do you tell if a banana is overripe or bad?
It's a fine line to have bananas that are too ripe, so it's important to pay attention. The biggest way to tell if bananas are no longer good is to smell them once they're peeled. They'll have a ripe smell to them that you'll pick up on, and this is your indicator that the banana is past its prime and shouldn't be used.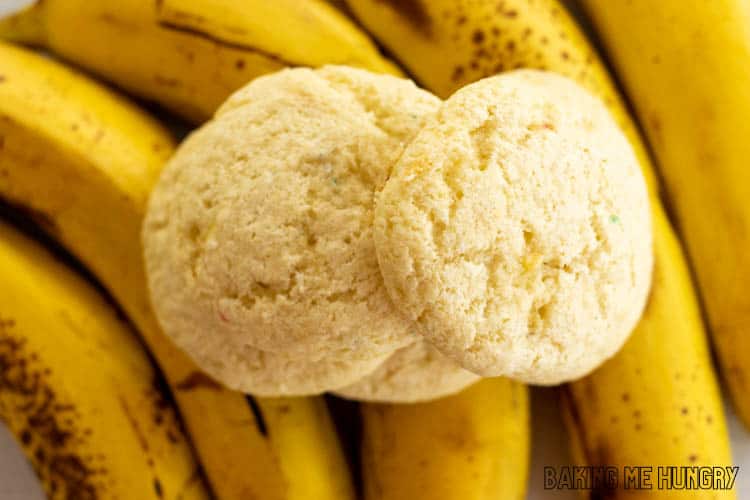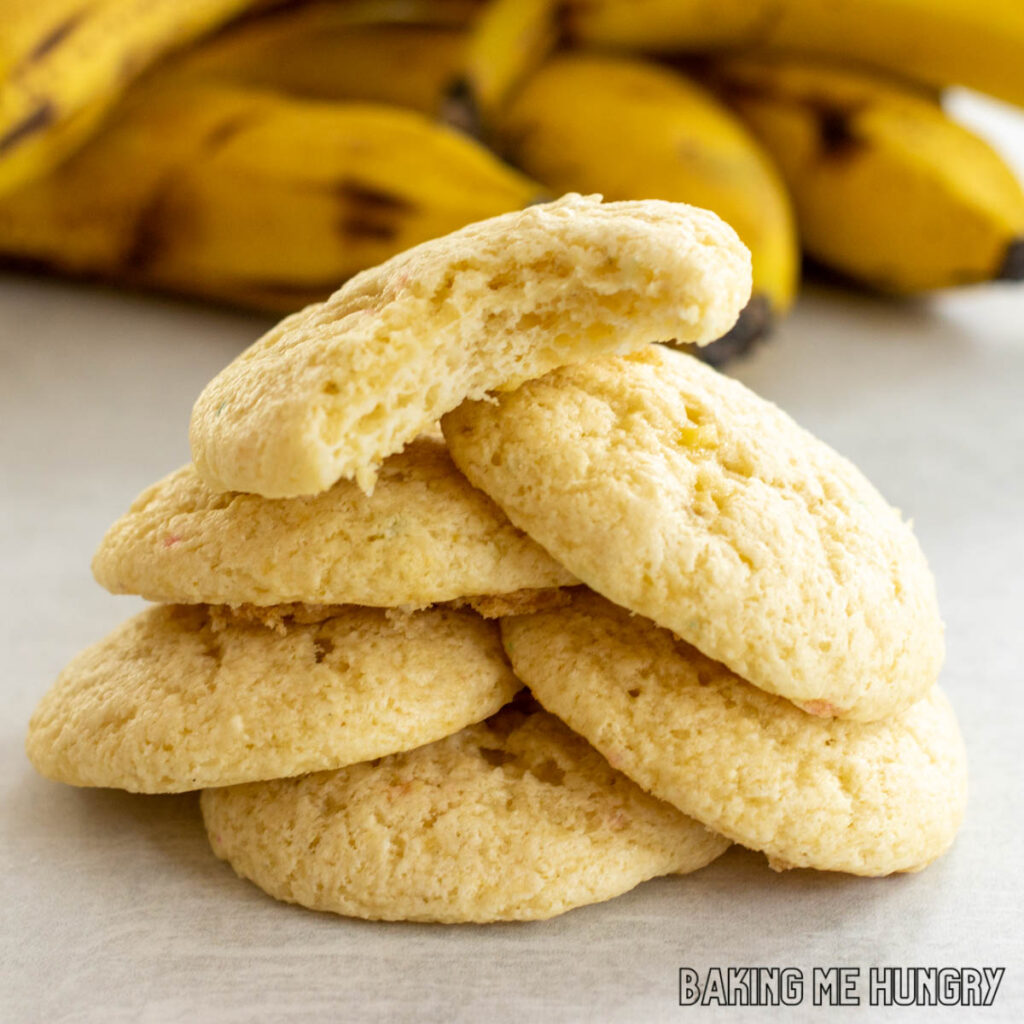 Ingredients
15

oz

white cake mix

or flavor of your choice

½

cup

mashed banana

2

eggs
Instructions
Preheat oven to 350. Line two baking sheets with parchment paper and spray the paper with nonstick cooking spray.

Stir together the ingredients.

Scoop 24 cookies onto the prepared pans.

Bake for 12-15 minutes, until firm to the touch and golden around the edges.
Nutrition
Calories:
89.6
kcal
|
Carbohydrates:
18.6
g
|
Protein:
1.4
g
|
Fat:
1.2
g
|
Saturated Fat:
0.5
g
|
Polyunsaturated Fat:
0.2
g
|
Monounsaturated Fat:
0.3
g
|
Trans Fat:
0.1
g
|
Cholesterol:
13.6
mg
|
Sodium:
154.5
mg
|
Potassium:
35.2
mg
|
Fiber:
0.4
g
|
Sugar:
9.7
g
|
Vitamin A:
22.8
IU
|
Vitamin C:
0.4
mg
|
Calcium:
49.5
mg
|
Iron:
0.5
mg
More recipes using only a few ingredients:
3 Ingredient Peanut Butter Oatmeal Balls
4 Ingredient Cornbread Cookies Recipe