Just five simple ingredients are needed for this Banana Caramel Tart. It's a sweet dessert, full of banana flavor. Perfect for a summer pie or a holiday table. Any way you want to make it and enjoy it is perfect!
I was so happy to learn that banana and caramel paired together so well. I absolutely love the flavor of caramel, but adding the bananas on top was literally a game-changer.
The great thing about making this simple banana pie recipe is that the only portion you have to bake is the crust! This means that once the crust cools, it's time to add the filling – and then you're literally almost done.
When I find that I've purchased a lot of bananas at the store, this is always my go-to recipe. It's the best way to use up the bananas before they start browning on the counter – and trust me when I say that once you have them with the caramel, you will be hooked.
Speaking of easy recipes, be sure to check out my Baked Oats for One. It's a fast and simple way to fill your belly!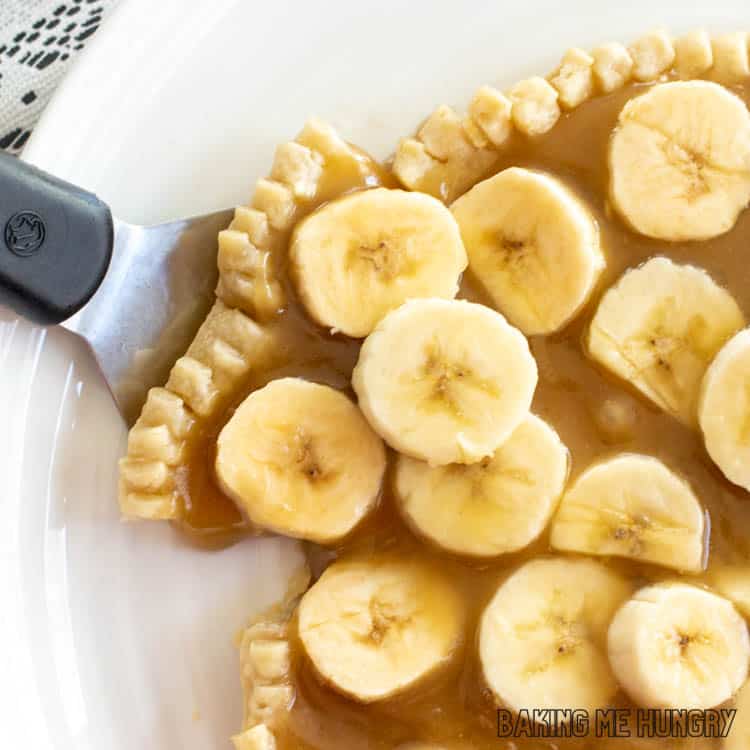 Ingredients:
Pie crust – You can use a homemade crust for this recipe or one you bought at the store. (If you're making your own, remember to add flour to a surface so that when you're rolling it out to transfer the pastry dough, it doesn't stick!)
Brown sugar – Pack tightly when you're measuring, so you have plenty of sweetness added.
Salted butter – Unsalted would work as well.
Heavy cream – Helps to add richness and texture.
Bananas – Ripe bananas are the best!
Salt – Just a pinch.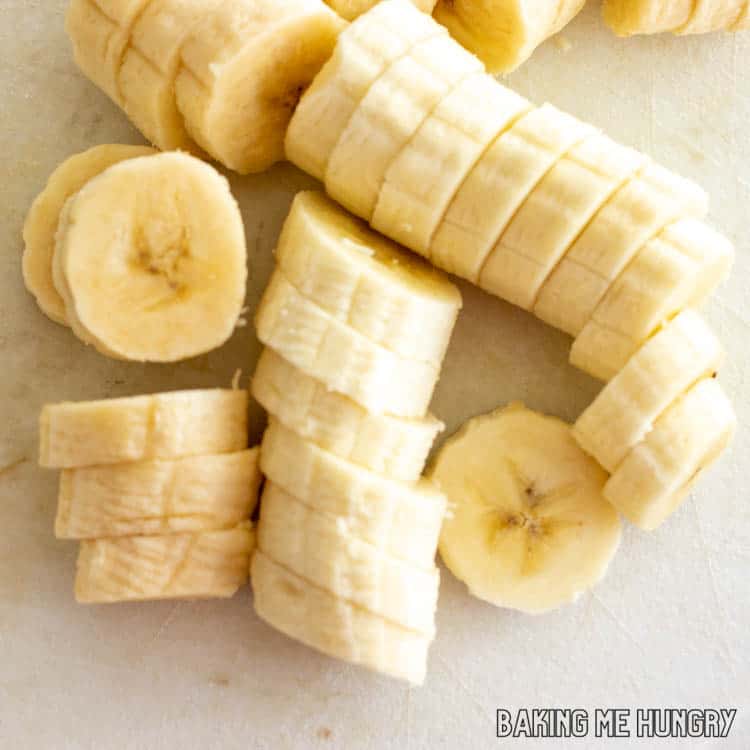 How to make a Banana Caramel Tart
Step One: Preheat the oven temperature to 400 degrees.
Step Two: Add the pie crust to a pie plate and snip the edges or crimp. Prick the bottom of the pie crust with a fork.
I went around the rim with kitchen shears and just made a little snip every ¼ inch or so.
Step Three: Put in the oven and bake for 10-12 minutes.
Step Four: In a large bowl, stir the sugar, cream, and butter in a small saucepan on the stove. Bring to a boil, and be sure to stir frequently.
Use a silicone spatula to stir and scrape down the side of the pan. Stir in simple strokes to make sure that the mixture bubbles as it gets hotter. This will take anywhere from 5-7 minutes, depending on your heat setting.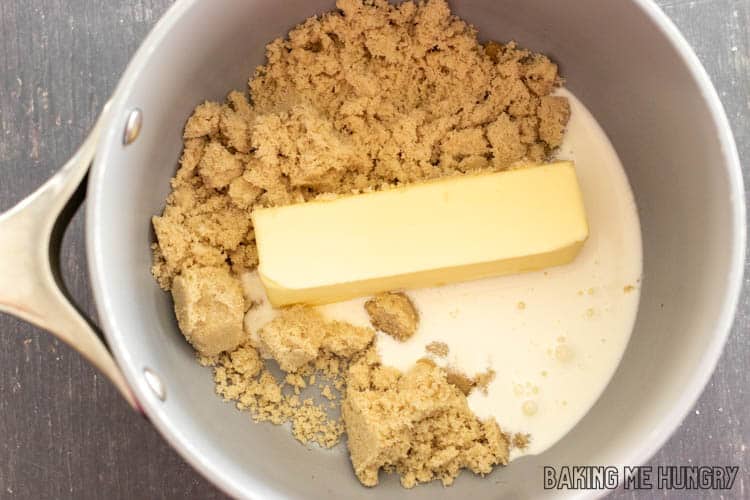 Once the mixture is boiling, let it boil for 2 minutes, then take off the heat. Add the salt and let the mixture cool for 5 minutes.
Step Five: Pour the caramel into the baked pie crust.
The caramel mixture will spread out evenly on its own.
Step Six: Add sliced bananas on top – and enjoy!
Variations
Add toppings – Change up the flavor by adding toppings! You can sprinkle on a little bit of sea salt, some icing sugar, and a pinch of cinnamon, add some nutmeg, top with a bit of vanilla ice cream, or even sprinkle around a tablespoon sugar.
Drizzle with caramel topping – If you reserve a bit of the caramel sauce, you can then drizzle the extra over the top of the sliced bananas.
Add nuts – A cup of pecan halves would be great on top. I just layer them around the 10-inch or 12-inch circle perimeter of the pie.
Stir in a little bit of cocoa powder – You can mix in some cocoa powder with the caramel sauce to make a banoffee pie!
Just remember that any recipe changes it does change the nutrient value and calorie count daily value.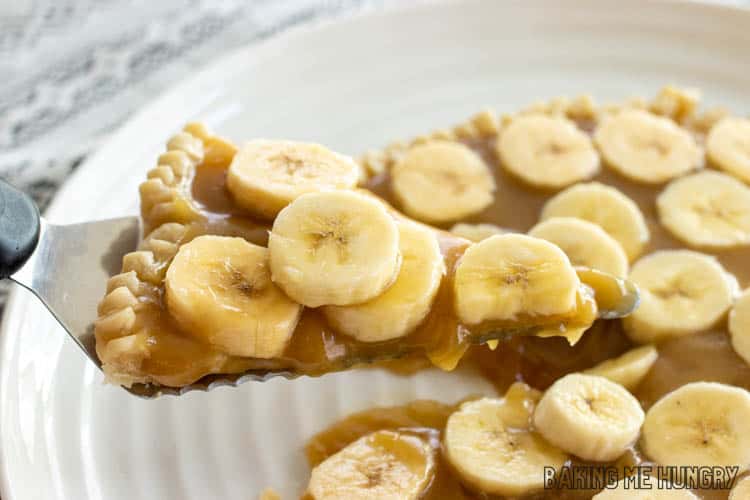 Common Questions
What can I use besides pie dough or a baked crust?
If you don't have to use pie dough, you can change it up and use coarse crumbs (like cookies) at the bottom of the pie plate.
This will change up the texture of this tart recipe, but it'll still be delicious.
A baked pastry shell of some sort is typical for a tart, but who says you can't change it to your preference?
Some people will also use a puff pastry for the banana tart shell, and that will work, too. The main thing that you're going for is the crunch of a crust, with the smooth texture of the rest of the pie.
How do I know when a pie crust is done baking?
The coloring of a baked pie crust will be a light golden brown. The edges will also be golden brown as well, indicating that the crust is baked and ready to cool.
How do I store leftovers of this caramelized banana tart?
Storing pies is similar to the storing of cookies. You want to make sure that the baked goods are cooled down all the way and then store them in an airtight container.
Keeping this pie in the fridge is best so that the caramel stays firm and easier to slice. You don't want to deal with a runny pie and a soggy crust!
How ripe should the bananas be for banana pie?
I always use medium bananas with a medium ripeness. The outside peel shouldn't be brown or dark, but right before that point.
Try this Custard Fruit Pie next!
Like what you see? Follow us on Facebook and on Instagram! Love this recipe? Leave a comment & a 5-star rating right here! Make sure you don't miss new recipes by getting email updates!
Ingredients
1

refrigerated pie crust

1

cup

packed brown sugar

½

cup

salted butter

¼

cup

heavy cream

2

sliced bananas

pinch

salt
Instructions
Prebaked Crust
Put the pie crust in a shallow pie plate and crimp or snip the edges. Prick the bottom with a fork.
Caramel
Combine the butter, sugar, and cream in a small saucepan. Bring to a boil, stirring frequently. Stop stirring and let boil for 2 minutes. Remove from heat and add salt. Let cool for 5 minutes.
Assembly
Pour the caramel into the crust. Top with sliced bananas. Serve immediately.
Nutrition
Calories:
354.9
kcal
|
Carbohydrates:
44.3
g
|
Protein:
2
g
|
Fat:
19.8
g
|
Saturated Fat:
10.8
g
|
Polyunsaturated Fat:
1.2
g
|
Monounsaturated Fat:
6.3
g
|
Trans Fat:
0.5
g
|
Cholesterol:
38.9
mg
|
Sodium:
188.1
mg
|
Potassium:
173.3
mg
|
Fiber:
1.3
g
|
Sugar:
30.5
g
|
Vitamin A:
483
IU
|
Vitamin C:
2.6
mg
|
Calcium:
36.7
mg
|
Iron:
0.8
mg