This Coffee Cake Cookies Recipe is going to be your latest craving! Want a buttery cookie topped with a delicious cinnamon crumb topping? This is it! These sweet crumble cookies are the best.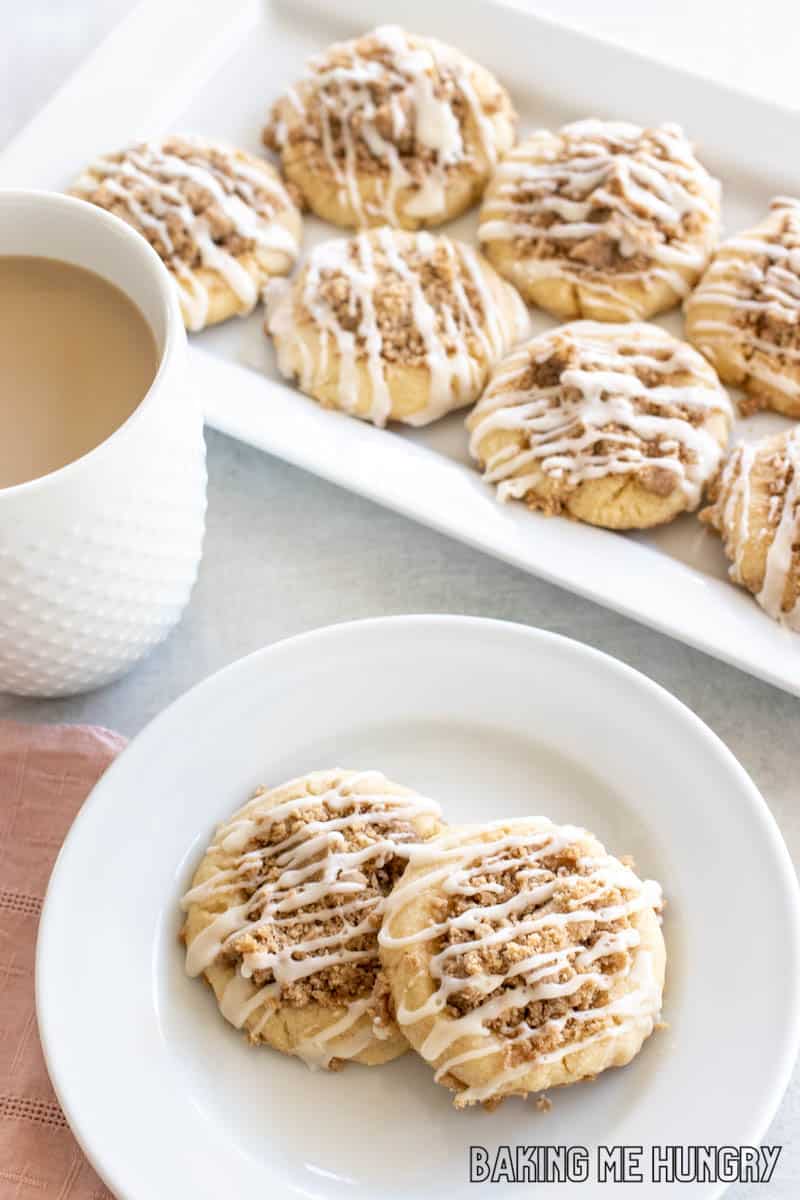 What I love about these treats is the center of the cookies. The buttery cinnamon streusel on top makes for the perfect bite right in the middle of the cookies every single time.
Then when you add that vanilla glaze to the top of the cookies, you're in for a real treat! This is one of those cookie recipes that you'll be dreaming about all day long.
If you love bakery style coffee cake, think of these cookies as portable coffee cakes that will fit in the palm of your hand.
That means that you can grab and go and enjoy – which is the best. You can also make smaller cookies or giant cookies, depending on what your cravings are.
When you have options for making these chewy coffee cake cookies, that's always a good thing!
Be sure to check out my Brown Butter Pecan Cookies for another easy sweet treat! A couple of our other favorites are these Strawberry Shortbread Cookies and Chocolate Chip Cookies with Marshmallows.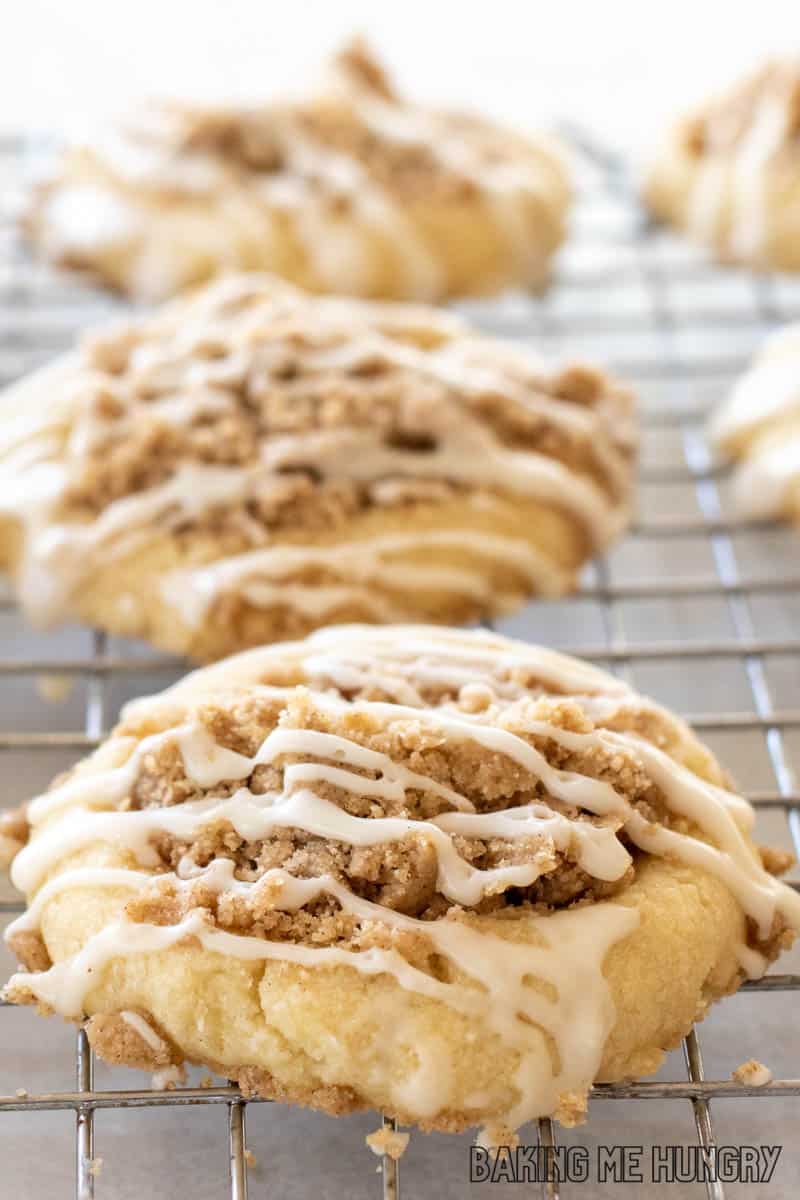 Ingredients
All purpose flour – This is used as the base of the dough since it has a mild flavor and works well in cookie recipes.
Salted butter – I always use salted butter instead of unsalted butter for this cookie recipe. If you have unsalted butter just add a pinch of salt.
Brown sugar – I love the warm sweetness of light brown sugar, especially in shortbread. The base of these is based on my 3 Ingredient Brown Sugar Cookies.
Vanilla extract – For extra flavor. Vanilla enhances the other flavors in baking recipes.
Cinnamon – Added to the top of the cookie in the crumble portion. Cinnamon makes these taste like classic crumb-topped coffee cake!
Powdered sugar – To make the vanilla glaze.
Milk – To thin out the glaze.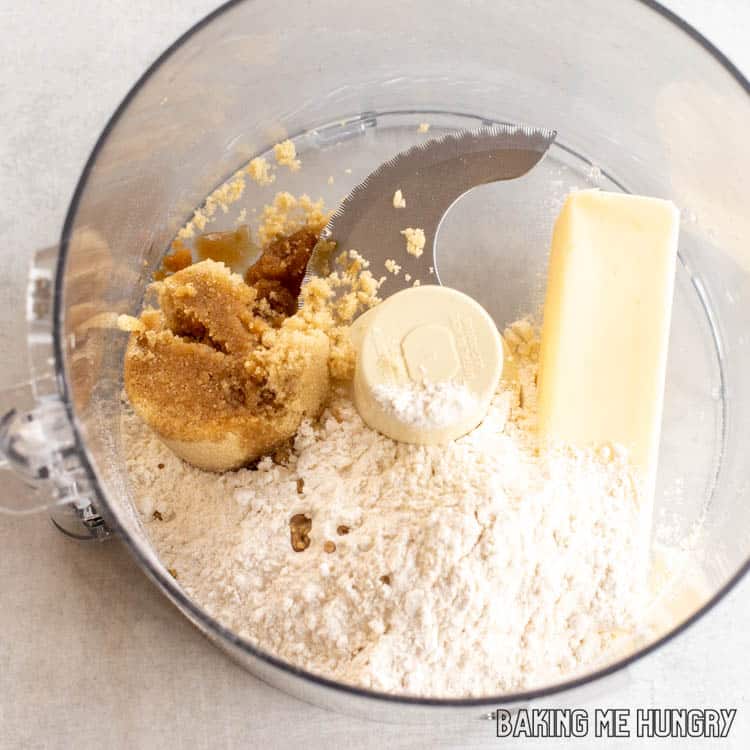 How to make this Coffee Cake Cookies Recipe
Step One: Preheat the oven to 350 degrees. Add parchment paper to cookie sheets.
Step Two: Mix the dough ingredients in the food processor. I just add the dry ingredients and butter all at once.
Expert Tip: The most important thing is to let the food processor run long enough that it breaks down the butter. It starts out looking like sand but will come together.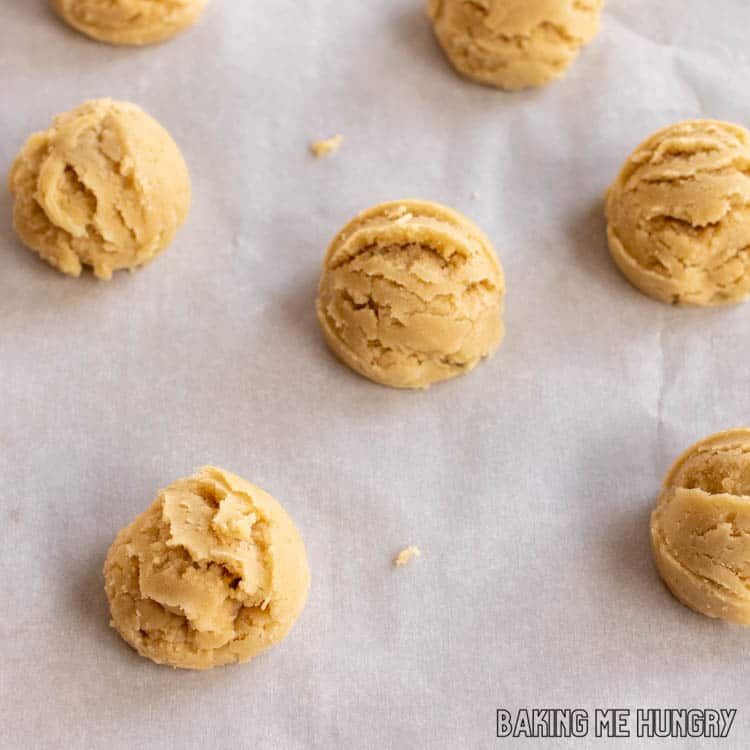 Step Three: Divide the mixture into 10 cookie dough balls.
Step Four: Make an indent in the middle of each cookie with your thumb. The well of these will be larger than a normal small thumbprint cookie. As you can see in this photo I pressed my thumb in a few times.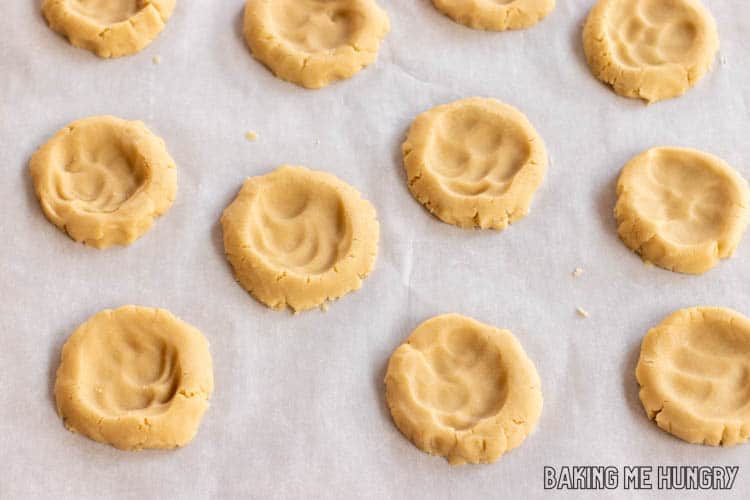 Step Five: Add the crumb ingredients to the food processor and make large crumbs. It will look like wet sand. If it looks too dry add a bit more butter. If it looks too wet add more flour.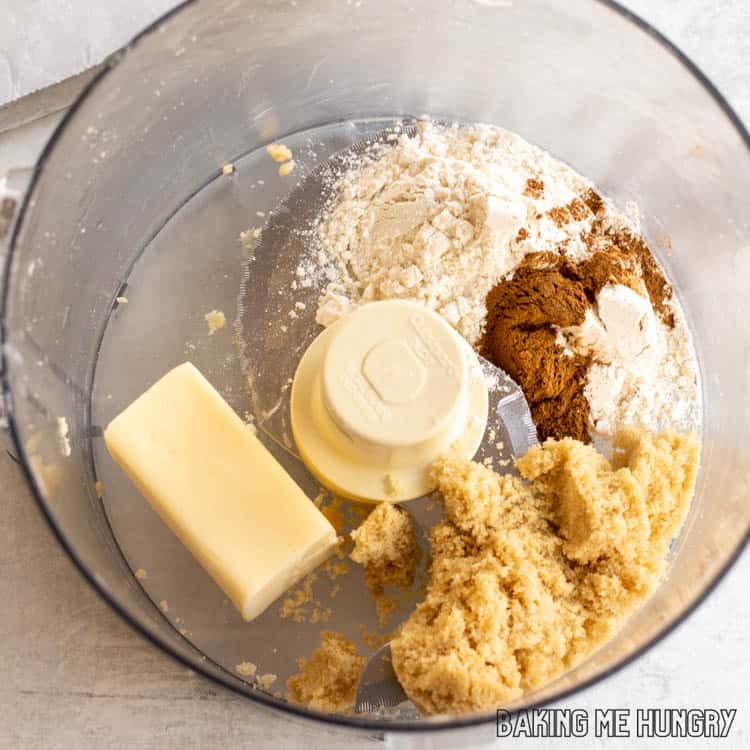 Step Six: Divide the cinnamon crumb streusel topping between all the cookies and press down slightly once added.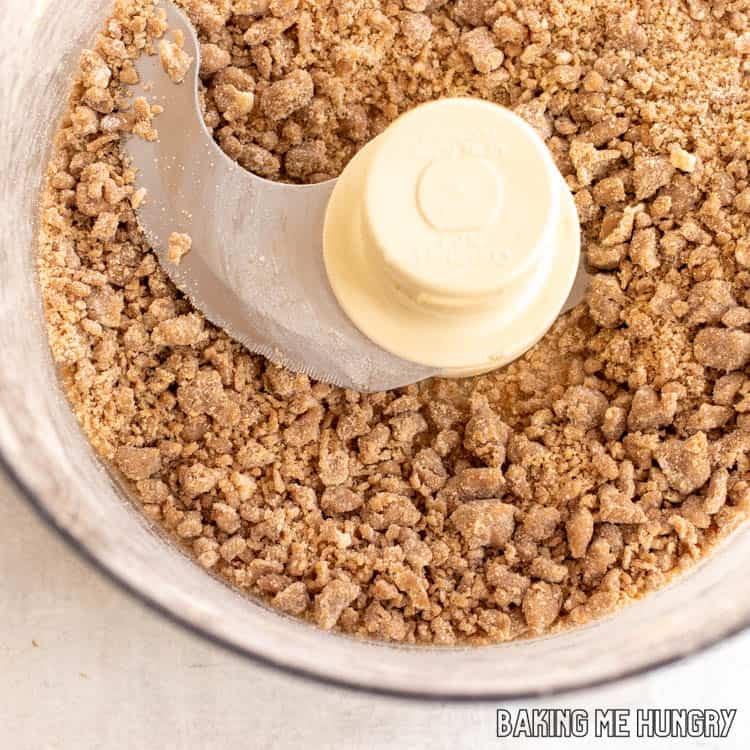 Step Seven: Put the cookie sheet in the oven and bake for 16-18 minutes. Cool.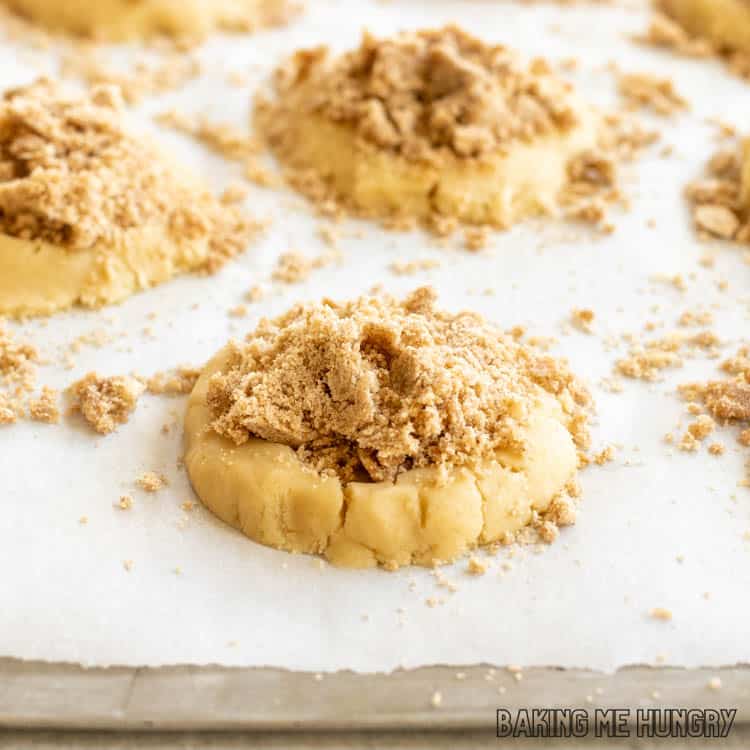 Step Eight: In a bowl, whisk the ingredients together to make the glaze.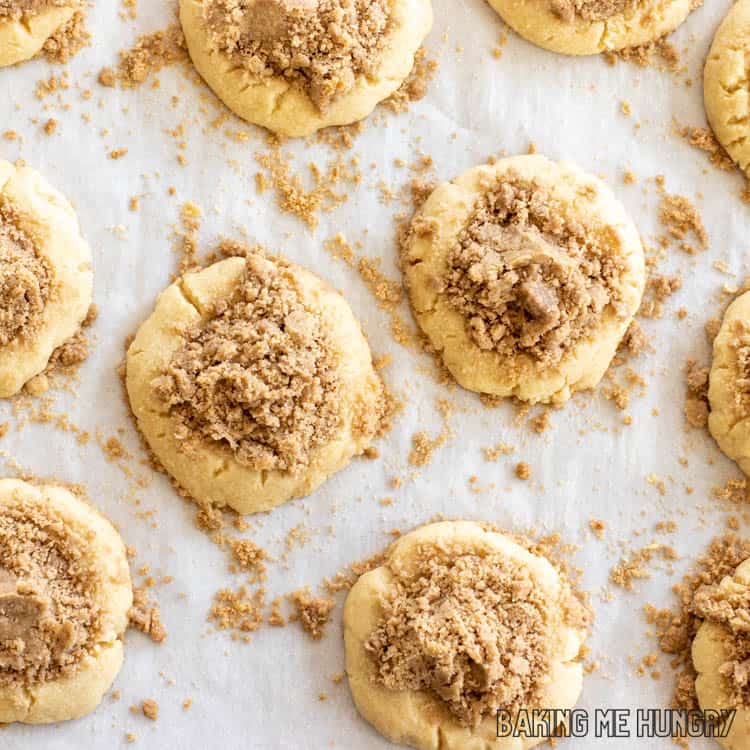 Step Nine: Drizzle the vanilla icing glaze over the cooled cookies.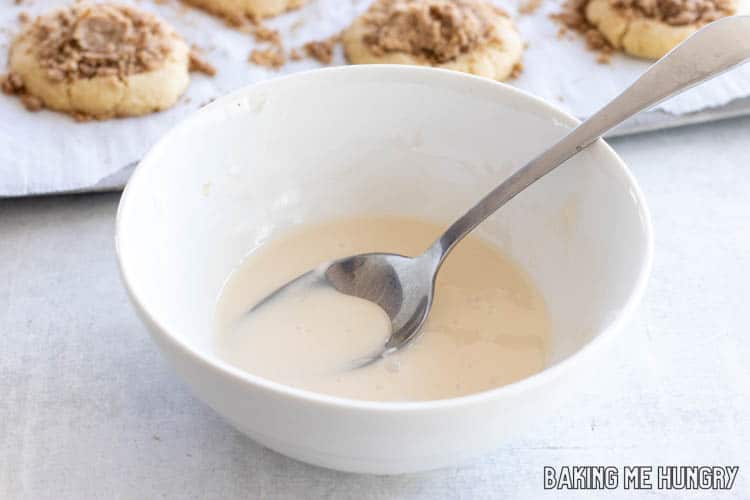 Variations
Spices – Use pumpkin pie spice or apple pie spice in place of the cinnamon for a fall flavor.
Sugar – You can use granulated sugar in the cookie if you prefer but the topping does need brown sugar for the best flavor.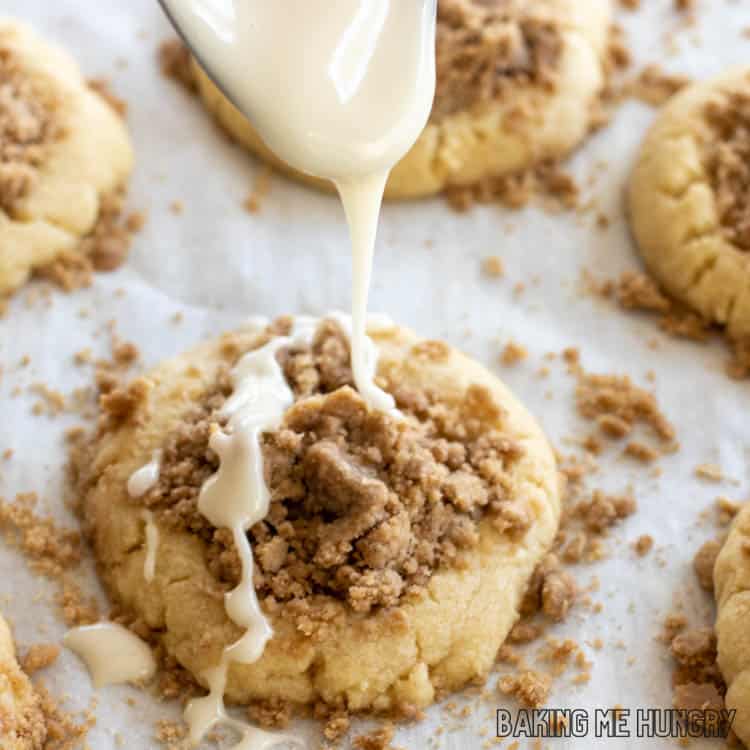 Common Questions
How do I know when the cookies are done baking?
The biggest thing that you need to pay attention to is the color of the cookies. For them to be done, they need to be golden brown. You'll likely notice this on the edge of the cookies first before seeing that coloring anywhere else.
You can also look at the sides and make sure that they don't look shiny or wet. If cookies still have a wet top to them, they likely need to bake the coffee cake cookie recipe for a little bit longer.
Can I make coffee cake cookies without a food processor?
You can. You will just need to cut in the butter with a pastry cutter for both parts of the cookie.
A stand mixer or electric mixer could work for the cookie base if you use room temperature butter but the crumb cake cookies may not be as crisp.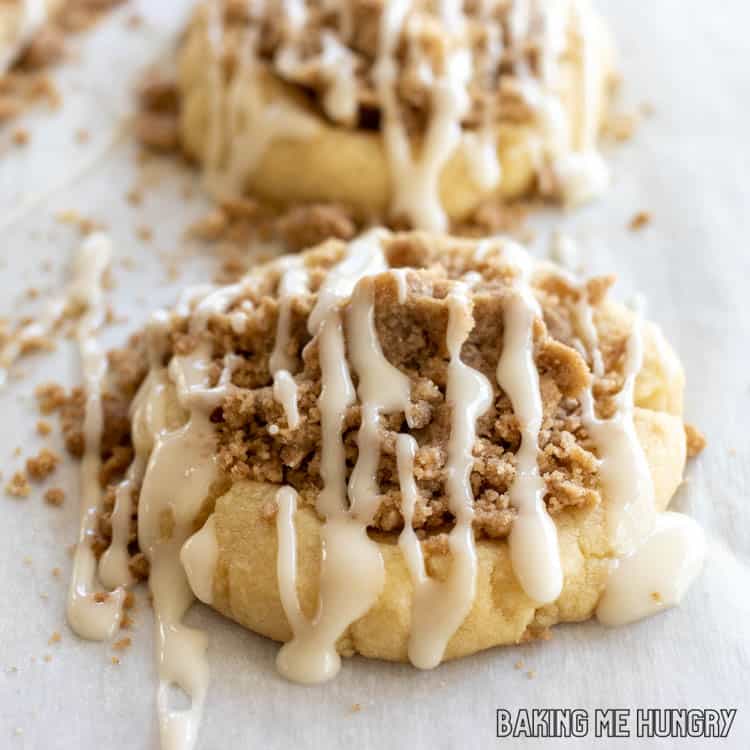 Do cookies continue to bake on the baking sheet after they are taken out of the oven?
Yes, they will continue to bake a little bit longer from the heat that is coming off of the cookie sheets. One of the best ways to slow the cooking process is to remove the cookies from the prepared sheet tray and have them cool on a wire rack.
This will keep the streusel cookies from overbaking too long and give you the best results.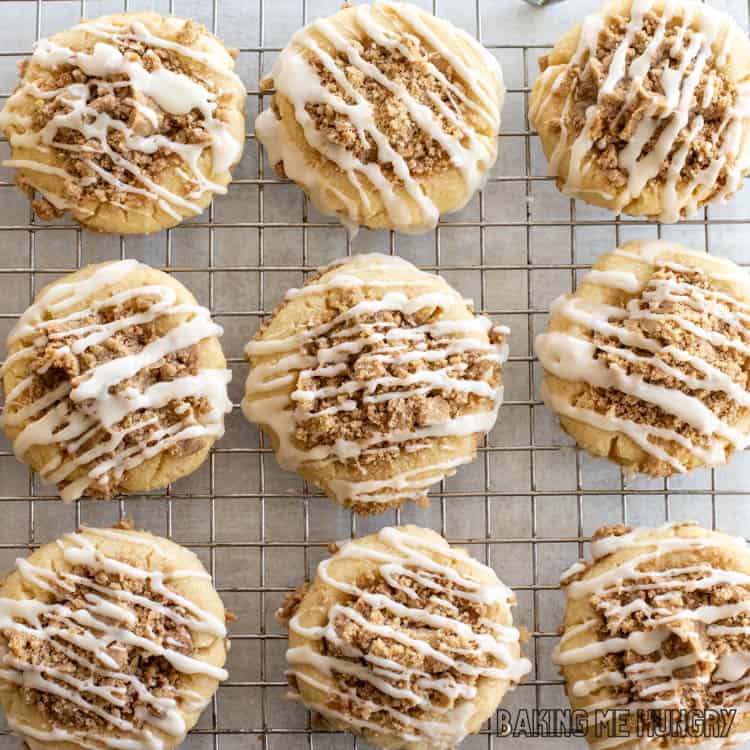 Can I prepare the cookie dough in advance?
You bet. If you want to make the cookie dough ahead of time, just make sure that you store it in a large bowl or medium bowl, cover it with plastic wrap, and store it in the fridge. You can also store it in an airtight container as well to keep it fresh.
Once you're ready to use your cookie base, you can remove and let the dough come to room temperature a bit before creating the perfect circle and adding them to your cookie sheet.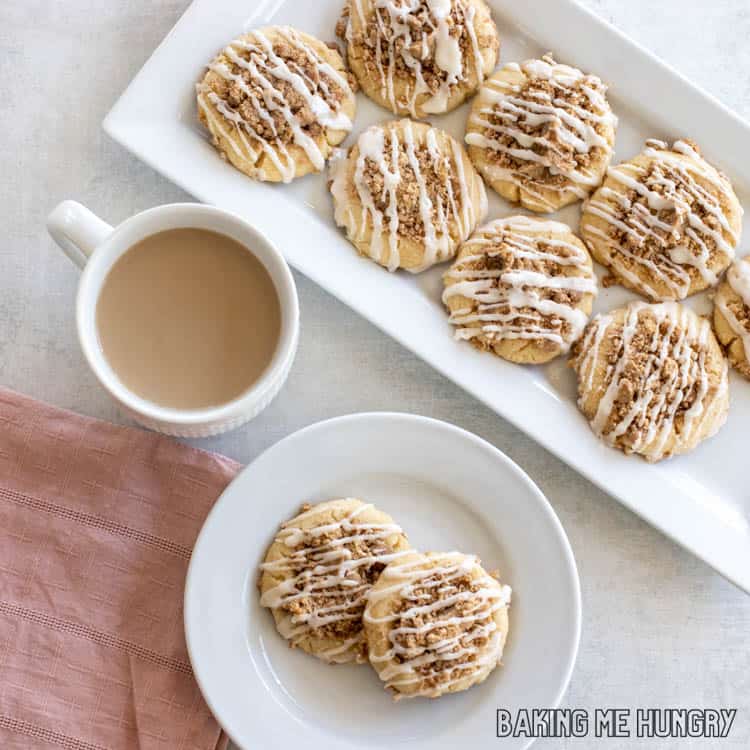 What pairs well with coffee cake cookies?
This easy dessert is perfect for eating alone, or you can pair it with a hot cup of coffee, too! Since the word "coffee" is in the name, it just gives you the green light to enjoy these cookies in the morning hours, if you ask me!
Who says that you can't start off the day with dessert? It seems like it's the right adult choice to make!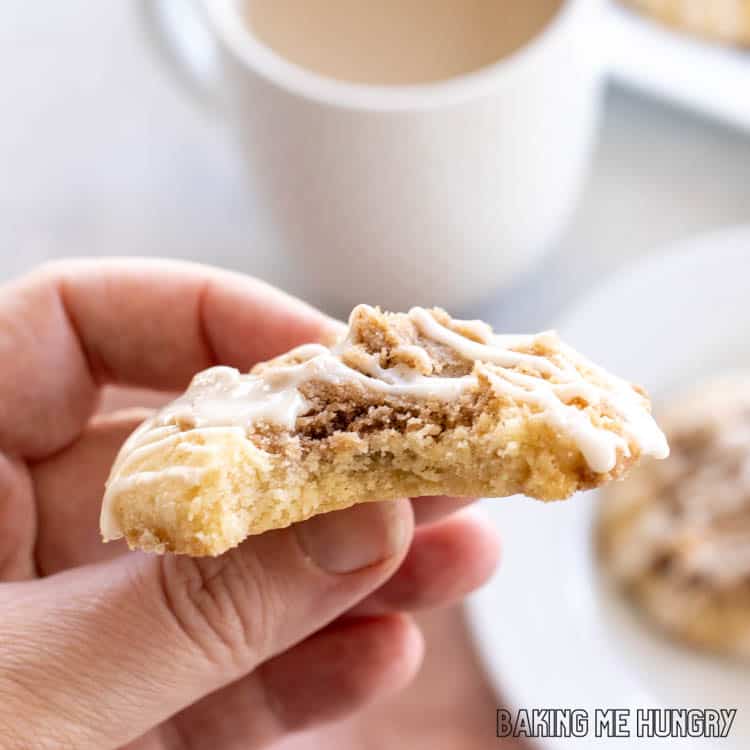 Like what you see? Follow us on Facebook and on Instagram! Love this recipe? Leave a comment & a 5-star rating right here! Make sure you don't miss new recipes by getting email updates!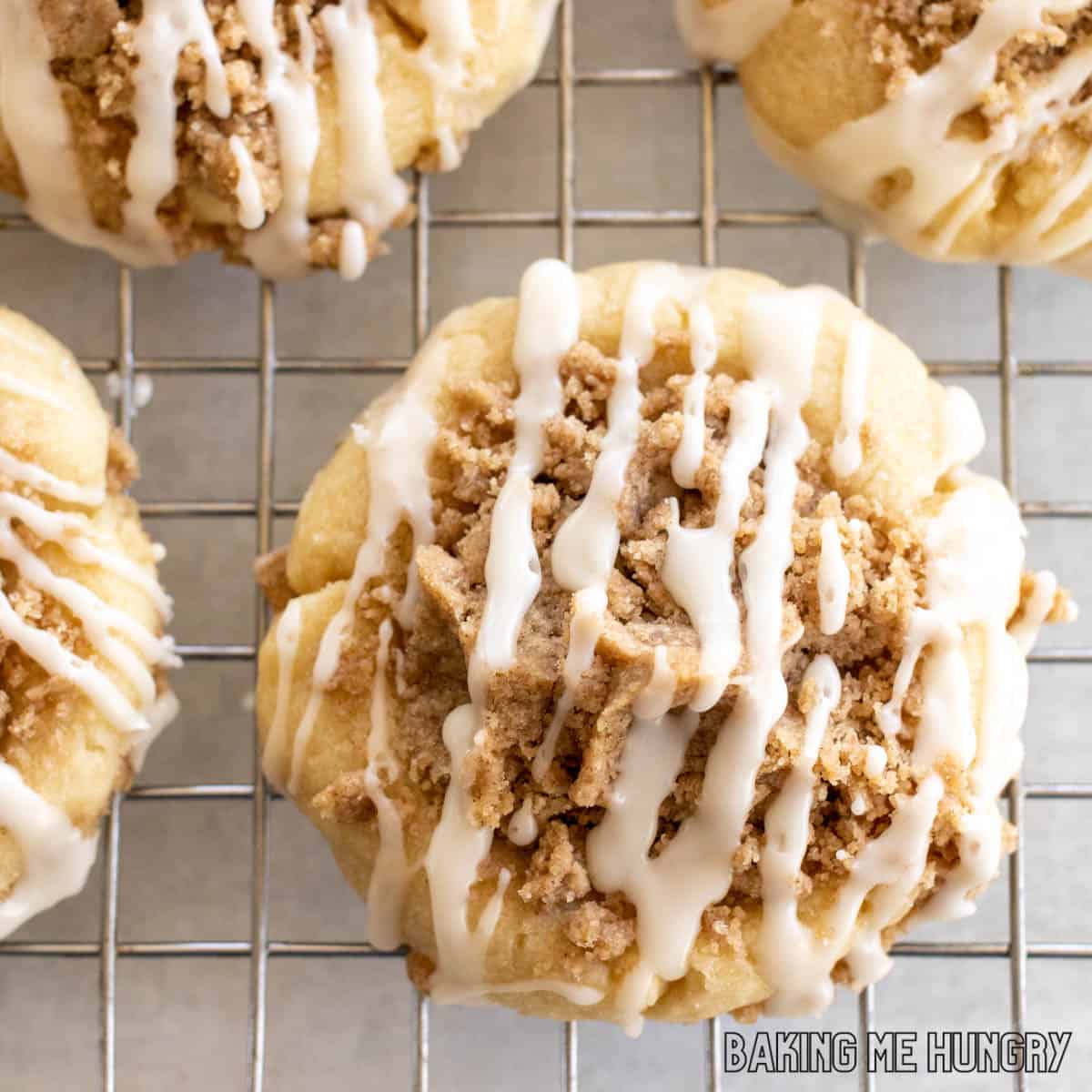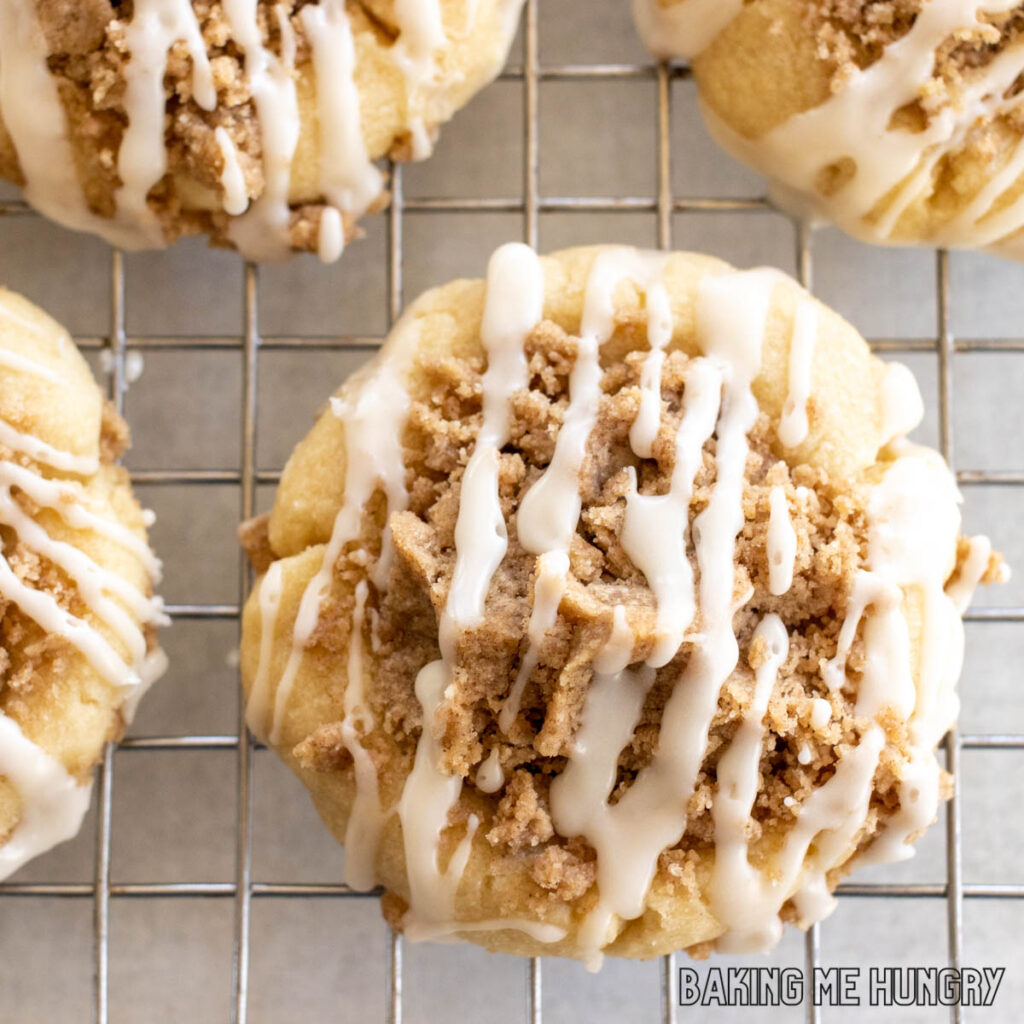 Ingredients
Cookie Dough
1

cup

all-purpose flour

½

cup

salted butter

¼

cup

brown sugar

1

teaspoon

vanilla extract
Crumb Topping
⅓

cup

all-purpose flour

¼

cup

salted butter

¼

cup

brown sugar

1

teaspoon

cinnamon
Vanilla Glaze
½

cup

powdered sugar

½-1

tablespoon

milk

¼

teaspoon

vanilla extract
Instructions
Preheat oven to 350. Line a baking sheet with parchment paper.

Mix together the dough ingredients in a food processor.

Press the center of each ball flat with your thumb.

Add crumb ingredients to the food processor and process until crumbs form.

Divide the crumbs between the cookies. Press down slightly.

Bake for 16-18 minutes or until golden. Cool completely.

In a bowl, whisk together the ingredients. Thin with more milk or thicken with more sugar as needed to reach a drizzling consistency.

Drizzle the glaze over the cooled cookies.
Nutrition
Serving:
1
cookie
|
Calories:
226.2
kcal
|
Carbohydrates:
23.7
g
|
Protein:
1.9
g
|
Fat:
14
g
|
Saturated Fat:
8.8
g
|
Polyunsaturated Fat:
0.6
g
|
Monounsaturated Fat:
3.6
g
|
Trans Fat:
0.6
g
|
Cholesterol:
36.6
mg
|
Sodium:
112.9
mg
|
Potassium:
38
mg
|
Fiber:
0.6
g
|
Sugar:
10.8
g
|
Vitamin A:
426
IU
|
Vitamin C:
0.01
mg
|
Calcium:
17.8
mg
|
Iron:
0.9
mg
Love a good coffee cake? Try my Cowboy Coffee Cake Recipe next! Or My Grandma's Coffee Cake Recipe!