Do you need a cake recipe for special occasions? This Cowboy Coffee Cake Recipe is one that everyone will love. It's the perfect recipe for parties, holidays, or a weekend dessert at home. It might be an old recipe that's been around for ages, but it definitely never gets old to make and eat!
I'm a big fan of the original recipe, which actually was popular back in the day in the Better Homes and Gardens cookbook. The crumb mixture on top of the cowboy coffeecake makes it the perfect texture and taste. You could literally create a food holiday just for this recipe – I'm serious! Great recipes like this are meant to be shared!
Grab your favorite cake pan and get ready to start. The second time I made this recipe, I knew without a doubt that it was going to be one of my go-to cake recipes from now on. It's just too easy and delicious to pass up.
Be sure to check out my Coffee Cake Cookies Recipe for a fun treat that you can eat on the go! Want to make a bundt cake? Try My Grandma's Coffee Cake Recipe.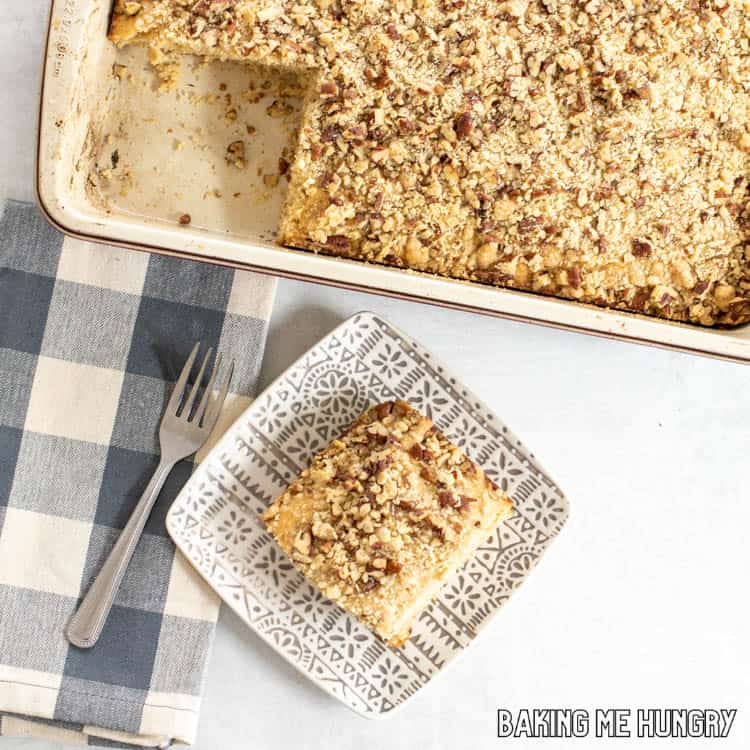 Ingredients
Butter – I typically use salted butter when baking.
Brown sugar – Adds sweetness and a nice golden-brown coloring.
Flour – The main dry ingredients to make the cake batter.
Cinnamon – For taste.
Eggs – The main binding agent to make the cake batter.
Sour milk – See the notes below on how to make homemade sour milk.
Baking powder – This gives the cake texture.
Salt – Just a bit helps with flavor.
Chopped nuts – You can use a combination of walnuts, cashews, pecans, etc.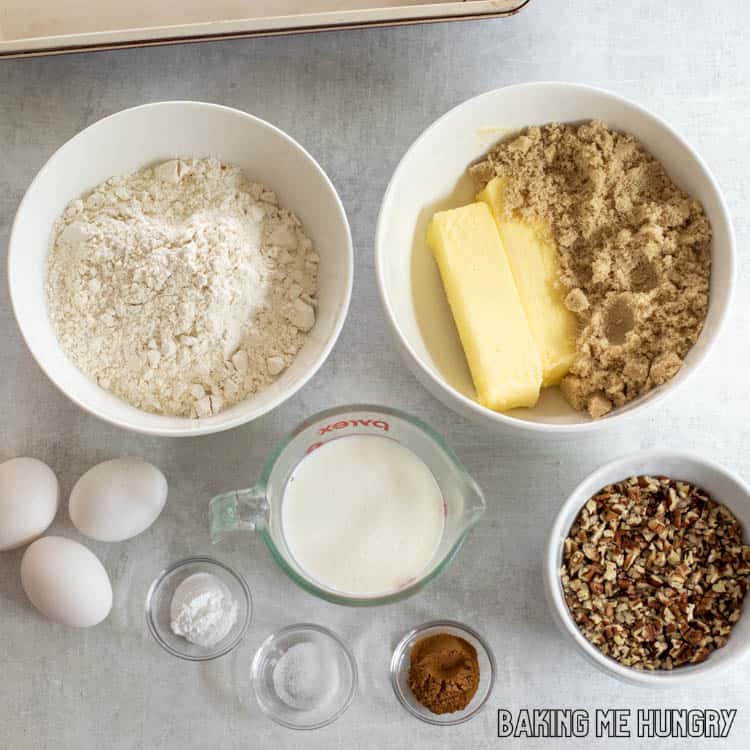 How to make this Cowboy Coffee Cake Recipe
Step One: Preheat the oven to 350 degrees. Spray or butter a 9X13-inch pan.
Step Two: Mix the butter and sugar in a bowl using a mixer.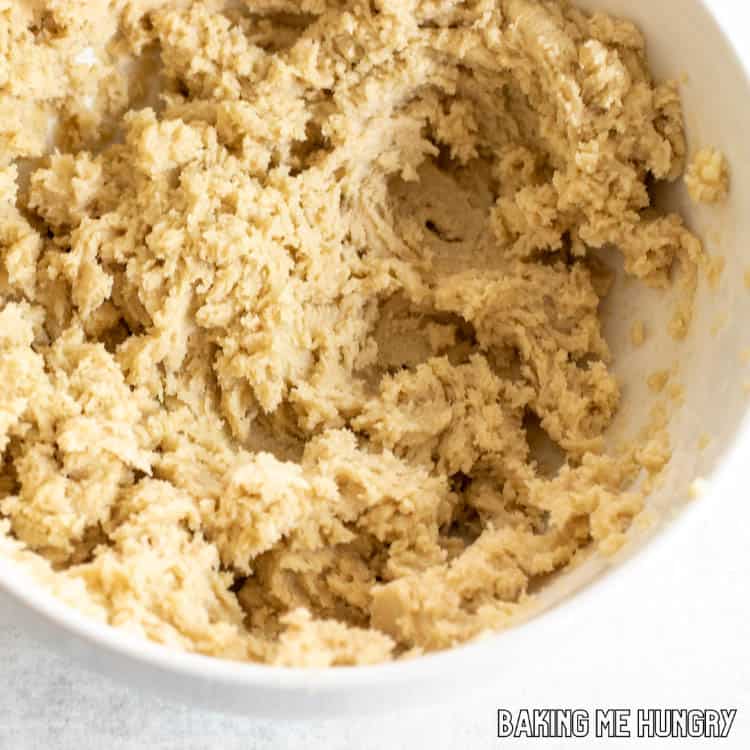 Step Three: Combine flour with the butter and sugar mixture and mix until coarse crumbs forms. You will need to reserve one cup of the crumbs for later use.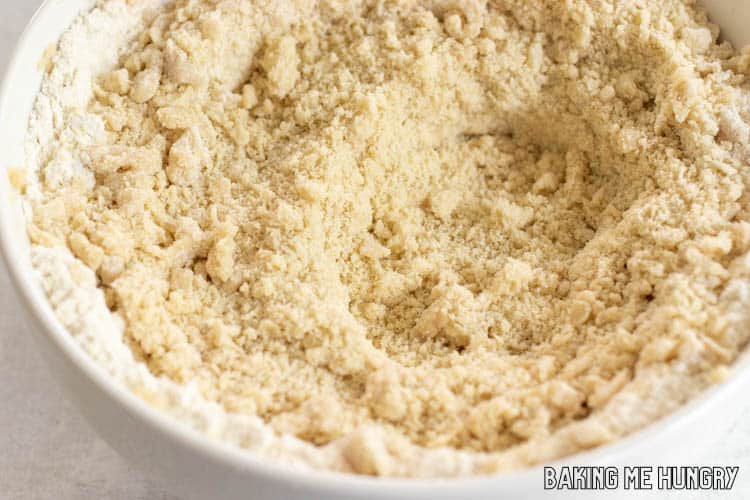 Step Four: Add the remaining batter ingredients and mix well.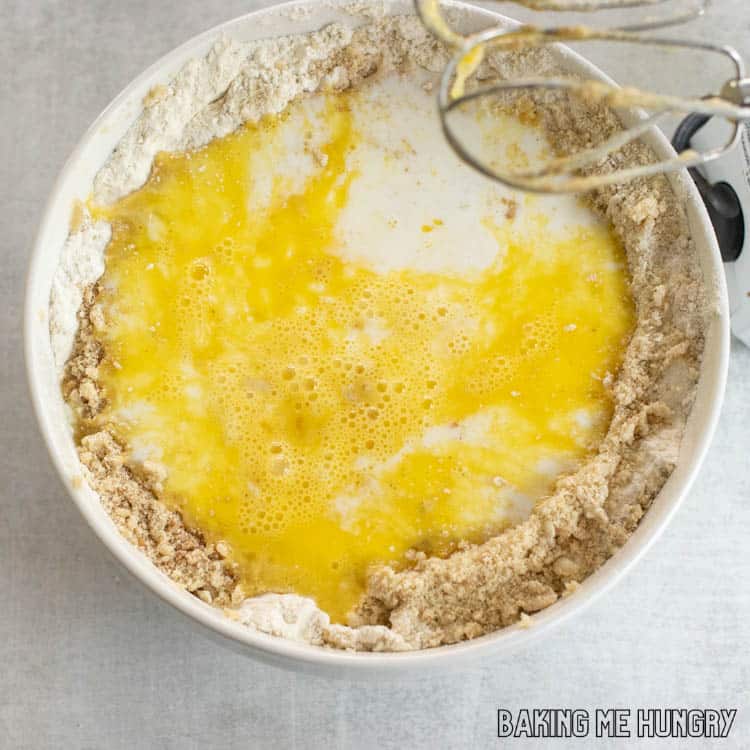 Pour the mixture into the prepared baking dish and spread it out evenly.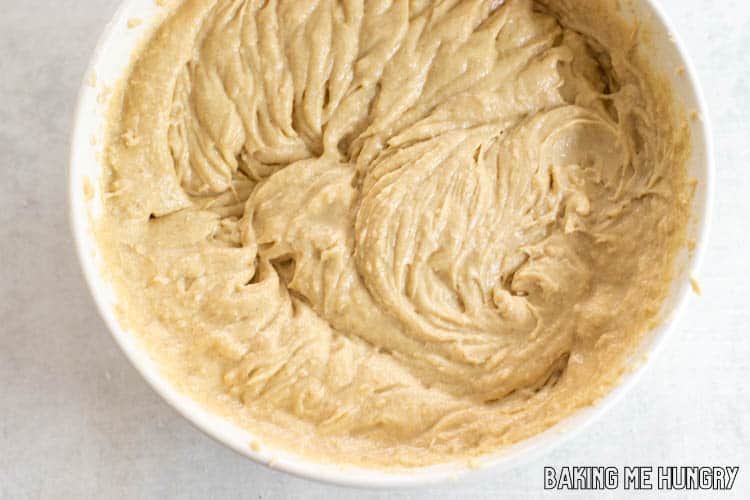 Step Five: Mix the chopped nuts and the reserved crumbs from earlier.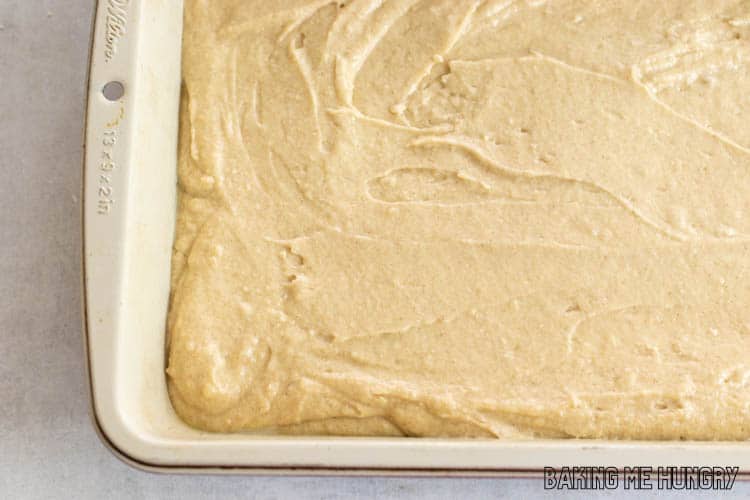 Sprinkle that mixture on top of the batter.
Step Six: Put the pan in the oven and bake for 40 minutes at 350 degrees.
If you are worried that the top of the cake is darkening too quickly, add aluminum foil over the top during the last 10 minutes.
Variations
Add sour cream – A little baking secret of mine to keep the cake moist is to add a dollop of sour cream or non-flavored Greek yogurt. It adds a rich fat to the dry ingredients and wet ingredients, making the cake batter bake nice and moist. Perfect for pairing with a cup of coffee.
Add more cinnamon – An extra teaspoon of cinnamon adds a fun flavor!
Common Questions
How do I make homemade sour milk?
One of the ingredients needed for this simple coffee cake recipe is sour milk, which you can easily make right at home. Just add 1 tablespoon of lemon juice or vinegar to 1 cup of milk, and stir. Let the mixture sit for about 5 minutes, and that's it. You'll have enough milk to add easily enough.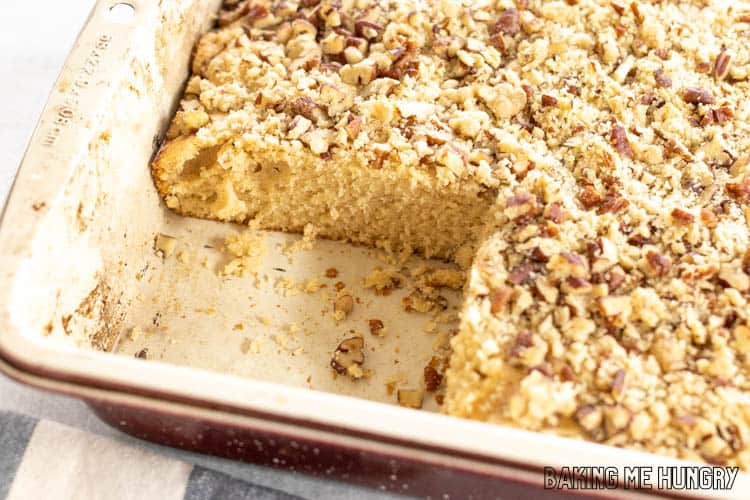 Is buttermilk the same as sour milk?
It's not. They're actually two different things. While technically, you could turn this into a buttermilk coffeecake by using buttermilk, this isn't what my original recipe here calls for. I use sour milk because I like the flavor and texture that it adds to the cake.
What toppings can I add to the coffee cake?
For this particular cowboy coffee cake recipe, you don't need to worry about adding anything because you have the tender crumb topping already added to the top of the cake. If you do want to add something more, you can add a little bit of whipped cream right on top. I also like to serve fresh berries as a side dish, just as an option.
When should I serve coffee cake?
The beautiful thing about making coffee cake is that it can be served as breakfast or dessert. Most people associate it with breakfast time because of the name, but if you want to eat this at night, go for it!
How do I make sure the coffee cake is done baking?
Use a clean wooden toothpick and insert it into the center of the cake once it's done baking. If the removed toothpick is clean and free of cake batter, it's ready to let cool and serve.
Love this sweet breakfast recipe? Try our French Toast Sticks next!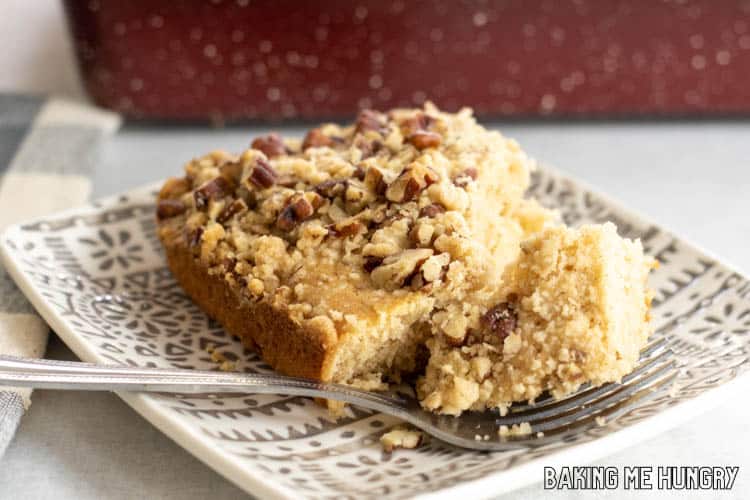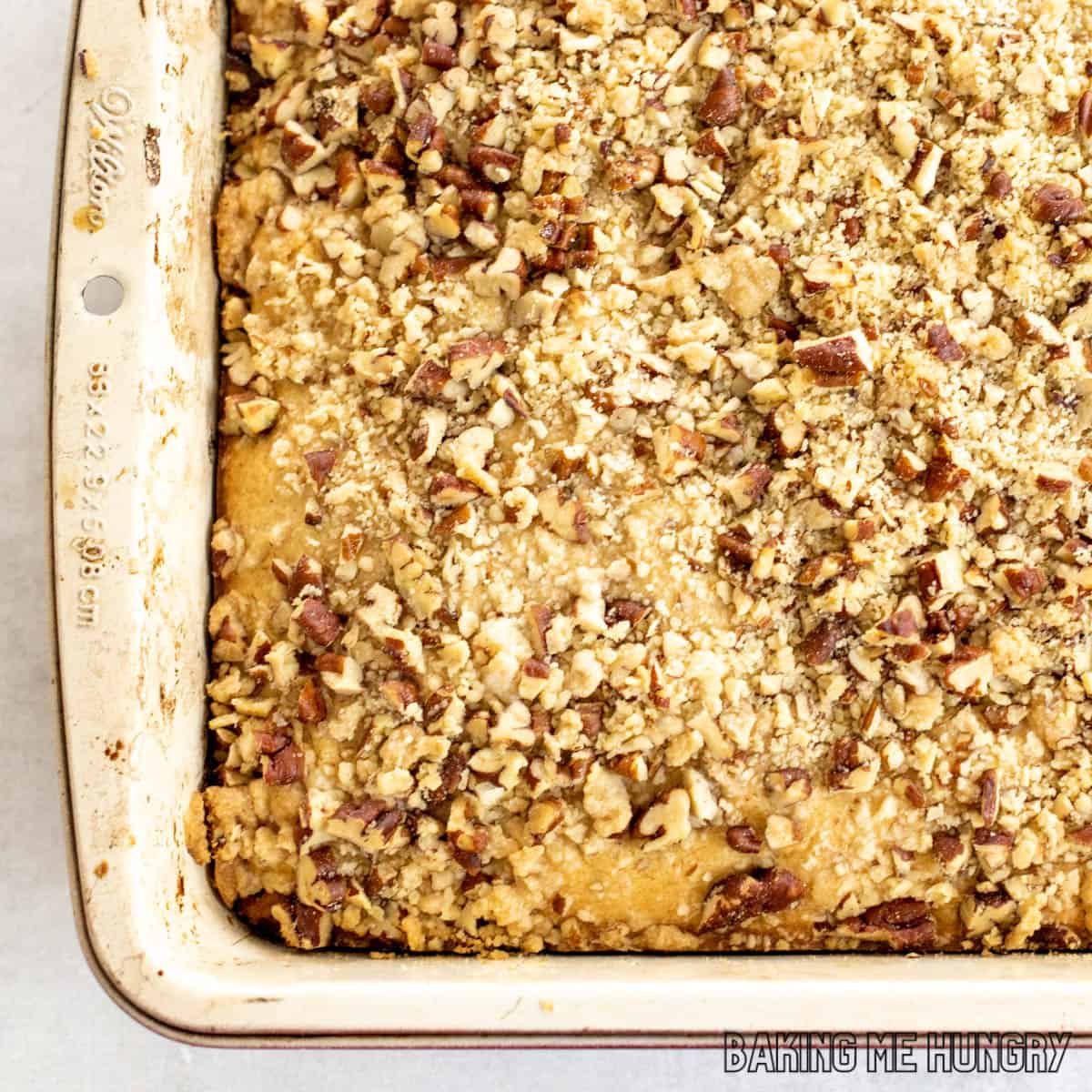 Ingredients
Batter:
8

oz

salted butter

softened

2

cups

brown sugar

2 ½

cups

flour

1

teaspoon

cinnamon

3

eggs

1

cup

sour milk

1

teaspoon

baking powder

¼

teaspoon

salt
Topping:
1

cup

finely chopped nuts
Instructions
Preheat oven to 350. Grease a 9x13 pan with butter or cooking spray.

In a bowl with an electric mixer combine the butter and sugar. Mix well.

Add the flour. Mix until crumbs form. Reserve 1 cup of the crumbs.

Mix in the rest of the batter ingredients. Mix thoroughly. Pour into the baking dish and spread evenly.

Combine the chopped nuts and reserved crumbs. Sprinkle on top of the batter.

Bake at 350 for 40 min until golden. If the topping starts to get dark cover with foil for the last 10 minutes.
Nutrition
Calories:
303.4
kcal
|
Carbohydrates:
38.8
g
|
Protein:
3.8
g
|
Fat:
15.5
g
|
Saturated Fat:
7.3
g
|
Polyunsaturated Fat:
1.8
g
|
Monounsaturated Fat:
5.3
g
|
Trans Fat:
0.4
g
|
Cholesterol:
56
mg
|
Sodium:
159.6
mg
|
Potassium:
107.6
mg
|
Fiber:
1.1
g
|
Sugar:
24.7
g
|
Vitamin A:
379.8
IU
|
Vitamin C:
0.1
mg
|
Calcium:
64.7
mg
|
Iron:
1.3
mg