I've got the best brownie recipe ever! These brownies are so gooey and fudgy, that they will melt in your mouth. Make Condensed Milk Brownies at home and enjoy a delicious dessert!
This is a recipe for homemade fudgy brownies made from scratch with sweetened condensed milk. My family loves super fudge-like brownies, much more than cake brownies, which is why this is one of our all-time favorite brownie recipes to make.
Make these condensed milk brownies and share them with your friends and family. They taste so good that they won't be able to stop eating them!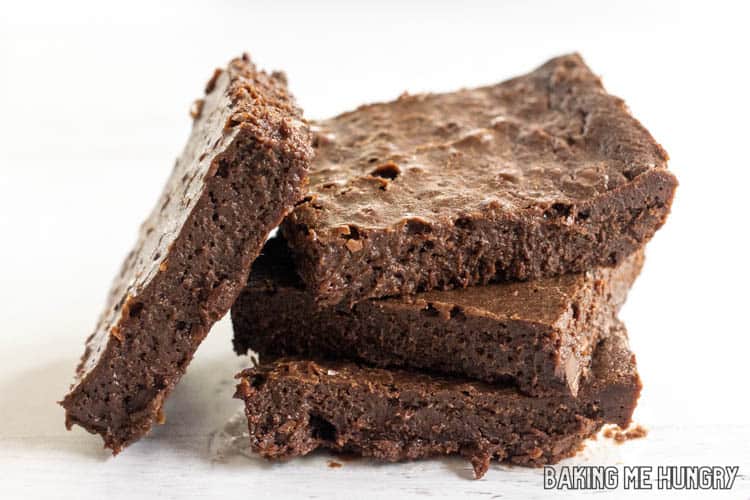 Ingredients
Salted butter – I use salted butter when baking. If you have unsalted butter add an additional pinch of salt.
Semisweet chocolate chips – This recipe comes out best with semi-sweet chips. If you choose to use unsweetened chocolate or sweeter chocolate you will need to adjust the amount of sugar to make up the difference.
Sweetened condensed milk – You need one small can of sweetened milk. It normally comes in a 14 oz can.
Sugar – I used white sugar but you can use brown sugar or a combination if you prefer.
Eggs – Large eggs are best. If you have smaller eggs or larger eggs the consistency might be thrown off.
Vanilla – Vanilla extract brings out the flavor of the chocolate and enhances the flavors in the condensed milk brownies.
Flour – Regular all-purpose flour is perfect for this recipe.
Cocoa powder – Regular cocoa powder is fine.
Salt – A bit of added salt will enhance the other flavors.
How to Make Condensed Milk Brownies
Step One: Prepare a 9×13 baking dish by spraying with cooking spray and lining with parchment paper. Or use metal pans lined with foil and greased well. Melt butter and chocolate chips in a microwave-safe medium large bowl or in a small saucepan.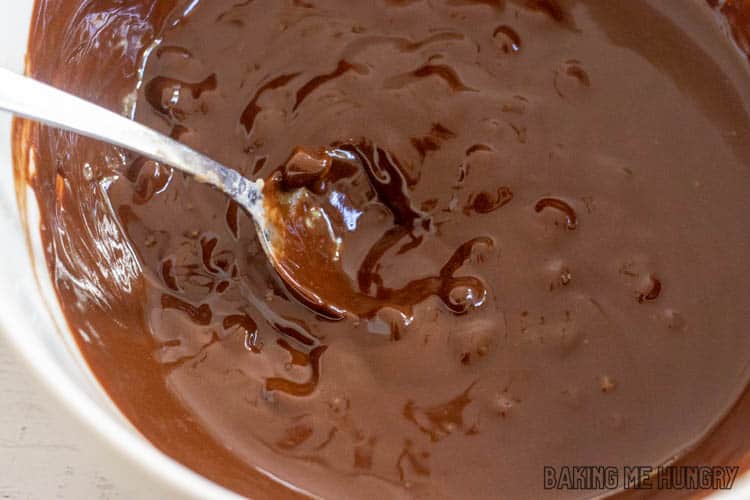 Step Two: Stir in the condensed milk, sugar, and vanilla. You can mix this by hand with a wooden spoon, rubber spatula, or metal spoon but if you prefer to use an electric mixer that is fine.
Expert Tip: If the chocolate mixture is still hot cool it to room temperature before adding the eggs so they don't scramble.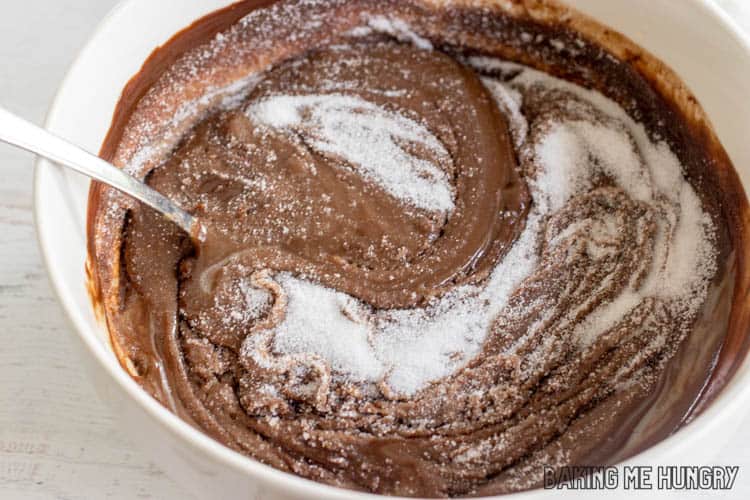 Step Three: Add the eggs and mix well.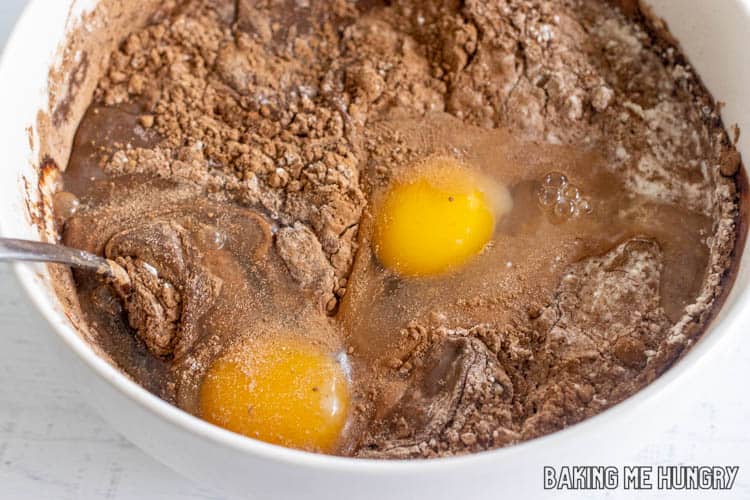 Step Four: Add the flour, cocoa powder, and salt. Stir until smooth.
Step Five: Stir in the remaining chocolate chips. If you want you can reserve some to sprinkle on top of the batter.
Step Six: Pour the batter into a 9×13 pan lined with parchment paper and spread it out smooth.
Step Seven: Bake the brownies in the oven at 350 just until they are set.
Variations
Mocha – Love the flavor of coffee paired with chocolate? Add a tablespoon or two of instant coffee granules or instant espresso powder to the batter. And then make sure to try our Espresso Brownies Recipe!
Mint – Add in a teaspoon of peppermint extract for the best mint brownies ever.
Nuts – If you like nuts in your brownies go ahead and add some. Walnuts and pecans are the most popular choices.
Peanut Butter – Drop dollops of peanut butter over the top of the batter and gently swirl before baking.
Cheesecake – Mix cream cheese with some egg yolk and sugar. Drop dollops of that over the brownie batter and swirl before baking. You can even add some raspberries for raspberry cheesecake brownies.
Chocolate – Swap out the semi-sweet chocolate chips added in the last step for white chocolate chips or milk chocolate chips. You should still use semisweet for the melted chocolate.
Common Questions
Why add condensed milk to brownies?
Adding sweetened condensed milk to brownies makes them extra fudgy. Many recipes for actual fudge call for condensed milk, so it is a natural addition when you want brownies with a fudge texture and crumb.
How should I store brownies?
I prefer to store these in the fridge. They set up as they chill. And then if you want them warm just reheat them in the microwave. They last for 1-2 weeks in the refrigerator or 2-3 months wrapped in plastic wrap in the freezer.
What should I serve with brownies?
Ice cream, of course. These are amazing topped with a scoop of vanilla ice cream and even better with some Black Forest Ice Cream. Otherwise a dollop of whipped cream or a cup of cookie go well.
Make sure to try our Coffee Cookies and Triple Chocolate Muffins next!
Like what you see? Follow us on Facebook and on Instagram! Love this recipe? Leave a comment & a 5-star rating right here!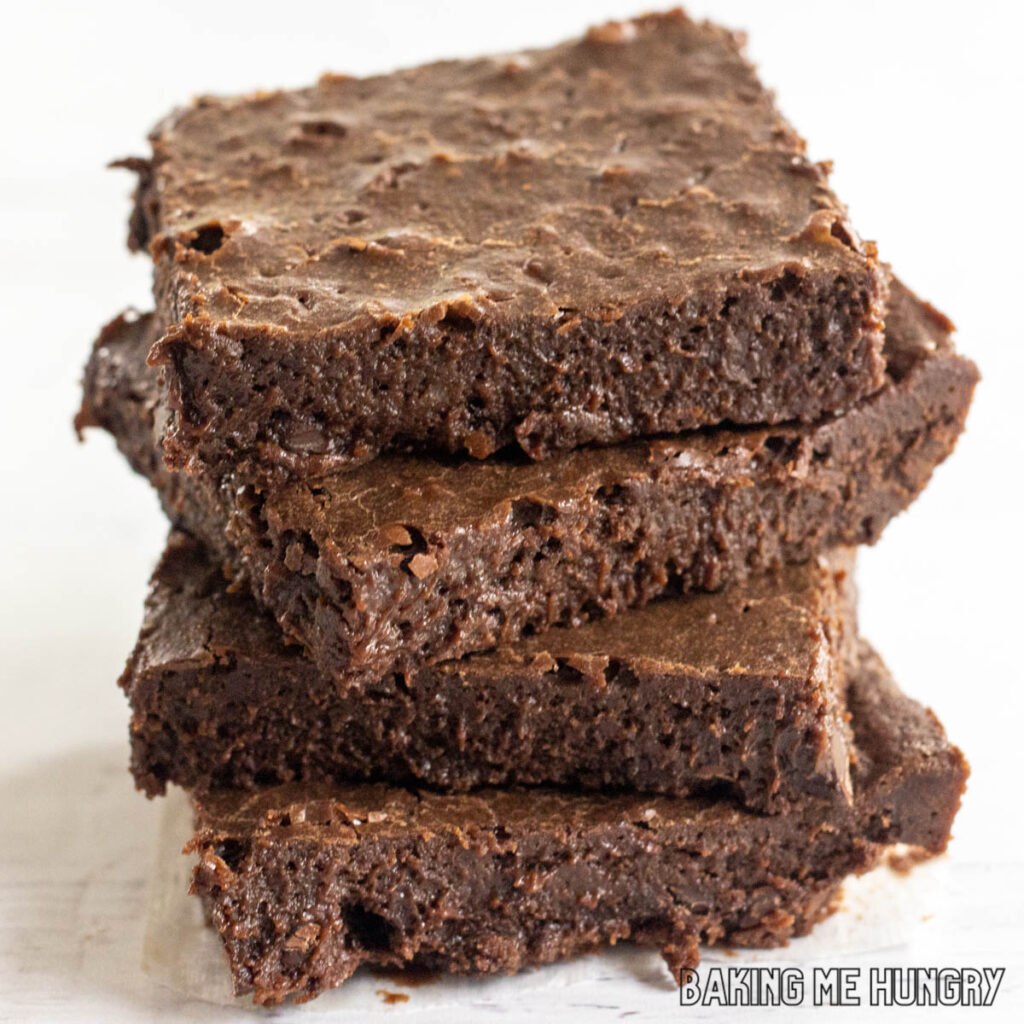 Ingredients
½

cup

salted butter

1.5

cups

semisweet chocolate chips

14

oz

sweetened condensed milk

¼

cup

sugar

2

eggs

1

teaspoon

vanilla extract

⅓

cup

flour

⅓

cup

cocoa powder

½

teaspoon

salt

⅓

cup

chocolate chips
Instructions
Preheat oven to 350. Line a 9x13 pan with parchment paper.

Melt butter and chocolate chips in a microwave-safe bowl.

Stir in condensed milk, sugar, and vanilla. Cool to room temperature if still hot.

Add eggs and mix well.

Add the dry ingredients and stir just until incorporated.

Stir in the remaining chocolate chips.

Bake for 30 minutes or until just set. Cool completely. Refrigerate overnight for the best texture.
Nutrition
Calories:
244.1
kcal
|
Carbohydrates:
26.8
g
|
Protein:
3.9
g
|
Fat:
14.1
g
|
Saturated Fat:
8.4
g
|
Polyunsaturated Fat:
0.6
g
|
Monounsaturated Fat:
3.8
g
|
Trans Fat:
0.2
g
|
Cholesterol:
40.8
mg
|
Sodium:
142.8
mg
|
Potassium:
202.2
mg
|
Fiber:
1.9
g
|
Sugar:
21.6
g
|
Vitamin A:
250.3
IU
|
Vitamin C:
0.6
mg
|
Calcium:
78.7
mg
|
Iron:
1.4
mg