Are you a fan of Biscoff cookies? If so, this Biscoff fudge recipe needs to be at the top of your favorite holiday must-make desserts. Loaded with flavor with the perfect creamy texture.
When it comes to easy fudge recipes, you're going to love the instructions for this delicious option. It's the perfect balance of white chocolate paired with the biscoff flavour that will have everyone coming back for more.
We made a teacher at our school fudge on year and every year since he requests it. We try to change up the flavors every year so this Biscoff fudge will be a perfect addition to our repertoire.
This is one dish that you might start nibbling in small chunks, but before long, everyone will be grabbing at the remaining fudge squares and pieces. You can easily make this year-round, but there's no doubt that this would be super popular to make and enjoy during the Thanksgiving and Christmas holidays.
Speaking of delicious holiday desserts, be sure to check out my Biscoff Cookie Butter Cookies as well as my Chocolate Chip Bread Pudding.
Ingredients
White chocolate chips – Use your favorite brand of white chocolate chips or break up a white chocolate bar using the food processor.
Salted butter – Helps to add creaminess and a smooth, rich flavor to the fudge.
Biscoff cookies – This is what gives this simple fudge recipe that yummy taste. Be sure that you break the cookies into fine crumbs.
Cinnamon – Adding cinnamon adds warmth.
How to make Biscoff Fudge
Step One: Line a loaf pan with parchment paper so that it doesn't stick.
Step Two: Combine the condensed milk, white chocolate chips, and butter in a microwave-safe bowl.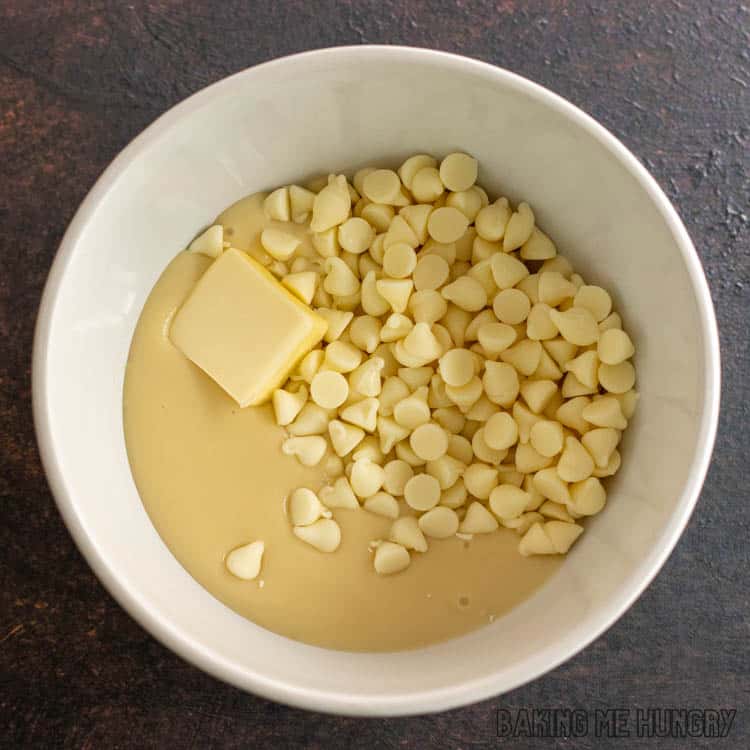 Step Three: Microwave the ingredients for 30 second intervals. Stir well after each 30-second interval. Continue microwaving at 30 seconds increments until the chocolate chips are 75% melted. Once that happens, stir until it's melted completely.
Step Four: Add in the cookies and cinnamon to a food processor and pulse until mixed well.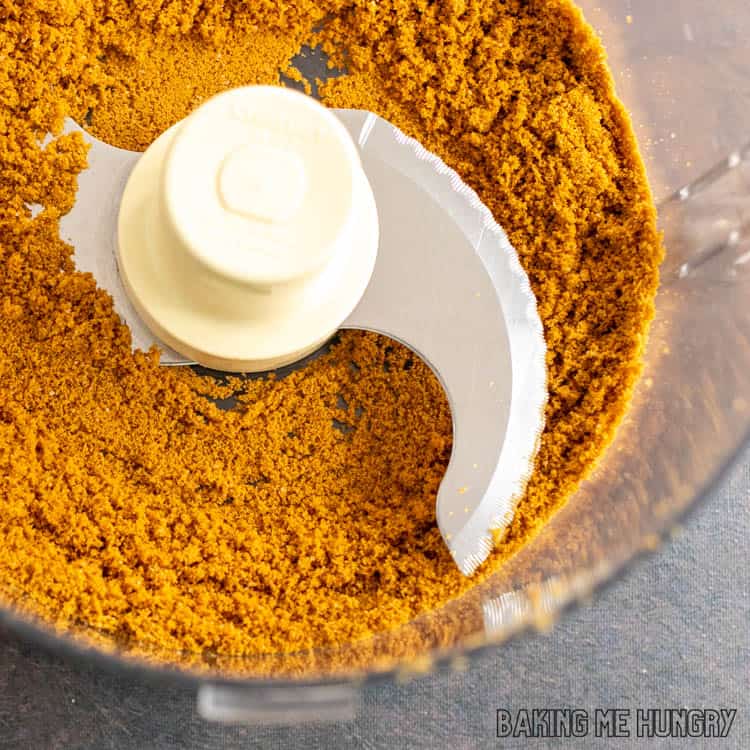 Step Five: Add the cookie crumble mixture to the bowl of melted white chocolate.
Stir well. It will look a little grainy at first. Keep stirring.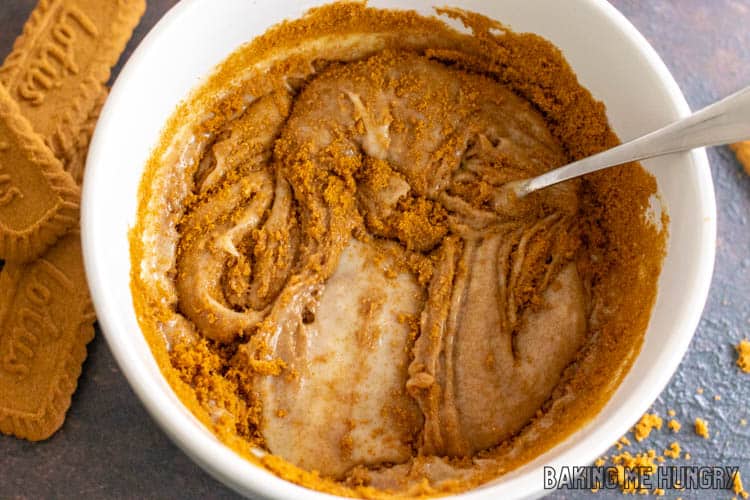 Once it's stirred completely, it will be a light brown color.
Step Six: Transfer the Biscoff fudge mixture to the prepared pan and refrigerate until firm. This will take 3-4 hours.
Remove from the fridge and slice into thin slices or small cubes. It is very rich so we keep pieces small.
Variations
Use different cookies – While I know that the Lotus biscoff biscuits are the star of this show, you can always experiment with other cookies. I think that any type speculoos cookies would be fun.
Use Lotus biscoff spread – Why not add some of the jarred spread into the mixture and see how it tastes? Sounds like a fun way to boost flavor.
Add peanut butter – Just a little scoop of peanut butter adds nutrients and protein just like that.
Common Questions
Does homemade fudge make good gifts?
Yes! Anything baking or homemade is a great gift idea. If you can make a sweet treat to share with family and friends, you know the exact way to their hearts.
I actually prefer this dessert over ice cream or other sweet treats during the holiday season because a little nibble goes a long way. Biscoff fudge is great when giving gifts because it's something that they can savor and enjoy.
How do I store leftover fudge?
Fudge can be left at room temperature or kept stored in the fridge. Just make sure that you have a lid on it so that the fudge doesn't dry out.
If you keep it in the fridge, a lid is a must so that it doesn't absorb the other scents of food items that are stored in the fridge.
Can I freeze fudge?
Absolutely. The great thing about making fudge is that it makes a large batch. While you can eat it all in one sitting if you'd like, you can also save some for later, too.
Simply wrap the fudge in plastic wrap and then store it in an airtight container. Keep it stored in the freezer until you are craving a piece.
When you're ready to eat it, simply move the Biscoff fudge to the fridge to thaw.
What is an easy way to make biscoff crumb without a food processor?
You can add the cookies to a sealable plastic bag and then use a rolling pin to roll over them or crush them. Lotus biscoff biscuits aren't hard to crumble, so this would also be a good job for the kids to jump in and help! They'll love crushing up the cookies!
Can I use a square baking tin instead of a loaf pan?
Yes, you can. Just know that when you pour the mixture into the tin, it will be thinner since it's a bigger pan. Spread it out evenly using the back of a spoon.
Like what you see? Follow us on Facebook and on Instagram! Love this recipe? Leave a comment & a 5-star rating right here! Make sure you don't miss new recipes by getting email updates!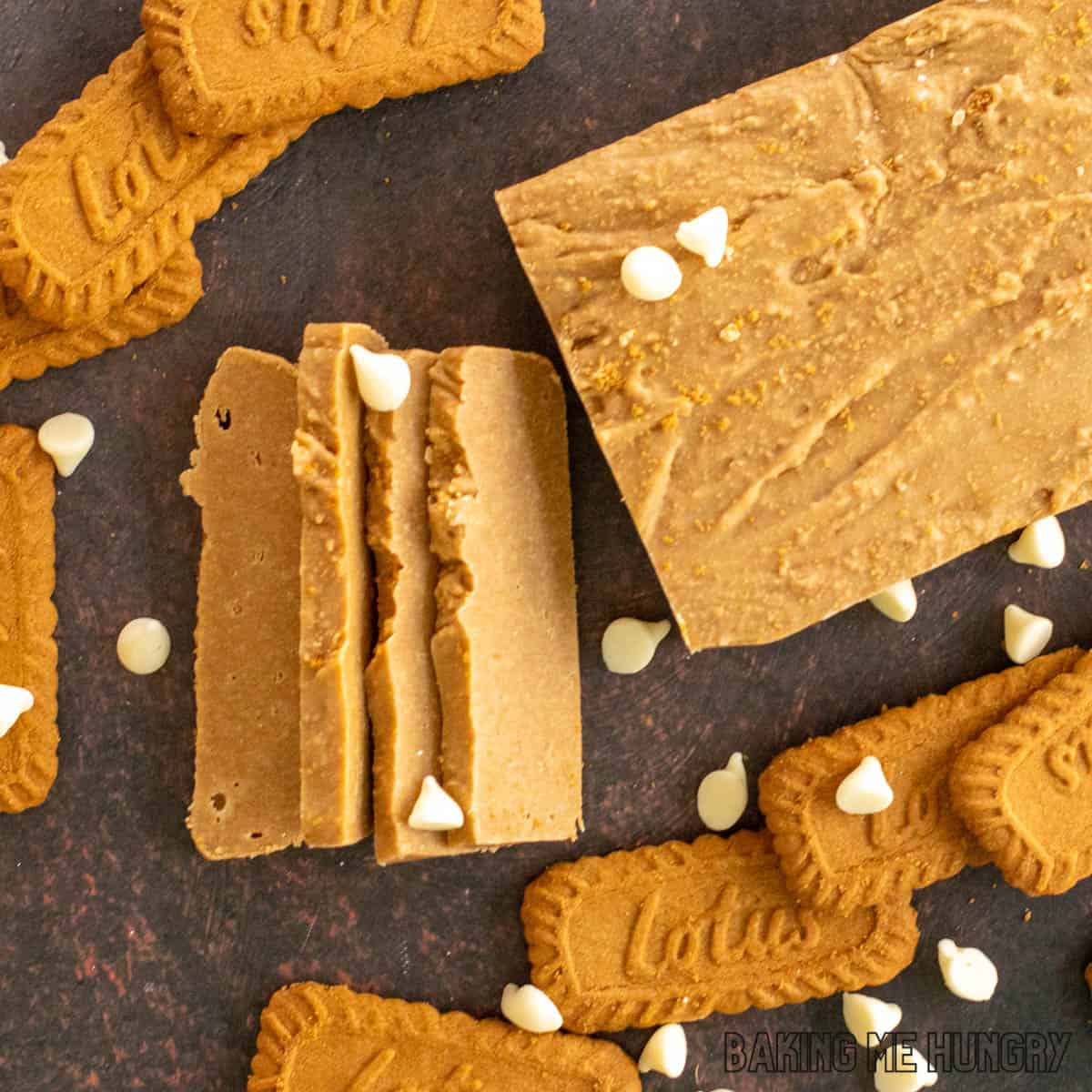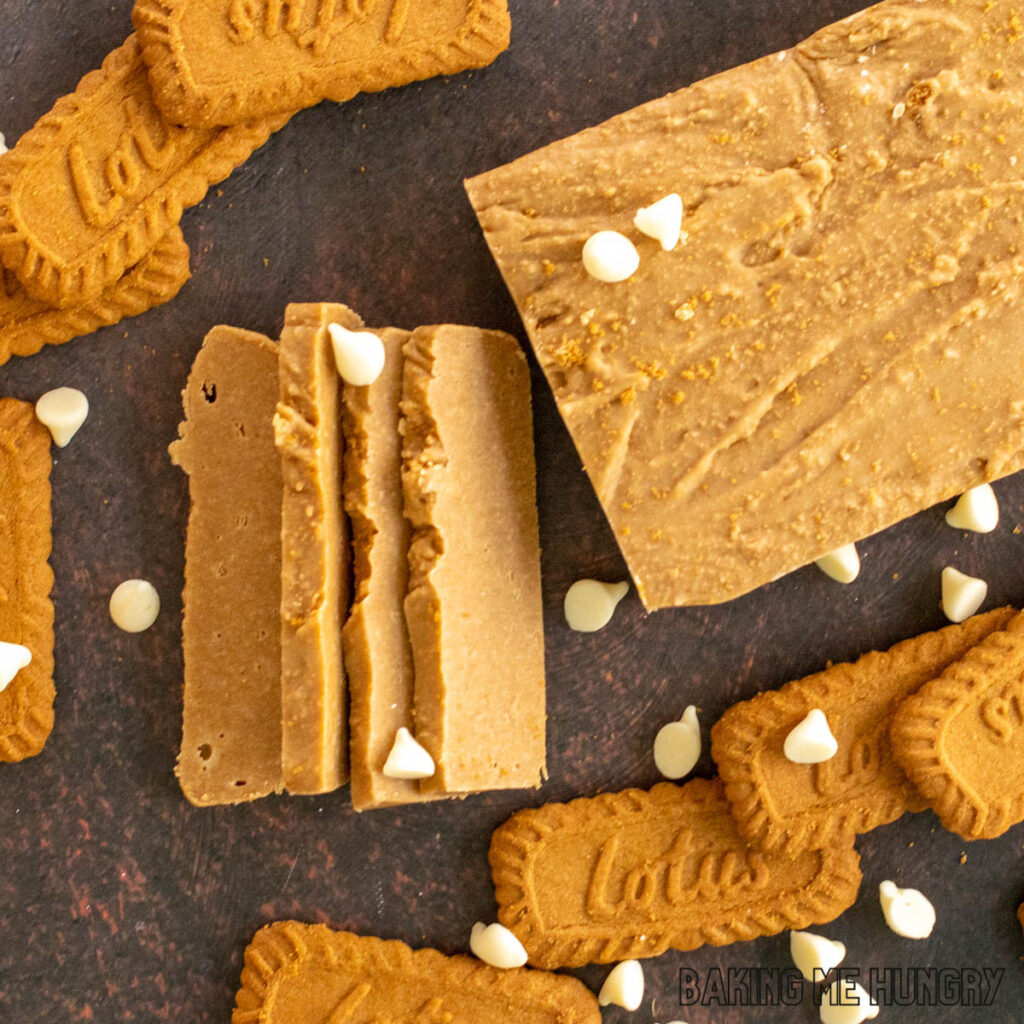 Ingredients
14

oz

sweetened condensed milk

(1 can)

2

cup

white chocolate chips

2

tablespoon

salted butter

1

cup

Biscoff cookies

very finely chopped

½

teaspoon

cinnamon
Instructions
Line a loaf pan with parchment paper.

Combine the condensed milk, white chocolate chips, and butter in a microwave-safe bowl.

Microwave for 30 seconds. Stir well. Continue microwaving at 30 seconds increments until the chocolate chips are 75% melted. At that point, stir until they finish melting.

Mix in the cookies and cinnamon. Transfer to the prepared pan and refrigerate until firm, about 3-4 hours.
Nutrition
Calories:
142.4
kcal
|
Carbohydrates:
17.9
g
|
Protein:
2.2
g
|
Fat:
7.2
g
|
Saturated Fat:
4.4
g
|
Polyunsaturated Fat:
0.2
g
|
Monounsaturated Fat:
2
g
|
Trans Fat:
0.04
g
|
Cholesterol:
11.3
mg
|
Sodium:
42
mg
|
Potassium:
104.7
mg
|
Fiber:
0.1
g
|
Sugar:
17.8
g
|
Vitamin A:
77.9
IU
|
Vitamin C:
0.5
mg
|
Calcium:
77.5
mg
|
Iron:
0.1
mg
Loving Biscoff biscuits? Make sure to try my Biscoff Milkshake recipe next!