Black Forest Ice Cream is the perfect combination of creamy chocolate ice cream, sweet dark cherries, and rich chocolate chunks. It mixes up in minutes and is ready to eat in just a few hours! One bite of this luscious chocolate cherry ice cream and you will be in heaven.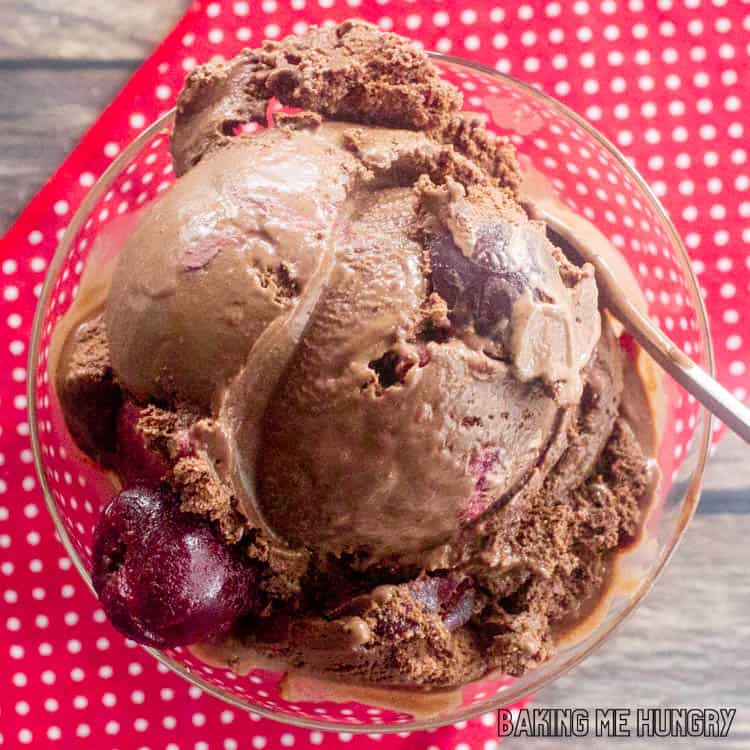 Ready to kick up your dessert game with a big bowl of black forest ice cream? You should be! Even if you've never made homemade ice cream before you can make this one. It is so easy and so delicious. This ice cream is also naturally gluten-free.
My girls love this ice cream. It is one of our top choices when we visit the local ice cream shop. We wanted to make a version at home that is just as chocolatey and packed full of sweet cherries.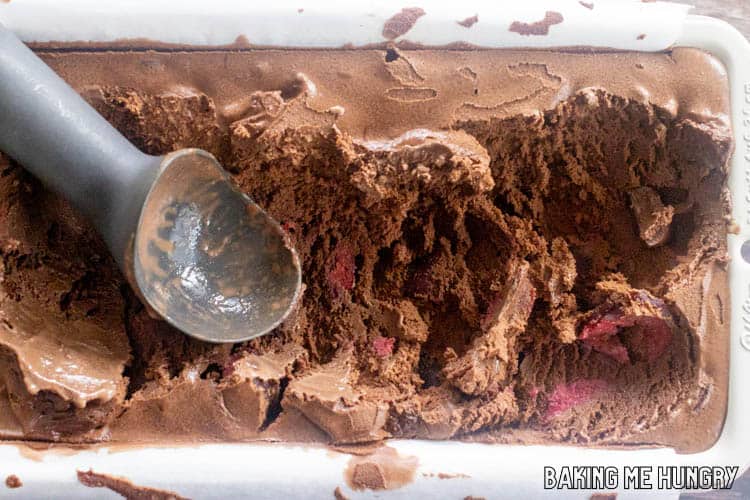 Ingredients
Heavy Cream & Whole Milk – Most ice cream uses a combination of heavy cream and milk.
Cocoa Powder – This ice cream gets a good portion of its flavor from cocoa powder. Make sure to choose one that you enjoy. For a darker chocolate flavor try using black cocoa powder.
Egg Yolks – I always throw in a few raw egg yolks to my ice cream bases. It makes ice cream incredibly creamy. If you are nervous about consuming raw egg yolks you can buy eggs in the grocery store that are pasteurized.
Vanilla Extract – Pure vanilla extract enhances the other flavors of the ice cream.
Sugar – I use regular white sugar in this recipe. If you want to make sugar-free ice cream you can easily sub in your favorite sugar-free sweetener.
Chocolate Chunks – You can use your favorite chocolate, milk chocolate chunks, semisweet chocolate chunks, and dark chocolate chunks all will work well. You can even add some white chocolate chunks for a variation of color.
Sweet Cherries – I highly recommend using frozen sweet cherries. You do have to half them but that is much faster than pitting them as well. If you have fresh cherries you want to use you can, just pit them, half them, and then chill them before adding. If they are room temperature when added they can make the freshly churned ice cream base melt.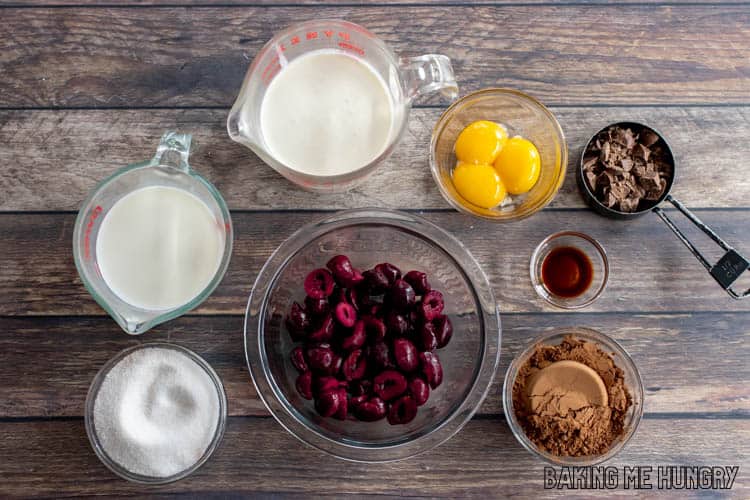 How to Make Black Forest Ice Cream
Step One: Put all the ingredients for the chocolate ice cream base in the blender.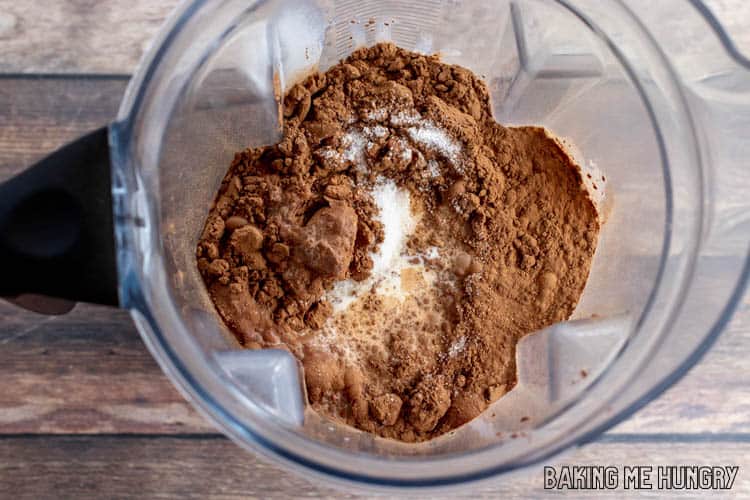 Step Two: Blend until smooth. You may need to scrape down the sides of the blender.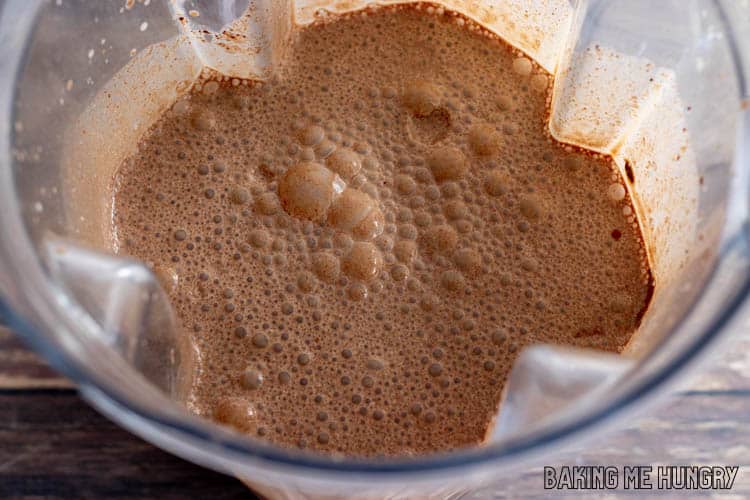 Step Three: Pour the custard mixture into the ice cream machine and churn according to the manufacturer's instructions.
Step Four: When the ice cream has finished churning fold in the halved cherries and chocolate chunks.
Expert Tip: If you don't want to wait any longer you can eat the black forest ice cream at this point! It is the texture of soft serve.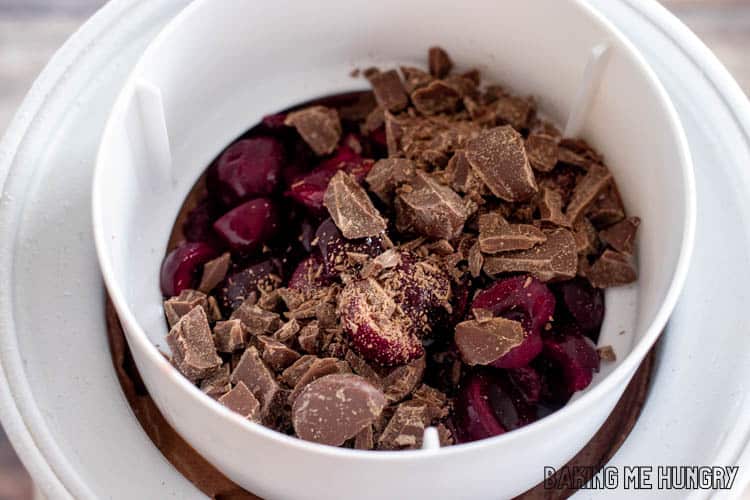 Step Five: Transfer to a freezer-safe container and freeze for 3-4 hours or until firm enough to scoop.
Expert Tip: I love how freezing homemade ice cream in a loaf pan lined with parchment paper looks. It reminds me of fancy ice cream shops with trays of gelato.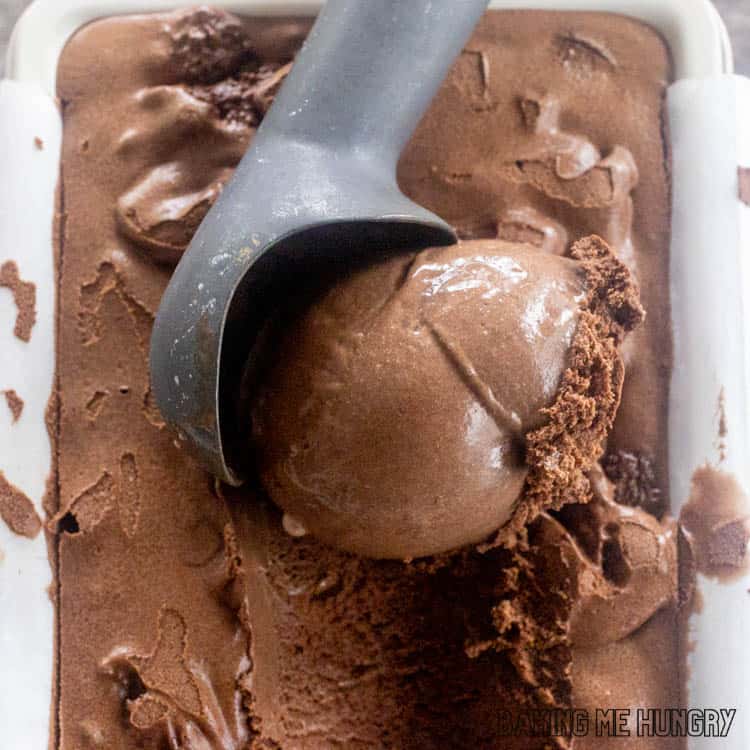 Variations
Brownies, Cookies, Cake – Want to mix in some baked chocolate goodness? Go ahead! Just fold in bite-sized cake, cookie, or chunks of our condensed milk brownies at the same time that you fold in the cherries. You can even mix in leftover black forest cake for a true indulgent experience.
Extracts – If you have access to cherry extract and want to boost the cherry flavor that is great! Just add about a teaspoon or two to taste. Almond extract also pairs very well with chocolate and cherries.
Ice Cream Sandwiches – Turn this into an amazing handheld treat! Make an ice cream sandwich by sandwiching a scoop between two of our Salted Brownie Cookies.
Tart Cherries – If you want to use sour cherries instead of sweet cherries you may want to increase the amount of sugar in the ice cream to compensate.
Vegan – For a dairy-free vegan ice cream you can swap out the heavy cream and whole milk for canned full-fat coconut milk. You can also omit the eggs.
Ice Cream Pie – Take this recipe for black forest ice cream and divide it between two Oreo crumb crusts or graham cracker crust. Freeze until firm. Garnish with whipped cream, a drizzle of chocolate fudge, and extra cherries.
Black Forest Ice Cream Cake – Press cookie crumbs in the bottom of an 8-inch springform pan. Line the edges with waxed paper. Transfer the ice cream right from the machine into the springform pan. Freeze until firm. Garnish with whipped cream, a drizzle of chocolate fudge, and extra cherries.
Common Questions
What is black forest ice cream?
Traditional black forest ice cream is normally a chocolate ice cream with cherries or a cherry jam swirl and chocolate flakes or chocolate chunks. It is inspired by the classic black forest cake which is a chocolate sponge cake with layers of cherries, cherry pie filling, or cherry compote, whipped cream, and topped with chocolate frosting.
What to serve with chocolate cherry ice cream?
Make this into a sundae with hot fudge and whipped cream, drop a scoop into a mug of Chocolate Chips Hot Chocolate, or serve in a waffle cone.
Or go for a home run and serve a scoop on top of one of these amazing Chocolate Cherry Brownies.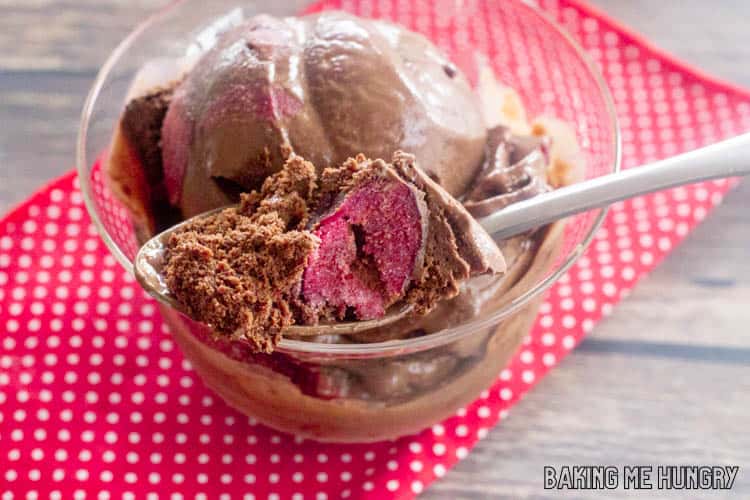 Can I make this no churn?
For a no churn black forest ice cream you will need to swap out the milk for sweetened condensed milk, cut back on the added sugar, and whip the heavy whipping cream to stiff peaks. Blend together the condensed milk, sugar, cocoa powder, vanilla, and egg yolks. Fold in the whipped cream. Gently fold in the chocolate and cherries. Freeze until firm. If it is too hard to scoop let it sit out for up to an hour before scooping. Using sweetened condensed milk and whipped cream is a standard method to make a no churn ice cream recipe.
Alternatively, if you don't have an ice cream maker you can follow the recipe as directed and just freeze in a popsicle mold instead.
Can I make this with store-bought vanilla ice cream?
You can definitely make a delicious sundae using vanilla ice cream for a base. Let it soften and then fold in the chocolate chunks and cherries. Top with hot fudge or chocolate sauce.
I use this method in my Cookie Monster Ice Cream.
Like what you see? Follow us on Facebook and on Instagram! Love this recipe? Leave a comment & a 5-star rating right here!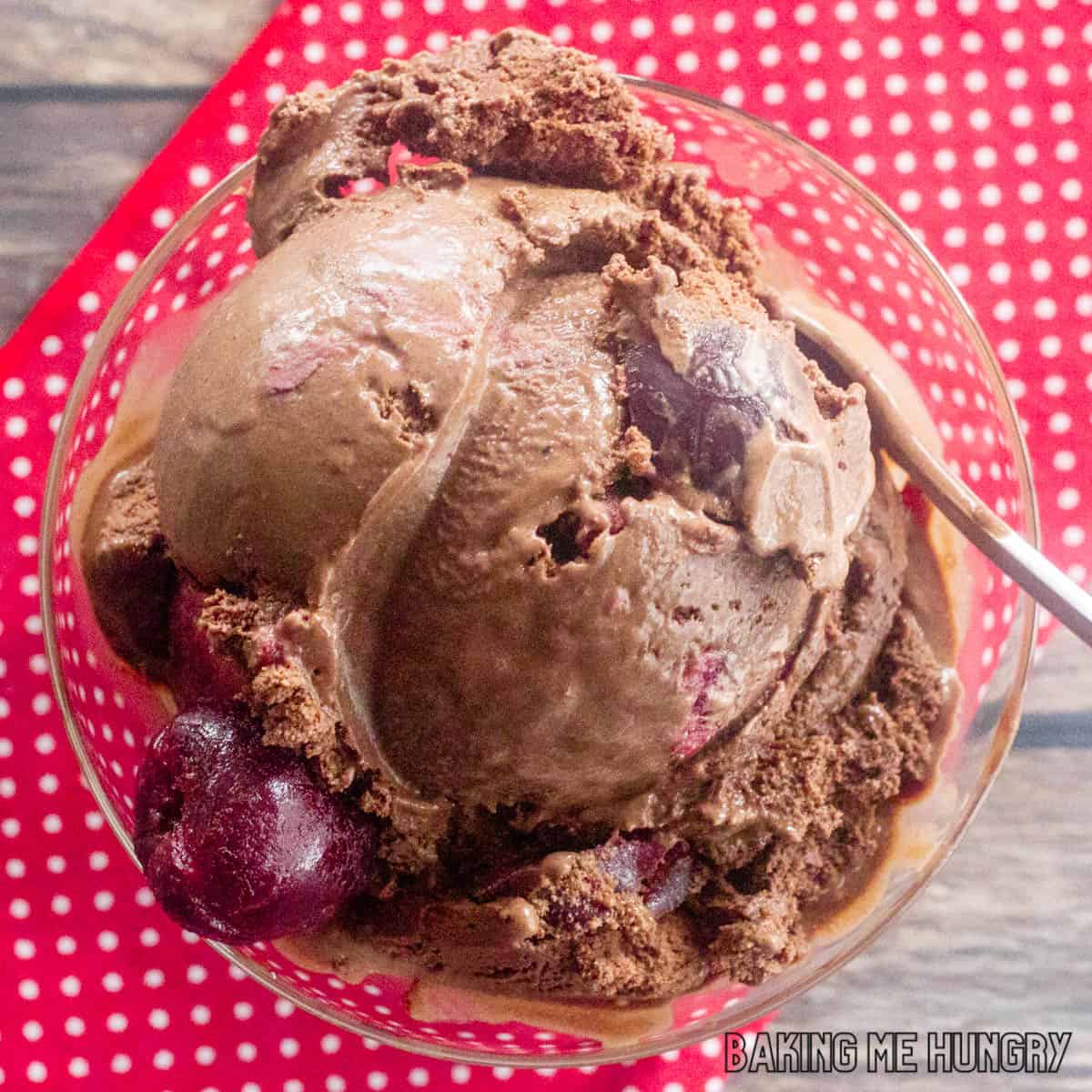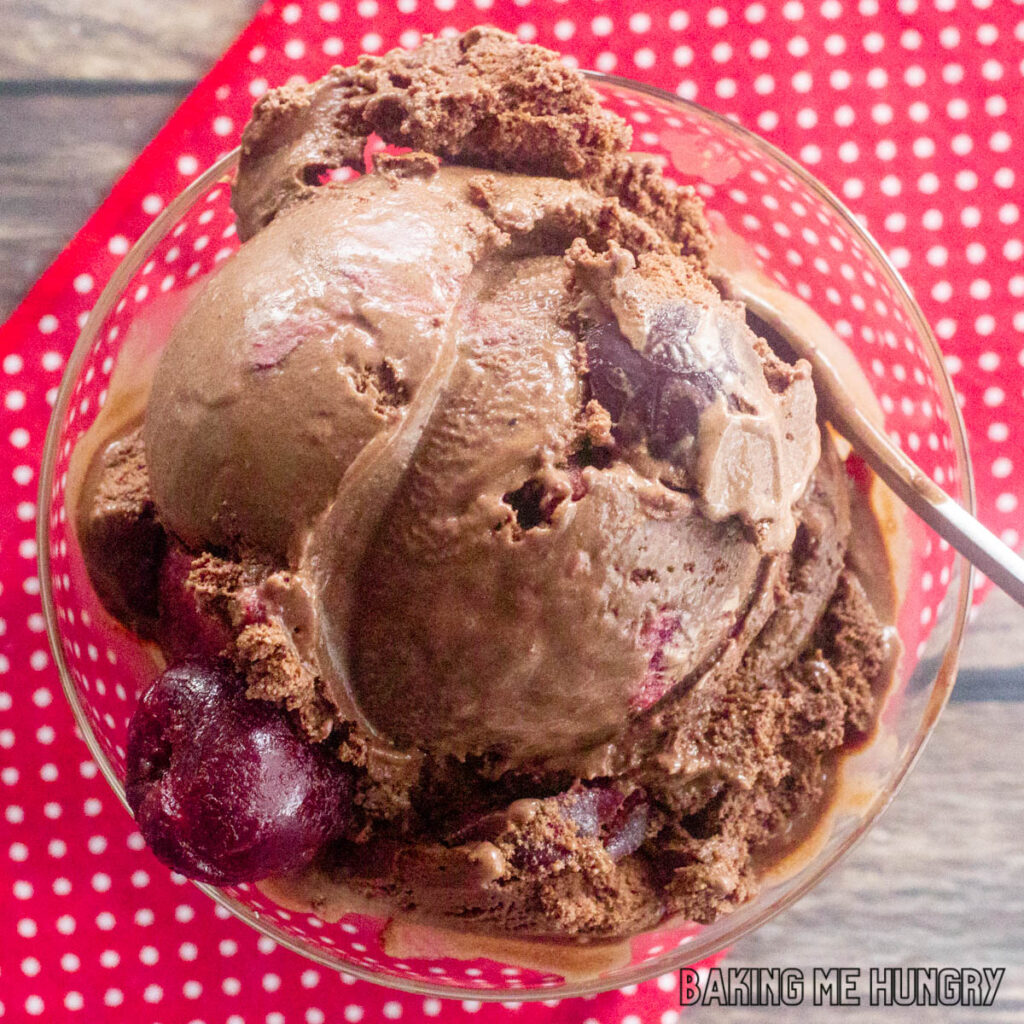 Ingredients
1.5

cups

heavy cream

1

cup

whole milk

¾

cup

cocoa powder

¾

cup

sugar

3

egg yolks

½

teaspoon

vanilla extract

1

cup

sweet cherries

pitted and halved

½

cup

chopped chocolate
Instructions
Combine the first 6 ingredients. Blend until smooth.

Add ¼ cup of the cherries and two tablespoons of the chopped chocolate to the blender. Blend until smooth.

Pour into an ice cream maker. Churn according to the manufacturer's instructions.

When the ice cream has finished churning mix in the rest of the halved cherries and chopped chocolate.

Transfer to a freezer-safe container and freeze for 3-4 hours or until firm enough to scoop.
Nutrition
Serving:
0.75
cup (approx)
|
Calories:
349.4
kcal
|
Carbohydrates:
35.7
g
|
Protein:
5.5
g
|
Fat:
23.8
g
|
Saturated Fat:
14.3
g
|
Polyunsaturated Fat:
1.2
g
|
Monounsaturated Fat:
6.7
g
|
Cholesterol:
127
mg
|
Sodium:
30.5
mg
|
Potassium:
288.8
mg
|
Fiber:
3.9
g
|
Sugar:
29.5
g
|
Vitamin A:
813.8
IU
|
Vitamin C:
1.5
mg
|
Calcium:
91.1
mg
|
Iron:
1.7
mg
Love ice cream recipes? Try these:
Chocolate Coffee Ice Cream Recipe
Originally Published on April 21, 2022. Revised and Republished on May 28, 2023.