Feta Bread is the delicious bread that pairs with most dinner recipes. Perfectly golden brown and full of flavor, you'll love the bits of creamy feta cheese in each and every bite.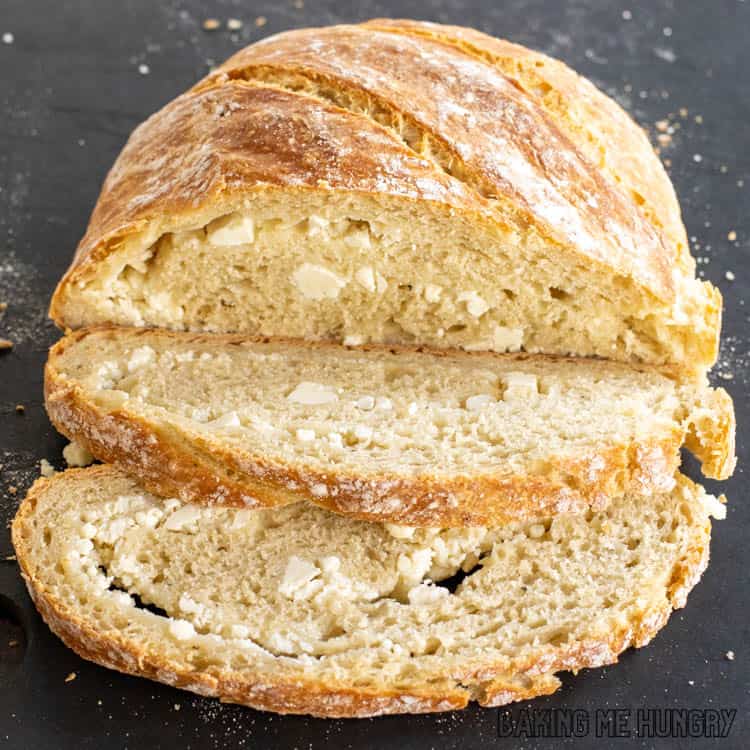 Let's all agree that bread is one of those menu additions that you can't go wrong with. I'm a fan of all types of bread, from French bread to bread machine bread, and let's not forget how good simple cheese bread is as well. What I enjoy about this delicious bread recipe is that it's the perfect combination of ingredients – making it a savory bread that pairs well with most dinner ideas.
Most people will see the baked bread dough and think that they're eating "typical" bread so that delicious feta filling is a true treat. The next time that you're wanting to make a bread recipe that has loads of flavor, keep this feta bread recipe handy. It has the perfect fluffy and yummy texture.
Be sure to check out my Chocolate Chip Bread Pudding for a sweet bread recipe that you'll love.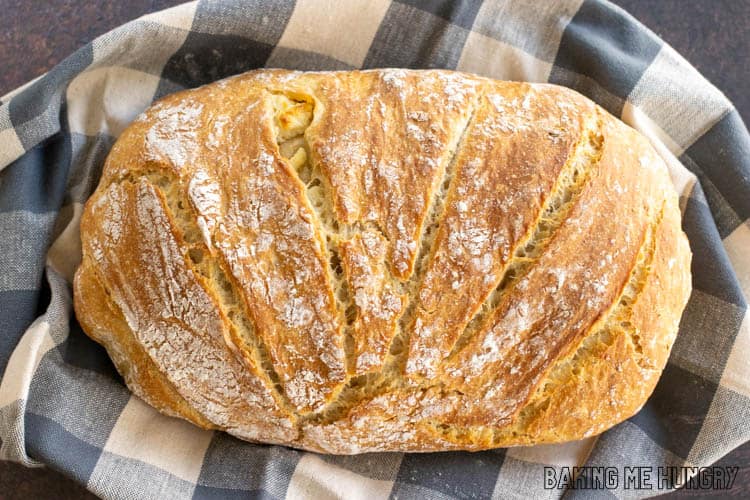 Ingredients
Flour – You can use all-purpose flour or bread flour.
Yeast – The yeast mixture is needed to make the bread rise.
Salt – A little bit of kosher salt or sea salt for taste.
Black pepper – For flavor. I like to use coarsely ground pepper.
Water – Tap water works perfectly fine.
Olive oil – Adds flavor to the bread.
Feta Cheese – Feta has a lovely tangy salty flavor that goes very well inside freshly baked bread. With the crumbled feta cheese stuffed inside this bread doesn't even need butter.
How to make Feta Bread
Step One: Mix the first six ingredients in a large bowl using a dough whisk or wooden spoon. You can add the dry ingredients and wet ingredients all at once.
Do not knead – you're just wanting to mix until a shaggy dough is formed.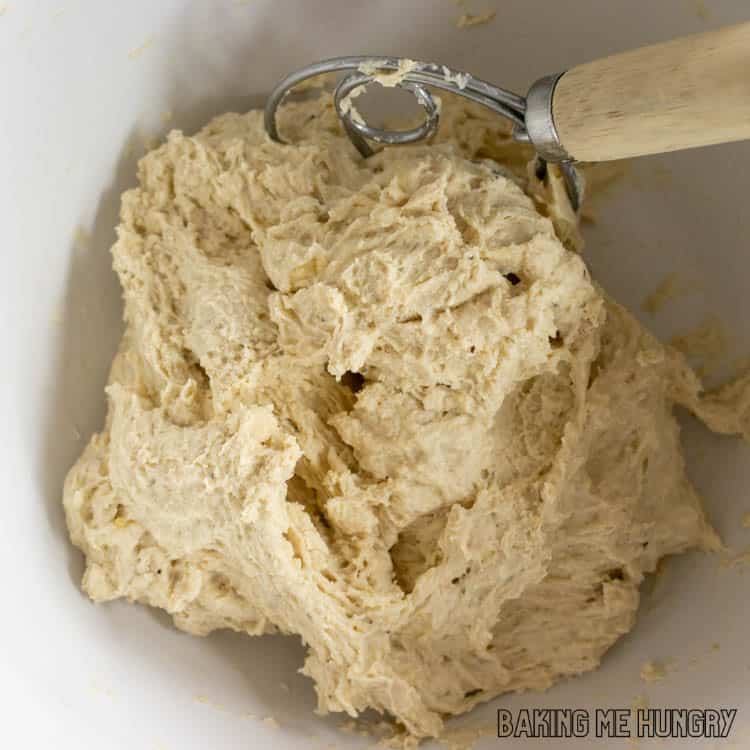 Step Two: Add a clean towel over the top of the dough and leave it covered in a warm spot for 2 hours.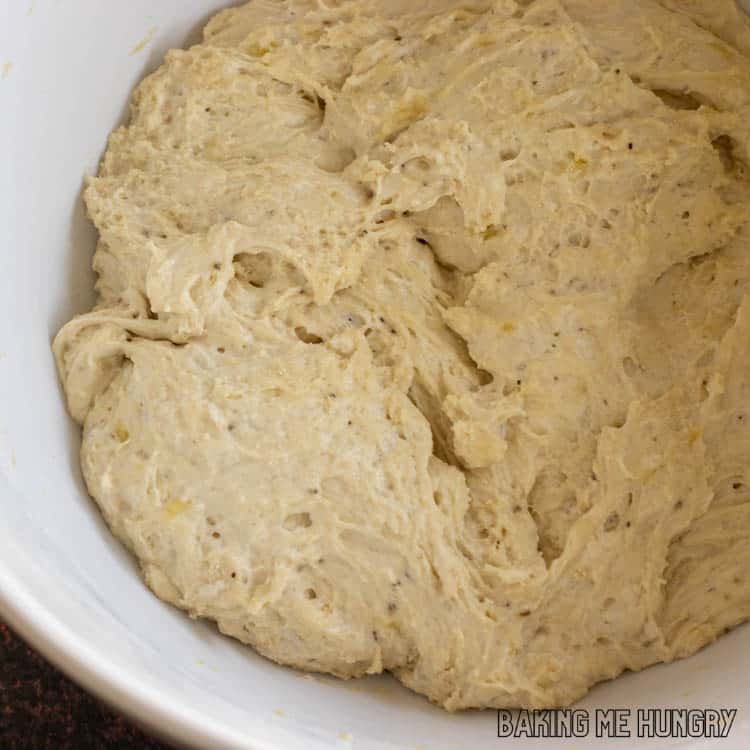 Step Three: Once the time passes, dump the dough out onto a lightly floured surface, and add a little bit of flour on top.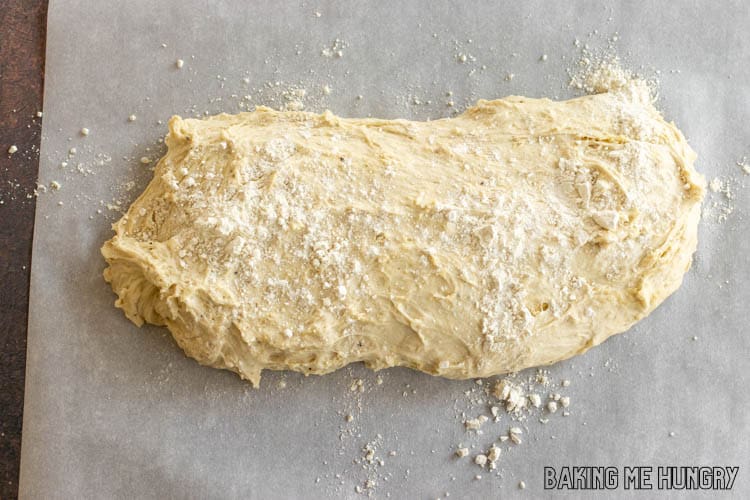 Press out the bread dough into a large rectangular shape.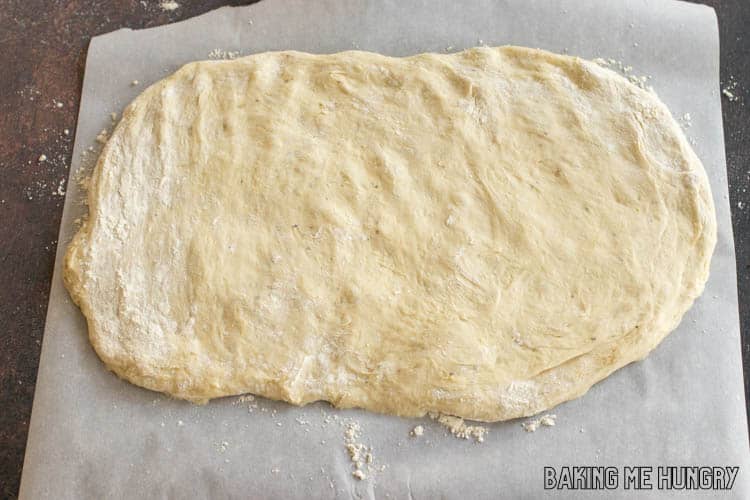 Step Four: Grab the feta cheese and sprinkle it over the top of the no-knead dough.
Step Five: Start at the short edge of the dough, and roll it into a rectangular boule shape. Let the bread rise for 45 minutes.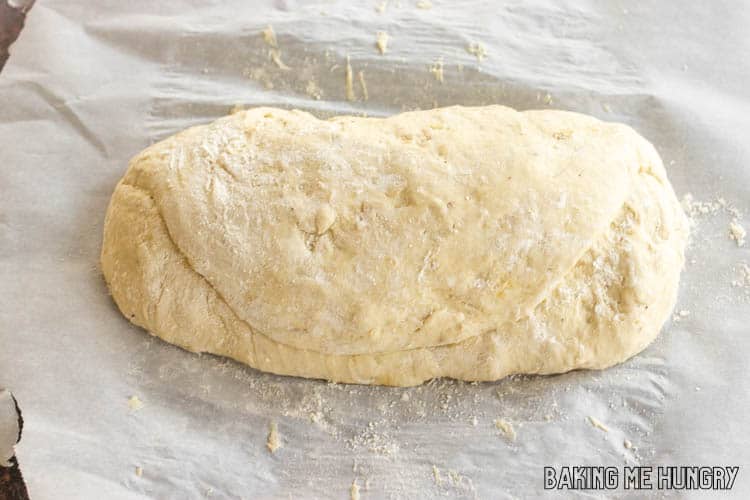 Step Six: Put the Dutch oven into the oven and preheat it to 450 degrees. Score the dough.
Step Seven: Put the feta cheese bread dough into the Dutch oven carefully and add the lid.
Step Eight: Bake for 30 minutes. Take off the lid and bake for another 10 minutes.
Expert Tip: For a thicker, darker crust remove the bread from the dutch oven and bake on the rack for an additional 8-10 minutes.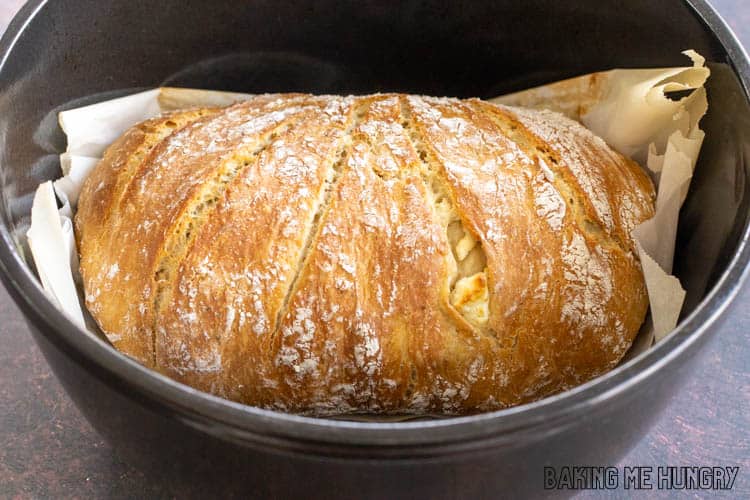 Step Nine: Remove and let the bread cool for 2-3 hours on a wire rack.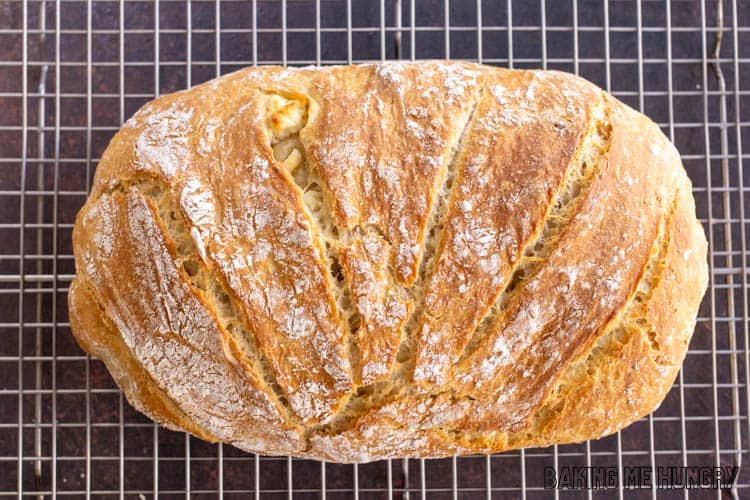 Variations
Change the type of cheese – While I love adding feta cheese, you can also use goat cheese, hard cheese such as parmesan cheese, or any other type of cheese that you want.
Add olives – If you want to turn this into an olive bread recipe, add some sliced kalamata olives into the dough mixture, or press them on top.
Spices & Herbs – Garlic powder, fresh chopped rosemary, thyme, oregano, or basil can be sprinkled on top of the feta before rolling up the feta bread for a boost of flavor.
Common Questions
How do I know that the yeast is still active?
It's important to have active yeast for this recipe so that the plain flour reacts with it to create the dough. Add some of the yeast to a bowl of lukewarm water, and let it set for 3-4 minutes. After a short time, the yeast and water should create a "foam" look to it, indicating that the yeast is active and ready to use.
It's a good idea to test you're yeast before starting this bread recipe as you don't want to find out halfway through that the yeast isn't active. Without active yeast, the bread won't rise properly, creating flat and hard bread. Test the yeast first for the best results.
How do I keep the bread from sticking to the pan?
Make sure that you either grease the Dutch oven or add parchment paper before adding the dough. An oiled bowl or pan is necessary so that the dough doesn't stick.
What is the best way to store leftover bread?
Once the feta bread is baked, it's important to store it so that it doesn't get stale and hard. Bread will dry out very quickly, so proper storage is key. The best way to store leftover bread is to add it to an airtight container and then keep it at room temperature.
If the bread does get stale and hard, you can always pop it in the microwave for about 10-15 seconds to warm it up, and that will help soften it to eat and enjoy.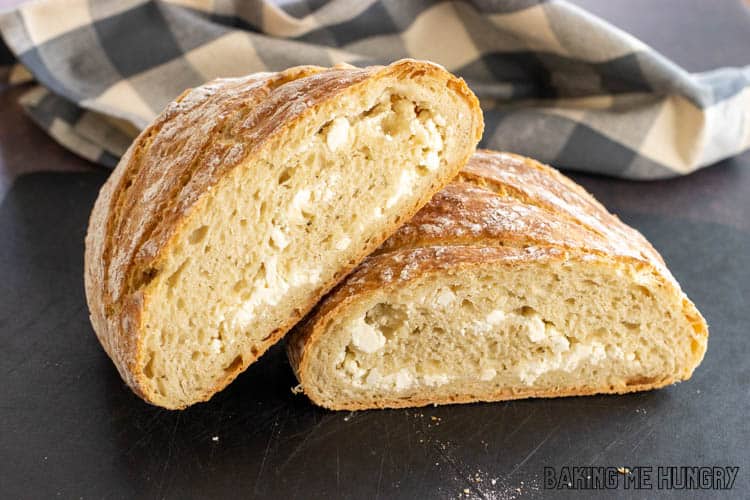 Ingredients
3.25

cups

flour

½

tablespoon

yeast

2

teaspoon

kosher salt

½

tsp

black pepper

1 ⅓

cups

water

1

oz

olive oil

1

cup

feta cheese
Instructions
Mix the first 6 ingredients together in a large bowl with a dough whisk or wooden spoon. Do not knead. Just mix until a shaggy dough forms.

Cover the bowl and let rise for 2 hours.

Dump the dough onto a lightly floured surface. Sprinkle flour on top. Press into a large rectangle (about 10" x 14") with your fingers.

Sprinkle the feta cheese over the dough. Roll up the dough starting at a short edge. Form the dough into a rectangular boule shape.

Preheat a Dutch oven in the oven to 450.

Carefully transfer the bread to the hot Dutch oven and cover it with the lid.

Remove the lid. Bake for an additional 10 minutes.

Remove from the Dutch oven and let cool on a wire rack for at least 2-3 hours before slicing.
Nutrition
Calories:
133.5
kcal
|
Carbohydrates:
19.8
g
|
Protein:
4
g
|
Fat:
4
g
|
Saturated Fat:
1.5
g
|
Polyunsaturated Fat:
0.3
g
|
Monounsaturated Fat:
1.8
g
|
Cholesterol:
8.3
mg
|
Sodium:
399.2
mg
|
Potassium:
35.1
mg
|
Fiber:
0.7
g
|
Sugar:
0.1
g
|
Vitamin A:
39.9
IU
|
Vitamin C:
0.001
mg
|
Calcium:
51.1
mg
|
Iron:
1.3
mg