This Chocolate Chip Bread Pudding is the perfect comfort food. It's warm, gooey, and filled with chocolate chips. Plus, it's easy to make. Simply combine bread, milk, eggs, sugar, and chocolate chips, and bake. In less than an hour, you'll have a delicious dessert that your family will love.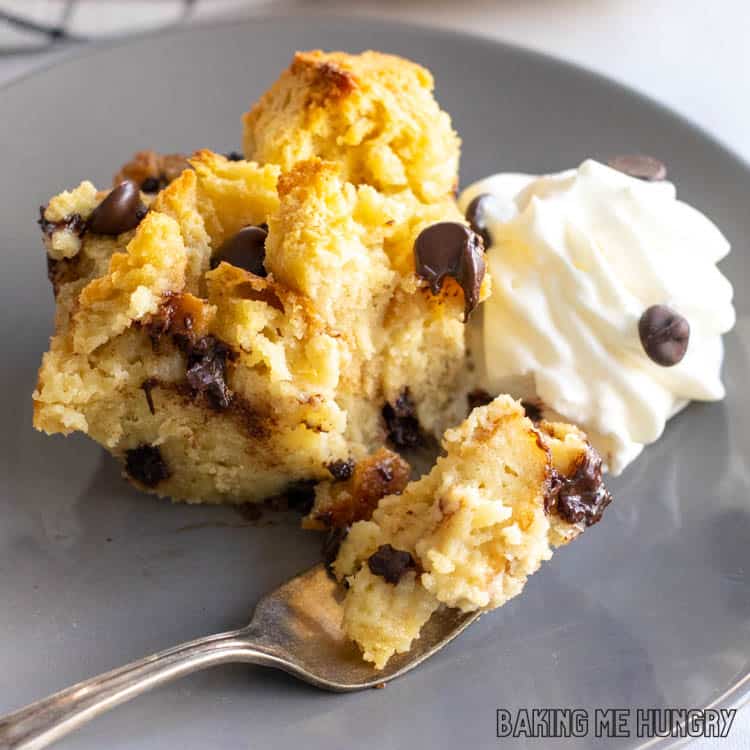 Bread pudding with chocolate chips is a delicious dessert that can be made at home with just a few simple ingredients. This dish is perfect for satisfying your sweet tooth, and it can be easily made ahead of time. Best of all, this recipe is versatile and can be easily customized to your liking.
So, whether you like your bread pudding recipe with a hint of cinnamon or a touch of vanilla, there's sure to be a version of this dessert that you'll love.
We love homemade bread in our house in all forms from a crusty artisan bread to feta bread and any flavor of bread pudding.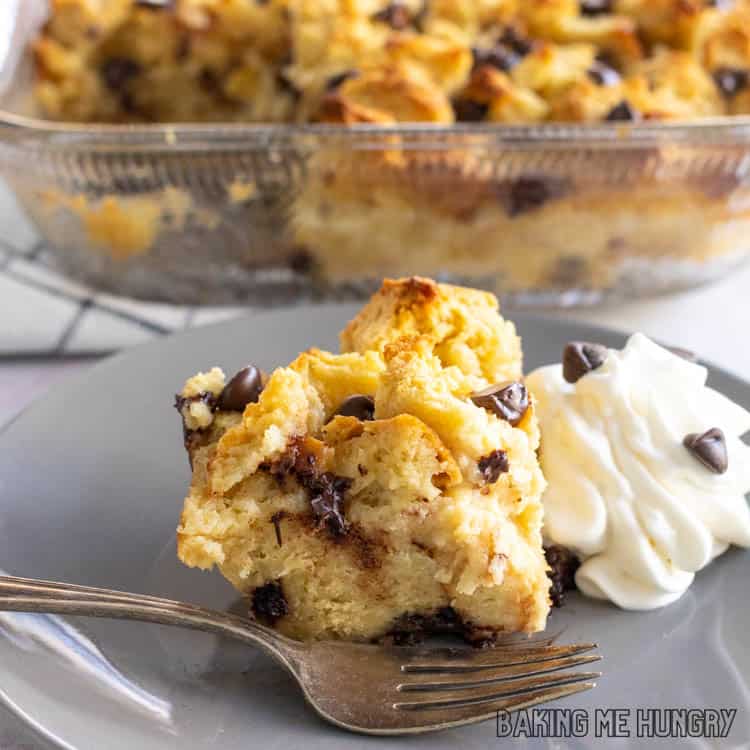 Ingredients
Bread – I love to use homemade challah bread for this recipe. I make the challah bread from Artisan Bread in Five Minutes a Day almost once a week and then freeze leftovers in cubes. It tastes amazing in bread-based desserts. Otherwise, brioche bread or any egg-enriched bread is perfect. In a pinch, use high-quality white bread.
Whole Milk – Whole milk is used in bread pudding because it provides a richness and depth of flavor that cannot be achieved with skim milk. The fat in the milk coats the bread and helps to create a custard-like texture. Whole milk also helps to create a more moist pudding.
White Sugar & Brown Sugar – The combination of white sugar and brown sugar is often used in baking because it provides the perfect balance of sweetness and flavor. The brown sugar gives the baked goods a richer flavor, while the white granulated sugar keeps them from being too heavy. This combination is also helpful in ensuring that the baked goods retain their moisture.
Eggs – The eggs in bread pudding serve a few purposes. First, they add structure and body to the dish. Second, they help to bind the other ingredients together. Third, they add richness and creaminess. Fourth, they contribute to the overall flavor of the dish. Finally, they provide a bit of color.
Vanilla Extract – Vanilla enhances the other flavors in this baked pudding.
Salted Butter – The saltiness of the butter helps to offset the sweetness of the dessert, and also adds a unique flavor that many people enjoy. If you don't have salted butter just add a pinch of salt.
Chocolate Chips – Semisweet chocolate chips are a type of chocolate that is used in desserts. These chocolate chips have a lower sugar content than milk chocolate or dark chocolate, which makes them ideal for use in baking. Semisweet chocolate chips can be used in a variety of desserts, such as cookies, brownies, and cakes.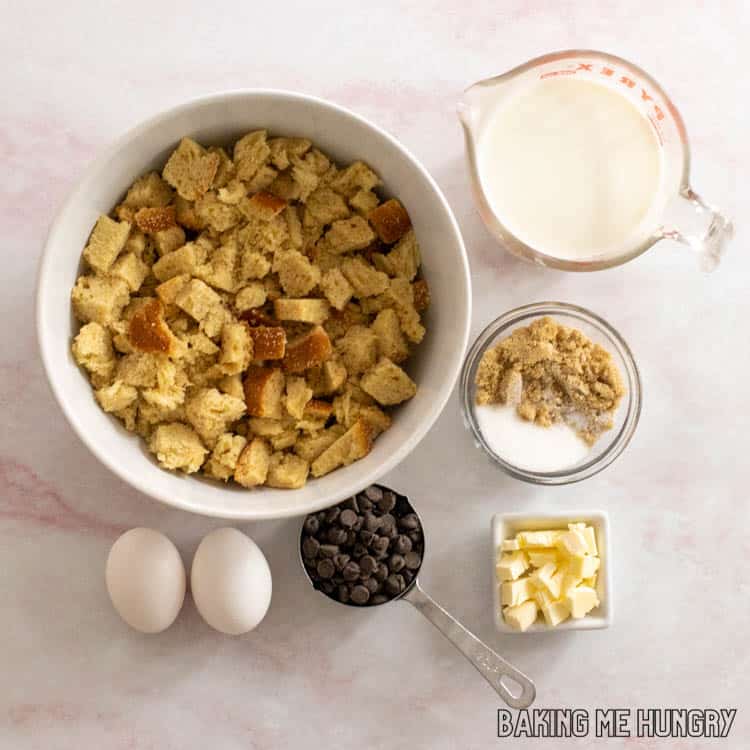 How to Make Chocolate Chip Bread Pudding
Step One: First, combine the milk, eggs, sugars, and vanilla in a blender. Blend until smooth.
Expert Tip: If you don't have a blender just whisk the custard in a large bowl.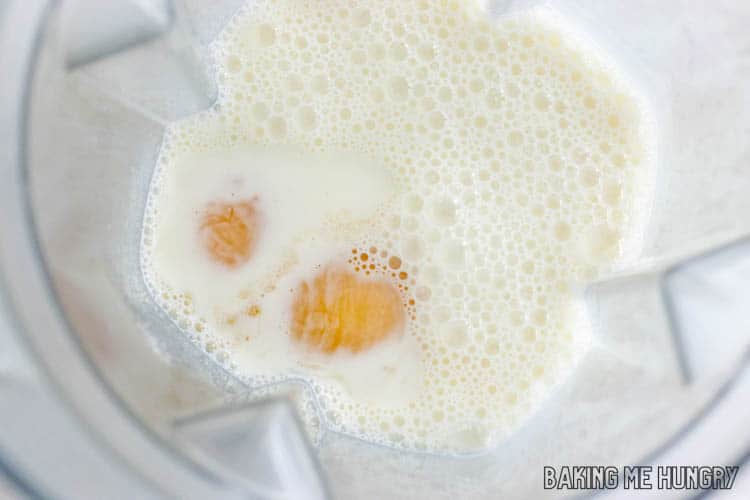 Step Two: Put the bread cubes in a large bowl. Next, pour the custard over the cubed bread.
Step Three: Gently fold the bread with the milk mixture until it is all moistened.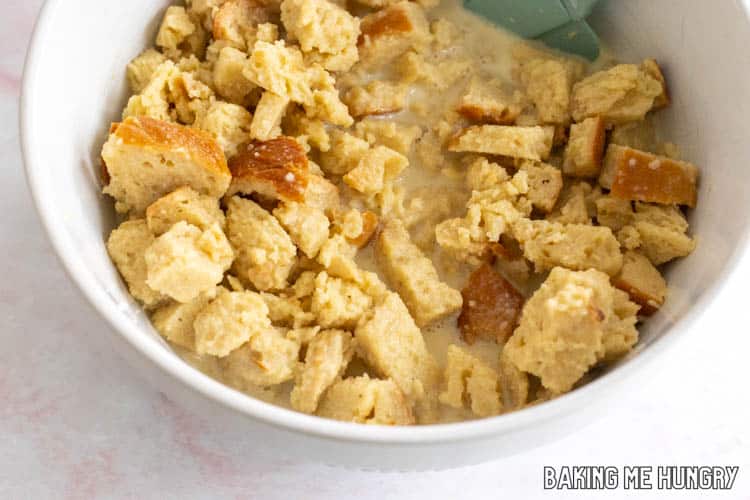 Step Four: Next, stir in the chocolate chips. Make sure to be gentle so the cubes don't break up.
Step Five: Grease a baking dish. Transfer to the prepared baking pan, and top with additional chocolate chips, and small pieces of butter.
Step Six: Bake until golden brown and no longer jiggly.
Variations
Nuts – Chopped pecans, walnuts, or even macadamia nuts are great additions. You can mix them in or sprinkle them on top.
Chocolate – Swap out the semi sweet chocolate chips for white chocolate chips, milk chocolate chips, dark chocolate chips, chocolate chunks, or flavored chocolate chips. Or drizzle with melted chocolate after it cools.
Dairy-Free – Use dairy-free milk such as almond milk, coconut milk, or oat milk, and leave off the pats of butter.
Sugar-Free – Swap out the sugars for a sugar-free sweetener and make sure to use sugar-free chocolate chips.
Spices – Add cinnamon, nutmeg, pumpkin pie spice, or any other baking spice you enjoy.
Extracts – I use a bit of vanilla extract but almond extract or maple extract are delicious as well.
Fruit – Switch out the chocolate for fruit. Dried fruit such as raisins or dried cranberries both work well. Berries, especially blueberries, are delicious. Or use chopped apples, peaches, or pears.
Common Questions
What to serve with chocolate chip bread pudding?
Whipped cream is a great choice. Just whip up heavy cream and add a bit of powdered sugar. Another nice addition is vanilla ice cream.
You can also plate pieces with a schmear of raspberry sauce or caramel underneath. Or drizzled on top.
How do I store bread pudding?
I recommend storing this in the fridge since it has a milk and egg custard base. If you like warm bread pudding just warm up individual pieces in the oven or microwave.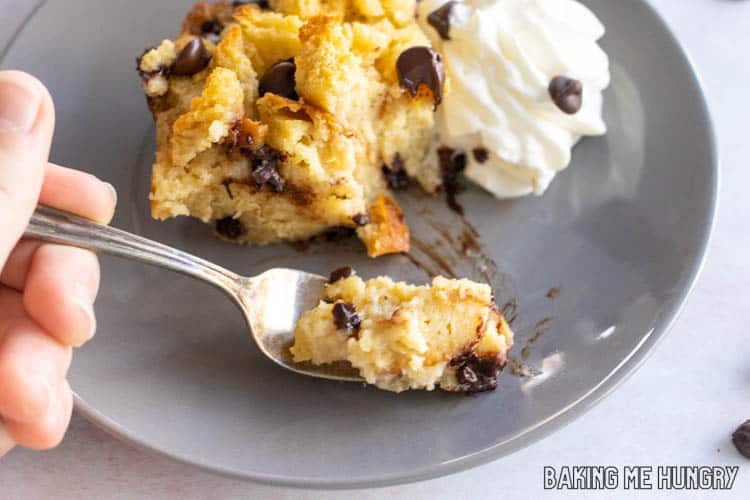 Can I freeze bread pudding?
Yes, you can. I recommend freezing individual portions wrapped in plastic wrap.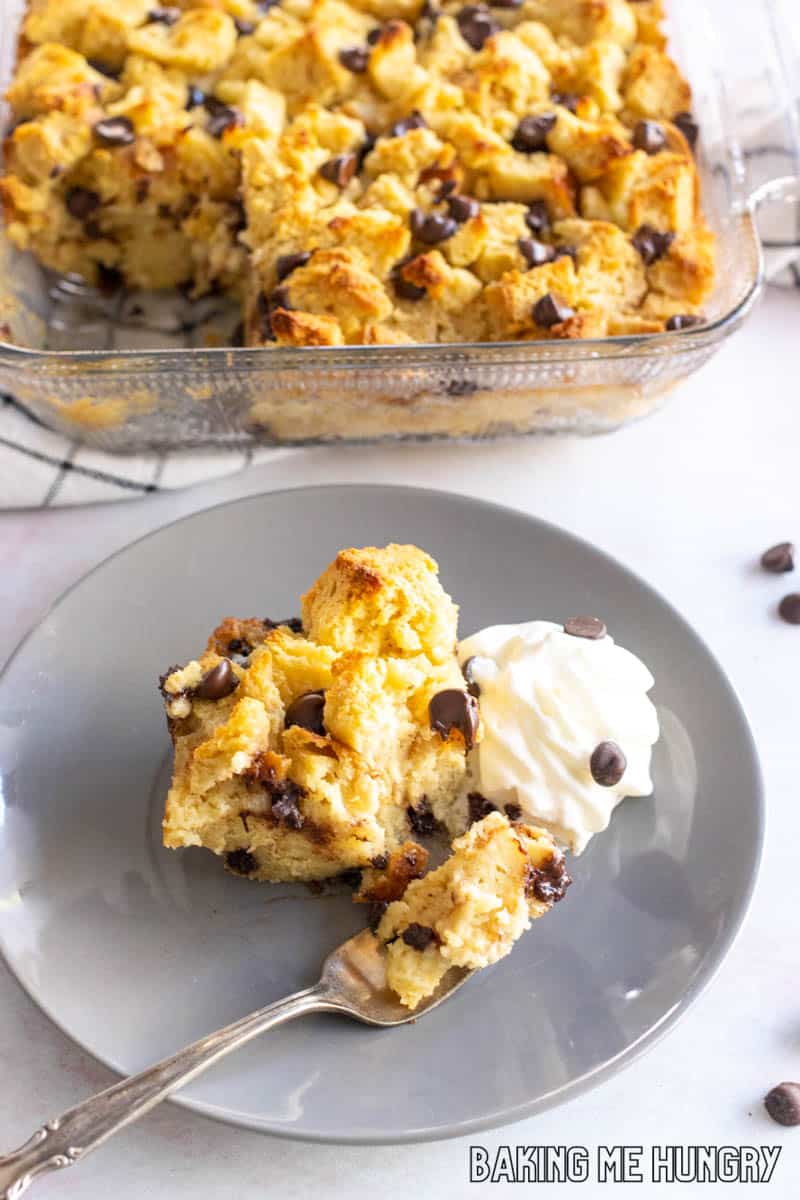 Like what you see? Follow us on Facebook and on Instagram! Love this recipe? Leave a comment & a 5-star rating right here! Make sure you don't miss new recipes by getting email updates!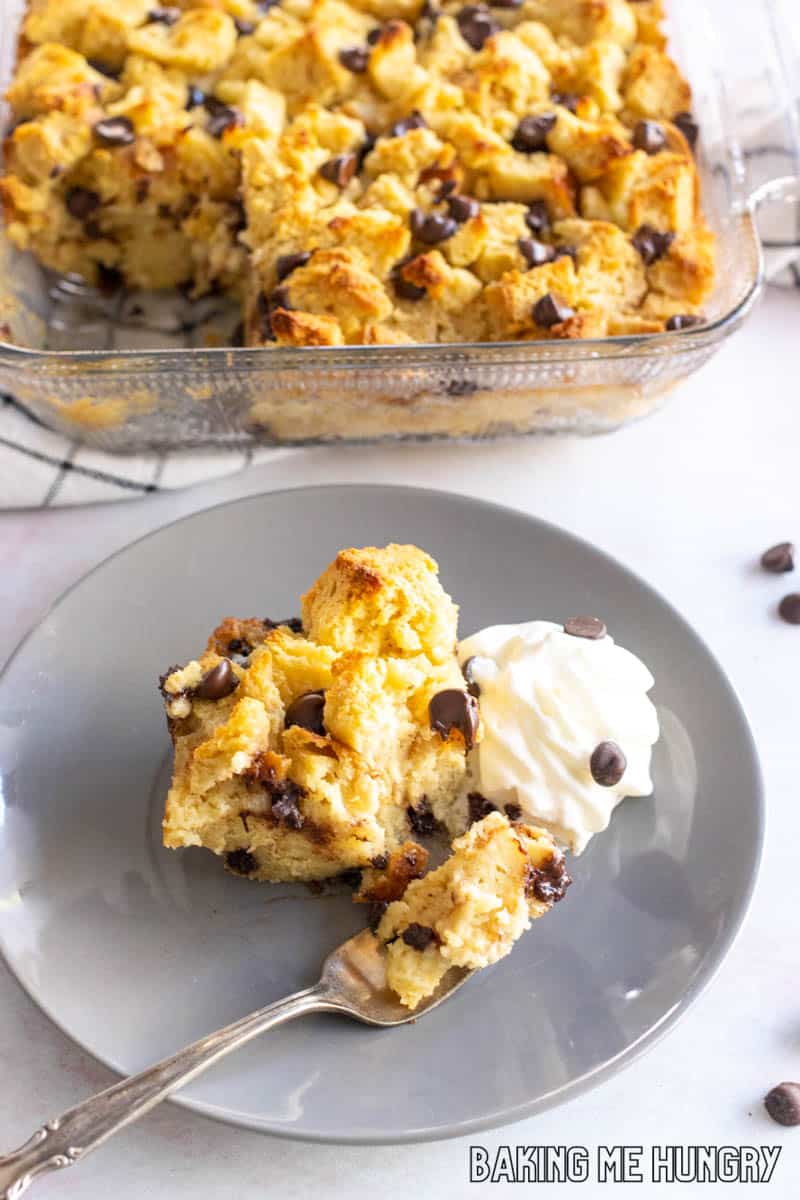 Ingredients
6

cups

bread cubes

(challah or brioche)

2

cups

milk

2

eggs

¼

cup

sugar

¼

cup

brown sugar

1

teaspoon

vanilla extract

¼

teaspoon

salt

2

tablespoon

salted butter

cut into small pieces

½

cup

semisweet chocolate chips
Instructions
Preheat the oven to 350 degrees. Grease an 8x8 baking dish.

Combine milk, vanilla, sugars, and salt. Mix well.

Fold in the bread cubes and ⅔ of the chocolate chips.

Pour into the prepared baking pan. Top with remaining chocolate chips and butter.

Bake for approximately 40 to 45 minutes, or until custard is set but still a little wiggly and the edges of the bread have browned. Serve warm or at room temperature.
Notes
Nutrition: The nutrition facts are for one serving. This recipe has 9 servings.
Nutrition
Calories:
273.6
kcal
|
Carbohydrates:
37.1
g
|
Protein:
7.7
g
|
Fat:
10.7
g
|
Saturated Fat:
5.4
g
|
Polyunsaturated Fat:
1.1
g
|
Monounsaturated Fat:
2.8
g
|
Trans Fat:
0.1
g
|
Cholesterol:
50.2
mg
|
Sodium:
298.4
mg
|
Potassium:
213.2
mg
|
Fiber:
2.3
g
|
Sugar:
19.9
g
|
Vitamin A:
224.1
IU
|
Vitamin C:
0.1
mg
|
Calcium:
130.9
mg
|
Iron:
2.2
mg
Want more great dessert recipes? Try these:
Chocolate Peanut Butter Oatmeal Balls