Everyone will love the flavor of these Lemon Blueberry Cookies! They're the perfect summer cookie with an addictively intense blueberry flavor. These delicious cookies are fast and easy to make, with only five simple ingredients needed.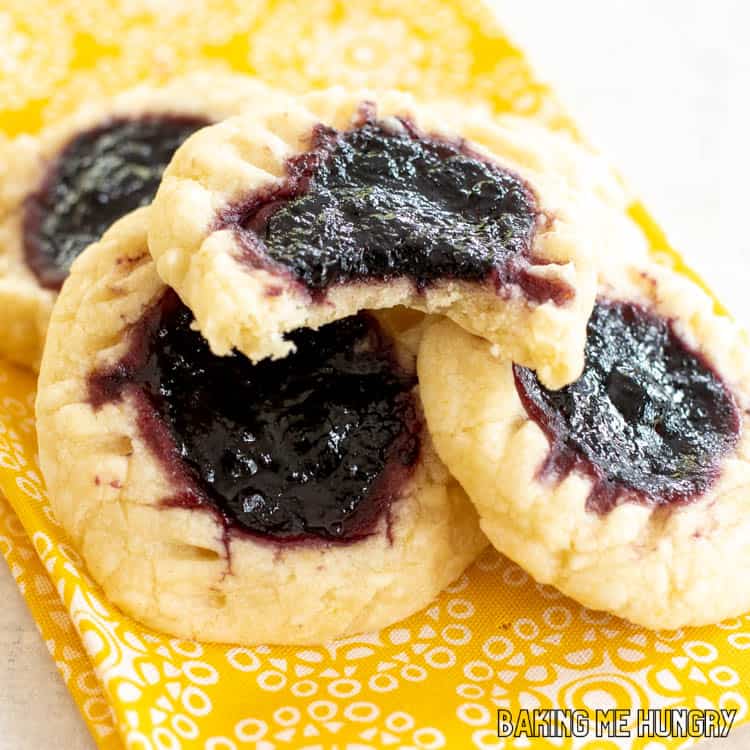 The first thing that you'll love about this simple recipe is that it makes the best soft lemon blueberry cookies. It's one of my favorite recipes because each cookie bite gives me a yummy chewy center with the perfect crispy edges. The addition of the sweet blueberries in the form of jam or preserves pairs perfectly with the fresh lemon flavor.
This is inspired by our recipe for Strawberry Shortbread Cookies.
Once you discover how simple it is to make these blueberry lemon cookies, you'll be sure to keep this recipe card handy. This is one of those easy recipes that anyone can make perfectly. Even the first time you make it you can wow all their family and friends. Use this for a baby shower, a summer treat, or a great way to add a pop of extra flavor anytime that you want.
Be sure to check out my Banana Blueberry Oatmeal Muffins and Starbucks Blueberry Scone Recipe other fun and easy recipes to make with a lovely blueberry taste.
Ingredients
All-purpose flour – This is what gives the cookies their sturdy and chewy texture.
Salted butter – Creates richness and helps to bind the wet and dry ingredients together.
Powdered sugar – For the perfect sweet flavor.
Lemon zest or lemon extract – You can choose to use whatever works best for you. Just be aware that a little bit of lemon extract or zest goes a long way in terms of flavoring this lemon sugar cookie dough! They are more potent than using fresh lemon juice.
Blueberry jam or blueberry preserves – Both are delicious and pair well with the lemon flavor.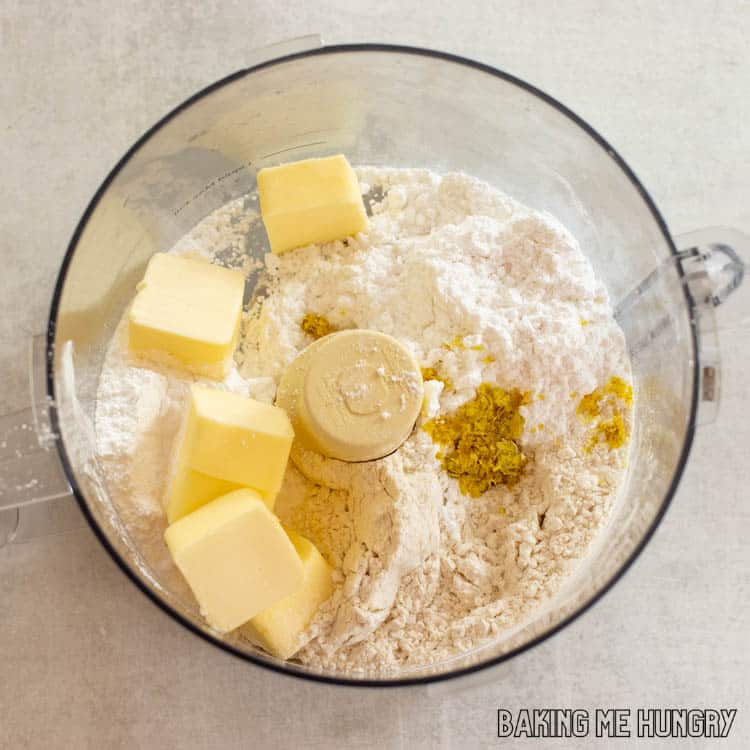 How to make Lemon Blueberry Cookies
Step One: Preheat the oven to 350 degrees. Add parchment paper to a baking sheet.
Step Two: Mix the flour, butter, sugar, and lemon extract/zest together in a food processor.
Expert Tip: If the dough feels too dry add another teaspoon of room temperature butter.
Step Three: Divide the mixture into 20 balls on the prepared cookie sheet.
Step Four: Press the middle of each cookie ball flat using your thumb. Then, use a fork to create lines around the edges.
Step Five: Put the jam mixture evenly in the flat part of each cookie.
Step Six: Put the pan in the oven and bake for 12-14 minutes.
Variations
Use fresh juicy blueberries – The fun part about making this perfect cookie is that you can use fresh or frozen blueberries (or even wild blueberries) instead of jam. Just cook them down a bit, add sugar or brown sugar as desired, and let them cool before adding them to the middle of the chewy cookie. You'll still love the flavor of fresh blueberries added to the tops of the cookies.
Add toppings – If you want to add a topping to this lemon blueberry sugar cookie recipe, go for it! You can easily make a tangy lemon glaze to drizzle over the top or even melt some white chocolate chips to drizzle as well.
Use fresh lemon juice – Adding a tad bit of fresh lemon juice into the cookie batter gives a milder lemon flavor than using zest or extract.
Vanilla blueberry cookies – Just swap in vanilla extract for the lemon extract or zest.
Common Questions
Do I need to chill these cookie dough balls?
You actually don't! I know that a lot of recipes call for chilling the dough for a short time once it's made, but this lemon blueberry cookie recipe isn't one of them. As you can see from the detailed instructions below, this cookie recipe requires minimal prep time and minimal cooking time.
There is no need for a chill time like the other chill cookie recipes.
​How do I flatten the middle of these chewy lemon blueberry cookies?
​The easiest and quickest way to flatten the cookies is to use your thumb or hand. If you don't want to do that, using the back of a spoon works great, too. The cookie dough isn't a sticky dough, so you really shouldn't have any issues with the dough sticking to your hands or the back of the spoons.
How do I store leftover cookies?
Since this recipe makes a batch of cookies, you may find that you have a few leftovers. This is good news because that means you'll be able to enjoy that yummy taste and flavor all over again.
Once these golden brown cookies have cooled to room temperature, store them in an airtight container and keep them in the fridge. This is the best way to keep them fresh and ready to eat, anytime that craving strikes.
If you don't want the cookies cold to eat, just let them set out for a few moments to get to room temperature.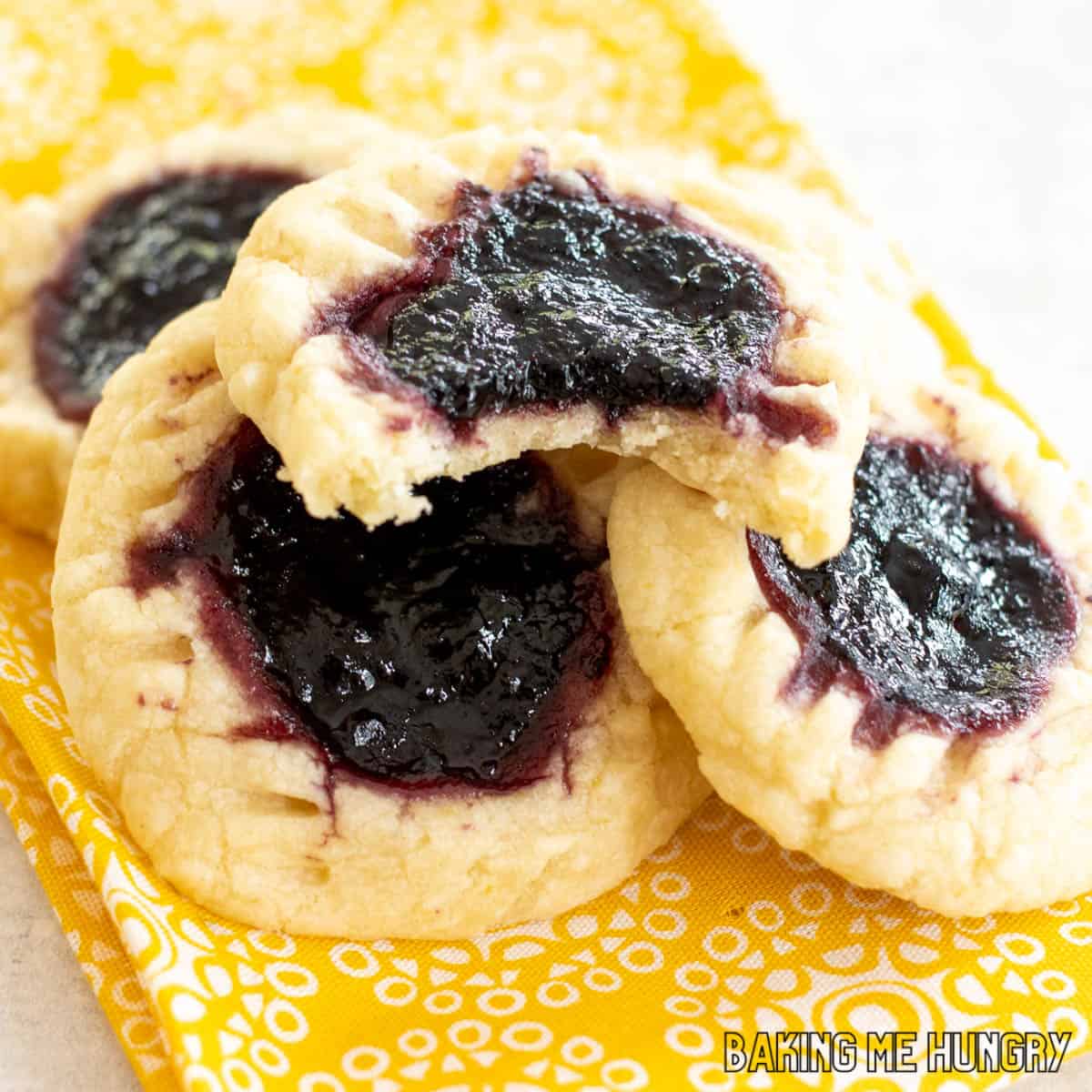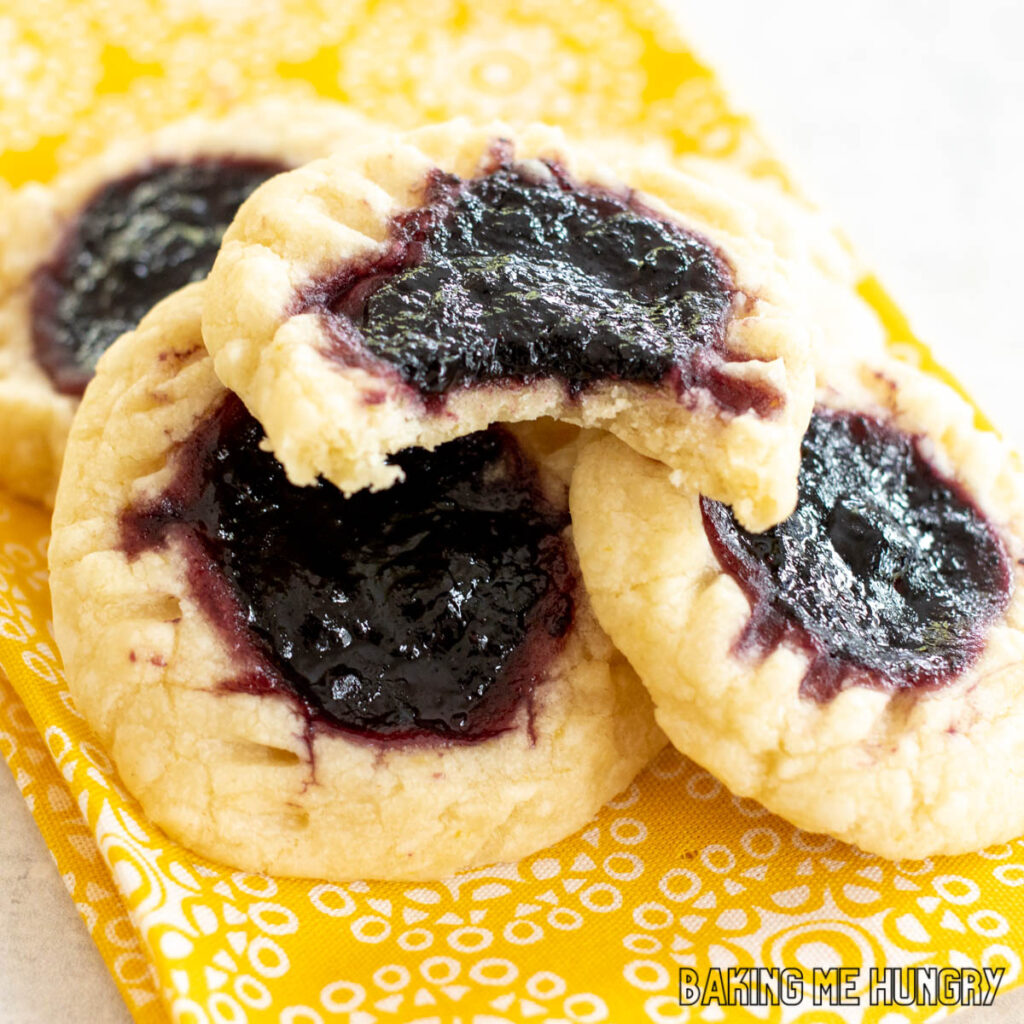 Ingredients
1

cup

all-purpose flour

⅔

cup

salted butter

⅓

cup

powdered sugar

1

teaspoon

lemon zest or lemon extract

⅓

cup

blueberry jam or preserves
Instructions
Preheat oven to 350. Line a baking sheet with parchment paper.

Mix together the first 4 ingredients in a food processor.

Divide into 20 balls.

Press the center of each ball flat with your thumb. Use a fork to create lines around the edges.

Divide the jam between the cookies.

Bake for 12-14 minutes.
Nutrition
Calories:
100.6
kcal
|
Carbohydrates:
10.7
g
|
Protein:
0.7
g
|
Fat:
6.2
g
|
Saturated Fat:
3.9
g
|
Polyunsaturated Fat:
0.3
g
|
Monounsaturated Fat:
1.6
g
|
Trans Fat:
0.2
g
|
Cholesterol:
16.3
mg
|
Sodium:
50.6
mg
|
Potassium:
13.1
mg
|
Fiber:
0.2
g
|
Sugar:
4.7
g
|
Vitamin A:
189.1
IU
|
Vitamin C:
0.6
mg
|
Calcium:
4
mg
|
Iron:
0.3
mg
If you love this flavor combination try our Blueberry Lemon Baked Oatmeal for a flavorful and hearty breakfast!