Treat yourself to a classic! Delight your taste buds with this easy-to-follow recipe for delicious strawberry shortbread cookies! Enjoy the perfect blend of buttery, sweet, and tart flavors in every bite. With just 5 simple ingredients you can make amazing strawberry-filled shortbread cookies in less than 30 minutes.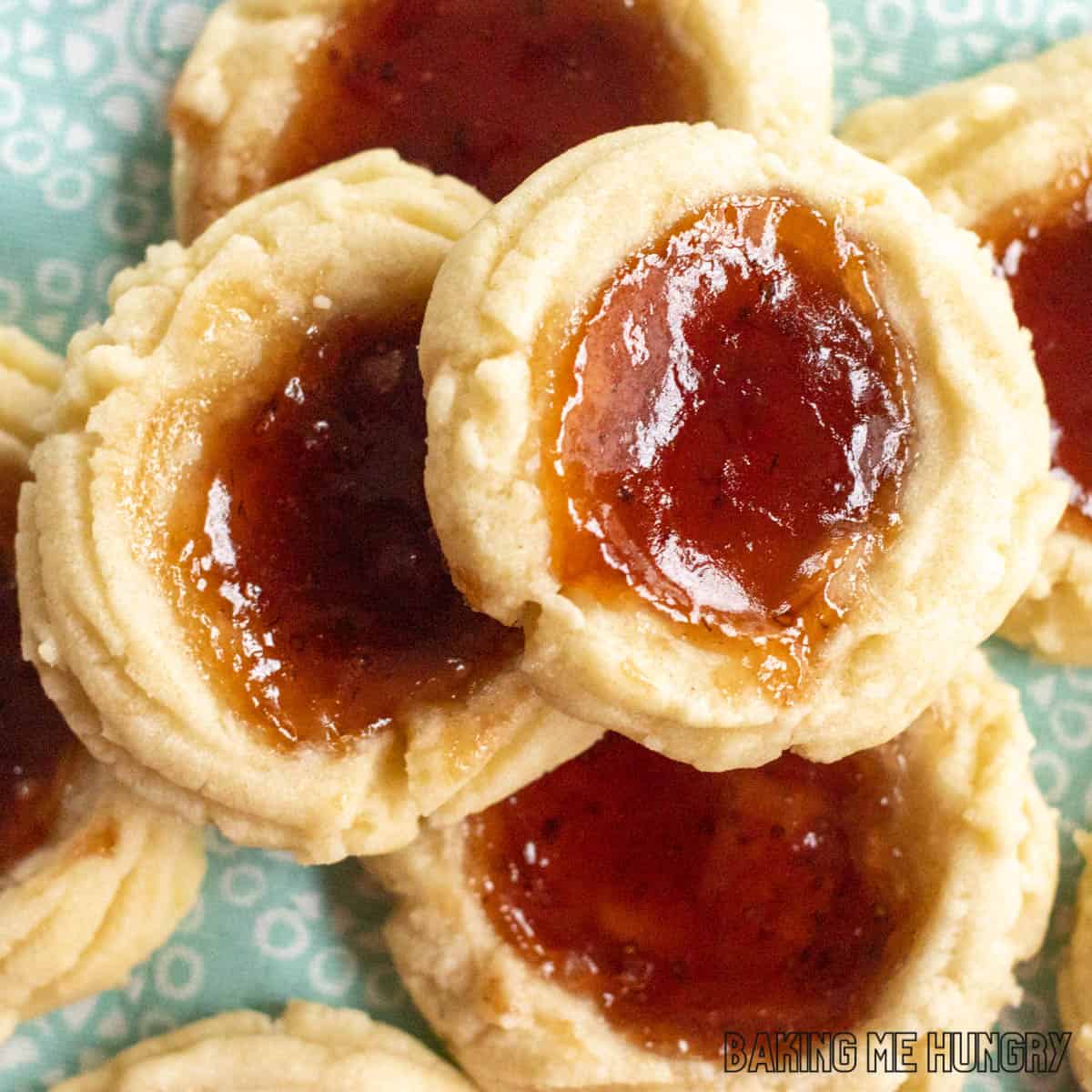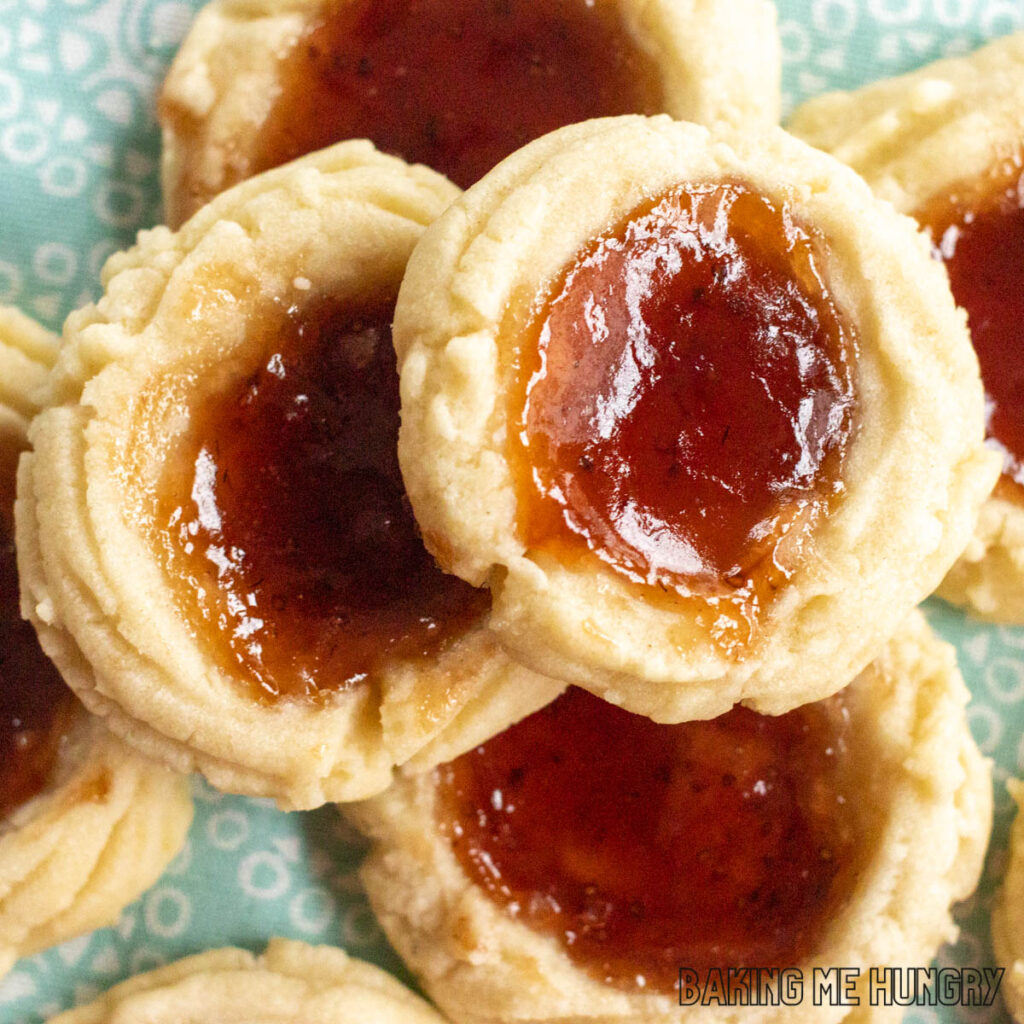 I have always loved the little Verona cookies from Pepperidge Farms. They are crisp and buttery with a nice ratio of jam to cookie. But they are also a bit expensive for the number of cookies in the package. I really wanted to replicate that favorite at home.
Try this easy recipe for strawberry shortbread cookies today and I'm sure you will agree that these cute treats are sure to be a hit with family and friends.
Make sure to try our White Chocolate and Raspberry Blondies and Biscoff Butter Cookies next!
Ingredients
All-Purpose Flour – All-Purpose Flour is a versatile pantry staple that can be used to make a wide variety of baked goods. From cakes and cookies to muffins and pancakes, this flour is the standard for baking.
Salted Butter – I use salted butter for baking cookies as I've found the added salt balances the sweetness nicely. The rich taste and creamy texture from using real butter make these cookies truly irresistible.
Powdered Sugar – Unlike granulated sugar, powdered sugar is finely milled so it dissolves easily in liquids and creates a smoother texture in baked goods. It is traditionally used in shortbread cookies for this reason.
Vanilla Extract – Vanilla Extract is an essential ingredient for baking and cooking. A few drops of this extract will take your recipes from ordinary to extraordinary. It's amazing how much it enhances the other flavors.
Strawberry Jam – The richness and depth of the strawberry jam combined with the light and buttery shortbread create a delicious combination you won't be able to resist. I like to use a natural, chunky strawberry jam with seeds that has plenty of strawberry flavor.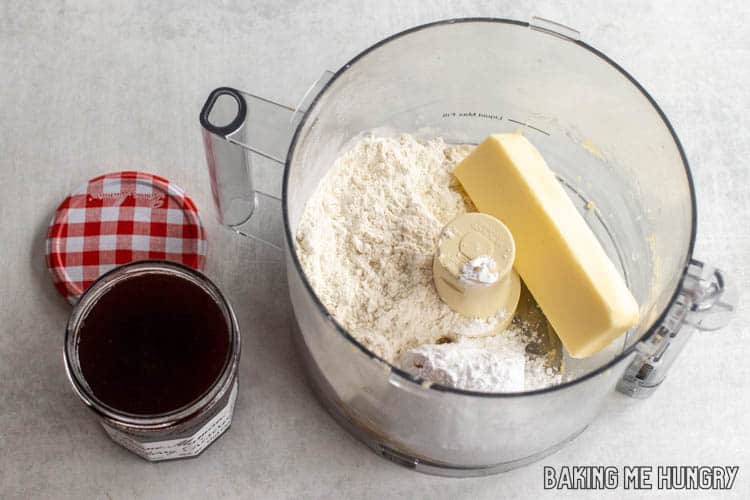 How to Make Strawberry Shortbread Cookies
Step One: Preheat oven to 350. Line a baking sheet with parchment paper or silicone mat.
Step Two: Mix together the first 4 ingredients in a food processor. Make sure to scrape the sides of the bowl so all the ingredients are thoroughly incorporated. Just keep the processor running until a ball of dough forms.
Expert Tip: I like to use the food processor to cut the cold butter into the dough but you can also just mix the dough with room temperature butter in a stand mixer with the paddle attachment or with an electric mixer in a medium or large bowl if you don't have a food processor.
Step Three: Divide into 20 balls. Press the center of each ball flat with your thumb. Use a fork to create lines around the edges.
Expert Tip: To create the lines I just ran the tines of the fork gently in a circular motion around the outer edge of each cookie.
Step Four: Divide the jam between the cookies.
Step Five: Bake for 12-14 minutes. Until the edges are slightly golden and the jam has bubbled and thickened. Cool on a wire rack and then store in an airtight container. If you plan to stack them reuse the parchment paper between the layers.
Storage: Keep in an airtight container or wrap individual cookies with plastic wrap. They will keep in the fridge for 1-2 weeks or in the freezer for 3-4 months.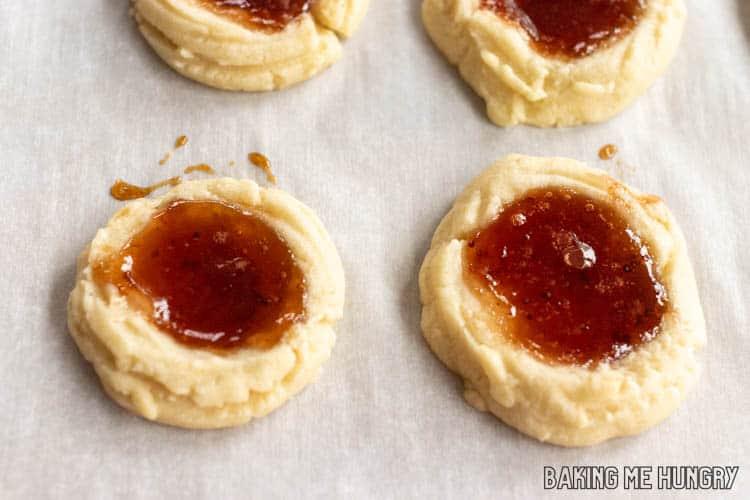 Variations
Jam – The easiest way to change out the flavor of these cookies is to use another type of jam. Apricot jam, blueberry jam, cherry jam, blackberry jam, and raspberry jam are all delicious.
Zest – Add lemon zest or lime zest. We love the combination of these Lemon Blueberry Cookies.
Chocolate – Swap out the jam for chocolate ganache. Just bake the cookies first and then add the chocolate filling after they cool.
Extracts – For a more buttery flavor add a bit of butter extract to make strawberry butter cookies. Almond extract also pairs nicely with the other flavors.
Drizzle – Drizzle the cooled shortbread with melted white chocolate.
Strawberries & Cream Filling – Mix a tablespoon of heavy cream into the jam before adding it to the cookies.
Strawberry Glaze – Melt a tablespoon of the jam and then brush it on the cooled cookies for some extra shine.
Common Questions
Is it better to use powdered sugar or granulated sugar for shortbread cookies?
This can be a personal preference. However, granulated sugar is more likely to yield a firmer texture in the finished product. This is because granulated sugar has larger crystals than powdered sugar. For a tender, soft, melt-in-your-mouth shortbread you do want to use fine powder sugar (aka confectioner's sugar).
What is the difference between a butter cookie and a shortbread cookie?
The primary difference between a butter cookie and a shortbread cookie is the ratio of fat to flour. A butter cookie typically contains more fat than shortbread cookies, which contributes to its characteristic crunchy texture. On the other hand, a shortbread cookie is characterized by its higher flour-to-fat ratio and its crumbly, sandy consistency.
What is the difference between English shortbread and Scottish shortbread?
True Scottish shortbread is made using only one part sugar, two parts butter, and three parts flour. English shortbread uses more flour and powdered sugar instead of granulated sugar. English shortbread also tends to use a leavening agent like baking powder. Irish shortbread replaces some of the flour with cornstarch.
Serving these for Valentine's Day? Make a batch of this Valentines Rice Krispie Treats Recipe too!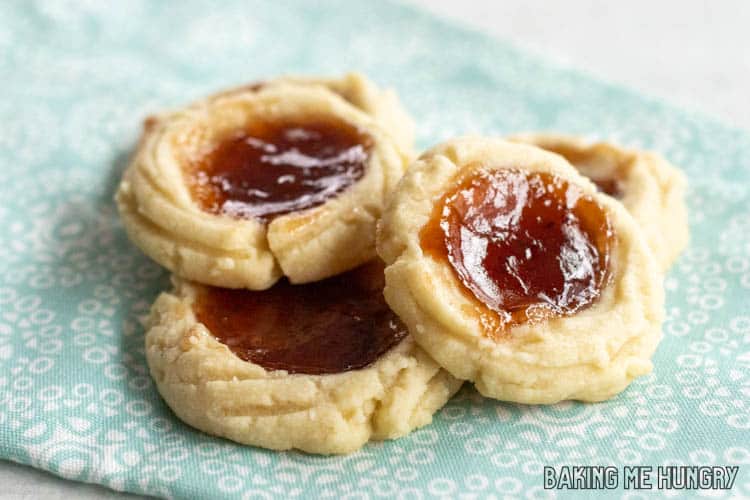 Like what you see? Follow us on Facebook and on Instagram! Love this recipe? Leave a comment & a 5-star rating right here! Make sure you don't miss new recipes by getting email updates!
Ingredients
1

cup

all-purpose flour

½

cup

salted butter

⅓

cup

powdered sugar

1

teaspoon

vanilla extract

⅓

cup

strawberry jam or preserves
Instructions
Preheat oven to 350. Line a baking sheet with parchment paper.

Mix together the first 4 ingredients in a food processor.

Press the center of each ball flat with your thumb. Use a fork to create lines around the edges.

Divide the jam between the cookies.

Bake for 12-14 minutes.
Nutrition
Serving:
1
cookie
|
Calories:
87.5
kcal
|
Carbohydrates:
10.7
g
|
Protein:
0.7
g
|
Fat:
4.7
g
|
Saturated Fat:
2.9
g
|
Polyunsaturated Fat:
0.2
g
|
Monounsaturated Fat:
1.2
g
|
Trans Fat:
0.2
g
|
Cholesterol:
12.2
mg
|
Sodium:
38.5
mg
|
Potassium:
12.7
mg
|
Fiber:
0.2
g
|
Sugar:
4.8
g
|
Vitamin A:
141.8
IU
|
Vitamin C:
0.5
mg
|
Calcium:
3.5
mg
|
Iron:
0.3
mg