This Matcha Blondies Recipe is the perfect dessert for any occasion! Green tea blondies are easy to make and taste delicious. In this recipe, we will show you how to make matcha blondies that are chewy, flavorful, and have just the right amount of sweetness.
I love blondies because they are easy to make and you can use whatever mix-ins that you want! This blondie recipe is a great starter blondie base without the matcha. The brown sugar just adds enough flavor without making the blondies too sweet. I based these off of our Mini Egg Cookie Bars and White Chocolate and Raspberry Blondies.
What is Matcha?
Matcha is green tea leaves that have been processed into finely ground powder. It has a unique, slightly sweet flavor and is high in antioxidants. Matcha blondies are a delicious way to enjoy the benefits of matcha. This quick recipe is easy to follow and produces blondies with a hint of green tea that are moist and flavorful. They are also nice to look at with a subtle green color that is perfect for March and St. Patrick's Day.
Ingredients
Butter – Butter is a fat source used frequently in baking. It keeps baked goods like cakes and cookies moist. I use salted butter to balance out the sweetness of the sugars. Make sure your butter is room temperature so it mixes easily. If you use unsalted butter add an extra pinch of salt.
Sugar – White sugar helps to create a light and fluffy texture in cakes and cookies.
Brown sugar – Light brown sugar is made by taking regular sugar and adding molasses to it. This makes it sweeter and gives it a richer flavor.
Egg – Eggs are responsible for giving baked goods their structure and texture. For these reasons, eggs are a very important ingredient in many baked goods recipes.
Vanilla – When you bake something, you might add vanilla extract to it. This is because vanilla extract tastes good and makes things taste better. It is a type of flavoring that you can put in food.
Flour – All purpose flour is can be used for most baking recipes. All-purpose flour is perfect for making everything from bread to cake to cookies.
Matcha powder – The amount of matcha green tea powder you use will vary the intensity of the blondies greatly. Use less for milder flavored matcha blondies or more for a more intense green tea vibe. Try to choose a quality matcha powder.
Baking soda – Baking soda is a leavening agent that helps baked goods rise. It does this by reacting with an acidic ingredient in the recipe and releasing carbon dioxide gas. This gas causes the batter or dough to rise and form a light, fluffy texture.
Salt – The salt crystals help to bring out the flavors of the other ingredients in the recipe. For example, if you are baking salted brownie cookies, the salt will make the chocolate taste even more delicious!
White chocolate chips – White chocolate chips are like regular chocolate chips, but they are white and made with cocoa butter, milk, sugar, and vanilla. Just like regular chocolate chips, you can use them in cookies, brownies, or any other recipe that calls for chocolate chips.
How to Make Matcha Blondies
Step One: Cream together the softened butter and sugars in a medium or large bowl.
Step Two: Next, stir in the dry ingredients. You only need a bowl and a wooden spoon to mix up this recipe.
Step Three: After that, fold in the white chocolate chips.
Step Four: Next, spread the batter mixture in a parchment paper-lined pan (8×8 or 9×9 work) and top with a few more white chips.
Expert Tip: My blondies were baked in a 9×9 square baking pan and came out a little thin. For thicker blondies use an 8×8 pan.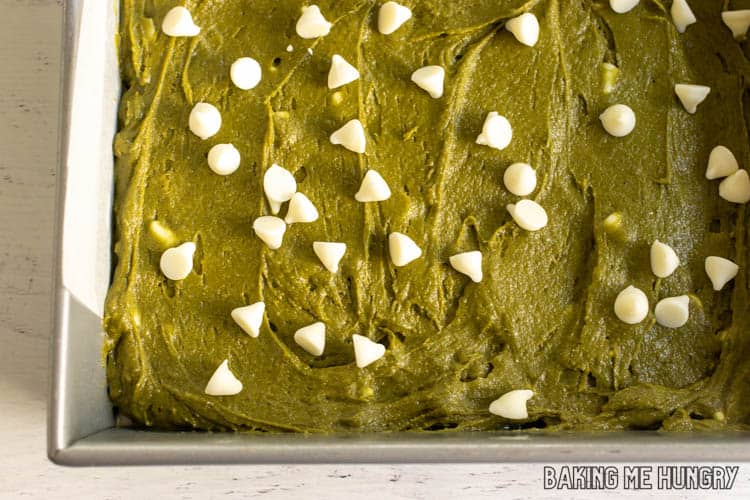 Step Five: Bake the matcha blondies in a 350 degree oven until they get a little brown around the edges and no longer jiggle.
Variations
Chocolate – Feel free to use dark chocolate chips, semisweet chocolate chips, chocolate chunks, sugar free chocolate chips, or milk chocolate chips instead of white chocolate.
Nuts – Add in your favorite chopped nuts such as macadamia, almonds, walnuts, or pecans.
Icing – Top with cream cheese icing or buttercream.
Cookies – Scoop the batter into cookies instead of bars.
Brownies – Make chocolate matcha brownies by using ¼ cup matcha powder and adding ¼ cup cocoa powder.

Common Questions
How can I serve matcha blondies?
These are wonderful just as a finger dessert. You can also make them into a sundae by topping them with a scoop of vanilla ice cream and some whipped cream.
What is the difference between blondies vs brownies?
Brownies are chocolate and blondies are not. Brownies are a chocolate dessert that is made with cocoa powder and chocolate chips. Blondies are a dessert that is similar to a brownie, but it is made with vanilla extract instead of cocoa powder. Blondies are also often made with white chocolate chips or butterscotch chips.
How can you tell if a blondie is undercooked?
Undercooked blondies are gooey in the middle. Use a toothpick to poke the blondie to see if it is undercooked. If the toothpick comes out clean, the blondie is done. If the toothpick comes out with batter on it, the blondie is not done.
Can I freeze blondies?
Yes, you can freeze matcha blondies for up to 3 months. Wrap them tightly in plastic wrap first.
Can I make these vegan?
I have not tested subbing the eggs or butter for vegan substitutes but I think it could work. If you try please let me know how they turn out.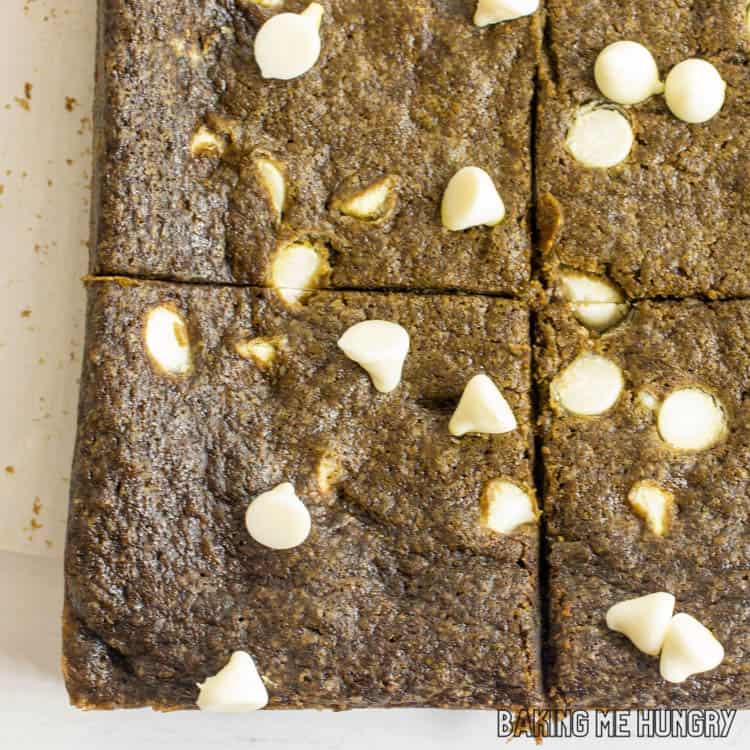 Like what you see? Follow us on Facebook and on Instagram! Love this recipe? Leave a comment & a 5-star rating right here!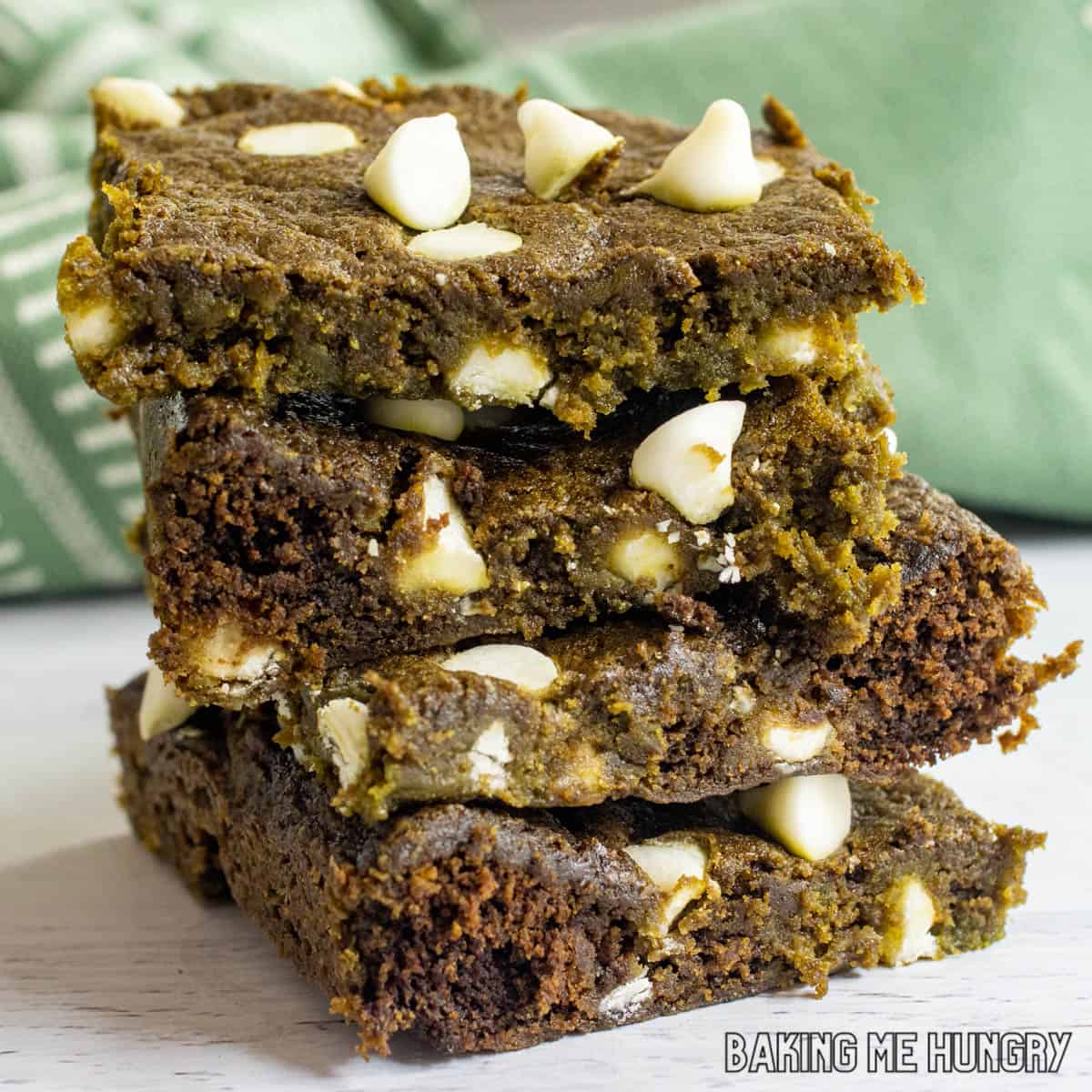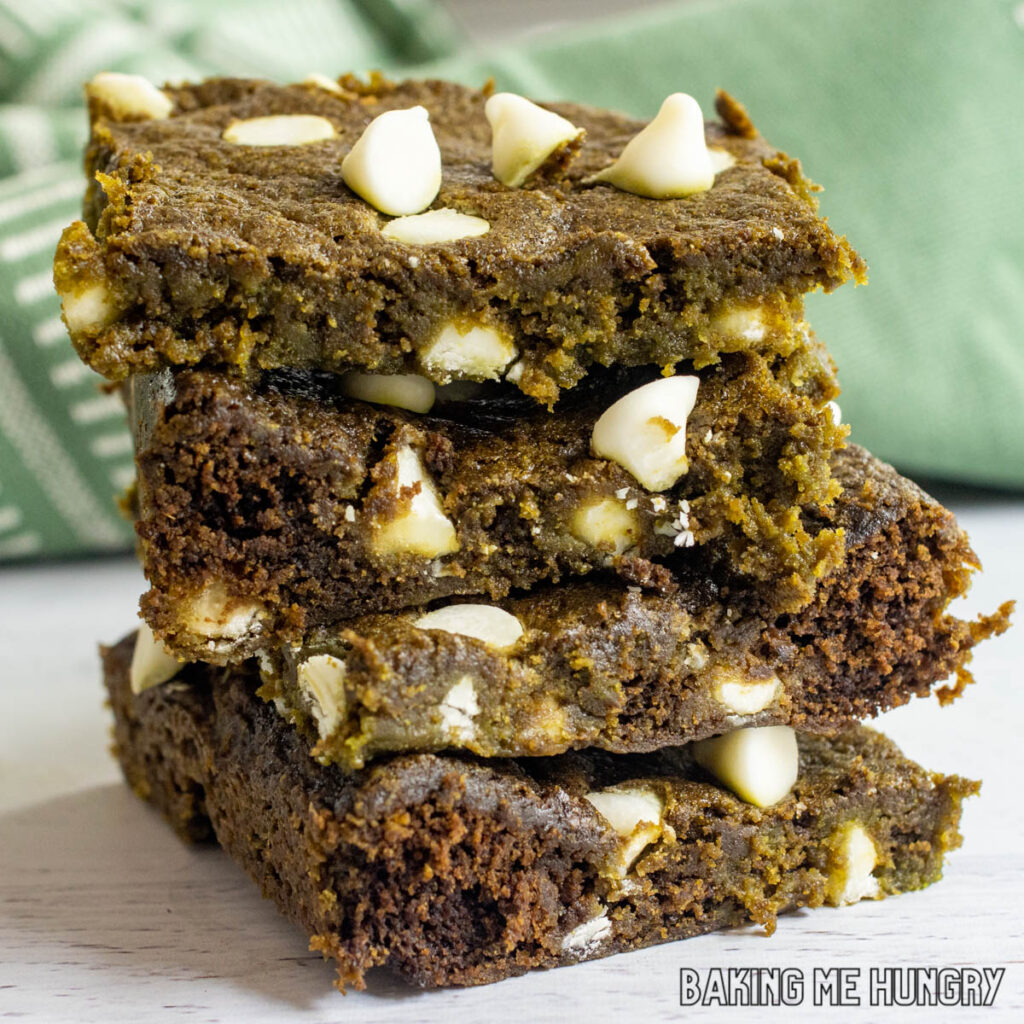 Ingredients
1

cup

butter

¾

cup

sugar

¼

cup

brown sugar

1

egg

1

teaspoon

vanilla

1.5

cups

flour

¼-1/2

cup

matcha powder

1

teaspoon

baking soda

½

teaspoon

salt

1

cup

white chocolate chips
Instructions
Preheat the oven to 350. Line a 9x13 pan with parchment paper or spray with cooking spray.

Cream together the butter and sugars until smooth.

Mix in the egg and vanilla.

Mix in half the flour, matcha powder, the baking soda, and salt until smooth. Add in the remaining flour just until incorporated.

Stir in half the white chocolate chips. Spread in the prepared pan. Sprinkle the remaining chips on top.

Bake for 20 minutes until golden brown. Cool completely.
Nutrition
Calories:
177.5
kcal
|
Carbohydrates:
29.1
g
|
Protein:
4.6
g
|
Fat:
4.5
g
|
Saturated Fat:
2.6
g
|
Polyunsaturated Fat:
0.2
g
|
Monounsaturated Fat:
1.3
g
|
Trans Fat:
0.1
g
|
Cholesterol:
14.2
mg
|
Sodium:
172.2
mg
|
Potassium:
73.9
mg
|
Fiber:
0.3
g
|
Sugar:
20.1
g
|
Vitamin A:
227.8
IU
|
Vitamin C:
0.1
mg
|
Calcium:
46
mg
|
Iron:
1.3
mg
Originally Published July 31, 2022. Revised and Republished September 25, 2023.