With crisp edges, a chewy center, and loads of rich chocolate flavor these Salted Brownie Cookies will become a regular in your dessert repertoire.
I am a brownie girl. Even regular old box mix brownies are hard to resist when they've been made properly and have a gooey, fudgy center. I decided to take one of our favorites, the brownie recipe that is printed on Hershey's cocoa powder and turn it into decadent, flavorful salted brownie cookies instead.
A sprinkle of coarse salt creates a lovely contrast to the sweetness of the chocolate cookies. There is also a contrast of textures. between the soft chewy centers and the crisp edges is perfection. I'm sure this brownie cookie recipe will become a favorite in your home as it has in mine. One of these with a mug of Chocolate Chips Hot Chocolate is the ultimate indulgence.
Ingredients
All-Purpose Flour – I use regular unbleached white all-purpose flour in this recipe.
Cocoa Powder – Any unsweetened cocoa powder is fine in this recipe.
White Sugar & Brown Sugar – I like using these in combination so you get the warm, caramel flavor from light brown sugar without it being overwhelming.
Baking Soda – Make sure to always check the date so your cookies rise and set properly.
Kosher Salt – Most of the salted flavor comes from the coarse salt on top of the cookies. You only need a pinch for the batter.
Vegetable Oil – You can use any mildly flavored oil such as canola or liquid refined coconut oil.
Egg – All these cookies need as a binder is one large egg.
Vanilla Extract – Vanilla enhances the other flavors in chocolate cookies.
Chocolate Chips – I prefer semisweet chocolate chips in this recipe but any chips can work.
Coarse Salt – A sprinkle of coarse salt or flaky sea salt on top of the baked cookies takes these to the next level.
How to Make Salted Brownie Cookies
Step One: Preheat the oven to 350. Line two large cookie sheets with parchment paper.
Step Two: Stir together the dry ingredients in a large bowl.
Expert Tip: You don't need a stand mixer, food processor, or electric mixer for this recipe. A bowl and wooden spoon are just fine!
Step Three: Mix the wet ingredients into the flour mixture.
Step Four: Stir the chocolate chips into the chocolate mixture.
Step Five: Using a medium to large cookie scoop form 15 balls of cookie dough.
Expert Tip: The balls of dough need to be 3 inches apart because they will spread. You may need to bake them in batches depending on the size of your baking sheets. We baked 6 at a time.
Step Six: Bake just until set. Let the chocolate brownie cookies cool completely.

Variations
Ice Cream Sandwiches – These big chocolatey cookies work perfectly to make ice cream sandwiches! Just add a scoop of vanilla ice cream or our Black Forest Ice Cream or Scottish Tablet Ice Cream between two cookies.
Cocoa Powder – Trying different brands of cocoa powder is a great way to test their qualities. You can even use black cocoa powder for an Oreo flavor.
Chocolate Chips – Any chocolate chips work as a mix-in. You can use semi-sweet chocolate chips, milk chocolate chips, dark chocolate chips, or even white chocolate chips.
Nuts – If you love the classic addition of walnuts or pecans in your brownies feel free to chop some up and mix them into this cookie dough!
Melted Chocolate – For a special presentation drizzle some melted white chocolate and dark chocolate on top of the cooled cookies.
Mocha – Add a teaspoon or two of instant coffee powder or espresso powder. And then try our Coffee Cookies.
Common Questions
What is a brownie cookie?
Brownie cookies are exactly the way they sound. They are a cookie that tastes like a brownie! I took one of our favorite brownie recipes and tweaked it to make it into a cookie instead. That way I was sure these would taste like brownies.
How do I know when the brownie cookies are done?
These get crisper and crisper the longer they cook. For a chewy cookie and only crisp edges make sure not to overcook them. The edges will feel firm to the touch but the center will still be a little soft. They set more as they cool.
How should I store chocolate cookies?
These are fine at room temperature in an airtight container for 3-4 days. For longer storage keep them in the fridge for 1-2 weeks or in the freezer for 3-4 months.
Like what you see? Follow us on Facebook and on Instagram! Love this recipe? Leave a comment & a 5-star rating right here!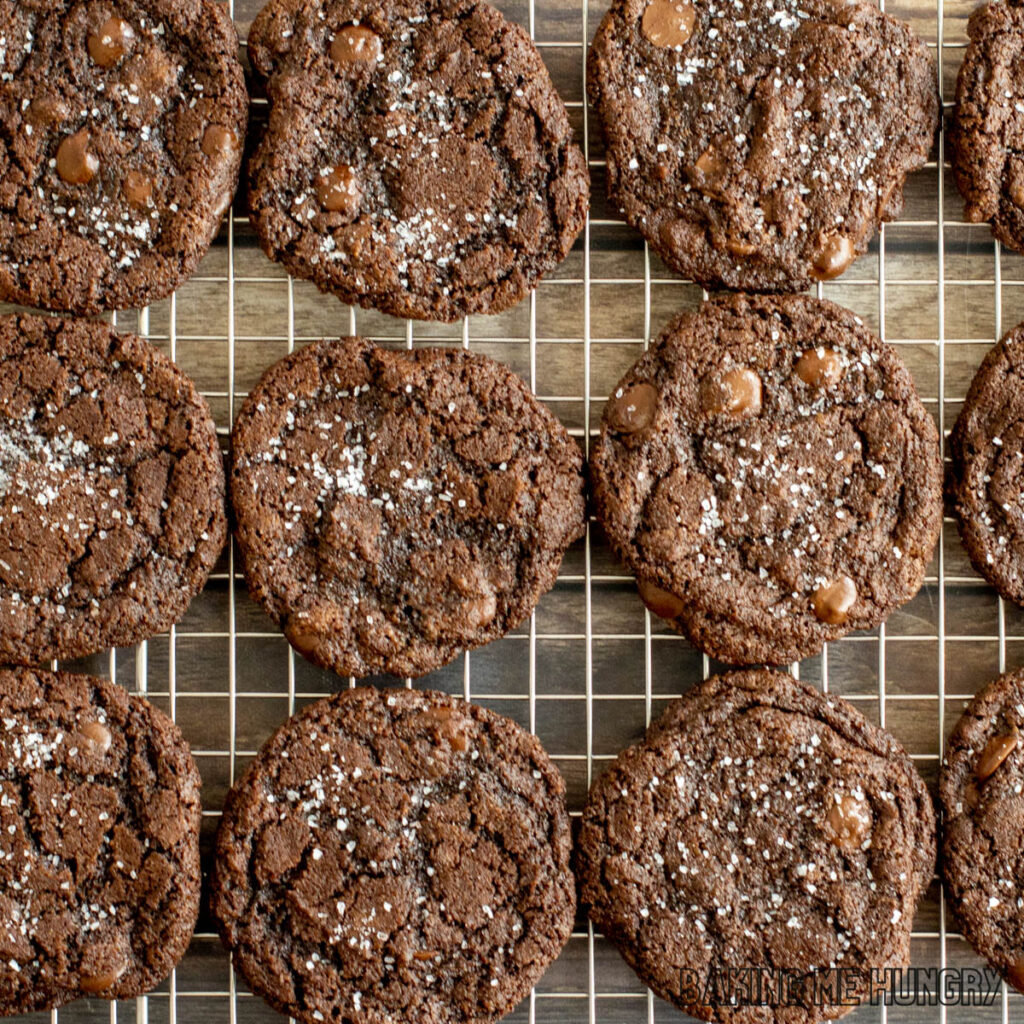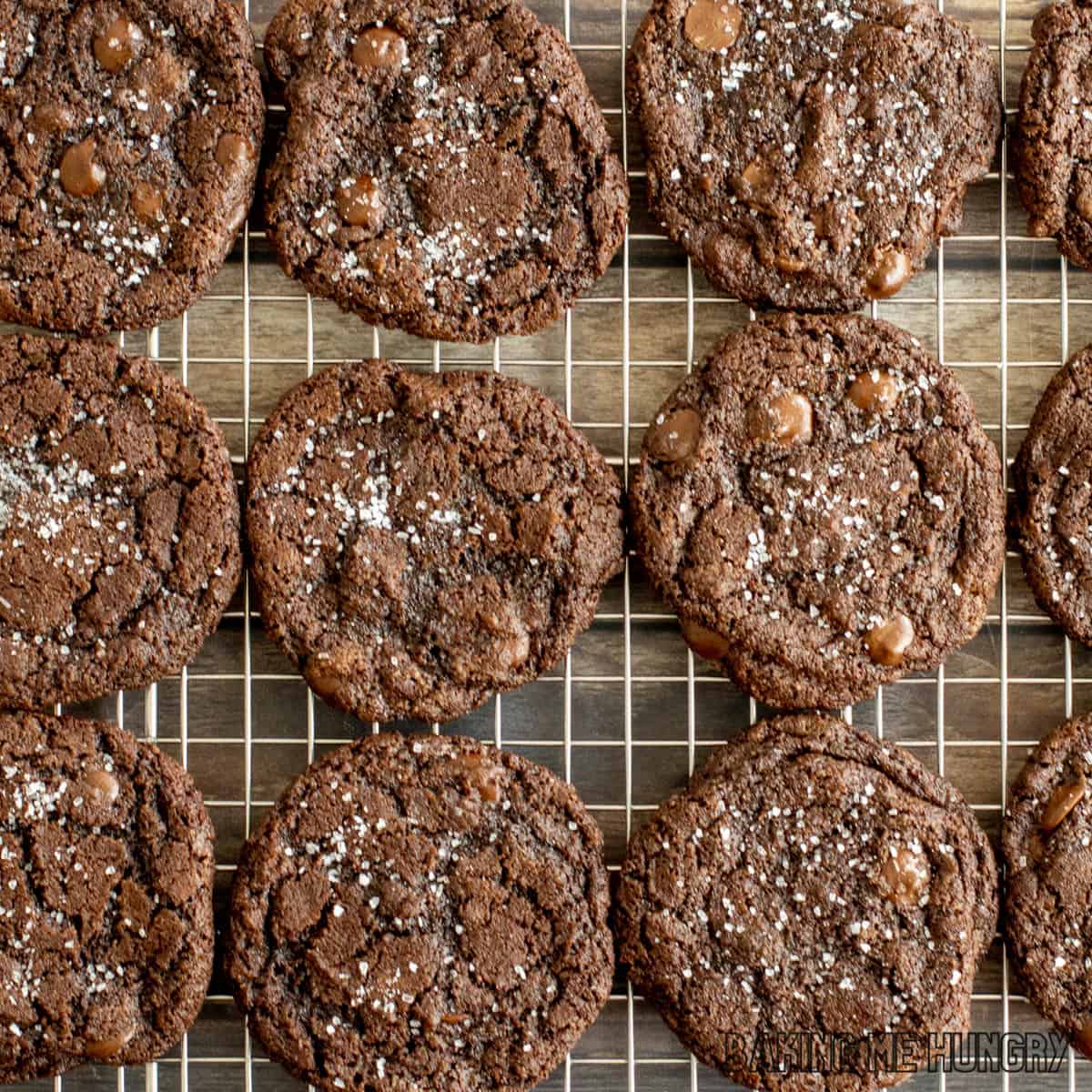 Ingredients
¾

cup

sugar

½

cup

flour

⅓

cup

cocoa powder

2

tablespoon

brown sugar

¼

teaspoon

baking soda

¼

teaspoon

salt

⅓

cup

canola oil

1

egg

½

teaspoon

vanilla

½

cup

chocolate chips
Instructions
Preheat the oven to 350. Line 2 large cookie sheets with parchment paper.

In a large bowl stir together the flour, sugars, cocoa powder, baking soda, and salt.

Add the egg, vanilla, and oil. Mix until smooth.

Stir in the chocolate chips.

Scoop 15 cookies, three inches apart. This will be on 2-3 cookie sheets.

Bake for 12-13 minutes, until barely set. Sprinkle with the coarse salt. Let cool completely.
Nutrition
Serving:
1
cookie
|
Calories:
132.2
kcal
|
Carbohydrates:
18.4
g
|
Protein:
1.2
g
|
Fat:
6.7
g
|
Saturated Fat:
1.3
g
|
Polyunsaturated Fat:
1.5
g
|
Monounsaturated Fat:
3.3
g
|
Trans Fat:
0.1
g
|
Cholesterol:
12
mg
|
Sodium:
218.6
mg
|
Potassium:
40.1
mg
|
Fiber:
0.8
g
|
Sugar:
13.8
g
|
Vitamin A:
15.8
IU
|
Calcium:
6.3
mg
|
Iron:
0.5
mg