Tender, golden cookie bars studded with mini chocolate eggs are the perfect Easter treat! These Mini Egg Cookie Bars are as delicious as they are cute and festive.
My kids love it when Lent is winding down and Easter is on the horizon. They start dreaming about all the goodies we will get to enjoy in our Easter baskets and at all our celebrations. I love making sweets that are unique and special to the occasion. Carrot cake is a dessert that always reminds me of this time of year as well as Easter cookies or anything that uses colorful Easter candies. Cadbury Mini Eggs are a special treat for all of us this time of year.
Ingredients
Salted Butter – I tend to just use salted butter in all of my baking recipes. If you have unsalted butter add a pinch of salt. For a dairy-free option use coconut oil.
White Sugar & Brown Sugar – I like to use a combination of granulated sugar in this recipe. Light brown sugar gives these bars a rich homemade chocolate chip cookie flavor.
Egg – Egg is the binder in these. I haven't tried them with an egg substitute but if you do please let me know how they turn out.
Vanilla Extract – Vanilla enhances the other flavors in the cookie bars.
All-Purpose Flour – I use regular unbleached white flour in this recipe.
Baking Soda – Always check the date of your baking soda (and baking powder) so your bars rise.
Mini Eggs – The star of the show. I have to buy a couple of bags of these every year. The unique flavor and texture of Cadbury Mini Eggs make me feel like a kid again. I like to add them whole but you can use crushed mini eggs if you prefer.
How to Make Mini Egg Cookie Bars
If you've ever made homemade chocolate chip cookies before you can make these Easter cookie bars. They are a similar recipe inspired by an old favorite in a Betty Crocker cookbook and are just as easy to make.
Step 1: Preheat the oven and line a 9×13 pan or baking dish with parchment paper or spray with nonstick spray.
Step 2: In a large mixing bowl cream the butter and sugar until smooth with an electric mixer.
Expert Tip: You can also do this in a stand mixer or even a food processor.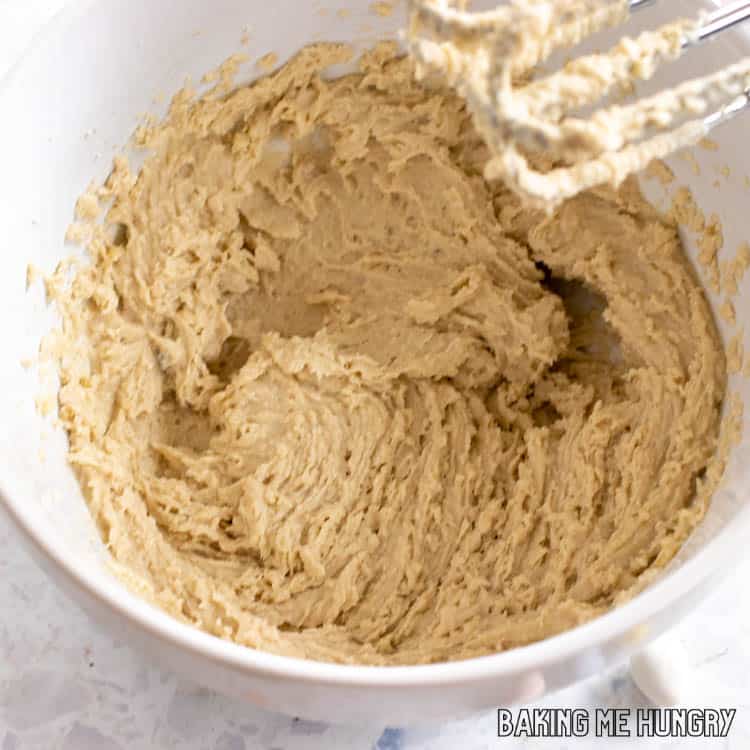 Step 3: Add the liquid ingredients and mix until smooth.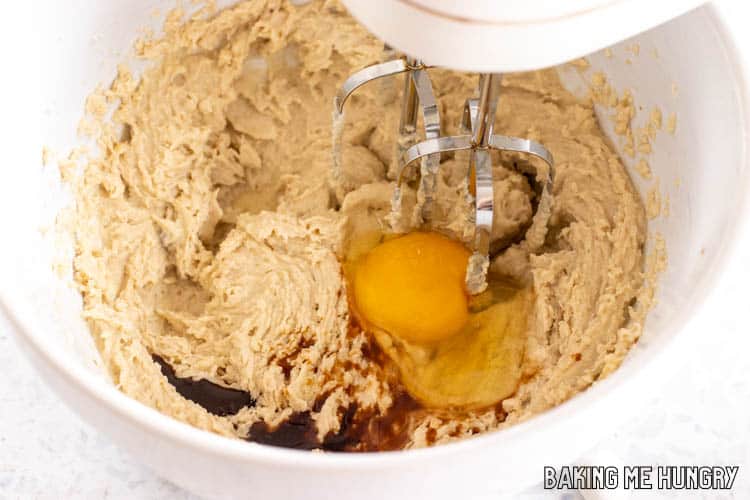 Step 4: Add in the dry ingredients and mix just until incorporated.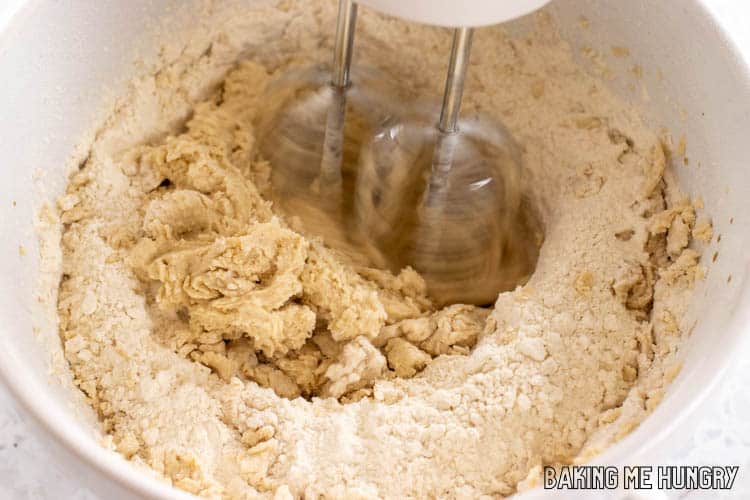 Step 5: Stir in half of the mini eggs.
Step 6: Spread the cookie dough mixture in the baking pan. You may need to press the batter out with your hands.
Step 7: Bake the mini egg bars for 15 minutes. Top with the rest of the eggs.
Expert Tip: The mini eggs added to the batter won't be very visible because they are heavy and the batter rises around them. That is why I like to add more egg candies on top.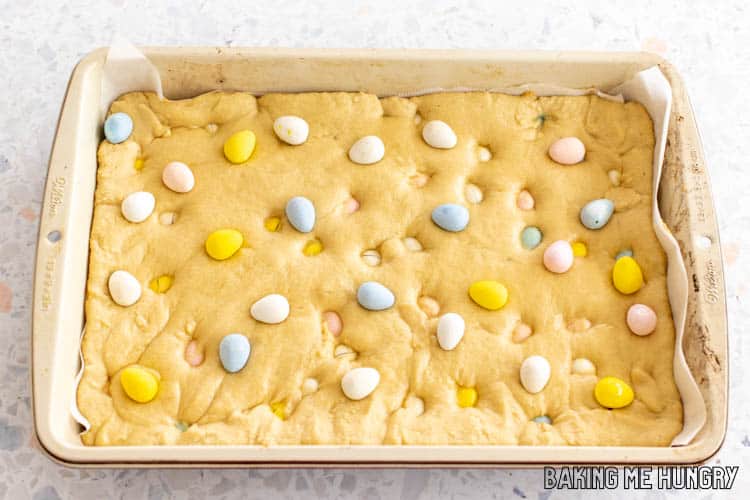 Step 8: Bake the mini egg bars until golden brown. Cool completely and cut into squares.
Variations
Chocolate Chips – Feel free to add some semisweet chocolate chips, dark chocolate chips, white chocolate chips, or milk chocolate chips to the blondies along with the mini eggs.
Brownies – Want chocolate cookie bars or a brownie instead of a blondie? Check out our Mini Egg Brownies over at A Grill for All Seasons or add mini eggs to our Condensed Milk Brownies!
Mini Egg Cheesecake – To make cheesecake cookie bars half the dough recipe and add your favorite cheesecake filling on top.
Common Questions
What are Cadury Mini Eggs?
Cadbury Mini Eggs are a delicious treat that is loved by people of all ages. These chocolate-covered eggs are a classic Easter candy that has been around for decades. They are small, bite-sized chocolates with a crunchy candy shell, making them the perfect sweet snack to indulge in.
The history of Cadbury Mini Eggs dates back to 1967 when they were first introduced in the UK under the name "Mini Eggs". The idea behind these little treats was to create an egg-shaped candy that would be perfect for Easter. Originally, they were made with dark chocolate but later changed to milk chocolate due to popular demand.
The Cadbury Mini Eggs come in a variety of colors and flavors, which makes them even more appealing to candy lovers. The bright pastel colors make them perfect for decorating Easter baskets or using as an addition to any springtime dessert.
For those who love the classic Cadbury Creme Egg but want something smaller and easier to share, these mini eggs are the perfect solution. They can be enjoyed on their own or used as an ingredient in baked goods such as cookies and brownies.
How To Store Cookie Bars
You can store these in an airtight container at room temperature for 3-4 days. For storing longer than that I recommend refrigerating them or freezing them. In the fridge, they last 1-2 weeks. In the freezer, they last 2-3 months.
How to Serve Bar Cookies
These are great for parties because you can just grab one and enjoy it, no plate required! But we also love them dished up with a scoop of chocolate or vanilla ice cream. Make some Matcha Blondies too for a second option.
Like what you see? Follow us on Facebook and on Instagram! Love this recipe? Leave a comment & a 5-star rating right here!
Ingredients
1

cup

butter

¾

cup

sugar

¼

cup

brown sugar

1

egg

1

teaspoon

vanilla

2

cups

flour

1

teaspoon

baking soda

½

teaspoon

salt

9

oz

mini eggs
Instructions
Preheat the oven to 350. Line a 9x13 pan with parchment paper or spray with cooking spray.

Cream together the butter and sugars until smooth.

Mix in the egg and vanilla.

Mix in half the flour, the baking soda, and salt until smooth. Add in the remaining flour just until incorporated.

Stir in half the mini eggs. Spread in the prepared pan.

Bake for 15 minutes. Top with the remaining mini eggs.

Bake an additional 5 minutes until golden brown. Cool completely.
Nutrition
Calories:
130.1
kcal
|
Carbohydrates:
23.2
g
|
Protein:
2.4
g
|
Fat:
3.6
g
|
Saturated Fat:
2
g
|
Polyunsaturated Fat:
0.1
g
|
Monounsaturated Fat:
0.2
g
|
Trans Fat:
0.1
g
|
Cholesterol:
10.5
mg
|
Sodium:
116.8
mg
|
Potassium:
30.6
mg
|
Fiber:
0.5
g
|
Sugar:
14.8
g
|
Vitamin A:
26.4
IU
|
Calcium:
36.3
mg
|
Iron:
0.6
mg
Originally Published on April 11, 2022. Revised and Republished on April 3, 2023.