Sweet treats like this are the best! This Smores Casserole Recipe takes just three simple ingredients to make this classic treat in a whole new fun way! If you're a fan of gooey s'mores, this is going to be one of the best things that you make this year!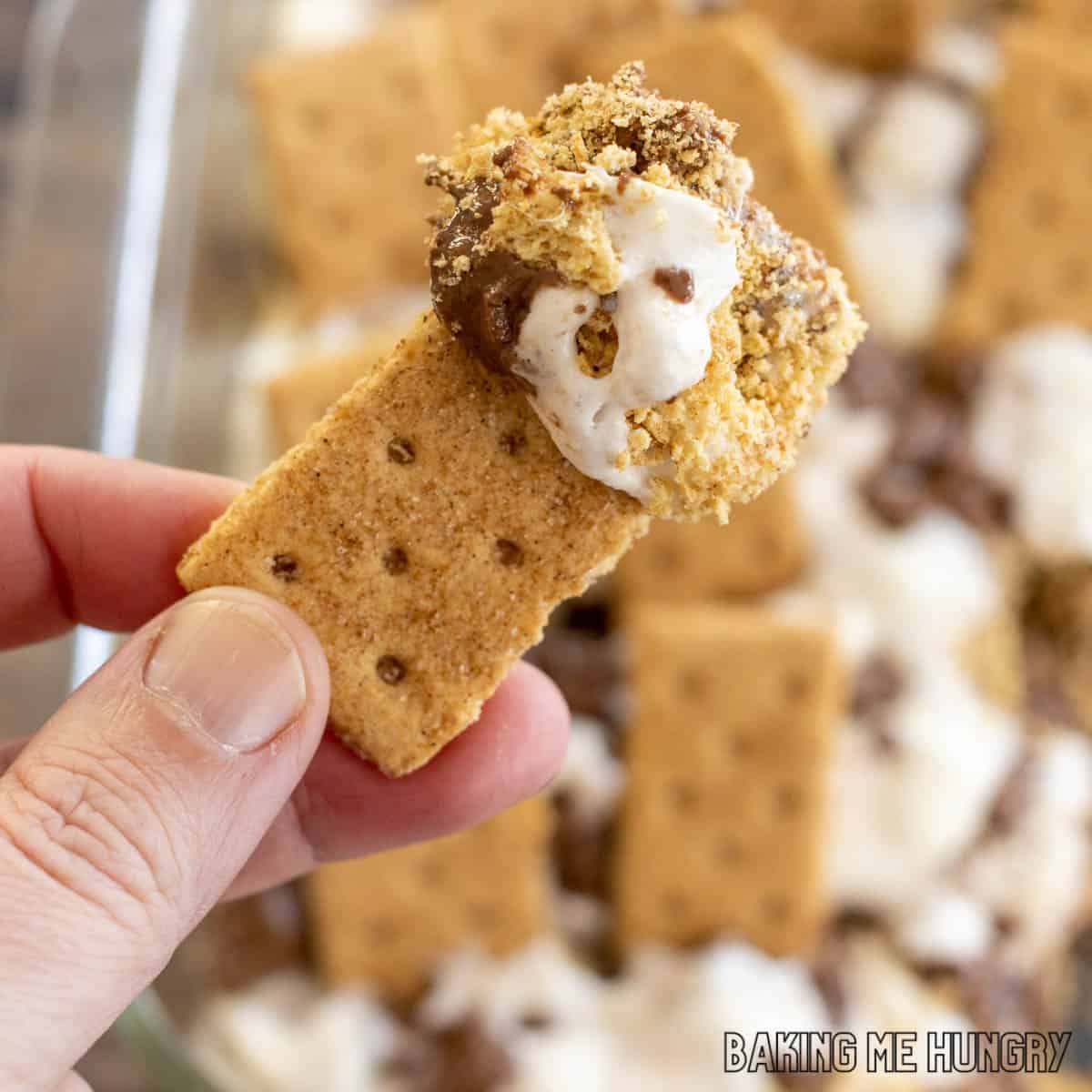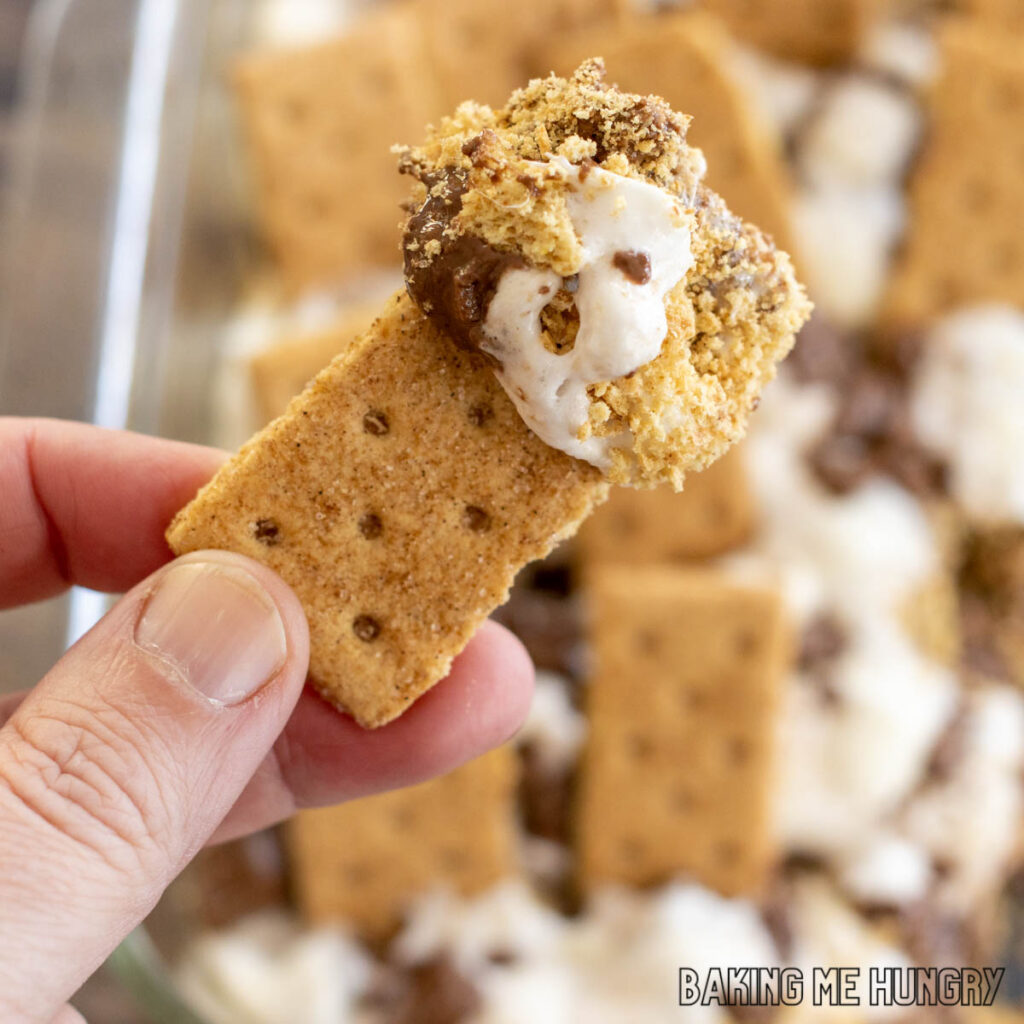 When it comes to smores desserts, this recipe just screams summer flavor. The squares of chocolate paired with the marshmallow layer are the perfect way to dip the day (or night) away. As you'll see from the ingredient list below, you can prep this recipe within 1-2 minutes. The next time that you want to make a s'mores recipe without the need for a fire pit or camp fire keep this easy smores dessert recipe close!
I actually like this s'mores dip because there are few desserts better in the world than making indoor s'mores! Use this easy s'more bake recipe as a simple way to create a gooey and delicious treat. Just be prepared – this irresistible dessert is loaded with melty chocolate and chocolate chunks – all the things that make a great recipe great!
Be sure to check out my Chocolate Chip Marshmallow Cookies for a fun flavor and taste. (You can even crumble these up and use them in this dip, too!)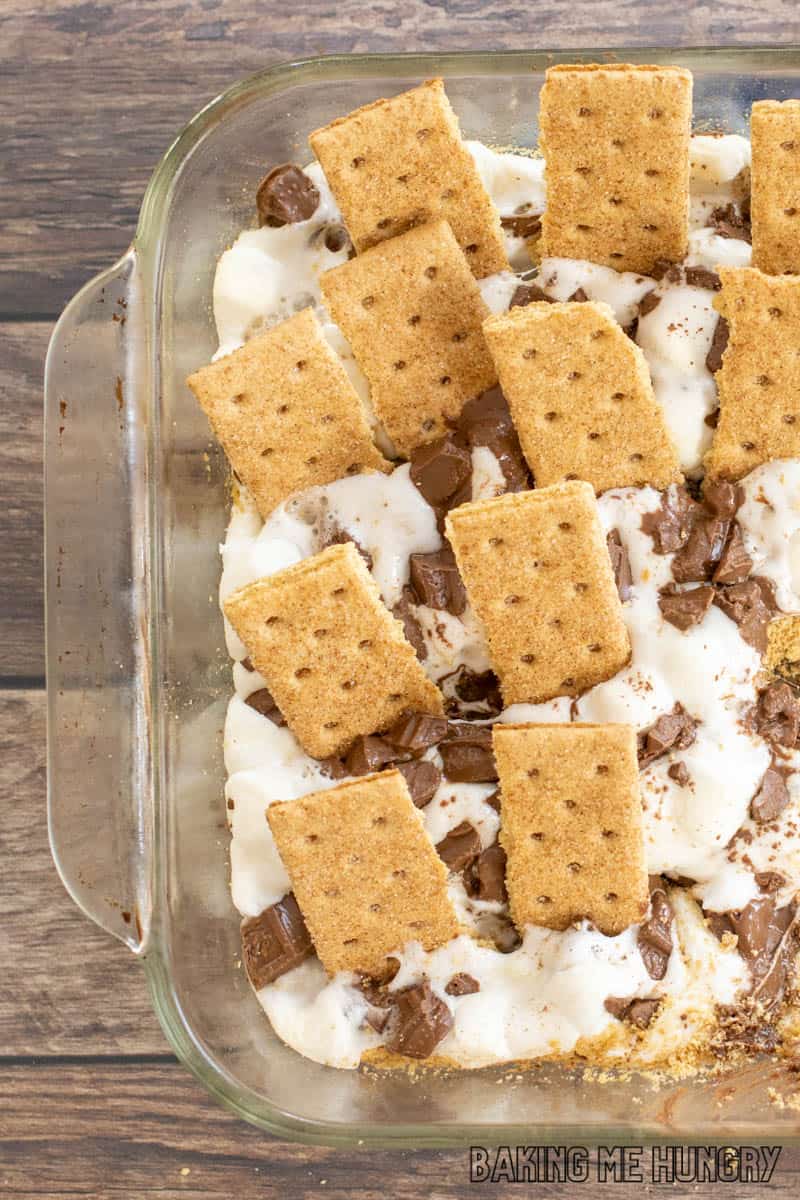 Ingredients
Graham crackers – Choose your favorite brand of graham crackers for this recipe. I like to use regular flavors, but there are options for honey and also cinnamon sugar.
Mini marshmallows – If you cant find mini marshmallows at the store, you can cup up bigger marshmallows into pieces to make them into smaller sizes. (This would be a good job for the kids to help with!)
Hershey bars – This is my go-to chocolate because I like the texture and taste, but use whatever you would like to make this treat. You can even use other types of chocolate or candy bars.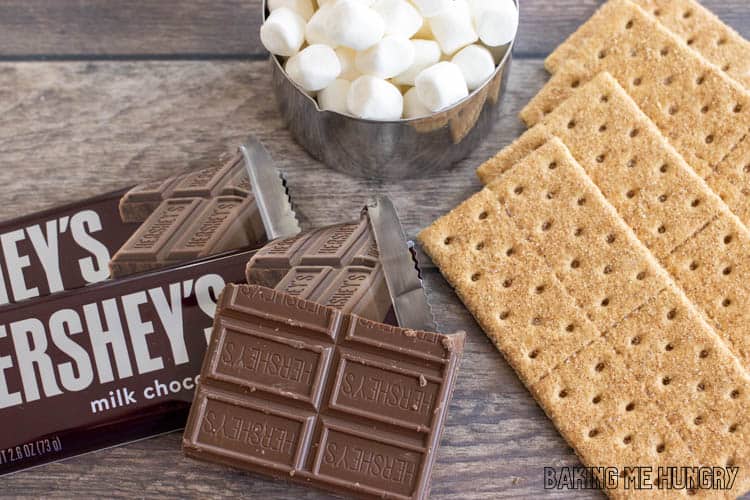 How to make this Smores Casserole Recipe
Step One: Preheat the oven to 350 degrees. Spray a square pan (8X8) with nonstick cooking spray.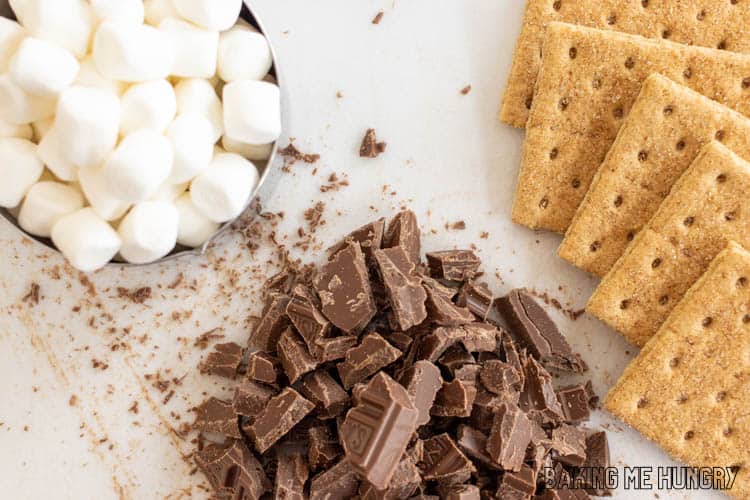 Step Two: Crush three sheets of crunchy graham crackers into crumbs. Then add this to a single layer on the bottom of the prepared pan.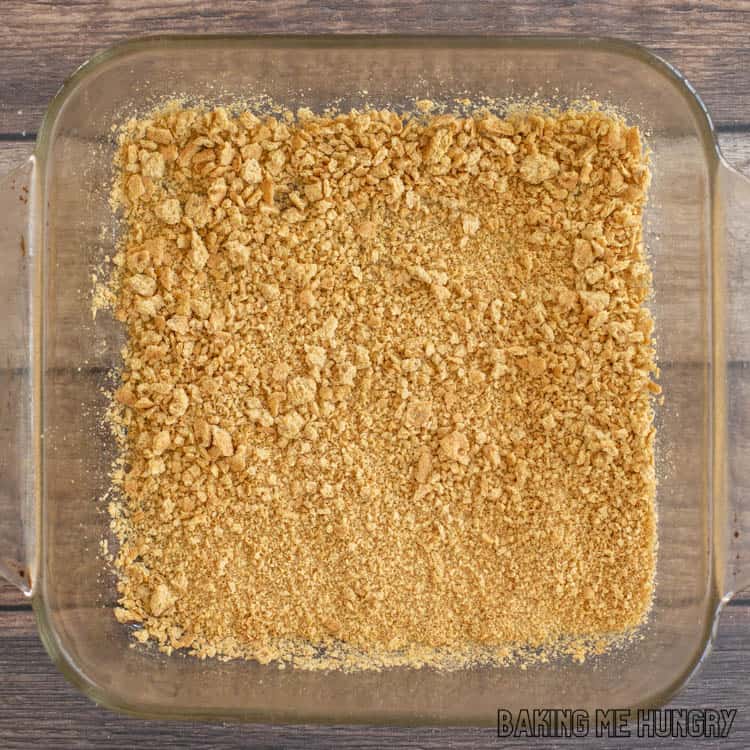 Step Three: Add the marshmallows on top and then sprinkle the Hershey's chocolate bars that are broken into pieces on top of that.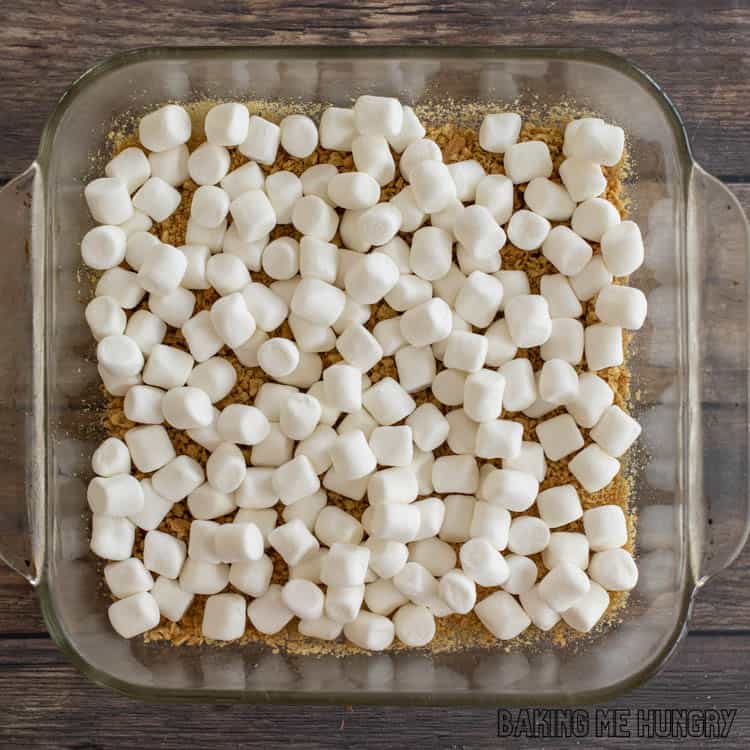 Step Four: Put the pan in the oven and bake for 7-9 minutes. You want the marshmallows to be gooey and the chocolate to be melted.
Expert Tip: To make the marshmallows golden brown just pop the pan under the broiler for a minute or two. Make sure to watch closely so they don't burn.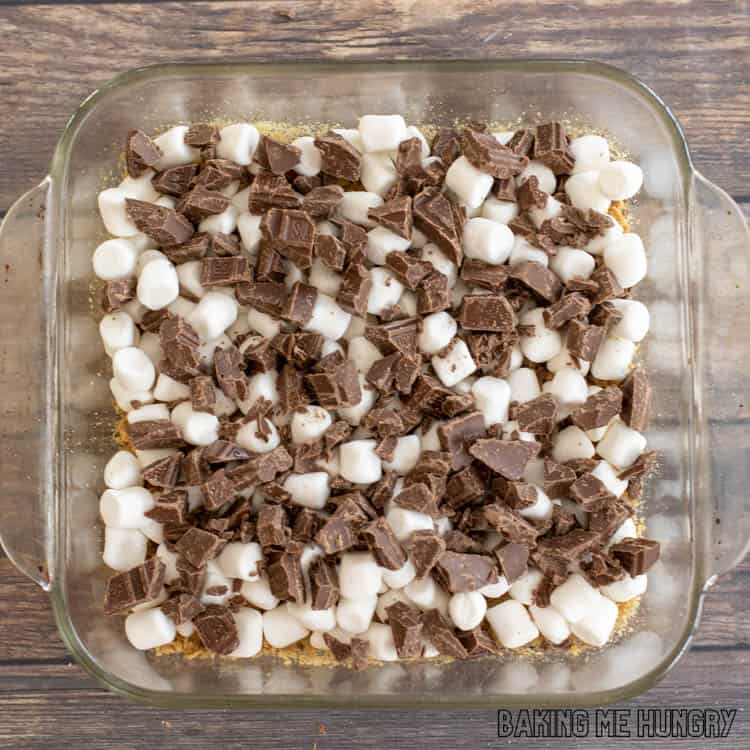 Step Five: Separate the rest of the graham crackers, and then once the oven-baked s'mores are done, stick them into the baking dish!
Storage: Store this at room temperature for up to a week. When the chocolate hardens you can then cut it into bars instead of serving as a dip.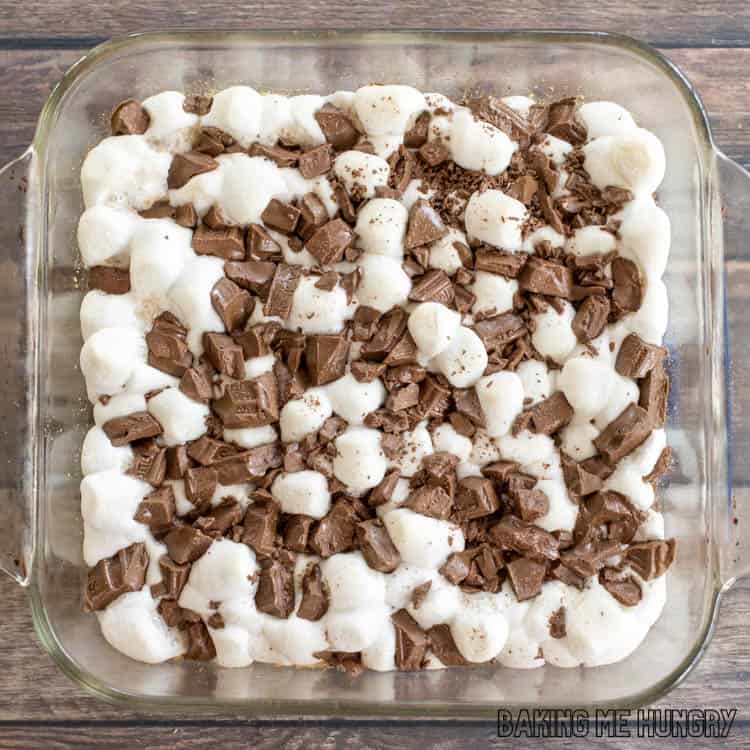 Variations
Use semi-sweet chocolate chips – While using candy bar pieces are perfect for this s' mores casserole, that doesn't mean that you can't change things up! A little bit of chocolate chips paired with the fluffy marshmallows make the perfect texture, too. You can also use different types of chocolate in this dish, making it a fun way to change the flavor. White chocolate and dark chocolate both work great as well!
Add toppings – Who says that you can't add more? Drizzle some hot fudge sauce over the top of the layer of marshmallows for even more yummy fun. Don't forget that you can even put this dip on top of vanilla ice cream as well for a super sweet treat. Just about anything will pair well with the graham cracker crumbs, melted chocolate, and gooey marshmallow texture.
S'mores cookie bars – If you want to make smores cookie bars make our chocolate chip cookie dough, press into the bottom of the pan, and bake. During the last 5 minutes of baking top with the marshmallows, milk chocolate, and graham crumbs. Alternatively, you can press out crescent dough, bake the crescent rolls as one large sheet, and then add all the toppings.
Peanut butter cups – Swap out the milk chocolate bars for Reese's peanut butter cups for peanut butter smores!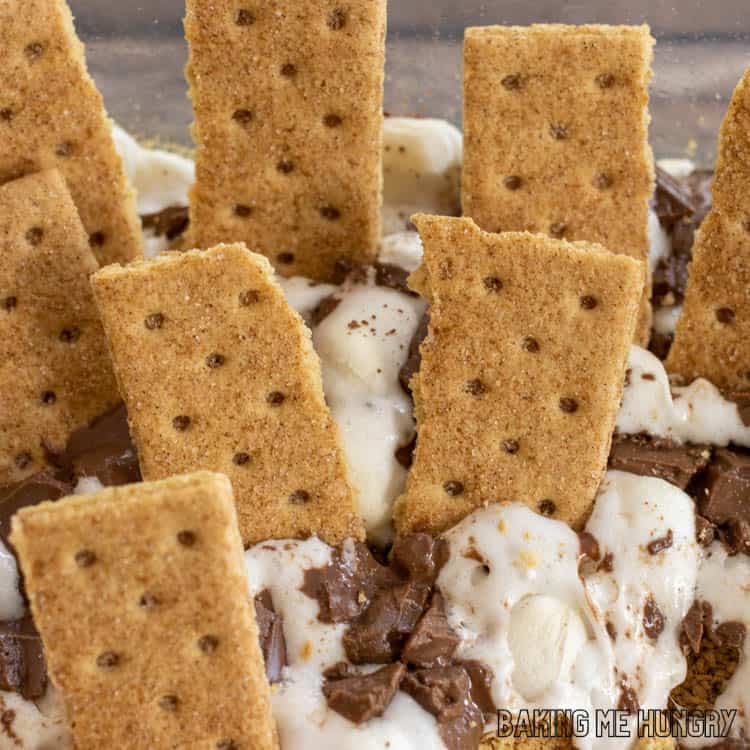 Common Questions
Can I use large marshmallows?
You can, but the reason that I like to use mini marshmallows is that they seem to malt in a better texture for dipping. The large marshmallows will melt as well, but that means that you'll also have a gooey loaded s'mores bars casserole with big hunks of marshmallows to dip into.
If you do use larger marshmallows, cut them to make marshmallow halves, if possible. That way, when they melt, they'll melt smaller and be easier to dip and pull apart to eat.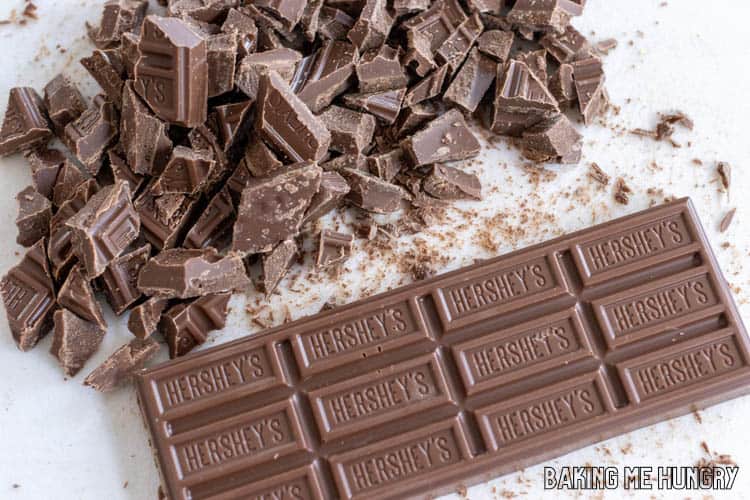 Can I turn this recipe into s' mores nachos?
For sure! You can literally use the same ingredients listed here and just make a plate of graham crackers sticks covered with melted marshmallows and chocolate. Then, just pick up, and eat. Instead of dipping, you'll be grabbing and eating – with all the same flavors.
Can I make this recipe gluten free?
​All you need to do to make this recipe free of gluten is to use gluten-free graham crackers. The chocolate and marshmallows should already be gluten-free, so that just leaves the crackers. You can easily find them online or at your local grocery store, making this a treat that most can enjoy!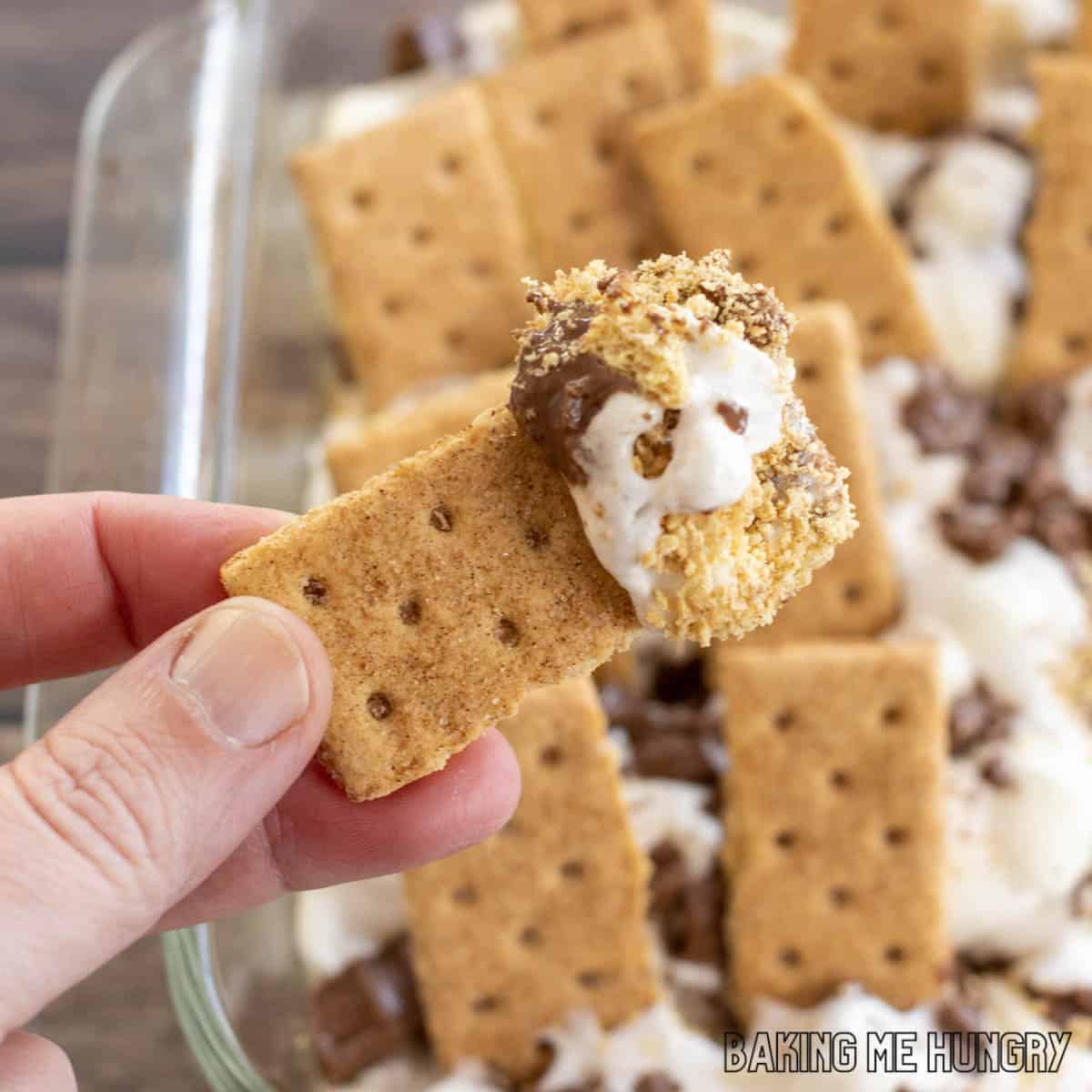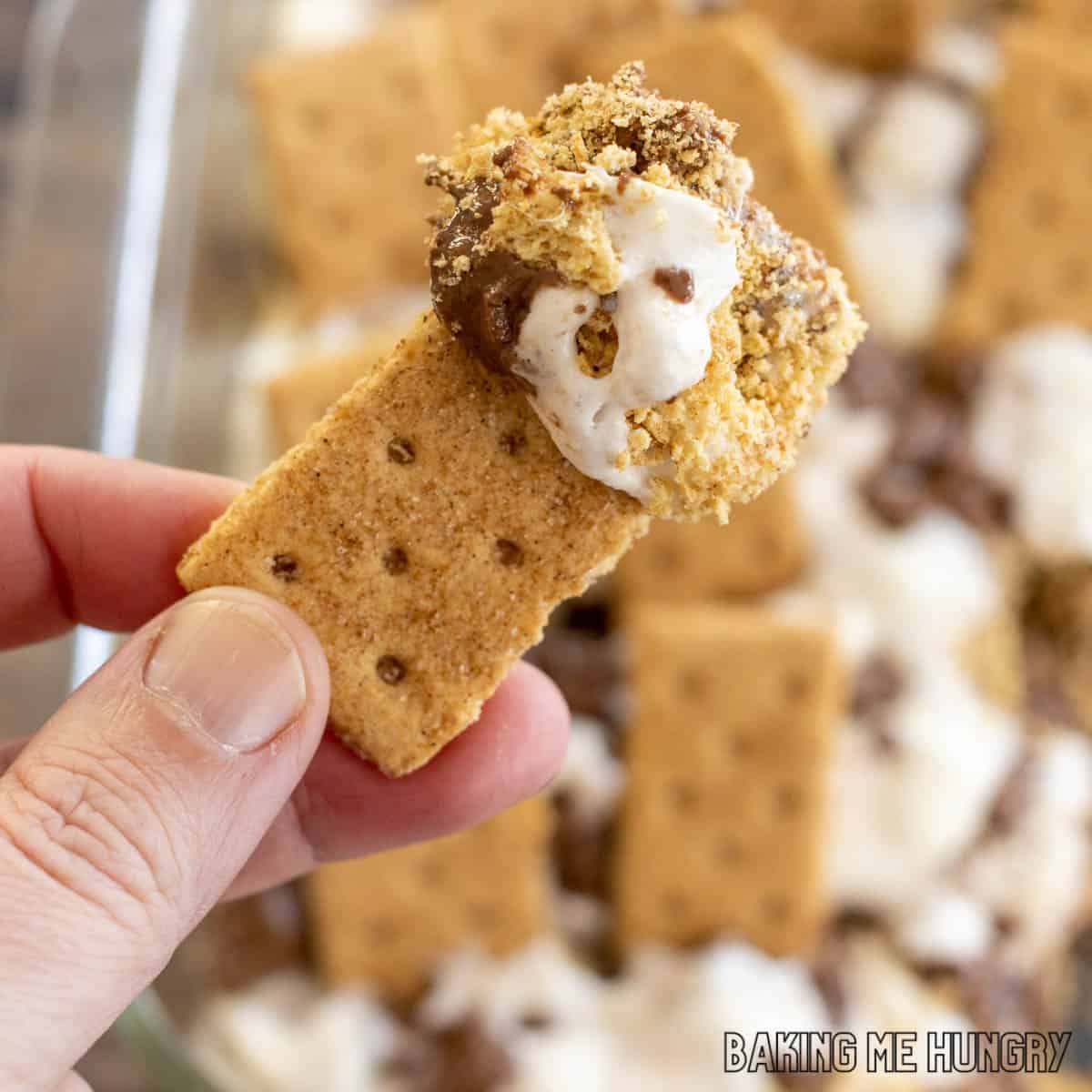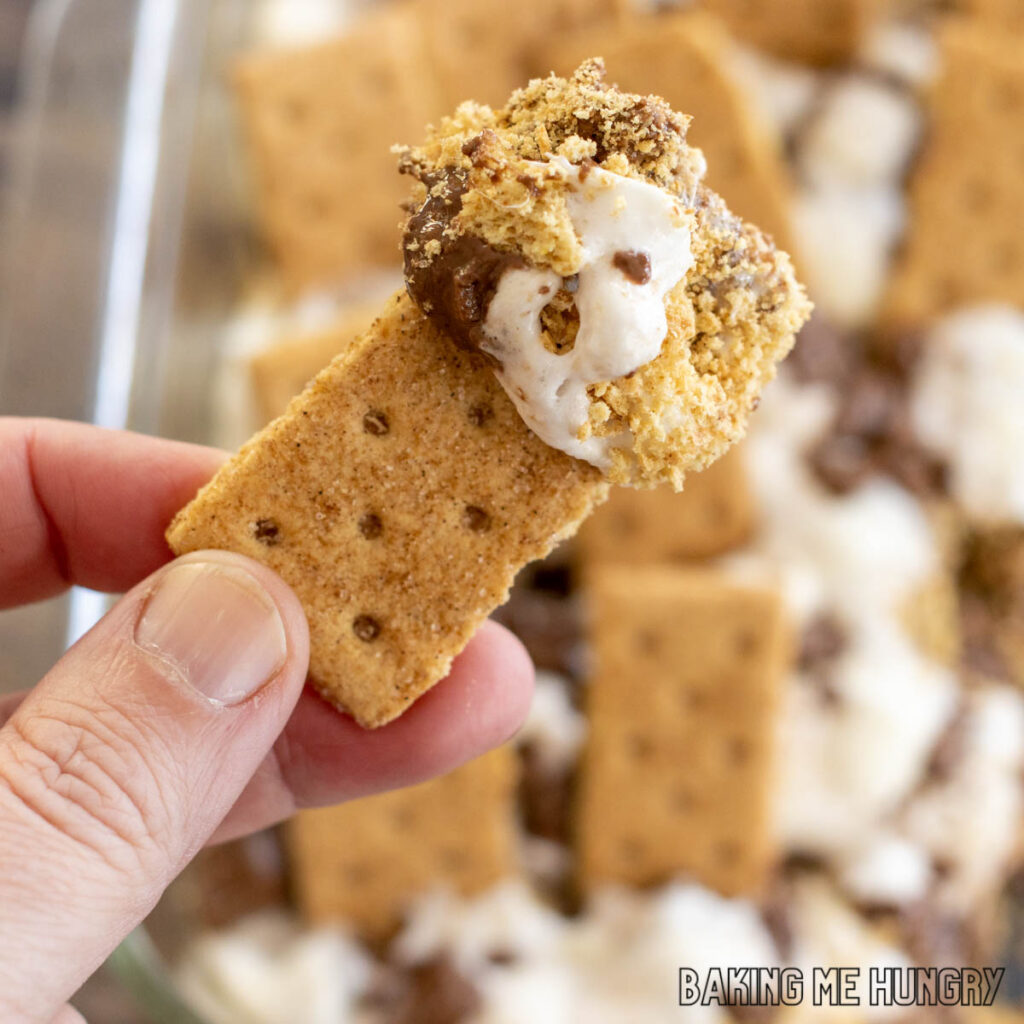 Ingredients
9

sheets graham crackers

divided

2

cups

mini marshmallows

1

cup

Hershey bars

chopped
Instructions
Preheat the oven to 350. Spray an 8x8 pan with cooking spray.

Crush 3 sheets of graham crackers to make crumbs. Sprinkle in the bottom of the prepared pan.

Top with the mini marshmallows.

Sprinkle the chocolate chunks on top.

Bake for 7-9 minutes or until the marshmallows are gooey and beginning to brown.

Separate the remaining graham crackers.

When the dip comes out of the oven stick the remaining graham crackers into the dip at haphazard angles.
Nutrition
Calories:
217.4
kcal
|
Carbohydrates:
35.4
g
|
Protein:
2.2
g
|
Fat:
9.1
g
|
Saturated Fat:
4.6
g
|
Polyunsaturated Fat:
0.3
g
|
Monounsaturated Fat:
3
g
|
Sodium:
117.3
mg
|
Potassium:
91.9
mg
|
Fiber:
1.8
g
|
Sugar:
22.1
g
|
Calcium:
18.1
mg
|
Iron:
1.3
mg