Chocolate Chip Marshmallow Cookies perfectly combine chewiness with sweetness. Each bite is loaded with marshmallows, chocolate chips, and flavor. The perfect cookies for any occasion!
I love good cookie recipes. I'm a firm believer that you can never have too many, and also should never stop collecting the good ones.
The texture of baked cookies is really important, as I think that most people would agree. The outer edges need to have a crispiness to them, while the middle of the cookies should be soft and chewy. Those two factors, paired with lots of chocolate, will have you loving this easy cookie recipe time and time again.
I also think that this recipe offers a lot of versatility in how it can be made. The marshmallows add a chew but can honestly be left out or doubled up. Chocolate chips are a must, in my opinion, because there is never not a need to have chocolate on hand.
When it comes to carbohydrates, nutrition, and counting calories in cookie recipes, none of that matters! Enjoy them – every single bite! You're going to love that melt-in-your-mouth flavor!
Speaking of crazy good cookie recipes, be sure to check out my Salted Brownie Cookies. They're crisp, buttery, and addictive! And If you love chocolate and marshmallows this Smores Casserole Recipe is a must.
Ingredients
Sugar – Used as the main sweetener.
Salted butter – Salted butter is key for this recipe. If you have unsalted butter just add a pinch of salt.
Brown sugar – Another sweetener that also gives the cookies a golden brown coloring.
Flour – The main ingredient to make the cookie dough.
Cornstarch – Helps to add texture to the cookies.
Baking soda – Gives the cookies a bit of fluffiness when baking.
Salt – Just a little.
Egg – The main binding agent to hold the dry ingredients together to form a dough.
Vanilla – Pure vanilla extract is my choice.
Chocolate chips – You can add mini chocolate chips or regular.
Marshmallow bits – The mini dehydrated marshmallows like the kind that come in hot chocolate packets work best. Mini marshmallows melt faster and make a mess.
How to make Chocolate Chip Marshmallow Cookies
Step One: Preheat the oven to 350 degrees. Add parchment paper to the cookie trays. You can use silicone mats if you prefer.
Step Two: Mix the baking soda, salt, and flour together in a large mixing bowl.
Step Three: Cream the sugars and butter. Add the vanilla and egg, and mix until smooth.
Step Four: Add the flour mixture to the large bowl.
Step Five: Stir in the marshmallows and the chocolate chips.
Step Six: Use an ice cream scoop and scoop out 18 cookies onto the parchment covered baking trays.
Put them three inches apart on the cookie sheet.
Step Seven: Chill for a minimum of 30 minutes in the fridge.
Step Eight: Put in the oven and bake for 12-14 minutes.
Variations
Change the type of chocolate used – You can use dark chocolate chips, chocolate chunks, semi-sweet chocolate chips, milk chocolate chips, or any other flavor that you can think of for these chocolate chip cookies.
Common Questions
What makes cookies chewy instead of crispy?
Adding cornstarch to the cookie dough is what gives these cookies that chew. Many people think that it's baking soda, baking powder, or possibly even the all-purpose flour, but those alone won't succeed in that chewy cookie texture.
How do I know when the cookies are done baking?
Just be sure to follow the printable instructions below to make the cookies, and then pay attention while they are baking in the oven.
The cookie dough balls that you added to the baking sheet will spread slightly when they are baking. Once you notice that the edges are golden brown, it's time to start thinking about pulling them.
Also, while the cookies are cooling to room temperature on the cooling rack, the cookies will firm some. This is why it's important to cook them for the time on the recipe card and then let them go through the cooling process.
Do I need to use a stand mixer to make cookies?
Using a mixer with a paddle attachment can be helpful but isn't always necessary. If you have a good rubber spatula, and time to mix the dough by hand, you can achieve similar results.
The main difference between using a mixer and mixing by hand is that you won't be able to achieve "medium speed" or "high speed" if that is what the directions are calling for.
Also, a mixer is helpful when you add any wet ingredient to a dry ingredient because it can achieve a creaminess and a smooth texture that much quicker.
How do I store leftover cookies?
The key to storing cookies so that they stay fresh is to let them cool down and then add them to an airtight container or sealable bag.
Basically, you're trying to keep any moisture or air out so that the cookies stay fresh. You can also add them to a freezer bag and save them in the freezer for later, too.
Or chop them up and add to Cookie Monster Ice Cream!
Like what you see? Follow us on Facebook and on Instagram! Love this recipe? Leave a comment & a 5-star rating right here! Make sure you don't miss new recipes by getting email updates!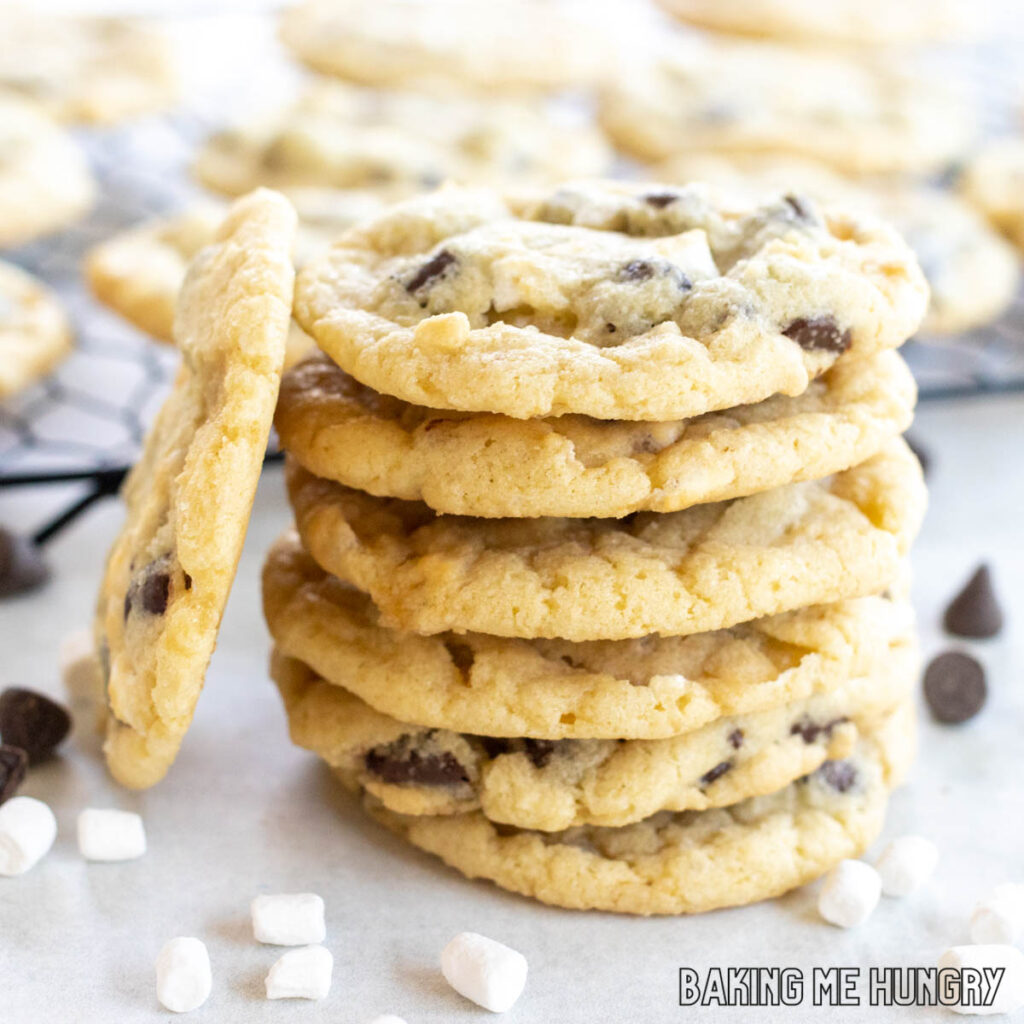 Ingredients
¾

cup

sugar

⅓

cup

salted butter

2

tablespoon

brown sugar

1

cup

flour

1

tablespoon

cornstarch

¼

teaspoon

baking soda

¼

teaspoon

salt

1

egg

½

teaspoon

vanilla

½

cup

chocolate chips

½

cup

marshmallow bits
Instructions
Preheat the oven to 350. Line 2 large cookie sheets with parchment paper.

In a small bowl stir together the flour, baking soda, and salt.

Cream the butter and sugars. Add the egg and vanilla. Mix until smooth.

Add the flour mixture.

Stir in the chocolate chips and marshmallows

Scoop 18 cookies, three inches apart.

Chill for at least 30 minutes for the best results.

Bake for 12-14 minutes, until golden brown around the edges. Let cool completely.
Nutrition
Calories:
127.5
kcal
|
Carbohydrates:
19.7
g
|
Protein:
1.1
g
|
Fat:
5.2
g
|
Saturated Fat:
3.1
g
|
Polyunsaturated Fat:
0.2
g
|
Monounsaturated Fat:
1
g
|
Trans Fat:
0.1
g
|
Cholesterol:
18.1
mg
|
Sodium:
79.8
mg
|
Potassium:
28.3
mg
|
Fiber:
0.2
g
|
Sugar:
13.3
g
|
Vitamin A:
118.3
IU
|
Calcium:
8.3
mg
|
Iron:
0.4
mg