If you're a fan of Starbucks White Hot Chocolate, you're in luck. You can now make this delicious drink at home with this recipe. All you need is some milk, white chocolate, and a little bit of time. In just a few minutes, you can enjoy a cup of rich and creamy White Hot Chocolate that is just as good as what you would get at Starbucks.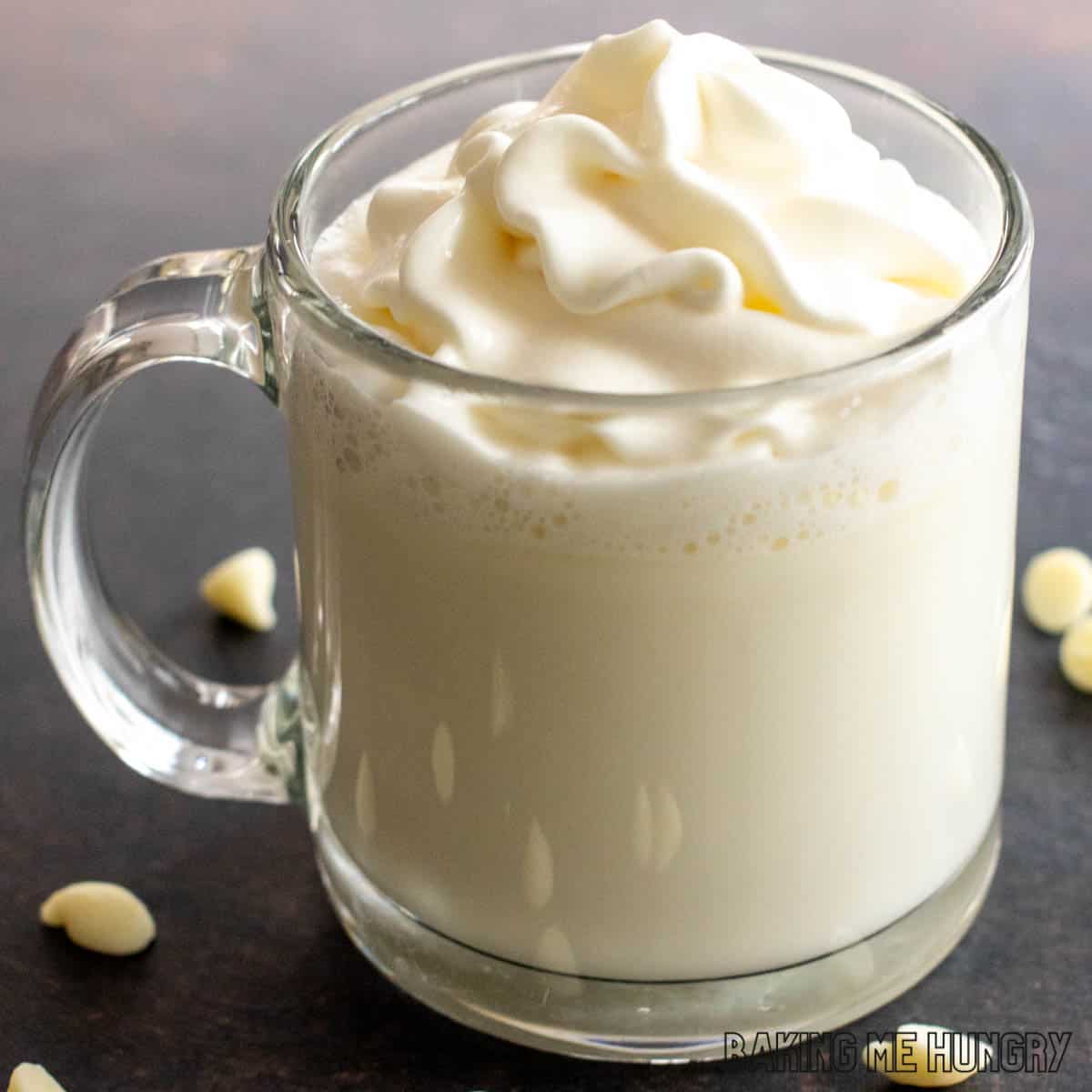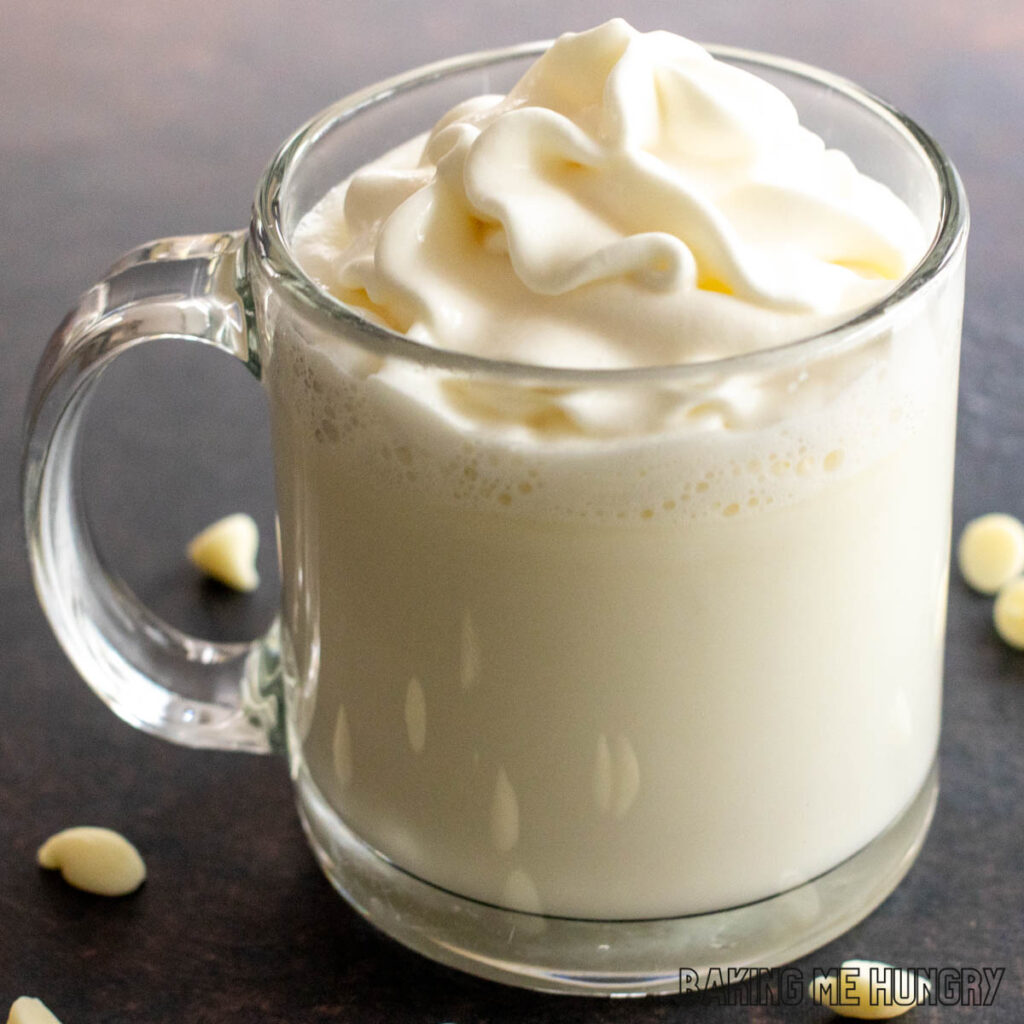 In the dead of winter, there is nothing more comforting than a mug of white hot chocolate. This creamy, dreamy beverage is made with milk and white chocolate chips. It is the perfect balance of sweet and rich, and it will warm you from the inside out. Whether you are snuggled up on the couch or braving the cold outside, a cup of white hot cocoa is sure to make your day.
I always feel like a kid when I curl up with a steaming mug of any Starbucks copycat hot chocolate. I hope you love this easy white hot chocolate recipe as much as we do.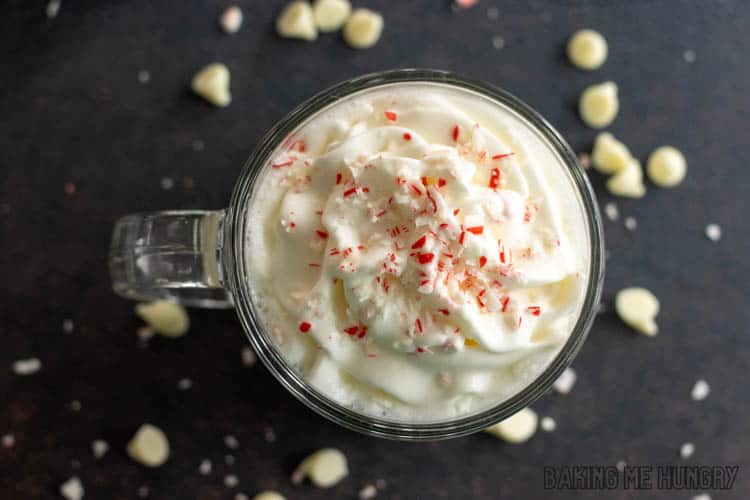 Ingredients
Whole Milk – Whole milk is often used in hot chocolate because it provides a richer flavor and a creamier texture. The fat content in whole milk also helps to create a more luxurious drink. When making hot chocolate with whole milk, be sure to heat it slowly and carefully so that the milk doesn't scorch or boil over.
White Chocolate Chips – The white chocolate chips in this hot chocolate recipe are an excellent way to add sweetness and creaminess to the drink without using cocoa powder or regular chocolate. The chips also help to thicken the hot chocolate and make it more satisfying. You can also use a chopped white chocolate bar.
How to Make Starbucks White Hot Chocolate
Step One: Combine the milk and white chips in a microwave-safe mug.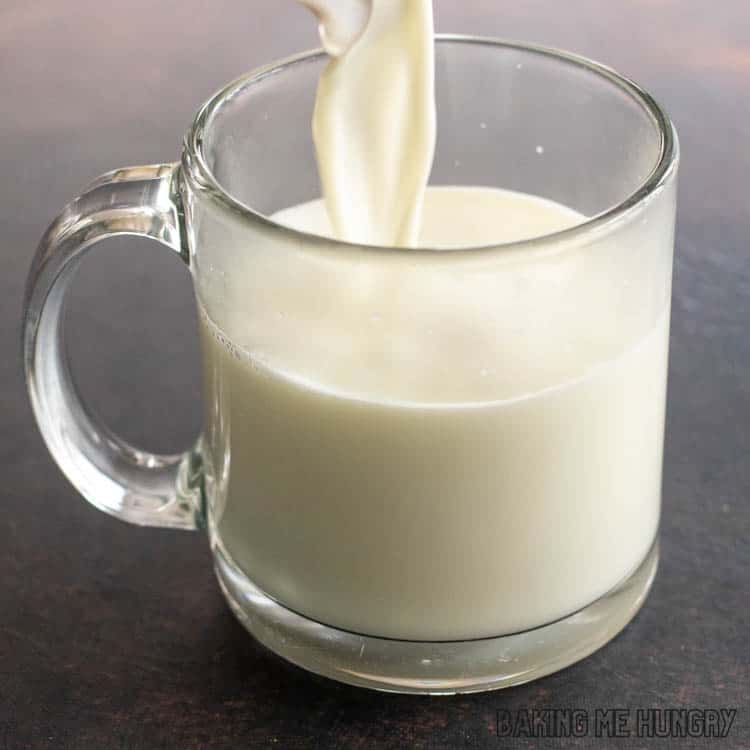 Step Two: Microwave for 2 minutes. Stir until the chips melt. If desired, microwave a bit longer to heat the hot cocoa hotter.
Expert Tip: If you don't want to use a microwave you can make this in a small saucepan over medium heat on the stove, whisking constantly.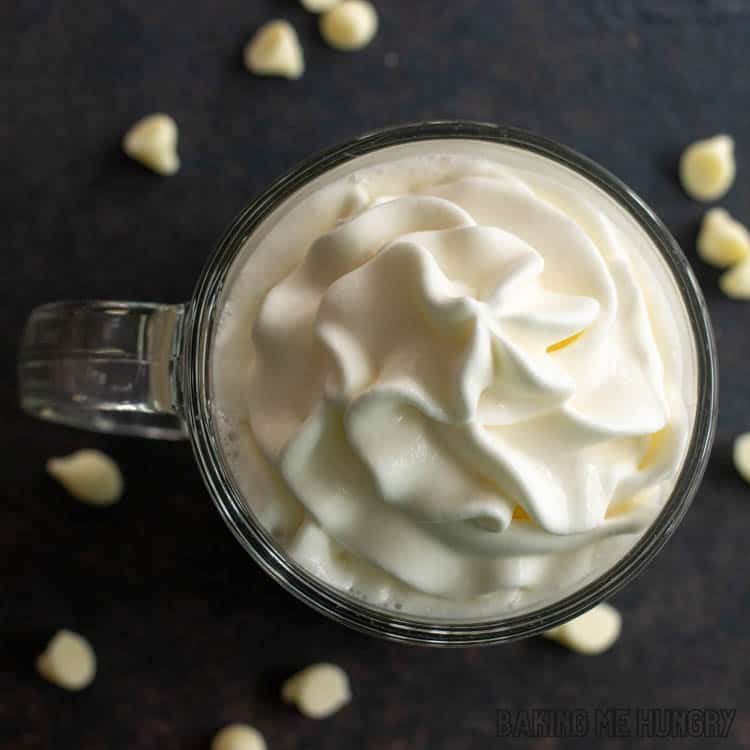 Variations
It is easy to replicate all of your favorite white chocolate recipes! Try these variations:
Peppermint – Add a few drops of peppermint extract. The addition of peppermint extract amplifies the mint flavor and gives the drink a slightly spicy kick. The sweetness of the chocolate balances out the mint, while the rich creaminess of the Starbucks peppermint hot chocolate provides a smooth texture.
Candy Cane – Crushed candy canes are a fun topping because of their sweetness and beautiful color.
Coffee – Add a shot of espresso for a white chocolate mocha. Just use decaf if you don't want caffeine.
Pumpkin Spice – For a fall twist add some vanilla extract, cinnamon, and nutmeg or pumpkin pie spice. This combo adds a warm and spicy flavor to the hot chocolate.
Cinnamon – A sprinkle of cinnamon on top of the whipped cream is a nice touch.
Maple – Adding maple syrup may make this too sweet so if you like this combo try adding maple extract instead.
Syrups – Using flavored syrup, such as peppermint syrup or vanilla syrup, is a great way to add flavor but can also make the hot chocolate too sweet. Just add a bit and taste as you go.
Coconut – Stir in a little coconut extract and top with toasted coconut flakes.
Sauce – A drizzle of white chocolate sauce or white chocolate mocha sauce on top of the whipped cream is gorgeous.
Chocolate – Want a regular hot chocolate? Try our Chocolate Chips Hot Chocolate.
Common Questions
What does white hot chocolate taste like?
This easy recipe is creamy and sweet, with the flavor of white chocolate being the dominant taste. Some brands add vanilla to their recipe, which can add another layer of sweetness. Overall, the drink is rich and indulgent.
What is Starbucks white hot chocolate made of?
Here is the official ingredient list:
Ingredients. Milk, White Chocolate Mocha Sauce [Sugar, Condensed Skim Milk, Coconut Oil, Cocoa Butter, Natural Flavor, Salt, Potassium Sorbate, Monoglycerides], Whipped Cream [Cream (Cream, Milk, Mono And Diglycerides, Carrageenan), Vanilla Syrup (Sugar, Water, Natural Flavors, Potassium Sorbate, Citric Acid)].
What toppings can I add to white hot chocolate?
Our favorites are whipped cream with dark chocolate curls, crushed peppermints, or holiday sprinkles. White mocha sauce is amazing too.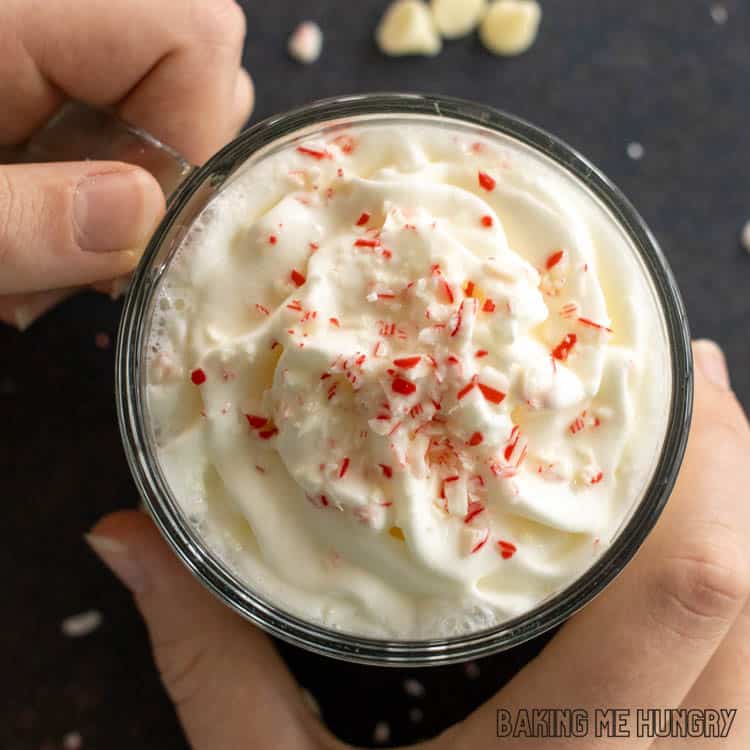 What is in a white chocolate mocha?
A white chocolate mocha is a coffee drink that contains espresso, steamed milk, and white chocolate syrup. The drink is typically topped with whipped cream and a sprinkle of cocoa powder.
What is Starbucks' secret menu?
The Starbucks "secret menu" is a collection of unique and interesting drink combinations that are not listed on the company's standard menu. These drinks are created by customers and baristas alike and often require specific ingredients or preparations that may not be immediately apparent to those unfamiliar with the menu. While the existence of a secret menu is not an official secret, it is often unknown to those who do not take the time to explore all of the possible drink options at Starbucks.
Some of the most popular secret menu items include the Nutella Frappuccino, the Oreo Frappuccino, and the Captain Crunch Frappuccino. While these drinks are not officially recognized by Starbucks, they can still be ordered by asking for specific ingredients.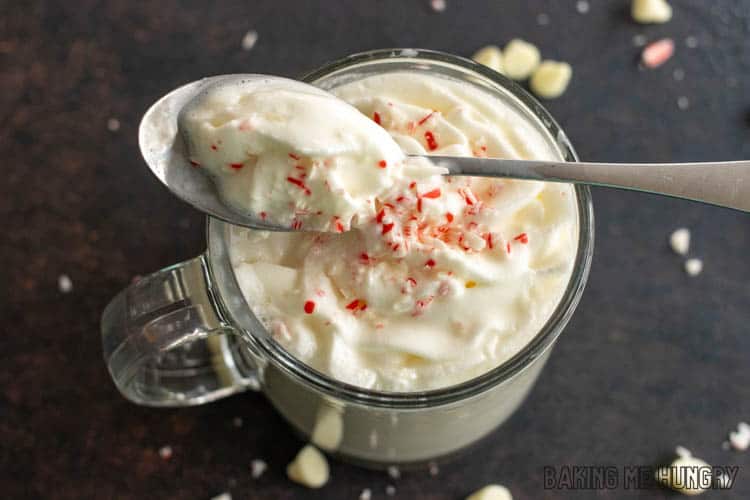 Like what you see? Follow us on Facebook and on Instagram! Love this recipe? Leave a comment & a 5-star rating right here! Make sure you don't miss new recipes by getting email updates!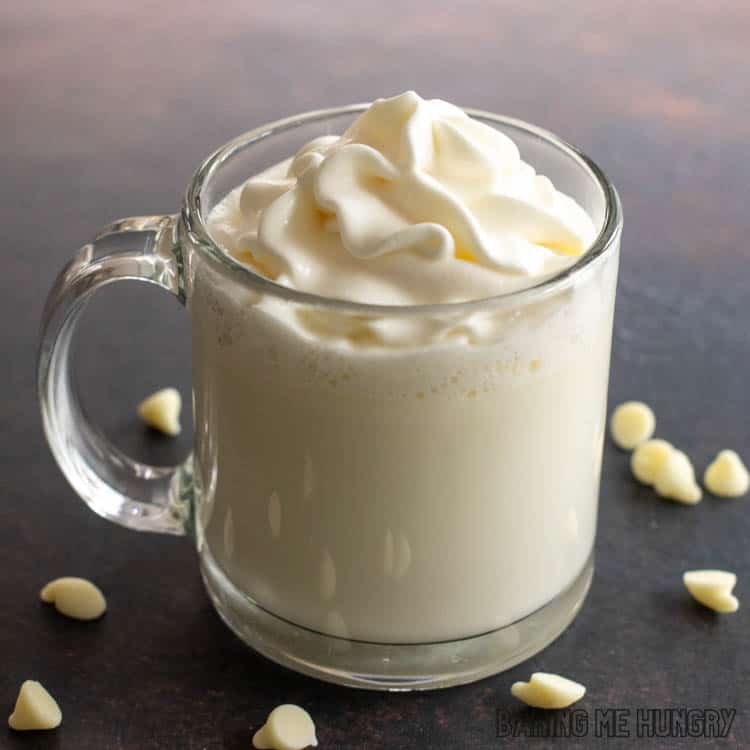 Ingredients
8

oz

whole milk

⅓

cup

white chocolate chips
Instructions
Combine the milk and chocolate chips in a large microwave-safe mug.

Whisk until the chocolate has melted. Top with whipped cream, if desired.
Notes
Nutrition Facts: The nutrition facts are for the entire recipe. This is rich. You could easily get 2-3 servings from one recipe.
Nutrition
Calories:
459.5
kcal
|
Carbohydrates:
46.1
g
|
Protein:
11
g
|
Fat:
26.5
g
|
Saturated Fat:
15.9
g
|
Polyunsaturated Fat:
0.8
g
|
Monounsaturated Fat:
7
g
|
Cholesterol:
39.8
mg
|
Sodium:
140.2
mg
|
Potassium:
511.8
mg
|
Fiber:
0.1
g
|
Sugar:
46.3
g
|
Vitamin A:
385.4
IU
|
Vitamin C:
0.3
mg
|
Calcium:
398.4
mg
|
Iron:
0.1
mg