You have to give this Coffee with Honey Recipe a try! It's a hot drink that will delight your tastebuds in a great way. This Honey Latte Recipe is perfect for any coffee lover who wants to make a unique and delicious DIY coffee drink at home.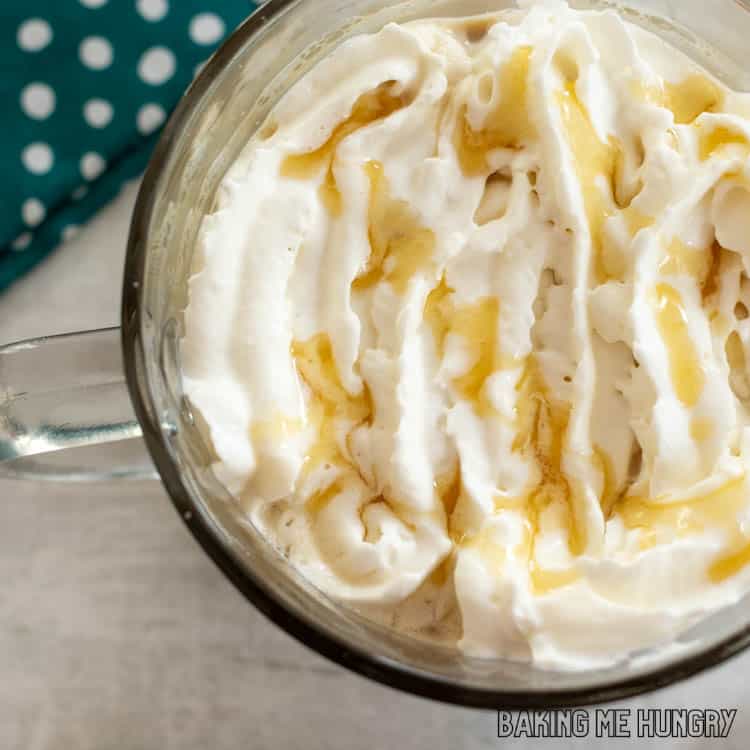 Coffee drinkers will rejoice at what is sure to be their new favorite coffee drink! The honey mixture is what makes coffee drinks like this really stand out! This is my quick pick for a drink in the morning when I want to have the taste of a traditional Spanish latte that is loaded with warmth and goodness.
It's also the perfect coffee drink recipe for the sweet tooth as it combines that strong espresso flavor with the natural sweetener of local honey. And yes, you can use any honey, but local honey has fun health benefits to it as well! The next time that you want to make a homemade latte, this easy coffee recipe is a must.
Be sure to make this Coffee Mousse Recipe as a fun way to make a homemade topping for any coffee drink. This recipe is versatile, simple, and tastes so good.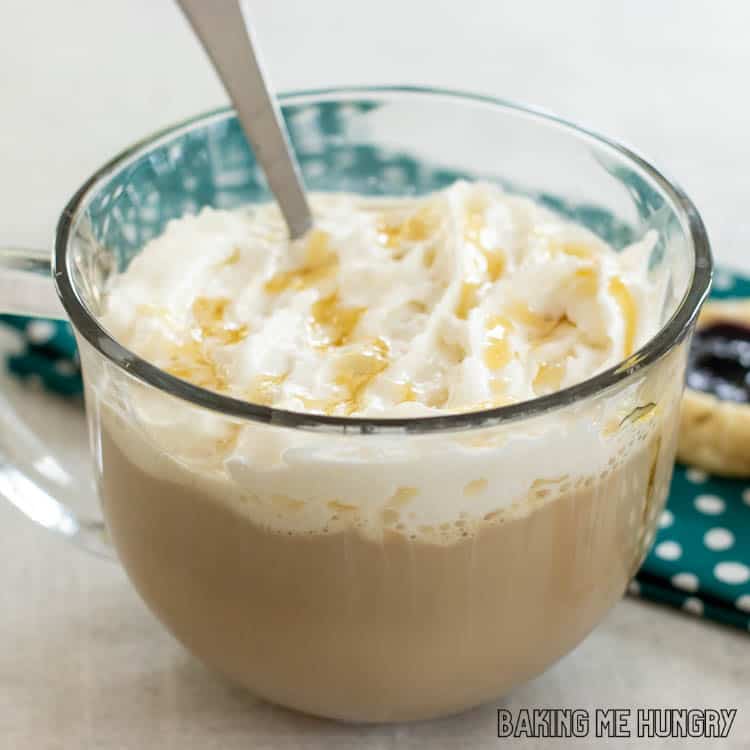 Ingredients
Espresso or strong coffee – You can use any brand of coffee or espresso to make this simple caffeinated drink. If you don't have a way to make espresso at home you can brew double strength coffee in a french press.
Honey – Local honey is fun to use and also helps support local small businesses. Raw honey has a lot of healthy benefits like
Hot whole milk – There are milk alternatives that you can use as well, listed below.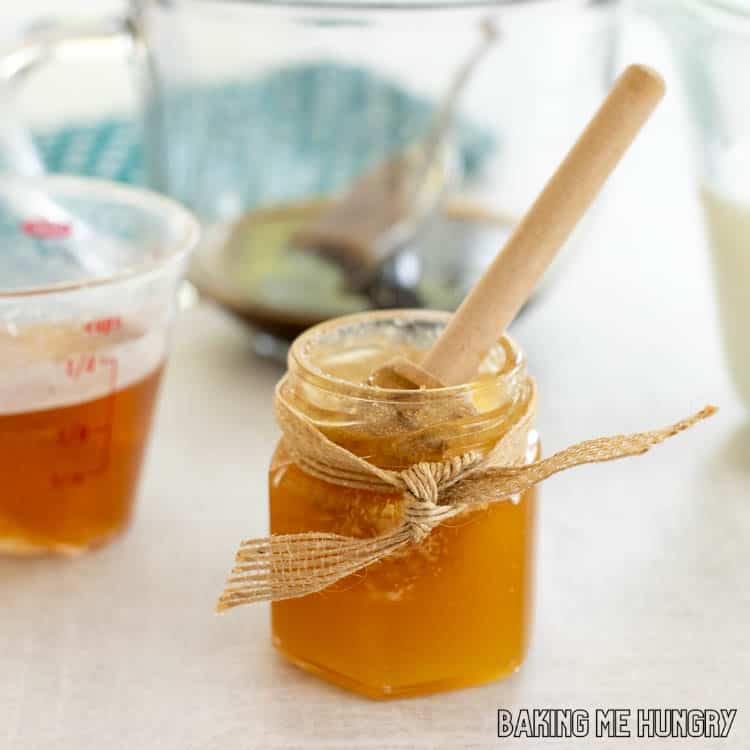 How to Make This Honey Latte Recipe
Step One: Put the espresso in the large mug.
Mix the espresso with the honey in a coffee mug or latte glass. Heat the milk in a small saucepan or in the microwave.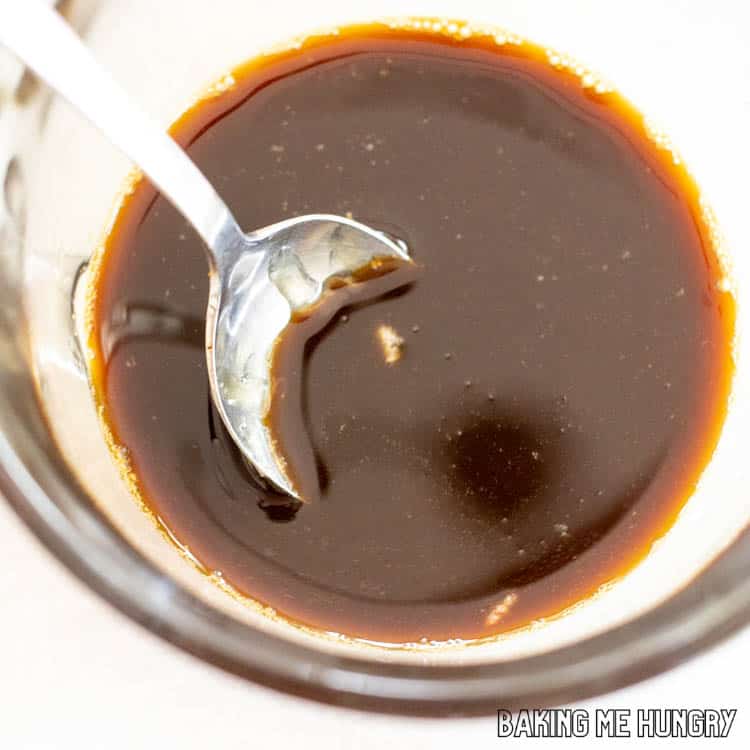 Step Two: Pour in the hot milk mixture and garnish with whipped cream and honey.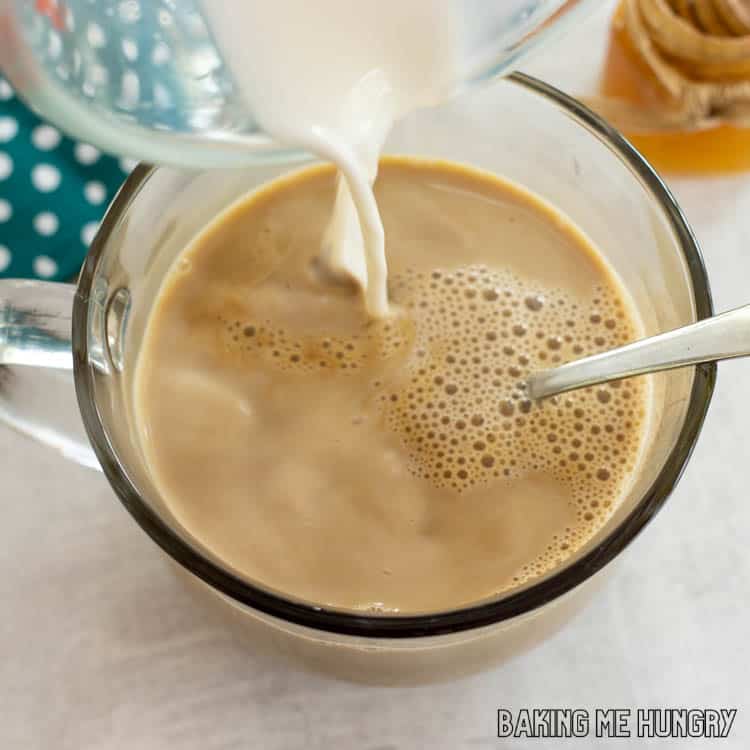 Variations
Lavender – It may sound odd but try adding Honey Lavender Syrup to this recipe. The hint of lavender is delicious.
Spices – You can easily add ground cinnamon, ginger, vanilla extract, pumpkin spice, or any sweet spices you enjoy.
Dairy-Free – For a dairy free version try coconut milk, oat milk, or almond milk in place of the whole milk.
Cinnamon sticks – A fun addition is also cinnamon sticks to use to stir the hot coffee. All these options add flavor.
Use instant coffee – This simple honey coffee recipe will work with instant coffee or a few shots of espresso!
Creamer – Save on time by making this Coffee Mate Italian Sweet Cream Recipe using honey instead of sugar. And then use it for an instant honey latte!
Common Questions
Why should I use honey in coffee?
Honey, especially raw honey, has health benefits like boosting the immune system, soothing sore throats, aiding digestion, and providing antioxidants. It is also a natural source of energy and can help improve athletic performance. Raw honey has antibacterial and antifungal properties that can promote wound healing and reduce the risk of infections. Additionally, it has been known to alleviate allergy symptoms and act as a natural cough suppressant. With its rich nutritional profile, raw honey is not only a delicious alternative to processed sugars but also a versatile ingredient that can be incorporated into various recipes for added health benefits.
How do I make a honey cinnamon latte?
You can easily turn this sweet coffee recipe into a tasty recipe full of cinnamon flavor! All you need to add to this cup of coffee recipe is to add a pinch of cinnamon. You can easily add cinnamon to the recipe card to make this recipe.
Do I need an espresso machine to make this drink?
​It's helpful, but you don't have to have one. You can easily make an instant espresso without a machine. You can also make a double shot of espresso or swap out the espresso for fresh coffee.
Can I make this into a cold brew coffee?
Absolutely. Sweet tooths can love hot or cold brew coffee with this recipe. That's good news! Cold coffee is made just like hot coffee, just with added ice cubes. It is easy to make honey iced coffee. You can also add a drizzle of honey for more flavor anytime that you would like to.
Can I make this coffee drink ahead of time?
You can. If you want to have the ingredients on hand to make this coffee drink when the craving hits, it's simple to do. Brew some coffee ahead of time and have it ready and waiting in the fridge. You can then follow the simple directions on the recipe card to finish creating the rest of the drink.
What are good toppings for coffee?
If you want to add sweet toppings, whipped cream is never a bad idea. You can also add ground cinnamon, mini chocolate chips, and even a swirl of hot fudge or chocolate on top.
If you don't want sweet, adding a dusting of cocoa powder and stirring it in is a great idea as well. Experiment with the different types of toppings that you want each time you make this drink. They're so simple to change up!
Can I use decaf coffee?
Absolutely. The fun part about making this easy coffee recipe is that you control the outcome. You can cut out the caffeine completely so that there isn't any to worry about, which instantly transforms this coffee recipe into one that can easily be consumed any time of the day.
Don't want to stay up all night because of the caffeine jitters? No problem!
Ingredients
2

oz

espresso

or very strong coffee

3

tablespoon

honey

8

oz

hot whole milk
Instructions
Mix the hot espresso with the honey in a latte glass.

Pour in the hot milk. Garnish with whipped cream and a drizzle of honey.
Nutrition
Calories:
332.7
kcal
|
Carbohydrates:
63.5
g
|
Protein:
7.7
g
|
Fat:
7.4
g
|
Saturated Fat:
4.3
g
|
Polyunsaturated Fat:
0.3
g
|
Monounsaturated Fat:
1.6
g
|
Cholesterol:
27.2
mg
|
Sodium:
96.6
mg
|
Potassium:
438.1
mg
|
Fiber:
0.1
g
|
Sugar:
62.6
g
|
Vitamin A:
367.4
IU
|
Vitamin C:
0.4
mg
|
Calcium:
283.9
mg
|
Iron:
0.3
mg