Start your mornings or enjoy your afternoons with this easy Vanilla Chai Latte Recipe. You'll save so much money making your own at home rather than buying from the local coffee shop! Simple ingredients are needed and just a few moments of time.
I call this my own little Starbucks copycat recipe because it really does taste like the real deal. It's the perfect drink with just the right amount of spices to be able to enjoy at any time of the day. Making your own homemade vanilla chai latte couldn't be easier, and this recipe is proof.
This just might become your new favorite drink, and it gives you great options to serve for breakfast, brunch, or as an after-dinner drink. The first time that you make this particular recipe, you're going to be hooked. I whipped this up on a cold day this year, and I was instantly snuggling and warm!
Speaking of delicious recipes, be sure to check out my Chocolate Chips Hot Chocolate and Starbucks White Hot Chocolate for more wonderful hot sipper options.
Ingredients
Boiling Water – Needed to pair with the tea bags to make the tea base.
Chai Tea Bags – Buy your favorite brand at the store.
Sugar – You can use regular sugar or brown sugar.
Vanilla – Vanilla extract is my go-to in this recipe.
Milk – Use the milk of your choice. I normally use whole milk. But almond milk or even coconut milk are both fine. Oat milk would work, too.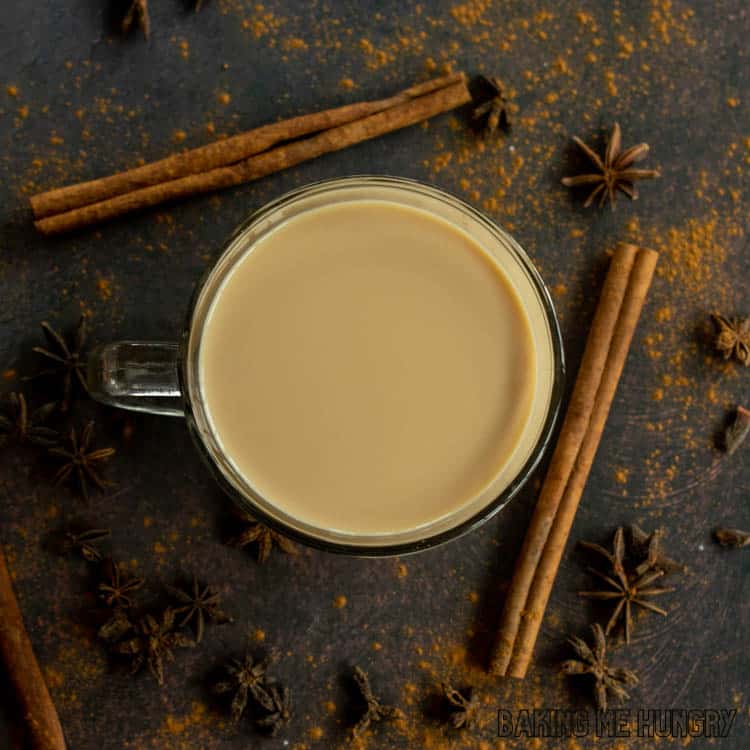 How to make this Vanilla Chai Tea Latte Recipe
Step One: Put the tea bags into the water and bring them to a boil. Add the sugar and stir until it is dissolved. Add the vanilla.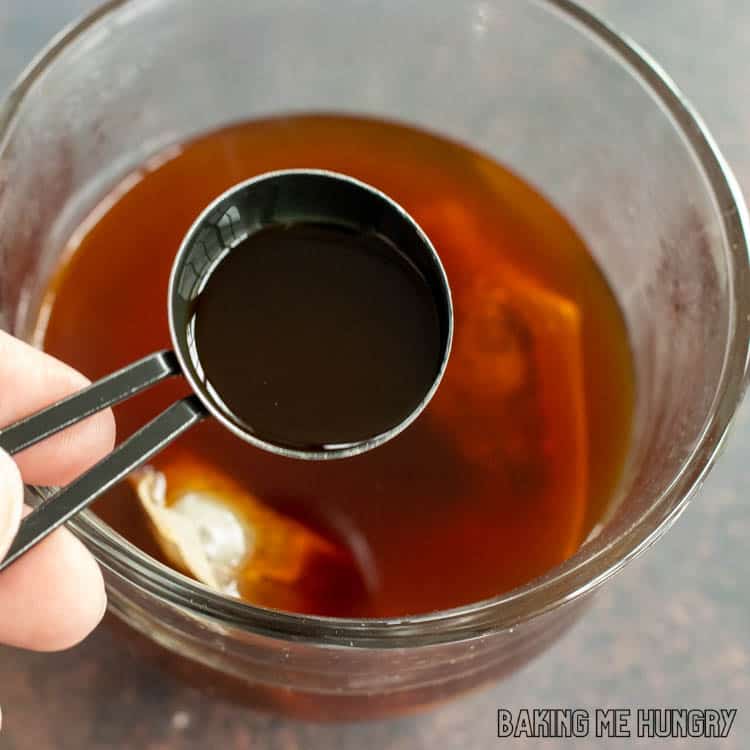 Step Two: Bring the milk to a gentle simmer in a saucepan or in a microwave-safe mug.
Step Three: Once the milk is simmering, combine the milk and the tea together in a mug. Top with whipped cream, if desired.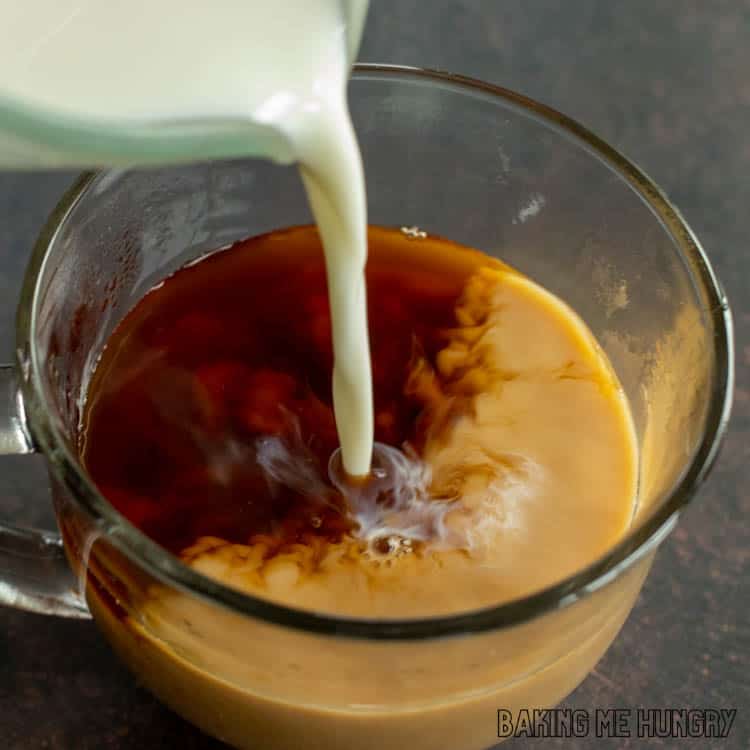 Variations
Add more flavors – If you're not worried about making this taste exactly like a Starbucks Chai latte, you can add some different flavors and make it unique. Adding a few cinnamon sticks is great for warmth and also works great for a stirrer, too.
A little bit of star anise is a fun flavor to add, or you can opt to use some vanilla bean as well. Delicious recipes like this can be altered easily by also adding a nice foam on top, too! Once you pour milk into the tea, you can then turn it into a fancy tea latte by adding some foam or even whipped cream right on top.
Add toppings – The heavy cream on top is delicious, and don't forget to add a pinch of ground cinnamon as well. Any fine powder or vanilla syrup would be great to add a different sweetener and taste.
Make it chilled – Even though this easy recipe is typically made warm, who says that you can't make this drink into an iced vanilla chai latte? Once you add the warm milk to the tea, you can also add some ice cubes to chill out the whole drink. Chilled tea lattes are delicious, too.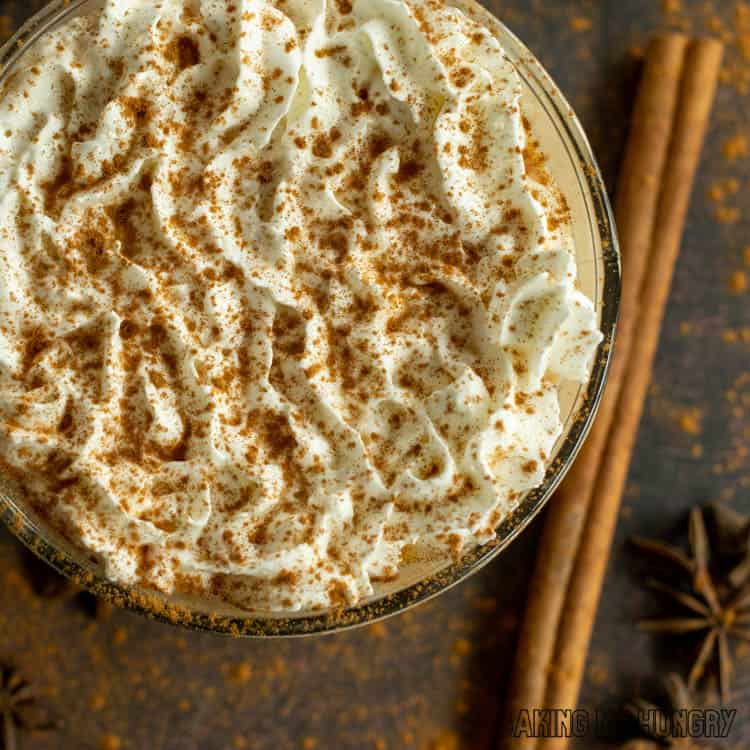 Common Questions
Can I add more sweetness to this easy vanilla chai tea recipe?
You can. Add a little bit of honey or maple syrup to the tea mixture, and stir. This is a great way to add natural sweetness, and both are great alternatives to use. Don't forget that adding a little dash of cinnamon is also a good way to enhance the flavors.
What happens if the chai tea bags leak into the water while boiling?
While this can feel like everything is ruined, it's really not. All that you need to do to save this copycat Starbucks chai tea latte is to pour the remaining mixture through a fine mesh strainer. This will catch any loose tea leaves that might be floating around and still give you that wonderful chai tea mix flavor that you're going for.
However, if after straining, you're still not satisfied, you might want to just start over again. It's not ideal, but drinking tea leaves and having that texture isn't idea, either.
What is the best way to get hot water quickly?
I'm a big fan of putting a small saucepan on the stove and heating it over medium heat. Remember that a watched pot never boils, so occupy yourself while you're prepping the water for this hot drink. Once the water starts to have a rolling boil, you know that it's hot and ready.
You can also use hot water from an electric hot water kettle as well, which is always a nice appliance to have on hand!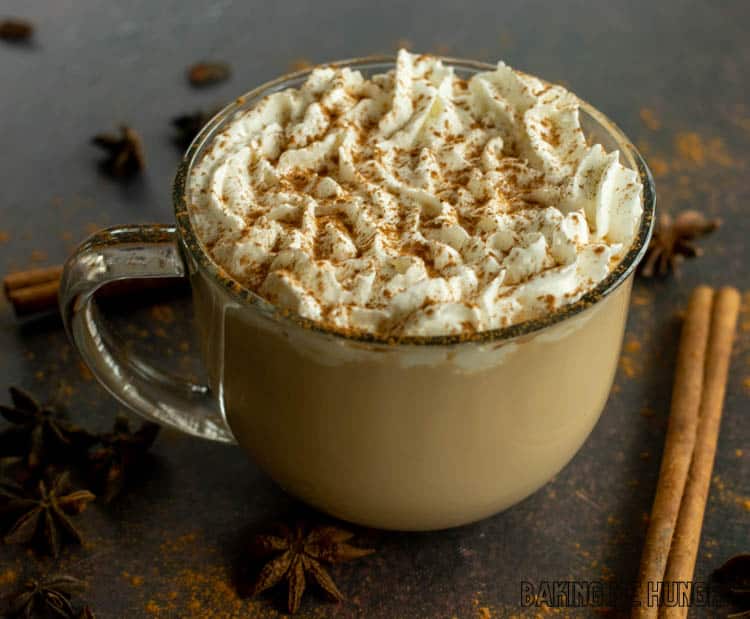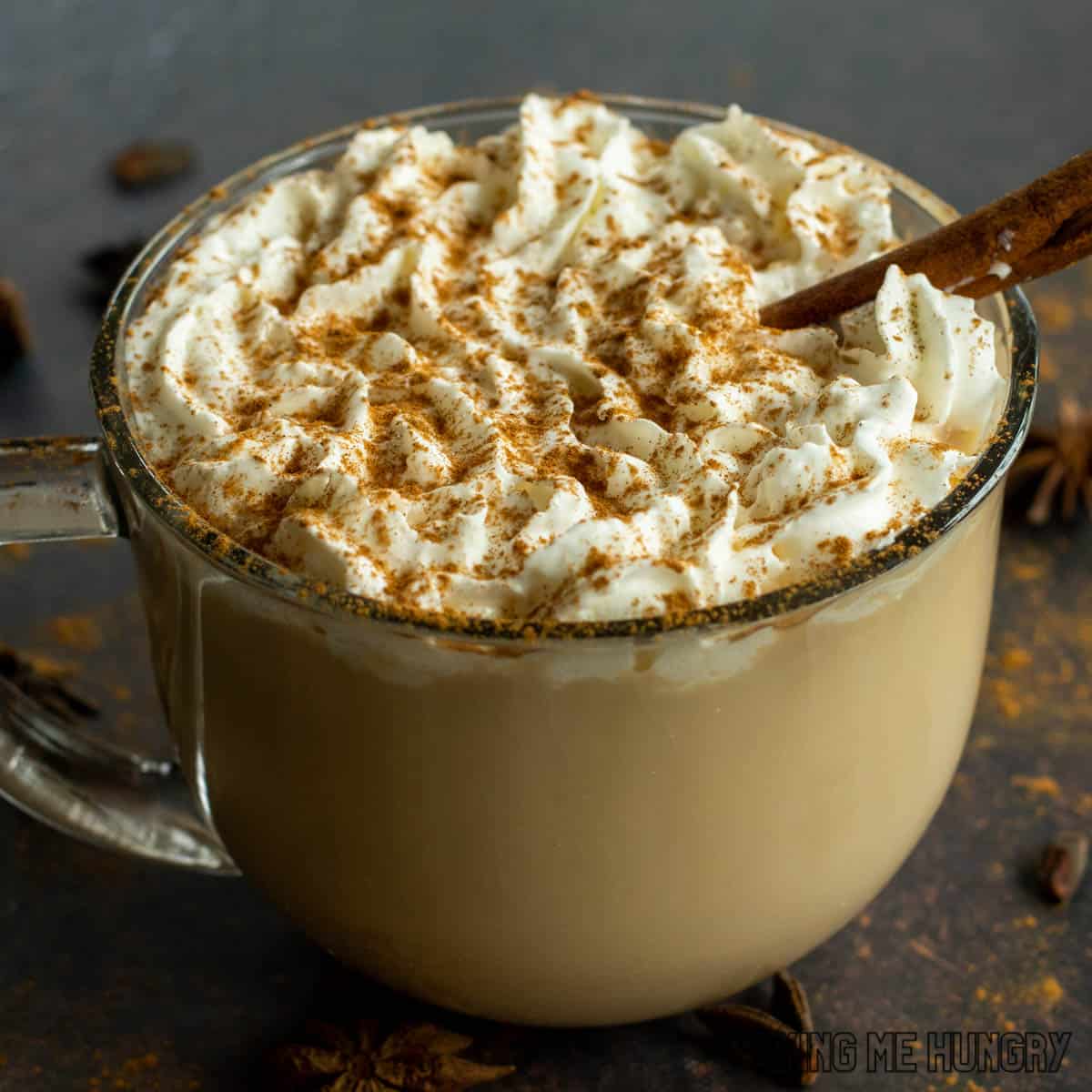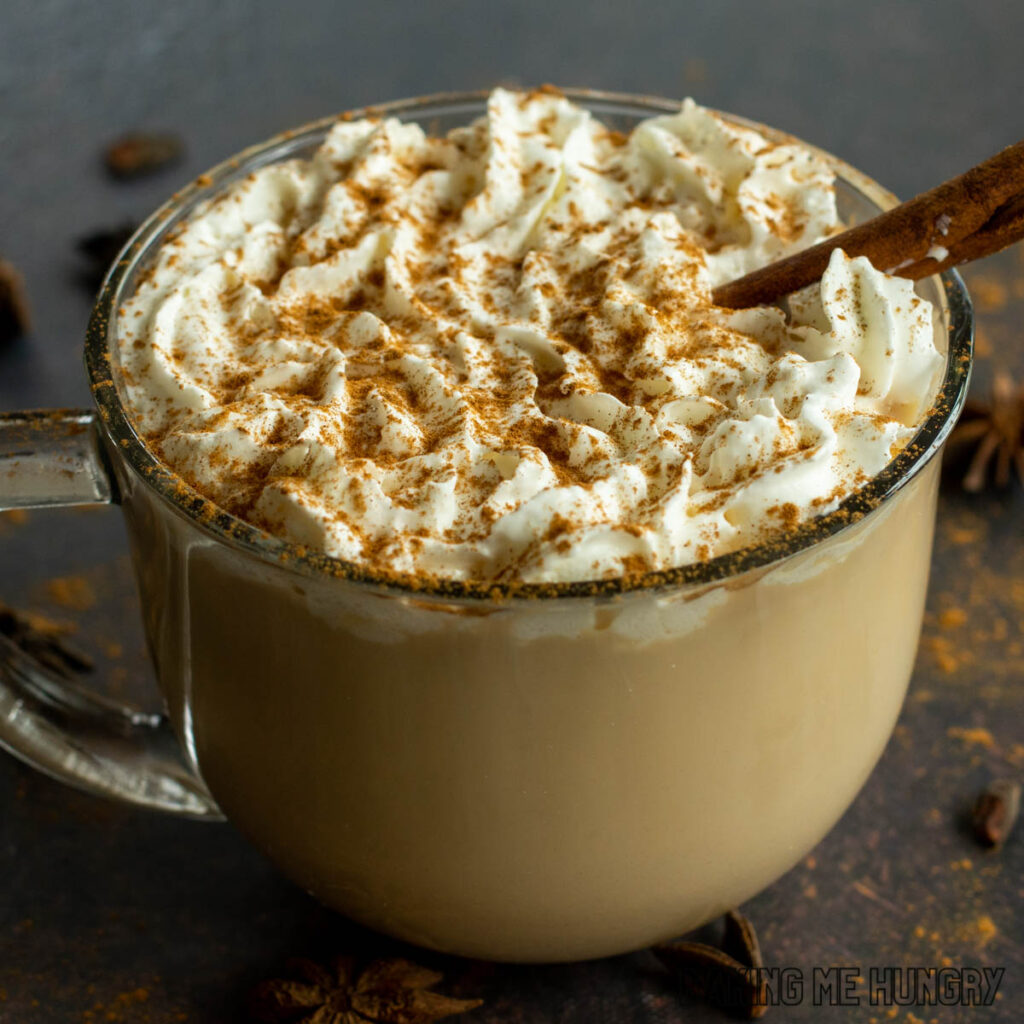 Ingredients
8

oz

boiling water

2

chai tea bags

2

tablespoon

sugar

1

teaspoon

vanilla

8

oz

whole milk
Instructions
Combine the water and tea bags. Let steep for 5 minutes. Add the sugar and stir until it dissolves. Add the vanilla.

Meanwhile, bring the milk to a gentle simmer. Alternatively, you can heat the milk in the microwave.

Combine the tea mixture with the hot milk in a large mug.
Nutrition
Calories:
240
kcal
|
Carbohydrates:
35
g
|
Protein:
7.4
g
|
Fat:
7.3
g
|
Saturated Fat:
4.2
g
|
Polyunsaturated Fat:
0.2
g
|
Monounsaturated Fat:
1.6
g
|
Cholesterol:
27.2
mg
|
Sodium:
86.8
mg
|
Potassium:
346.6
mg
|
Sugar:
35.4
g
|
Vitamin A:
367.4
IU
|
Calcium:
279.6
mg
|
Iron:
0.01
mg