Chocolate chips hot chocolate is a delicious and unique twist on a classic winter beverage. This recipe is easy to follow and only takes a few minutes to make. Whether you are looking for a tasty treat or a simple way to warm up on a cold day, hot chocolate with chocolate chips is the perfect drink for you.
Chocolate and warm beverages go together like peanut butter and jelly. They just belong together. This recipe for hot chocolate with chocolate chips is the perfect way to get your chocolate fix. The chocolate chips melt in your mouth and the hot chocolate is rich and delicious.
This hot chocolate recipe is a treat that you will want to make again and again. It is just as easy as making a glass of chocolate milk or instant hot chocolate packets. The taste is so much better than hot cocoa packets and only takes about a minute more to make.
Ingredients
Chocolate Chips – We like to use a combination of milk chocolate chips and semi-sweet chocolate chips. You want enough sweetness from the chocolate since you aren't adding sugar but you also want a deep chocolate flavor. This combo helps you to get the best of both.
Whole Milk – Whole milk in homemade hot chocolate is a great way to get a rich and creamy beverage. The fat in the milk helps to create a smooth and velvety texture, while the high protein content gives the drink body and depth. Using whole milk also ensures that your hot chocolate will be nicely thickened, without needing to add any additional thickeners.
How to Make Chocolate Chips Hot Chocolate
When chocolate is heated, the molecules within the cocoa butter begin to break down and separate. This process is known as "melting." As the chocolate melts, it changes from a solid state to a liquid state. The cocoa butter helps to give melted chocolate its smooth, creamy texture. When combines with hot milk, melted chocolate chips create a rich and decadent beverage known as hot chocolate.
The melted chocolate in homemade hot chocolate can be seen as a metaphor for the smooth, effortless way in which the drink flows down your throat. The chocolate itself is representative of the hard work and dedication that goes into making a perfect cup of hot chocolate. Every step, from melting the chocolate to stirring in the milk, is crucial in order to create a rich and creamy beverage. The end result is a drink that is both comforting and satisfying.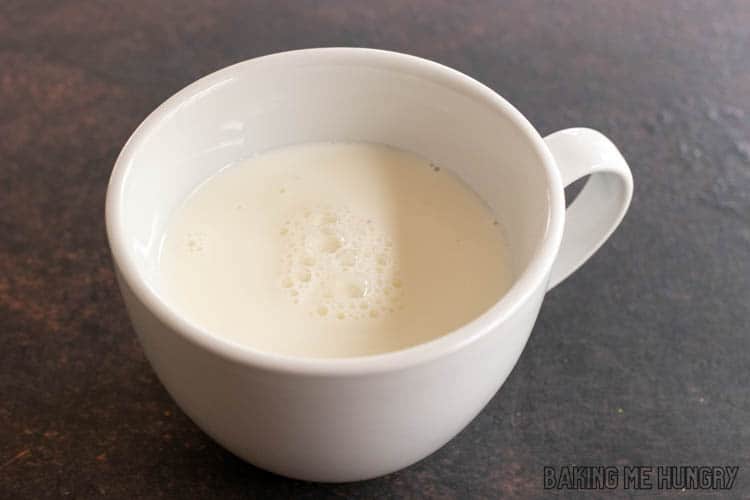 Step One: Combine the milk and chocolate chips in a microwave-safe mug.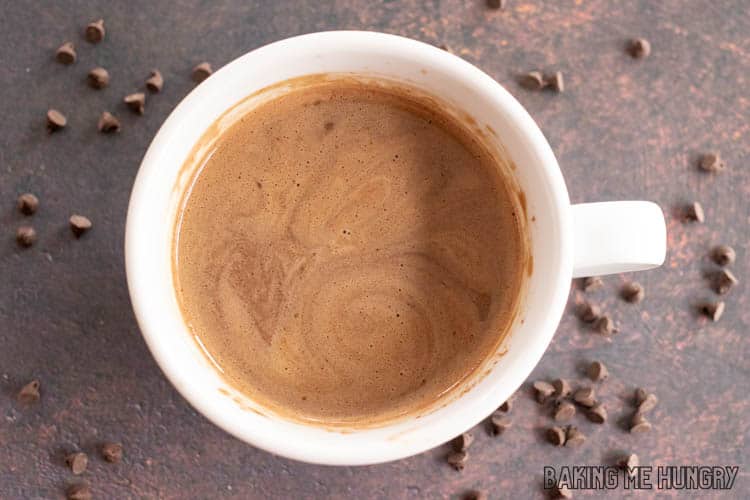 Step Two: Heat for 2 minutes in the microwave. You want the milk to be just hot enough to melt the chocolate.
Step Three: Whisk until it is smooth and all the chocolate chips have melted. If you would like it hotter you can microwave for an additional 30-60 seconds at this point.
Step Four: Top with your favorite toppings. Enjoy!
Variations
Sugar-Free – To make this without added sugar just use sugar-free chocolate chips. You may need to add a bit of extra sweetener since some are not that sweet.
White Hot Cocoa – Try our Starbucks White Hot Chocolate.
Mint Hot Cocoa – Stir in some crushed peppermint candies or candy cane. Or you can add a dash of peppermint extract.
Dairy-Free Vegan Hot Cocoa – Just use dairy-free chocolate chips, almond milk, and coconut milk. I like to use half canned full-fat coconut milk and half unsweetened almond milk.
Caramel Swirl – Stir in a bit of caramel sauce for some caramel flavor and then drizzle more on top of the whipped cream!
Maple White Hot Chocolate – Use white chocolate chips (cut the amount used in half) and add a generous drizzle of pure maple syrup.
Common Questions
What kind of chocolate chips can I use?
You can really use just about any combination of semi-sweet chocolate chips, milk chocolate chips, dark chocolate chips, white chocolate chips, or even peanut butter chips. Since you are only making one mug full at a time you can customize the combination to suit each person's tastebuds.
What is the difference between milk chocolate and semisweet chocolate?
The difference between milk chocolate and semisweet chocolate is the amount of cocoa butter and sugar that is present in each type of chocolate. Milk chocolate contains more milk solids and less cocoa butter than semisweet chocolate. Semisweet chocolate also contains more sugar than milk chocolate.
Can I make this creamy hot chocolate recipe in a saucepan?
Sure! If you don't want to use the microwave just add the chocolate chips and milk to a small pot and whisk as they heat up. Be careful not to scorch the chocolate chip hot chocolate.
What can I add to hot chocolate to make it better?
You can add a pinch of salt or a dash of vanilla extract. For extra chocolate flavor add a tablespoon of cocoa powder. Or check out all the variations I have listed above.
Does milk need to boil for hot chocolate?
The short answer is no, milk does not need to boil for hot chocolate. The milk just needs to be heated until it is steaming.
How do you make hot chocolate with milk without curdling it?
When making hot chocolate with milk, it is important to avoid curdling the milk. This can be done by heating the milk slowly and carefully, stirring frequently. If the milk begins to curdle, it can be saved by adding a spoonful of cold milk and whisking vigorously.
What toppings are good for hot chocolate?
Besides whipped cream and mini chocolate chips as shown in the photos, you can use mini marshmallows or even a scoop of vanilla ice cream! And then drizzle on some chocolate syrup for an out-of-this-world treat.
Like what you see? Follow us on Facebook and on Instagram! Love this recipe? Leave a comment & a 5-star rating right here! Make sure you don't miss new recipes by getting email updates!
Ingredients
8

oz

whole milk

6

tbsp

chocolate chips

***
Instructions
Combine the milk and chocolate chips in a large microwave-safe mug.

Whisk until the chocolate has melted. Top with whipped cream, if desired.
Notes
Nutrition Facts: The nutrition facts are for one large mug. This is very rich. You could easily get 2-3 servings from one recipe. We like to sip it slowly. Chocolate Chips: We prefer using half semisweet chocolate chips and half milk chocolate chips but any combination or type of chocolate chips will work.
Nutrition
Calories:
586.1
kcal
|
Carbohydrates:
68.5
g
|
Protein:
7.4
g
|
Fat:
33
g
|
Saturated Fat:
20.3
g
|
Polyunsaturated Fat:
0.2
g
|
Monounsaturated Fat:
1.6
g
|
Cholesterol:
27.2
mg
|
Sodium:
86.2
mg
|
Potassium:
597.3
mg
|
Sugar:
62.3
g
|
Vitamin A:
367.4
IU
|
Calcium:
343.3
mg