Banana Carrot Muffins are delicious healthy muffins that are perfect for breakfast or a snack. All you need are simple ingredients to make this delicious morning starter or afternoon snack!
What I love about making these healthy carrot muffins is that they're loaded with natural sweetness from the carrots and mashed banana. Adding the warm spices of cinnamon helps to complete that delicious taste. You can easily make these carrot banana muffins for kids, adults, or anyone who loves a simple grab-and-go treat. The whole family will be behind the making of this recipe because the flavor speaks for itself.
My biggest tip is to buy pre-shredded carrots at the grocery store to save on time! That way, you don't have to spend a ton of extra time shredding your own carrots, and you can focus on the rest of the steps to make these fluffy banana carrot muffins. With just a few other main ingredients needed, they're the perfect way to make a quick snack.
Speaking of delicious banana recipes, be sure to check out my Banana Blueberry Oatmeal Muffins! And my single serve Carrot Mug Cake.
Ingredients
Salted butter – I love using salted butter for my baking needs. If you have unsalted butter just add a pinch of salt.
Brown sugar – To add a hint of coloring and sweetness.
Vanilla extract – Pure vanilla extract works best.
All-purpose flour – This is the main ingredient used in these homemade muffins.
Cinnamon – A dash of cinnamon adds a warmth of flavor.
Baking powder – To help the muffins rise while baking.
Milk – You can use regular milk or almond milk for this recipe.
Eggs – To bind the ingredients together to make the muffin batter. For an egg-free muffin, I think flax eggs would work in this recipe.
Shredded carrots – Save yourself time and buy them already shredded.
Mashed banana – Use a ripe banana.
How to make Banana Carrot Muffins
Step One: Preheat the oven to 350 degrees. Line the muffin cups on a muffin pan with muffin liners and then spray with nonstick spray.
Step Two: Mix the dry ingredients in a bowl.
Step Three: In a different large mixing bowl, cream the sugar, room temperature butter, and vanilla with a mixer at medium speed until fluffy.
Add the banana and egg and beat well.
Use a mixer to combine the wet ingredients.
Step Four: Slowly add the dry ingredients, alternating with the milk and beating after each addition. Stir in the carrots.
Step Five: Add the muffin batter to the muffin liners until they are ¾ full.
Step Six: Put the pan in the oven and bake for 18-20 minutes.
Step Seven: Let the muffins cool for 5 minutes, then remove them from the pan and let them cool on a wire rack.
Step Eight: Make the icing while the muffins are cooling and then spoon on top.
Variations
Add sweetness – If you want to not use as much sugar, you can mix in some pure maple syrup or even use coconut sugar as well.
Use a different frosting – Skip the frosting altogether or buy your favorite from the store. Cream cheese frosting is a great addition, and you can even add some chocolate chips on top.
Change the flavor – Even though the flavor of carrots and bananas is awesome, you can easily add pumpkin pie spice or more ground cinnamon to make the regular flavor taste different. The flavors of carrot cake can easily be achieved by adding just a few more flavors.
Common Questions
How do I know when bananas are ripe and ready to be used for baking?
There are a few things to look for. First, if there are brown spots or black spots on the bananas, they're going to be ripe and ready. You can also use any overripe bananas that you have sitting on the counter because we are all guilty of that!
Do achieve mashed bananas, the ripe ones are easy to smash. All you'll need to use are a fork to mash them down and add to the mixture to make these healthy banana carrot muffins.
Does this taste like banana bread? Or carrot cake?
Sort of. It's a mixture between banana bread and carrot cake – and it's divine. This is why it's a great breakfast option or by adding frosting, you can enjoy these delicious banana carrot muffins for dessert, too.
How do I store leftover muffins?
A delicious way to make the flavor last is to freeze leftover muffins for later. Just be sure to let the muffins cool down all the way, and then you can add them to an airtight container to freeze for later.
Frozen muffins can be easily thawed by putting them in the fridge for a little bit and letting them soften.
For a fall treat try these 3 Ingredient Pumpkin Muffins next!
Like what you see? Follow us on Facebook and on Instagram! Love this recipe? Leave a comment & a 5-star rating right here! Make sure you don't miss new recipes by getting email updates!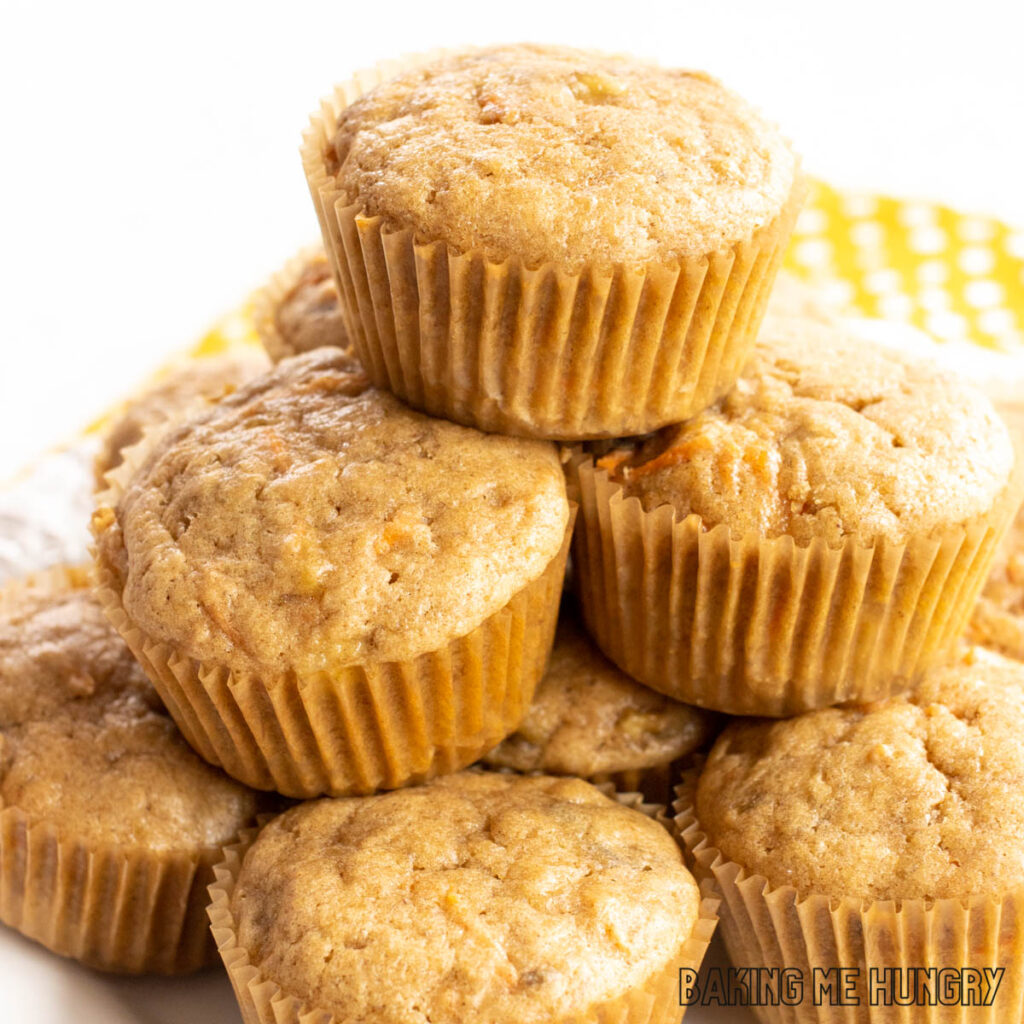 Ingredients
4

oz

salted butter

softened

½

cup

brown sugar

1

teaspoon

vanilla extract

1.5

cups

all-purpose flour

2

teaspoon

cinnamon

2

teaspoon

baking powder

½

cup

milk

3

eggs

1

cup

shredded carrots

1

cup

mashed banana
Instructions
Preheat the oven to 350 degrees. Line a 12-cup muffin tin with cupcake papers and spray with nonstick cooking spray.

Mix the dry ingredients in a small bowl.

In a large bowl, cream the butter, sugar, and vanilla with an electric mixer at medium speed until fluffy. Add the eggs and banana, beating well.

Gradually add the dry ingredients, alternating with the milk, beating just until mixed after each addition. Stir in the carrots.

Spoon the batter into muffin cups about ¾ full.

Bake for 18-20 minutes or until golden brown around the edges and the tops of the muffins spring back when lightly touched.

Cool the muffins in the pan for 5 minutes. Remove from the pans and finish cooling on a wire rack.
Nutrition
Calories:
153.4
kcal
|
Carbohydrates:
20.5
g
|
Protein:
2.8
g
|
Fat:
7
g
|
Saturated Fat:
4.1
g
|
Polyunsaturated Fat:
0.4
g
|
Monounsaturated Fat:
1.9
g
|
Trans Fat:
0.2
g
|
Cholesterol:
46.8
mg
|
Sodium:
121.1
mg
|
Potassium:
123.7
mg
|
Fiber:
1
g
|
Sugar:
9.2
g
|
Vitamin A:
1580.2
IU
|
Vitamin C:
1.7
mg
|
Calcium:
58.4
mg
|
Iron:
0.9
mg