Make this 3-Ingredient Biscuit Recipe once the craving hits. When it comes to the best biscuits that make the perfect side dish, this is going to be your go-to recipe. These have the right consistency to serve with breakfast, lunch, or dinner. With just a few ingredients and a few minutes of time, they are the easiest biscuits ever!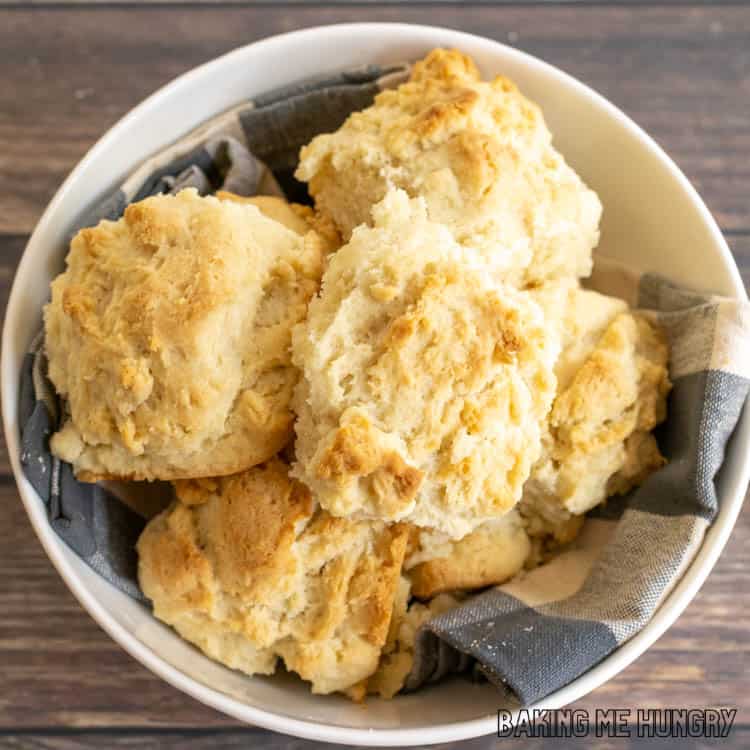 ​Who knew that using basic ingredients would create a great recipe like this? I've been making this homemade biscuit recipe for years and have no plan on changing things up. They're my personal favorite for breakfast to top with my delicious sausage gravy, but I also love eating these 3-ingredient biscuits topped with sweet honey butter, too.
As you'll soon see below, the recipe card lays out the simple step-by-step plan on how to make the biscuit dough perfectly each time. And if you have delicious biscuits on your brain, you're about ready to have them in your mouth! Head to the grocery store now and gather up everything that you need to make this simple biscuit recipe – and with only needed three ingredients, it won't take long or break the bank.
Be sure to check out my 3-Ingredient Banana Cookies for another simple recipe using simple ingredients. And this Feta Bread for another perfect dinner side.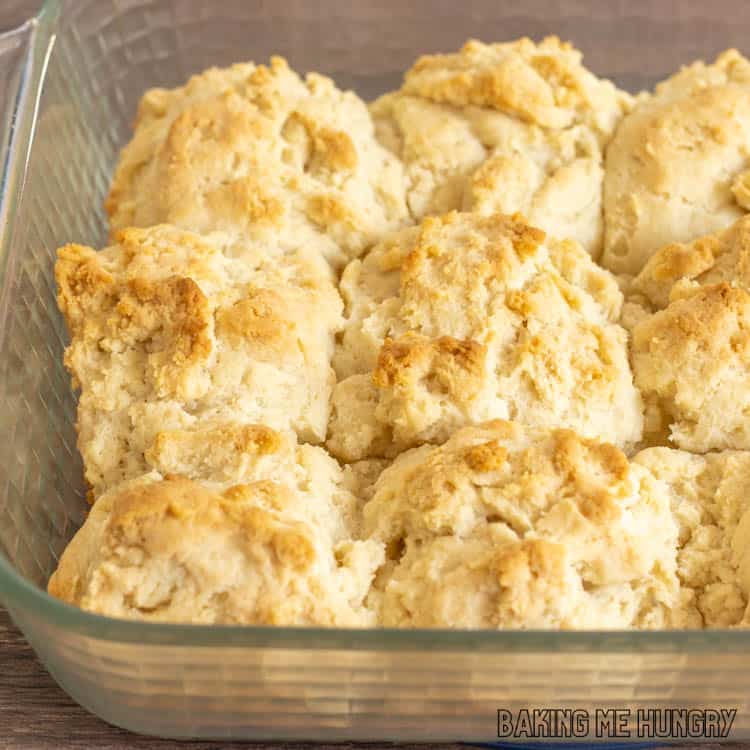 Ingredients
Self rising flour – While technically, you can use any type of flour for this recipe you would have to add a leavening agent, self rising flour is the best way to get fluffy biscuits easily. I have instructions to make your own self-rising flour under the Common Questions section of this post.
Unsalted butter – Salted butter could still work, but it will really give these biscuits a salty taste. Self-rising flour tends to have salt added so that salt plus the salt in salted butter could be too much.
Buttermilk – You can buy this at the store, or read below on how to make homemade buttermilk easily.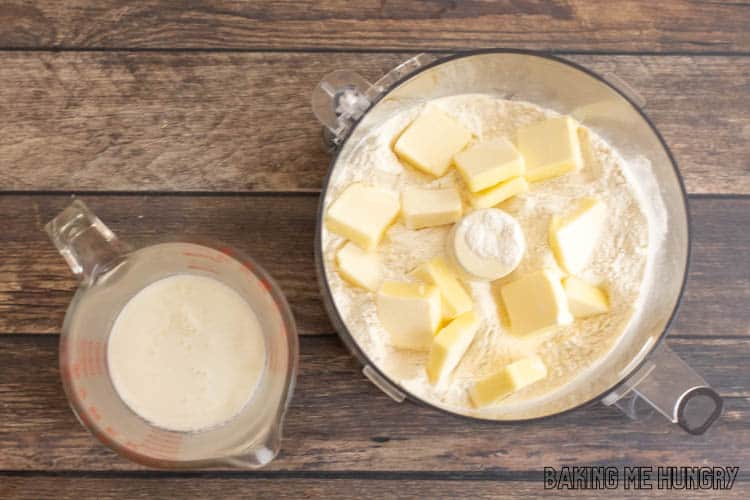 How to make this 3-Ingredient Biscuit Recipe
The key to this is self-rising flour. To make self-rising flour biscuits all you need to add is a fat and a liquid. I use buttermilk and butter.
Step One: Preheat the oven to 425 degrees. Grease an 8X8 pan.
Step Two: Put the flour and the butter into a food processor and pulse until combined. It should look like small crumbs.
Expert Tip: If you do not have a food processor you can do this by hand with a pastry cutter. But it will take a bit longer.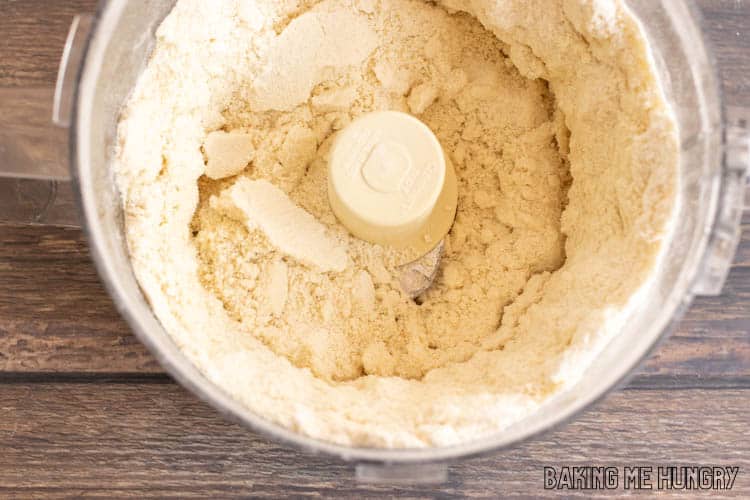 Step Three: Pour in the buttermilk and process until the biscuit dough forms.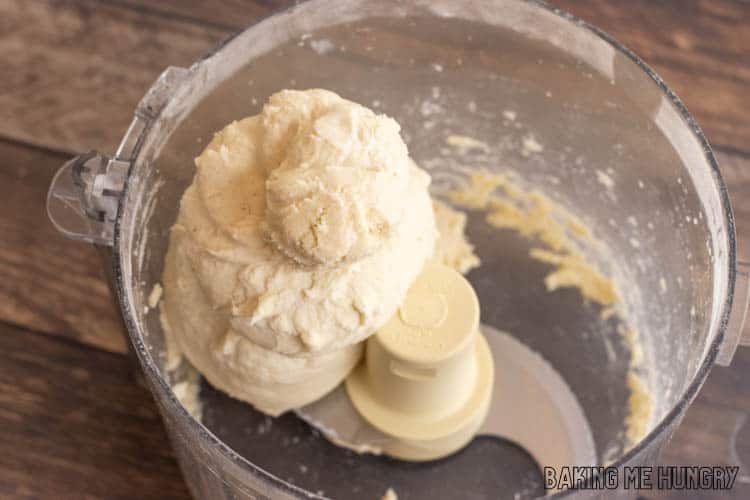 Step Four: Drop 9 spoonfuls of the dough onto the pan.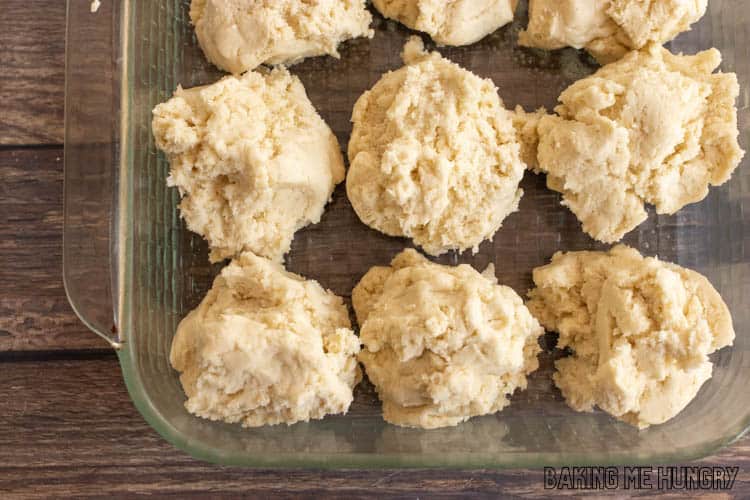 Make three rows. Put pats of butter in between the balls of dough.
Step Five: Put the pan in the oven and bake for 20-25 minutes, until the tops are golden brown.
Variations
Add toppings – You can easily add melted butter or parmesan cheese to the top of the biscuits. I like to butter biscuits once they come out of the oven, as this is the best way to get that added flavor right when they're warm.
Use a cookie cutter – If you don't want to make drop biscuits, you can spread out the dough and use a cookie cutter or biscuit cutter to make round biscuits. This will be sticky and harder to do, but it's your personal preference.
Use a baking sheet – If you don't want to make this easy recipe in a pan, you can absolutely put the biscuits on a baking sheet to bake in the oven.
Honey Butter – For a simple but amazing topping mix honey into salted butter and slather on the 3-ingredient biscuit recipe when serving. Another great spread is this Strawberry Curd Recipe.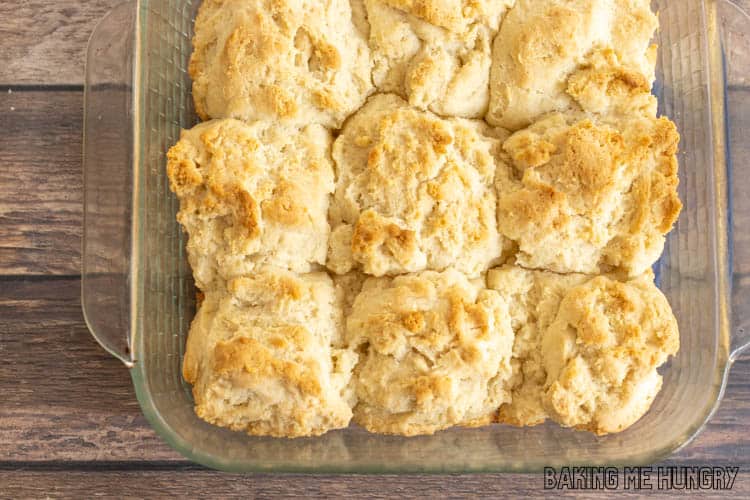 Common Questions
What is the secret to a good biscuit?
The best-kept secret that I'm sharing with you now is that using cold butter is the key to making the perfect Southern biscuits. Don't use butter that has been sitting out on the counter. Just grab a stick of butter from the fridge and add it to the food processor. The blades are sharp enough and will have no issue cutting in the butter.
How do I make self-rising flour?
To make self-rising flour, you can easily combine all-purpose flour with baking powder and salt. The ratio is typically 1 ½ teaspoons of baking powder and ¼ teaspoon of salt for every cup of all-purpose flour. Simply sift or whisk these ingredients together until well combined, ensuring that the baking powder and salt are evenly distributed throughout the flour.
This homemade self-rising flour can be used in various recipes that call for this specific type of flour, making it a convenient substitute when you don't have any on hand.
How do I make buttermilk?
To make buttermilk, you will need just two simple ingredients: milk and an acid. Start by pouring one tablespoon of lemon juice or white vinegar into a measuring cup. Then, add enough milk to reach the one-cup mark. Give it a gentle stir and let it sit for about 5 minutes to allow the acid to react with the milk. Afterward, you will notice that the mixture has thickened slightly and small curds have formed.
This is your homemade buttermilk! You can now use it in your favorite recipes or store it in the refrigerator for up to a week.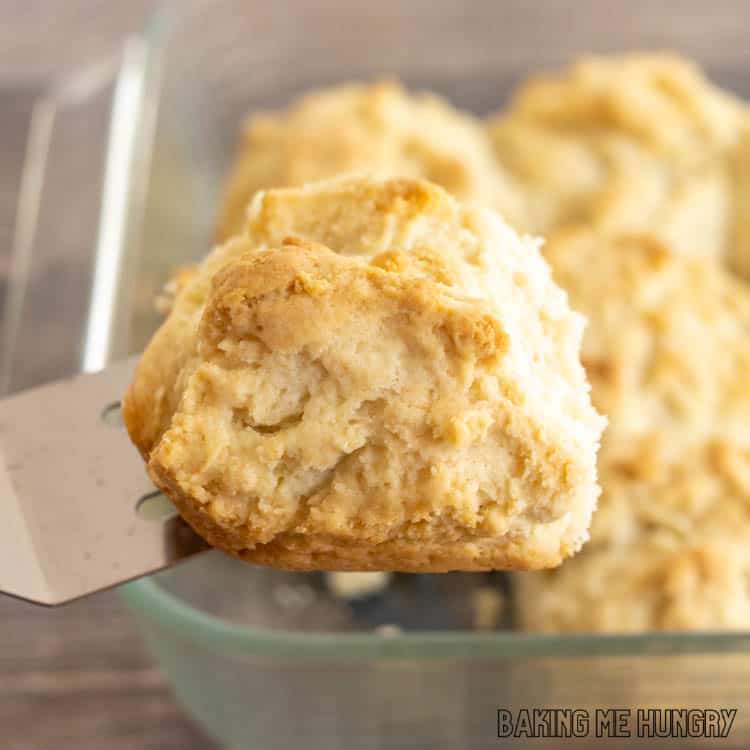 What ingredient makes a biscuit rise?
Typically people will add baking soda to make the tender biscuits rise while they are baking, but this isn't needed since we're using our own self-rising flour. The way that the flour is created is that it doesn't need to have anything added to it to get the bakery item to rise. It's basically saving an ingredient and steps in the creation process.
What are 2 causes of tough biscuits?
Southern biscuit recipes like this are simple to make, but if you find yourself not loving how these easy biscuits turned out, there could be a few reasons for that. First, make sure that you're not overmixing the dough. You just need to pulse it until combined and then add it to the pan.
Secondly, be sure that you're adding the right measurements of the butter. Since this recipe only has three ingredients, using the exact amounts is what will yield the best results.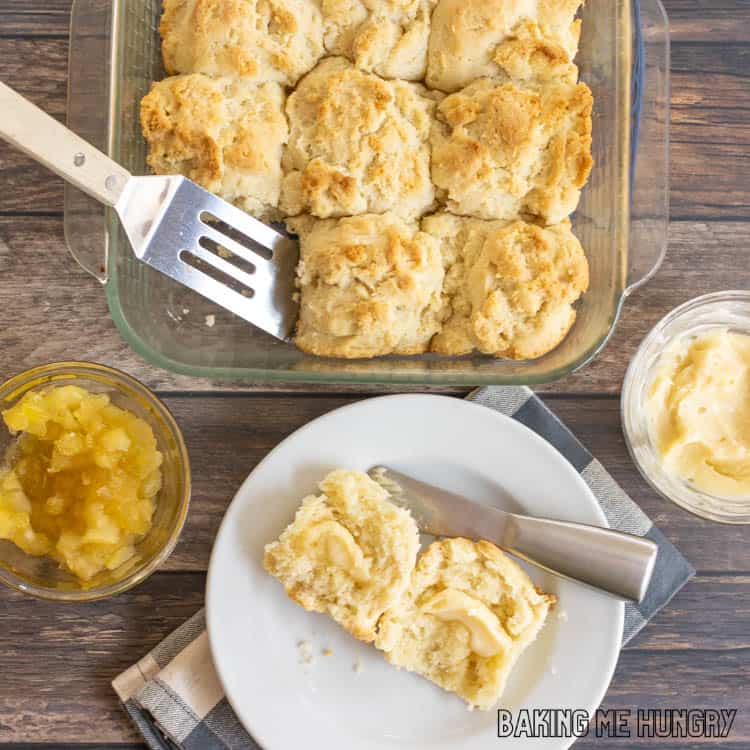 Can I make biscuits in a cast-iron skillet?
Yes, you can definitely make biscuits in a cast-iron skillet. In fact, using a cast-iron skillet is a great way to achieve perfectly golden and crispy biscuits. The skillet's even heat distribution helps to bake the biscuits evenly, resulting in a deliciously flaky texture. Additionally, the preheated skillet creates a slightly crusty bottom that adds an extra layer of flavor and crunchiness to the biscuits. So go ahead and give it a try – your homemade cast-iron skillet biscuits are bound to be a hit!
How do I store leftover biscuits?
To store leftovers of these buttermilk biscuits, let them cool completely and then store them in an airtight container. You can store them for up to 3 days at room temperature. They also freeze well. I like to wrap them individually in plastic wrap before placing into a gallon storage bag.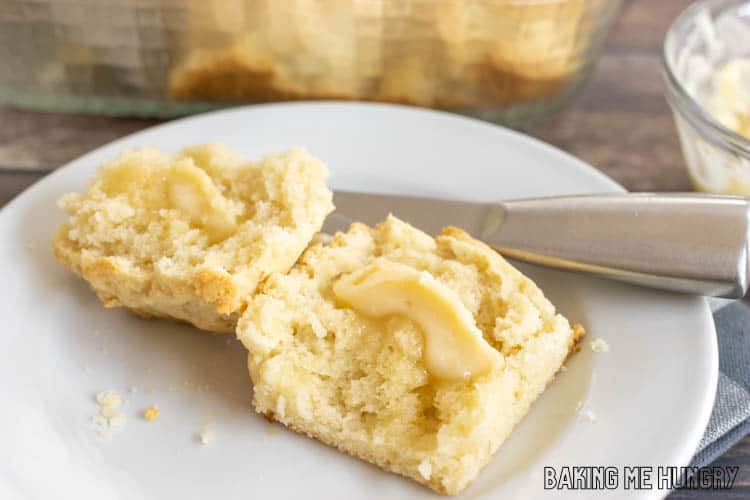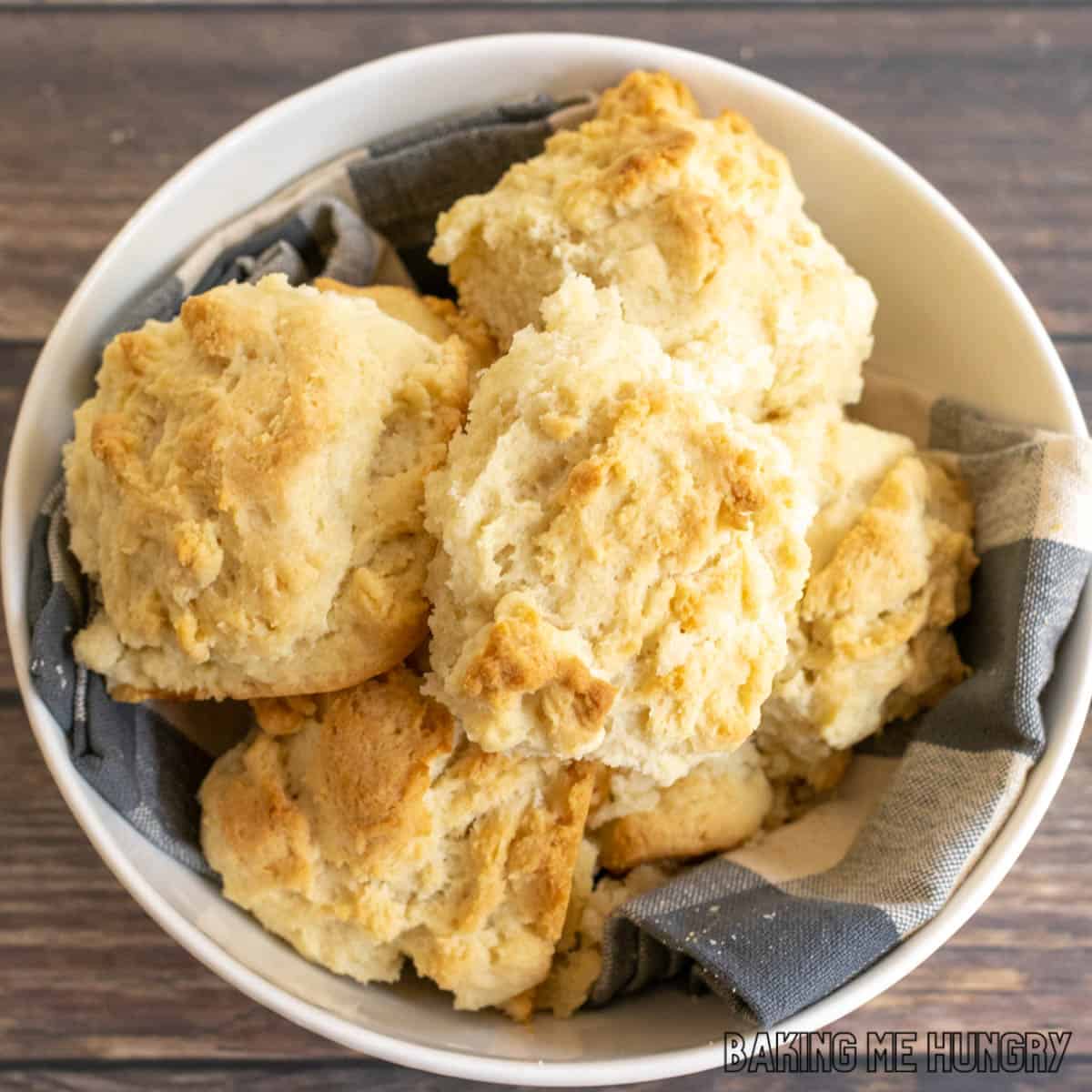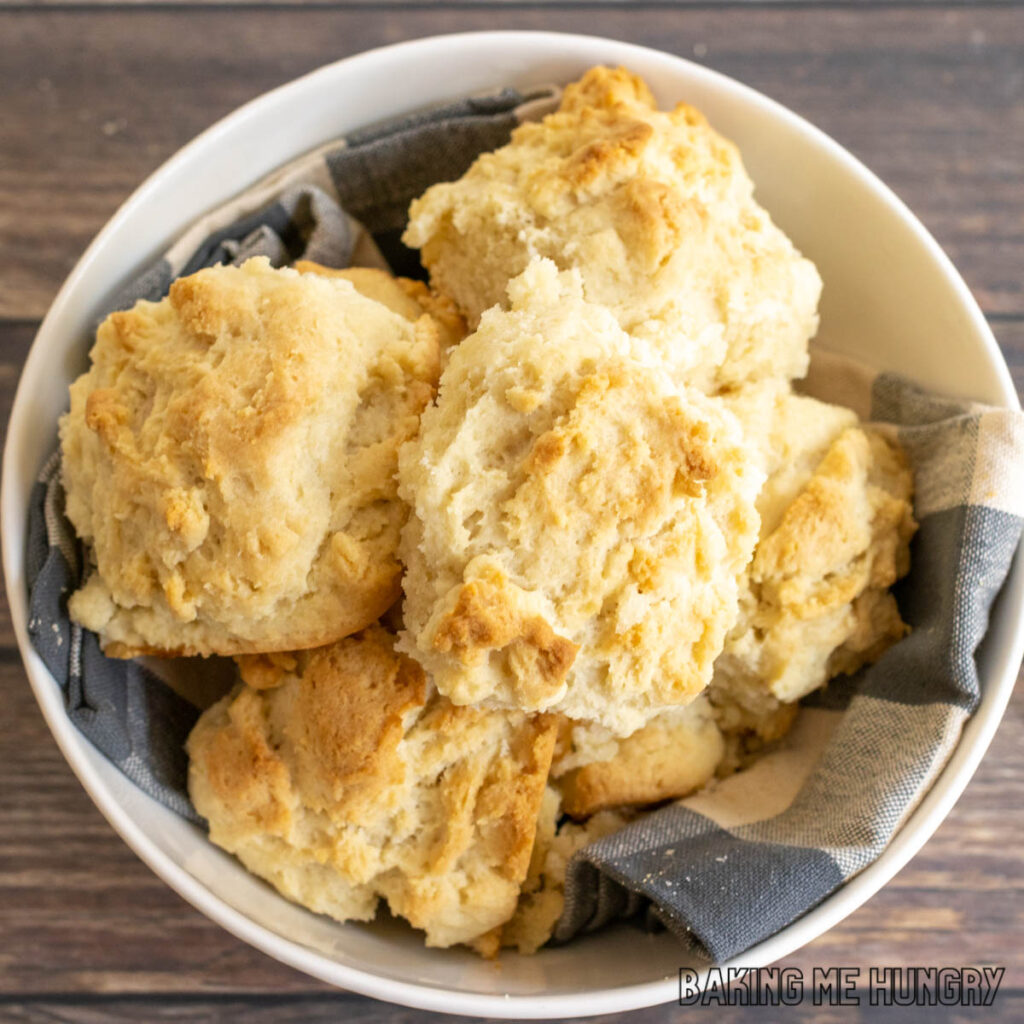 Ingredients
2

cups

self rising flour

10

tablespoon

unsalted butter

⅔

cup

buttermilk
Honey Butter
3

tablespoon

salted butter

softened

1

tablespoon

honey
Instructions
Preheat the oven to 425. Grease an 8x8 baking dish

Add the butter and flour to a food processor. Pulse until it is small crumbs.

Add the buttermilk. Process until a dough forms,

Drop 9 large spoonfuls of dough into the pan in three rows of three,

Bake for 20-25 minutes or until golden brown.
Honey Butter
Mix the honey and softened butter. Serve with the cooked biscuits.
Notes
Buttermilk Substitute: Combine whole milk with 1 tablespoon of white vinegar. Let sit for 5 minutes.
Nutrition
Calories:
222.8
kcal
|
Carbohydrates:
21
g
|
Protein:
4
g
|
Fat:
13.7
g
|
Saturated Fat:
8.4
g
|
Polyunsaturated Fat:
0.7
g
|
Monounsaturated Fat:
3.5
g
|
Trans Fat:
0.5
g
|
Cholesterol:
35.4
mg
|
Sodium:
20.9
mg
|
Potassium:
55.5
mg
|
Fiber:
0.7
g
|
Sugar:
1
g
|
Vitamin A:
418.6
IU
|
Calcium:
28.3
mg
|
Iron:
0.3
mg