Tender, flavorful carrot cake made in about five minutes to fulfill your sweet craving. This carrot mug cake really hits the spot. A single-serve carrot mug cake with cream cheese icing is the perfect dessert after a long day!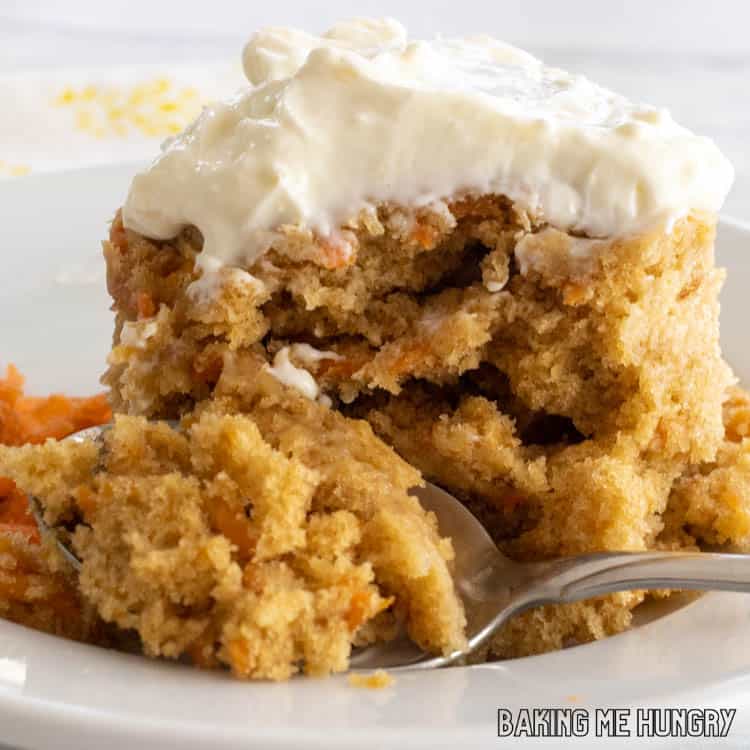 I love carrot cake. It is the only store-bought cake I am happy to see being served and homemade is even better. When spring and Easter come around I start dreaming of rich, creamy cream cheese icing slathered all over a tender cake with plenty of shredded carrots.
The problem is that I have little self-control with a whole carrot cake in the house. Making a single-serve carrot cake recipe just for myself or to share with my husband is a much better choice!
And make sure to try my Banana Carrot Muffins next!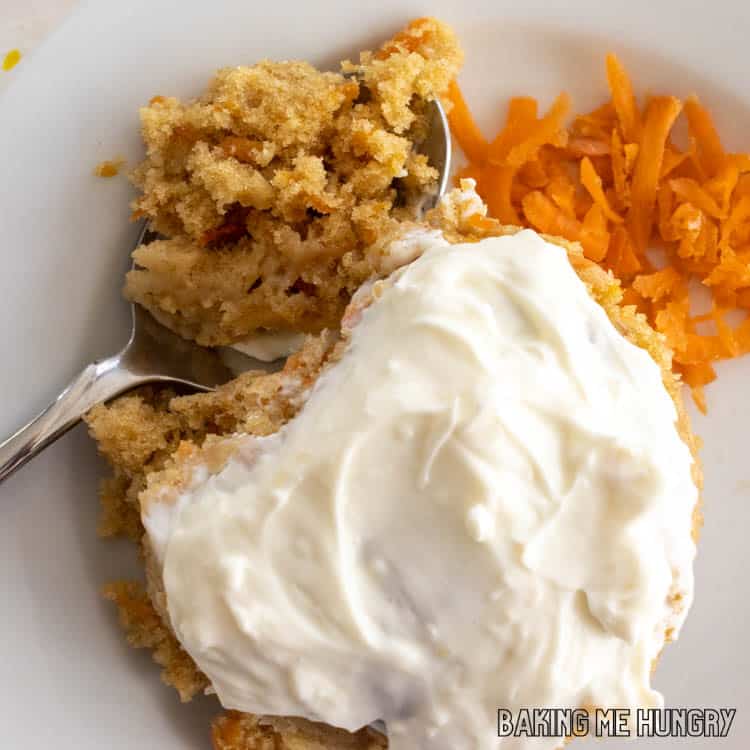 Ingredients
This uses all common and pantry ingredients! I wouldn't be surprised if you have all the ingredients on hand already.
Shredded Carrots – It is easy to shred your own but packaged shredded carrots are also fine to use.
Salted Butter – I tend to just use salted butter in all of my baking recipes. If you have unsalted butter add a pinch of salt. For a dairy-free option use coconut oil.
All-Purpose Flour – I use regular unbleached ap flour in this recipe.
Brown Sugar – Brown sugar gives this a rich flavor. You can sub in white sugar if that's all you have in the house but I love the flavor the brown sugar gives. If you have white sugar and molasses I recommend adding a drop or two of molasses to mimic the brown sugar flavor.
Baking Powder – Always check the date so your mug cake rises.
Whole Milk – Just a splash of milk gives this cake a moistness and tenderness. You can sub in almond milk or coconut milk to make it dairy-free.
Vanilla Extract – Vanilla enhances the other flavors in the carrot mug cake.
Cinnamon – Cinnamon is a great addition to carrot cake.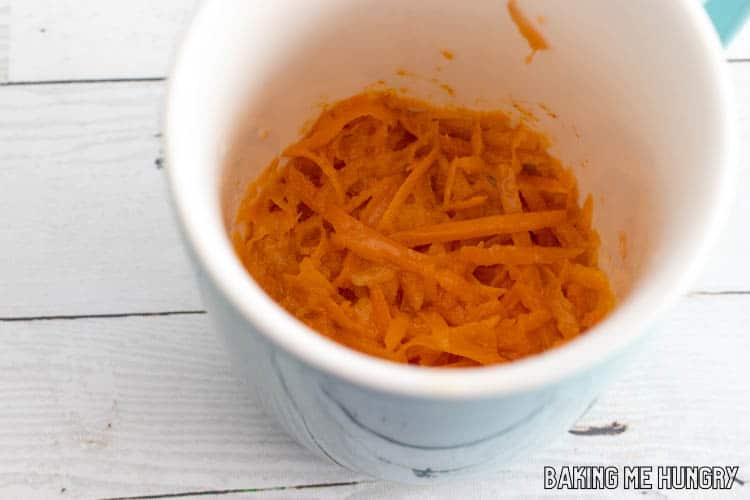 How to Make Carrot Mug Cake
Step One: The first step is to soften the shredded carrots and butter in the mug.
Expert Tip: If you don't soften the carrot first the carrot will be too firm since the cooking time on a mug cake is so much shorter than that of a whole cake.
Step Two: Add the rest of the ingredients and stir the cake batter until smooth.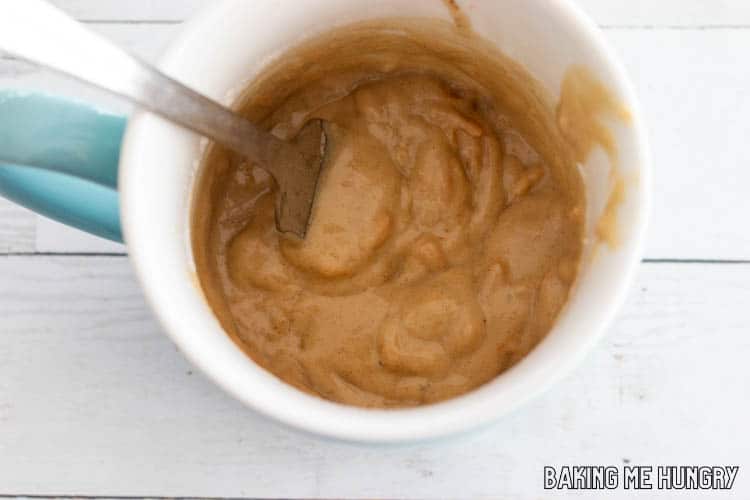 Step Three: Microwave the cake until it rises and the top only looks slightly damp. This takes one minute and thirty seconds in my microwave.
Expert Tip: Microwave times vary greatly. If you have a high-powered microwave check the carrot mug cake after one minute.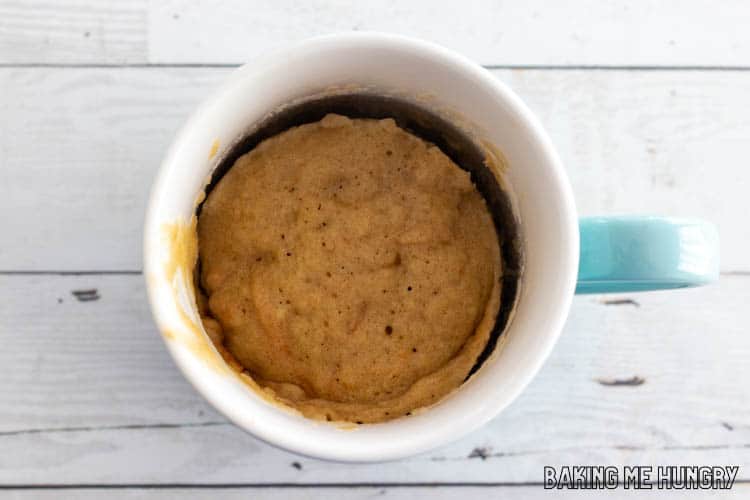 Cream Cheese Icing Ingredients
Cream Cheese – Obviously this is the key ingredient. I use full-fat cream cheese but you can use low-fat cream cheese if you prefer.
Powdered Sugar – Powdered sugar makes icings smoother and less gritty than if you use regular sugar. I definitely recommend using powdered sugar for this.
Milk – You only need a dash of milk to thin the frosting enough to be spreadable.
Frosting Instructions
Step One: Since you are just whipping up a small amount of cream cheese frosting for one single-serve carrot mug cake all you need to do is stir the ingredients together in a small bowl with a fork or small whisk.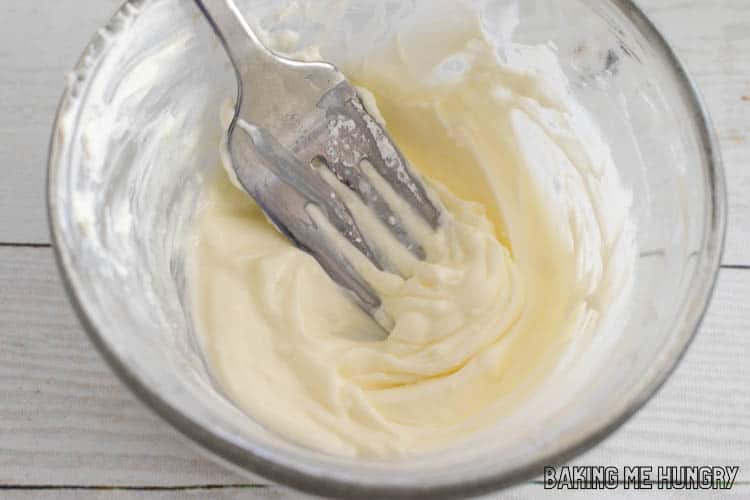 Variations
Nuts – If you love chopped walnuts or chopped pecans in your carrot cake feel free to add some! For the best flavor toast the nuts first. I toast them on a cookie sheet in the oven at 400 for 6-7 minutes.
Raisins – Raisins are another common addition. Go ahead and mix some into the carrot cake batter.
Spices – In addition to cinnamon ginger and nutmeg are nice choices for a carrot cake mug cake recipe. You can even just sub in a dash of pumpkin pie spice or apple pie spice.
White Chocolate – I personally don't think semisweet chocolate, milk chocolate, or dark chocolate taste good in a carrot cake but white chocolate is amazing in one! Instead of making the icing just drop a handful of white chocolate chips on top right when it comes out of the microwave and let them get warm and melty.
Mango – It sounds crazy but mango and carrot go well together. Serve this with Mango Pudding for a unique combo.
Breakfast – Leave off the icing and top with a dollop of cottage cheese for added protein. For another great single-serve choice for breakfast try our Baked Oats for One.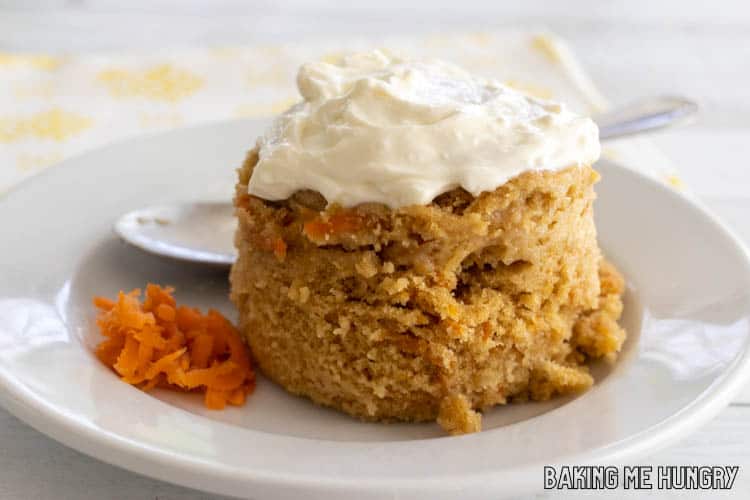 Common Questions
What temperature should mug cake be baked at?
If you want to bake this in the oven instead of cooking it in the microwave that is fine. You want to bake it in an oven-safe mug at 350 for 20-25 minutes. Or divide between two ramekins and bake for 15-18 minutes.
Why doesn't this have egg?
I've found that many mug cake recipes work best without eggs. The baking powder is enough to make it rise and give it the right texture. Adding in an egg can make it dense and eggy.
Why is my carrot cake not moist? Are mug cakes supposed to be gooey?
If your carrot mug cake isn't moist you may have microwaved it too long. And if your cake is too gooey you may have not cooked it long enough. It can take a bit of trial and error to find out exactly how long your microwave needs to cook a cake in a mug.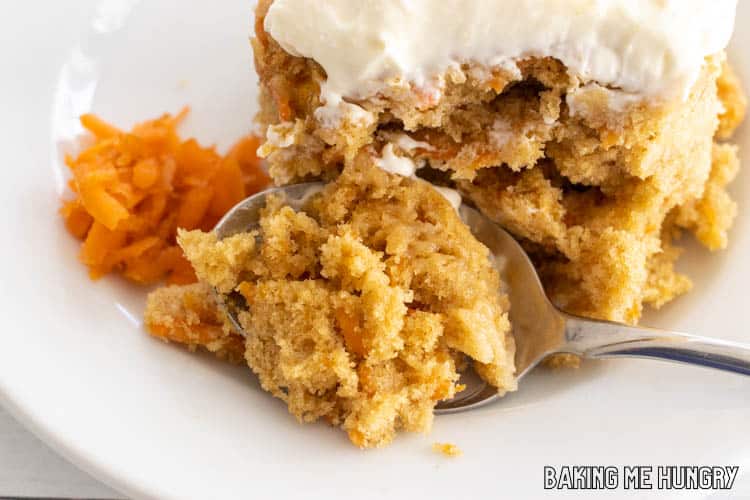 Can I make this with almond flour?
I'm pretty sure this would work as a gluten-free low carb recipe by subbing in almond flour and your sweetener of choice. I don't think pure stevia would work. I'd suggest using a sweetener blend.
I normally use 2 or 3 parts almond flour and 1 part coconut flour to replace regular flour when converting recipes. If you try please let me know how it turns out!
Can I make this vegan?
Yes, since this is eggless it is easy to make it vegan! Just sub in coconut oil for the butter and almond milk for the whole milk.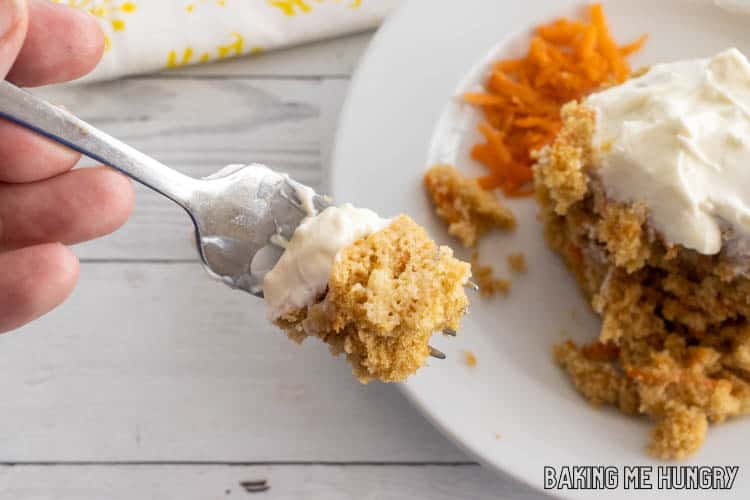 Like what you see? Follow us on Facebook and on Instagram! Love this recipe? Leave a comment & a 5-star rating right here!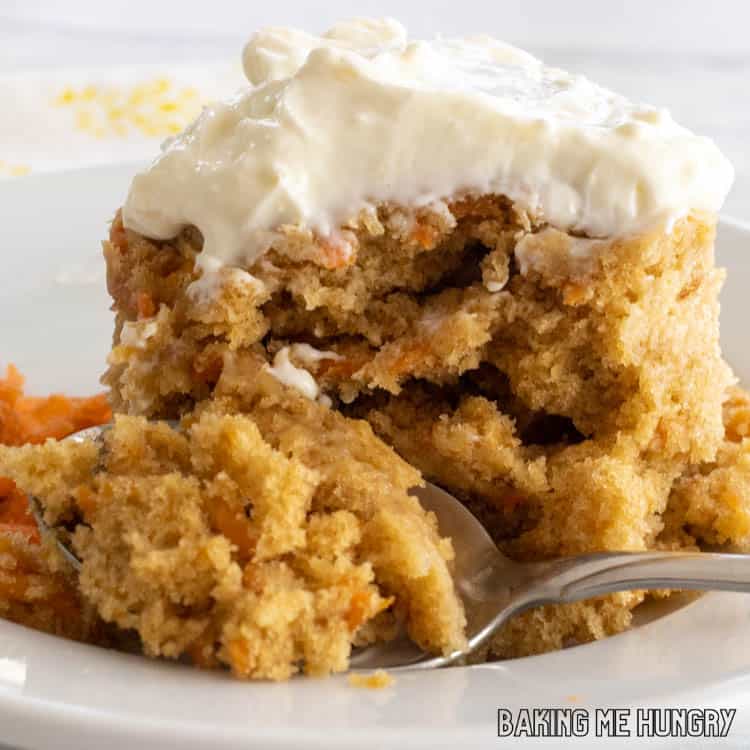 Ingredients
1

tablespoon

salted butter

¼

cup

shredded carrots

1

teaspoon

vanilla extract

3

tablespoon

milk

2

tablespoon

brown sugar

¼

cup

all-purpose flour

¼

teaspoon

cinnamon

½

teaspoon

baking powder
Cream Cheese Icing (optional)
1

tablespoon

cream cheese

2

teaspoon

powdered sugar

1-2

teaspoon

milk
Instructions
Add butter and carrots to your mug. Microwave until softened, about 45 seconds.

Stir vanilla extract, milk, and brown sugar into the carrots and butter. Add flour, cinnamon, and baking powder and stir until combined.

Microwave the mug cake for 1.5 minutes.
Cream Cheese Icing
Stir together the ingredients for the icing. Spread on the mug cake and enjoy!
Nutrition
Calories:
429
kcal
|
Carbohydrates:
59
g
|
Protein:
6
g
|
Fat:
18
g
|
Saturated Fat:
11
g
|
Polyunsaturated Fat:
1
g
|
Monounsaturated Fat:
5
g
|
Trans Fat:
1
g
|
Cholesterol:
51
mg
|
Sodium:
396
mg
|
Potassium:
274
mg
|
Fiber:
2
g
|
Sugar:
32
g
|
Vitamin A:
5973
IU
|
Vitamin C:
2
mg
|
Calcium:
237
mg
|
Iron:
2
mg
Originally Published