These decadent Oreo Muffins are perfect for Oreo lovers! Loaded with that delicious Oreo flavor, this makes a great snack or indulgent breakfast food for everyone to enjoy. It can even be the ultimate dessert.
New recipes like this are the best. The crushed Oreos paired with the flavor of the chocolate muffins create epic fluffy muffins that taste as if they came straight from the bakery. If you're a fan of muffin recipes that are unique yet delicious, then this Oreo muffin recipe is calling your name.
​To get started it's as simple as gathering the ingredients listed on the full ingredient list below and heading straight to the store. I've eaten these tender muffins as a dessert, a late-night snack, and even started the day having one with my morning coffee. You really can't go wrong.
Be sure to check out my Oreo Iced Coffee Recipe that would be a perfect pairing for this sweet treat.
Ingredients
All purpose flour – This is used as the main ingredient to make the muffin batter.
Sugar – Added to give sweetness to the muffins.
Crushed Oreo cookies – You will use this in the batter and also on top of the baked muffins.
Unsweetened cocoa powder – Adds a bit of chocolate flavoring and also gives the muffins a dark coloring.
Baking soda – Helps to give the muffins a fluffy texture.
Sour cream – The simple and secret ingredient to keep the muffins moist.
Milk – To help thin out the batter a bit.
Vegetable oil – Added to aid in mixing with the dry ingredients, and add a bit of fat to help when baking.
Egg – Used as the binding agent for the ingredients to form the batter.
Vanilla extract – For flavor.
Powdered sugar – Helps to make the perfect topping for the muffins.
Whole milk – Mixed with the sugar to create a simple glaze.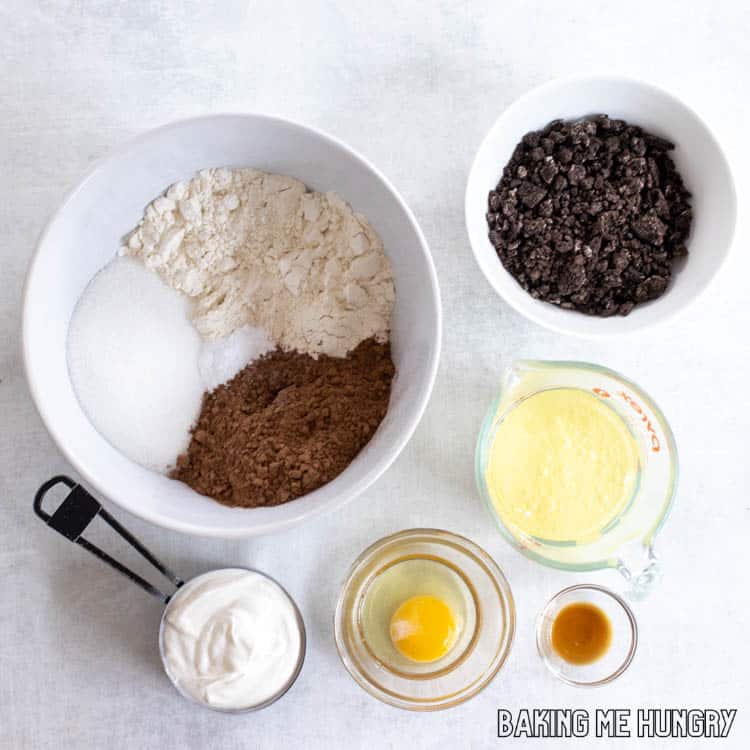 How to make Oreo Muffins
Step One: Preheat the oven to 400 degrees. Add muffin liners to your muffin pan, and then spray them with nonstick cooking spray.
Step Two: Add the sugar, flour, cocoa powder, and baking soda into a large bowl.
Step Three: Stir the milk, oil, sour cream, egg, and vanilla into the dry ingredients.
Expert Tip: Mix until the batter is just blended. If you overmix the muffins will be dense.
Step Four: Fold in the crushed Oreos.
Fill the muffin liners ¾ full with the muffin batter.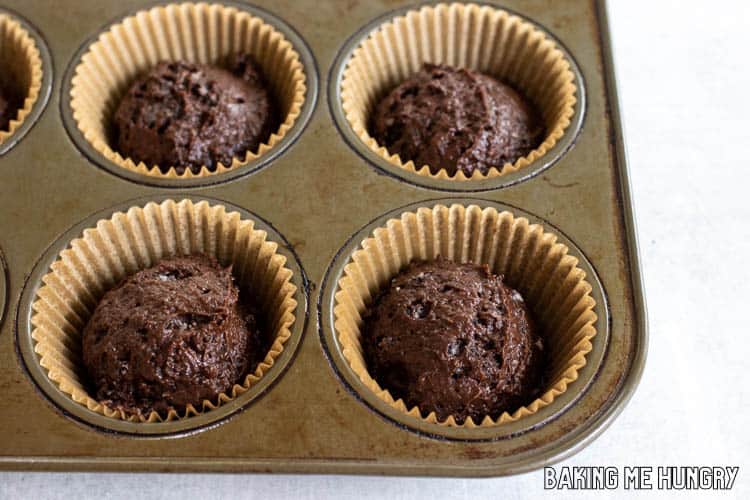 Step Five: Put the pan in the oven and bake for 18-20 minutes.
Step Six: Cool the pan for 10 minutes before taking out the muffins and moving them to a wire rack to cool. Let them cool down completely before making the glaze.
Step Seven: To make the topping, mix the powdered sugar and 1 T of milk in a small bowl. Add more milk if needed to thin out the glaze.
Step Eight: Drizzle the glaze on top of the muffins once they are cooled. Top with crushed Oreo cookies.
Variations
Add chocolate chips – Adding just a few to the batter turns them into Chocolate Chip Oreo Muffins! You can add white chocolate, milk chocolate, or dark chocolate chips.
Add peanut butter – Swirling in a little bit of creamy peanut butter with the wet ingredients creates delicious Peanut Butter Oreo Muffins.
​Change the topping – If you don't want to make a glaze, you can simply add a frosting and top with extra crushed Oreo cookie crumbs or even leave them plain.
Common Questions
How long do you have to leave muffins in the pan after baking?
You'll want to leave the baked muffins in the pan for about 10 minutes or so after they're done baking. The paper liners will keep them from getting overcooked during this process, so it's not really something to stress about.
Once the time has passed, just move them to a cooling rack or plate to continue cooling.
How do I chop up the Oreos?
There are options when it comes to making those cookie crumbs. The easiest and quickest way would be to add the Oreo cookies to the food processor and pulse. Just be careful because you don't want to pulse too much, or you'll have coarse crumbs that are too small for this recipe.
The other option is to add the cookies to a sealable bag and then crush them with a rolling pan. This does take longer, but it is still effective. If you have kids helping, this would be a great job for them.
Can I freeze baked muffins?
You can. Once the muffins are cooled to room temperature, simply wrap them in plastic wrap and then store them in a freezer-safe bag or container. As long as their sealed in an airtight container, they'll stay fresh and ready to eat within the next two months.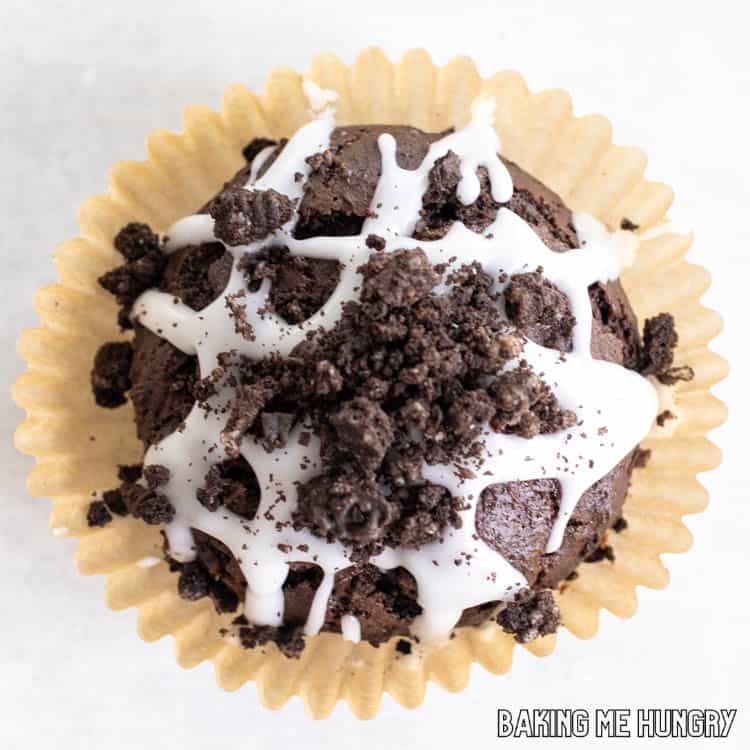 Like what you see? Follow us on Facebook and on Instagram! Love this recipe? Leave a comment & a 5-star rating right here! Make sure you don't miss new recipes by getting email updates!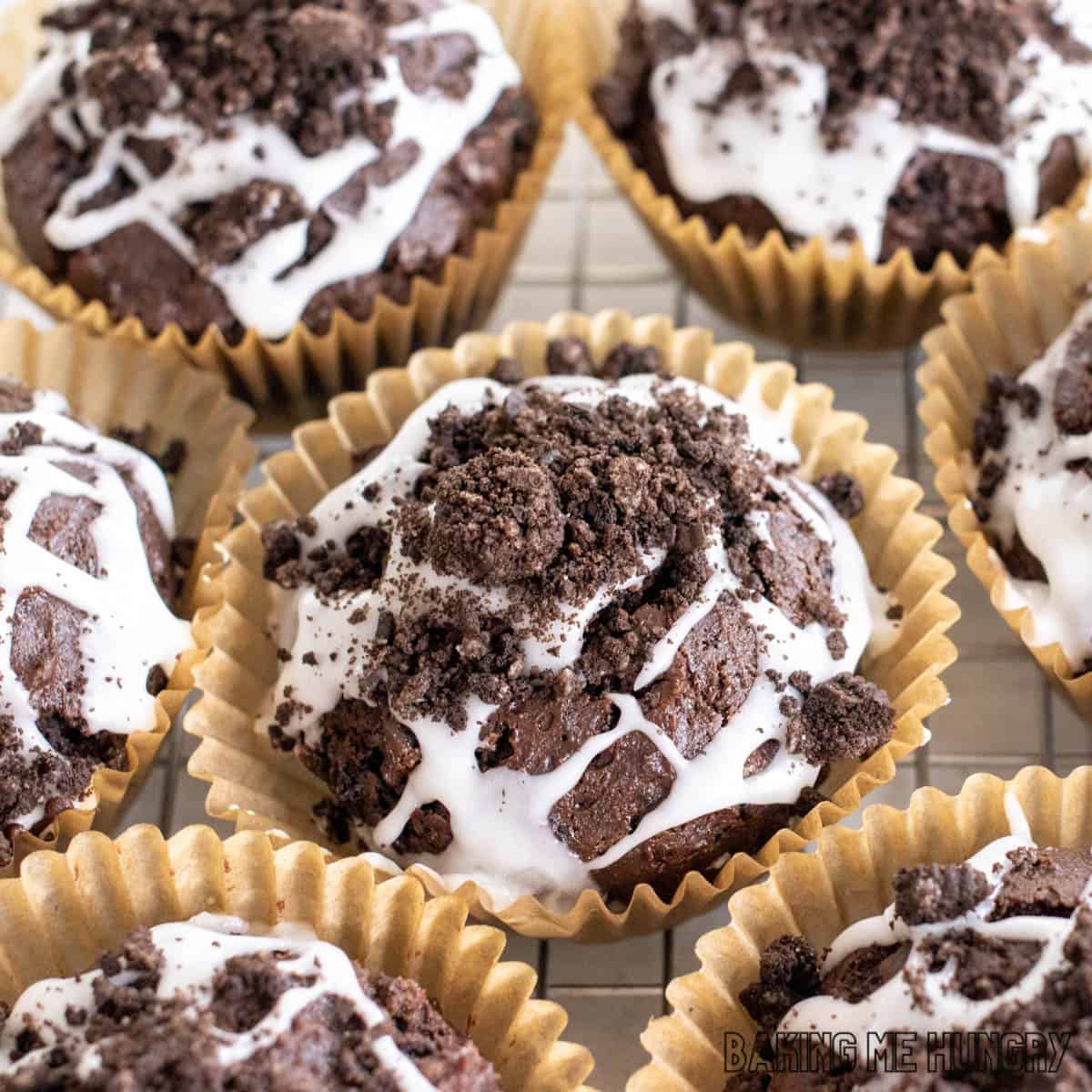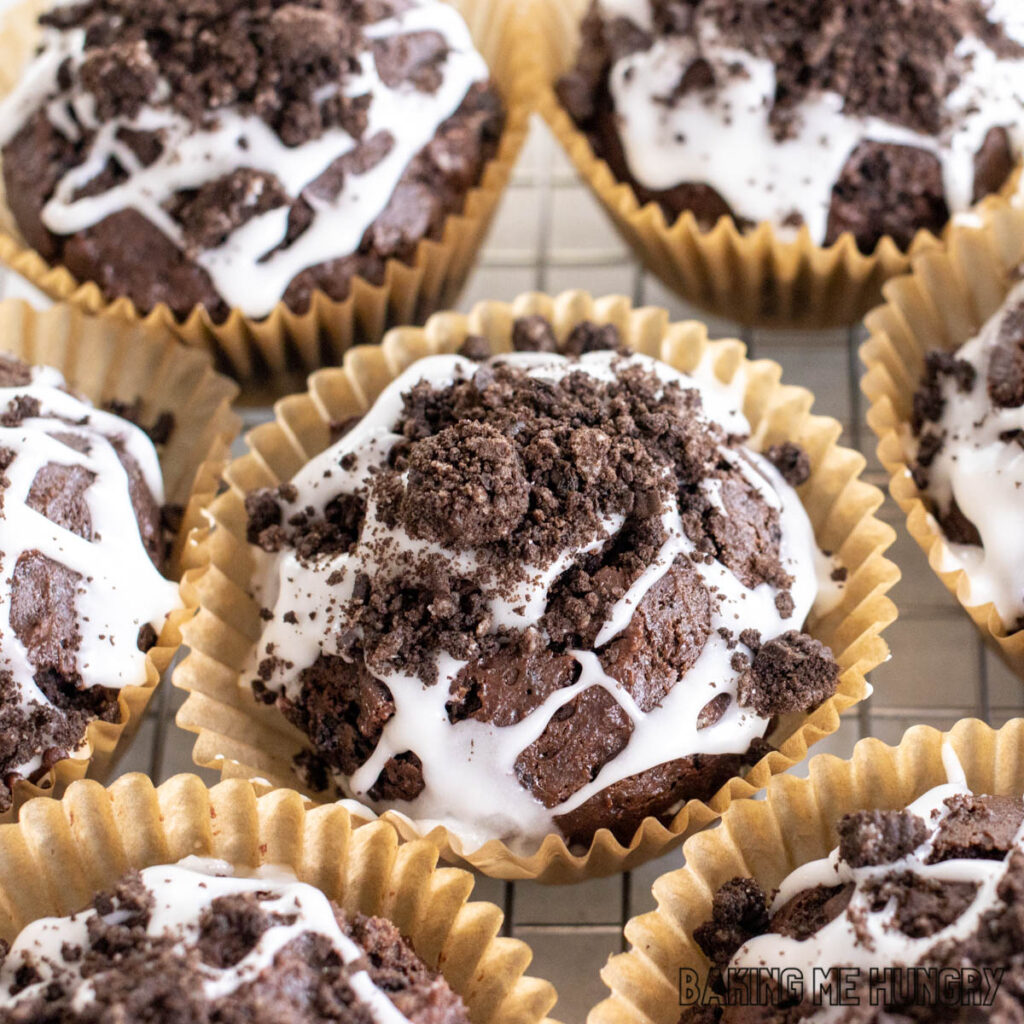 Ingredients
1 ¾

cups

all-purpose flour

1

cup

sugar

1

cup

crushed Oreo cookies

¾

cup

unsweetened cocoa powder

1

teaspoon

baking soda

1

cup

sour cream

½

cup

milk

½

cup

vegetable oil

1

large egg

1

teaspoon

vanilla extract
Topping
½

cup

powdered sugar

1-2

tablespoon

whole milk

¼

cup

crushed Oreo cookies
Instructions
Preheat the oven to 400 degrees. Line 18 muffin cups with paper muffin liners and spray with cooking spray.

Combine flour, sugar, crushed cookies, cocoa powder, and baking soda in a large bowl.

Stir the sour cream, milk, oil, egg, and vanilla into the chocolate mixture until batter is just blended.

Fill prepared muffin cups ¾ full.

Bake in the preheated oven until a toothpick inserted in the center comes out clean, about 18-20 minutes.

Cool in the pans for 10 minutes before removing to cool completely on a wire rack.
Topping
Combine the powdered sugar and one tablespoon of milk. Add more milk, if needed, to make a thick glaze.

Drizzle the glaze over the cooled muffins. Top with cookie crumbs.
Nutrition
Serving:
1
muffin
|
Calories:
168.5
kcal
|
Carbohydrates:
28.3
g
|
Protein:
4.2
g
|
Fat:
5.1
g
|
Saturated Fat:
2.1
g
|
Polyunsaturated Fat:
0.7
g
|
Monounsaturated Fat:
1.8
g
|
Trans Fat:
0.01
g
|
Cholesterol:
16
mg
|
Sodium:
115.7
mg
|
Potassium:
120.1
mg
|
Fiber:
1.6
g
|
Sugar:
16.2
g
|
Vitamin A:
87.1
IU
|
Vitamin C:
0.1
mg
|
Calcium:
26.8
mg
|
Iron:
2.1
mg