Do you love chocolate? Do you love muffins? Well, then you're in for a real treat with these triple chocolate muffins! Made with three different types of chocolate chips, these muffins are sure to satisfy your sweet tooth. And with a prep time of just 15 minutes, they're perfect for those mornings when you crave something sweet but don't have time to bake.
Move over, pumpkin spice—it's time to get ready for chocolate season. And what better way to celebrate than with a batch of homemade triple chocolate muffins? These rich and decadent muffins are made with three types of chocolate: semisweet chocolate, milk chocolate, and white chocolate. They're perfect for a party or any other fall gathering.
My kids love these. They savor every bite since each one is loaded with chocolate. They are one of our favorite muffin recipes and I'm sure they will be for you too.
For other great breakfast and brunch recipes try our Baked Oats and Earl Grey Scones. And then make some Banana Blueberry Oatmeal Muffins and this Vanilla Muffin Recipe.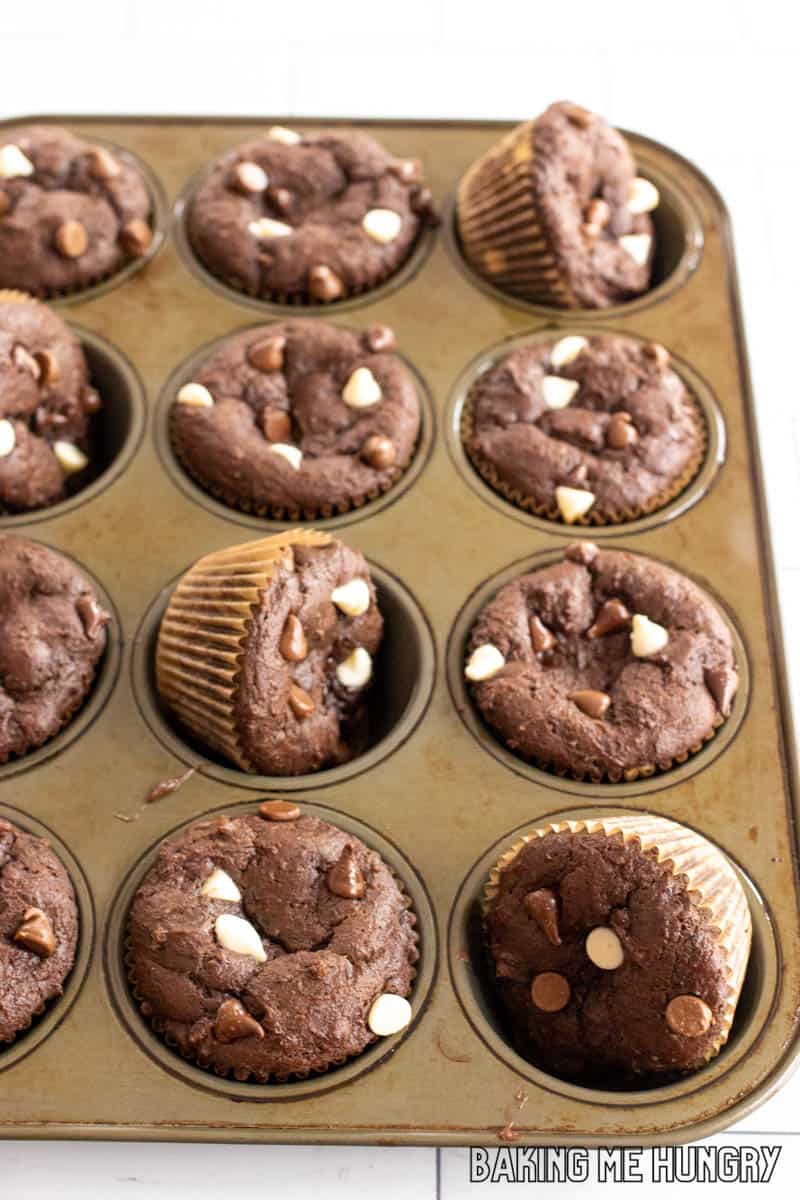 Ingredients
Flour – All-purpose flour is a type of flour that can be used for various baking recipes. It is made from a blend of different types of wheat flour and has a moderate protein content. This flour is suitable for making cakes, cookies, bread, and other baked goods.
Cocoa Powder – Cocoa powder is a key ingredient in triple chocolate muffins. It provides chocolate flavor and color. Cocoa powder is made from cocoa beans that have been roasted and ground. The cocoa powder is then combined with other ingredients, such as sugar and milk, to create a chocolate flavor.
Sugar – Sugar is used in baking to sweeten recipes and to help create a light, fluffy texture. It can also be used to add crunch and texture to baked goods.
Baking Soda – Baking soda is a leavening agent that helps baked goods rise. When combined with an acidic ingredient, such as yogurt or buttermilk, it produces carbon dioxide gas, which gives muffins a light and airy texture.
Greek Yogurt – The addition of Greek yogurt to muffins can improve the overall texture and taste of the finished product. Greek yogurt is a thick, creamy type of yogurt that is packed with protein and calcium. When added to muffins, it helps to moisten the batter and gives the muffins a richer flavor. Greek yogurt can also help to keep muffins fresh for longer.
Oil – There are a variety of types of oil that can be used in muffins, including olive oil, vegetable oil, coconut oil, and butter. Each type of oil has its own unique flavor and texture, which can impact the taste and texture of the muffins. For example, olive oil tends to make muffins more moist and dense, while coconut oil can make them more light and fluffy. We use canola oil or vegetable oil.
Whole Milk – Whole milk is an important ingredient in muffins and for baking. It adds moisture and richness to the finished product. Whole milk also contains fat, which helps to create a tender, moist crumb.
Egg – The eggs in muffins and for baking provide leavening, structure, and richness. Without eggs, muffins and cakes would be dense and rubbery. The proteins in the egg whites interact with the flour to create a network that traps gas bubbles, causing the batter to rise. The fat in the egg yolks adds moisture and tenderness.
Vanilla Extract – The purpose of vanilla extract in muffins is to provide a subtle sweetness and flavor. It can also help to round out the flavors of other ingredients, such as chocolate. In some recipes, vanilla extract can also act as a leavening agent, helping the muffins to rise.
Chocolate Chips – Chocolate chips come in different sizes, shapes, and colors. A common type of chocolate chip is milk chocolate chips, which are made from milk chocolate. Other types of chocolate chips include dark chocolate chips, white chocolate chips, and semi-sweet chocolate chips. We used a combo of white, semisweet, and milk chips in these triple chocolate muffins.
How to Make Triple Chocolate Muffins
Step One: First, preheat the oven. Then, whisk or stir together the dry ingredients in a large bowl.
Step Two: Next, add the wet ingredients. Stir just until they are combined.
Step Three: Add the three different types of chocolate chips to the batter in the mixing bowl.
Step Four: Fold in the blend of chocolate chips with a wooden spoon or rubber spatula.
Step Five: Next, scoop the batter mixture into a muffin tin lined with paper muffin liners that have been sprayed with nonstick cooking spray. Top each muffin with a few extra chocolate chips.
Step Six: Finally, bake the triple chocolate muffins in a 350-degree oven until they are firm to the touch and a toothpick comes out clean. Let cool in the muffin pan for a few minutes and then on a wire cooling rack until they come down to room temperature.
Variations & Substitutions
White Chocolate Raspberry – Use all white chocolate chips and add ½ cup of frozen raspberries.
Mint Chocolate Chip – Use peppermint-flavored chocolate chips and/or add a teaspoon of peppermint extract.
Mocha Espresso – Love chocolate and coffee combined? Add a tablespoon of instant espresso powder to the batter and make sure to try our Coffee Cookies next.
Brown Sugar – You can sub brown sugar for some or all of the white sugar.
Chocolate Chunks – Swap in chocolate chunks for some of the chocolate chips.
Melted Chocolate – Drizzle some melted chocolate over the tops of the muffins.
Bakery Style Muffins – For big bakery type muffins use an extra large muffin tin and sprinkle some coarse sugar on the tops of the muffins before baking.
Common Questions
What Types of Chocolate Chips can I use?
Any type you enjoy! Chocolate chips come in a variety of shapes, sizes, and colors. The most common type of chocolate chip is the semi-sweet chocolate chip, which is made from a blend of sugar and cocoa. Other popular types of chocolate chips include milk chocolate, dark chocolate, and white chocolate. Chocolate chips can also be made from different types of cocoa beans, such as African or South American cocoa beans.
Are yogurt and sour cream interchangeable when baking?
Sometimes. While they both have a high content of milk fat, sour cream has a lower pH level, which can affect the final product. Additionally, the bacterial cultures in yogurt can cause baked goods to be more dense and moist, while sour cream will result in a lighter texture.
When deciding whether to use yogurt or sour cream in muffins, it is important to consider the effect that each ingredient will have on the final product. Sour cream will add a tangy flavor and a creamy texture, while yogurt will provide a subtle sweetness and a moist crumb. In terms of fat content, sour cream is higher in fat than yogurt, so if you are looking for a lighter muffin, yogurt would be the better choice.
There are a few key reasons why yogurt is a better choice than sour cream when baking muffins. First, yogurt is lower in fat than sour cream, so it will produce a lighter, less greasy muffin. Second, the acidity in yogurt helps to activate the baking soda, resulting in a taller, more evenly-baked muffin.
What is Dutch Process Cocoa Powder?
Dutch-process cocoa powder is made from cocoa beans that have been treated with alkali to neutralize their acidity. The resulting cocoa powder is darker in color and has a milder flavor than natural cocoa powder. Dutch-process cocoa is often used in baking, especially when a recipe calls for chocolate or espresso.
Like what you see? Follow us on Facebook and on Instagram! Love this recipe? Leave a comment & a 5-star rating right here! Make sure you don't miss new recipes by getting email updates!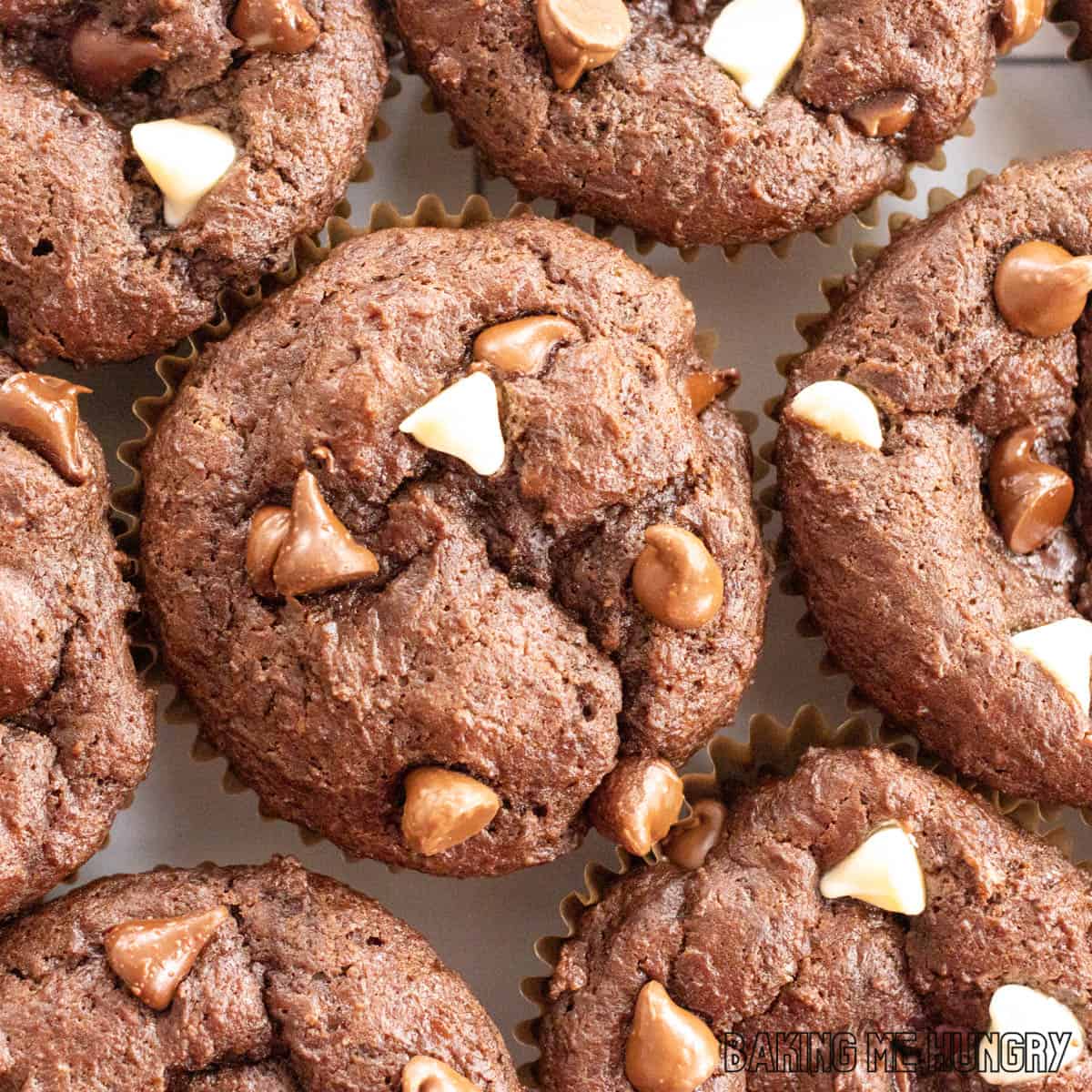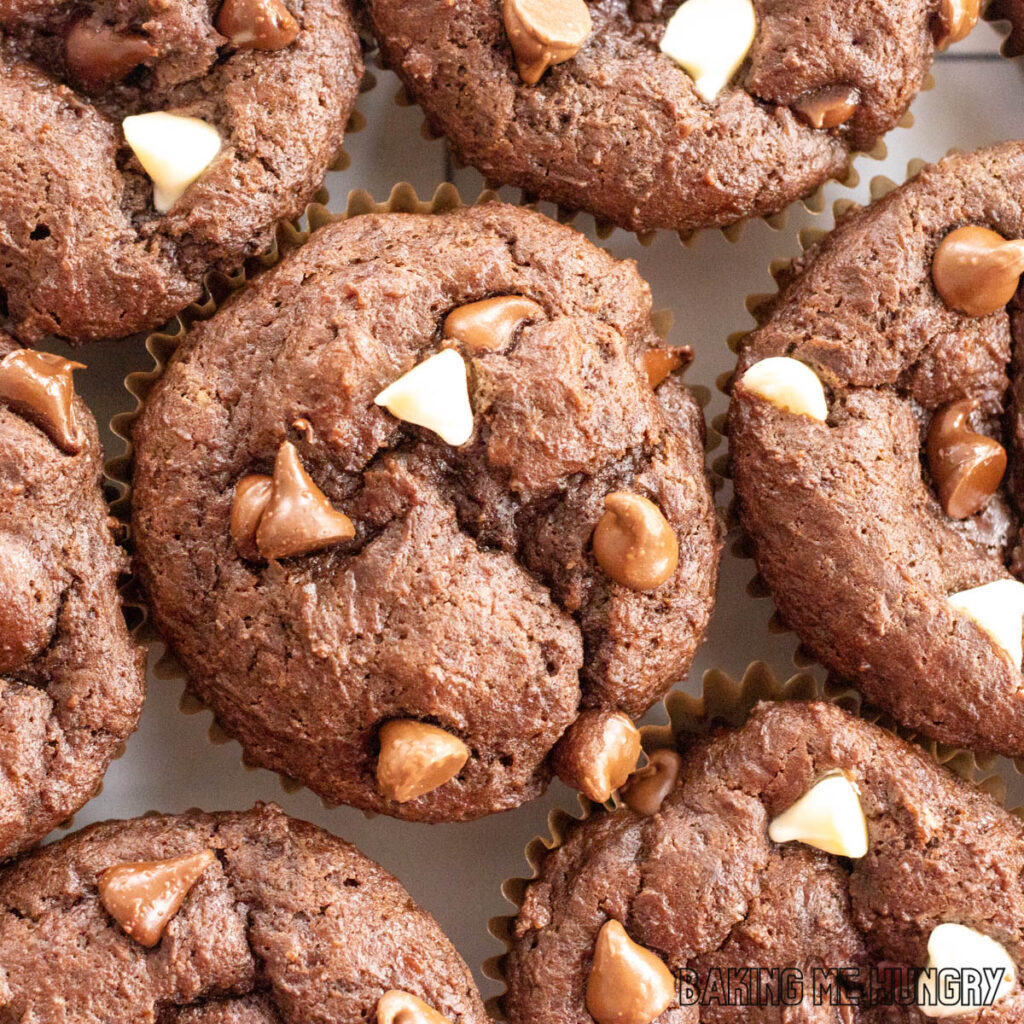 Ingredients
1 ¾

cups

all-purpose flour

1

cup

sugar

⅓

cup

semisweet chocolate chips

⅓

cup

milk chocolate chips

⅓

cup

white chocolate chips

¾

cup

unsweetened cocoa powder

1

teaspoon

baking soda

1

cup

sour cream

½

cup

milk

½

cup

vegetable oil

1

large egg

1

teaspoon

vanilla extract
Instructions
Preheat the oven to 400 degrees. Line 18 muffin cups with paper muffin liners and spray with cooking spray.

Combine the 3 types of chocolate chips. Set aside.

Combine flour, sugar, ¾ cup of the chocolate chips, cocoa powder, and baking soda in a large bowl.

Stir the sour cream, milk, oil, egg, and vanilla into the chocolate mixture until batter is just blended.

Fill prepared muffin cups ¾ full and sprinkle with remaining ¼ cup chocolate chips.

Bake in the preheated oven until a toothpick inserted in the center comes out clean, about 18-20 minutes.

Cool in the pans for 10 minutes before removing to cool completely on a wire rack.
Nutrition
Serving:
1
muffin
|
Calories:
200.1
kcal
|
Carbohydrates:
29.9
g
|
Protein:
4.9
g
|
Fat:
7.7
g
|
Saturated Fat:
4
g
|
Polyunsaturated Fat:
0.5
g
|
Monounsaturated Fat:
1.8
g
|
Trans Fat:
0.004
g
|
Cholesterol:
20.4
mg
|
Sodium:
101.3
mg
|
Potassium:
160.4
mg
|
Fiber:
1.9
g
|
Sugar:
17.7
g
|
Vitamin A:
107.5
IU
|
Vitamin C:
0.1
mg
|
Calcium:
41.2
mg
|
Iron:
1.4
mg