Get ready to love this Biscoff Milkshake recipe! It's the perfect way to make your own sweet treat right at home. Three simple ingredients are all you need to get started.
Let's just all agree that making milkshakes at home never gets old. Not only do you get to make them as often as you want, but you suddenly realize that they're really not complicated or hard to do! Forget about spending $5+ dollars to have someone else make it for you and challenge your inner sweet tooth instead.
I'm a big fan of Biscotti cookies, so to say that I'm excited about this Lotus Biscoff milkshake recipe is an understatement. I think that it has a richer flavor than others, and I attribute that to the cookies and ice cream combination. I also love that this milkshake recipe has minimal ingredients, just Lotus Biscoff biscuits, vanilla ice cream, and milk, which really allows for all the flavor and taste to come through.
Speaking of great dessert recipes, be sure to check out my Biscoff Fudge and Biscoff Butter Cookies for even more Biscoff cookie recipes.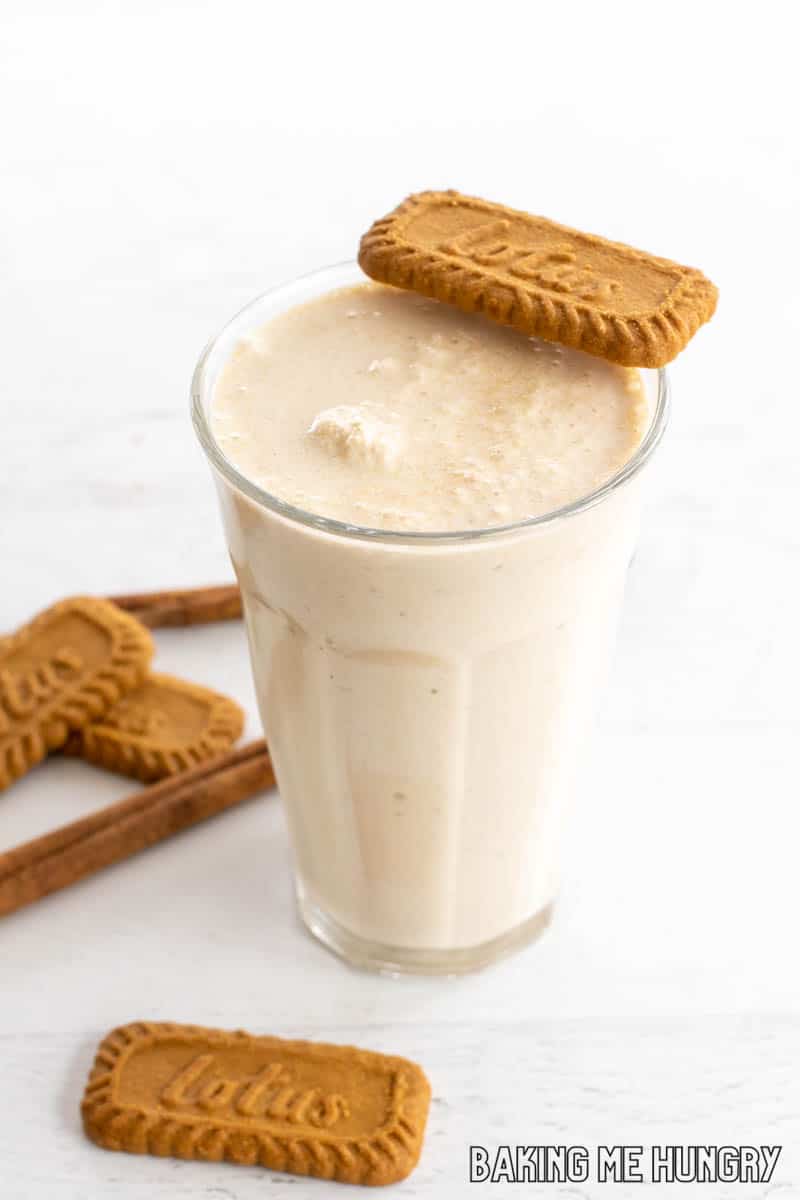 Ingredients
Biscoff cookies – You might as well grab an extra bag while you're at the store. Because if you're like me, you like to snack while you're making a snack.
Vanilla ice cream – Choose your favorite brand of ice cream.
Whole milk – Whole milk is key for adding richness and creamy texture.
How to make this Easy Biscoff Milkshake
Step One: Add all the listed ingredients into a blender. If you have a high-powered blender you can just add whole biscoff cookies, no need to break them up.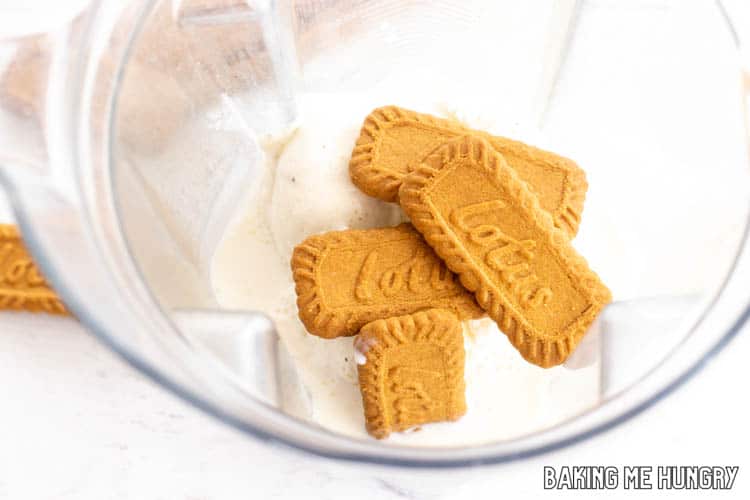 Step Two: Blend until the cookies are chopped up well, then add to your favorite milkshake glass.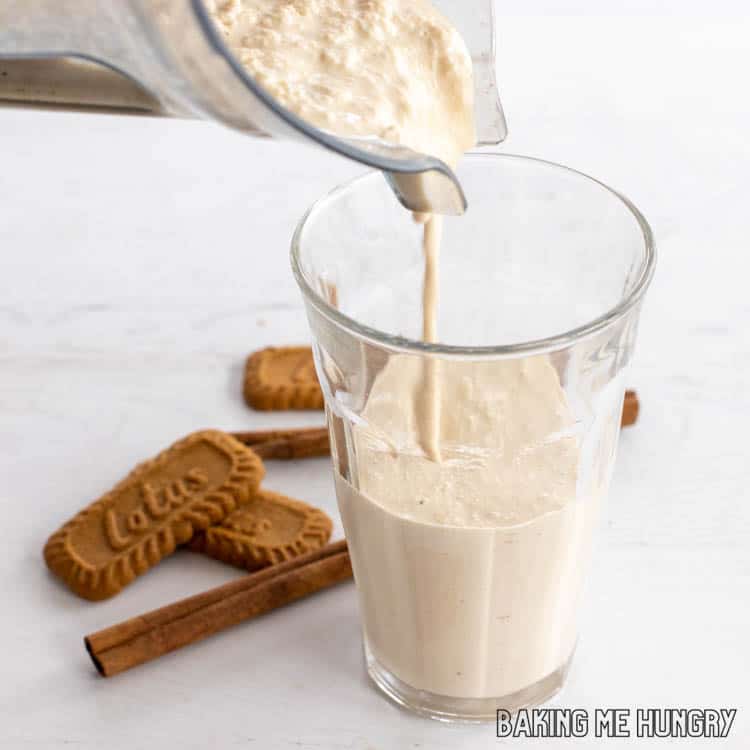 Variations
Add peanut butter – Because why not? Biscoff lovers will agree that adding peanut butter just might make this the best Biscoff milkshake ever!
Use dairy-free milk – You can absolutely change the type of milk that you want to use for this milkshake recipe. Oat milk and almond milk will work if you want to use them, but they will change the texture a bit.
Add vanilla extract – Adding a tiny bit of vanilla extract to the creamy milkshake is the best way to boost that vanilla flavor. Since there aren't many milkshake ingredients, this is an easy one to add.
Use another cookie – While I made this recipe using Biscoff cookies, it's simple enough to change and use this exact recipe for any type of cookie that you want. The sky is the limit, so look in your pantry and see what you have. You can also create a milkshake party, and have multiple cookie options and taste-test your way through them all!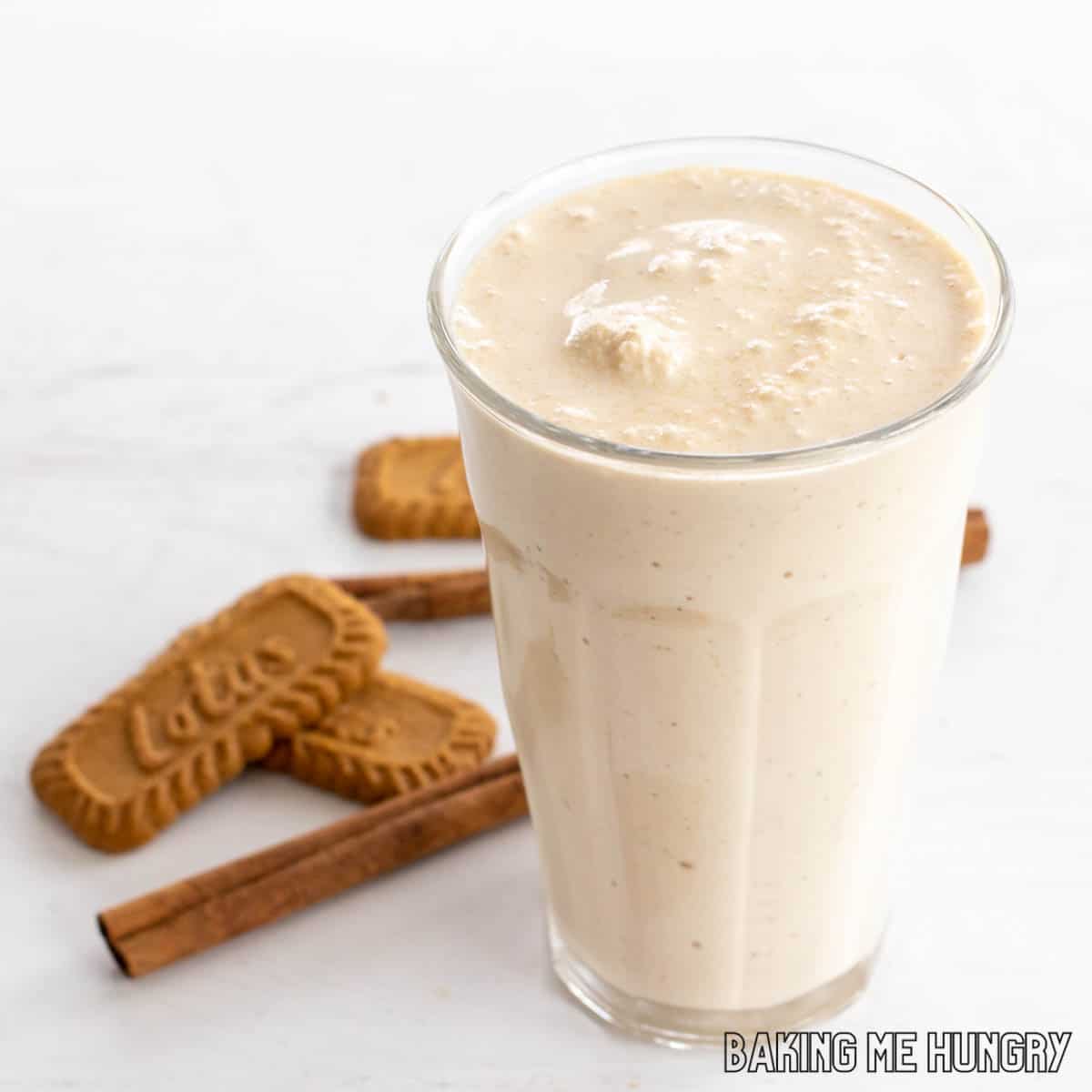 Common Questions
What are Biscoff cookies?
Lotus Biscoff cookies are a popular cookie brand that has gained immense popularity over the years. These cookies have become a staple in many households and are known for their unique flavor profile. Lotus Biscoff cookies, also known as speculoos cookies or speculoos biscuits, originated from Belgium and have since spread across various countries worldwide.
The cookies are made with traditional ingredients like cinnamon, ginger, nutmeg, and other warm spices that give them a distinctive taste.
How do I get a thick milkshake texture?
You need to be sure that you are using a high powered blender when making the milkshake blend because that is key to getting the texture. The speed of the blades whips the crushed cookies and the creamy vanilla ice cream until it's fluffy and thick. Low speed isn't going to cut it.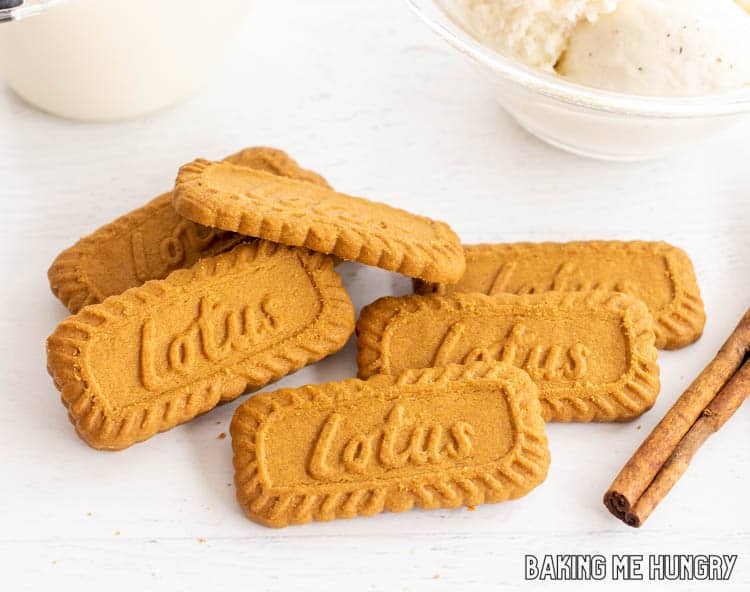 Can I use other cookies to make the ultimate milkshake?
You can! I love Lotus cookies, but you can add others or even add more. For the best results, add cookies that will taste good together, like chocolate chip cookies or even caramel cookies.
Don't forget that you can add flavor to the rim of the glass, too, by spreading caramel sauce on it and then even dabbing on a little bit of brown sugar!
And if you really want to have a yummy flavoring, you can add a scoop of smooth Biscoff spread to this milkshake to really boost that Biscoff flavor! It's like making your own cookie butter milkshake!
What are good toppings to add to this perfect easy dessert?
I'm all about adding toppings to milkshakes. You can add crushed-up Lotus biscuits right on top, whipped cream, sprinkles – the list could go on forever.
If you want to make this into a Biscoff coffee milkshake, you can even add a little bit of instant coffee into the mixture, too.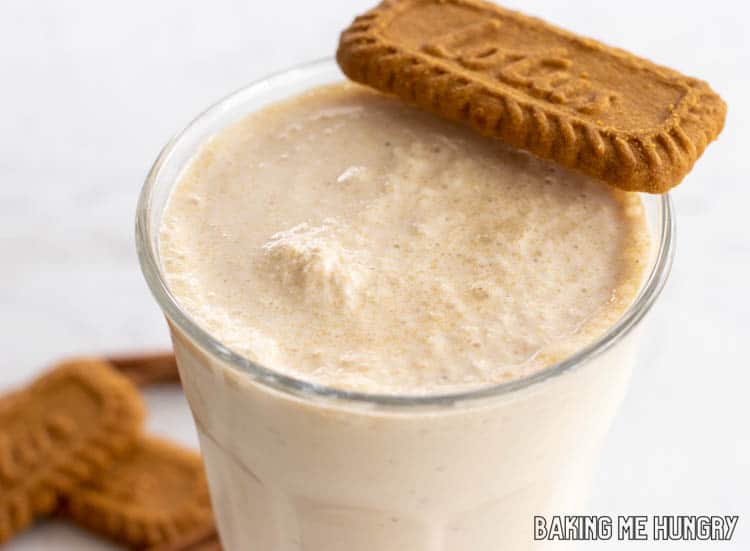 Can I make this milkshake in advance?
For the best results, you will want to make this milkshake fresh. Making it ahead of time and then trying to find the perfect way to freeze it can cause issues.
It's a hard balance of freezing and setting it out at room temperature so that it's easy to drink. It's just almost impossible to find that balance.
Instead, gather up all the needed ingredients, and make it fresh when the craving strikes. You can easily make this for birthdays, weekend snacking, or just a fun night at home with friends.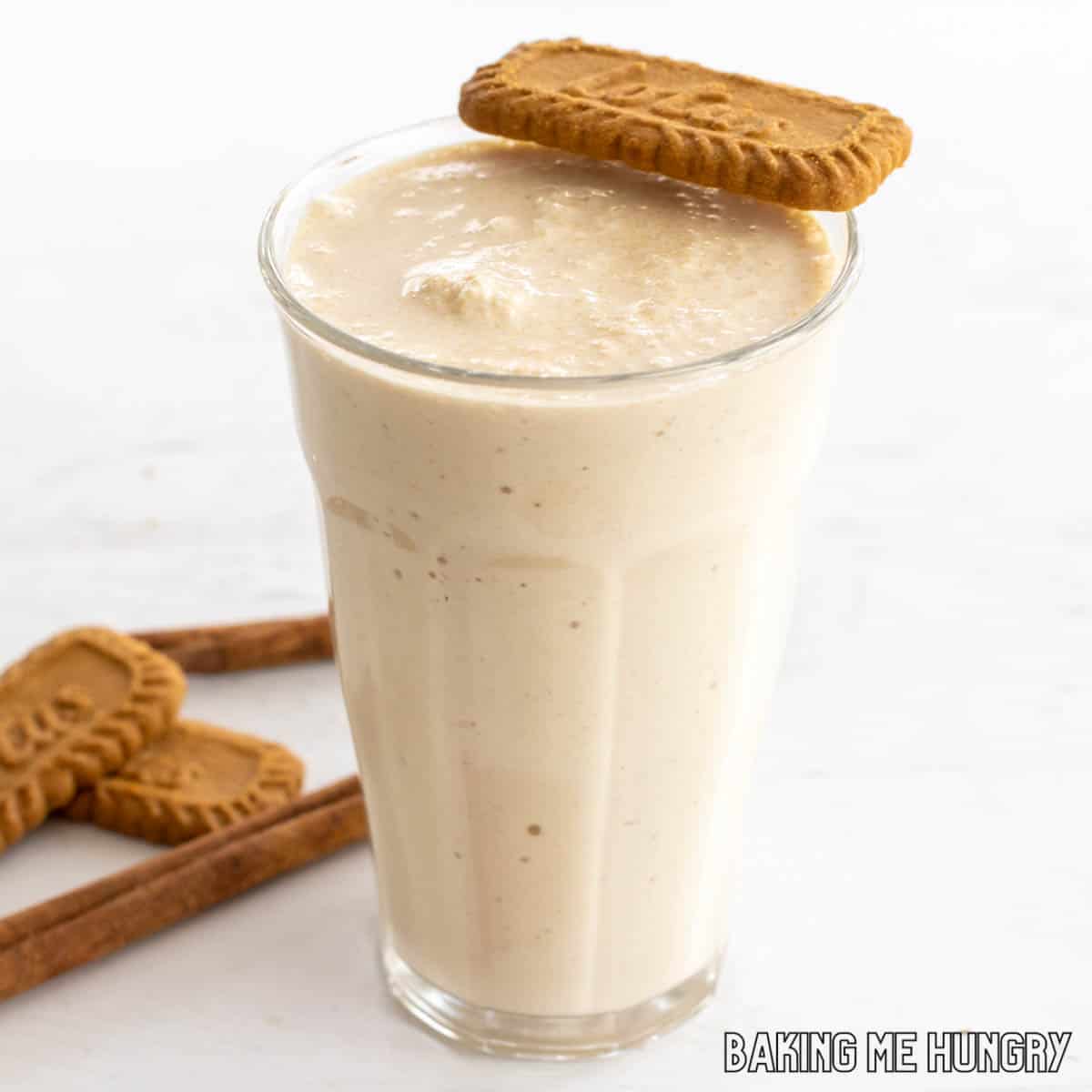 Like what you see? Follow us on Facebook and on Instagram! Love this recipe? Leave a comment & a 5-star rating right here! Make sure you don't miss new recipes by getting email updates!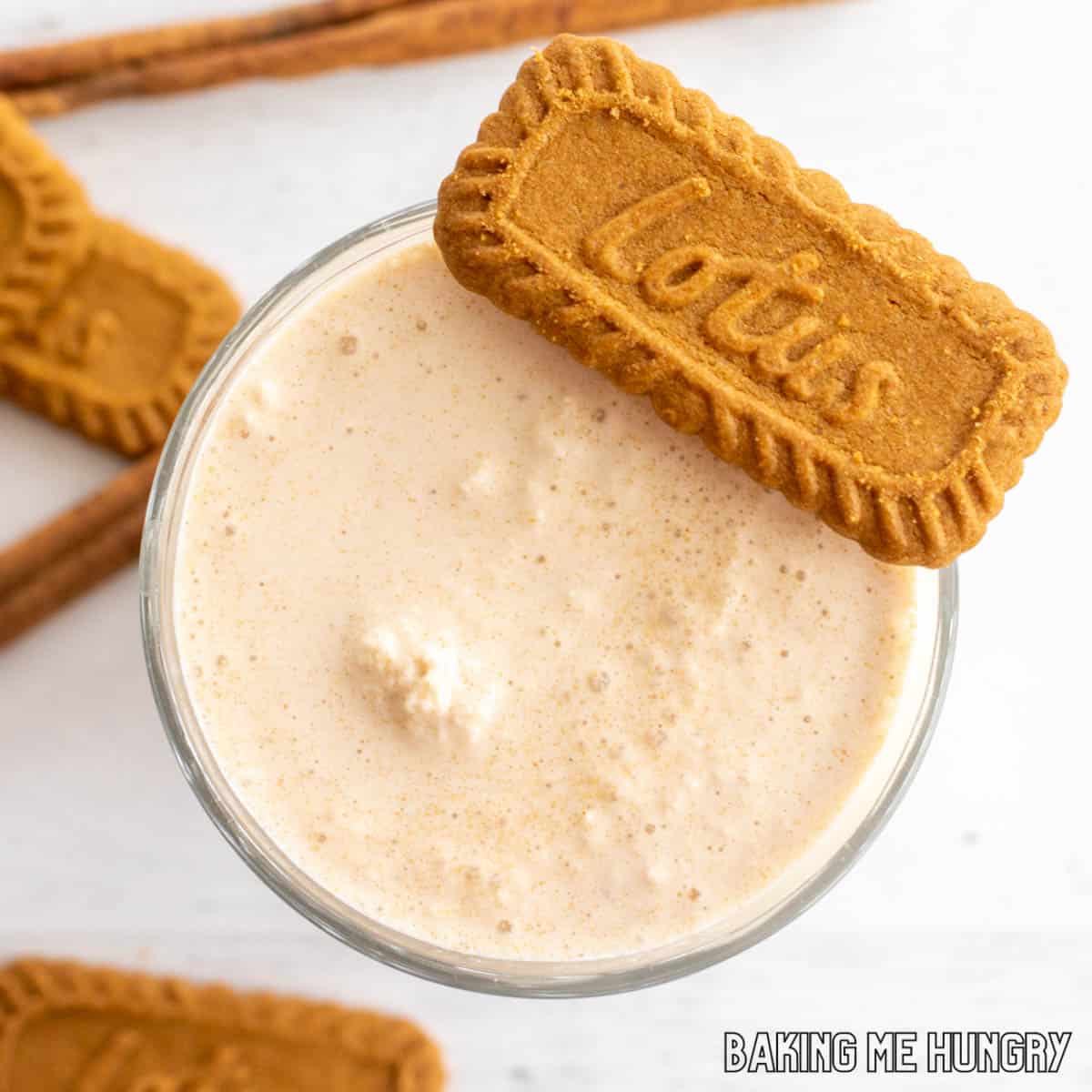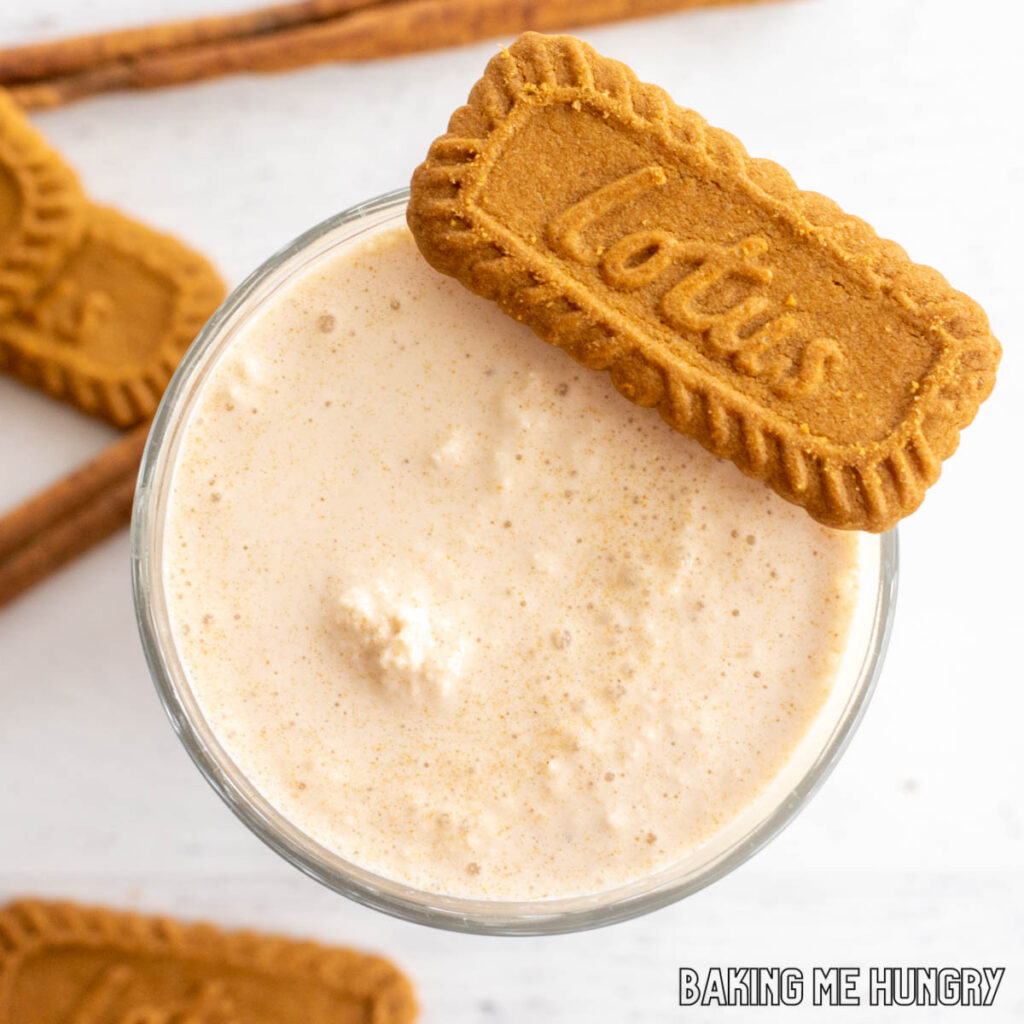 Ingredients
4

Biscoff cookies

4

scoops

vanilla ice cream

1

cup

whole milk
Instructions
Combine ingredients in a blender.
Nutrition
Calories:
421.4
kcal
|
Carbohydrates:
48.3
g
|
Protein:
9.6
g
|
Fat:
21.4
g
|
Saturated Fat:
12.5
g
|
Polyunsaturated Fat:
0.7
g
|
Monounsaturated Fat:
4.8
g
|
Cholesterol:
72.7
mg
|
Sodium:
209.5
mg
|
Potassium:
445.7
mg
|
Fiber:
0.9
g
|
Sugar:
39.9
g
|
Vitamin A:
753.4
IU
|
Vitamin C:
0.8
mg
|
Calcium:
319
mg
|
Iron:
0.1
mg