When it comes to unique and delicious cookies, Biscoff Butter Cookies are in a class of their own. Made with brown sugar, maple syrup, and cinnamon, these cookies have a rich flavor that is perfect for any occasion. What's even better is that they are incredibly easy to make, so you can enjoy them anytime you like.
Lotus Biscoff Cookies have been gaining in popularity recently. It's understandable because they are delicious. When I saw a big package at Costco I grabbed it with the intention of playing around with them in a whole assortment of recipes.
After that, I just had to try Lotus cookie butter next. These biscoff cookie butter cookies were the happy result. A little more experimenting and this Biscoff Fudge and our Biscoff Milkshake were created!
Ingredients
Egg – Egg is the binding agent in these cookies.
Biscoff Cookie Butter Spread – This is made from ground-up cookies for a smooth spread that tastes like cinnamon and ginger.
Brown sugar – I use light brown sugar for a mild molasses flavor. I think white sugar would work but I would add a couple of drops of molasses for flavor.
Maple syrup – Adding a bit of pure maple syrup gives the cookies a great texture and warm flavor.
Salted butter – I use salted butter when baking. If you can unsalted butter add an extra pinch of salt.
Vanilla extract – Vanilla enhances the other flavors in the cookies.
Flour – Regular all purpose white flour is all you need.
Cornstarch – Cornstarch can also be used to make cookies crispier. When used in conjunction with flour, cornstarch will help to absorb moisture and prevent cookies from spreading too much. It also gives cookies a nice crunch.
Cinnamon – Cinnamon enhances the flavors in the cookie butter.
Baking soda – Baking soda is a great leavening agent to use in these chewy cookies. Baking powder would make them too cakey.
Salt – An extra pinch of salt also enhances the other flavors.
How to Make Biscoff Butter Cookies
This is an easy cookie recipe that only requires a bowl and a rubber spatula or wooden spoon!
Step One: Mix together the dry ingredients in a large mixing bowl.
Step Two: Mix in the rest of the ingredients. Scrape the sides to ensure the dough mixture is thoroughly combined.
Expert Tip: If you prefer to mix in a stand mixer or with a hand mixer you can.
Step Three: Form cookie dough balls on parchment paper lined baking sheets with a medium cookie scoop.
Step Four: Bake the cookies until the edges begin to brown. Let cool completely on a wire rack. They will be crispy around the edges and soft and chewy in the center.
Variations
Chocolate Chips – We prefer adding white chocolate chips but you can add milk chocolate chips, semisweet chocolate chips, or even dark chocolate chips.
White Chocolate Drizzle – This looks really pretty. Just melt some white chocolate, thin with oil, and drizzle over the cooled cookies.
Fillings – Cream cheese frosting, buttercream frosting, or even just some of the cookie butter is amazing sandwiched between two cookies.
Cookie Butter – I have only tested this recipe with Biscoff brand but other brands of speculoos cookie butter should be fine to use.
Common Questions
What is Biscoff Cookie Butter?
Biscoff is a brand of cookie butter spread that has become increasingly popular in recent years. The company started in Belgium in 1932, and the cookies were originally only served on airplanes. They have the texture of shortbread but a vibrant flavor. The cookies are also known as speculoos cookies.
Biscoff spread is made from Biscoff cookie crumbs. It has the consistency of peanut butter but is nut-free. It can be used as a dip, a spread, or even a frosting and is often used as a spread on toast or as a filling for cakes and cookies.
What flavor is Biscoff Cookie Butter?
It has a sweet, rich flavor with hints of cinnamon, nutmeg, cloves, and ginger. The closest thing to compare it to is the taste of gingerbread.
How do I store leftover cookies?
Store leftovers in an airtight container at room temperature for up to 5 days, in the fridge for up to 2 weeks, or in the freezer for up to 3 months. We use this method for everything from Strawberry Shortbread Cookies to Coffee Cookies and Mini Egg Cookie Bars.
Like what you see? Follow us on Facebook and on Instagram! Love this recipe? Leave a comment & a 5-star rating right here!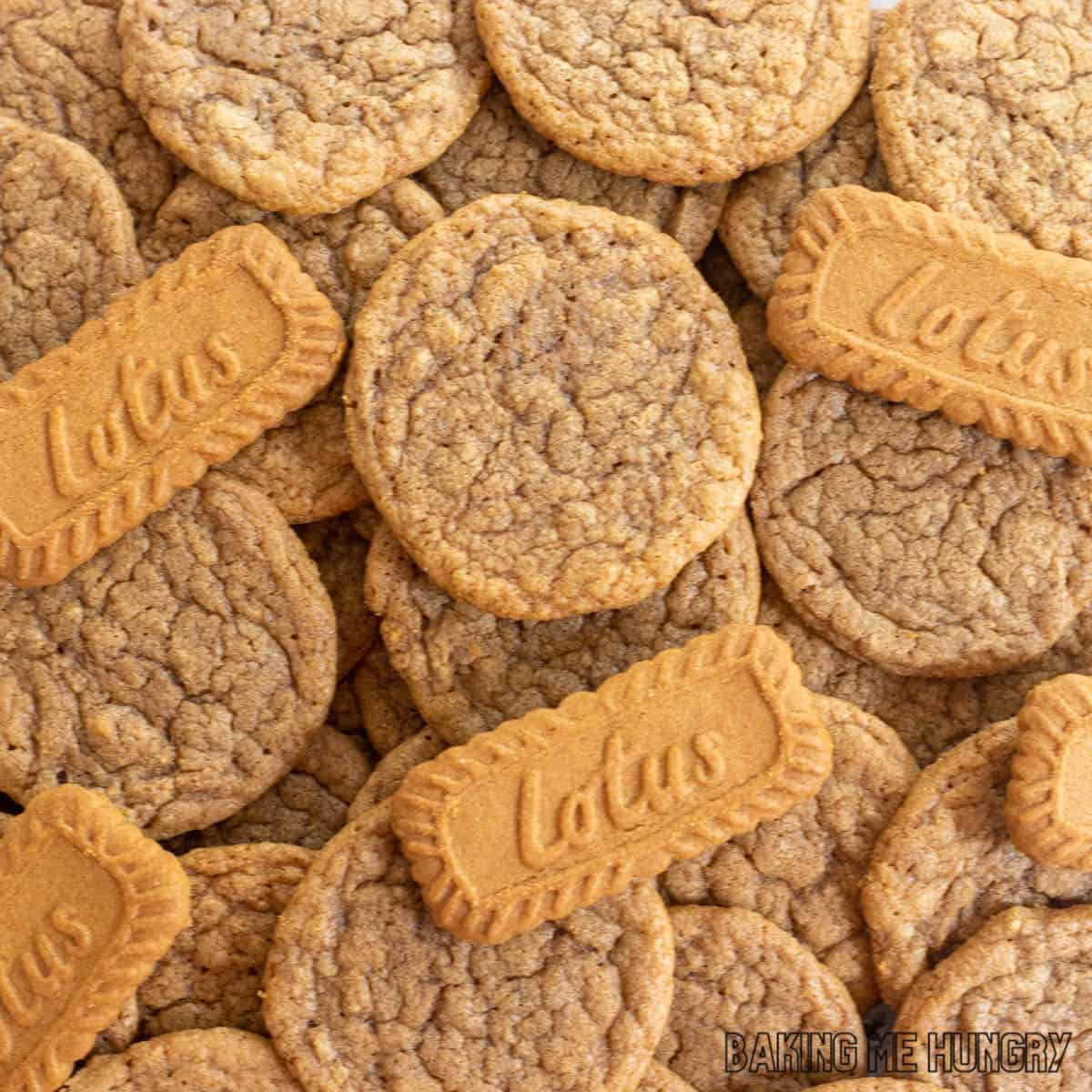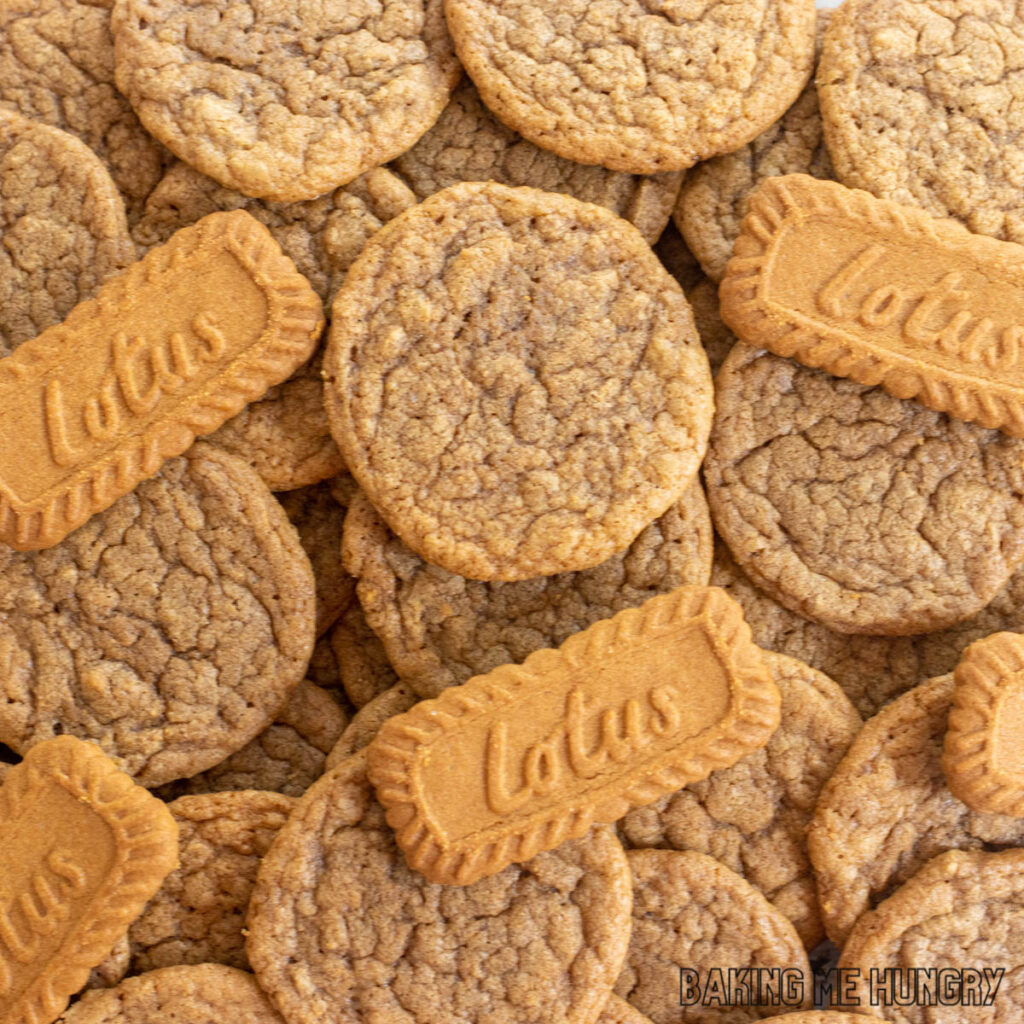 Ingredients
1

large egg

1

cup

Biscoff Cookie Butter

½

cup

light brown sugar

packed

¼

cup

maple syrup

2

tablespoon

salted butter

2

teaspoon

vanilla extract

1

cup

flour

2

teaspoon

cornstarch

1

teaspoon

cinnamon

1

teaspoon

baking soda

¼

teaspoon

salt
Instructions
Stir together the dry ingredients.

Mix in the wet ingredients.

Add the cookie butter and mix well.

Form 48 small cookies on two large parchment paper lined cookie sheets.

Bake for 10 minutes. Let cool completely.
Nutrition
Calories:
58.7
kcal
|
Carbohydrates:
8.1
g
|
Protein:
0.7
g
|
Fat:
2.6
g
|
Saturated Fat:
0.8
g
|
Polyunsaturated Fat:
0.1
g
|
Monounsaturated Fat:
0.2
g
|
Trans Fat:
0.1
g
|
Cholesterol:
4.7
mg
|
Sodium:
40.8
mg
|
Potassium:
11.4
mg
|
Fiber:
0.1
g
|
Sugar:
4.9
g
|
Vitamin A:
19.7
IU
|
Vitamin C:
0.1
mg
|
Calcium:
5.2
mg
|
Iron:
0.2
mg