Do you like baked oatmeal, but don't want to make a big batch? This recipe is for you! Baked oats for one is the perfect, single-serve solution. Just mix up the ingredients and bake. In less than 30 minutes you'll have a delicious and hearty breakfast.
There are few things more satisfying than a warm, hearty bowl of oatmeal on a cold morning. But if you're cooking for one, the process of making oatmeal can seem like more trouble than it's worth.
Baked oats are the perfect solution for a single serving of baked oats that is both delicious and easy to make. Simply mix all of your ingredients together in one bowl, bake, and enjoy! This is the best oatmeal recipe we've tried.
We also love these Banana Blueberry Oatmeal Muffins for a great grab-and-go breakfast option! Or this decadent Nutella Baked Oats recipe.
For a family-sized version try our Blueberry Lemon Baked Oatmeal.
Ingredients
Old-Fashioned Oats – Old-fashioned or rolled oats are a type of whole grain that has been processed into flakes. The oats are first steamed and then rolled into flat flakes. This process helps to make the oats more digestible and gives them a chewier texture. Rolled oats are a good source of fiber and protein, and they can be used in a variety of recipes. Quick oats may get mushy in this. Use gluten-free oats if you'd like this baked oatmeal recipe to be gluten-free.
Whole Milk – Whole milk in oatmeal is a great way to get a delicious and nutritious breakfast. The milk adds protein and essential nutrients, while the oatmeal provides complex carbohydrates and fiber. This combination will help you feel satisfied and energized throughout the morning.
Eggs – The eggs in baked oatmeal add a richness and depth of flavor that can't be achieved with just oats and milk. They also help to bind the ingredients together, making for a more cohesive and satisfying final product. If you're looking for a hearty, filling breakfast that will keep you going all morning, add some eggs to your next batch of oatmeal!
Sugar – One popular way to prepare oatmeal is to bake it with sugar. This method results in sweeter, more flavorful oatmeal. The sugar helps to brown the oatmeal and gives it a slightly crisp texture.
Blueberries – When blueberries are added to oatmeal, they provide a burst of sweetness and a pop of color. The blueberries pair well with the creamy oats and create a satisfying breakfast.
How to Make Baked Oats for One
Step One: Preheat the oven to 350. Spray a small baking dish or extra large ramekin with cooking spray.
Step Two: Mix the ingredients together in the baking dish.
Step Three: Bake the oats for about 25 minutes, until no longer jiggly.
Variations
The best oatmeal recipe is the one you tweak to your own tastes!
Sweeteners – Swap out the sugar for honey, maple syrup, brown sugar, unsweetened applesauce, or a sugar-free sweetener blend. If you use a liquid sweetener decrease the milk by the same amount.
Spices – Cinnamon, nutmeg, pumpkin spice, apple pie spice, cardamon, or even ginger are great additions. Just start slowly and taste as you go. You can add the egg last so you can safely taste the mixture as you season.
Extracts – Add vanilla extract, lemon extract, or orange extract to the oat mixture when mixing.
Nuts – Sprinkle some of your favorite nuts on for the last 10 minutes of the baking time. I like walnuts, pecans, or slivered almonds.
Fruit – Add some apples and cinnamon for a great apple cinnamon baked oatmeal. Or try a combination of several berries like raspberries and sliced strawberries in addition to the blueberries. Try mashed banana and coconut for a tropical twist.
Dairy-Free – If you'd like this recipe to be dairy-free just swap in your favorite non-dairy milks like almond milk, coconut milk, soy milk, or oat milk.
Protein – To boost the protein stir in your favorite protein powder, any variety of nut butters (we are partial to peanut butter), or top with Greek yogurt.
Chocolate – Chocolate chips are a decadent addition to any breakfast! Mix in some cocoa powder and a tablespoon or two of mini chocolate chips for a sweet treat.
Carrot Cake – If you love our carrot mug cake you should try making this with the same flavors! Just mix in ¼ cup shredded carrots in place of the blueberries and add a pinch of ginger.
Vegan – If you'd like vegan baked oats you can also omit the egg and sub in a dairy-free milk.
Tea – I love to flavor things with tea, such as these Earl Grey Scones. To do the same steep a tea bag in 2 oz of boiling water for 5 minutes and then use that to replace some of the milk.
Common Questions
Are baked oats good for you?
There is no definitive answer to this question as it depends on the individual's specific dietary needs and preferences. However, in general, baked oats can be a healthy and nutritious option for breakfast or snacks. Oats are a whole-grain food that is high in fiber and protein, and they have been shown to have various health benefits, including reducing cholesterol levels and promoting heart health. Additionally, baking oats helps to make them more digestible and decreases the risk of gastrointestinal issues.
Do you have to put egg in baked oats?
Eggs can provide structure and act as a binding agent, leading to a more cohesive final product. They also add protein. But if you like your baked oats for one to more like traditional stovetop oatmeal you can omit the egg.
How do you know when baked oatmeal is done?
Baked oatmeal is done when the oatmeal is firm to the touch and not jiggly.
Can baked oatmeal be left out overnight?
The answer to this question depends upon a number of factors, including the type of oatmeal, the ingredients used, and the temperature at which it is stored. Generally speaking, however, baked oatmeal should not be left out overnight. This is because the combination of moisture and warm temperatures can create an environment in which bacteria can thrive. When bacteria comes into contact with food, it has the potential to cause food poisoning. If is safer to just store and leftovers in the fridge.
Can baked oatmeal be reheated?
Yes, baked oatmeal can be reheated. To reheat, simply place the baked oatmeal in a microwave-safe dish and heat for 1-2 minutes, or until warmed through. You can also reheat baked oatmeal in a conventional oven. To do so, place the baked oatmeal on a baking sheet and heat at 350 degrees Fahrenheit for 10-15 minutes.
Try these Chocolate Peanut Butter Oatmeal Balls next!
Like what you see? Follow us on Facebook and on Instagram! Love this recipe? Leave a comment & a 5-star rating right here! Make sure you don't miss new recipes by getting email updates!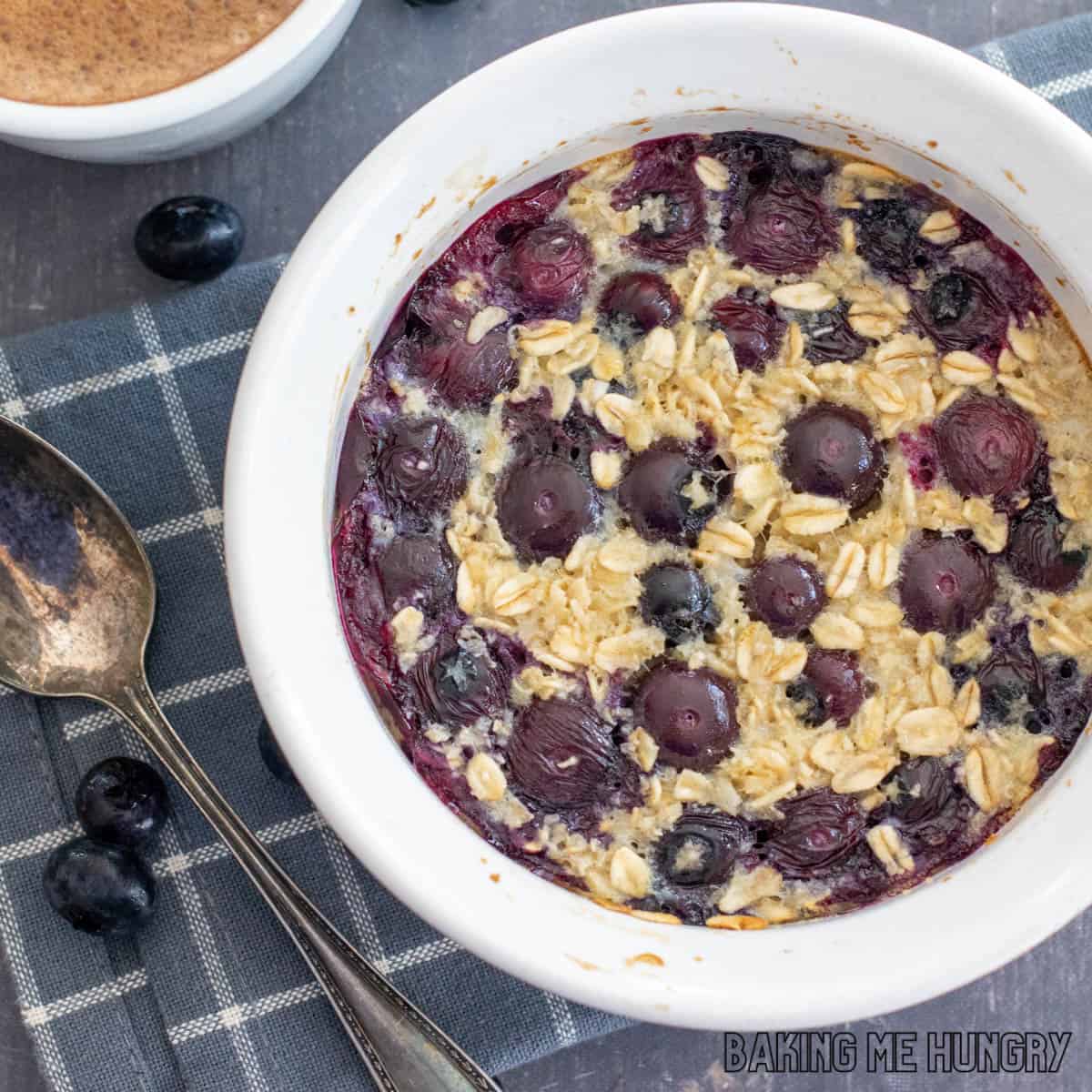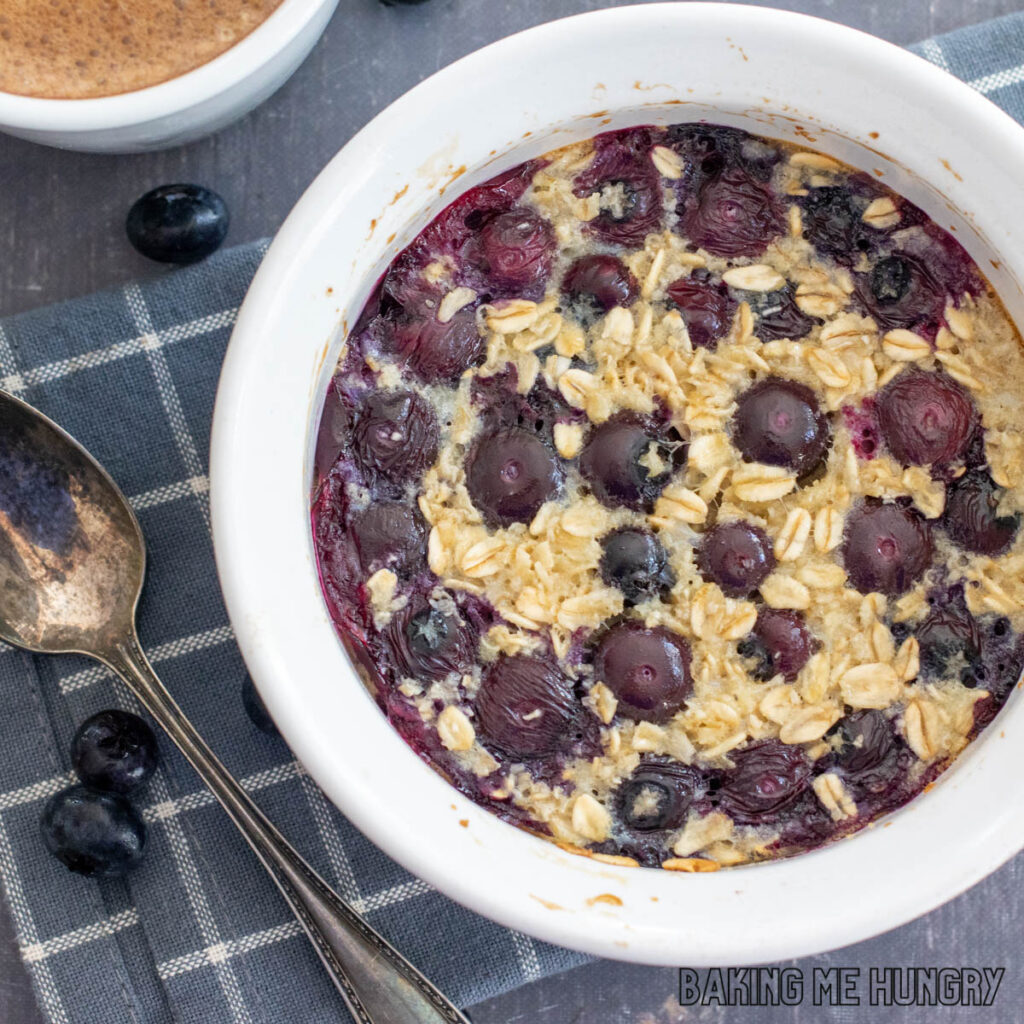 Ingredients
¼

cup

old-fashioned rolled oats

¼

cup

whole milk

2

tablespoon

beaten egg

1-2

tablespoon

sugar

¼

cup

blueberries
Instructions
Preheat the oven to 350. Spray an oven-safe bowl *** with cooking spray.

In an oven-safe bowl mix together all the ingredients.

Bake for 25 minutes or until no longer jiggly.
Notes
*** If you want to mix and bake in the same bowl choose a bowl that has a two-cup capacity.
Nutrition
Calories:
222.9
kcal
|
Carbohydrates:
34.1
g
|
Protein:
8.7
g
|
Fat:
6.2
g
|
Saturated Fat:
2.3
g
|
Polyunsaturated Fat:
1.2
g
|
Monounsaturated Fat:
1.9
g
|
Trans Fat:
0.01
g
|
Cholesterol:
117.3
mg
|
Sodium:
66.9
mg
|
Potassium:
234.4
mg
|
Fiber:
2.9
g
|
Sugar:
18.9
g
|
Vitamin A:
278.5
IU
|
Vitamin C:
3.6
mg
|
Calcium:
104.5
mg
|
Iron:
1.5
mg