This amazing mango pudding without gelatin is a cooked pudding that falls somewhere between a creamy pudding and a classic citrus curd. No matter if you call it mango curd or mango pudding it is delicious!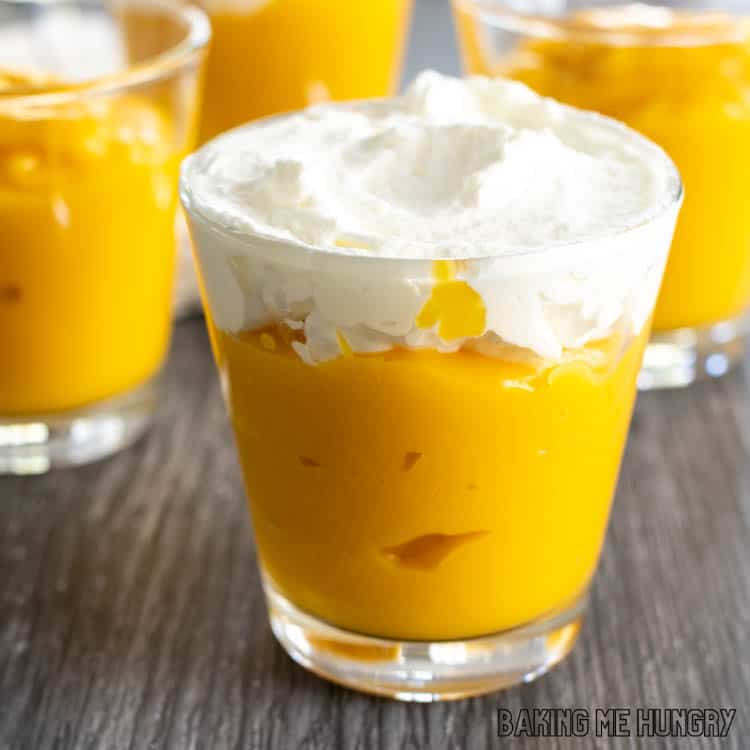 I have loved mango since my first taste of mango Italian ice in my teens. Before that, I don't remember this tropical fruit being popular so that is the first time I can recall trying it. I would get a gelati with mango Italian ice and vanilla custard and the combination was irresistible.
In the years to follow, I became more and more familiar with mangoes and mango recipes but I still prefer using them in mango dessert recipes and smoothies instead of just cutting up ripe fresh mangoes and eating them with a fork. I like the flavor more than the texture.
When my husband had some co-workers over for a barbecue one summer and a friend brought a mango cheesecake I was hooked. She introduced me to canned mango pulp and it changed the way I looked at using mangos in recipes forever.
If you love tropical flavors make sure to try our Passion Fruit Ice Cream next!
Ingredients
Whole Milk – We use whole milk for a rich texture. For a dairy-free version try canned coconut milk and just omit the butter.
Cornstarch – Cornstarch is a great thickener for pastry cream and pudding. It is found in most boxed instant puddings because of how well it works.
Sugar – Regular white sugar gives the mango pudding most of its sweetness.
Salt – A pinch of salt enhances the other flavors without making the pudding salty.
Egg Yolks – Egg yolks are the second thickening ingredient we use. They help the pudding firm up with a creamy texture.
Salted Butter – Adding some salted butter helps cut the sweetness and enhances the flavor of the pudding.
Mango Pulp – The secret ingredient for perfect mango pudding. It is canned pureed mango sweetened with sugar. It is a smooth puree with vibrant mango flavor.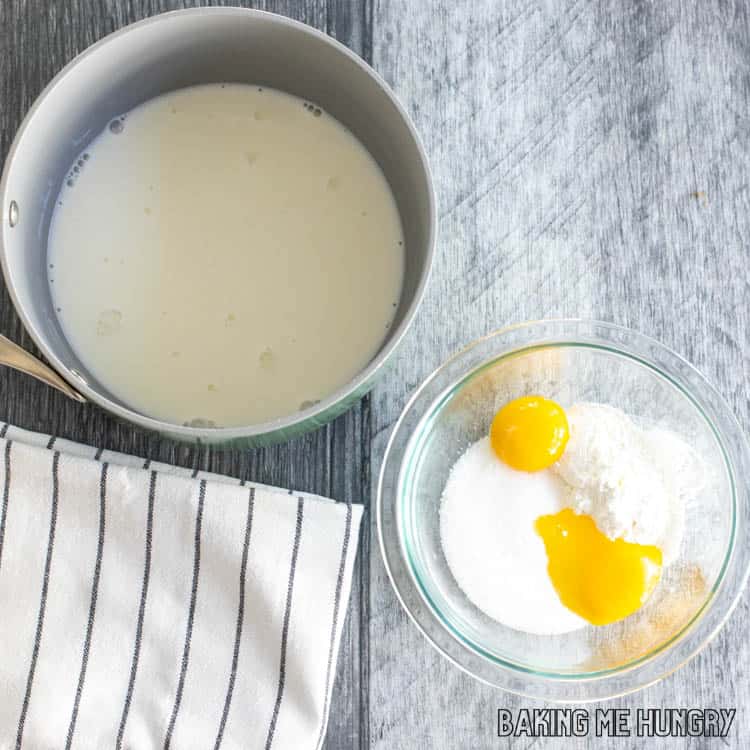 How to Make Mango Pudding Without Gelatin
This is a cooked pudding made thick with egg yolks and cornstarch so it does not need gelatin. Even though you need to cook it this is an easy mango pudding to make at home.
Step One: Heat the milk in a small pot over medium low heat. Do not let it boil.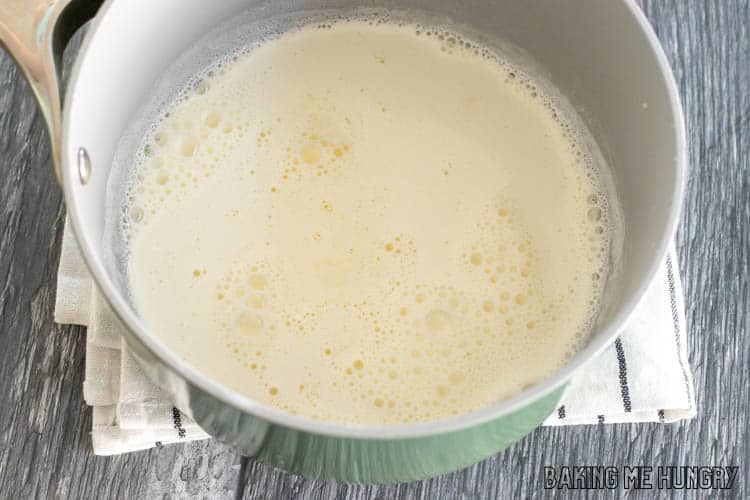 Step Two: Combine the sugar and egg yolks in a heat-proof bowl and whisk until they are thick and the color has lightened.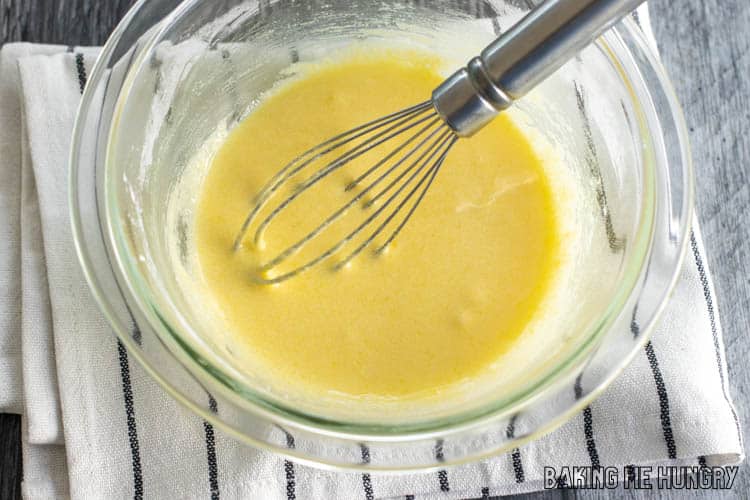 Step Three: Slowly pour the hot milk into the sugar and egg mixture. Whisk constantly. If you aren't careful you will scramble the eggs. Add this back to the saucepan and cook until thick.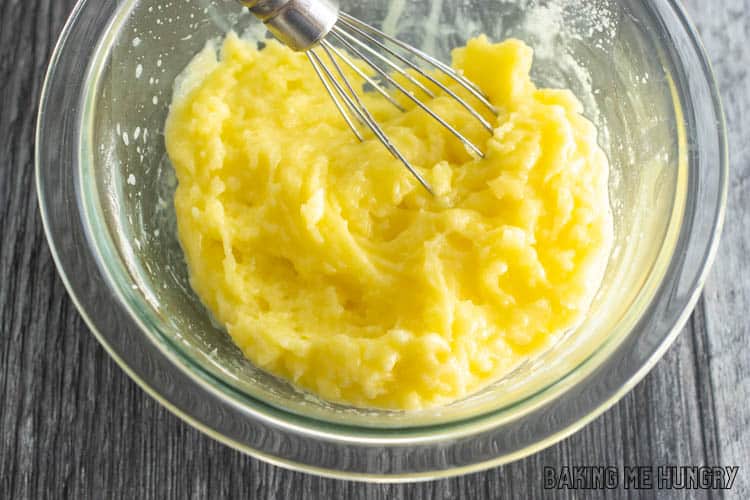 Step Four: Add the cream back to the bowl and stir in the butter.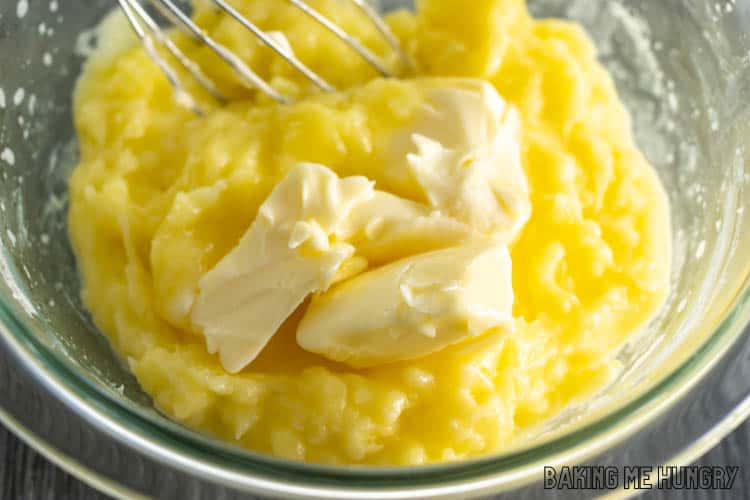 Step Five: Whisk the mango pulp into the pastry cream.
Expert Tip: This is the most important part and what turns this from a classic pastry cream used in eclairs into the best mango pudding recipe.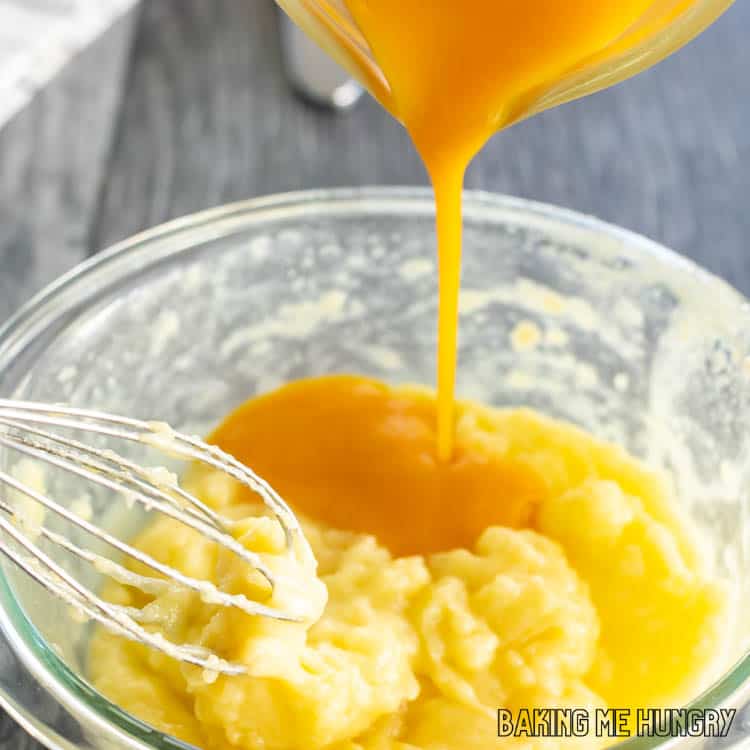 Step Six: Whisk until very smooth. Cool to room temperature.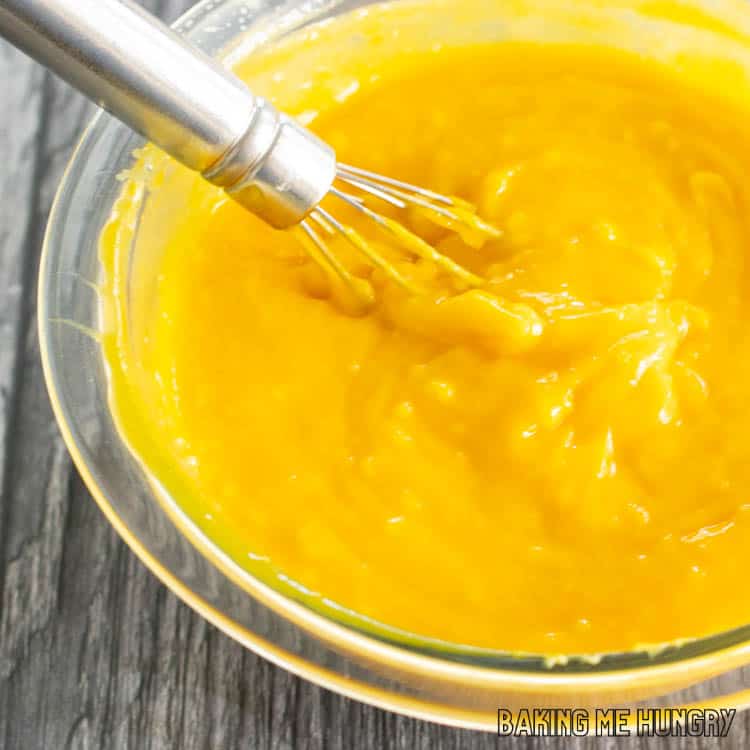 Step Seven: Transfer to servings bowls or small cups and place them into the refrigerator. Chill for 3-4 hours or until very cold. Serve chilled.
Expert Tip: If you want the mango pudding even smoother you can blend it with an immersion blender or transfer to a food processor.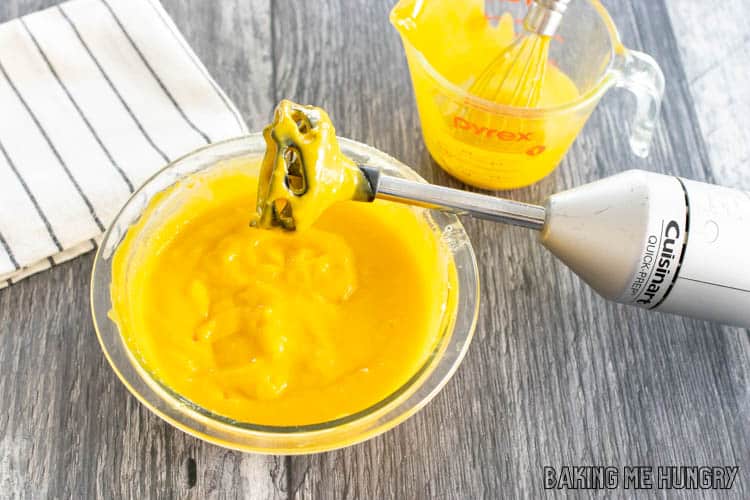 Variations
Spices – Mix in ginger, chai spice, cardamon, or a little cinnamon to the milk in the first step. You can even infuse the milk with flavor from whole cloves or star anise.
Mousse – To make this lighter fold in 2-3 cups of whipped heavy cream. And see our recipe for Mango Mousse!
Other Fruits – You can make this pudding into just about any other flavor you can imagine by subbing the mango puree for other fruit purees. Or make homemade mango pulp by thawing and blending frozen mango with a little sugar.
Chocolate – If you love the combination of mango and chocolate mix in 2-3 tablespoons of cocoa powder when you mix the egg yolks and sugar. Or just sprinkle a few chocolate chips on top when serving.
Honey – Swap out the sugar for honey to sweeten this and add honey flavor.
Popsicles – Check out our recipes for Mango Popsicles if this variation caught your eye!
Other Thickeners – If you don't want to use cornstarch you could cook this as directed and then stir in a little agar agar powder, glucomannan, or xanthan gum to thicken it.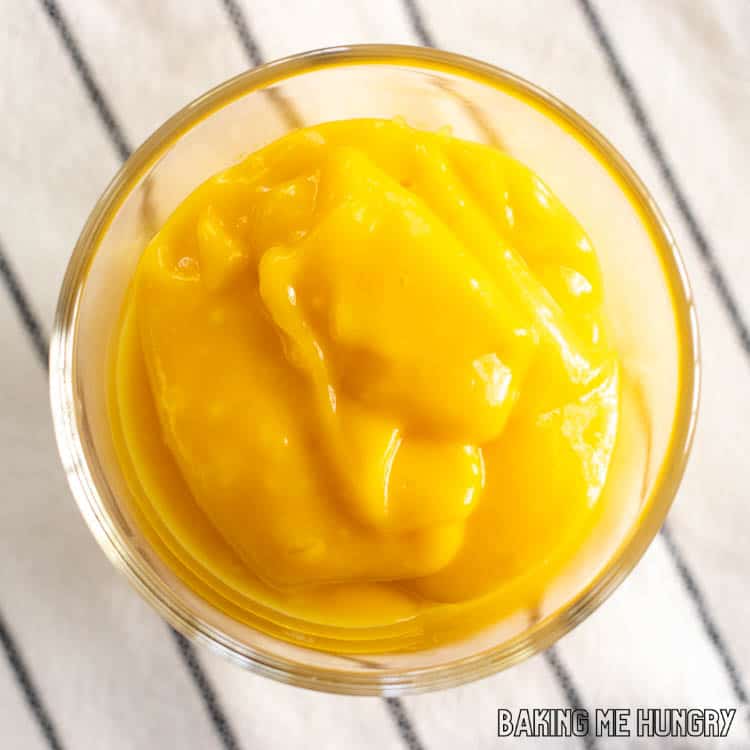 Common Questions
What is Mango Pulp?
I used Kesar mango pulp. Alphonso is another popular brand.
How do I store leftovers?
Make sure to store any remaining mango pudding in the fridge. It can keep for 3-4 days when tightly covered with plastic wrap or in an airtight container.
How do I serve Mango Pudding?
We generally just serve it as shown in the photos. In small cups with whipped cream. It also pairs nicely with pound cake and whipped cream in a trifle presentation.
Can I use gelatin?
We developed this as a mango pudding without gelatin but if you want to add unflavored gelatin powder here is what you can do.
Omit the egg yolks and butter, add the remaining ingredients to a blender and blend until smooth.
Bloom two teaspoons of gelatin by sprinkling it over two tablespoons of cold water.
Let it rest for 5 minutes.
Then add two tablespoons of hot water and store until the gelatin dissolves.
Add the bloomed gelatin to the blender. M
ix until smooth and then transfer to serving bowls and chill until firm.
For a refreshing summer beverage try our Virgin Moscow Mule.
Like what you see? Follow us on Facebook and on Instagram! Love this recipe? Leave a comment & a 5-star rating right here!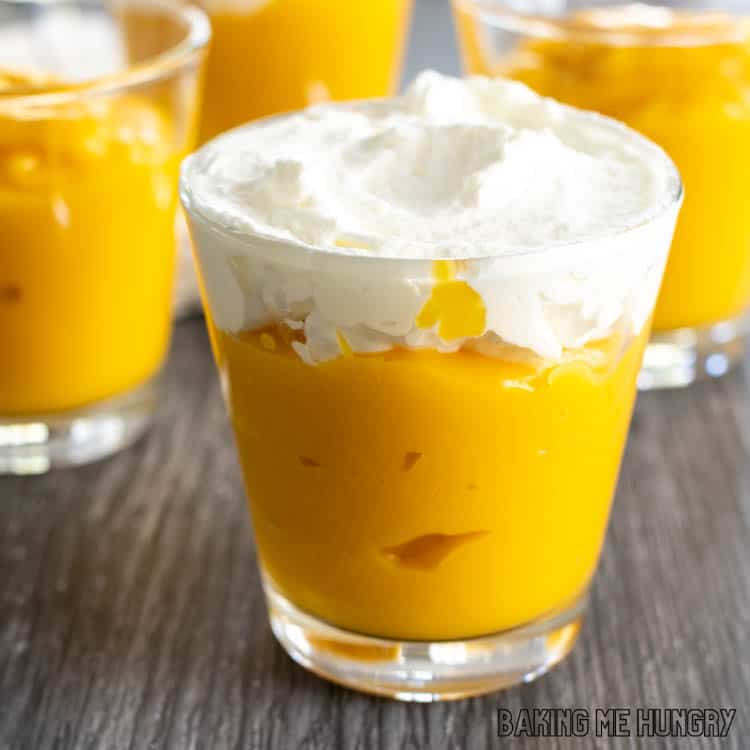 Ingredients
1

cup

whole milk

¼

cup

granulated sugar

2

tablespoon

cornstarch

1

pinch

salt

2

egg yolks

2

tablespoon

butter

room temperature

1

teaspoon

vanilla

1

cup

mango pulp
Instructions
In a medium saucepan bring the milk to a boil over medium-low heat. In a medium bowl, combine sugar, corn starch and salt.

Whisk the egg yolks into the sugar mixture until they are smooth and lighter in color - this takes approximately two minutes.

Pour the hot milk into the egg yolk and sugar mixture slowly while whisking. Add back to the saucepan and cook until thickened, whisking constantly.

Transfer back to the bowl. Add the butter and vanilla and mix until smooth. Whisk in the mango pulp.

Transfer to a serving bowl or small cups. Refrigerate until chilled, about 2-3 hours.
Nutrition
Calories:
193.7
kcal
|
Carbohydrates:
33.3
g
|
Protein:
4
g
|
Fat:
4.9
g
|
Saturated Fat:
2.1
g
|
Polyunsaturated Fat:
0.5
g
|
Monounsaturated Fat:
1.5
g
|
Cholesterol:
105.3
mg
|
Sodium:
59.2
mg
|
Potassium:
113.3
mg
|
Fiber:
0.4
g
|
Sugar:
28.3
g
|
Vitamin A:
1657
IU
|
Vitamin C:
8.1
mg
|
Calcium:
101.5
mg
|
Iron:
7.7
mg
Originally Published May 18, 2022. Revised and Republished April 10, 2023.