If you're a fan of earl grey tea, you'll love these Earl Grey Scones. They're easy to make and only require a few ingredients. Best of all, they only take about 25 minutes to make. So, if you're in the mood for a quick and tasty treat, give these scones a try.
I love scones. The first time I remember enjoying them was during college when I'd pop into Starbucks for a coffee and a Maple Oat Nut Scone. We've made many flavors of scones throughout the years since playing with different ingredients. My daughter prefers plain scones spread with raspberry jam. I have a thing for glazed vanilla scones (also a copycat of those coffee shop ones).
One of my favorite ways to season recipes is with strong tea. There is so much flavor in a tiny bag full of leaves. I use strong raspberry tea in raspberry sangria, chai tea in pancakes, apple tea in cakes, and now earl grey tea in scones. The hint of bergamot is lovely paired with this tender pastry.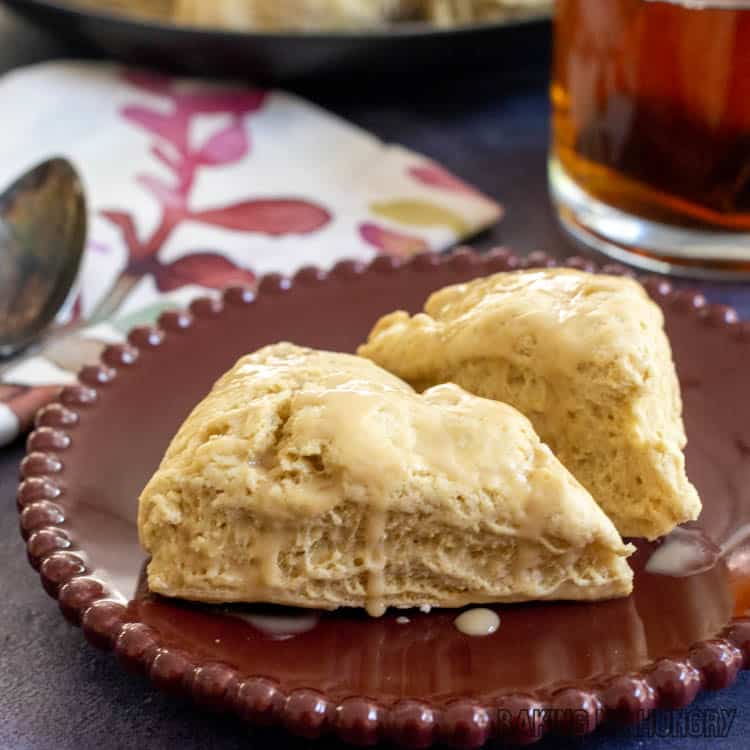 Ingredients
Flour – I use unbleached all purpose flour.
Sugar – White cane sugar works in this scone recipe. You can sub in powdered sugar if needed.
Baking powder – Always check the date of your leavening agents. If they are old or expired your baked goods will not rise.
Salted butter – You want the butter to be cold and cut into cubes so that it gets cut into the dry ingredients easier. I normally use a food processor to do this but you can do it by hand with a pastry cutter if you prefer. If you have unsalted butter add a pinch of salt.
Whole milk – I use whole milk in this recipe but you can sub in a combination of a lower fat milk and cream.
Earl grey tea – You want to brew the tea very strong so the flavor comes through in both the glaze and the scones. I use three earl grey tea bags in just ⅓ cup of boiling water. You can also use loose leaf tea. Just double or triple the amount called for on the package.
Powdered sugar – The glaze is smoother when you use powdered sugar. Regular sugar will make it gritty.
How to Make Earl Grey Scones
Step One: Cut the cold butter into the dry ingredients in the food processor. You can do this by hand with a pastry cutter if needed. Another option is to grate frozen butter with a box grater on a lightly floured surface and then fold it into the dough.
Step Two: Combine the milk and strong earl grey tea.
Step Three: Slowly pour the milk mixture into the flour mixture while the food processor is running. Process just until the scone dough comes together.
Step Four: Form the dough into two circles on a parchment paper lined baking sheet. Cut each into 8 pieces. Separate the wedges.
Step Five: Bake the earl grey scones until they are golden brown around the edges. Cool until room temperature.
Step Seven: Make the glaze. Drizzle over the cooled scones.
Variations
Tea – Choose another flavor of tea in place of the earl grey.
Lemon – Add a teaspoon of lemon extract or lemon zest to the batter and a few drops (or a pinch of zest) to the glaze.
Vanilla – Add a teaspoon of vanilla extract to the milk and tea mixture.
Lavender – Lavender is a great compliment to the earl grey flavor. Steep some chopped lavender leaves along with the tea.
Common Questions
What is Earl Grey Tea?
Earl Grey tea is a type of black tea that has been flavored with oil from the rind of a citrus fruit called bergamot. The tea was named after Charles Grey, 2nd Earl Grey, who was Prime Minister of the United Kingdom in the 1830s. I love it with some Honey Lavender Syrup.
What is Bergamot?
Bergamot is a type of citrus fruit that is used to make things like tea and perfume. The peel of the fruit is used to make oil, which has a very strong, unique smell. Some people say it smells like a mix of oranges and lemons.
Why are my scones dry?
Your scones are dry because they don't have enough moisture. When you bake, the heat from the oven evaporates the moisture in your dough, making it dry. To fix this, you can add more liquid to your recipe next time, or brush the tops of your scones with milk before baking to add moisture. If you added a lot of flour while pressing out the dough that can cause this.
How do I know if scones are done baking?
There are a few ways to tell if earl grey scones are done baking. One is to look at the color. Scones should be golden brown on the outside when they're done. Another way to tell is by touch. Gently press on the top of a scone. If it springs back, it's probably done. If it leaves an indentation, it needs to bake a little longer.
How do I store scones?
Scones are best the day they are baked. For longer storage, I recommend freezing them immediately and pulling out as desired. Wrap them individually in plastic wrap and place into a freezer bag.
For more brunch treats try our Triple Chocolate Muffins or Baked Oats!
Like what you see? Follow us on Facebook and on Instagram! Love this recipe? Leave a comment & a 5-star rating right here!
Ingredients
3

cups

flour

½

teaspoon

salt

3

tablespoon

sugar

2.5

teaspoon

baking powder

6

tablespoon

salted butter

cold and cut into cubes

¾

cup

whole milk

¼

cup

earl grey tea

very strong ***
For Glaze
1 ¼

cups

powdered sugar

1

tablespoon

milk

1

tablespoon

earl gray tea

very strong ***
Instructions
Preheat the oven to 425. Line a large baking sheet with parchment paper.

Combine the first 5 ingredients in a food processor. Pulse until the butter is thoroughly cut in.

Combine the milk and the tea. With the processor running stream in the milk and tea mixture until a ball of dough forms.

Separate the dough into two balls. Press each on the prepared baking sheet into a 12-inch circle. Cut into 8 wedges. Separate the triangles so there is room between them.

Bake the scones for 12-14 minutes until golden. Let cool completely.

Stir together the ingredients for the glaze. Drizzle over the cooled scones.
Notes
Very Strong Earl Grey Tea: Combine ⅓ cup boiling water with 3 tea bags. Let steep for 15 minutes. Remove the bags and let cool to room temperature.
Nutrition
Serving:
1
scone
|
Calories:
172.7
kcal
|
Carbohydrates:
30.2
g
|
Protein:
2.9
g
|
Fat:
4.5
g
|
Saturated Fat:
2.7
g
|
Polyunsaturated Fat:
0.3
g
|
Monounsaturated Fat:
1.1
g
|
Trans Fat:
0.2
g
|
Cholesterol:
11.8
mg
|
Sodium:
175.4
mg
|
Potassium:
46.5
mg
|
Fiber:
0.6
g
|
Sugar:
12.1
g
|
Vitamin A:
140.3
IU
|
Calcium:
56.8
mg
|
Iron:
1.2
mg