Just eight simple ingredients are needed to make this Chocolate Coffee Ice Cream Recipe. Loaded with flavor, this homemade ice cream is better than anything from the store. Let the chocolate flavoring from the cocoa powder win you over.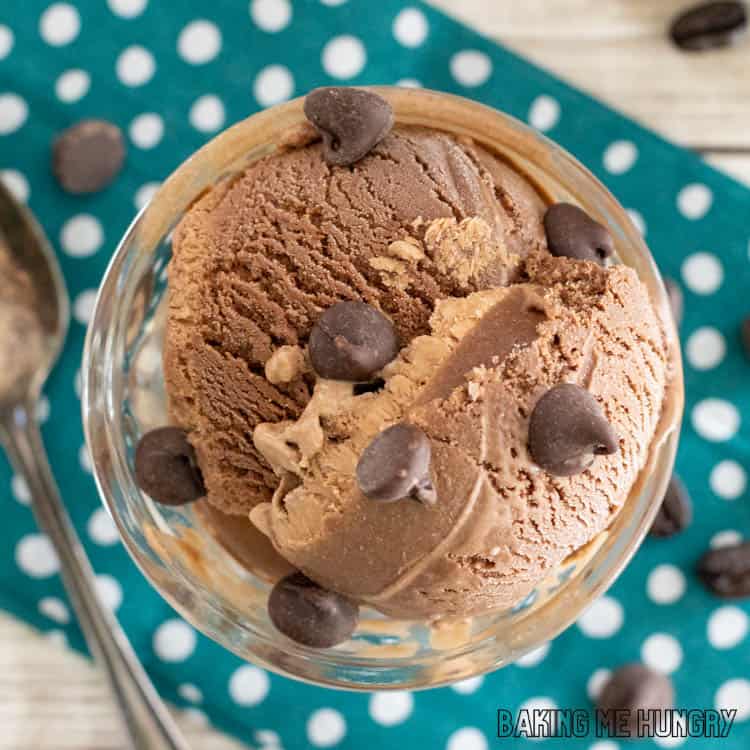 While you do need an ice cream machine to make this sweet treat, I assure you that it's worth it. It's one of those ice cream recipes that has a bold coffee flavor while challenging balance with the light sweetness of dark chocolate.
Treats like this make the perfect dessert because they're a smooth texture that can be made in a foolproof way. All you need is a little bit of time, and you'll be filling your bowl full of this ice cream with rich coffee flavor in no time at all.
We've made this for family gatherings, parties, and a simple snack for our chocolate cravings – and it's a hit every time. In fact, when that craving hits, I will usually choose this recipe over any flavor of store-bought ice cream just because I really enjoy the taste and creamy texture. Once you make a batch of ice cream using this recipe, you'll be hooked and want more!
Be sure to check out my Cookie Monster Ice Cream for a fun recipe full of ingredients and flavor. You can't go wrong with multiple ice cream recipes.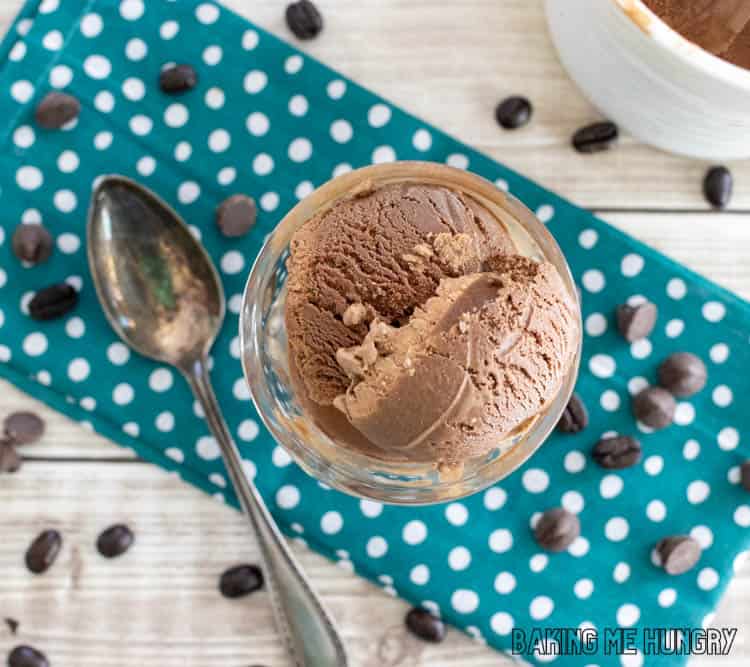 Ingredients
Heavy cream – This adds a thicker texture and richness to the ice cream.
Whole milk – Keep with whole milk if possible because of the added fat.
Expresso or cooled coffee – Save any leftover coffee to use!
Cocoa powder – Adds the chocolate flavoring and dark color.
Sugar – For sweetness.
Egg yolks – To add richness and texture.
Vanilla extract – For flavor.
Instant Coffee – For more coffee taste.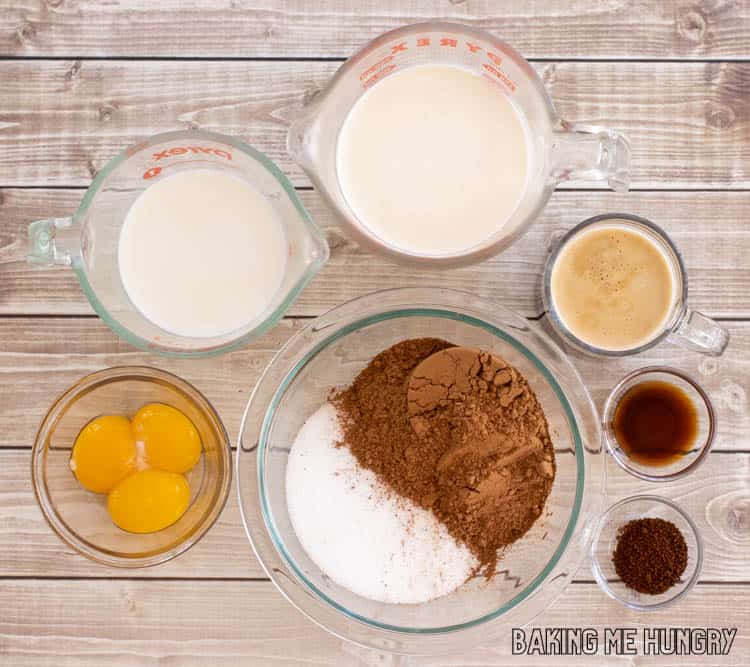 How to make this Chocolate Coffee Ice Cream Recipe
Gather the simple ingredients above to get started.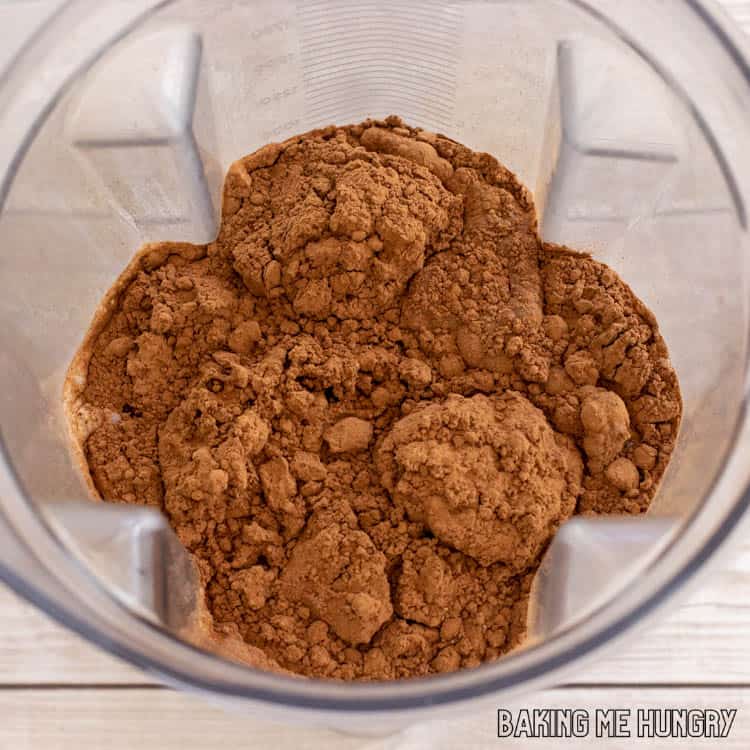 Step One: Mix all the ingredients together in a bowl until smooth.
Step Two: Add the ice cream base into the ice cream maker and churn according to the directions per the manufacturer.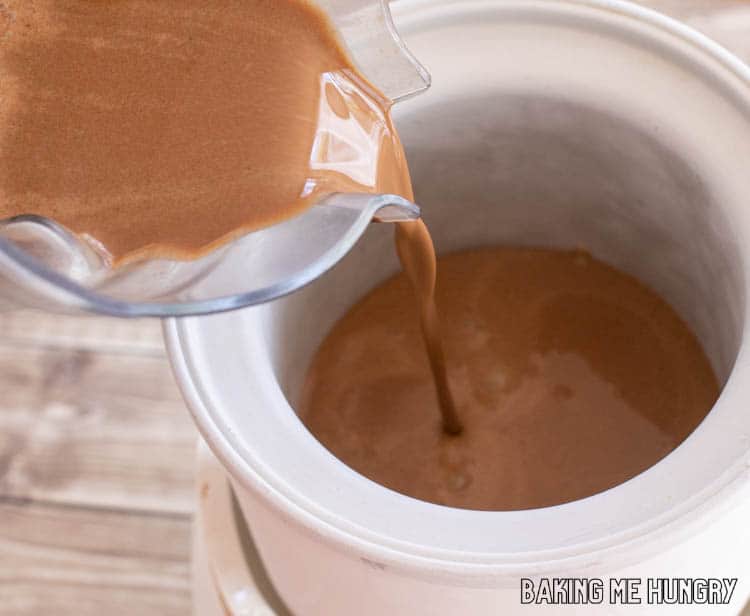 Step Three: Once done, add the homemade coffee ice cream to a freezer-safe container and freeze for 3-4 hours prior to serving.
Variations
Add more flavors – You can easily add options to this ice cream. Some of my favorites to add are mini chocolate chips, chopped chocolate chunks, and even a scoop or two of peanut butter. This means that you can easily add some of your favorite flavors to this ice cream mixture to create something new and delicious each time you make it.
Leave out the coffee – While this is great for coffee lovers, it doesn't have to be. You can easily leave out the added coffee and, instead, add chocolate sauce and still have a tasty ice cream creation. It would literally then just be chocolate ice cream instead of coffee or espresso ice cream – and still be delicious.
Milkshake – For an amazing milkshake or frappuccino add a couple of scoops to our Oreo Iced Coffee Recipe and give it a whirl in the blender.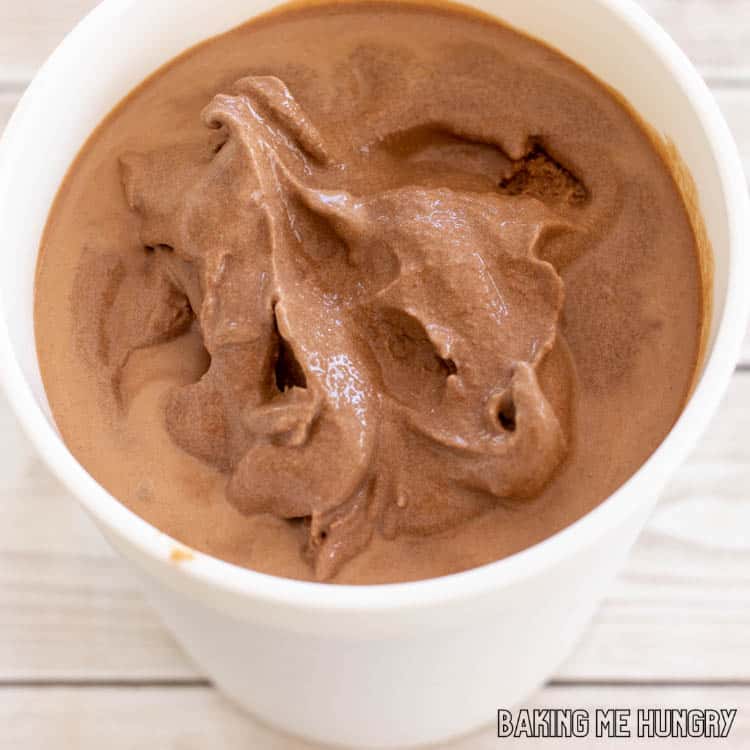 Common Questions
Does coffee ice cream have caffeine?
Yes, adding the instant coffee granules and the cooled coffee is going to add caffeine to this cold ice cream recipe. If you don't want there to be caffeine, you can use decaf coffee instead of caffeinated. The strong coffee flavor will still be there, but it won't be accompanied by a caffeine boost.
You can also play with the amount of coffee that you add if you want to lessen the caffeine flavor. Since this ice cream recipe is really forgiving, you have options on how you can ultimately create it.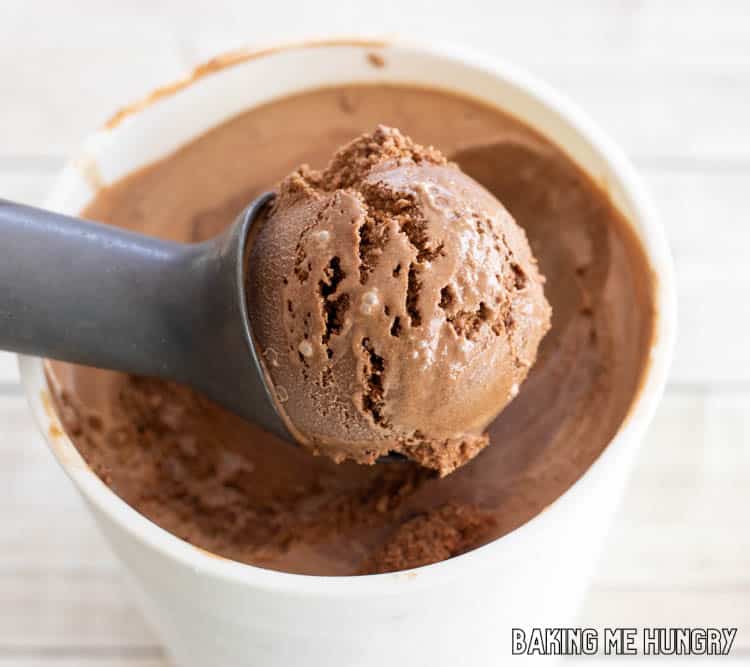 What is the difference between espresso powder vs instant coffee?
Instant Coffee and espresso powder are different in the fact that espresso powder does have a stronger coffee flavor, meaning you'll have to use way less than you would if you were using instant coffee. Since espresso powder is basically made from ground coffee beans, a little bit of this addition goes a very long way in terms of flavor.
What are some good ice cream toppings to add?
Caramel sauce and hot fudge sauce are two easy and delicious options that pair well with the perfect texture of this ice cream. You can also add melted chocolate over the top, or even buy that Magic Shell ingredient from the store to add a crunchy top.
The great thing about adding toppings is that you can use your favorite things and have this creamy coffee ice cream taste unique! This is why a recipe like this is perfect for summer breaks – so you can spend all summer experimenting with toppings to see what you like the best.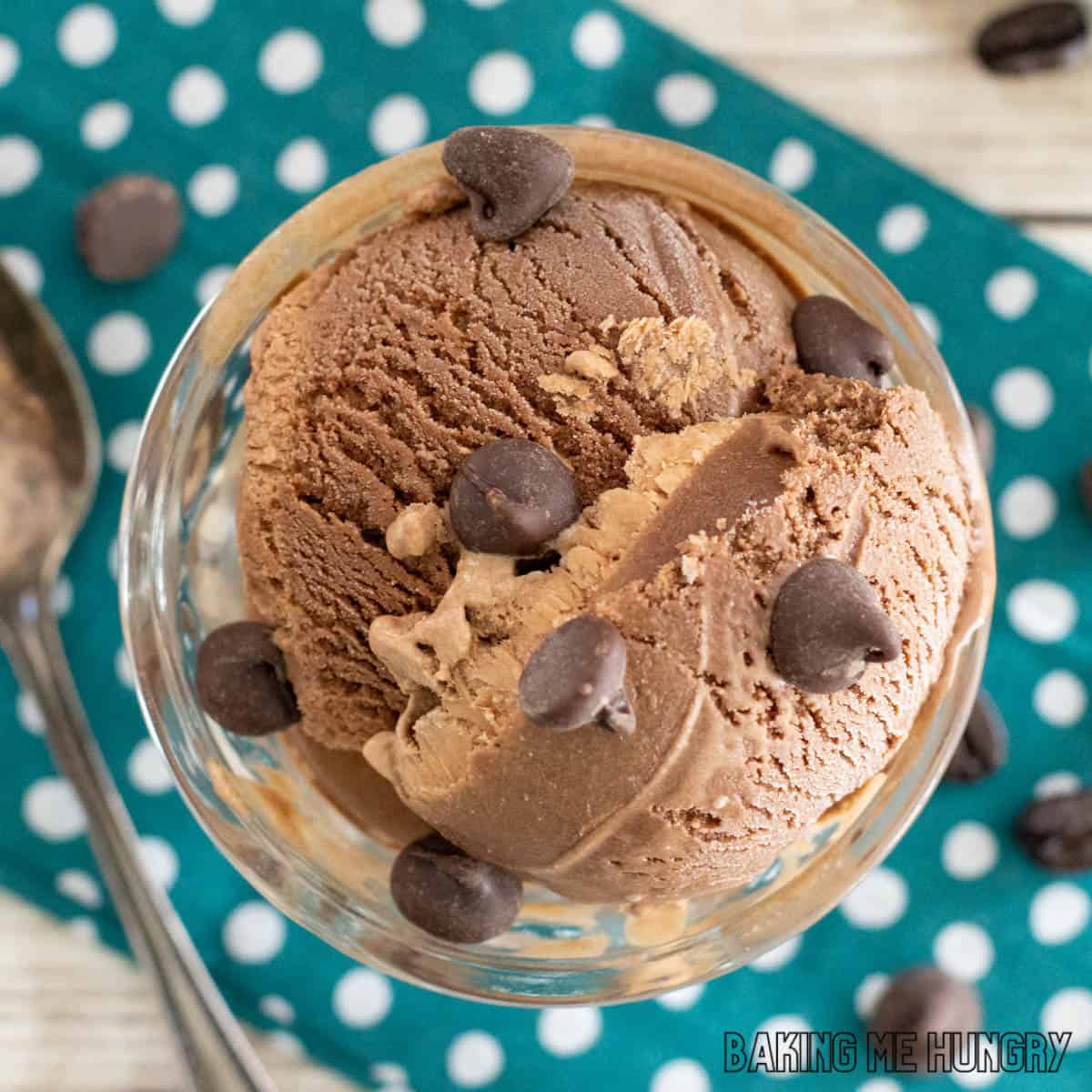 Ingredients
1.5

cups

heavy cream

¾

cup

whole milk

½

cup

espresso or very strong coffee

cooled

¾

cup

cocoa powder

¾

cup

sugar

3

egg yolks

1

teaspoon

vanilla extract

1

teaspoon

instant coffee powder
Instructions
Combine the ingredients. Blend until smooth.

Pour into an ice cream maker. Churn according to the manufacturer's instructions.

When the ice cream has finished churning transfer to a freezer-safe container and freeze for 3-4 hours or until firm enough to scoop.
Nutrition
Serving:
0.5
cup
|
Calories:
279.6
kcal
|
Carbohydrates:
26.1
g
|
Protein:
4.7
g
|
Fat:
19.8
g
|
Saturated Fat:
12
g
|
Polyunsaturated Fat:
1
g
|
Monounsaturated Fat:
5.4
g
|
Cholesterol:
126.1
mg
|
Sodium:
26
mg
|
Potassium:
212.2
mg
|
Fiber:
3
g
|
Sugar:
21.4
g
|
Vitamin A:
790.4
IU
|
Vitamin C:
0.3
mg
|
Calcium:
77
mg
|
Iron:
1.4
mg